How to Integrate Stripe with WP Fluent Forms
To integrate Stripe to WP Fluent Forms, you will need an API key. If you don't already have a Stripe account, you should sign up for one now.
[Stripe integration is a pro feature and only users of the pro version will be able to use this]
To set up Stripe with WP Fluent Forms, go to the global Settings from your dashboard and then choose Payment Settings from the left sidebar.
Check the Status box to Enable Payment Module. This will unlock several payment options.
Now, you can go to the Stripe payment settings and Enable Stripe Payment Method. Below that, you will see the Connect with Stripe button, click on it.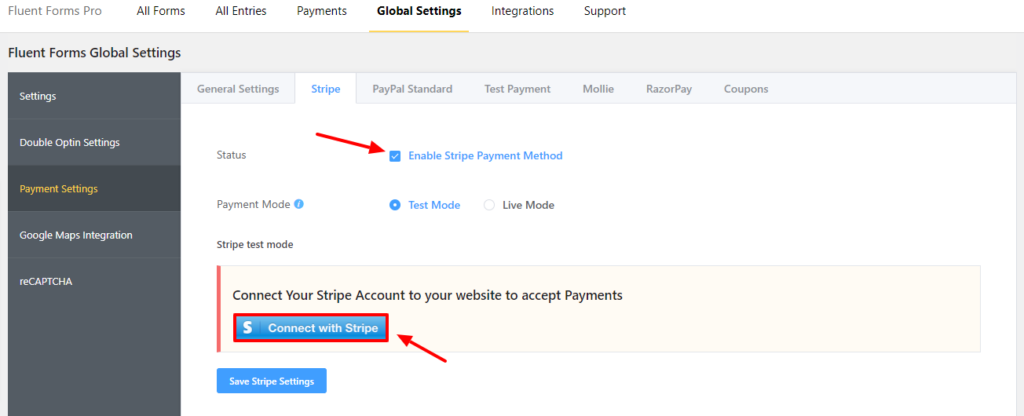 This will take you to another page where you have to include the Email address & click on Continue. Then you have to follow a few steps to complete the Stripe Integration. This is how your Stripe account gets integrated with WP Fluent Forms.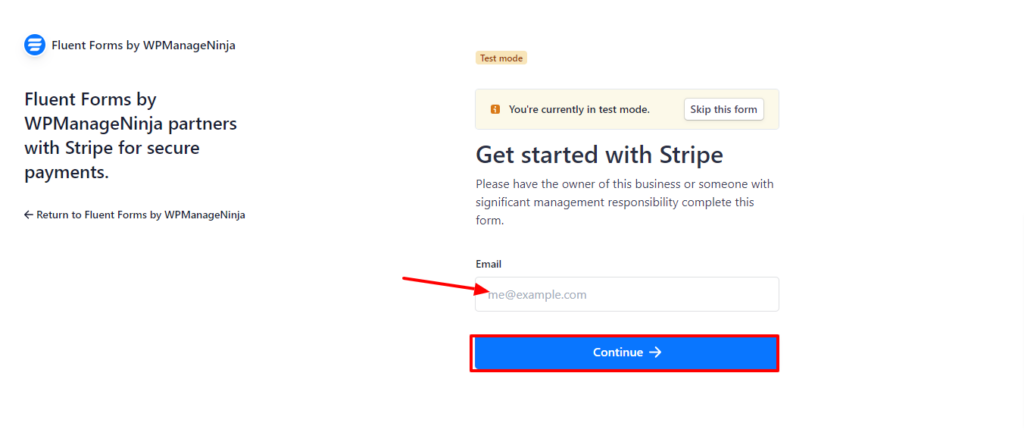 Now create your form and add a Payment Field. Set the Element Label, place your Label. Set the Admin Field Label and Product Display Table. On the Payment Settings, put the price of each product. Next, add a Payment Method Field and set the Element Label. Choose your Payment Methods. Save the form and preview before launching. And that's it! Please be notified, an error message will appear if you haven't configured your Stripe business account.
Stripe Connect
Fluent Forms by default use Stripe Connect which is recommended by Stripe for Stripe Verified Partners. If you would like to disable Stripe Connect and use the traditional API Key method please add the following code to your theme's functions.php file or code snippet plugin.
add_filter('fluent_form_disable_stripe_connect', '__return_true');