It's always been a tough choice when it comes to selecting one form builder plugin from the mess of plugins in the world of WordPress. If you are a WordPress user and have a quality website, you might need to add a contact form or any kind of web form on your site. If the case is so, you should find a standard WordPress form builder plugin to meet the requirement with zero hassle.
You also can do so without using a plugin handling raw coding but it will create unnecessary burdens for you to create simple forms. That's why I suggest you find a perfect plugin and use it on your site.
But the question arises, how can you make this happen?
The answer is pretty simple, and straight forward, you can have a test drive before choosing a plugin, you should see the reviews of the respective plugin, or you may find the blogs like this that makes you aware of the different plugins.
Well, in this piece you will get a comparative view of two beautiful form builder plugins that will make you understand to get a clear view of both plugins.
Standard features every quality form builders should have
Before going into the details, take a look at the features list below that are required for a standard form builder plugin. The features are as follow:
These are the key features of a core form builder that every person should consider before purchasing a form builder solution.
TypeForm vs Fluent Forms: Overview
Though both the tools don't belong to the same platforms but intend to maintain the same purpose. Fluent Forms is a form plugin in WordPress and TypeForm is a SAAS tool, are intended to create online forms and surveys.
| | | |
| --- | --- | --- |
| Features | Fluent Forms | TypeForm |
| Responsiveness | ✅ | ✅ |
| Drag & Drop | ✅ | ✅ |
| Advanced Input Fields | ✅ (Total 40+) | ❌ |
| Conversational Forms | ❌ | ✅ |
| PDF Export | ✅ | ❌ |
| Visual Reporting | ✅ | ❌ |
| Payment Integration | ✅ | ✅ |
| Pre-build Templates | ✅ (60+) | ✅ |
| WP User Registration | ✅ | ❌ |
| Live Chat | ❌ | ✅ |
| Export-import | ✅ | ❌ |
| Email Submission Data | ✅ | ❌ |
| Google Tag Manager | ❌ | ✅ |
| Anti-spam | ✅ | ❌ |
| Repeat Field | ✅ | ❌ |
| Hidden Field | ✅ | ✅ |
| Multi-step Form | ✅ | ❌ |
| Mask Input | ✅ | ❌ |
| Conditional Logic | ✅ | ✅ |
| Custom CSS | ✅ | ❌ |
| Front-end Editing | ✅ | ❌ |
| Zapier | ✅ | ✅ |
The above comparison shows precise comparative data of both sides that makes you able to take a decision.
Features in Details (TypeForm vs Fluent Forms)
Both forms are not similar in type, but they are used to collect user's data. Their way of collecting data differ from each other. TypeForm collects data in the form of a simple conversation; it's more interactive in nature. On the other hand, Fluent Forms is more objective-oriented in type with advanced functionality. Let's move on to the core discussion in terms of the features that every form plugin should have.
Ease of Use
Fluent Forms is easy to use with advanced functionalities. The interface of the plugin is designed in such a way that any novice user can easily use and manage the plugin.
On the other hand, TypeForm interface is also simple with minimal functionalities. In this case, you will not get the advanced features for having a survey or any type of form.
Input Fields
Adding input fields through dragging and dropping them into the builder is the smartest and fastest way to create an online form. Both the form builders have the input fields and allow users to have the drag and drop facility. But TypeForm only offers a limited amount of input fields. On the other hand, Fluent Forms offers 40+ different input fields while creating any form.
In this part, we found WP Fluent Forms offers apparent advantages than that of TypeForm.
Conditional Logic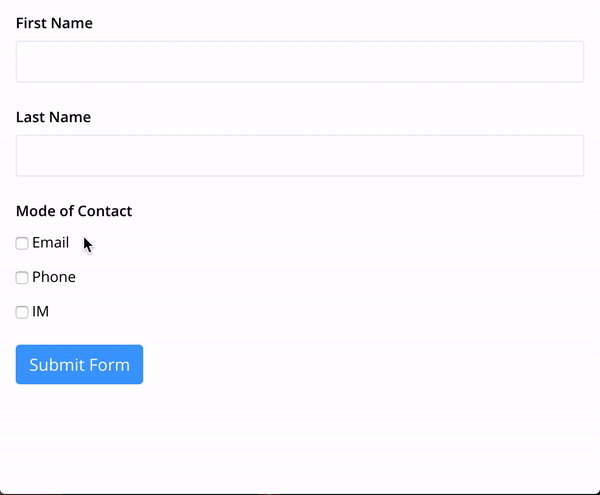 Conditional logic is used to make a form dynamic and interactive according to users' responses. Both Fluent Forms and TypeForm allows the users to use conditional logic. With Fluent Forms, you can get conditional logic using the Conditional Logic option. You can find details from the plugin's official documentation.
On the other hand, TypeForm offers Logic Jump option to offer this amazing feature to its users.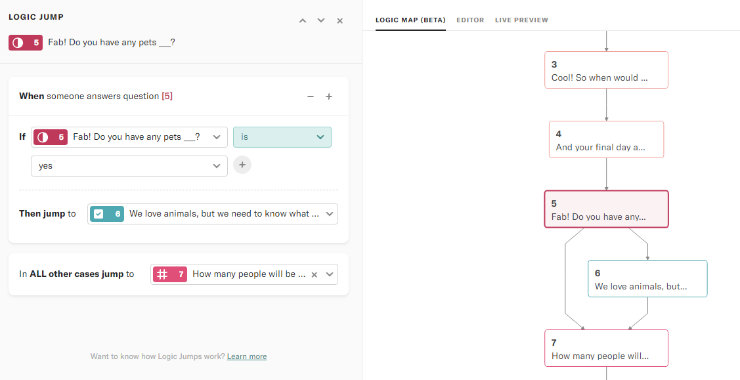 It seems that this is a win-win situation, but WP Fluent Forms offers slight extendability.
Integration with Third-party Services
Integration is one of the most crucial aspects of any kind of online tool that empowers and diversifies the functionalities. Both tools allow its users to integrate with other platforms. Fluent Forms allows its users to integrate a bunch of platforms like MailChimp, Zapier, Slack, HubSpot, ConstantContact and so on. On the other hand, TypeForm allows a limited 3rd party integrations.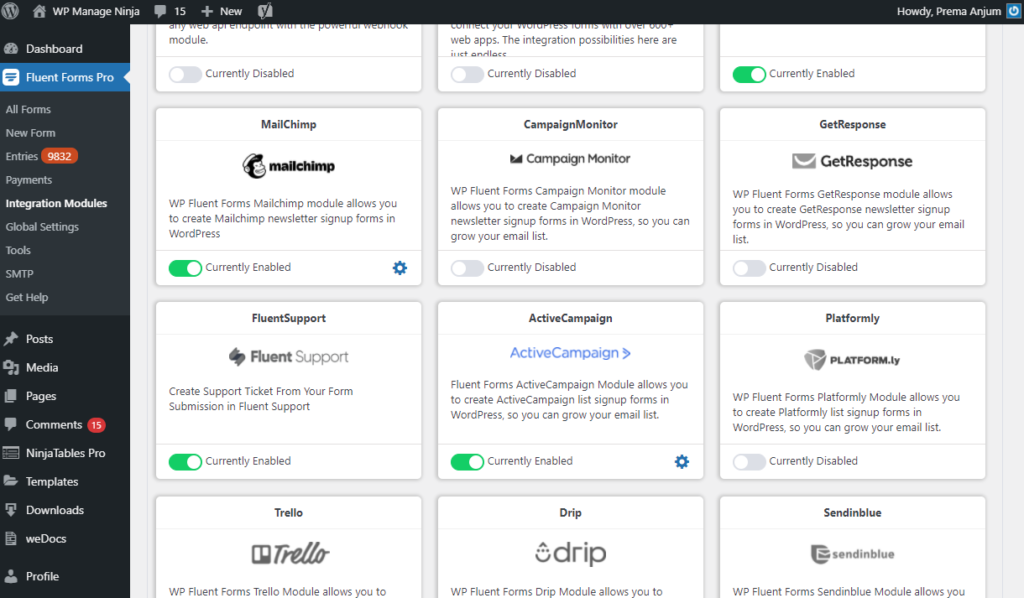 This section shows that both the tools offer 3rd party integrations with more or less extendibility. But WP Fluent Forms wins the race by a small margin as they offer more 3rd party integrations than TypeForm.
Entry Management
To manage all the submitted entries, you need to have proper entry submission management. Fluent Forms allows you to have this opportunity in a precise way.
You will get a precise entry submission page where you can manage all those entries. You also can manage single submission entries as well.
On the other hand, TypeForm also allows you to have those opportunities but in a minimal approach.
This section says that WP Fluent Forms is clear winner because of its extended functionalities.
Spam Filtering
Both tools offer spam filtering options in order to secure your online forms. Fluent Forms allows you to put Google reCaptcha, simple Captcha, and restriction upon duplicate submission facility with other options as well.
TypeForm also allows having those facilities on your forms. Here you can prevent duplicate submissions and apply Captcha facility.
In this section there is a win-win situation as both the tools provide the same type of facilities.
Pre-built Templates
Pre-built templates are something that makes form creation very easy and Fluent Forms allows you to have pre-built templates within their system. Most interestingly, they divided the templates based on various categories, such as products, education, marketing, IT, social, and finance.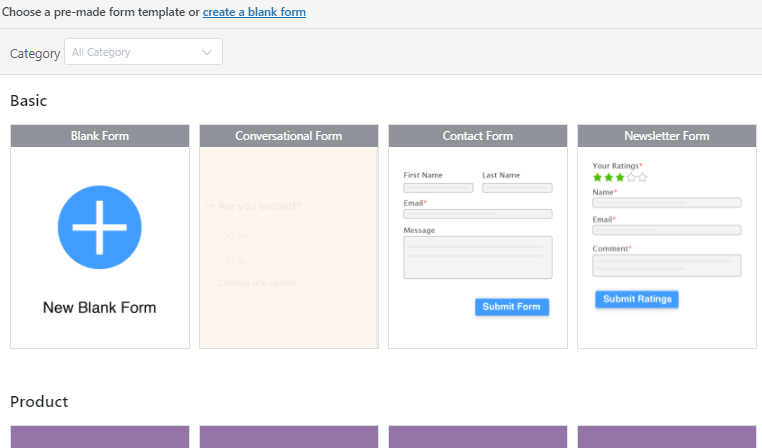 Altogether, Fluent Forms has 60+ ready templates, and you can deploy any of them as you need. Moreover, you can even start with a blank form and then add input fields from the list.
TypeForm also offers tons of pre-built template opportunities. You customize those forms to update with your info in a conversational order.
As TypeForm doesn't provide any pre-built template facility, it's quite away from the Fluent Forms regarding this aspect.
File Upload
Now, File Upload has become the demand of time, and Fluent Forms allows you to have this amazing feature.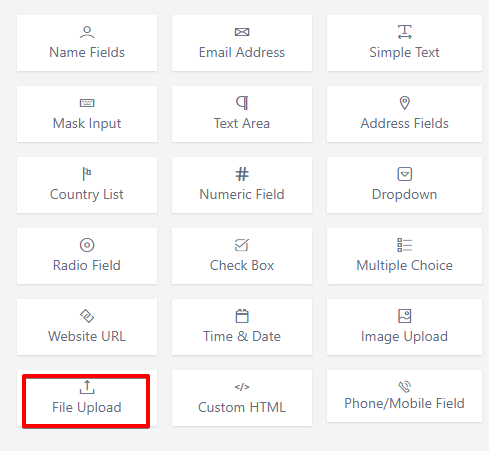 TypeForm also allows you have this feature on your form. You can add different variables while uploading any file.
Here the result is seen a win-win situation.
Documentation & Support
Fluent Forms has a reputation for its precise documentation and user support system. They are providing various types of support including docs, video tutorials, and so on. Moreover, you will get video tutorials about the plugin on the YouTube channel. Reviews of the plugin will make you understand about the worthiness of the plugin.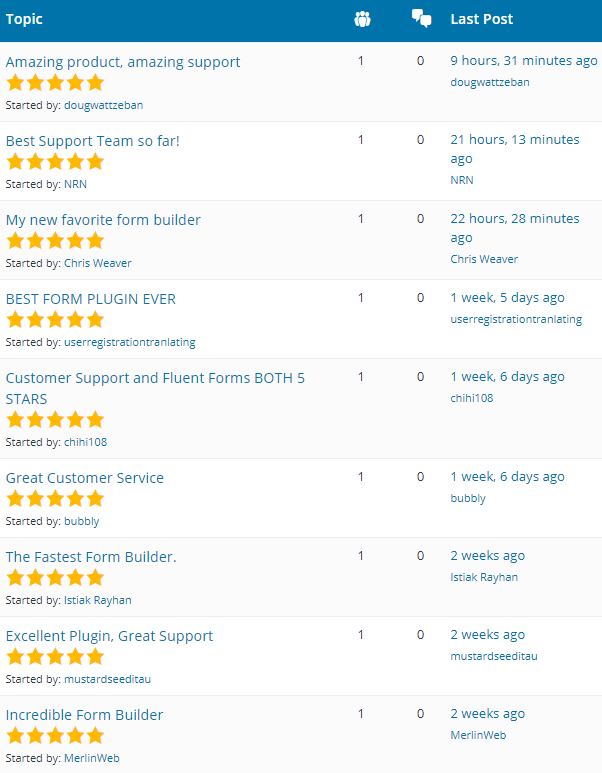 ? Have a quick look at Fluent Forms Documentation.
On the other hand, TypeForm also provides documentation and a variety of supports. They also offer a packed help center to help out their clients. Their support prevails only business hours Monday – Friday.
Both the tools provide the support but TypeForm provides only business hours only.
Pricing
If you think quality with the cost-effectiveness, you would find Fluent Forms much ahead of its competitors, including TypeForm. Both the tools offer a free version, you can get the free version of Fluent Forms in the WordPress directory.
Other than the free version, there are three pricing plans offered by Fluent Forms as well.
On the other hand, TypeForm offers you with a free version and three premium pricing plans.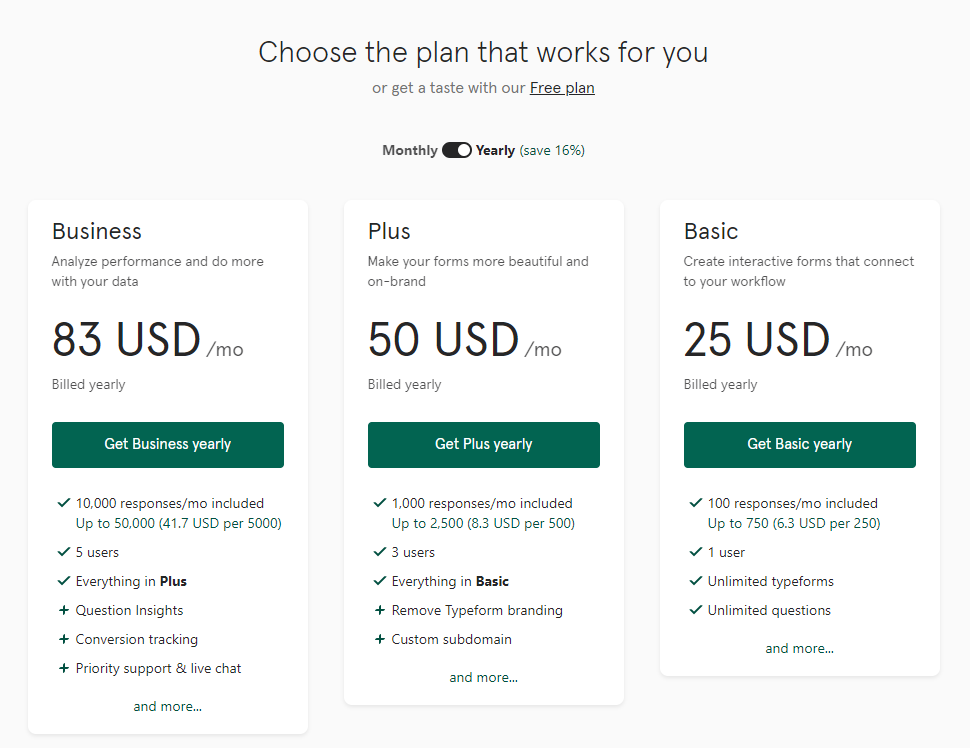 WP Fluent Forms starts its pricing from $59/year and TypeForm starts its pricing from $360/year. It's a huge difference in pricing though WP Fluent Forms provides more features and functionalities in the WordPress ecosystem.
In Pricing, this section shows that Fluent Forms is much more cost-effective than TypeForm.
Also Read:
TypeForm vs WP Fluent Forms: Which Form Builder Should You Pick?
Now, it's the time to choose from which one should you pick to serve your purpose.
First of all, you need to understand that both the tools are not in the same category but they are intended to serve the same purpose. Hence, this comparison.
If you want to create any types of online forms like contact forms, registration forms, and survey forms and so on, then I would say WP Fluent Forms is the better option for you.
With Fluent Forms, you will get access to a lot of powerful features that will allow you to create forms which add power to your business needs. If you need to use a form builder solution for having more dynamic features on your forms Fluent Forms could be the great option.
On the contrary, TypeForm, allows you to create forms in limited ways. If you want to create and add design-focused forms for your websites that are intended to share on social media, this could be a great option. It's basically used in creating conversational forms, and it's popular in that way. This tool isn't suitable for creating all types of forms. Here, take look at the comparative overview of the plugins:
| | | |
| --- | --- | --- |
| Features | WP Fluent Forms | TypeForm |
| Form Builder | ⭐⭐⭐⭐⭐ | ⭐⭐⭐ |
| Ease of Use | ⭐⭐⭐⭐⭐ | ⭐⭐⭐⭐ |
| Input Fields | ⭐⭐⭐⭐⭐ | ⭐⭐⭐ |
| Advanced Fields | ⭐⭐⭐⭐⭐ | ⭐⭐ |
| Conditional Logic | ⭐⭐⭐⭐⭐ | ⭐⭐⭐⭐⭐ |
| 3rd Party Integration | ⭐⭐⭐⭐⭐ | ⭐⭐ |
| Entry Management | ⭐⭐⭐⭐⭐ | ⭐⭐⭐⭐⭐ |
| File Upload | ⭐⭐⭐⭐⭐ | ⭐⭐⭐⭐⭐ |
| Layouts Features | ⭐⭐⭐⭐⭐ | ⭐⭐ |
| Multi Column Layouts | ⭐⭐⭐⭐⭐ | N/A |
| Spam Filtering | ⭐⭐⭐⭐ | ⭐⭐⭐⭐⭐ |
| Pre-built Form Templates | ⭐⭐⭐⭐⭐ | N/A |
| Mobile Responsiveness | ⭐⭐⭐⭐⭐ | ⭐⭐⭐⭐⭐ |
| Licensing & Pricing | ⭐⭐⭐⭐⭐ | ⭐⭐⭐ |
| Documentation & Support | ⭐⭐⭐⭐⭐ | ⭐⭐⭐⭐ |
Score:
WP Fluent Forms: 77/80
TypeForm: 55/80
The comparison above shows a clear win of Fluent Forms as it provides more features and functionalities in terms of form creation. On the other side, TypeForm is suitable in some specific ways.
Get WP Fluent Forms Free Version: WordPress Plugins Repository
Purchase WP Fluent Forms Pro Add-on: WP Manage Ninja
I hope you enjoyed this article and found yourself more confident in selecting one suitable option for you. Also, if you have anything to share regarding this issue, feel free to leave a comment below.