All in One SEO and Yoast are both renowned plugins. When you're about to pick an SEO tool for your website, chances are very high that you'll encounter one of these two! Before getting into the main discussion, you may want to know why you need an SEO plugin.
Even in this era of AI, SEO still holds a strong position to make your site visible on SERPs (Search Engine Result Pages). If you have a website you can't ignore SEO since it allows your website to be seen when your site is relevant to visitor's queries.
However, WordPress is a popular CMS that powers 43.2% of total websites. WordPress is an SEO-friendly platform so you can easily optimize your site. Since the power of WordPress is expandable with plugins, multiple plugins are available for on-page SEO optimization.
With an SEO plugin, you can optimize your pages, posts, tags, categories, images, and other things efficiently. Yoast has been in operation since 2010 and is the most popular SEO plugin till now. All in One SEO, on the other hand, started its service in 2007, and it's the second-most popular SEO plugin.
We'll discover what these SEO plugins offer and how they benefit your business.
Overview of All in One SEO plugin
All in One SEO plugin is the oldest SEO plugin with 3 million plus active installs. Recently the plugin joined the WPBeginner family and its popularity is reaching new heights.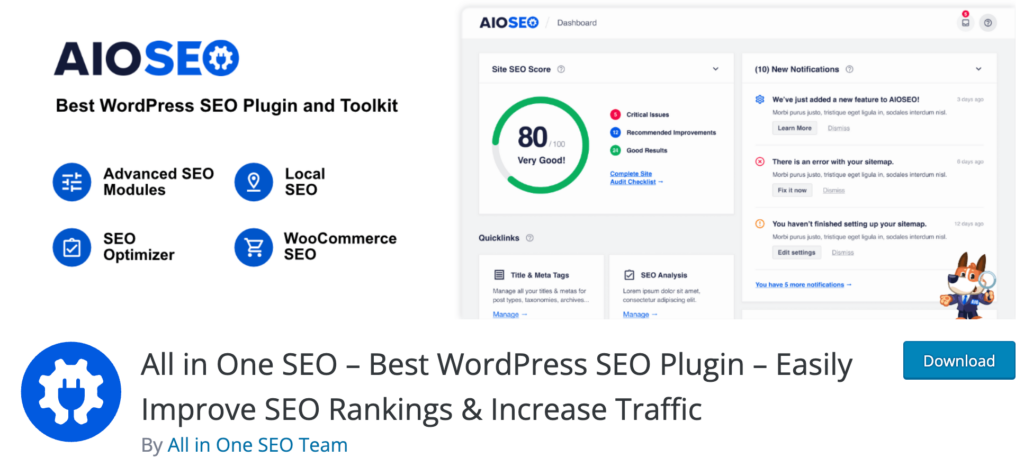 Launched in 2007, this plugin is a pioneer in the SEO industry, and it was formerly known as All in One SEO Pack. However, the plugin has received a huge uplift after being bought by Awesome Motive in terms of getting a new customer base and changing in interface and user experience.
How to get started with AIOSEO
Right after installing and activating (I believe you know that already) the plugin from the WordPress dashboard, you'll be drawn to the Setup Wizard. If you don't want to follow the wizard, click the skip button.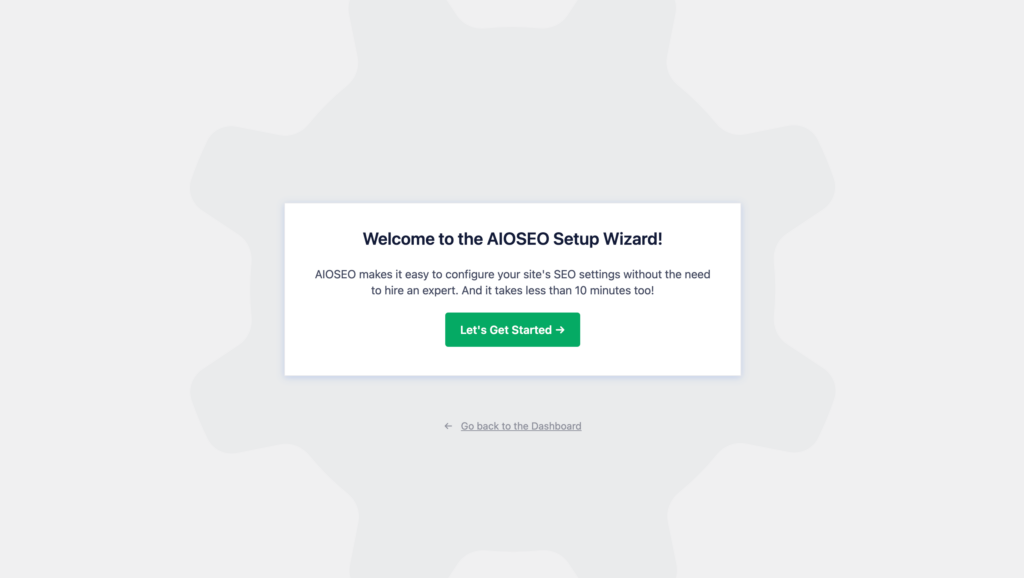 I've got a prompt for importing data from my current plugin since I've installed Yoast. You can easily import your previous data if you want. It's an easy process.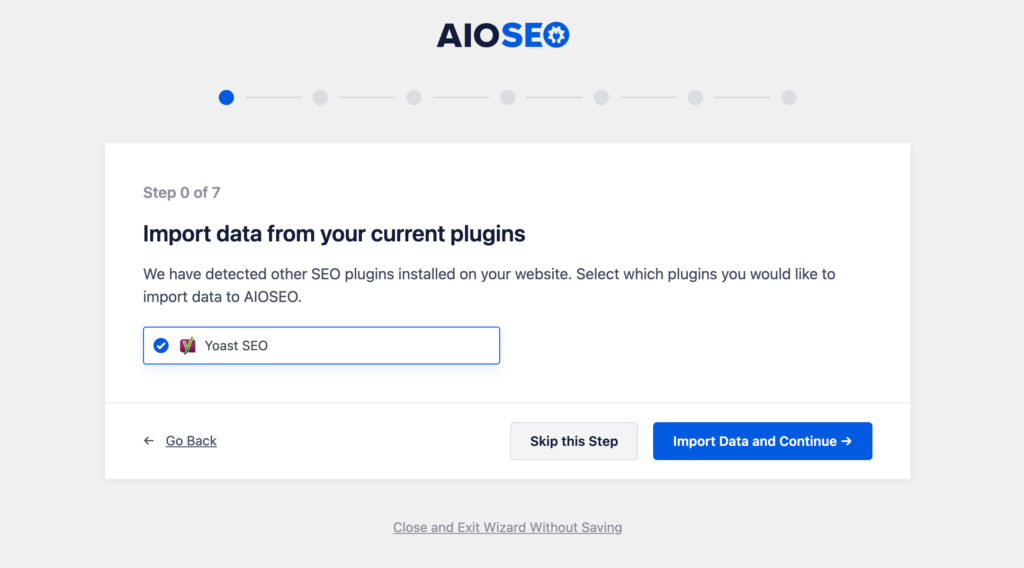 Next, you can select what describes your website best. You can also define your home page title and meta description. There are multiple options to choose from. After filling out the necessary information, click the Save and Continue button.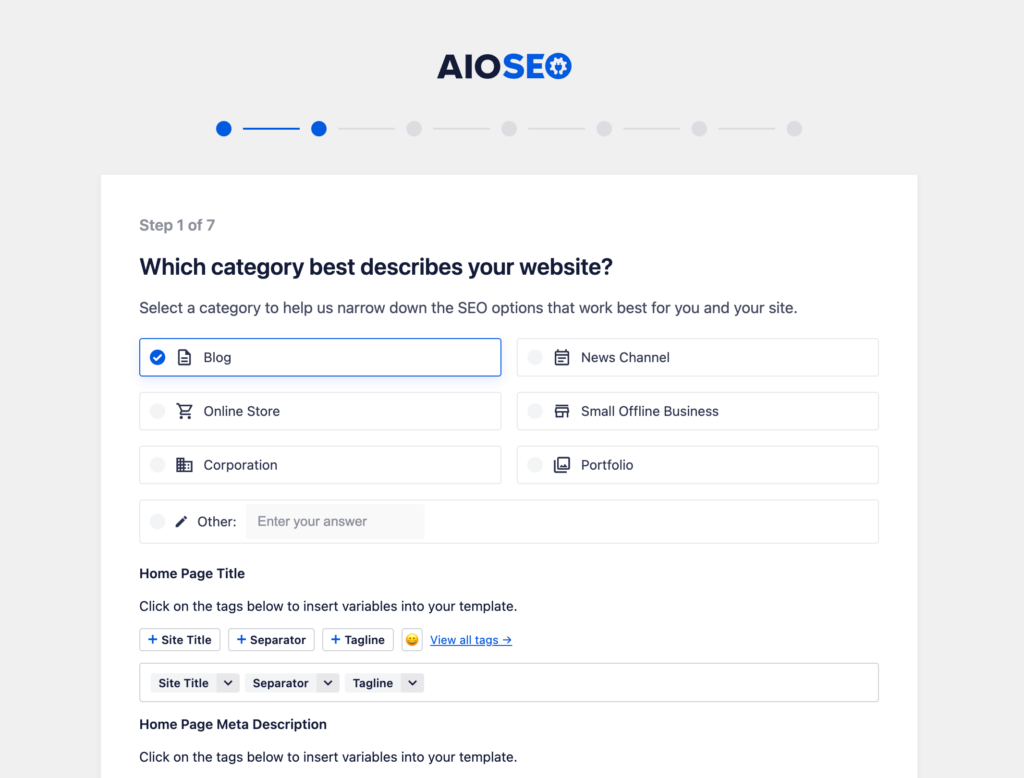 In the next section, you will provide your site's additional information like organization name, contact number, social media URLs, etc.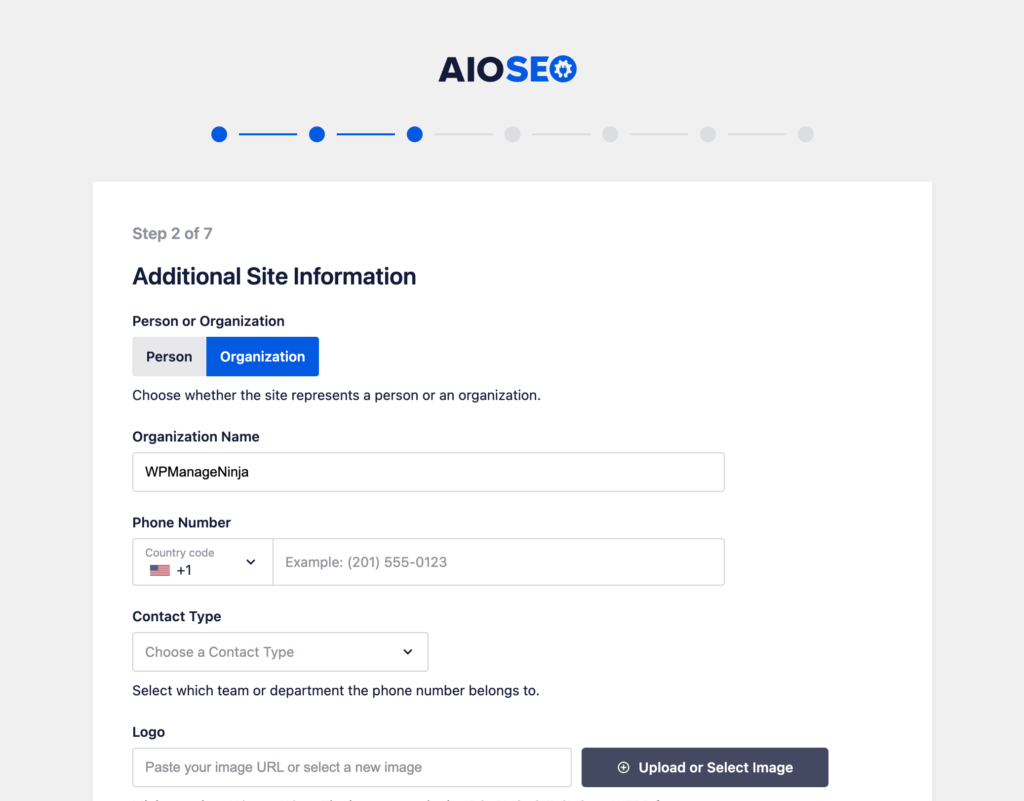 Now, choose which features you want to enable. Sitemaps, Analytics, Conversion Tools, Local SEO, News Sitemap, and more additional tools are available there. Keep in mind that not all features are free. The PRO badge indicates paid features.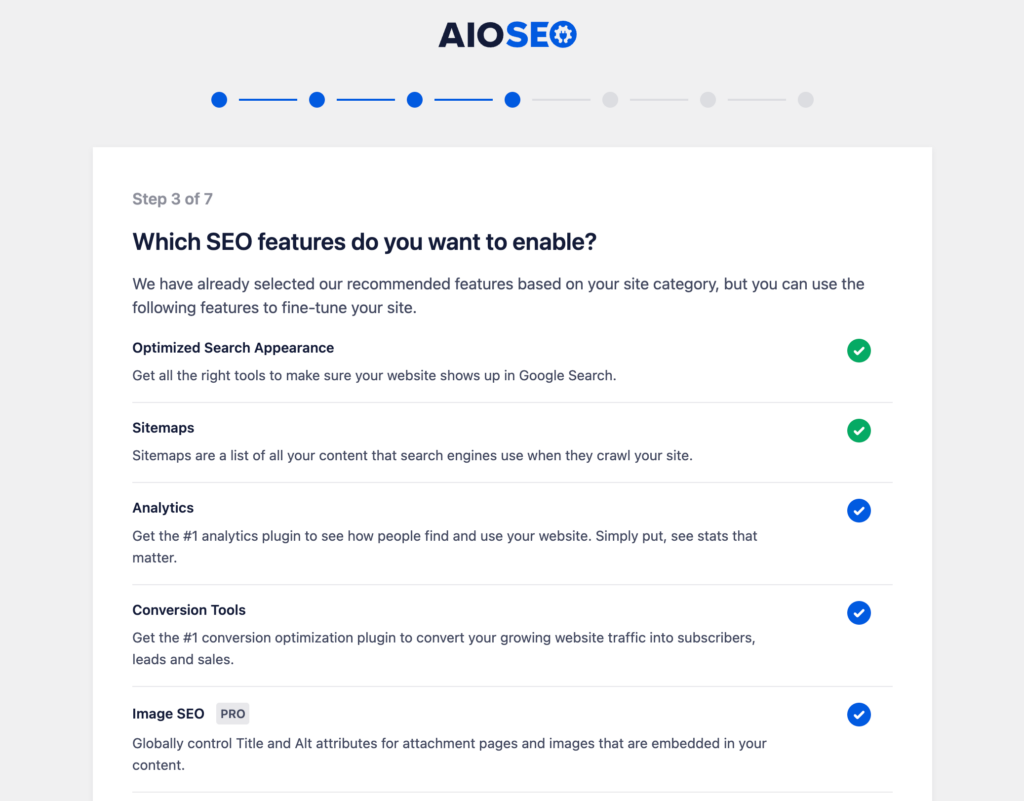 The next step will help you modify your site's search appearance. Check it out yourself and fix it if anything is needed. You can provide your email address on the next step if you want to get tips from the AIOSEO team to optimize your website.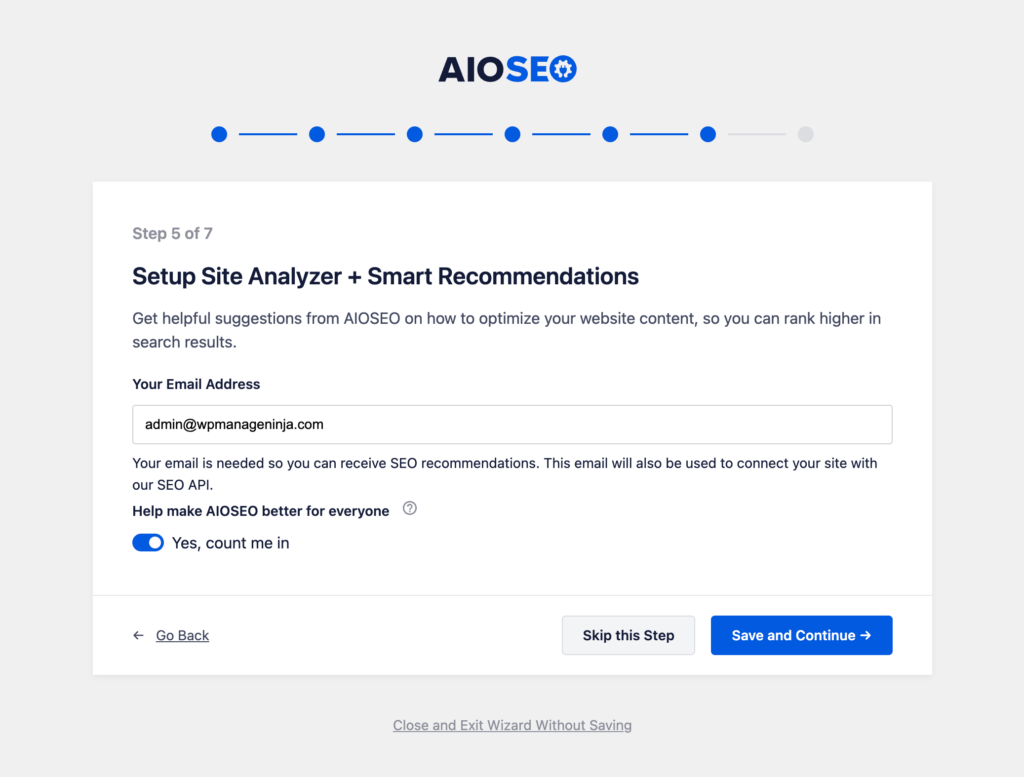 If you're using the pro version, you should paste your license key on the final step to unlock all the pro features. You'll get a congratulations message and suggestions for what to do next. Now click the Finish button and go to the dashboard.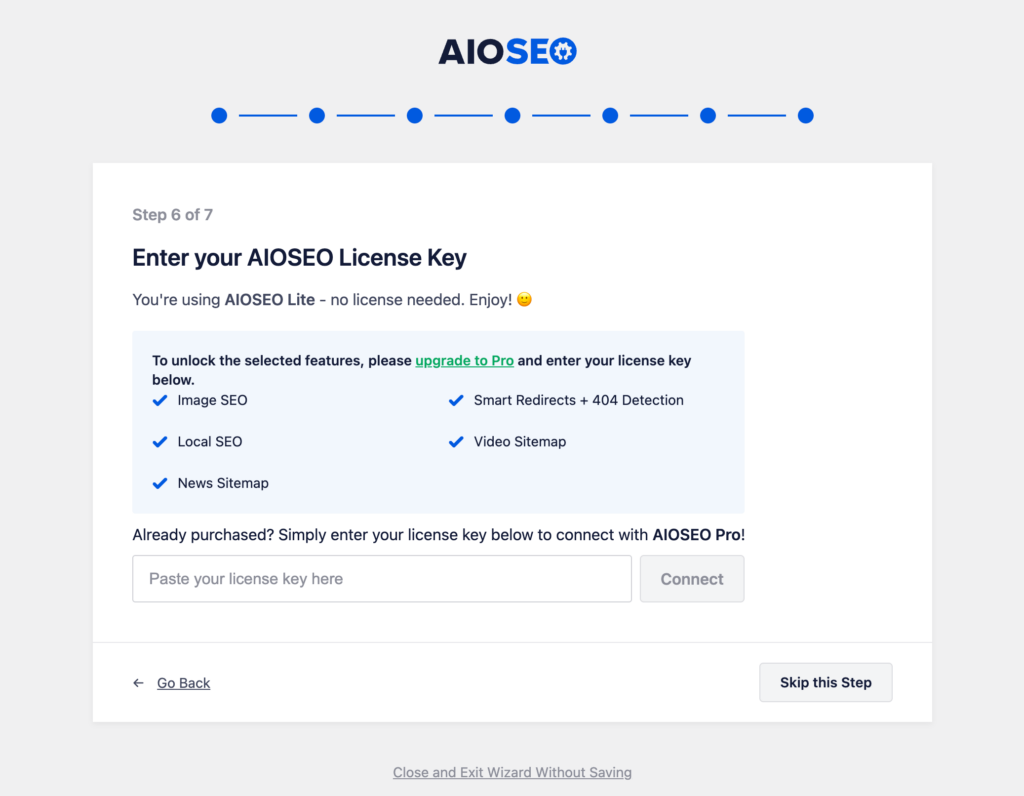 You'll get a congratulations message.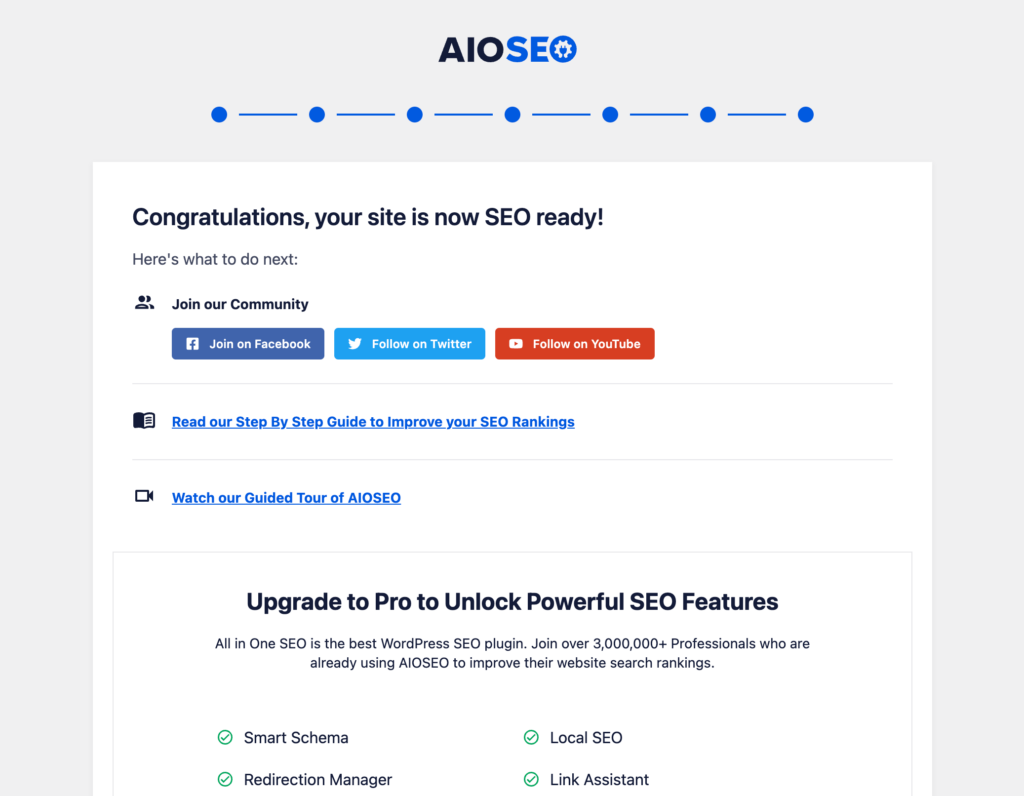 If you want to know what the Pro version offers you can read the next section.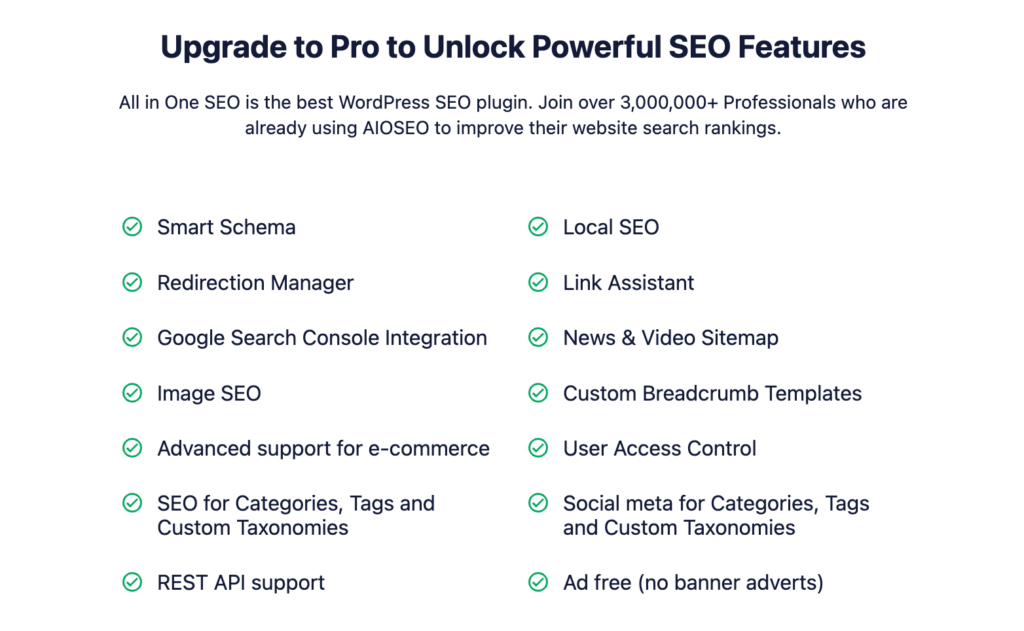 Overview of Yoast SEO plugin
Yoast says SEO for everyone and maybe they're correct since it's easier to optimize on-page SEO on your website with this plugin without being an expert. In my early career, I did optimization on a lot of pages while I was learning about the theories of SEO. When editing your blog posts, Yoast will signal you with different colors where green means you've done everything right.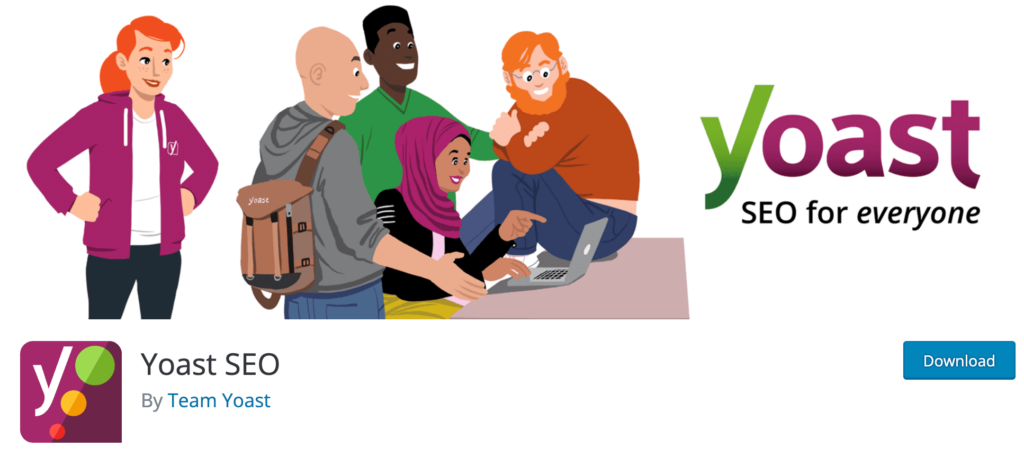 I've stated once that Yoast is the most popular SEO plugin and it has 5 million plus active installs. Yoast is not only popular for SEO, but it's one of the most popular WordPress plugins if you make that list. They started so early and grew along with the WordPress ecosystem.
How to get started with Yoast
Similar to the AIOSEO, you can follow the setup wizard, but from your dashboard. They will do the data optimization for you, so you can go to the next step.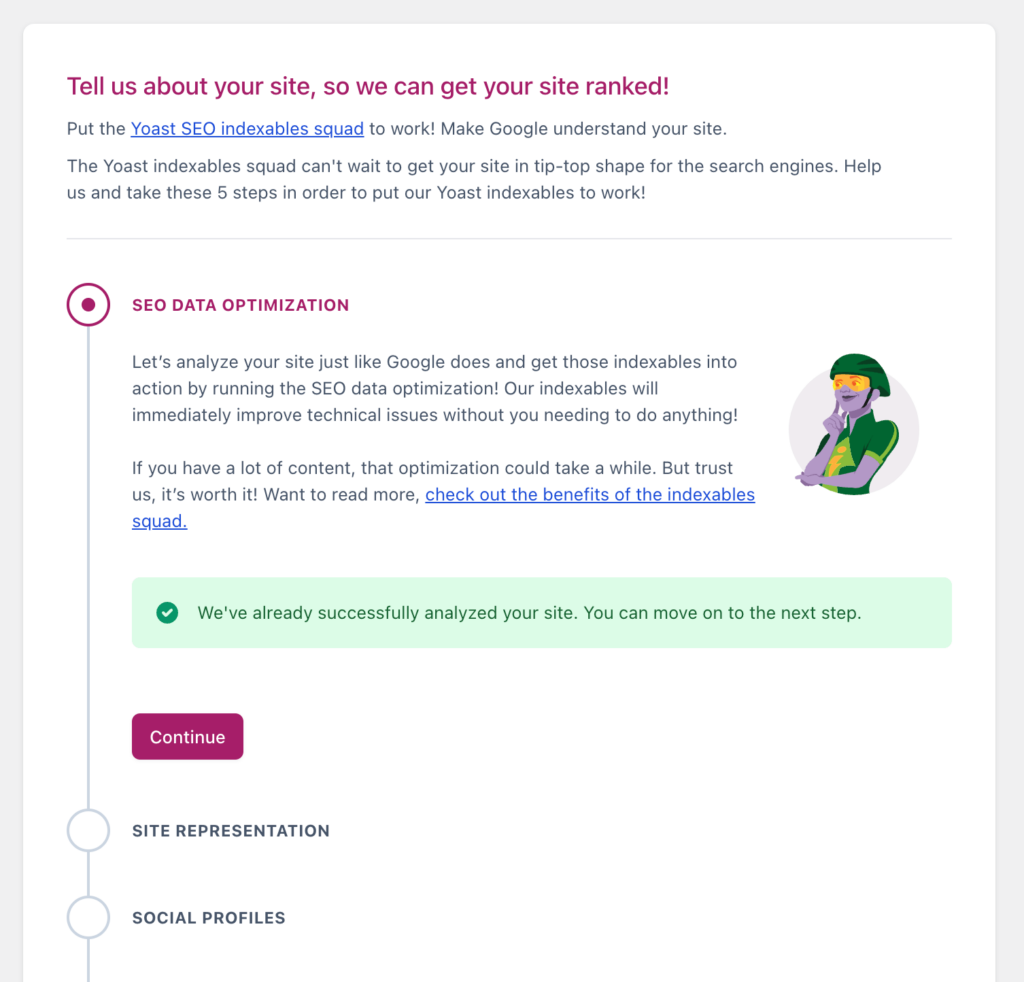 Here, you can provide your organization name, website name, and your organization logo.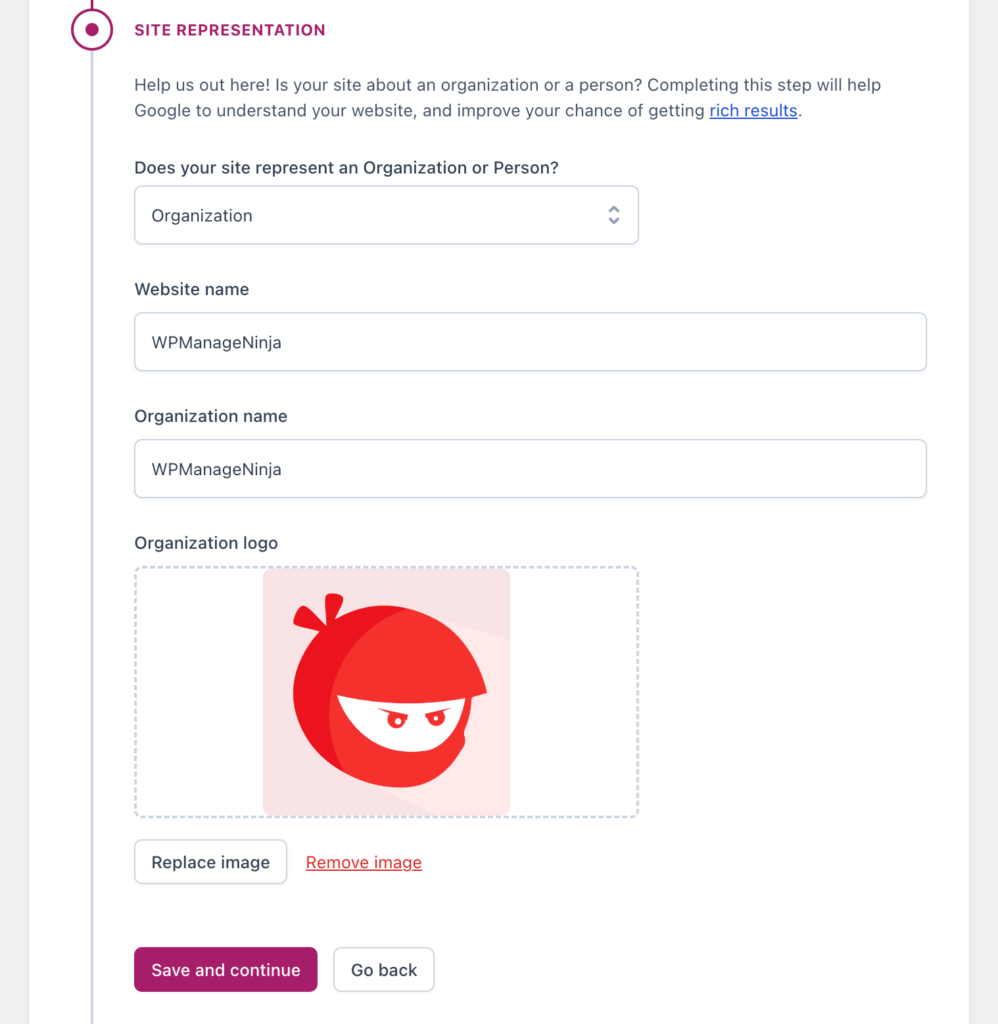 We'll add our social profiles and save changes in the next section.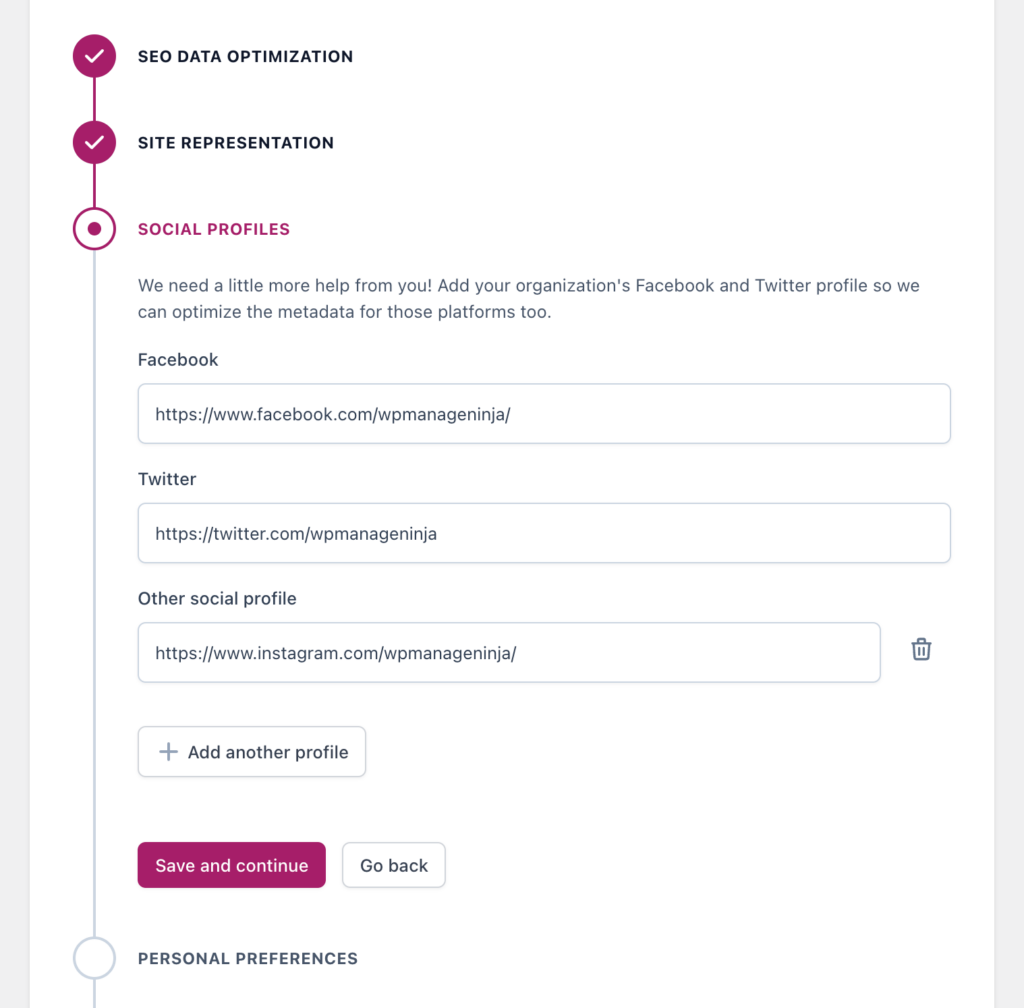 The following section is for providing personal information. If you want Yoast to track your site data for their product improvement, you can check the button. Also, you can sign up for the newsletter.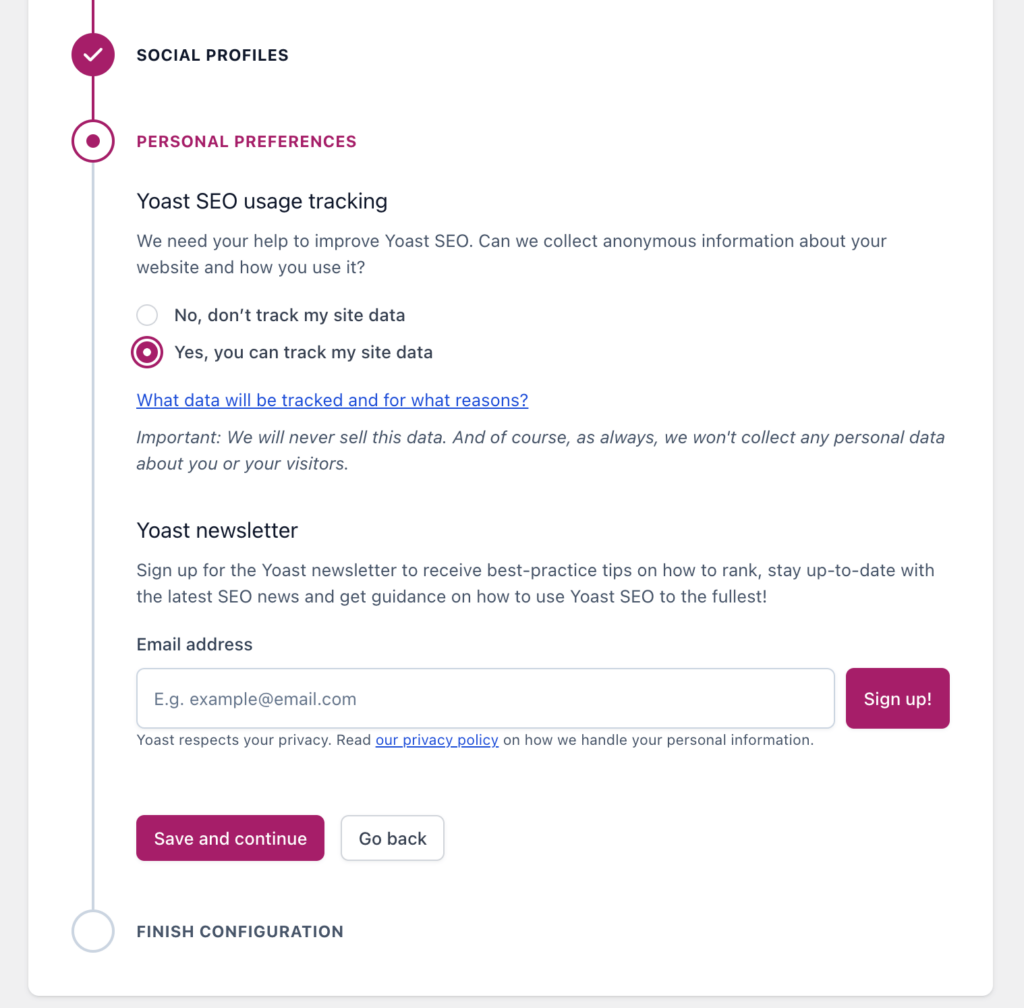 That's all for the setting. Now you can move into the dashboard.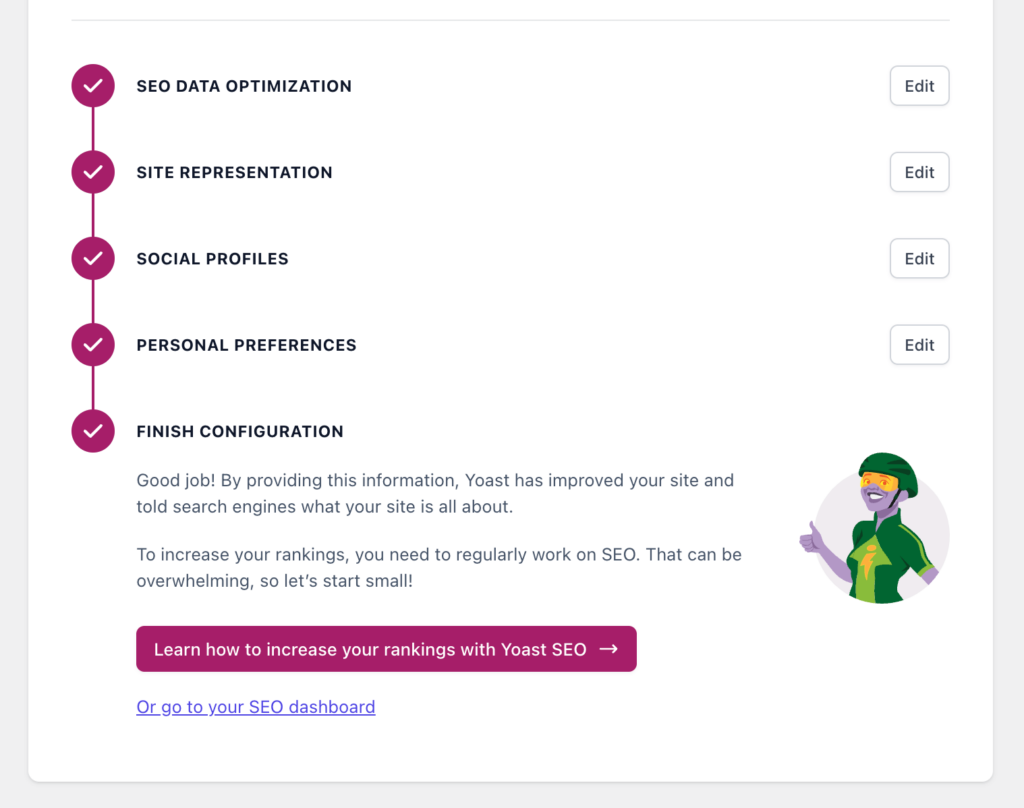 Similar to the AIOSEO, Yoast also has a premium version. If you want to check them out you'll get several options inside the free plugin.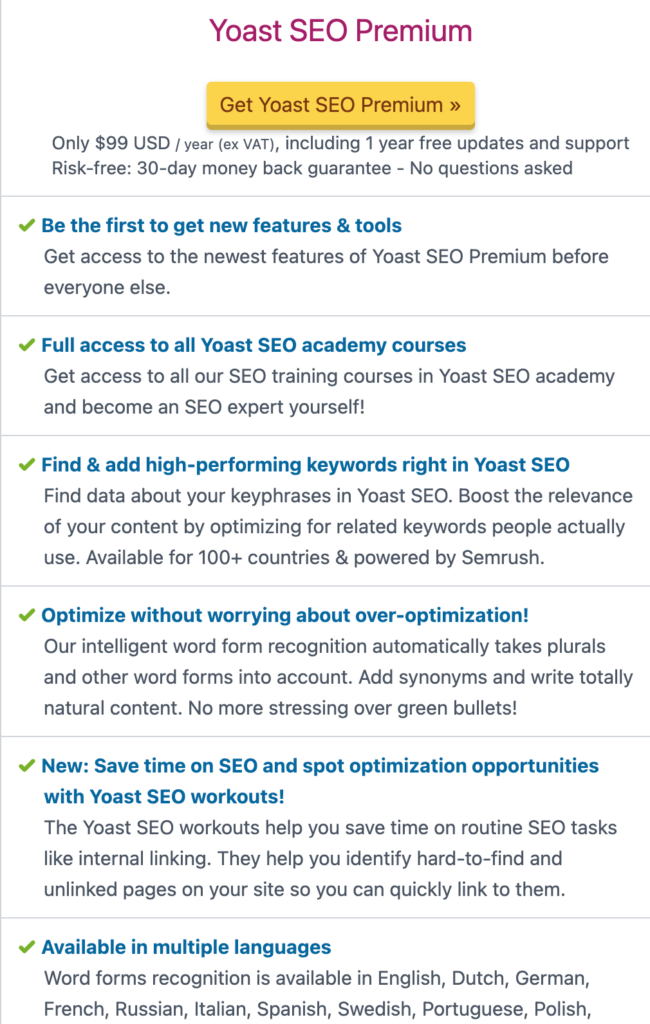 On-page optimization tools
Let's check out the on-page optimization features each plugin offers for your content. All in One SEO has the following options available on the right sidebar of your WordPress editor:
General
Social
Schema
Link Assistant
Redirects
SEO Revisions
Advanced
Before talking further, I want you to know that all of the above tools are pro for the users, except the first two: General and Social.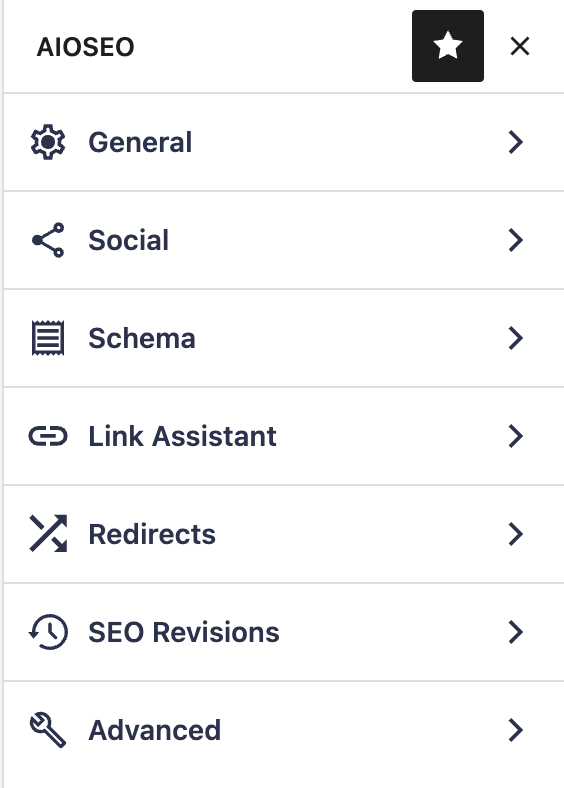 Under the General section you'll get the following options:
Edit Snippet: You can edit your snippet such as title and meta description and preview them here.
Focus Keyphrase: Only one focus keyword can be placed in the free version.
Additional Keyphrases: This option is for premium users.
Basic SEO: You'll find if there's any error for multiple parameters, such as focus keyphrase in content, meta description length, content length, internal and external link, etc. If your optimization meets the parameters, then the right indicators will show you that.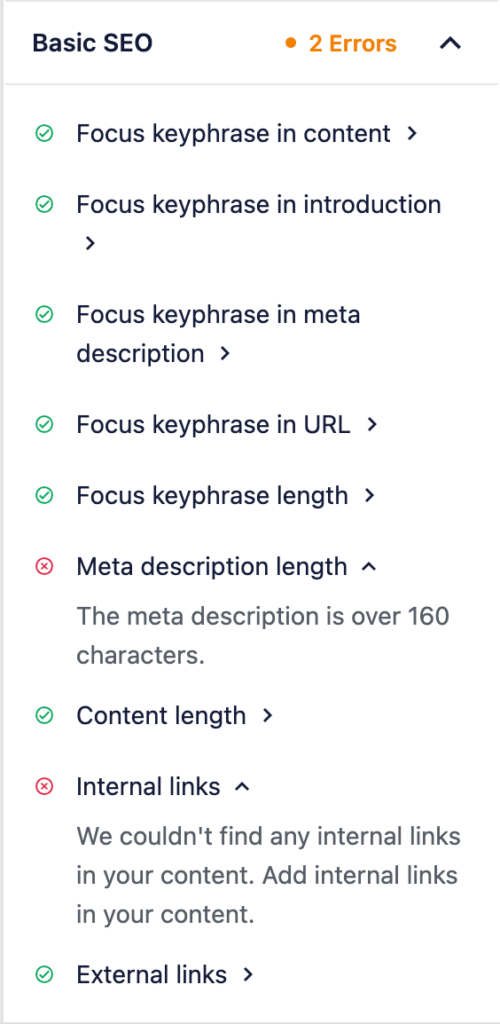 Title: This tab will examine if the focus keyphrase is available in the SEO title and the beginning of the title. Also, it will check if your title meets the optimal length requirement. 
Readability: Images/videos in content, paragraph length (if you're using short paragraphs) sentence length, passive voice percentage, transition words, etc.
Yoast has a similar sidebar that presents SEO and readability analysis along with some additional features.
Focus keyphrase: Here you'll put your main keyword, the one you want to rank for. They have a wonderful option to get related keyphrases where you can see other keyword variations and where they are popular.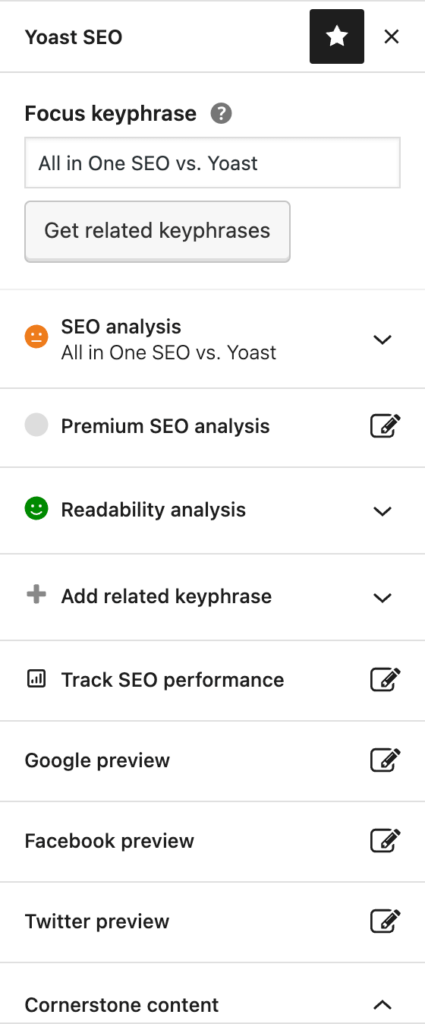 SEO analysis: They will show the complete analysis separated into two categories: Problems and Good results. What does the analysis cover?
Keyphrase distribution
Internal links
Keyphrase in introduction
Keyphrase density
Meta description length
Keyphrase in subheading
Outbound links
Image Keyphrase
Images
Keyphrase in SEO title
Keyphrase length
Previously used keyphrase
Text length
SEO title width
Readability analysis: Under this tab, you can get suggestions under various categories, like Problems, Improvements, and Good results. These are the parameters:
Word complexity
Subheading distribution
Passive voice
Consecutive sentences
Paragraph length
Sentence length
Transition words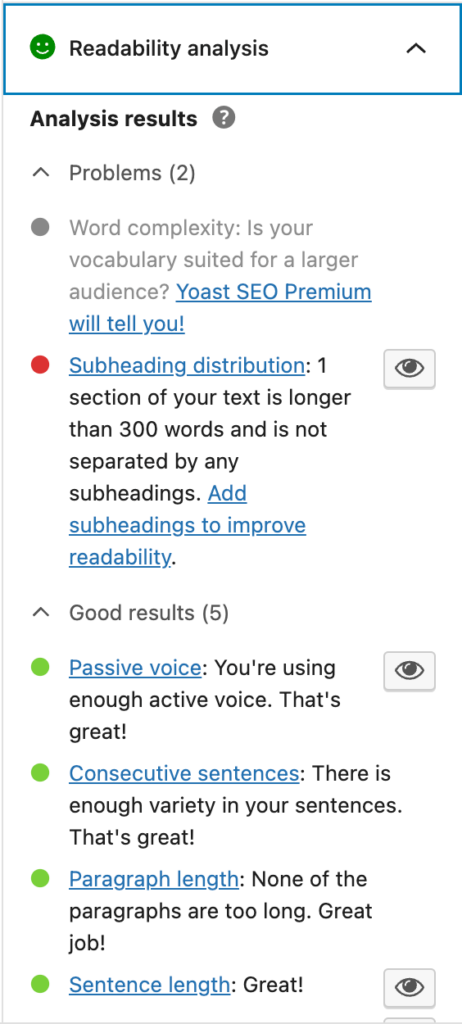 Add related keyphrase: This is a premium feature similar to the All in One SEO.
Track SEO performance: By connecting Wincher, a third-party rank tracker tool, you can track one keyphrase per article with free Yoast and free Wincher.
The following three tabs are for Google, Facebook, and Twitter previews. They are self-explanatory so I'm not going to discuss them.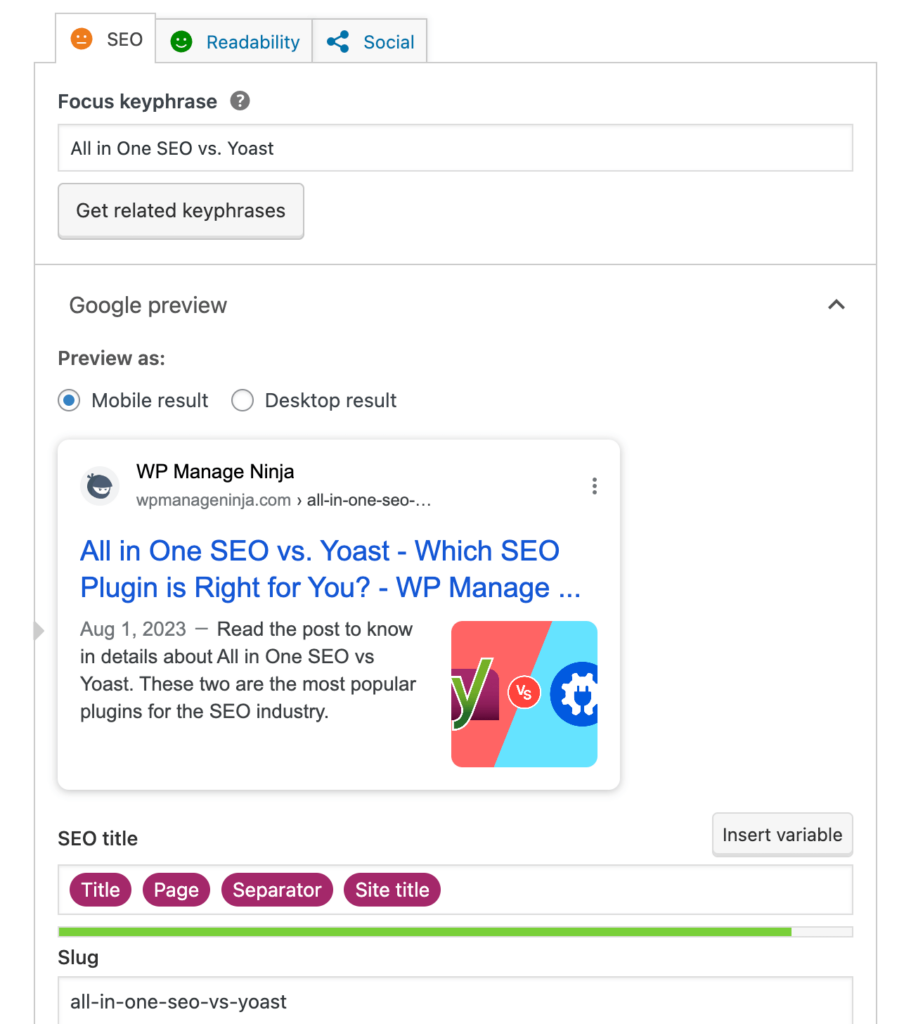 Cornerstone content: These articles are the most significant content of your website. So not every article is a featured one. Right? If you want a particular one to present as the cornerstone, turn on the button.
Insights: The last tab floats on the sidebar for getting some insights related to your post. You'll get a Flesch reading ease that shows the score which simply indicates how easy the content is to read. Some other sets of data will also be shown that are word count and reading time. For premium users, Yoast offers prominent words to check against your article.
XML sitemap generation
Without your content getting indexed in Google, it doesn't matter how great your content is. Surely, you'll give effort for keyword optimization, readability improvement, internal linking, and other factors to win the race in the SERPs. In the end, you have to work out how to allow Google to index your pages.
XML sitemaps are the most efficient way to read your site by Google. All in One SEO and Yoast bot plugins have support for XML optimization easily.
If you also want an RSS sitemap, All in One SEO has support for it. Crawl bots sent by search engines check RSS sitemaps more than XML sitemaps. 
Both plugins allow users to customize XML and other sitemaps such as Google News. However, sitemap optimization is a pro feature in All in One SEO, whereas, you have to buy add-ons to get the features with Yoast.
Social media integration 
Engagement in social media is a crucial factor for SEO since search engines use social signals to determine the popularity of a website. If your SEO plugins offer easy optimization inside the WordPress dashboard, it will take less effort for your social media presence.
All in One SEO has 11 social networks available to integrate, and you can see the preview below your blog post for Facebook and Twitter.
With Yoast, you can set up eight social media profiles, and see the preview for Facebook and Twitter below your posts.
As I was saying, you can customize Facebook thumbnails and Twitter cards to check the preview instantly before publishing a post.
Pricing and available plans
All in One SEO has four different plans from $49.60 USD per year to $224.70 USD per year. The lowest package is for one site and the highest plan is for 100 sites.
Yoast has a free plugin which is very popular in the WordPress industry. With the cost of $99 USD/year, you'll get access to their new features and tools. You can set multiple focus keywords, get link suggestions while you write, and most amazingly, you can access the Yoast SEO academy.
Yoast also offers five additional plugins which you can buy at $229 USD per year. They have separate plugins for video, local SEO, WooCommerce, and news. Individually, each one costs $79 USD/per year.
By the way, all the packages are for single sites.
Conclusion
For WordPress websites, an SEO plugin is a must. In the battle of All in One SEO vs Yoast, you can choose anyone as a winner. Both plugins offer many exclusive features in the free version, and more advanced features are unlocked in the pro packages.
However, my personal favorite is Yoast. The biggest reason is I'm accustomed to its interface and usability. Not only is the plugin user-friendly but it provides many useful features in the free version, as well, which is beneficial for newbies.
Yoast is also ahead of the game for its SEO academy, even the free users can get access to the basic lessons. For pro users, they give free access to all the lessons.
Saying all that, All in One SEO is also a popular and old plugin which is improved significantly in recent times. If you want to go for it, you can do it. But keep in mind that, they will push for the premium package all the way which sometimes makes you feel irritating.