Undoubtedly, WordPress is the most comprehensive CMS platform these days, but due to having some limitations, WordPress comes with plugins to resolve those issues. Creating dynamic tables is one of the complex issues in WordPress because by default users can't create any table without raw coding. Though Gutenberg has introduced a way to create basic tables that might not be enough for serving your purposes.
In this case, table plugins come into existence to resolve the issue. Right now, Ninja Tables and TablePress are the most advanced table plugins. Today, I am going to discuss TablePress Vs Ninja Tables, a comparative view between the two high-end and fast-growing plugins in WordPress.
TablePress is a cool simple WordPress plugin that helps users to create and add tables to their WordPress posts. Even though both plugins were designed to fulfill a common goal for the users, in reality, they are two different plugins that accord a few common functionalities.
Ninja Tables is the fastest-growing table plugin in the WordPress directory. The table below summarizes some of their key similarities and differences. Here, I am using the Ninja Tables plugin to create this interactive dynamic comparison table.
Comparison Table: Ninja Tables Vs TablePress
Features
Ninja Tables
TablePress
WooCommerce integration

check

remove

Import-export

check

check

(Not from other plugins)
Advanced styling

check

check

Tables with form entries

check

remove

Dynamic table data

check

remove

JSON & CSV Support

check

check

Responsive

check

remove

Excel-like editor

check

check

Filter and sorting

check

check

Google Spreadsheet integration

check

remove

Charts

check

remove

Transform value

check

remove

Table coloring

check

check

(With CSS)
Conditional formatting

check

remove
NOTE: The comparison table can become outdated as plugins get updated. Please contact us if in doubt.
Comparative Analysis
There are certain aspects that we can consider as standard parameters to make this comparison fruitful. So, without further ado, let's get into the main business.
Plugin Interface
Let's come to the plugin interface section, the interface of the plugin is a very crucial part that makes the users more interactive. The easier the interface the more you get the interaction. For complex table operations or data tables with a huge amount of data, ease of use plays a major role.
Ninja Tables comes with an easy-to-use interface that a novice user can easily operate. One functionality is separated from the other one, users can easily manage the plugin using any kind of table. Here is the look of a customized view of a table back-end using Ninja Tables which shows the plugin's user-friendly interface.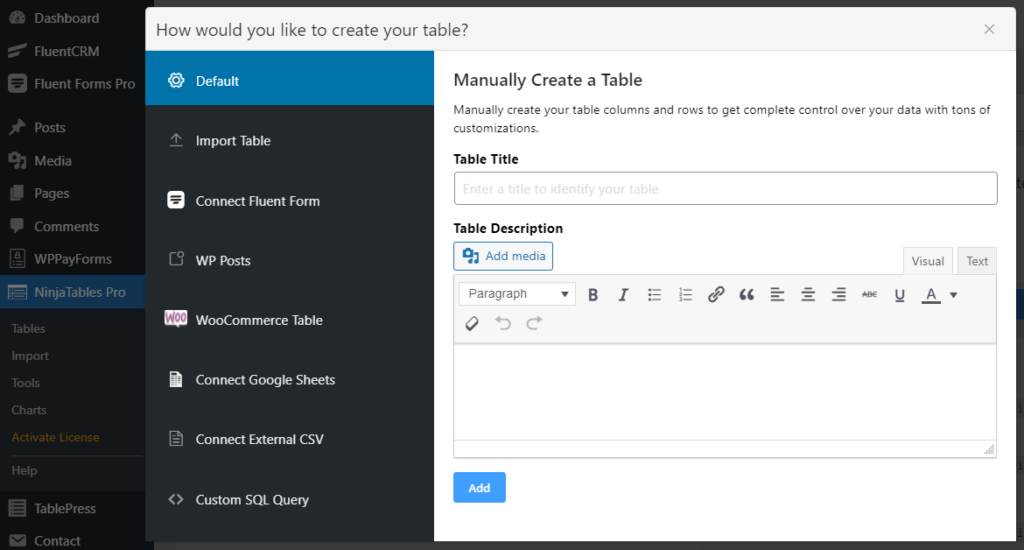 On the other hand, the interface of TablePress is complex and cluttered as it seems like a bunch of ingredients crammed in a small room.
In comparison, it's not that handy to manage any table using TablePress as it's way more complicated to operate. Here is the look of a customized view of a table that shows the plugin interface very untidy.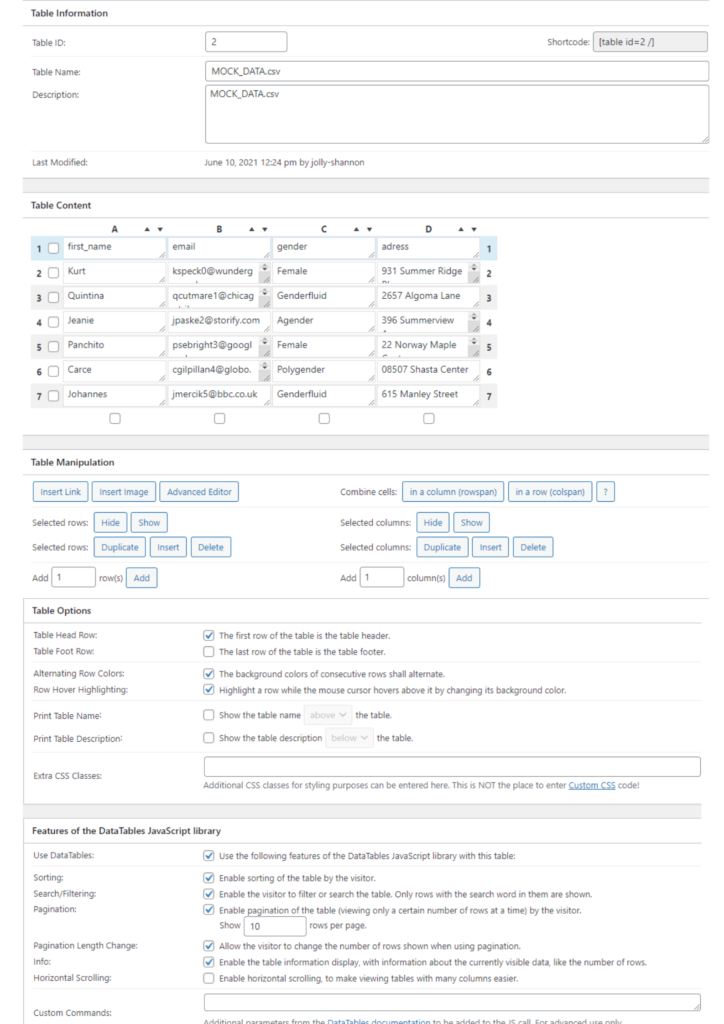 This is how the plugin interface is created and it looks so much complicated one.
Table Interface
The interface is a vital part of any kind of tool. There are two types of interfaces in general. One is the table interface that has already been created by the respective plugin that we see in the preview section and another one is the plugin's appearance which determines how much easier or harder to operate the plugin.
First of all, in terms of the table interface, tables created by the Ninja Tables plugin looks very organized and easy to understand. You can have a better preview of your desired table using the Ninja Tables plugin. In the front-end section, the table design is so much user-friendly as it looks.
Here is the screenshot of tables created by the Ninja Tables and TablePress: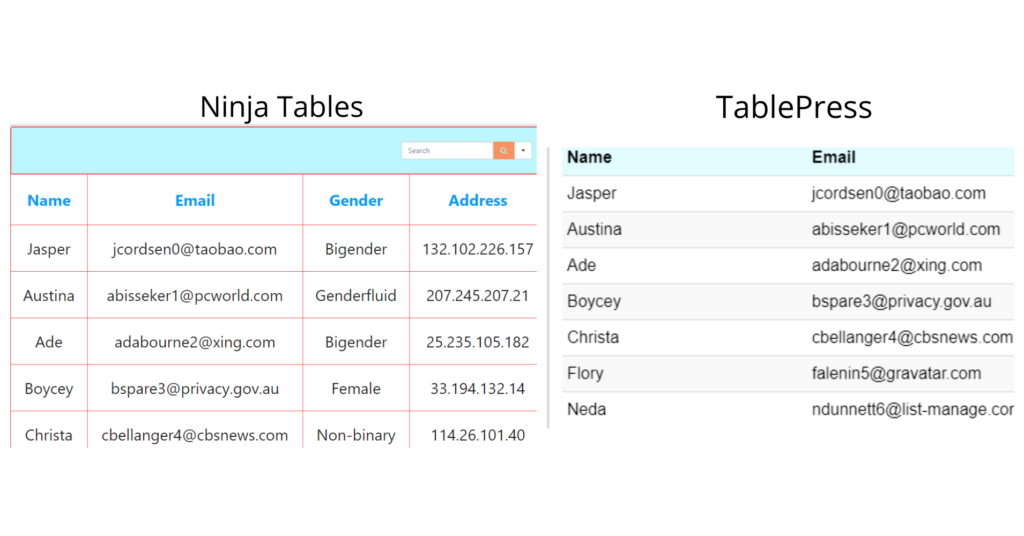 The same data was used for both but as we zoomed in, TablePress didn't stay as responsive as Ninja Tables. You'll need the pro extension for this responsiveness.
Plus you also need to use CSS to align the column texts in TablePress. On the other hand, Ninja Tables already has the text alignment option
Integrations
Here Ninja Tables runs miles ahead, all thanks to its multiple third-party integrations. Currently, this plugin can create 5 more types of data tables other than the basic ones.
WooCommerce product tables
This feature is the best for online product store owners. Rather than displaying the WooCommerce products in a grid format, you can create a table with WooCommerce products in Ninja Tables and customize it as you wish.
WP Fluent Forms
Integration with this sister-plugin is the result of user requests. You can create a table with WP Fluent Forms entries and design the table using Ninja Tables features. A workaround also lets you add forms in the table cells!
Google Spreadsheet
You can present all the spreadsheet data in Ninja Tables. Fetch data, links, images, etc from Google Spreadsheet and create a table within minutes.
WP Posts table
Fold-up all WordPress posts and create a table with Ninja Tables. All WP posts in the table will stay neatly arranged.
Charts
Users were asking for a Ninja Tables to become both table and charts plugins. As a result, the last update in 2020 included an auto-integration with Ninja Charts (Free).
With this feature, you can create all sorts of charts in Ninja Charts, including data from WP Fluent Forms and Ninja Tables.
Check out all the productive ways to create a table.
Column Settings
Ninja Tables comes with a bunch of handy options for its users. Every functionality is segmented from each other for making things easy.
Table Configuration is used to configure each column of the table. You will get a number of advanced options in the left sidebar panel of the plugin. In the Columns option, you can use the drag & drop feature to rearrange the columns of the table.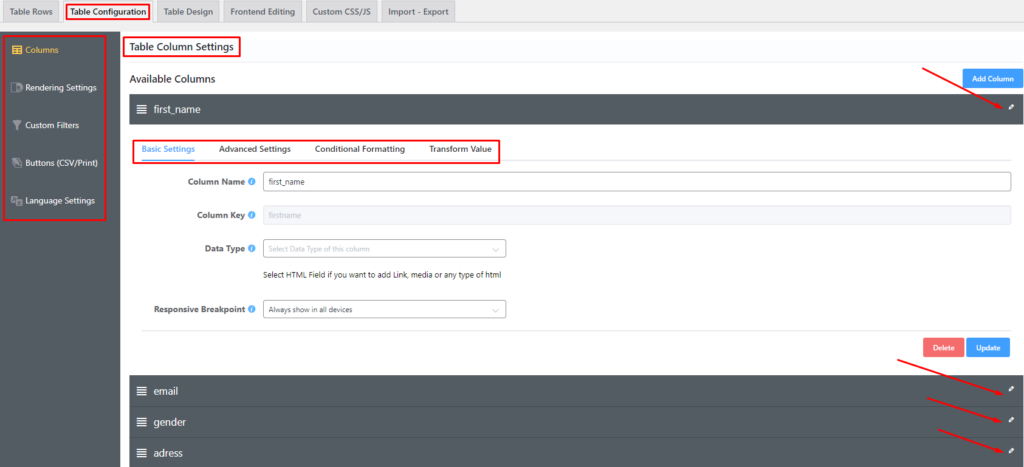 Use this tab for configuring any specific part of the table, For instance, "Transform Value", "Advanced column settings", "Conditional Formatting", Basic settings".
Styling and Designing Comparison
Both plugins' user interfaces follow the stylings of the core WordPress UI. This indicates the back-end pages of both plugins mingle smoothly into the rest of the WordPress admin dashboard area, making them feel like a core part of your website.
Ninja Tables gives you a great styling option in a simple way. It's a handy way to manage your table through styling. Here is the look of different styling options of Ninja Tables.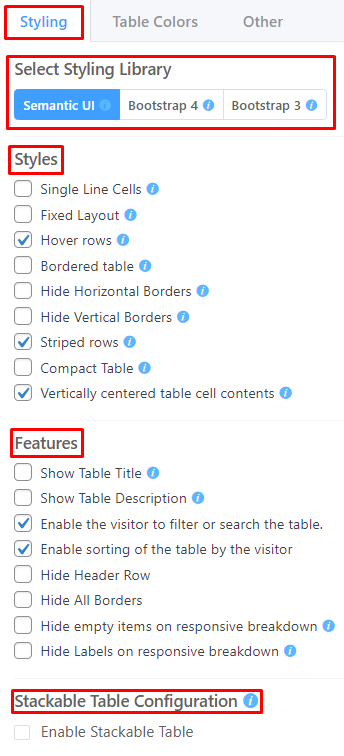 In TablePress, there is no segmented option at all. There is an option of styling along with other functionalities.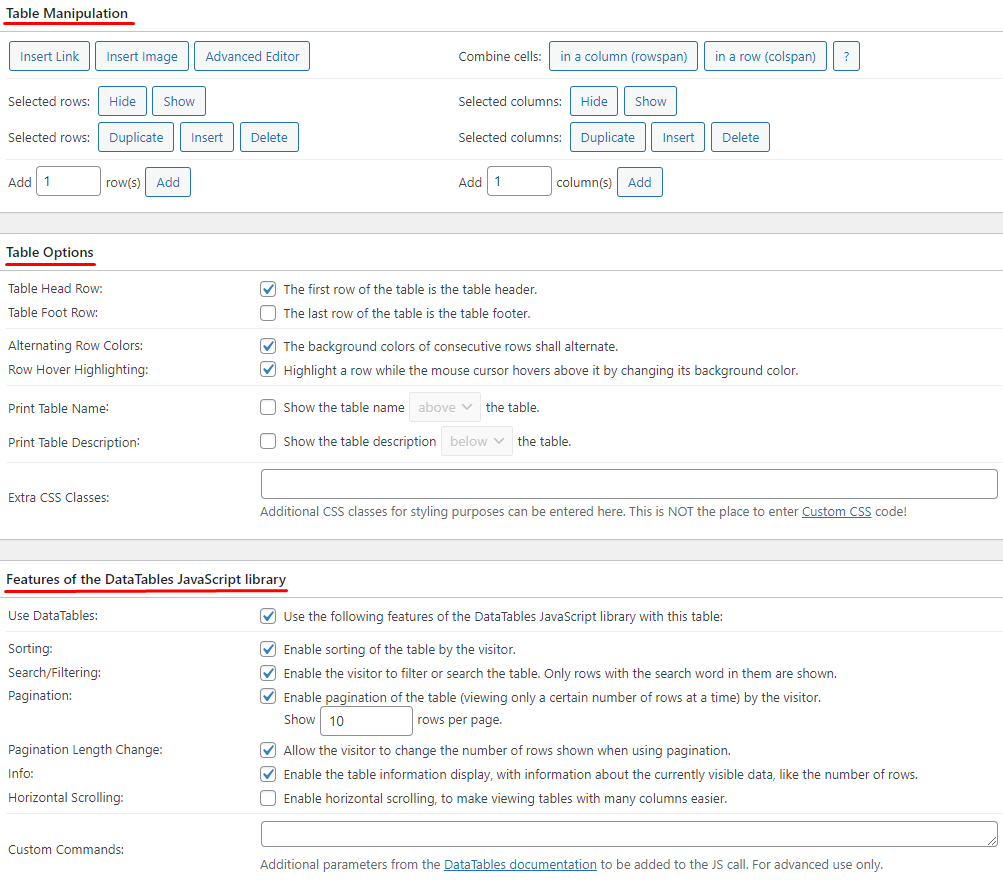 You can also use the Table Design tab for customizing Ninja Tables.
Here is a screenshot of the interface for your better understanding.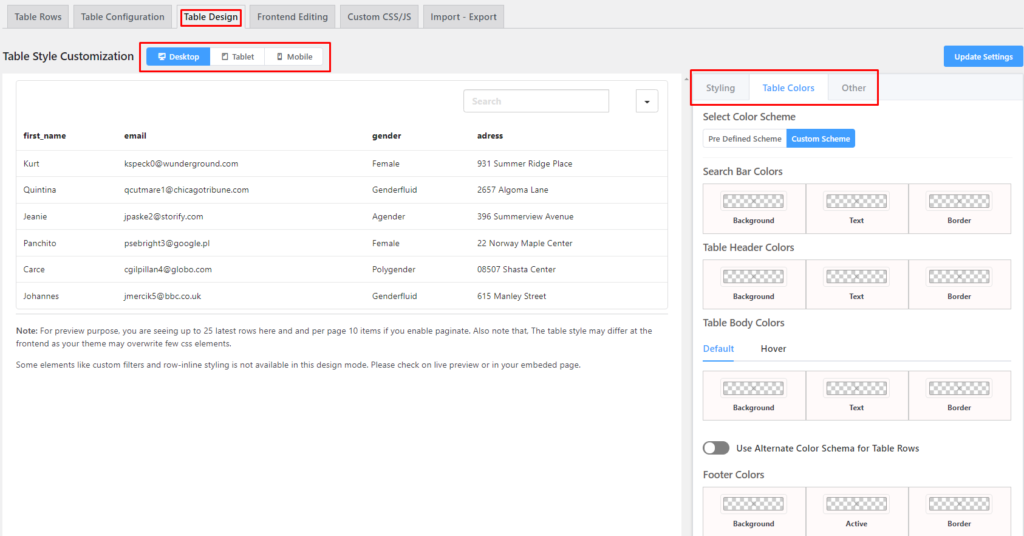 We have detailed documentation on how you can customize your table designs and layouts. Check it out here- Designing Ninja Tables
On the other hand, in TablePress you can't have such segmented options. There are lots of options on a single page which makes things complicated for its users.
There is no option for designing and configuring rather it bears a complicated interface compared to the Ninja Tables. Here is the look of the generic interface of the TablePress plugin.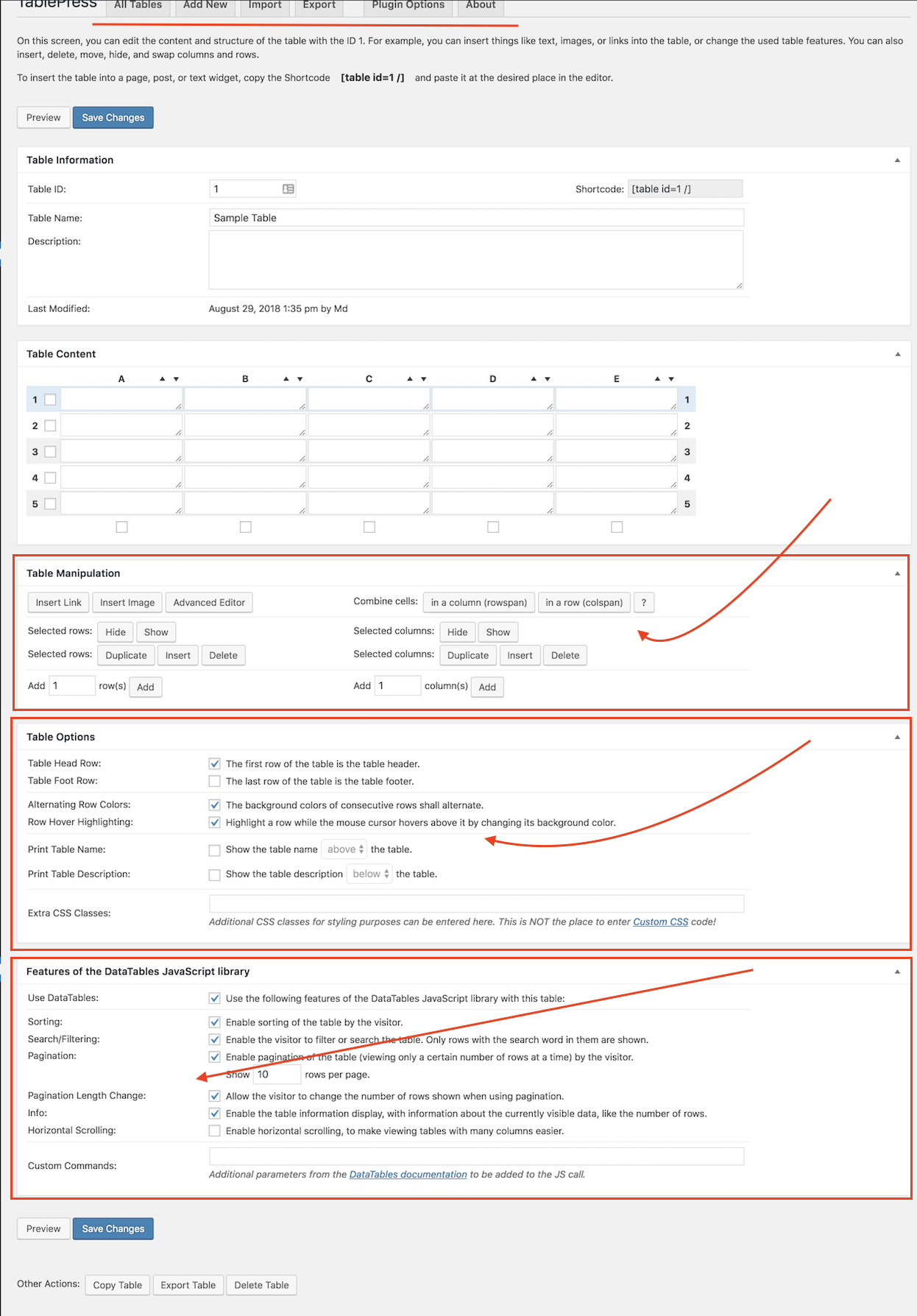 Moreover, you need to use CSS to add color to the table, which is definitely not a cup of tea for noobs!
Responsiveness
Ninja Tables bears a responsive breakpoint facility which ultimately gives a full responsive outlook in the table. Users can choose any specific column to be displayed on any specific devices according to their choice. This is a smart way to deal with all the table data on different devices.
How to make your tables perfectly responsive for different devices? Check out the amazing responsive breakpoint option Ninja Tables offers!
TablePress doesn't have that responsive breakpoint facility rather by default it's not fully responsive and mobile-friendly in type. To make it responsive, you need to purchase and install an extra add-on to make it fully responsive.
Moreover, Ninja Tables has "Stackable table configuration" feature that lets users select any device for responsiveness.
Data Migration Facility
If you are using TablePress, the good news is that you can easily migrate your existing data into Ninja Tables within a short possible time. Here's the screenshot.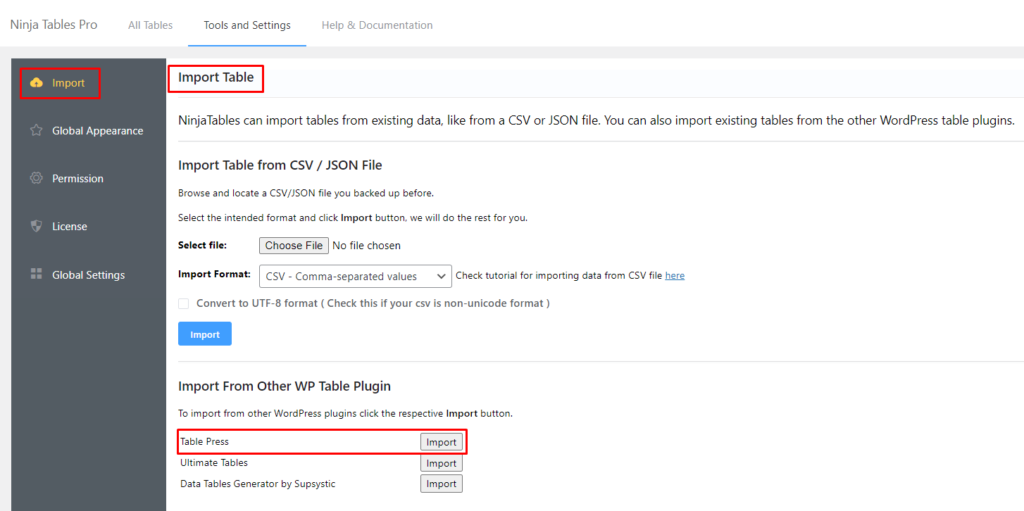 If you want to know more about data migration, you can have it by clicking here.
On the other hand, TablePress doesn't have any data migration facility from other tables.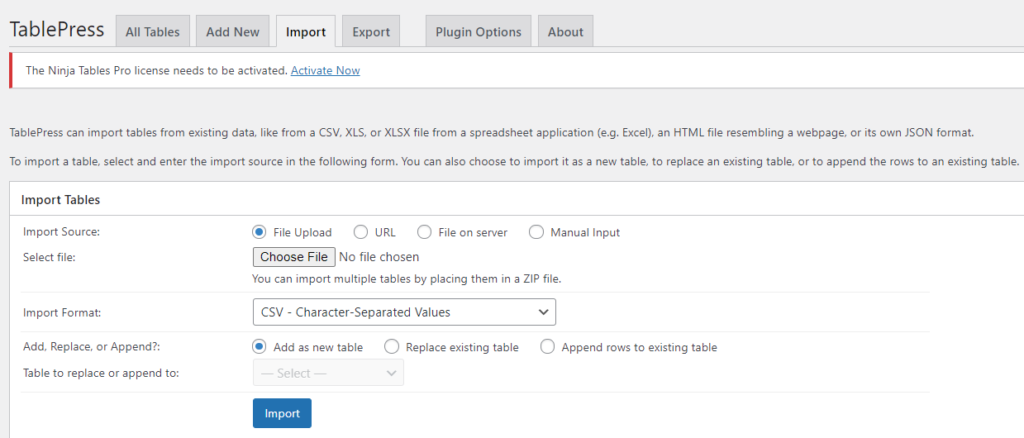 Final Thoughts on the Issue
While taking the decision, both the plugins, one thing that should be kept in mind that when TablePress came into the market it was named by WP-Table Reloaded and it has happened almost 10 years before.
Then in 2013, WP-Table Reloaded replaced by the name of TablePress. At that time it was the leading plugin in the market. And most importantly, since it's been around for so long, it has acquired a massive download and active installation count.
However, it's no longer the only best tool for many reasons, including new feature requirements and flexibility.
On the other hand, Ninja Tables continues to grow in demand because it offers competitive features, better support, and an exceptional overall user experience! Users find the plugin easier to use.
After a close discussion, now you know all about TablePress vs Ninja Tables. Seems like Ninja Tables comes out as the obvious winner.
Finally, I would highly recommend Ninja Tables so you can create dynamic and interactive data tables. This plugin gives a better tabular look to your site with all of its rich features.
What are you waiting for? Start with the most powerful Table Plugin from now. If you have any opinion regarding the issue, let me know by commenting below. I hope the article helped you so much to mitigate your confusion.