Making your WordPress website gripping and compelling is easier than ever! All you have to do is slip-in some tables and charts listing the details you want users to focus on. This way, the content will become easy-to-read and meet the users' intent too. WordPress table plugins are the most useful way to show the necessary information on a site.
Why use a table plugin?
Until Gutenberg came, WordPress had no facility to create a table by default. But with the release of Gutenberg, WordPress supports a very basic/fundamental table creation facility that may not be enough for creating a dynamic table. It's a simple arrangement of columns and rows and that's it. There is no other feature that can make the tables a bit more interesting or interactive.
To create advanced online data tables that are dynamic in type, you need to use a quality WordPress table plugin. But there are a number of table plugins in WordPress that may confuse you to choose the right one for serving your purposes. Considering this fact, in this article, we're going to demonstrate the best table plugins so that you can choose the one best suited for you.
Top WordPress table plugins
If you wish to captivate users right away and make them spend more time on your site, decorating it with tables and diagrams would be a smart call. To avoid the lengthy process of individually researching the plugins available in the market we have picked out a shortlist for you.
Here's our suggestion of top 6 best WordPress Table Plugins-
We have included details like active installations and prices of different versions, alongside their best features or mentionable lackings.
Let's get started with the first one!
Firstly, a freemium table plugin in WordPress, like Ninja Tables, is the quickest solution for visual information. You can use it to create simple yet impressive tables without any hassle.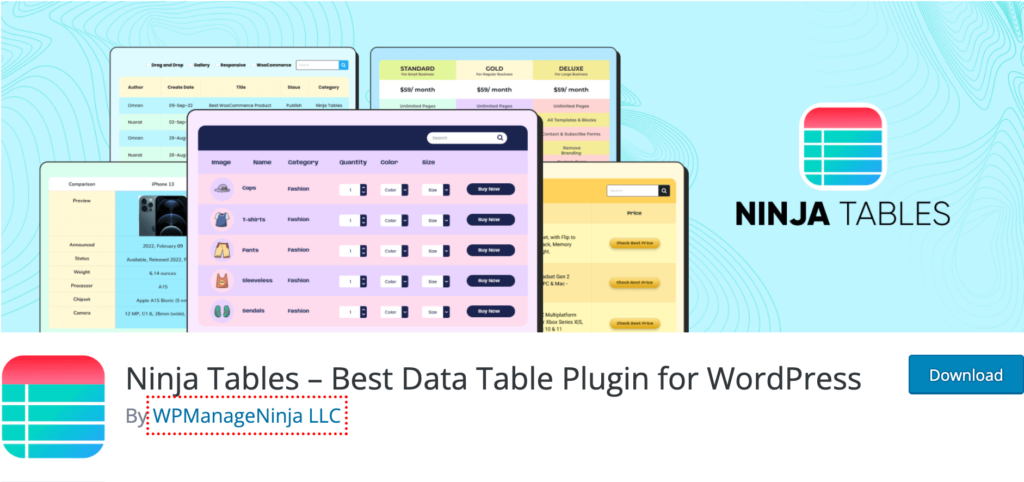 It's a WordPress responsive table plugin and the tables can be customized or configured easily without any coding. Besides, it's getting frequent updates to make it more user-centric.
Features
WooCommerce integration.
Direct integration with Fluent Forms.
Auto-sync with Google Sheets.
Drag and drop option.
Easy to rearrange and adding data or image.
Create charts using Ninja Charts.
Several table styling and customization.
Import-export function.
Custom CSS or JS.
Pagination and sorting.
Unlimited rows and columns.
Customizable colors.
Manual sorting and editing.
For a preferable library styling, you can choose Semantic UI, Bootstrap 3, or 4. Ninja Tables is responsive throughout different devices and lets you pick the color scheme as well to make the tables look more enticing. Moreover, it comes with several other customizing options that are easy to follow to design your tables as per your liking.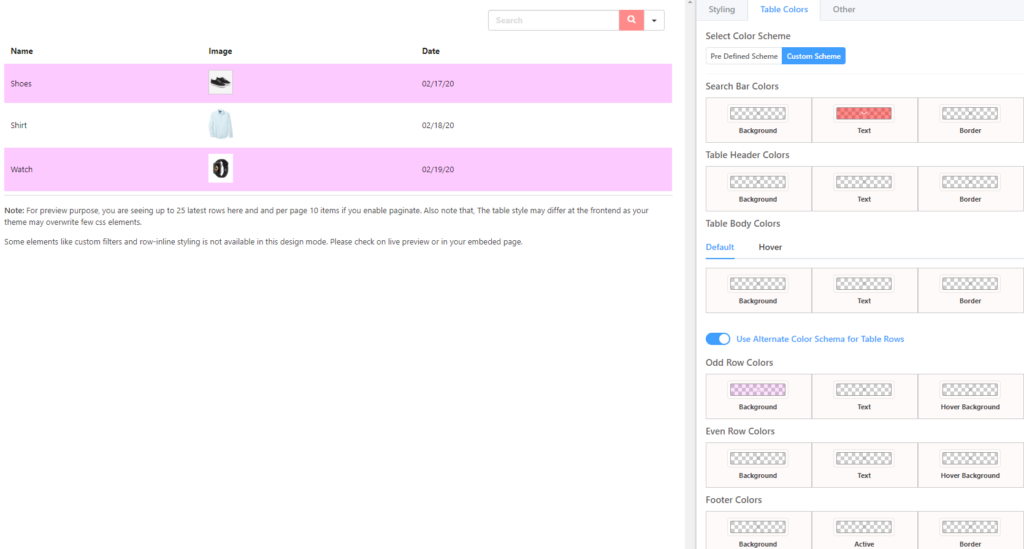 Another great feature of this plugin is that it lets you create a WooCommerce table with a built-in style! So, Ninja Tables is all you need to tabulate your products. You can also adjust the table columns' visibility to fit any device.
For instance, here's a WooCommerce product table.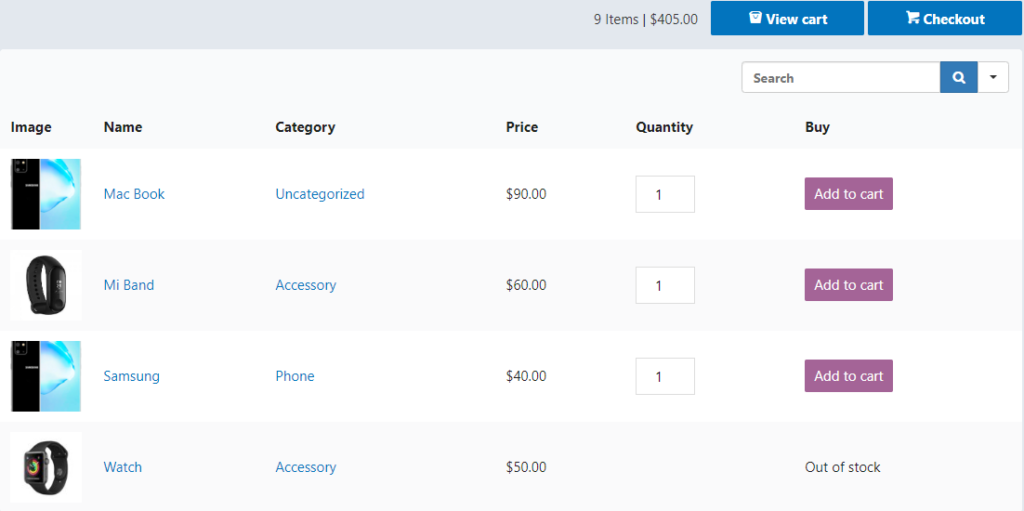 Though the free version of Ninja Tables comes packed with some pretty amazing features, you might need to upgrade to the premium version to unlock some powerful functionalities this plugin offers.
You can pick from the three packages for both annual and lifetime- Single, Agency (up to 5 domains), and Unlimited (Lifetime license for an unlimited number of domains). Prices start from $79 to $299/year and $199-$599 Lifetime.
However, the massive user community of 80,000+ should tell you that Ninja Tables always offers the best for any value!
It's the most popular table-builder plugin, and you'll understand why after using it yourself. A generic table plugin to create HTML tables comes in handy anytime.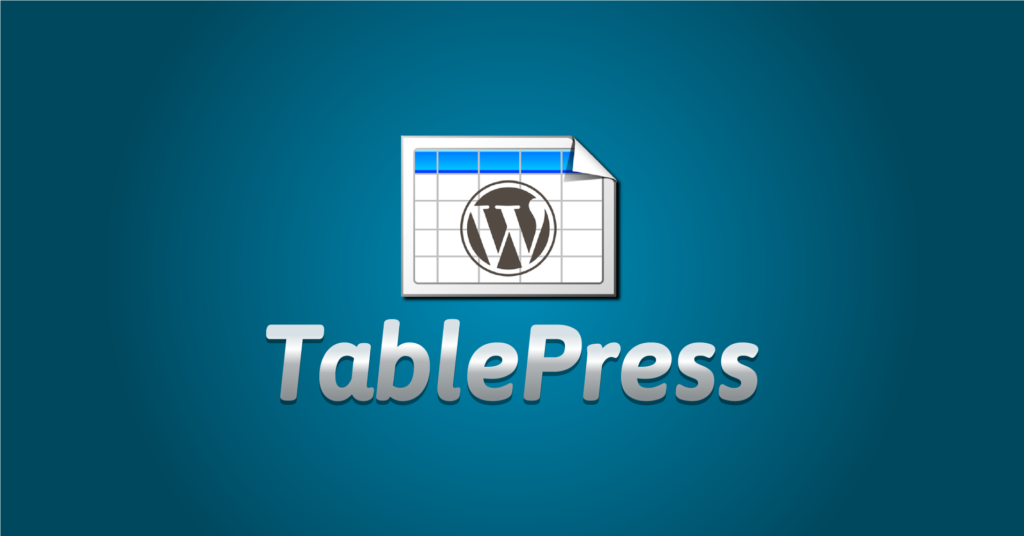 Features
Table configuration.
Excel-like appearance and responsive.
Link or image to create visuals.
Row highlight animation.
Custom CSS styling.
Drag and drop function.
Import-export Excel, HTML, CSV, and JSON files.
Sorting, pagination, and searching.
Combine cells.
Edit data structure by inserting, swapping, or duplicating.
Similarly, the spreadsheet-esque interface can help you input data without any code! You can enable all these features to make your site more user-friendly. Also, if you want to adjust your data, you can select columns and rows and customize them as per your need.
A beginner might face some trouble using TablePress because it's a little time-consuming and tables are spreadsheet-like by default. You need to import from outside sources for a different style.
With about 800,000+ happy users and fantastic features, TablePress is ruling the WordPress table plugin niche!
As of 2023, this plugin offers a premium version and the pricing starts from $79/year.
Unlike some other table plugins, this one helps create a responsive table that's compatible with all types of devices. If you have to work with millions of data or rows, wpDataTables can handle these problems with the MySQL server. Along with these functionalities, you can also have an individual filter and narrow your results down.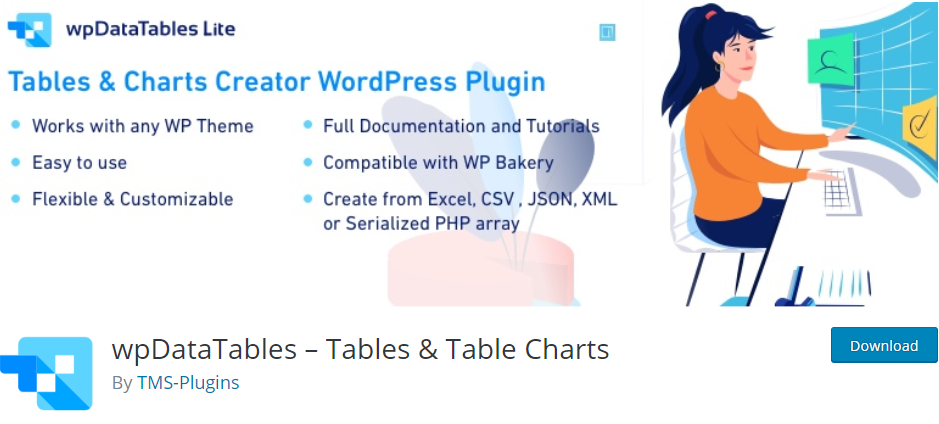 Features
Highly responsive design.
Conditional formatting, advanced filter, and row grouping.
wpDataChars to create dynamic charts.
Data calculation.
WPBakery Page Builder integration.
The editor dialogue.
Highlighting cells, word wrap, sorting.
Multiple databases (MySQL, MS SQL, and PostgreSQL).
In-line editing controls.
Date pickers.
These are some additional features for users' comfort. As a result, they can use tables in WordPress in a complex or responsive way. It still lacks some attributes. For example, visual table styler, WooCommerce table, value transformation, etc.
Prices of this plugin are $59-$249/year and $189-$589 Lifetime. Almost all the 50,000+ site owners using either of these seem to be fully satisfied. So, you can try it out for your business.
Get wpDataTables pro version now
Add Visualizer plugin to your WordPress and see how it changes the game for you! It lets you customize charts and tables to match the design of your site. It's mainly a chart plugin where you can select from 12 different chart styles (pie, line, area, etc.) and also, add chart animation.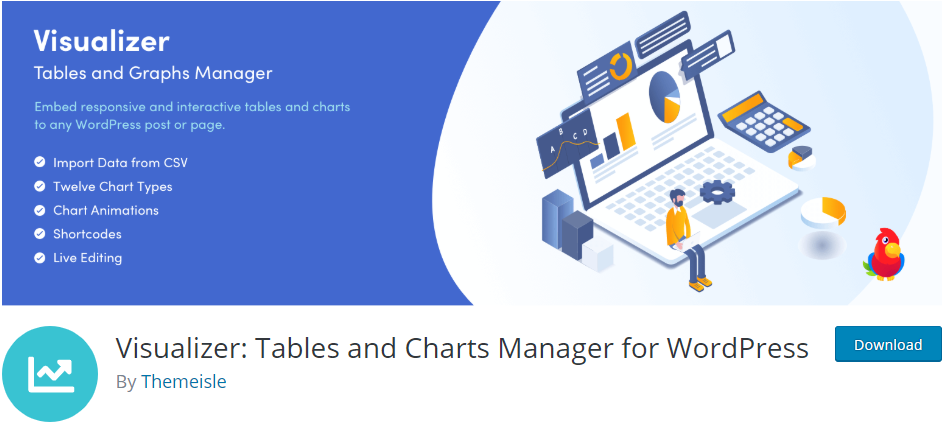 Features
Apart from basic tables, there's option for animated charts and multicolor diagrams.
Customization of chart title and chart style, colors, tooltip, and layout, animations, zoom, and pan.
Interactive data tables and charts.
Support from Google Visualization API, ChartJS, and DataTables.net.
Edit live and import table.
Auto-sync with spreadsheet.
Set a private table.
These are some of many useful features of this visual-centric plugin. Although, the free version offers only basic features excluding certain styles and editing options. You also can't create a private chart, import or edit live.
40,000+ users are currently enjoying the free version, the premium version for $99/yr (personal), and the developers' version for $199/yr. Finally, the $399/yr version is for an agency license. The lifetime prices are $159-$799.
Last but not least, here's a plugin with some riveting features! This plugin can help you create and manage all sorts of tables to enrich your website and increase UX.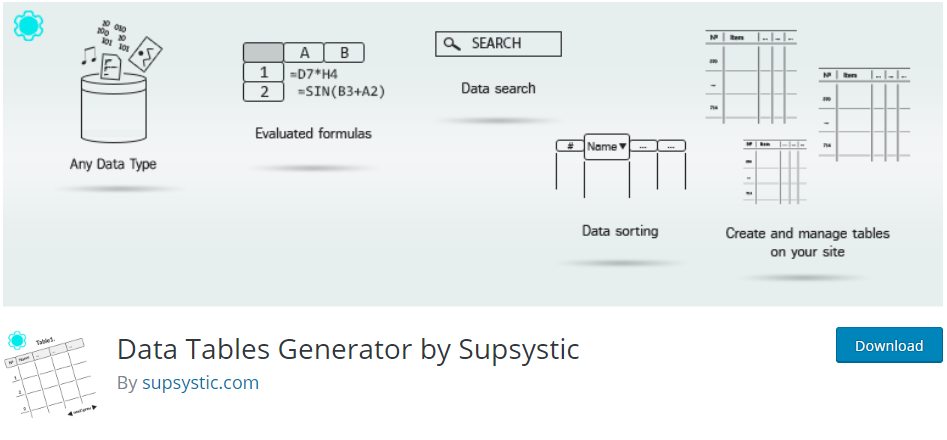 Features
Visual table editor.
Tables with a large volume of data.
Product table for WooCommerce (retired now).
Data formatting. pagination, sorting, filtering.
Exporting CSV, Excel, and PDF and importing from CSV, Google Sheets, and Excel.
Create a diagram and interactive charts/graphs.
Auto-update, numeric data calculation, and migrate tables.
Control color schemes.
Even though it's beginner-friendly, this plugin limits customization option. Also, charts, graphs, and WooCommerce are absent in the free version.
As one of the best ones, Data Tables Generator offers some useful features in the free and basic version both. But if you purchase the premium versions, you will get some extra functionalities to make your business grow.
Personal: 1 year $46, 2 years $59, 3 years $79.
Developer: (upto 5 sites) 1 year $69, 2 years $109, 3 years $149.
Enterprise (6+ sites): 1 year $149, 2 years $239, 3 years $319.
JetEngine Tables Builder module is the premium plugin for showing posts, products, comments, terms, users in a dynamic way. With this plugin, you can create complex and simple tables for your website.
Features
Creating flexible, dynamic tables
Filter your tables with JetSmartFilters integration
Present the backend data to your frontend table
Fetch data from users, WooCommerce products, reviews & comments
Generate the table from custom content types
Import data from SQL database
Build the table based on dynamic data
Preview the table content before publishing
Header & body styling
Horizontal scroll for extensive tables
Place the table on any page
Tables Builder module is compatible with Gutenberg and Elementor and has modular options and settings. This plugin costs $0-$750, but you can also buy a lifetime plugin license or Crocoblock subscription.
Honorable mentions
You must have gotten an idea about the best table plugins so far. Now, to make things simpler, we're summarizing the discussion above. As Gutenberg doesn't fulfill the ultimate purpose, you can look at the following to modernize your existing tables:
It was initially for sports and games. But its simple interface made it a regular table-creator. Purchase this quality plugin and get the following features-
Over 100 options per table
Sortable, responsive, and more
It's a drag and drop table plugin to help create responsive and dynamic tables. Affiliate marketers, bloggers, and startup companies get the best use from it.
Mobile responsive
Product comparison, pricing, and listing tables
Cell Management mode
Shortcode
This one is unconventional because it generates tables on its own by analyzing WordPress posts and pages. Some features are as follows-
Tables are searchable, sortable, and filterable.
Multimedia option
Default pagination
Integration with other plugins
This plugin helps you to add one or multiple tables in different posts or pages. The table allows HTML, CSS, and text.
3 table designs
Easy to manage
Supports pagination, shortcode, and search option
As we come to the end of this article, we'll point out some of the best WordPress comparison table plugins. You can create a product and price comparison table with any of these so that users can select what's better.
AzonPress
WP Pricing Table Builder
Table Maker
Go Pricing
YITH WooCommerce Compare
Easy Pricing Table
Let's say you want to insert a table in WordPress, and you don't know which one will fit better. We're sure that one of these table plugins will act as a savior for you!
Now that you have the list, here's what we suggest
Choosing from a list of top-rated WordPress table plugins can seem challenging for a beginner, no matter how short the list is. To make things easier, we'd like to add our personal ratings for the top-5 recommendations.
Have a look at our articles on Ninja Tables VS TablePress and wpDataTables Vs Ninja Tables to see the comparison among the first three.
To summarize, the top 6 and the honorable mentions are all perfect table plugin for your site. Each one has different attributes and interfaces, advantages, and disadvantages too.
Yet Ninja Tables is the one plugin with all the functionalities and easy-to-apply options. You will definitely end up loving it! The features are extensive and let you create tables of any sort. So, try it out and let us know in the comment section below.