Are you looking to level up your social media game? Want to use social media as an accelerator for your business? To achieve success on social media, you need the right tools for your business. This post can be very helpful for your business if you are an online business owner or an eCommerce owner.
Here we'll cover some social media marketing tools that can grow your audience and boost customer engagement on your business handle.
Let's get started with the best social media tools for business without further ado.
What can be called social media tools?
Tools that help businesses or organizations to facilitate social media. RSS, blogs, video logs, scheduling, tags, forums, location-based services, Web chats, instant messaging, podcasts, and microblogging services are a few examples.
Types of tools you can use for social media
Before we dive into the list, let's categorize the tools to grow your business on social media. Here, we will look at various categories of social media marketing tools that you can use to interact with your online audience and accomplish your business goals in 2023.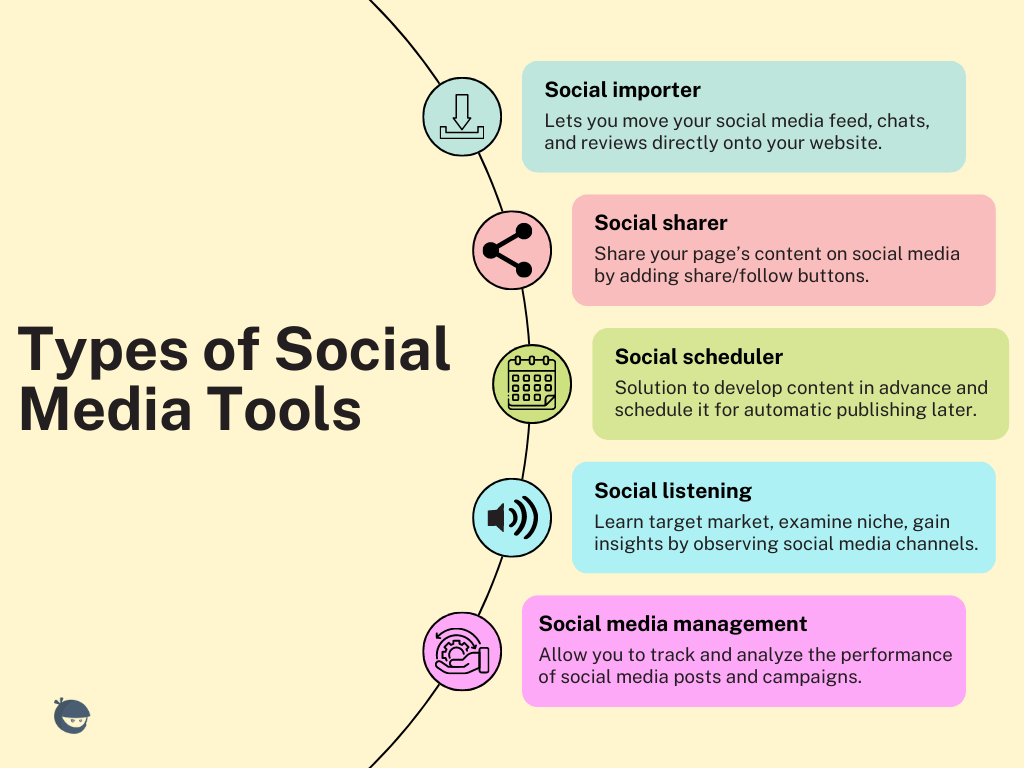 There are some basic categories-
Social importer
These tools will help you to import your social media handles on your business website. With the help of social importer tools, you can easily move your social media feed, chats, and reviews directly onto your website. Tools like Social Ninja can easily import information from social handles to a WordPress site.
Social sharer
Share your page's content on social media through social sharing tools. Contents include blogs, vlogs, ads, courses, etc. Adding a share/follow button on your page will let people share your stuff on their social profiles/pages.
Social scheduler
Scheduling tools are a software solution for marketers to develop social media content in advance and schedule it for automatic publishing later. These tools even allow you to manage cross-platform campaigns from a single location.
Social listening
Social listening enables you to comprehend your target market, examine your niche, and gain marketing insights by observing social media channels. It combines the best of social media monitoring and data analytics.
Social media management
These tools allow you to track and analyze the performance of social media posts and campaigns. With the help of these tools, you can set performance targets or benchmarks collectively on all of your social posts.
Why is social media important for business marketing?
Social media is a powerful place for reaching out to the audience. And for any kind of online business, social media has been the most cost-effective way to strategize your marketing. It helps with various aspects of your business. Social media can help your online business to-
Attract customers and generate leads
Acquire customer feedback and achieve customer loyalty
Reduce the cost of marketing
Develop your brand
Increase traffic to your website
Improve search engine ranking
And that's not the rest of it! With social media marketing, you can research the market and find out the trends to follow. All these lead to generating more revenues for your business. What I said was just the tip of the iceberg.
Hopefully, you understand the depth and benefit of social media marketing tools. Tools will help you stay ahead of the curve on social media platforms.
Some of the best social media tools for business
You can get a lot of options to pick from when you're searching for social media platforms perfect for your business. However, we come to make your job a little easier.
Here's a list of some of the best social media tools to grow your online business.
Check out a quick overview of the tools.
| Name | Price | Link |
| --- | --- | --- |
| WP Social Ninja | Starts from $79/yr | |
| BuzzSumo | Starts from $99/mo | |
| Hootsuite | Starts from $29/mo | |
| SchedulePress | Starts from $49/yr | |
| Plann | Starts from $11/mo | |
| Tweet Hunter | Starts from $49/mo | |
| Monarch | Starts from $89/yr | |
| Sprout Social | Starts from $249/mo | |
Powered by Ninja Tables
Now let's get into the details.
WP Social Ninja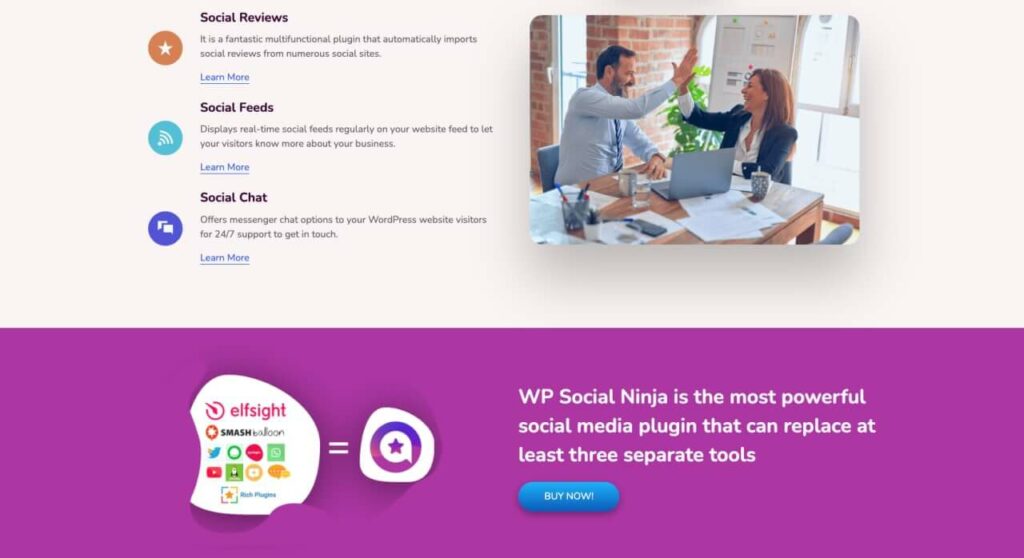 If you are using a WordPress website for your online business, you must use this plugin to portray your social media presence on your website.
Developed by WPManageNinja, WP Social Ninja is the most efficient and effective social tool that can fetch social feeds, reviews, and chat widgets on your website. The process is fully automated, so you won't have to do anything after you've linked your social handles to your website via WP Social Ninja.
After its debut in 2020, it underwent major updates that added many useful features and became a perfect social media tool for your WordPress site. Now you can obtain the advanced features and intense customizations on the pro version.
It supports over 29+ platforms from which it can gather live feeds, user reviews, and chat widgets on your WordPress business website. The integration is so simple yet professional. You can edit how the feeds and reviews will pop up on your site. You can sort the reviews by rating or even handpick the best ones to portray on your website.
Along with all the stunning features comes superb support for the plugin. You can obtain 24/7 support for the plugin so that you won't get stuck. The plugin is free to use, but we suggest you buy the premium version to unlock more features and intense customization.
Key features of WP Social Ninja
Easy integration with social media platforms
Multiple layouts and stunning templates
Detailed template editor
100% SEO friendly
Synchronize real-time data
Supports most WP themes
Ability to use custom CSS
24/7 customer support
In-depth filters
Popular third-party integration
Price
The best plugin to integrate social media into your WordPress site comes free of cost. You can integrate all the social media platforms on the free version, but the customization options are only found on the pro versions. You can choose three types of plans which won't break the bank.
Single license $79/year.
Super saver plan $249/year.
Unlimited license plan $399/year.
BuzzSumo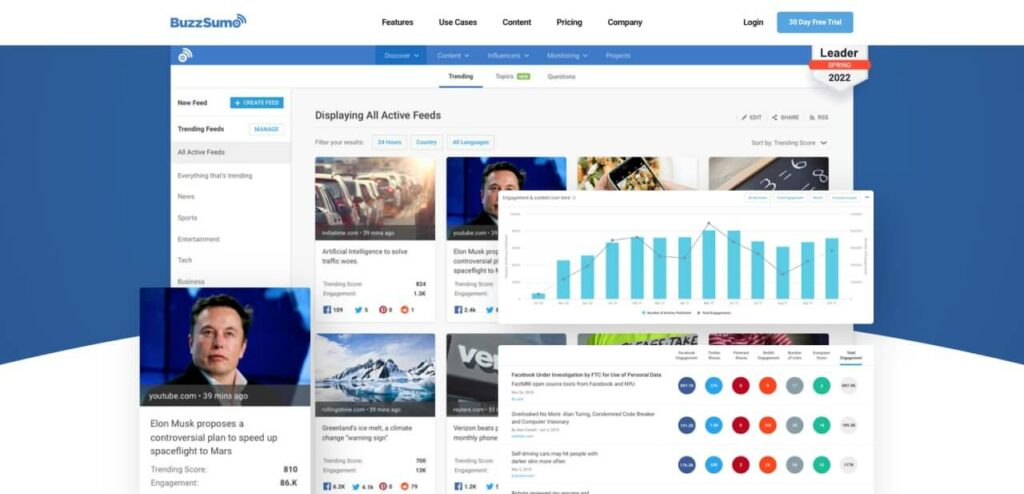 If you are searching for a social media monitoring tool to analyze the best-performing content, BuzzSumo is a great option to consider.
Additionally, you may use social media hot topics to generate content for your blog or your company's social media sites. As a result, you can increase your followers' engagement and drive more website traffic.
BuzzSumo is more than a social media tool; it offers so much versatility. If you are an online business owner and want to stay ahead of the curve with research and monitoring tools, you should consider using BuzzSumo.
Key features of Buzzsumo
Content analyzer for unlimited searches
Content analysis reporting
Facebook analyzer
YouTube analyzer
Influencer search
Brief generator
Facebook page analyzer
Price
Pricing: $99-499+/mo. Save 20% with an annual plan. A 30-day free trial is available.
Pro $99/month
Plus $179/month
Large $299/month
Hootsuite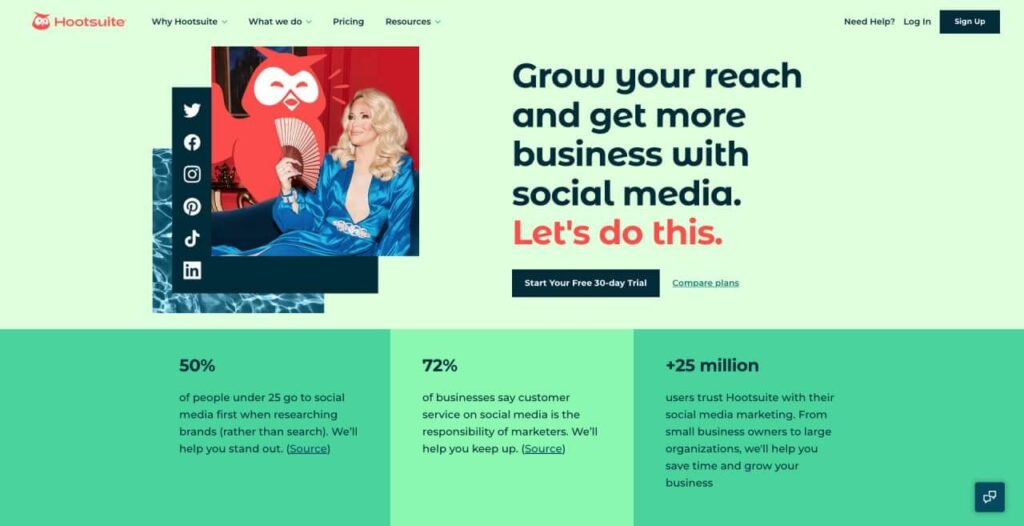 Hootsuite is another highly-ranked tracking and analytics tool. It is a perfect companion for an average social media marketer. You can schedule posts on multiple social platforms using Hootsuite.
In addition; the comprehensive analytics tool will enable you to measure content engagement. With its analysis, you can clearly grasp how your campaign is performing. You can even boost your posts in the same place.
Key features of Hootsuite
Free plan available as a 30-day trial
User-friendly UI with drag-and-drop content calendar
Plan upcoming campaigns on social media
Add team members and collaborate on any content
Social media management features like scheduler and analytics
Integration with other business tools
Performance measurement tool across all your active social platforms
Price
Four subscriptions, starting at $29 per month, are available from Hootsuite.
Professional: $29/month for 1 user and 10 social media profiles.
Team: $129/month for 3 users and 20 social media profiles.
Business: $599/month for 5 users and 35 social accounts.
For enterprise rates, get in touch with Hootsuite.
SchedulePress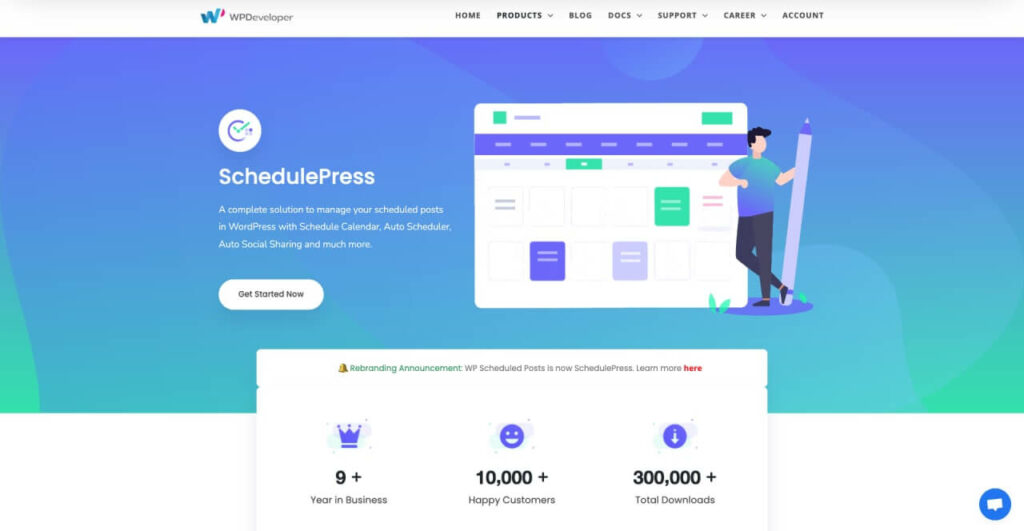 It is another great tool for WordPress that lets you manage your scheduled posts and automates social sharing. SchedulePress comes with various tools to easily manage your online business on WordPress.
It also comes with missed schedule handler that will let you catch up quickly on the posts that WordPress missed. You can manage multiple authors with ease. You can customize social share templates for auto schedule.
Key features of SchedulePress
Schedule calender
Drag-and-drop feature
Dashboard widget
Email notification to WP users
Auto-sharing posts on multiple social media profiles
Auto social share templates
Robust customer support
Price
Individual $49/year
Business $149/year
Lifetime unlimited plan $399/year
WPDeveloper Agency bundle lifetime $799
Plann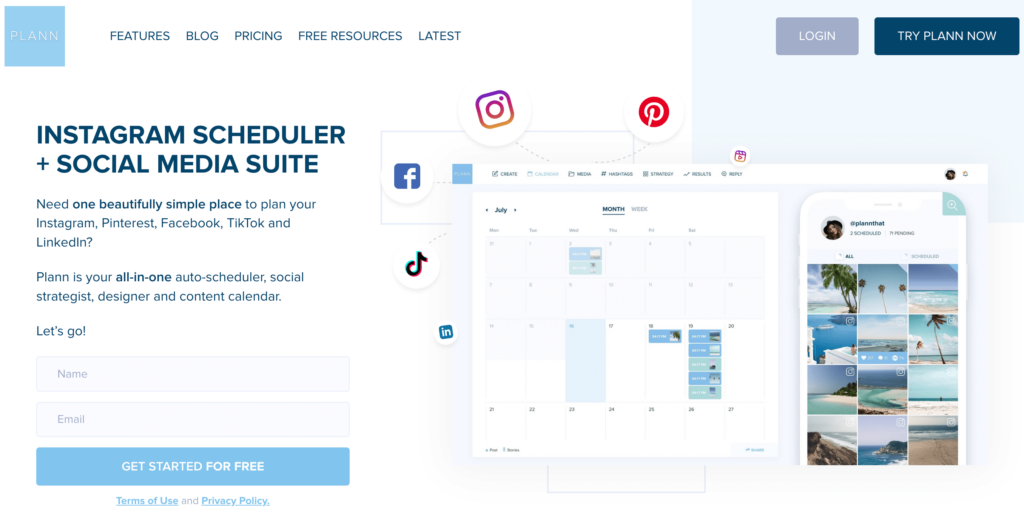 Plann is an all-in-one scheduling tool where you can visualize, plan, schedule, or auto-post your Instagram, Facebook, LinkedIn, TikTok & Pinterest. Which is also available on Desktop, iOS, and android.
It also has a calendar feature which is a beautifully simple space to solidify your plans for the week.
Socials, emails, blog posts – everything, and also it has easy Strategic Tools to learn strategic features to take you from a beginner to talking social strategy within days.
Key features of Plann
Visual calendar to solidify your plans for the week
Strategic tools with an Easy to learn strategic features
Brand tracking with content management and also with a multi-user collaboration
Discover your best-performing color palettes and image swatches.
Manage hashtags to post at crucial times.
Professional Image Editing tools for brand consistency.
Price
Plann is more than a scheduling tool. Try all of Plann's premium features. You can start with a 7-day free trial and then commit monthly from just $11/month including a companion app.
Power user Plan $11 perfect for solopreneurs.
Build Plan $22 Great for small teams.
Grow Plan $59 Best for growing teams.
Tweet Hunter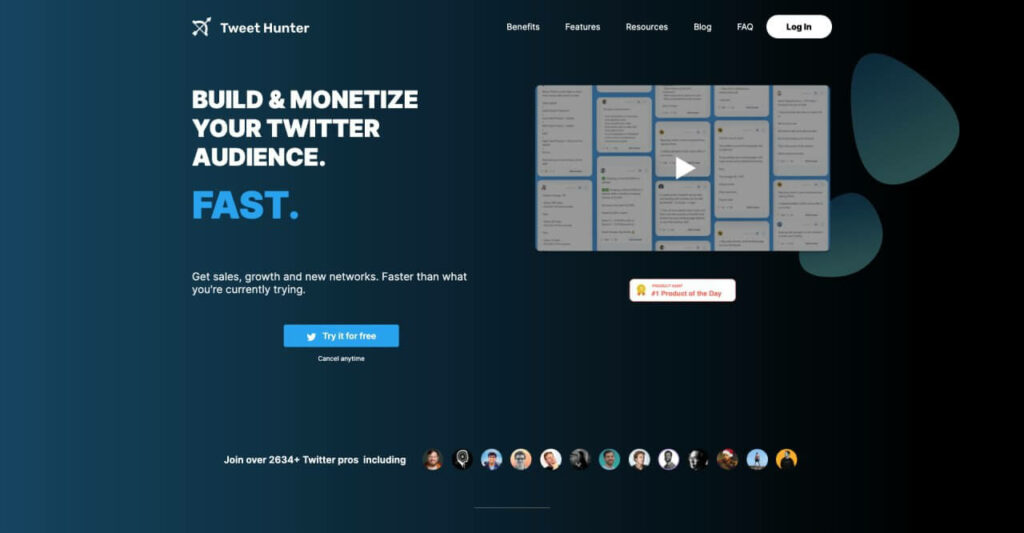 With the help of Tweet Hunter, any Twitter profile can grow from having zero followers to having millions. It provides unique automation features and AI writing tools to assist you in coming up with fresh ideas for tweets.
With the help of the Auto plug and automated DM features, it allows you to monetize your Twitter account in contrast to other Twitter tools. Savvy marketers can use Tweet Hunter to generate leads for their customers.
Key features of Tweet Hunter
Content inspiration
AI-generated tweets
Monetization with auto-plug feature
Automated DM
CRM feature
Multiple Twitter profile management
Schedule tweets
Auto retweet and auto-deletion of RT
Price
With Tweet Hunter's generous 7-day free trial, you may test out all the premium features without paying a penny.
DISCOVER plan starts at $49/month
GROW plan starts at $99/month
ENTERPRISE plan starts a $200/month
Monarch Social Sharing Plugin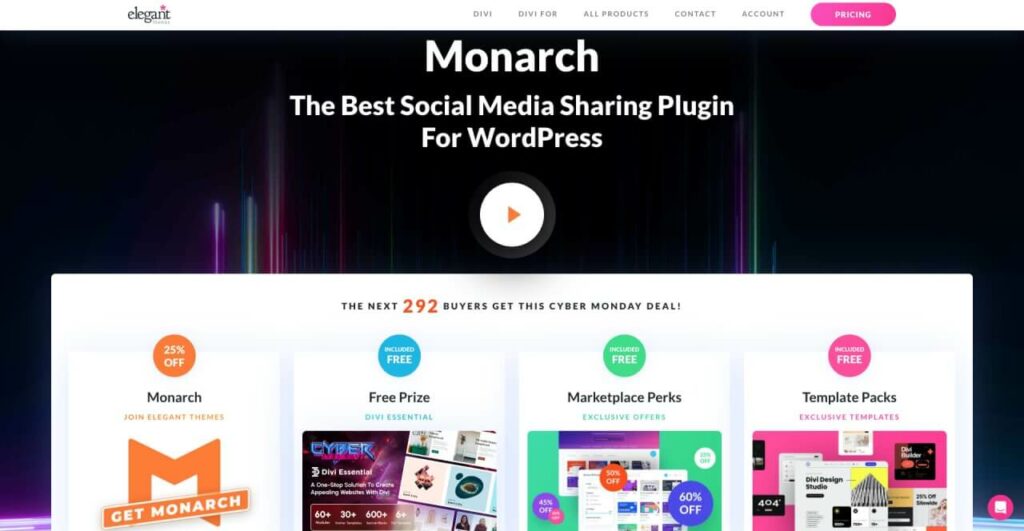 Developed by ElegantThemes, Monarch social sharing plugin for WordPress deserves your attention. It has a plethora of social sharing networks to choose from, including the big ones like Facebook, Twitter, LinkedIn, Pinterest, etc.
The plugin is highly customizable, with the option to add sharing buttons in 5 different locations. Automated pop-ups and fly-ins with time delays and many more features are packed into this plugin. The best thing about these features is that they can be triggered by unique user interactions. Consider buying this plugin if you want to capture the visitors' attention with dynamic actions.
The image-sharing option is another outstanding aspect of Monarch. Monarch can also share media files with social networking platforms for you, although traditionally, you'd need a different WordPress plugin to do so.
Key features of Monarch social sharing plugin
Display over 20+ social networks share button on your website
Ability to add share button in different places on a page
6 automatic pop-up and fly-in triggers
Highly customizable and clean design
Image-sharing option
Mobile friendly layouts
Custom dashboard panel in WordPress
24/7 customer support
Price
Monarch social sharing plugin has two access plans.
$89/Yearly access.
$249/Lifetime access.
During Black Friday or other sales days, you can avail of the plans at $67 and $187, respectively.
Sprout Social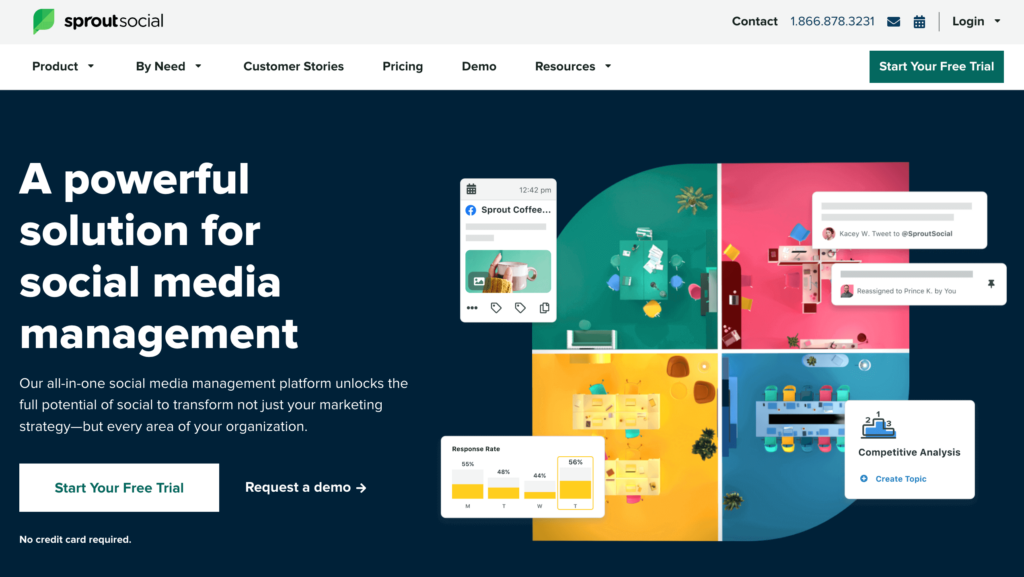 When it comes to the jack of all trades in social media marketing, Sprout Social surely deserves a place on top. It has limitless features like a post scheduler, relationship builder, and analytical data collection to measure KPIs, to name a few.
When social media platforms like Twitter, Facebook, LinkedIn, Pinterest, Instagram, etc. are integrated, you can view messages from all of them in a single feed, making it easier for you to track mentions and get in touch with clients.
It's a one-stop-shop that can help you manage everything, from managing your social media content schedule to emailing potential clients to scheduling articles in advance, so you don't have to worry about developing and publishing content throughout each busy day.
Key features of Sprout Social
Post scheduler for social media
Collaborative content calendar
Brand keywords
Smart inbox
Social CRM support
Mobile engagement through Sprout Social app
Automated chatbots
Suggested Twitter replies
Helpdesk integration, e.g., adding a Zendesk account
Custom influencer list
Task completion report
Message spike alert
Mobile inbox push notifications
Facebook & Instagram Ads comment moderation
Price
A 30-day free trial is available for Sprout Social. Following that, there are three different price tiers:
Sprout Standard costs $89 for one user per month and includes a social inbox, up to five social media profiles, reporting, scheduling, and publishing.
Sprout Professional costs $149 per user monthly for up to 10 profiles, more thorough analysis and reports, and personalized workflows.
Sprout Advanced costs $249 per user per month and offers more services, including automated link tracking, chatbots, and automation tools.
Bottom line
Social media is the lifeblood of today's internet, and online businesses rely heavily on it. Social media got no alternatives to get a greater grasp of the audience on the internet.
In this blog, we've given our 7 best picks for the best social media tools for business. They are categorized differently, but one purpose they all serve is to ramp up business integration on social media. Hopefully, you've given it a thorough read, and we have pointed you in the right direction. Cheers!
---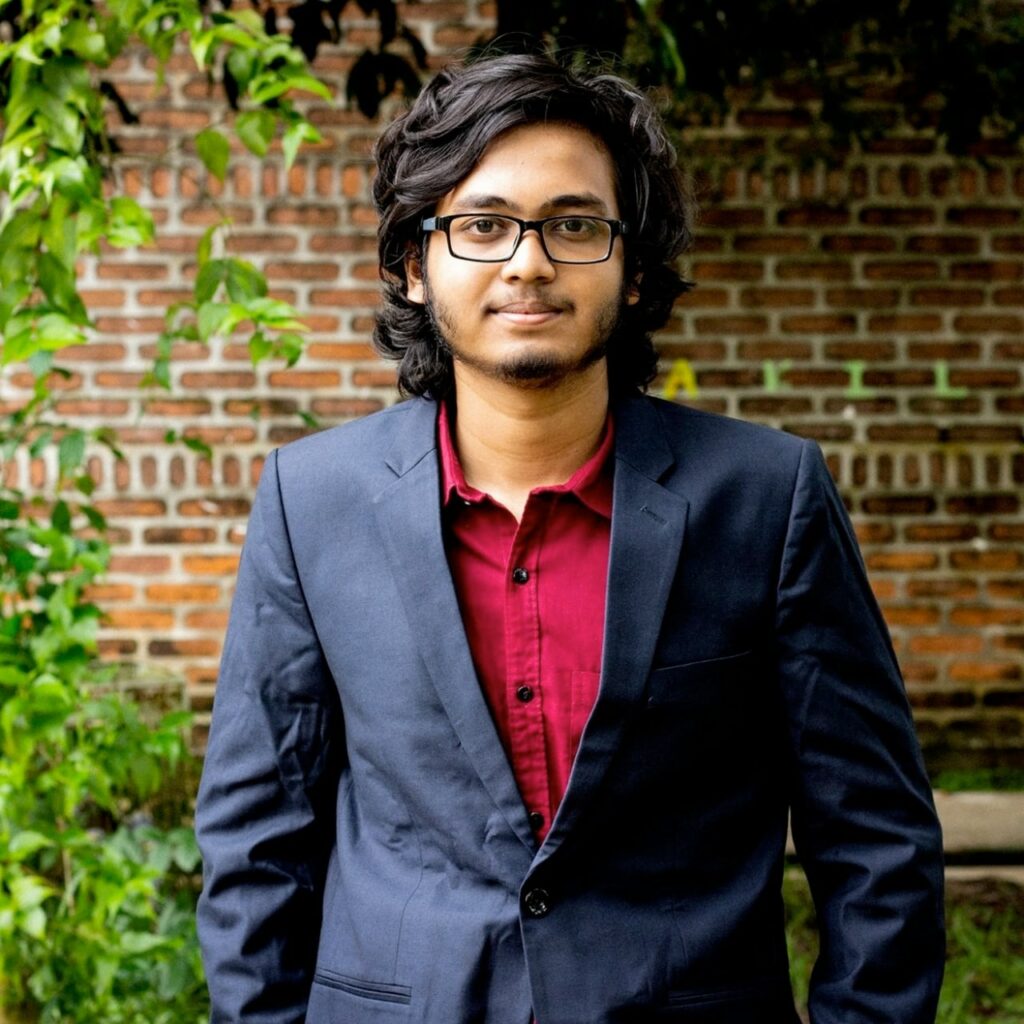 Author: Romeo Nicholas Rozario
Romeo is a creative content writer for WPManageNinja and a tech enthusiast. On the flip side, a musician by passion when he's free.