Business and Technology are inextricably related to each other. This article will help you to know why a Form plugin is essential, and it will demonstrate how Fluent Forms can influence and escalate the business progress as well.
Running a business is not only related to your wise decision. But, it is also a significant fact that how effectively you can manage business activities. I am sure you have already started to think that how Fluent Forms is related to efficiency. Read a few more paragraphs, and you will realize it.
On the other hand, some people firmly believe that if someone has huge capital, he will surely be a successful businessman some days.
However, this is not the fact. Business is not only confined to a vast amount of money, but it depends on how adroitly you can manage everything.
In fact, in the previous time, a myriad of studies related business and entrepreneurs also unveiled that, no matter who are you, where you are from or how much money you have in the pocket, but if anyone wants to reach to vertex, there is no way but ascending smartly.
In this digital regime, a business can not run smoothly without depending on technology. As a result, there is no way other than being visible online. It is decisive also as maximum business organizations have appeared through the website since the online business has become more indispensable due to change of business circumstances.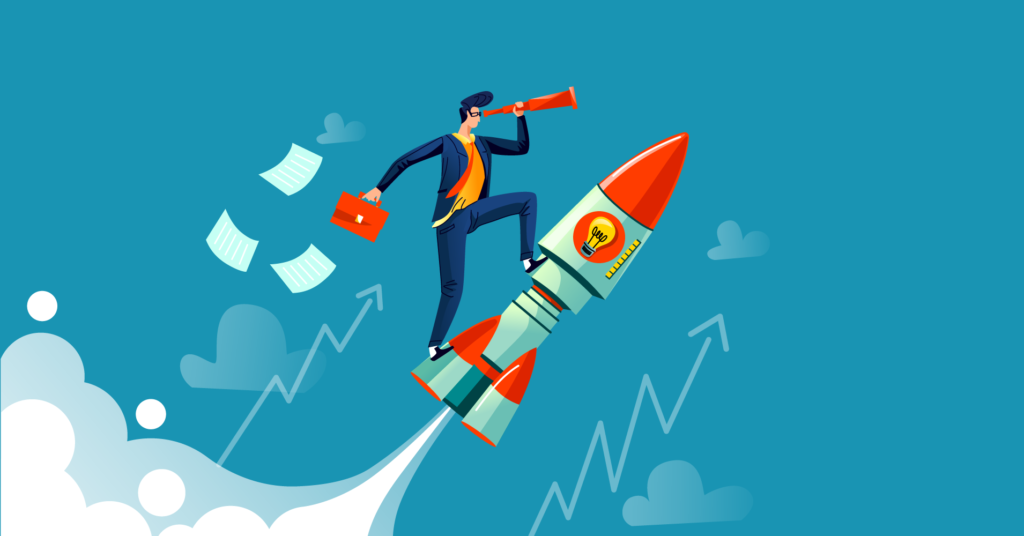 In that Case, "Thinking out of the box" would be the most appropriate phrase. Since the business flow has been changed, so ultimately your business strategies should be changed too.
What is more critical, it is not the only task to fetch a business online; instead, you have to walk in a "Solid Way." For instance, lack of establishing proper security, your website might be hacked and eventually you may encounter with several hazardous situations.
However, you can grab the "Solid Way" opportunities by using a myriad of mediums. Amid all of those mediums, Fluent Forms can work as a vehicle to meet with consumers easily.
The primary purpose of using Fluent Forms is not to create a connection bridge between you and your consumers. But, it has diversified missions. However, if you read my whole article, you can envisage easily why Fluent Forms is essential for the business.
What if you are told that a single WordPress plugin can smoothly accomplish half of your tasks? Yes, it is feasible. WP Fluent Forms plugin can give you this opportunity by which you can make your work simpler.
WP Fluent Forms is a WordPress form builder plugin that can be used for various purposes. Although, mainly a form plugin is used for communication purpose, yet a standard form plugin can be used in other ways.
To use WP Fluent Forms plugin, first, you have to install it on your WordPress. After that, you can use it. Documentation is also available on its official website by which you can deploy the form according to your requirements.
How does it work?
I can show you at least hundreds of implementations where you can use Fluent Forms and eventually get high success rates.
However, I am not going to do that. Because it is a kind of brainstorming process, I believe you can do it better than me. Instead, I will illustrate a few points that can help you realize why you should use this WordPress plugin.
Email
Email is the most important medium for communication. However, sometimes it can create a pesky situation as well.
Suppose, you have a website and you have an email address according to your business name. You set it merely on the site.
The problem is here. Other companies will collect your emails either using software or manually through searching on the internet.
After that, you will discover every day you are receiving a lot of unwanted marketing promotional emails.
What is more critical, some spamming emails will undermine overall email process, and as a result, you have to find out other solutions.
The solution is here. You can use the contact form by which visitors or consumers will communicate with you directly through inputting their details.
By using Fluent Forms, you can easily read all entries. Even you can reply to their inquiries according to needs. 
As a result, it can work as a safeguard, ensure security while preventing unwanted promotional emails every day.
High Availability
Using the Fluent Forms, you can increase your availability. So, whenever any client sends an email, you can respond instantaneously.
Most of the time, before purchasing a product or taking any services, customers try to reveal how much responsive a company is about customers and for that, they usually inquire regarding various things, and ultimately your instant reply can create a trusted place amid of them.
So, undoubtedly it can uphold your business as a trustworthy and responsible one in front of the customers.
Marketing Research
Marketing is crucial for any business. Without smart marketing strategies, you should not even imagine surviving in this highly competitive field. It is easy to come in front of customers, but arduous to sustain.
So, you have to conduct marketing research regularly to disclose what customers want, what is their approach unto your products and what kind of new changes can fetch more success rates for your business.
Assume that, you are one of my customers. Whenever, you purchase any products, after finishing buying formalities, I usually exhibit a form and ask-
Are you happy with my services?

Are you satisfied with my products?

Can you give me some suggestions that can lead me to represent better products and services?
Admittedly, this type of questions will create a more transparent image about your website, and as a result, it is merely able to boost your business.
But the question is, how can you do it?
It is straightforward. You can create a feedback survey form where you can set the required questions.
Maybe, now you are thinking that how can you create a feedback survey form or do you have to hire an expert for doing that?
Not at all. Just install the WP Fluent Forms plugin on your WordPress website and click on the "New Form." After that, you can understand how you should create your required feedback form and surely it won't take much time as it's dashboard and all functions are genuinely user-friendly.
That was all about Feedback form. But, WP Fluent Forms is not only confined with the Feedback form. However, by exploring this WordPress form plugin, you can create different designs for polls and quizzes, which increases your success rate of communication with your users and subscribers.
Even, the process is also the same as feedback form for polls and quizzes. However, they have a clear documentation page. So, if you face any obstacle while creating any form, you can visit that page.
Efficiency
Efficiency means how smartly you can carry out a task. Suppose, Someone may walk 2 miles for a shopping mall. But, another individual may choose a minor road for the same objective.
For example, you want to launch a marketing survey. In that case, first, you have to identify your all customers. Then, you have to do enormous paperwork. After that, you have to consumer's home one by one, and finally, you may get the opportunity to ask them some questions.
But, using this WordPress plugin, you can perform your task efficiently. Even, no need to hire an extra employee for that task. Just create your form and set it according to your requirement. All done.
Now, the point is, some of you may be thinking about other software or mediums to do that but trust me, other mediums are undoubtedly expensive. Even, procedures are also not so easy.
Tidy Management
Management is a vital factor for any business. Even, success rates depend on active management.
WP Fluent Forms plugin can take your management responsibilities. When your consumers contact you, it will keep a record for every single entry.
What is more convenient, you can quickly retrieve erased data easily whereas, in other mediums, it might not be possible.
Build Email List
Emails are undoubtedly crucial not only for marketing purposes but also for lead generation. Along with that, it is essential for B2B and B2C business.
The conventional process is, you hire a person who will collect emails from various mediums and after that, he will send the promotional mail to those emails.
However, it is not a fruitful way. Because, first of all, the majority collected emails may not work in some cases. Yes, you can use email verifier tools such as "Maxporg" or "EmailMarker.com" but trust me, these are such time-consuming matters.
But, If you install WP Fluent Forms plugin to build your contact forms, you can collect a significant number of authentic emails quickly, and there is no way to squander time anymore.
Why Fluent Forms?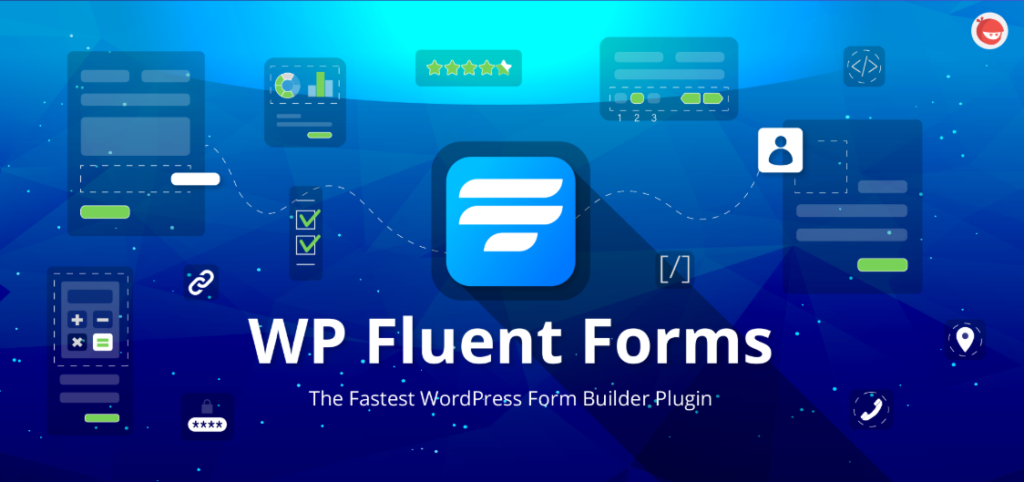 Now, the point is why I am recommending WP Fluent Forms as a contact form for WordPress?
Yeah, after reading my previous line, surely you are now ready to search in the Google for seeing which form plugin is the best. But, wait a minute. No need to explore in the Google. I am going to share my thoughts so after that, surely you will understand why I am suggesting WP Fluent Forms for your WordPress websites.
I want to say about just two more form builders. One is Contact Form 7, and another one is Gravity Forms.
Let me share first, why I am not espousing for Contact Form 7 for your business. Contact Form 7 was a giant form builder once upon a time. Even it helped individuals in so many ways.
However, the brutal truth is, this WordPress form plugin has been obsolete for this dynamic time, and even it is very reasonable to be.
While other plugins updated their features and decorated their panel from time to time following users' requirements and choice, Contact Form 7 could not cope with the wave of time.
If you look at the below image, you can easily understand there is a huge distinction between an updated WordPress Form plugin and Contact Form 7.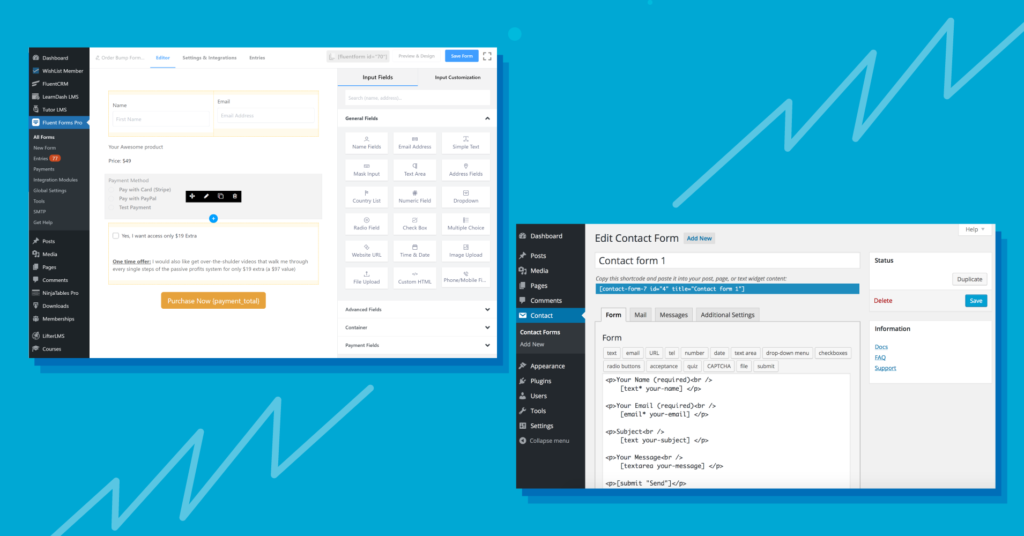 So, no one may want to squander time by constructing a form manually. On the other hand, you can use a lot of options in the WP Fluent Forms which are even much flexible and user-friendly. You can drag any required field from the right panel and drop it on the dashboard, and it will work automatically.
These are not all the drawbacks of using Contact Form 7. It lacks some more crucial features, for example, "Conditional Logic." And undoubtedly, without those smart features, you can not take into account a form builder plugin to use in WordPress. At least in this dynamic time.
These are not all the drawbacks of using Contact Form 7. It lacks some more crucial features, for example, "Conditional Logic." And undoubtedly, without those smart features, you can not take into account a form builder plugin to use in WordPress. At least in this dynamic time.
On the other hand, WP Fluent Forms is a typical WordPress plugin. It offers both free and premium versions. And most fascinating and surprising factor is, you can use maximum features in the free version.
For Instance, "Conditional Logic" which is very necessary for any advanced form. But, you can use this important feature in the free version.
Moreover, you can also use some other crucial fields such as check-able grid, containers, section break and so many features in the free version.
It is not the cessation. You can integrate forms created with WP Fluent Forms in various platforms such as Slack, iContact, MailChimp, GetResponse, Zapier and WebHook. You can also change the layout of the form according to your requirements.
So, it is safe to assume that, no matter, if you are looking for either a free plugin or a premium one, WP Fluent Forms is the one you should go for.
Finally, it can be said that you can not envisage achieving success unless you dynamically run the business.
Remember about that old WordPress plugin contact form 7. Although it landed first in the market, it could not sustain as it was unable to cope with changes of time.