Three major elements can make an event registration form successful and ready to convert fast: simple, uncomplicated, and straightforward.
Ensuring success through the conversion rate in event registration depends on the design of the form. The more user-friendly it is, you can expect the better output.
Event planners need a simple solution to building an efficient online registration form and we will discuss how to do that. You will get a set of options out there on form building but a WordPress plugin can turn things easier.
You can allow your users to sign up to attend the events hosted by your organization. This article is all about how to easily build an event registration page in a simplified way.
Let's walk you through the process of how to make an event registration form. To do that you need a plugin installed in your WordPress site. We recommend Fluent Forms due to its seamless functionality and we used it here as an example.
Why Should You Choose WordPress?
For online event registration, a plethora of tools will assist you to make the process successful. Not only that, you can even attach Facebook events to your WordPress platform.
That said, these services will take fees for each time creating an event. The type of services and variations in prices may vary but you have to pay whenever you create a new event.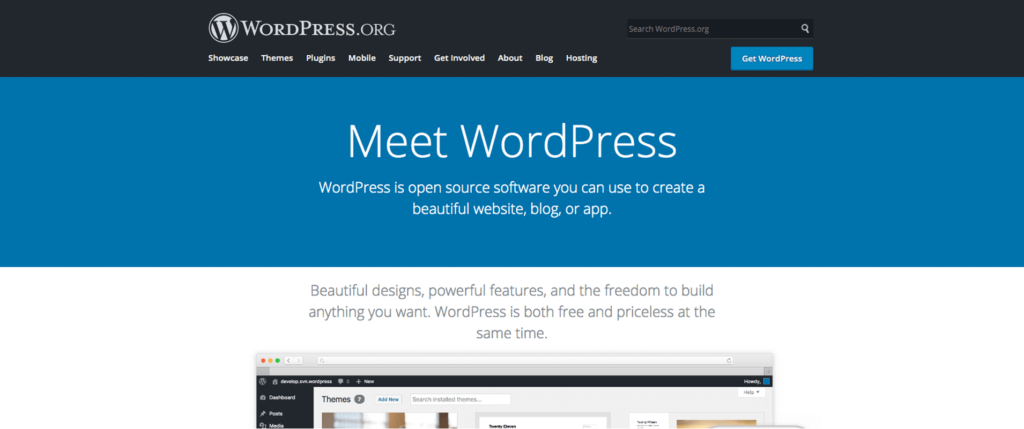 In like manner, you can't have vast opportunities to promote your events across several channels such as social media and websites. Moreover, some services will demand to promote their names through your events.
Summing up the whole calculation, you could end up paying much while you have a more serious, yet cost-effective option – a WordPress plugin. If you're already in WordPress, a form builder plugin can help you big time.
Similarly, an event registration plugin can minimize some of the aforementioned issues. Not only you can create a form effortlessly but you can customize and promote it in your way. Also, you don't have to pay repeatedly, but once.
Now, let's have a look at how a WordPress form plugin can turn things simplified without cutting your pocket.
What Details to Include
A page should be set up to place the event form so that you can control the things effectively. It's a good practice to provide some additional information so that users can be well-informed about the whole events.
If you share some useful details with users, you'll surely get better outputs:
Give your users a clear and concise message on why they should participate in the event.
Mention the location where the event is being occurred and the time when it takes place.
Describe the purchase detail if when the form requires to buy a ticket.
You can add some other details like the guests, discussion topic, schedules etc. (Normally, a plugin doesn't allow you to do that. Customization on the page is needed.)
5 DON'Ts in Event Registration Form
Event registration forms should be convincing so that users can easily understand the purpose of it. Keep yourself protected from the mistakes others have done. Here are a few suggestions:
1. Don't use unfamiliar titles
This is not the very first form people are going to fill in their whole lifetime. They had to do that a lot. And, that's why they know which field does what. If your form labels differ from the ones they were acquainted with, it will take a longer time than what they expected. Use the standard labels instead which the visitors easily understand.
2. Avoid repeated questions
Redundancy can be a monster to keep the users away from filling out the form. One of the best practices is to drop the unnecessary questions. Keep the procedure as simple as you can. Only include the fields that are relevant to your event. Try hard to make your users feel comfortable with plain and simple questions. Your goal is to connect them with your business, not to drive them out.
3. Ignore multi-style typography
Overstyling typography may have a bad impact on the form completion rate. It might be exhausting if you use multiple font styles to put some emphasis on specific labels. Make sure the form looks simple with its clean and identical fonts and styles. Cut down the risk because users may leave the form blank if it looks awful. Apply the best UI practices and show harmony towards the entire design.
4. Don't make the form unnecessarily long
Lengthy forms are frustrating. If users don't know about the size of a form they might not proceed. There should be a clear sign with multi-step forms on how many steps are left yet. Or, how many pages users have to go through. Simple text like "Step 1 of 3" or "Page 1 of 2" will guide users with a clear conception. Many forms use a progress bar that shows the completion in percentage and some have other lovely styles.
How to improve your next event registration form
Event registration forms must be taken care of with attention. To ace the process, you can follow these tips for better results:
Catered for mobile: the number of visitors browsing from mobile phones is increasing. Many of them complete the important tasks on the go which is highly convenient for them. If your forms appear as mobile-adaptive, people will love to fill it out fast.
Use a template: for the starter, use a free registration form template which is surely a good idea for saving time and getting some ready-to-use fields. Then, you can customize it your way.
No redundant question: revise your forms multiple times to ensure there's no redundancy in the questions. The similarity in different questions makes people bored which is a negative sign for your form.
Bright call-to-actions: CTAs play a pivotal role in the registration form to grab the attention of users. Make sure they are attractive and powerful with color, size, and text.
Don't be superfluous: when you ask people to fill out the form let them see everything clearly. Be clear on the labels and keep them easy to understand. Simple language always works fine.
Ask questions that are related: when you're getting information from the registrants, ask only specific questions. Your principal targets should be knowing your attendees, building a healthy customer base, and ensuring their preferences are met.
Who is attending: the list of the speakers who are participating in the event may spark the audience with positive interest. So, design a separate page with the speaker's image and position. If there's an option for displaying the registered participants, new people will be more enthusiastic.
Don't forget to test: Before losing some potential users, test the form yourself. Check the registration process from beginning till end. To achieve perfection, ask your friends also register through it and collect their feedback.
How To Create an Event Registration Form in WordPress
Making an event registration form in WordPress is like a piece of cake. With no coding background and no previous expertise, you can easily generate the form yourself if you use a plugin. Several free WordPress form builder plugins are ruling in the market.
However, in this article, we'll show you how to make a quick event registration form with the help of a free WordPress plugin. We're using Fluent Forms where you'll find an event registration form template.
Assuming you have already installed the plugin, we're skipping this part. Now, go to WP Fluent Forms in your WordPress dashboard and click on the New Form. Then, the following screen will appear. Next, click on the Event Registration Form. Alternatively, you can create with the blank form which needs more customization.
If you choose to go with the ready form, it will save your time and give you inspiration for what to do next. Have look at the form below. This is what you will see on the dashboard.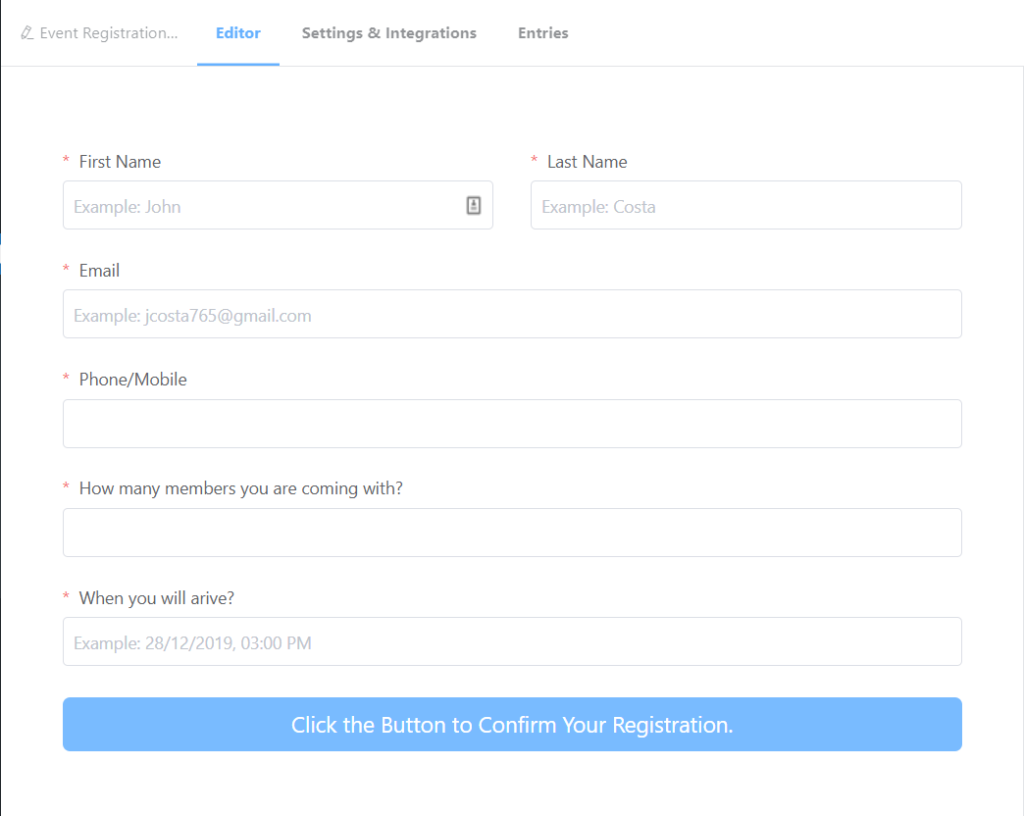 And, here's the final look (preview) of this form in the browser.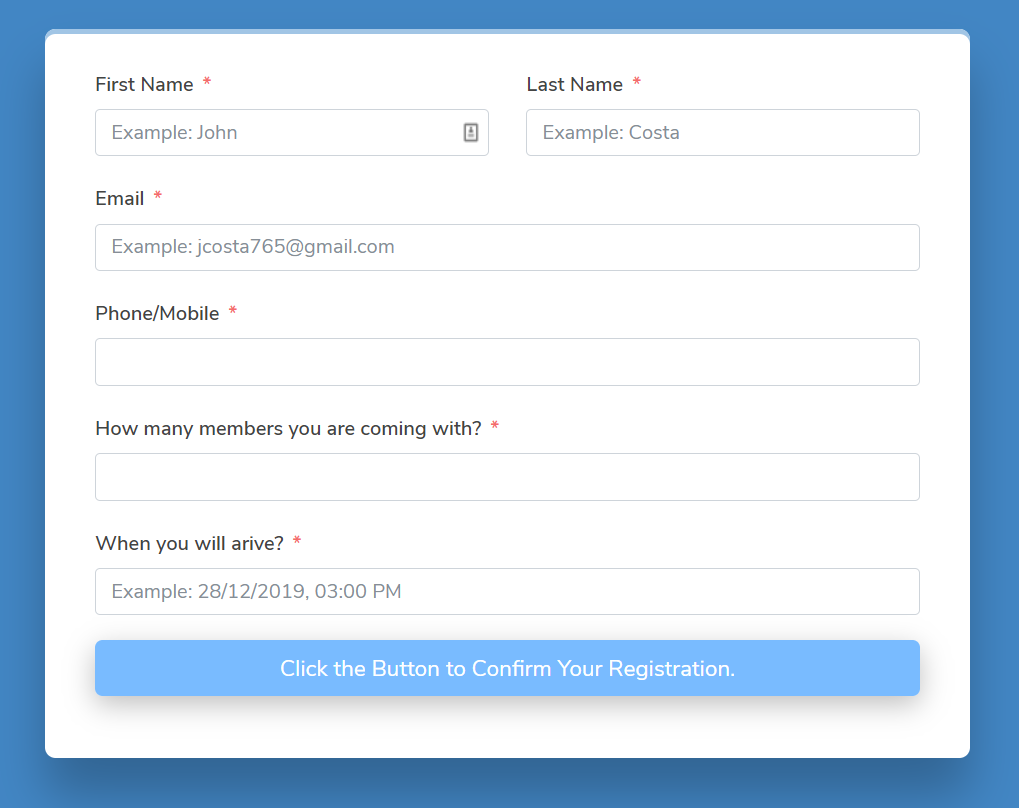 WP Fluent Forms has a user-friendly setting to design a smart event form fast. 18 General Fields (still developing) so far are available with it. You can see them from the image below.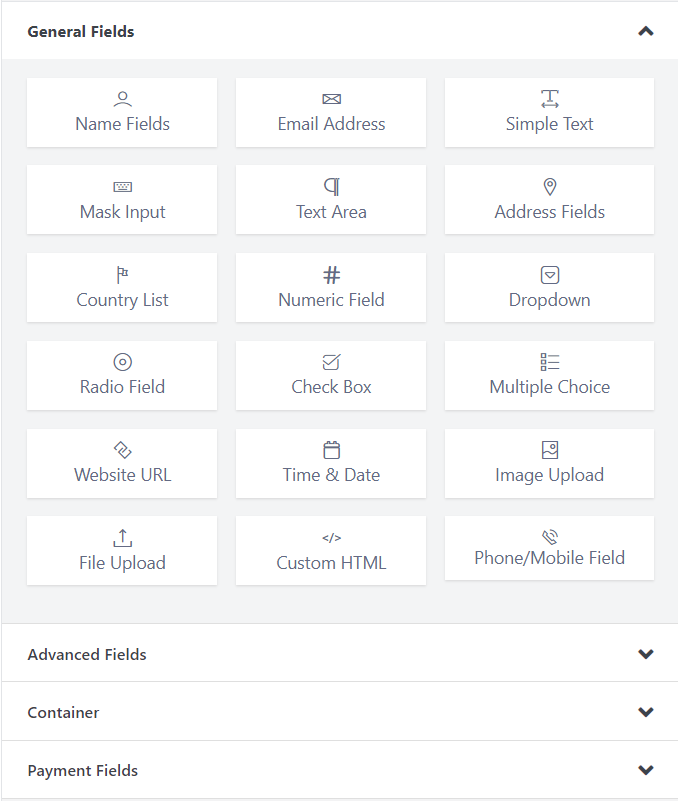 Suppose, you want to add any particular section to your form (let's say, address box). Drag the field from the list and drop it to your form. For better understanding, follow the documentation.
The Advanced Fields also come with a set of cutting-edge features. Using them, you can make your form look better (Section Break), secured (reCAPTCHA), and reliable (T&C).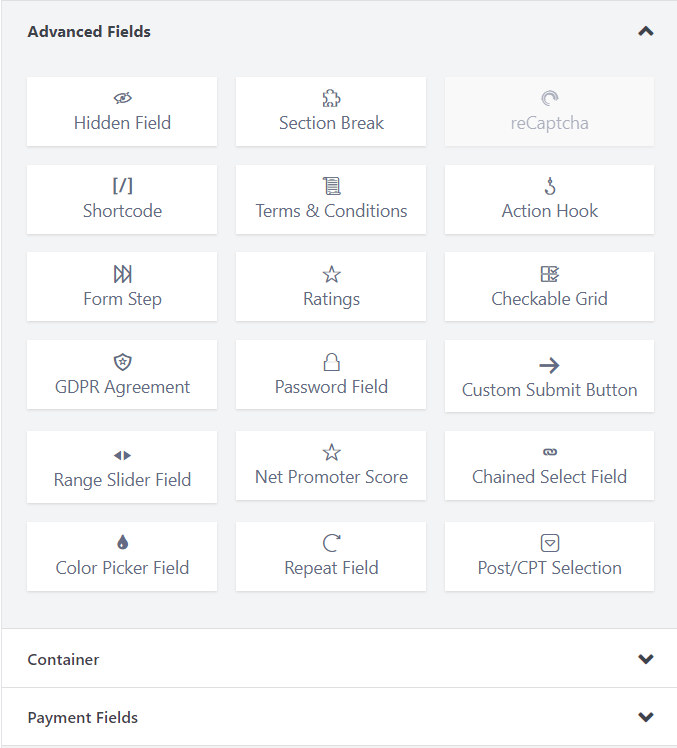 What Else You Can Do With This Plugin
Let's consider a scenario where you want to arrange a conference for only 50 persons. If you don't restrict the registration form only for this particular number, you may have to face a hassle for that. But, no worries. WP Fluent forms will have it done for you.
Not only that, apply this limit for a day, or a week, and more. Look at the image below to get what we are talking about. Also, read this documentation to implement the restriction in your form.
Email notification is another fantastic feature of WP Fluent Forms. When a user get registered for the event, you will have a notification instantly. To make this work set up the notification from the setting. Go to Email Notification from the setting and enter your email address.
Moreover, you can get all the submitted data to your email. If you want only some specific data (name, company etc.), you can set it from the Add Shortcodes. Alternatively, read more about customizing email notification.
Thank you
We hope, making an event registration form is not hard anymore after reading this article. If you know how to create a form then you'll also know how to build a registration form, as well.
Our team has built an awesome form builder plugin with extended features and functionality. It will allow you to create a set of forms: contact form, registration form, support form, and more. You can download it from WordPress.org without any cost.
You may also want to see the WordPress themes and plugins made by our serious coders. WPManageNinja is growing faster with top-notch products and helpful resources.
Fluent Forms Pro
Try Fluent Forms today and see for yourself!
Do subscribe to our YouTube channel to get WordPress-related tips and tricks. Also, follow us on Twitter and Facebook.