Life is more beautiful when you get paid via your online ventures. With the best WordPress payment plugin, you can sell tons of products and receive payments with no struggle. To accept payments on your eCommerce website, you need payment gateways, first of all.
As we talk about payment gateways, modern websites depend on WooCommerce for opening an online shop – easily and comfortably. WooCommerce has a list of payment gateways incorporated by default. Two of the famous options are Stripe and PayPal. Read our article on Stripe or PayPal – what's right for your business?
To activate a payment gateway (or two of them), a WordPress payment plugin could be the precise solution. From that point, WP Simple Pay and Paymattic emerged alongside other similar products. Today we'll let you know what these plugins do and how they differentiate from one another.
| Key Points | Paymattic | WP Simple Pay |
| --- | --- | --- |
The comparison metrics
You can jump into a specific section from the index below:
Why do you need a Stripe payment plugin?
Stripe plugins are the most essential tools for an online store. In a WordPress eCommerce site, you can easily setup the payment option by using any of these plugins. We can bet you don't want to compromise with a secured payment system.
Even WooCommerce – the eCommerce platform for WordPress – comes with dozens of payment plugins. Anyway, you need a payment plugin to give your users the best option to pay for your services.
With a Stripe payment plugin, you can easily take the money from your users. Besides that, the other options will be available which the plugins offer by default. Above all, it's very easy to get started with the plugins.
The best WordPress payment plugin – a comparison between WP Simple Pay vs Paymattic
To demonstrate the best WordPress payment plugin, we have chosen two magnificent products. WP Simple Pay is a Stripe-focused WordPress payment plugin and Paymattic covers both: Stripe and PayPal.
These two have many features in common. They also contain some disparities. But, the reasons we select them are many. Responsive structure, clear manual, user-first layout – to mention a few they hold.
Below are the points based upon which we have compared the two plugins.
Multiple gateways
A plugin can have one gateway or multiple gateways. For instance, Paymattic has 8 of the most popular payment gateways in its system: Stripe, PayPal, Paystack, Payrexx, Razorpay, Square, Mollie, and SSLCOMMERZ. While you'll get only Stripe in the free option, the premium version will come up with all the rest.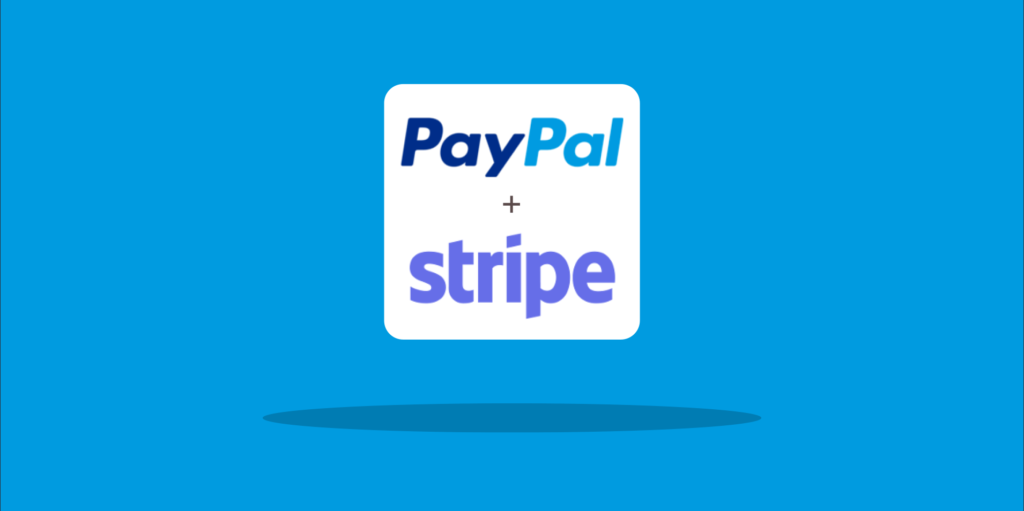 On the other side, WP Simple Pay has only one gateway covered and you have to be satisfied with it. Both the free and paid versions have included Stripe and that's all. However, some users may notice that they mention payment gateways like Alipay or Google Pay in the feature list. Well, those are the built-in features of Stripe and you can easily achieve these with Paymattic too.
Helpful documentation
Why do we need to discuss this subject matter? Well, people with no technical knowledge and beginners may face problems. Not only that, but expert guys also need help because of the different specifications of a particular product.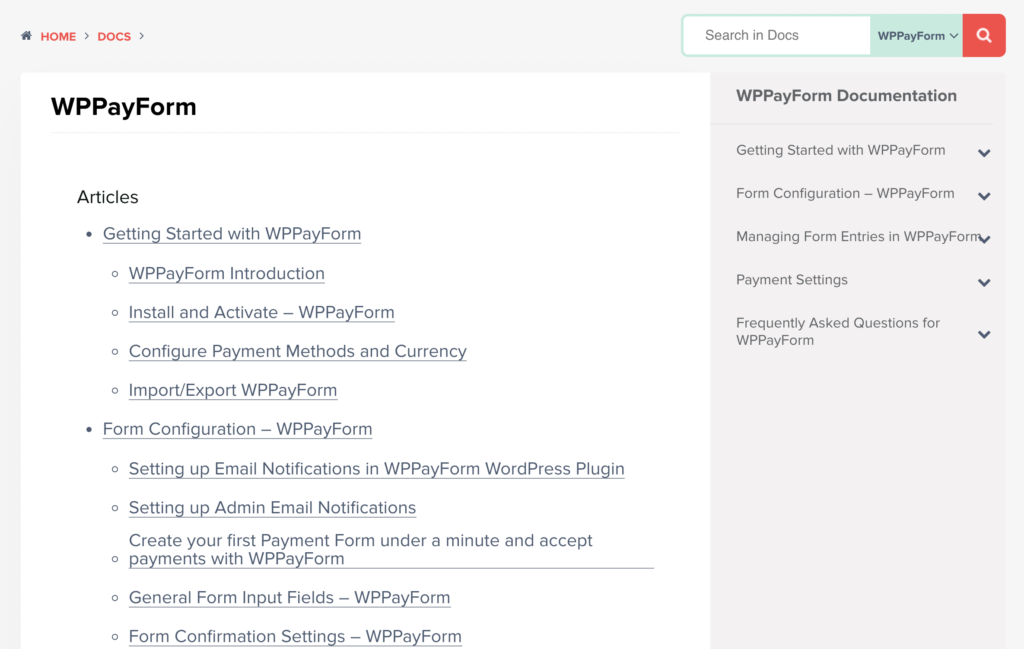 Paymattic presents the most comprehensive documentation to understand the product. From tyros to masters, everyone can understand what's described there. Thus, users will get their answers related to a specific problem.
What about WP Simple Pay? Yes, they also keep their documentation clean, organized, and minimal. From a list of topics on the documentation home page, you can go further to find what you are looking for.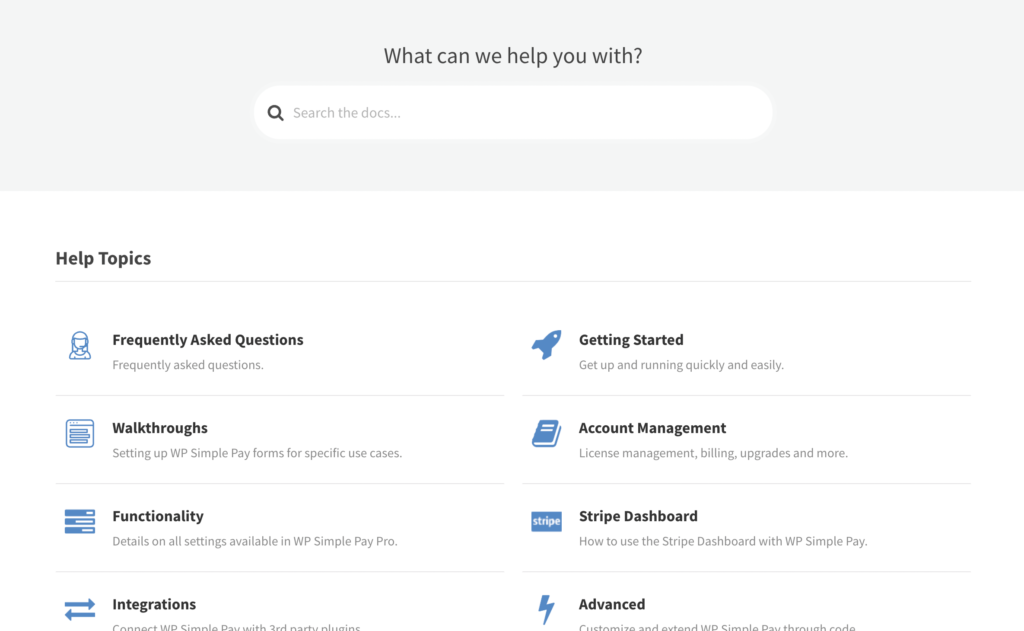 Both sites want to help their audience with easy-to-navigate and unambiguous guidelines. They're getting an even number here, we think.
Easy form building with pre-built forms
As a smart entrepreneur, you don't want to waste time. Form building should be an uncomplicated option so you can focus on other significant things.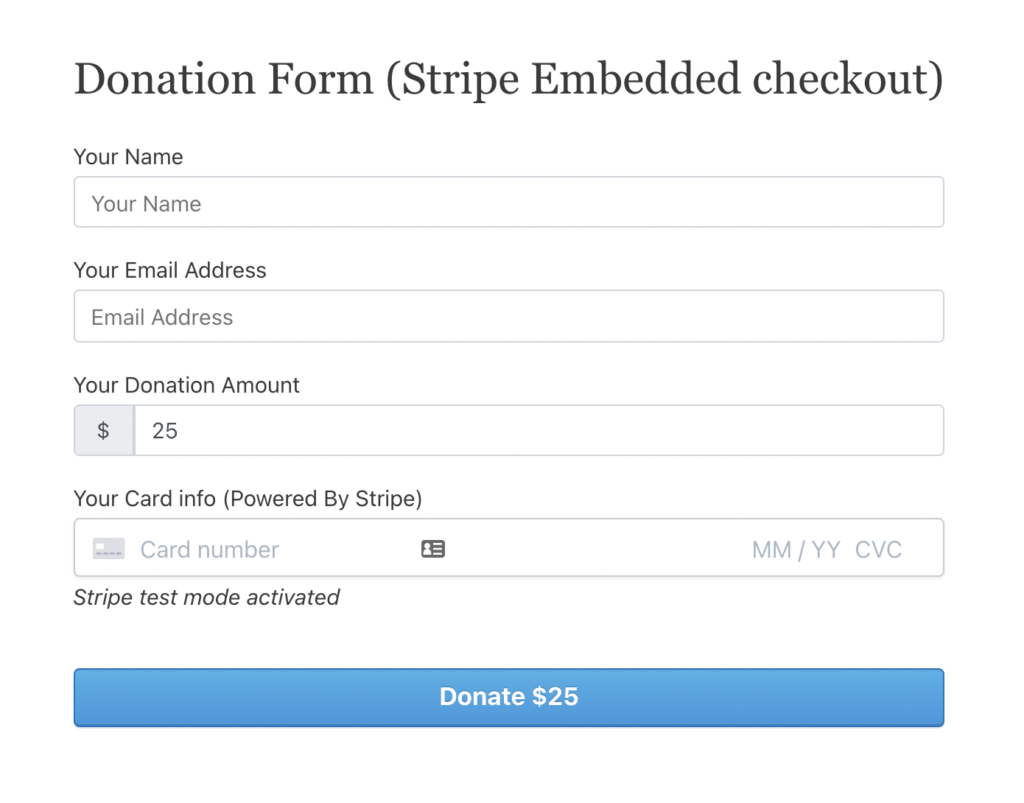 Ready forms and drag-and-drop fields are available with Paymattic. You can choose from 70 built-in forms that include donation, event registration, and multiple payment methods. Otherwise, you can go with the blank form.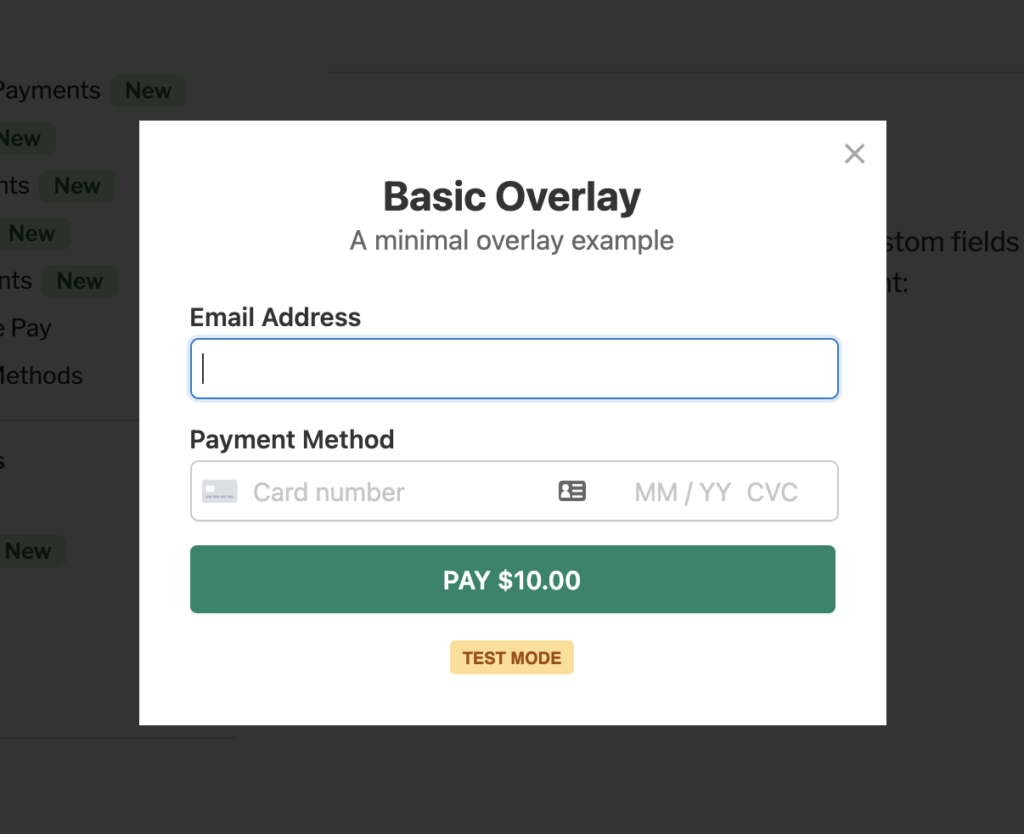 WP Simple Pay is way behind in this category. They have the drag and drop feature but it's not as advanced as Paymattic. Above all, Simple Pay doesn't have the prebuilt form option which is surely a great effort-saving deal.
Ready input fields
When you're going to create a checkout form, you need several fields based on your form type. Think about how fascinating it would be if there are multiple forms ready to deploy!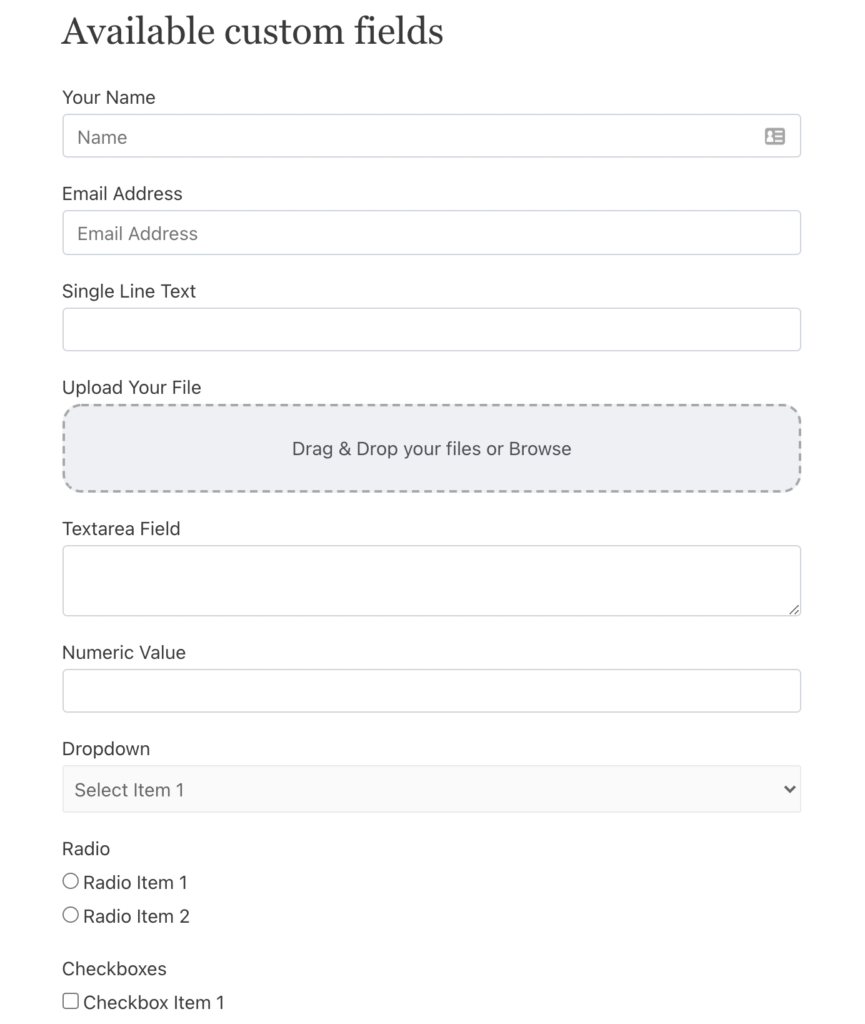 The users of Paymattic can enjoy the exhilarating 36 input fields and they vary across a wide range of choices. Along with general fields, you will also have the option for tax calculation and tabular products.
Organized into three categories, there are all types of fields that can make up the user-friendly form. As Paymattic stands out with exceptional features, it also reflects on the input field, too.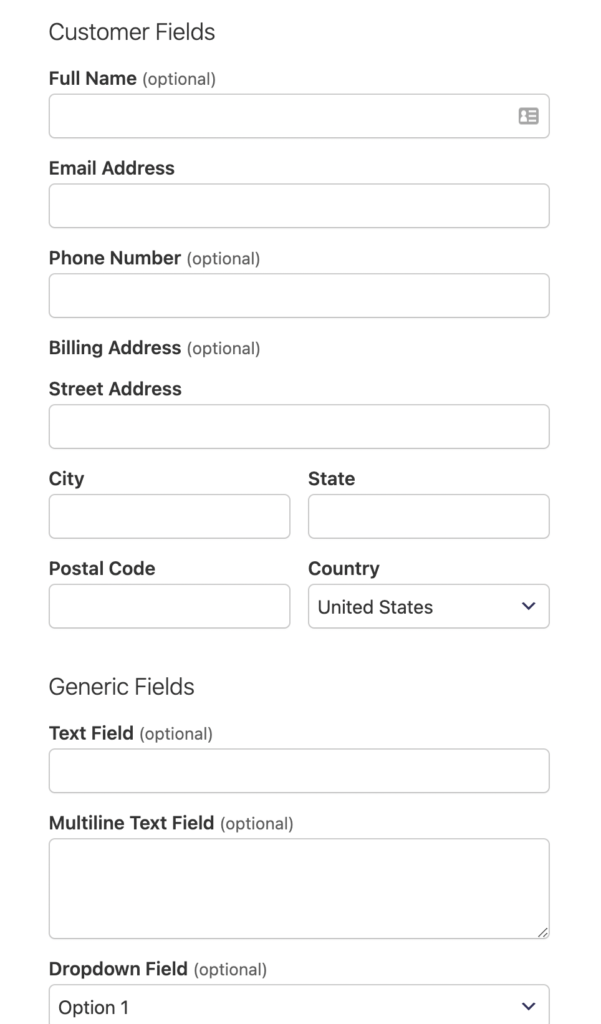 Simple Pay offers not more than 10 fields that cannot fulfill all your needs. The more ready fields you will have, the faster you can work.
Personalized email notification
When users submit a form, you can get an instant notification if you customize the form. Only Paymattic has this extraordinary feature and it's surely a useful inclusion to this plugin.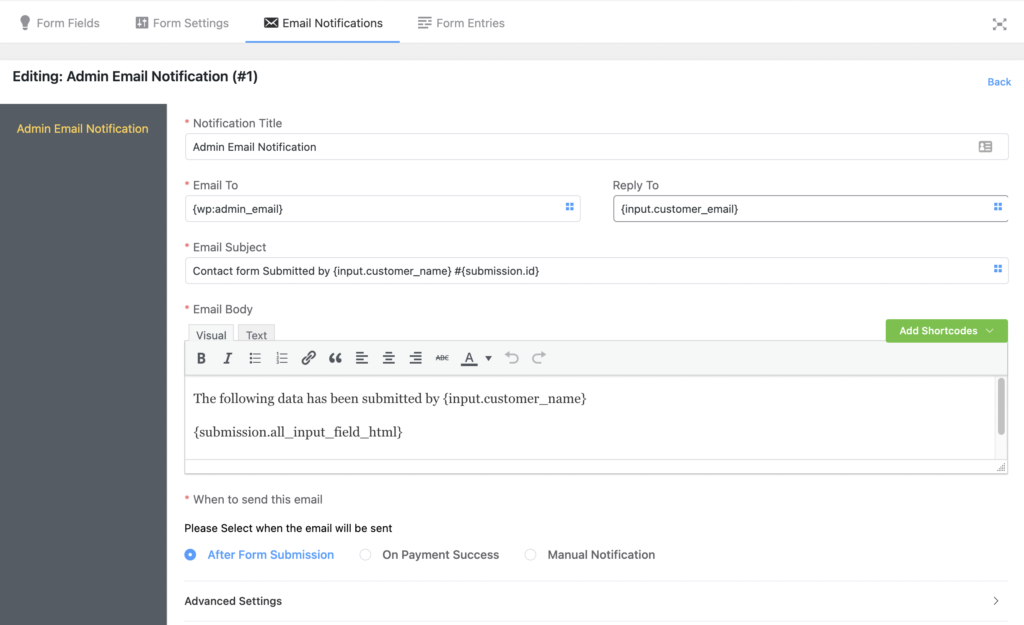 The notification is fully customizable. Which means you can do a lot of things. You can get all the information submitted by your users through the form or only certain items. Shortcodes are available to reduce your pain.
When you want to get this notification, you can also identify this. After payment completion or form submission – choose one of these options.
Restrict entries and schedule forms
You can limit your forms so that people can't make any submissions after that number exceeds. Well, there are more to enjoy. Other options such as causing restriction when a particular number is reached out are also beneficial.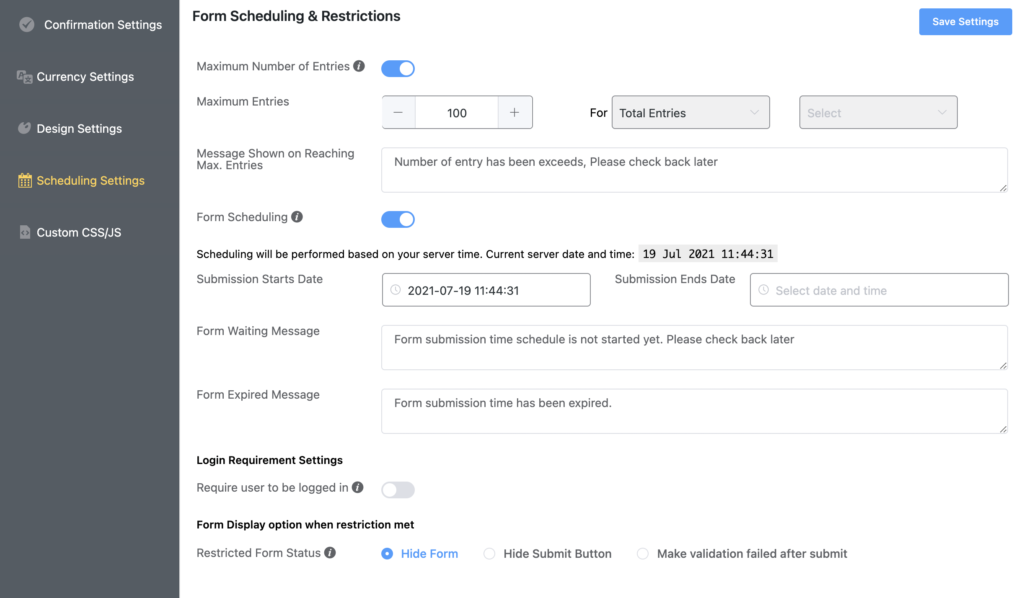 Moreover, scheduling forms is another handy feature you can be benefited from. By scheduling a form you can set the time frame.
Especially getting paid off from event registration, form scheduling is a wonderful option. When the time ends, nobody can submit another entry.
With WP Simple Pay, you can't have any of these options. For better facilities and exciting updates, Paymattic should be your ultimate choice.
Export and import your forms
Paymattic also provides this unique and essential feature. If you can export the data acquired by the form submission, you can make an advanced study from it. Furthermore, you can export all the data or the particular information you chose.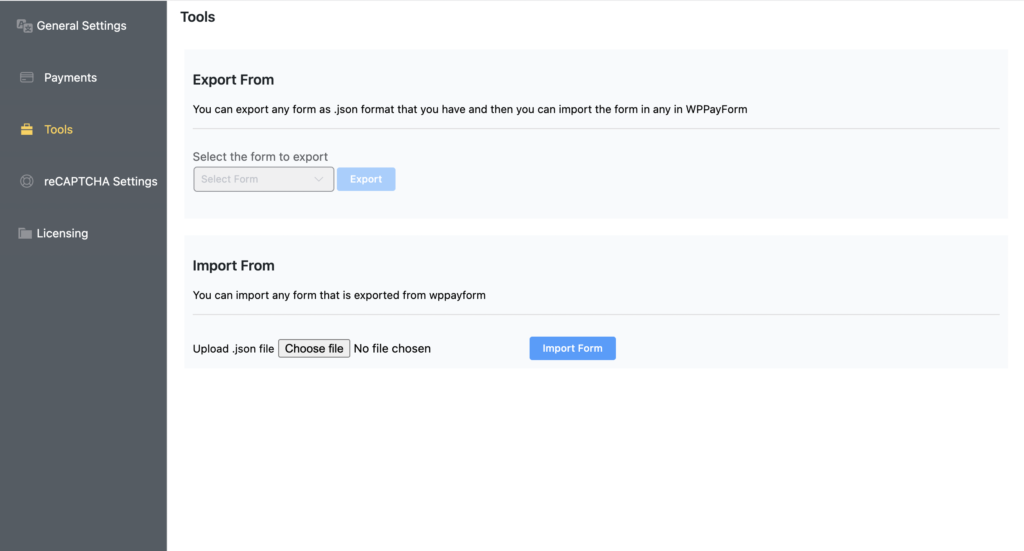 What formats do you need? There are multiple formats available while you export data such as JSON. Do both – export and import – in your way. That's why Paymattic is the most sophisticated WordPress payment plugin on the earth.
Coming to WP Simple Pay, we have nothing to say much. Other than some ordinary features, this plugin doesn't hold anything exhilarating or exceptional.
Paying offline
People pay online while they shop with any eCommerce site. Every plugin tries to ensure secure payment processing on the spot. What about if a customer needs to pay offline – with a bank check?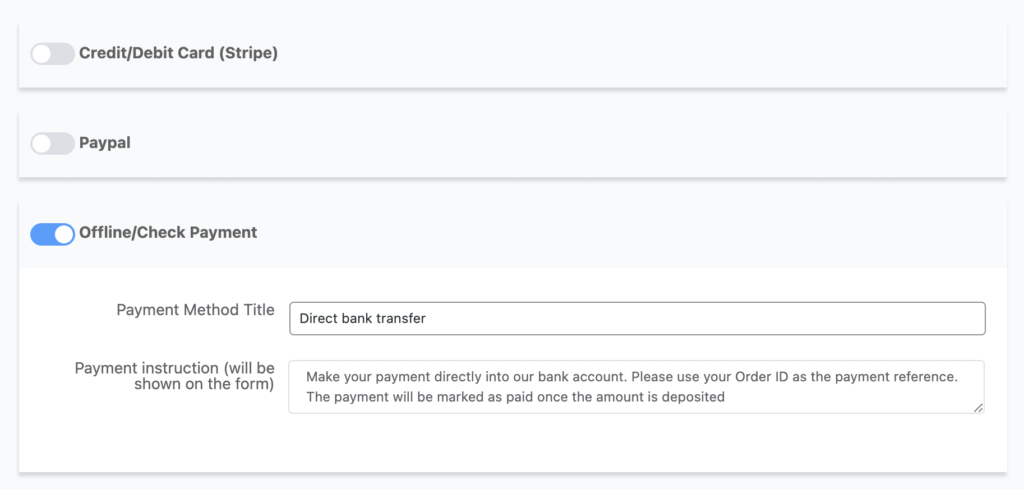 Paymattic beats WP Simple Pay on that point. Customers who don't have cards or any other online paying option can pay with the offline method. In that case, their checkout will be finished upon the payment completion.
It's an additional option besides credit cards and online payment processors. But, it's beneficial for those who don't have a card, or sometimes they might run out the balance even if they own the cards.
Shortcode for quick replications
A contact form can be placed in one place but a checkout form might be needed to exhibit in more than one place. It doesn't matter that making a payment form is easy with the compared two plugins. Again, what does matter is making hundreds of similar forms.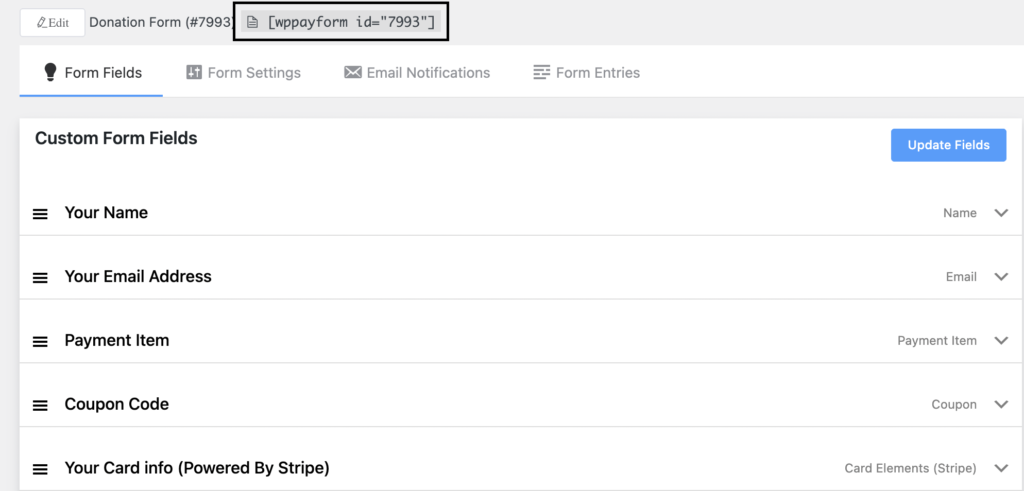 How does that sound now?
Paymattic – out of its magnificent quality – delivers a convenient way to replace thousands of copies of one single form. With the shortcode technique, you can copy and paste the shortcode to get the form in full action.
When you create a form inside Paymattic a shortcode is generated automatically. Later, if you need to use that particular form on different pages, you can copy the code and paste it in every place you want to see the form.
By the way, this is a unique and pure feature of Paymattic. No other plugin nor the WP Simple Pay has got this option in its system. It's surely a great option for making hundreds of forms and controlling them from one place!
Adding custom amount
When you sell the product, you keep the product price fixed. In some different environments, you may want to not make the price constant. People might want to pay more or less than your expected number.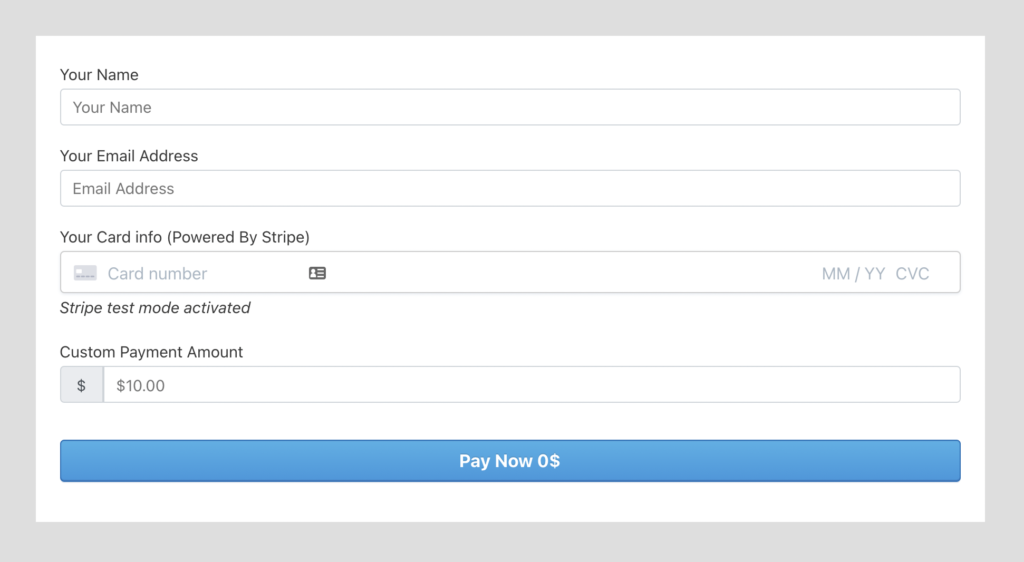 In this special condition – letting the customers determine the amount – Paymattic is a wonderful selection. When you create a checkout form, you can keep a field for adding the custom amount.
When do you need it? The best application for applying custom payment is in collecting donations. For instance, you have launched an open-source software and you want to get donated if anybody wants; that's where custom payment has the best fit.
Honestly saying, both plugins are fairly equal at this point. WP Simple Pay also has this awesome feature for including an amount at the customer's will.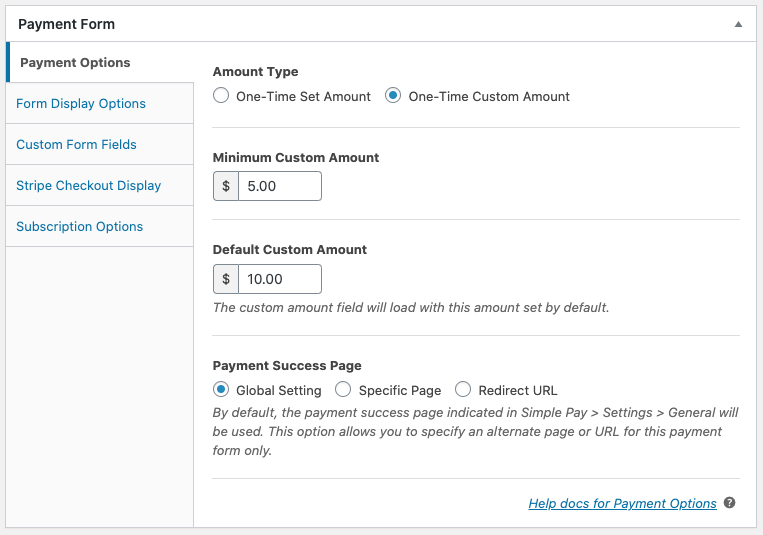 With this option activated, customers can enter an amount with their preferred value. This is an excellent feature for donation forms because you don't want to limit your users to a predefined number. Paymattic, WP Simple Pay, and WP Full Stripe – the magnificent three offers you that essential feature.
Payment with subscription
Do you want to include a subscription method in your pricing plan? In general, people choose a pricing plan and pay immediately with their card or other options. That's a one-time payment.
In the subscription system, people will subscribe to a product or a service and pay for a year, for example. Then it will be running until they want to stop it or the payment option face any trouble.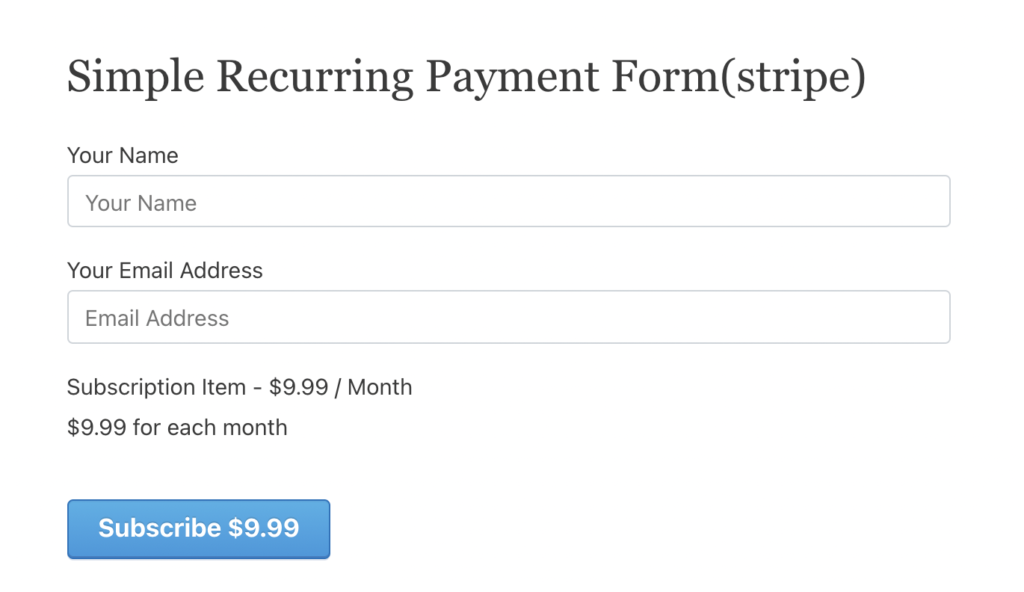 So, if you want to sell your services with a subscription plan, you can select Paymattic. With this plugin, you can easily set up the subscription offers comfortably. People will choose the option and pay for it. Simple!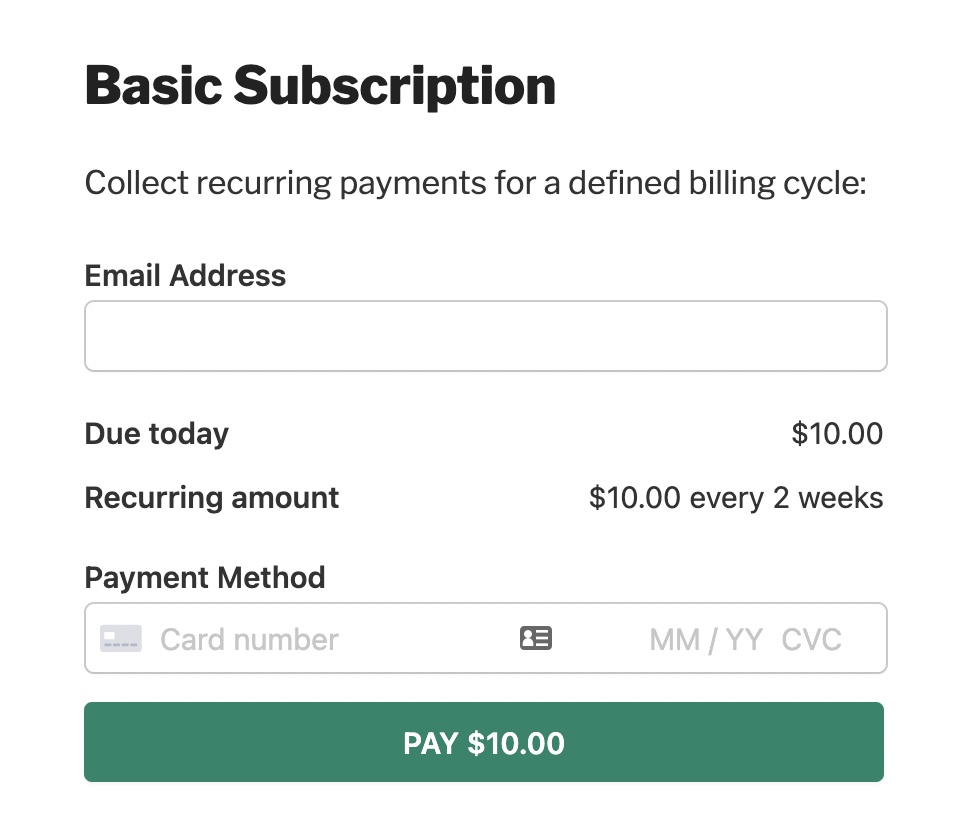 In the same fashion, WP Simple Pay has this option in its system. You can set up your payment structure with subscribing feature alongside the regular plan. WP Simple Pay and Paymattic both appear evenhanded at this criteria.
Price matters
Now you know what these two plugins offer and where they differentiate. In the end, we'll try to analyze the pricing structure. On a quick note, we'd like to remind you that Paymattic has proved how advanced it is.
For a single site license, Paymattic costs $59 and for the agency license, it charges $129. If you want the lifetime license, you can have the single site at $249. With every license, you will get all the updates a product offers within the valid period.
WP Simple Pay has four different payment options as personal, plus, professional, and ultimate. The minimum price is $99 and the highest price is $599. As you can see, having way fewer features than Paymattic, this plugin costs too much.
If you say "it's my money, I'll pay wherever I want" we do have no objection. But, if you pay more and get less, then what do you say? Is it a smart decision? Again, it's up to you.
WP Simple Pay vs Paymattic – who's the winner
Time is the most important thing in life. We spent time on research so that our readers can get the best value from our writing. Of course, you can go check every single piece of information out there.
Almost all the features are displayed on the pages of these two plugins. If you have spare time, you can visit the websites and crosscheck the data we have compared. Otherwise, believe us and take action.
We have no intention to misconstrue the power of WP Simple Pay. It's also a brilliant product to maintain the payment system on your website. If you want to use the Stripe-only payment option, this plugin is a great choice.
Now coming straight to Paymattic, you will get amazed with its features. We're sure, you can be happy by enjoying the benefits it produces while you solely use the product for your online commerce.
Two payment plugins are even at some point while one is better than the other on different occasions. In terms of the number of features and the quality of them, Paymattic stays on top of all its contenders.
In exactly three points Paymattic wins over WP Simple Pay:
Paymattic has both Stripe and PayPal, and 6 other payment gateways.
Paymattic includes a designated donation field.
You will pay less with Paymattic.
Paymattic
Stripe & PayPal Payments Made Simpler With Subscriptions Payments & Other Powerful Features
---