To tweak your online business to a new level of success, you have to take several steps which ensure better engagement. Customer satisfaction survey is one of them, and you can collect valuable data from users that allows you to take problem-specific decisions. However, you can create surveys according to your business demand and what information to gather from users.
What is a customer satisfaction survey?
Before businesses boomed online, we have seen surveys took place hand to hand with printed questionnaires (still, it has an excellent use for research). That said, to know your customer's specific requirements, surveys can help you big time. Without ensuring the customer's happiness, it's hard to improve the business by defining the user-centric strategy.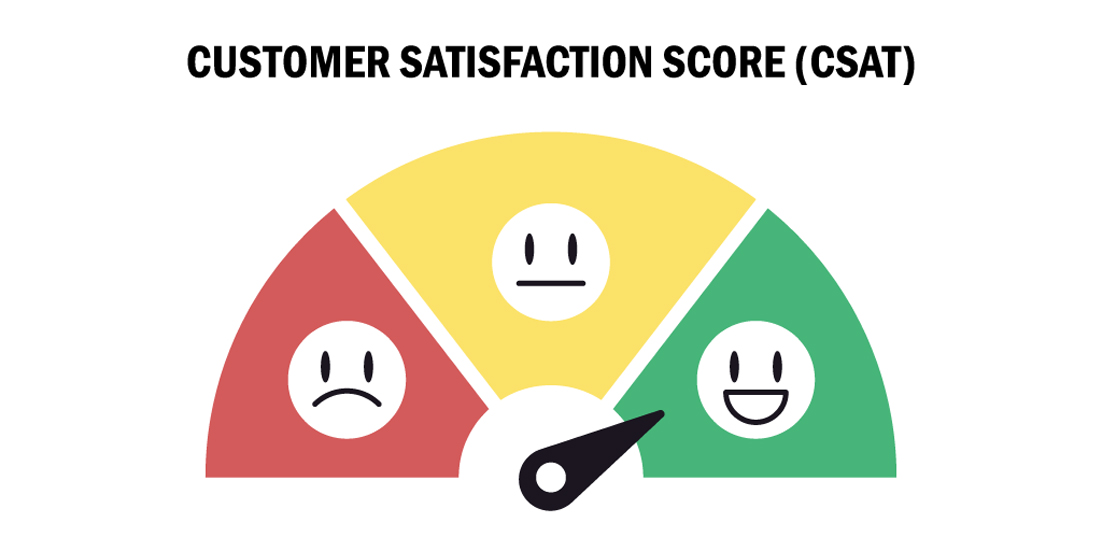 Survey works by examining something closely, and it's a method to collect information from a particular class.
To know the customer's satisfaction with the services your company provides, a survey helps you give the best result. Before taking the next step, it's mandatory to understand the current user experience, and surveying is a brilliant method for that.
Customer satisfaction surveys are useful tools to explore more potentials by understanding the level of satisfaction of customers with your company's current products.
What are the benefits of it

Customer satisfaction surveys give you several under the hood benefits to expand your business. If you run a survey among your customers, you can get the result that will give you many features.
You'll know who are the valuable customers and how happy they are by using the products you have manufactured. Moreover, you can identify the clients who are not totally satisfied with your services. Only then, the next step begins where you'll emphasize improving the quality of sales, products, support, and all.
Finally, justifying the overall satisfaction level to figure out where to put the importance next depends on understanding the current condition. After knowing why users love your services or why not – you can manage everything more effectively.
Why it's important
As these surveys have a direct impact on improving your business, you need to take care of them with utmost significance. By applying this simple technique, it's easy for you to know the experience of your clients. Now you can determine what to improve and how to.
If you find a good number of loyal customers, you can only consider how to keep them with you. On the other hand, acquiring new customers is costly yet you might have to waste your money unless you don't know the level of satisfaction of the existing customers.
Don't expect people will admire your good services and talk about them with others. The scenario turns quite the opposite if they face any negative experience because only then they tend to create a buzz and share it with all. Running a customer satisfaction survey can save you from all the vile.
Types of customer satisfaction survey
Customer satisfaction surveys can be in different styles, and it mostly depends on the business industry and customer class. From the broader sense, we can classify them into two categories.
Immediate Survey: It happens when a customer has accomplished something – say, a purchase. Right after the completion, you may ask them how was the experience. You may sometimes see something like "Was this article helpful?" on several blogs. And, some websites may ask you "How would you rate our customer service?" after you have made contact with customer support.
Overall Satisfaction: The overall surveys are for measuring the feelings of the customers on the entire experience. In general, you can understand how people feel about your company to determine the relationship status. If they feel it's quite pleasing, then you can keep the service as it is or improve a little bit to make it better. On the other hand, if you can identify customers' inconvenience, then a lot of options will be available to turn the whole experience.
Other Survey Types: The personalized surveys are also beneficial, which are conducted on small segments. You can do a Product Survey to figure out how popular is your product or what users think about its features, durability, design, and functionality. In other way, you can check out the satisfaction of users with a Support Survey. By participating in this survey, users will let you know how was the support including the representative's behavior, knowledge, and care.
How to create a customer satisfaction survey?
There are dedicated online tools to create a survey and most of them cost a monthly subscription. Also, you'll find some marketing tools combined with several options along with a survey generating option. However, we're going to show you how to create a customer satisfaction survey in WordPress.
To do that, we chose Fluent Form because it's such a brilliant tool that you'll get amazed by its stunning features. In other words, you will pay only once to use this plugin and can use it for several purposes. You can build a simple contact form, support form, quiz and online exam questions, and more.
If you don't have the contact form plugin go to WordPress.org now or search from plugins with WP Fluent Form in your WordPress dashboard. After the installation and activation, now click the Fluent Form and click the Add Form.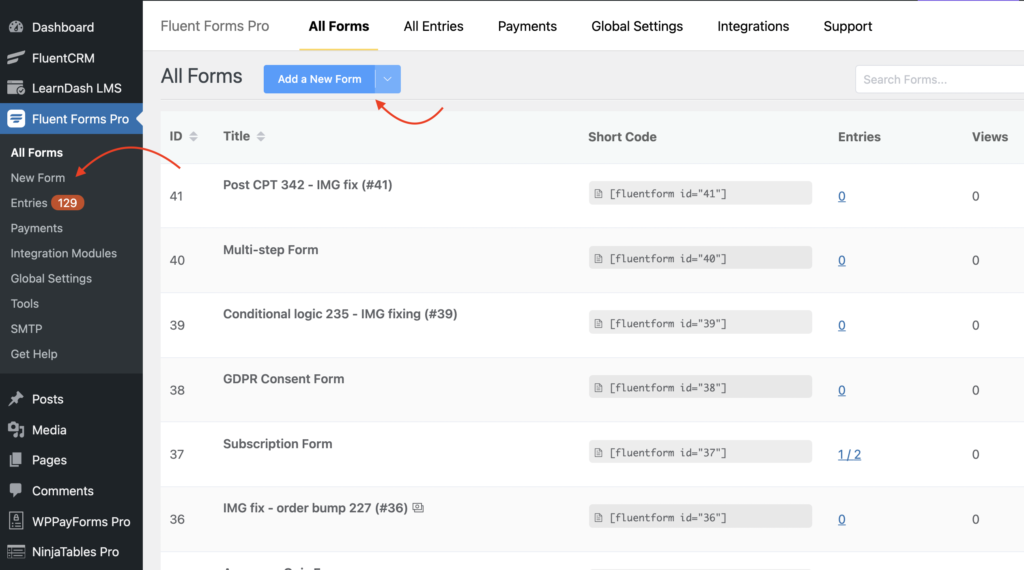 It will pop up a window with many built-in templates. Choose the new blank form if you want to create from scratch.
Now you're on the dashboard of your form where you see a screen like this: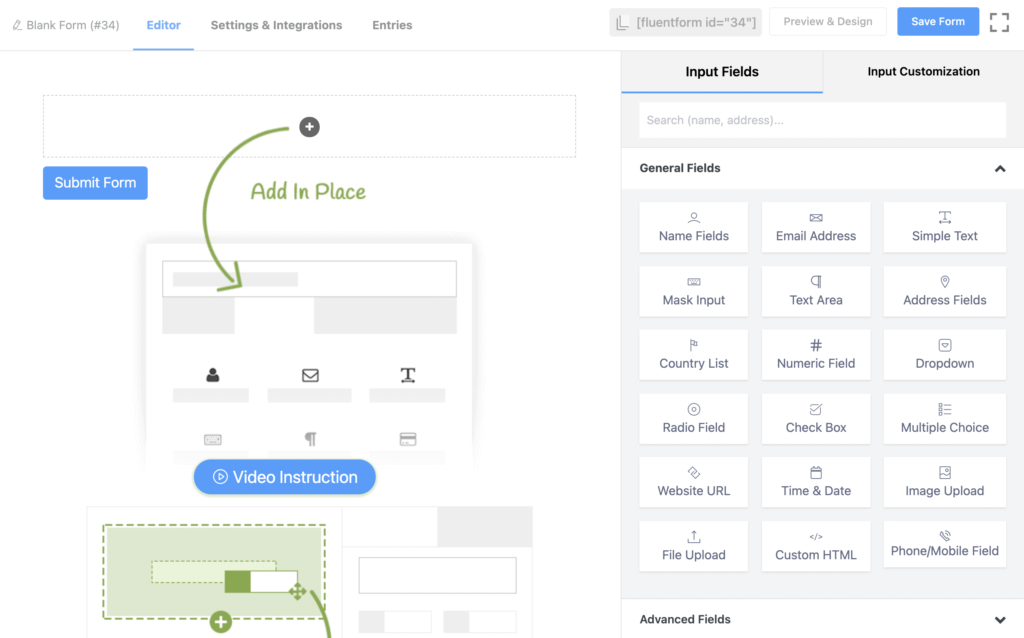 At this stage, give your form a name for future reference. Click on the top-left side of your dashboard and rename where it's written as Blank Form (#).
Now, look at the input fields floating right. All of them are ready to deploy to build a smart form as you need.
In order to create a customer satisfaction survey, we first add some basic fields like name and email.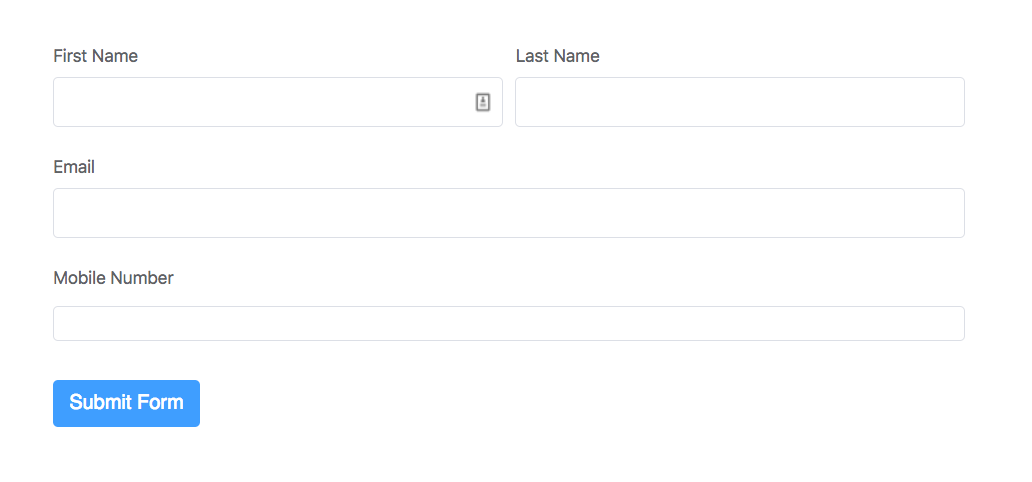 If you need help with how to add a field in WP Fluent Form, watch this 2-minute video.
After that, we need to add some radio buttons because we want our readers to choose only one option from a list of items. You can add checkboxes as well where users may select multiple items.
To know more about the Radio Button input field and its use case, you can check out our tutorial video.
After completing everything, just click on the save form.
Form integration
You may wonder where to integrate the form or how to. The solution is pretty straightforward. You will see a form id right when you create a new form. Copy the shortcode and paste it to any page of your website and your form will appear there.
Conclusion
Including a customer satisfaction survey can make your website work better and you can understand your user's satisfaction better. And, it will be easy to justify the user's needs and take the necessary steps only. Look at the additional resources below and check out them for more knowledge, and implement them in your projects.
Do subscribe to our YouTube channel to get WordPress-related tips and tricks. Also, follow us on Twitter and Facebook.
---
More to read: