Do you ever wonder which age group is consistently active on social media? Or which social platform is the most famous among different generations? According to Forbes, Social Media plays a big role in how millennials shop-
57% of millennials look for fashion trends on social media. Not just that, in 2020, they approximately spent $1.4 trillion
82% of millennials go for purchase after they discover the product on social media
Everyone these days has different social accounts on different social sites, especially millennials. Whether for entertainment or career, social media presence is the most common thing in this age group.
So if we measure where millennials stand on digital platforms, one thing is crystal clear that this generation is the most active. On the other hand, brands also consider millennials the richest source for promoting or word of mouth marketing.
Who are Millennials?
Millennials are generally considered to be born between 1981 and 1996. So we can say, a millennial is aged between 25-37 years old. This generation is the biggest working-age group today. They are also constantly active on online platforms. However, millennials do complain social media is too addictive and killing their valuable time. But that also contradicts their behaviour as a whole on the internet as this age group is the generation that spends most on online shopping.
Brands today have been targeting them for their promotions as millennials are the biggest target audience for any company. And guess what, how do companies know what millennials have been looking for? With the help of social media! Digital platforms have constantly kept track of their users, what they need, what they like, or what they search for.
How do social media market to Millennials?
The immense growth of social media marketing is a clear indication that brands take this platform seriously, which makes sense. First of all, millennials are the largest working generation. This is a huge change as they have the purchasing power in the consumer market.
According to the Pew research center, millennials have overtaken baby boomers and became the largest working adult generation in the U.S. In 2019 baby boomers' projected population was 71.6 million, whereas millennials were 72.1 million.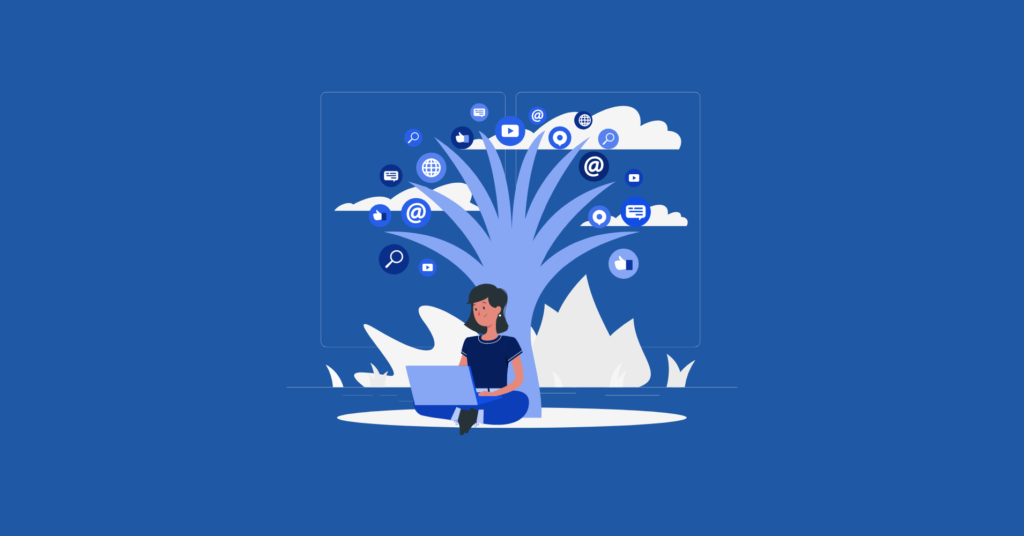 Secondly, marketers no longer promote their brands directly; rather, they try to trigger user-generated content. In this digital world, customer-created content is the most trustworthy form of marketing. These users discuss every single information they find out, starting from purchasing to using. Moreover, customer-generated content helps brands reach a bigger and similar audience and understand their user bases better.
Lastly, social media has made it possible for users to communicate directly with the brands; thus, companies get a clear picture of the consumers and their expectations. To validate the brand value, marketers have targeted millennials, and needless to say, social media is the game changer here!
Which social media are most popular with Millennials?
Although every generation uses social media, millennials spend a lot of time on social networking sites. Furthermore, the usage of social media platforms is ever-increasing.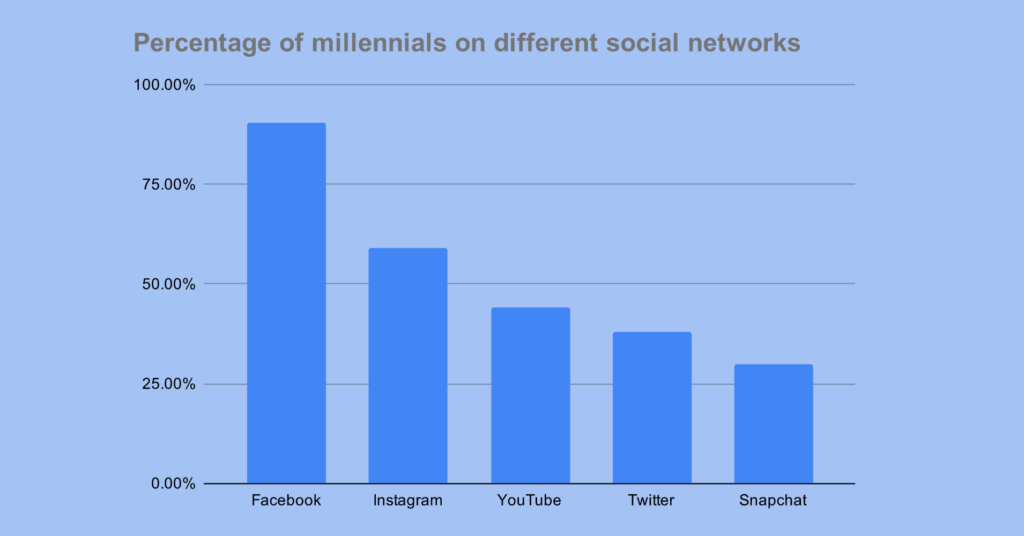 Today we have several networking sites, and some of them have a strong appeal to millennials. In the next part of this article, let's discuss the top five marketing channels to reach millennials.
Facebook
Data from Oberlo shows that nearly 90.4% of the millennials are active on Facebook. This number clearly indicates, hands down, Facebook is the most influential digital platform among millennials.
So brands targeting millennials will have to be active on Facebook and keep in touch with the audiences if they truly want to know them. Because many millennials are constantly sharing everything on social media.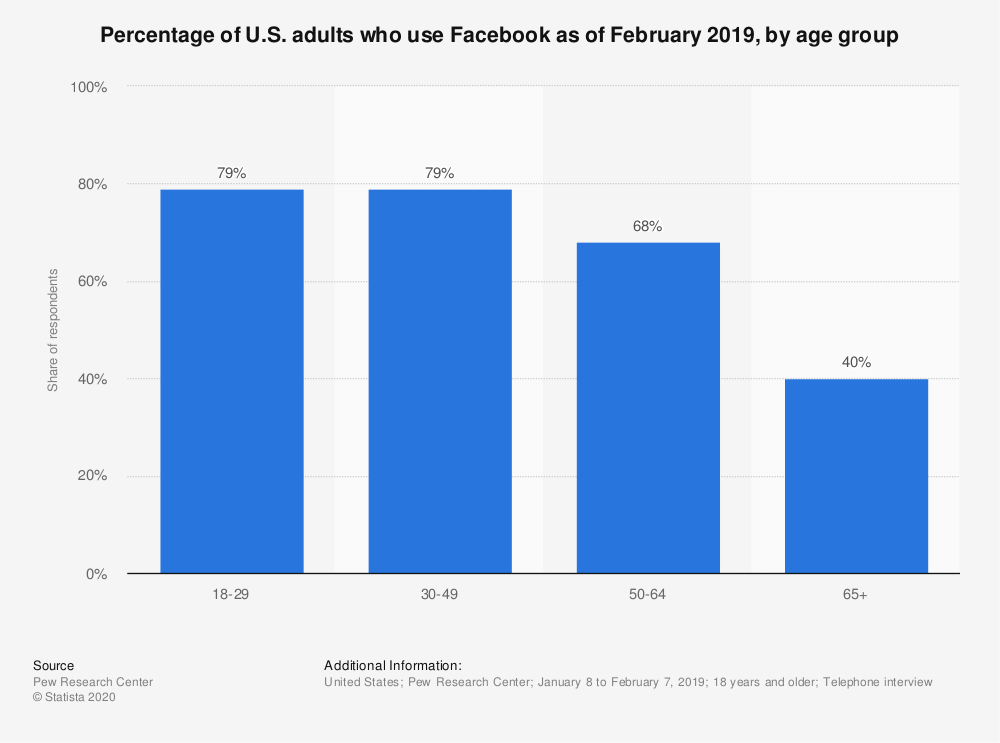 Although they say Facebook is time-killing and makes them spend on unnecessary stuff, they like to shop online. Millennials keep track of the labels and switch from one brand to another. Moreover, they believe social media has the power to create a community. As a result, they gather information from groups and communities.
As part of the sales strategy, companies now know how to promote to millennials, and Facebook is definitely the priority due to the massive community it has gathered along with the most precise user targeting.
Instagram
Instagram is the second most used digital platform by millennials. If you want to post a perfect picture, Instagram is the new trend setter.
59% of the millennials are actively using Instagram. Sure, Facebook is in the leading position, but its sister concern Instagram is a popular social network with numerous exciting features. For example, Instagram stories, IGTV, filters, live video, messaging, and calling features have made the experience a lot more captivating.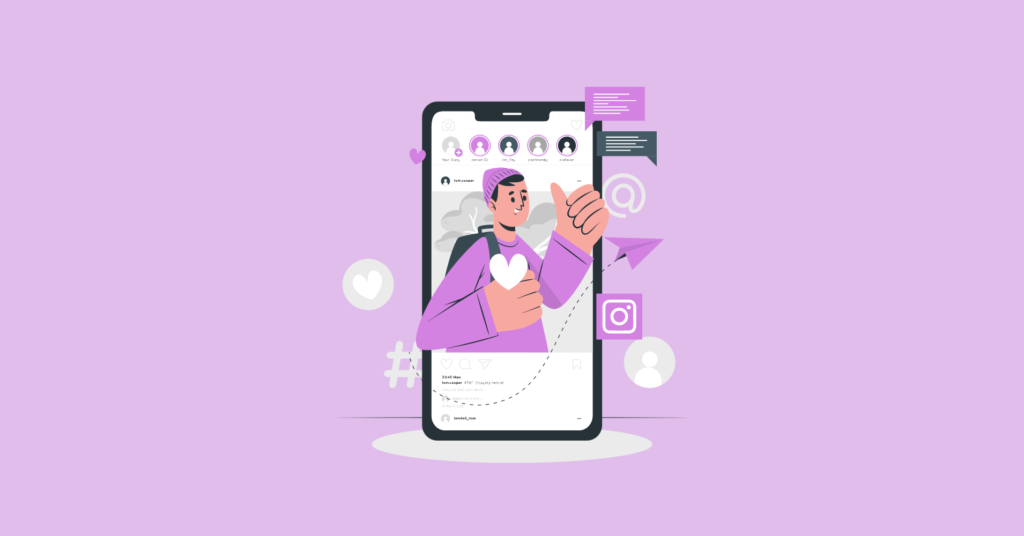 For brands that want to launch a new product or start a hashtag campaign, Instagram holds a powerful position for marketers. Moreover, visual contents are always eye-catching. No matter how big or small the company is, anyone can take full advantage of Instagram.
YouTube
According to Google, 44% of millennials check YouTube daily. Unlike other social media, YouTube is a different charm. Millennials don't like to spend all their time reading posts or scrolling down images; instead they would prefer watching videos.
Businesses also started their YouTube channels in order to market to millennials. Moreover, YouTube commercials are also a useful way of uplifting brands to users. Different studies say, audiences pay three times more attention to YouTube ads compared to TV ads.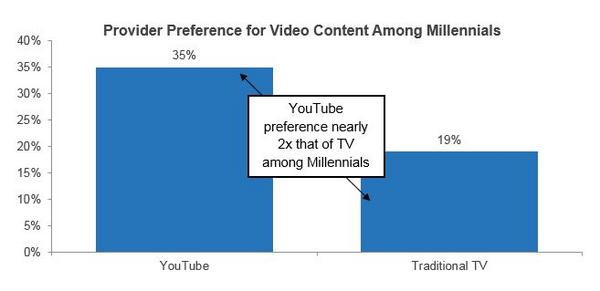 92% of millennials say they have found a new product on YouTube, and 40% make their purchase decision based on it. The growing popularity of YouTube among millennials has made it clear that relying on images and posts can't be the only strategy.
That's the reason other social platforms like Instagram, Snapchat, Facebook are embracing video content. Not just that, YouTube is also upgrading their game by copying different strategies from the other social networks. Some of the remarkable ones among these features would be YouTube stories, posts, etc.
Twitter
Marketers can't think of anything other than Twitter for posting quick updates these days. Well, Twitter is in the 4th position with 38% of millennials. By now, brands already understand how powerful social media is. And the potential of social media to expand a business.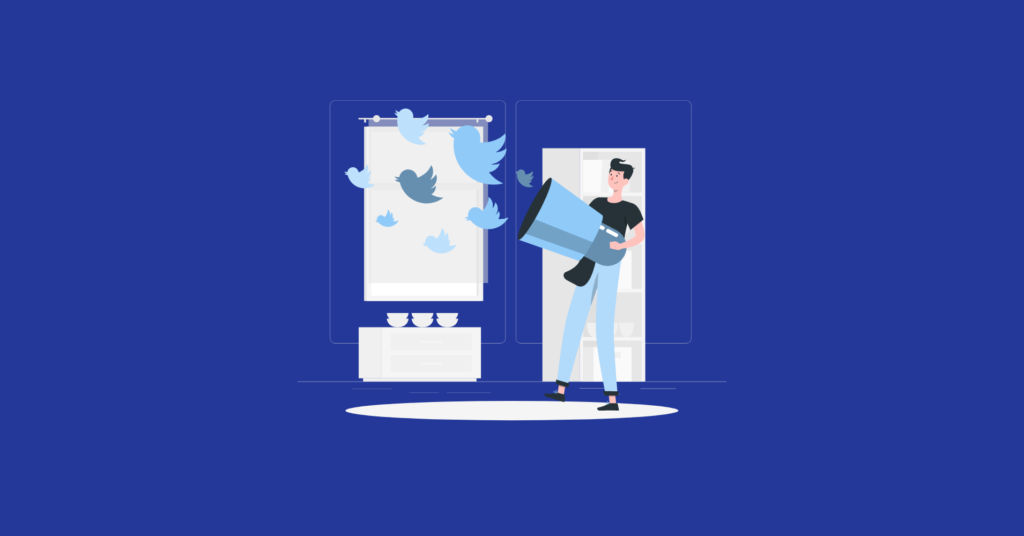 Successful brands follow a solid Twitter game plan to target potential customers. Moreover, Twitter is one of the most popular sites to get updates about breaking news and maintain a direct relationship with your consumers in real-time.
Tweets on a trending topic or a campaign with videos and images tend to stand out best for any business. This platform allows both the companies and the users to get all the information about what's happening around the globe in no time.
Snapchat
Snapchat is another platform that can double as a marketing tool. 30% of millennials say they use Snapchat daily. Snapchat is basically a photo and video sharing app. The unique part about this app is shared photos and videos appear on Snapchat temporarily.
For example, market ruling companies, McDonald's and Pepsi, have launched successful Snapchat campaigns to promote their products. Pepsi launched a summer campaign and the tagline was "Har Ghoont Mein Swag Hai". The intent behind this campaign was to target young generations so they could interact with the brand through social media.
Therefore, brands also know social media has the power to captivate millennials. And that's why they are constantly targeting this age group as their niche to excel in business. Moreover, Snapchat is comparatively less competitive.
Snapchat is free and considered one of the most popular social media these days. Furthermore, Snapchat is definitely an ideal option to market products to millennials with a higher engagement rate with its authentic content.
Social media success stories
On average, millennials spend nearly two and a half hours daily on social media. On that note, brands today are active in the digital world and have proved to be successful. And without any doubt, millennials are the biggest consumers.
For example, Uber, the American company that offers ridesharing, has a perfect business idea to target millennials. Like other generations, millennials don't like to spend a lot of money on everything. This generation is smart and economical. And the best part is Uber knows about millennials' potential.
From the beginning, Uber has focused on the millennials. They knew millennials want easy and simple features. So Uber made it super easy to find a ride and the payment process using just the smartphone app. Moreover, some marketing campaigns such as #UberKITTENS were run on National Cat Day. The drill was using the Uber app to deliver kittens to your house.
Along with focusing on millennials, Uber offered something unique, and the result is pretty obvious. Its strategy was bang on.
Social media | The magic wand
If you want to leverage the potential of social media and make the most out of your business, you should start acting on it NOW! Connect your business website with your social channels, design a sound strategy, engage more with your users. And a perfect tool for you to manage all of these from one place can be WP Social Ninja if you are running a WordPress website.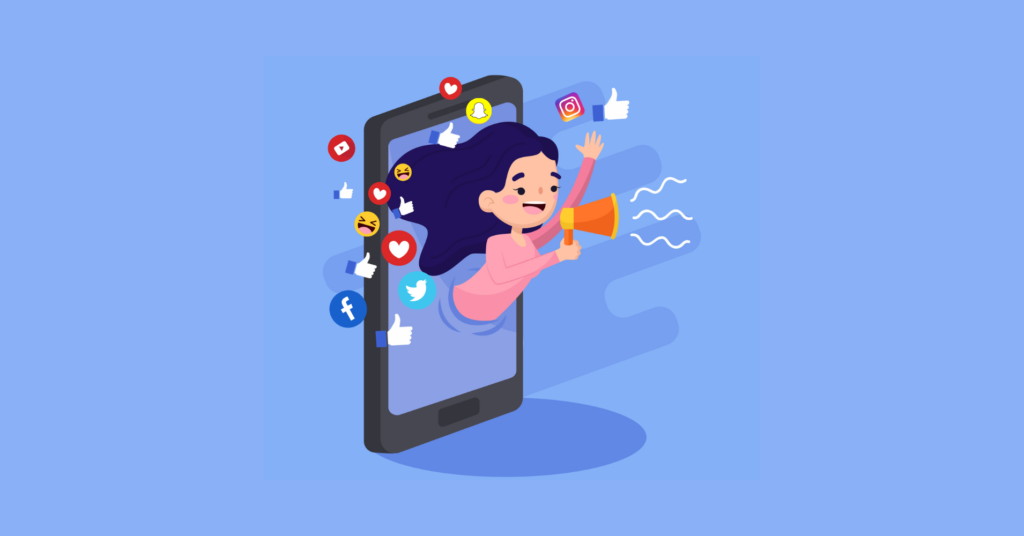 Because when you have a social review plugin it will take care of your social media reviews. However, our plugin has more than that. Along with Social Reviews WP Social Ninja will offer you Social Feeds and Social Chat! So it becomes easier for your business to control your social media activities with just one top-notch tool. Moreover, with a super-easy configuration process WP Social Ninja has amazing diverse features that make your journey way smoother.
Well, throughout the article, we have tried to give you a clear idea about the most highly used social media in 2021. Let us know in the comment section if we have missed anything.
Also check out our article on Why Use Online Chat on Your Website?