If you have ever recommended a movie to a friend, what do you think made you do that? You certainly liked the story enough to talk about it with others. The same thing happens in eCommerce too. You own a store and want your customers to refer you to their friends and family. But do you have any referral marketing strategy?
Online stores can achieve organic referrals, but an incentive makes it more effective! Firstly, make sure your collection and services are top-notch so that customers are willingly suggesting you to others. But you should also appreciate them and give something in return.
Here we'll discuss the following points-
What is a referral marketing strategy?
In simpler marketing terms, "Referral" is an act of spontaneous promotion with the "Word of Mouth" technique. So, referral marketing is when your loyal customers speak for you and about you to their friends and family.
Now let's get into how referral marketing works.
Considering the digital world today, referrals happen via email, social media, or even phone calls. The reason why it works is that people trust their close ones and prefer their suggestions while shopping.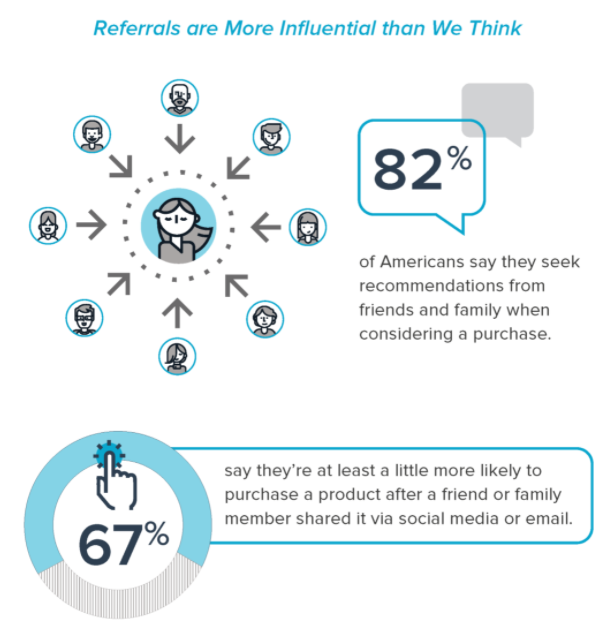 As you can see, 82% of Americans trust recommendations from family and friends (arguably 92% from recent data). Peer-to-peer referrals tend to be more useful because an individual is four times more likely to buy a product when it's referred to them by someone close.
A satisfied customer spreading positive words about you can help you get more customer engagement, more traffic, more sales, and more of everything!
Importance of referral marketing
Marketing needs to be driven by active customers, and referral marketing is the best way. In its general sense, a referral doesn't cost a penny.
"When we sit down with a client to discuss their marketing mix, we always try to recommend referral marketing as a key channel, since it's one of the most cost-effective performance marketing channel when done correctly,"

Donald Chan, founder of digital marketing agency IMPACT
How do you increase sales with referrals from customers? All you have to do is provide an excellent customer experience and ask them to spread the word.
A referral opportunity that's exciting for customers to share drives traffic and sales.
Audience targeting gets precise, thanks to referrals! A customer knows his friend and recommends exactly what he'd like to buy.
Trust plays a big role as people are convinced more by the people they trust.
You can't personally reach everyone but referrals can help with that.
Reference by an influencer works like magic!
A start-up with a limited budget gets customers because of referrals.
You don't need to be omnipresent on all social media platforms if customers share your product as a referral.
Let's put a pin on the long list of importance for now.
What are the different types of referrals?
Referrals can be direct, implied, or tangible. But for a clearer idea, we are describing five types of referral marketing.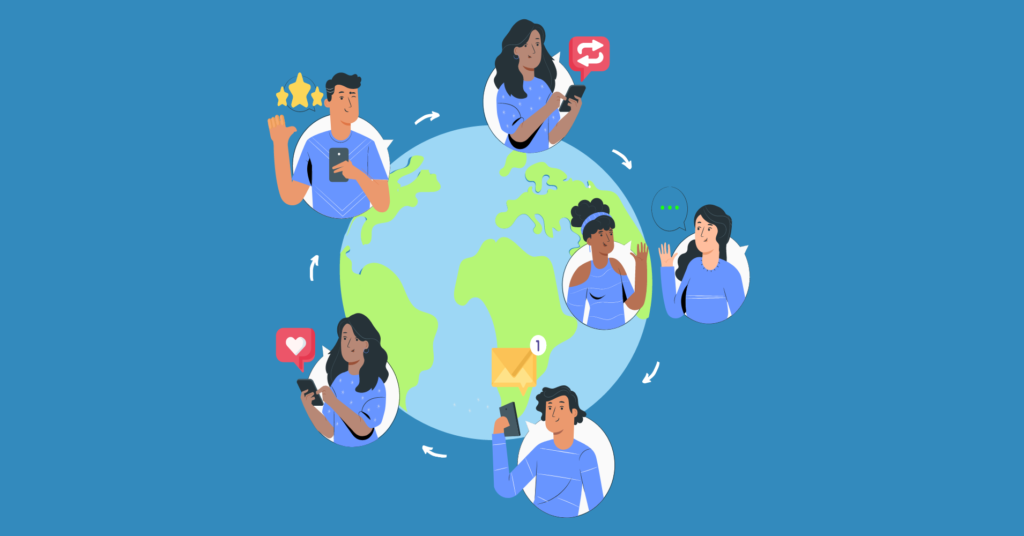 Word of Mouth (Organic or Amplified): Customers can choose to become advocates for you (organic) or you can implement campaigns to encourage them (amplified).
Social media shares: Customers love to share a good product with their social media friends.
Reviews: Online comments and reviews from real customers.
Influencer referrals: Bloggers, artists, or an influential figure's recommendation.
Emails: A catchy subject line of an email will attract customers, and if it's share-worthy, it will be an email referral.
One more unconventional referral technique is "Screenshot"! Your customer might take a screenshot and send it to someone as an act of referral. Later on, they might end up looking for it in your store.
Pick the best referral marketing strategy for eCommerce
Customers can recommend you by choice without any effort from you. However, a little push in that direction is no harm. Offer something exciting to them after they have taken part in your referral program.
Here we go with some ideas. Choose a referral marketing strategy from the following ones.
1) Gifts and rewards with a referral program
Having a referral marketing program to incentivize customers can generate new leads, increase engagement, boost sales, and revenue. If you implement an "Invite a Friend" program where a regular shopper invites his friend to visit your web-store, you must provide a referral bonus or discount.
For example, the referrer would get a free product, a discount, or points that they can redeem upon the next purchase for each invitation.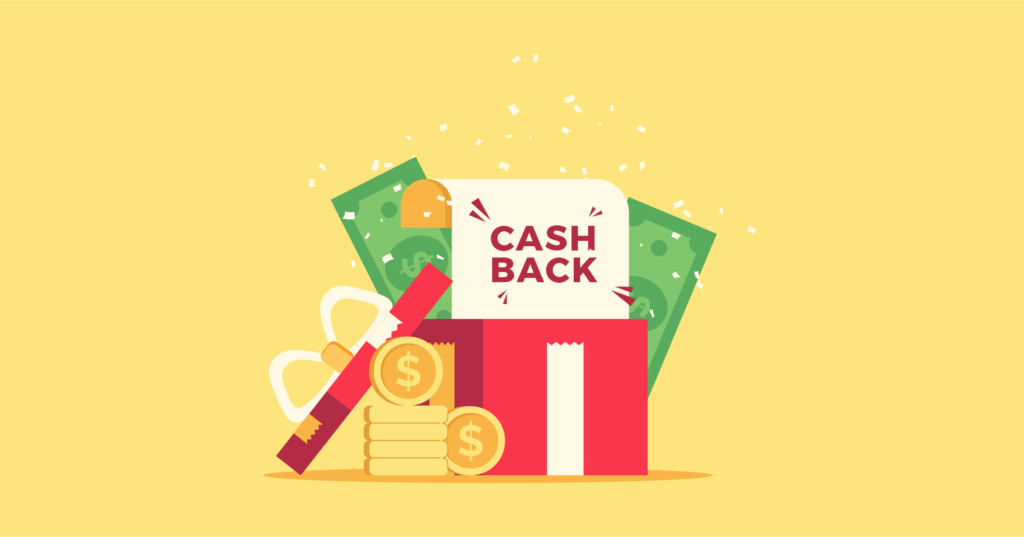 Level-wise reward for customers with different levels of referral can create a sense of competition. A customer who made 5 referrals and brought you 5 new customers, should enjoy a bigger reward than other customers who brought you two customers. Of course, all customers should be treated the same, except for when it comes to rewarding them according to their activity.
Typically, users would like to know what they're in for. If customers like a little suspense, try mystery gift rewards. Throw in a hidden product that you're willing to give away and customers would like.
Membership program is similar to the level or tiered rewards program. An exclusive club of top 5 members with maximum referrals should get better prizes and VIP service. Other customers would want to be a member by referring you more than before.
2) Be the best
While it's sort of a given, many high-profile brands start to slack-off once they get enough exposure. No matter what business you have, big or small, online or offline, you should be on top of your game all the time.
Without any program, gaining brand advocates is possible if your collection is absolutely great and worth customer's money. Ensure the highest possible user-experience to all of your customers so that they feel valued.
Your website should be updated and exciting for them to spend their time on something worthy. Product images and product reveal videos need to have high-resolution. Likewise, the description box or the social media caption should be catchy and informative.
Personalize your entire store to fit each individual's preferences and provide a wonderful experience. Create exciting and shareable content that can increase brand awareness and customers will end up referring you to others.
Try sending a referral message completely personalized and shareable for a particular customer like "Hi John! Refer a Friend and Get a 10% Discount!" You can also make it customizable for them so that they can write their own message when they send it to their friend.
3) Shareable customer experience and reviews
Trunk Club clothing brand's technique is totally customer-oriented. They make sure customers get a nice unboxing experience by delivering a neat package.
Here's Shopify's explanation on Branded Packing Experience with Trunk Club. A customer can share an image or a video of unboxing that turns into referral.
You can add a short and sweet- thank-you note on the box or maybe an exclusive discount code for their next purchase.
If your product gets good star-reviews, don't forget to display it. Not just the average rating with numbers like 4.8 out of 5. Those yellow stars captivate more than numbers.
4) Charity
In most cases, we can't donate to foundations and charities even if we wanted to. So, creating an opportunity where customers can donate indirectly by shopping is going to make them feel better about themselves and their purchase.
When they have bought a product, show them where the profit is going. For example, right before they click "Buy now" or in the process of payment, let them know that their money is supporting a good cause. Notify them when the proceeds go to a fund or help a child in need.
Animal lovers would appreciate if it helps pet shelters and others might want to support something else. You can analyze it by personalizing.
It's one way to create customer loyalty, which in turn, becomes a referral opportunity. A happy customer who's proud of the donation he just made will surely want to tell others about it.
5) Offer upgrades
You don't always have to give bonus, discount, or gifts. Instead, you can upgrade something that they have already bought from you.
One of the best examples is Dropbox's referral program.
They use invitation as referral, and both the customers get 500 MB of bonus space. It's a successful referral program because it's a win-win for three parties – Dropbox, the referer, and the invited friend.
In the same way, you can try upselling a slightly costlier product with a reasonable discount. Upgrading the customer shopping cart during checkout by adding a free product is another fun way to get referrals. They will definitely talk about these experiences to others.
6) Program headline and discoverability
Make your brand easy to refer to and display the "Refer" option right on the top-bar of your website.
Your headline of the product is the first thing customers will notice. So, it's important to use a catchy and witty headline. Make it simple and to-the-point and try to cover the essence with one sentence. Bombas used "Give 25% off and get $20" and Greats used "Tell your friends about GREATS and you both get 20%". Both of these are perfectly optimized and carry the message. Get creative and keep it smart.
You should also make sure that the program is easily discoverable. These campaigns are not just to entertain loyal customers, but also to drive in new ones. Mention it on the homepage, newsletter, email, social media, thank-you page, etc.
7) Contest and trends
Arrange a referral contest for customers so that they get competitive about it. Give exciting prizes and gifts to the one who invites more or recommends to more people.
Huckberry's referral contest is as follows-
Leaderboard displays with the top 5 referrers or a winning badge on customer profile will make them more interested in competition. Besides, showing off our achievements on social media has become a trend these days. Make the process shareable for customers.
Go viral by turning a boring product into something trendy. Since people are more into TikTok now, make a video on that platform.
According to Oberlo, Blendtec did something unique to promote their blenders. Yes, you read that right. Blenders! "Blendtec's Will It Blend?" YouTube channel has videos of blending iPhone, iPad, Glowstick, and even diamonds. The brand got a lot of subscribers because people started talking about it.
The videos are a decade old. Maybe now it's time for them to create a "Will it BEND" channel for iPhones!
8) Omni-channeling or affiliates
Merging online and offline customers is a great idea because not everyone buys stuff online and some are also more interested in both. Modern customers love omnichannel shopping and want a pleasant experience. Let the omnichannel customers invite people from everywhere.
On the other hand, an affiliate program or a partnership instigates other businesses to promote as referral. Amazon Associates affiliate program allows the content owner to get a discount upon sharing the product link on Amazon.
9) Social media
We kept this point so far down because everyone already knows about the importance of social media. Your loyal customers will share your posts and drive traffic for you whether you offer them something in return or not. Connect the customer community of Facebook, Instagram, or Twitter and encourage conversations.
Another good aspect of social media is the massive audience of an influencer. An influencer has a large community of followers that could be your potential customer base. Everyone follows a known face for the way they dress or the self-care products they use.
If an influencer posts that they love using your product, then their followers might be interested in taking a peek at your website.
Here's "Tiki Pets" pet-food company's brilliant idea of merging with a canine influencer.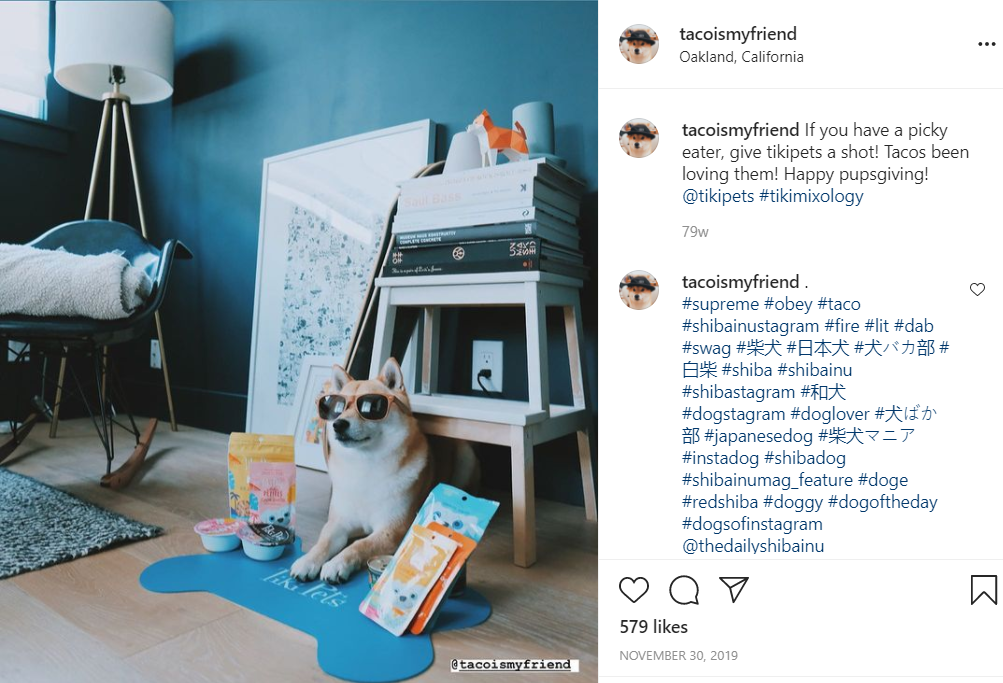 People love two things on the internet – memes, and dogs (maybe cats too). This dashing influencer Taco promotes Tiki Pets by posing fabulously! Pet owners who follow Taco will hit the like button and check out what Tiki Pets have for their pet.
You can also have influencers endorse your brand by modeling. Flatter them by posting amazing shots with a beautiful caption. Later on, they will brag about it to their own audience.
Looking back at referral marketing in 2020
Even though 2020 was a mess because of the pandemic, eCommerce and referral trends were not hampered that much. Here are some trends and stats to prepare for 2022.
77% of people buy products based on recommendations from close ones.
3-5 times higher conversion rates with referral marketing channels.
Referred customers are more loyal than acquired customers.
50% people look for direct incentives or access to loyalty program in return of recommendations.
Best referral programs
Finally, let's wrap it up with some of the hottest referral strategy examples.
Airbnb uses advocates to invite people and enjoy discounts. The invitee also gets a first-reservation discount.
Quip's subscription service offers a refill pack and both customers and invitees get discounts.
HelloFresh's referral code applies when an invited friend signs-up. Customers get $20 credit and the friend gets $40 off for the first purchase.
Uber advocates get a free ride after a successful refer-a-friend campaign.
Extole covers a lot more categories of referral programs and referral campaign ideas.
That's all
A referral marketing strategy is a way of leveraging your loyal and repeat customers. It generates leads and makes your business grow a lot faster. Referrals are influential because people trust the words of the people they know. They seek recommendations from friends and family and choose from the suggestions.
You can try rewards, charity, customer upgrades, contests, and affiliates to keep customers busy with you. An exciting encounter can result in more traffic in the future.
Now, since you know all about it, get ready for 2022! Let us know your referral strategy ideas in the comment section below.
Before you go, have a look at our article on "How to keep your existing customers loyal".
---