A great way out from the regular job is switching to affiliate marketing. Even for setting up a passive income source, people love to join the Amazon affiliate program. If you're one of the passionate marketers who needs to know how to become an Amazon affiliate – read along.
You can monetize your blog by connecting with Amazon Associates. You see, before even joining the program, you need some prerequisites to fill up. However, there's nothing to get scared because Amazon has an easy-to-follow process to getting started with their affiliate.
But the main question is "where to begin?" Well, this concise, simple, easy-to-grasp, and beginner-friendly guide on Amazon Affiliate Marketing will show you the straight path to follow. We believe you'll get all the necessary information from this post to jump-start your business – be it a side hustle or full-fledged entrepreneurship.
What is Amazon Affiliate?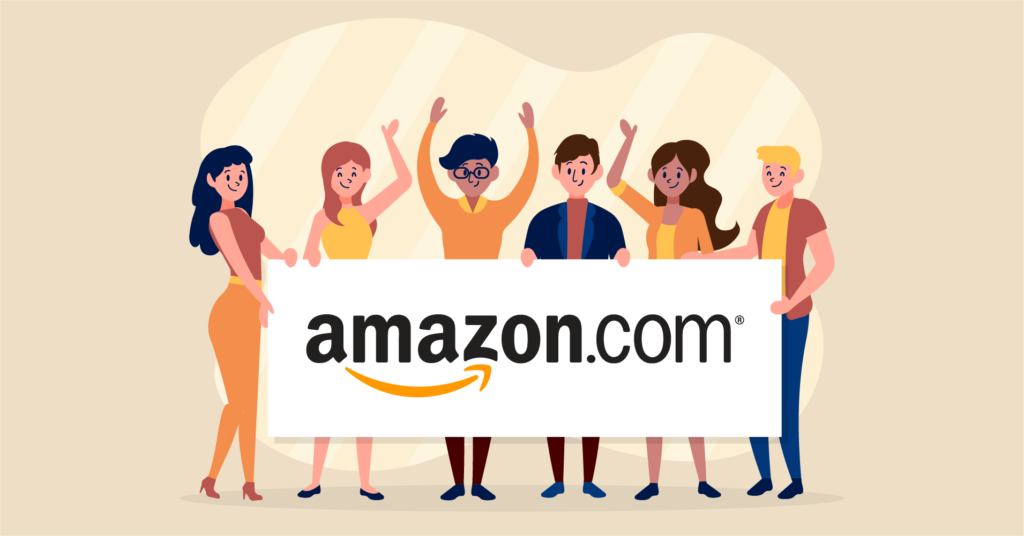 Amazon affiliate is one of the most popular affiliate programs on earth. When you sign up for the program, you can access the affiliate dashboard where you'll find all special links for all the products available on Amazon.
What you're going to do is display those links on your website. If someone visits Amazon following your link and makes a purchase, you'll receive a commission for that. I hope I made it clear.
Before you apply
A few things I'll try to discuss in this section which you really need to know before the application submission. The fulfillment of Amazon's requirements will make your application approved faster.
Prerequisites to start with Amazon affiliate
Amazon Affiliate is one of the easiest programs on the entire globe. To promote Amazon products, you need a proper medium where you'll show or talk about the goods. It might be a website, a YouTube channel, or even a mobile app but it's required to have a place which will be a common platform for you and your visitors.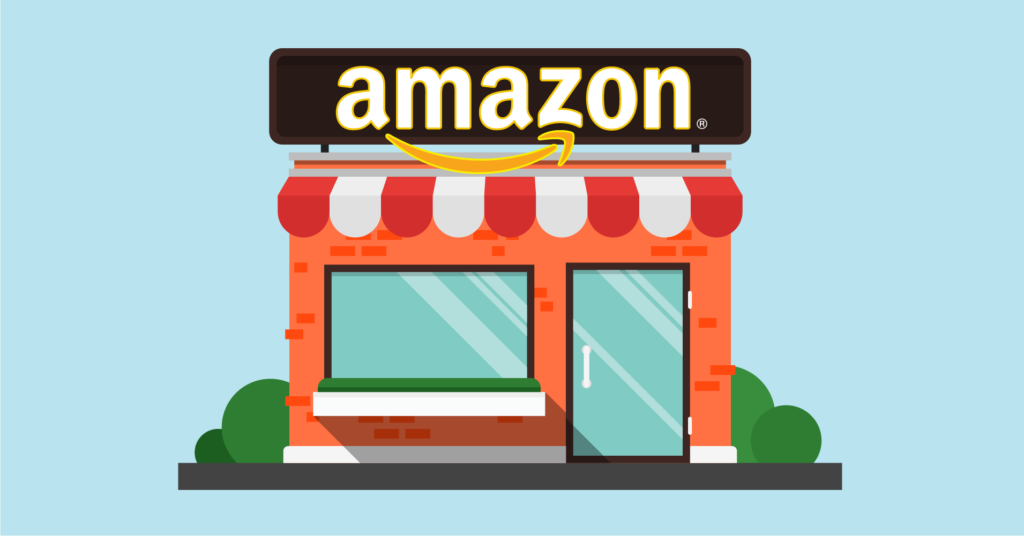 Amazon wants to see how popular the channel is where you'll advertise. Thousands of people are trying to involve with Amazon so they don't want to give access to all (especially the ones who just caught up space and don't contribute any sell to the platform).
Build a website
The best way and most powerful option is creating a website. There are many reasons for making a blog. For instance, with a blog, you can establish a brand that can give you more results in the future.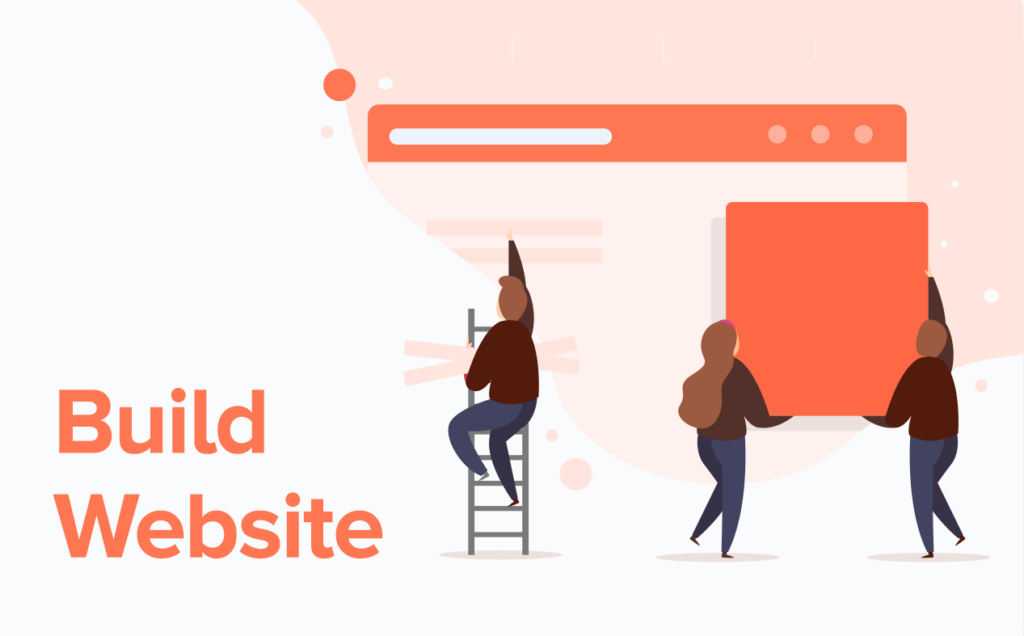 Beyond Amazon or any other affiliates, you have other monetizing options. Besides that, Amazon will inspect the channels you're going to promote their product with.
Above all, a blog is a valuable asset that can be improved for better growth or monetized, or even sold. Most successful Amazon affiliate marketers did their charms with blogs that contain informative content and product reviews.
How to create a blog
We will not discuss in detail here about building a blog from scratch. Giving you some basic ideas, it's our strong belief that you can find your required resources online. You need three things for making a blog.
Domain
Hosting
WordPress theme
Let's talk briefly about each point, and learn how you can get started easily. I'll not go into details, showing you what sorts of work you need to accomplish in every step
Domain – It's your online address where people will find you on the web. If your site name is Bricks then your domain might be www.bricks.com (depends on the availability of it). A domain doesn't cost much. Ideally, you have to pay around $10 or more for a year.
Hosting – The whole information (aka database) will be stored there. And, your website runs using the space your hosting provides. It starts from $3/per month and there is a higher price that changes based on the company you choose and the package you need.
Theme – It necessarily doesn't have to be a WordPress theme as you can make a site based on HTML. Since WordPress is the most reliable tool for bloggers and it can help you big time for saving effort and boosting efficiency, you should consider starting your blog with it. Having said that, a plethora of WordPress themes are available to buy and to get free, as well.
In a nutshell, first, buy a domain and then hosting (or you can do both simultaneously from one place). Install WordPress in your cPanel, and log in to your dashboard.
Next, get a WordPress theme and customize it to give your site the perfect look. Your site is ready to take off. It's time to start publishing content.
How to become an Amazon Affiliate (the application)
Here is the final drill. You have created a website and there's a potential flow of traffic you've started gaining. Now, it's time to kill the beast (not literally).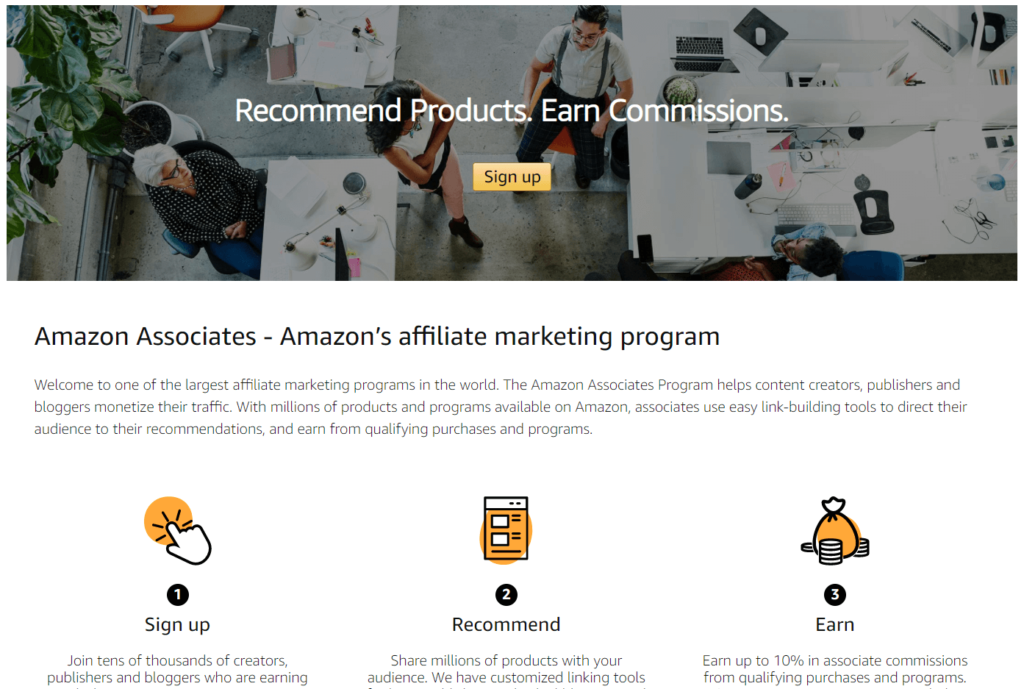 Here is the step-by-step process of how to become an Amazon affiliate.
Go to the Amazon Associates main page and click the Sign up button.
You'll be taken now to the login page of Amazon. If you have an existing Amazon account you can use that. Otherwise, you'll have to open a new one.
Now you're logged in to Amazon account and you're going to build your Associate account. To do that click the New Customer button.
Give your personal details here (your name, address, etc.)
Then, add your website addresses that include your blogs, YouTube channels, and mobile apps (published in Google Play, Apple Store, and Amazon store), and click the Next button.
Enter your store ID (it's usually similar to your website name although you can give whatever you want. An example ID is like prst587). Tell something about your websites (what's their purpose). Choose the categories you're going to work with.
The next part is about traffic and monetization. Check the boxes to tell how you are going to attract traffic to your websites. Then, you have to tell the magnetization choice and link building techniques. Finally, mention the number of your monthly visitors and the reason behind joining the program.
You are on the Identity Verification page now. Enter your phone number and click Call Me Now button. Amazon will call you and give you a 4-digit PIN. Enter the number into the box, and your application is complete.
A welcome message will appear in the next window. It will ask whether to put your tax information now or later.
How to create an Amazon affiliate link
To get a commission from Amazon affiliate you need to get the links to display on your site. This section will show you how to create those links for various products.
The traditional method
Log in to your Amazon Associates account
You'll see two options and choose any of them. a) Quick Links: Search for Product or b) Browse for Product
Quick Links: Search for Product is to find a particular product's link
For various products based on the categories, you must select Browse for Product
After finding the product, click the Get Link button
You can customize your links, as well with image, text and image, and other variations
Based on your chosen link type, you can customize the background color and such other things
Check out the preview once before taking it to apply to a post
Make the long link shorter using the default tool from the right box
You're done. Now, copy the link as shortlink or HTML and paste it wherever you'd like to
The most convenient method
Following the traditional way, it will take much time and more effort to generate a simple link. On the other hand, you can easily achieve the goal in very little time. And, you can spend your spare time on business improvement. How you replace this scrupulous process is using a WordPress plugin for Amazon affiliate.
By choosing the right plugin for Amazon affiliate link management, you can easily generate the links and instantly create blog posts that carry real value. The above-mentioned plugin is for serious bloggers and marketers who are striving for success. The first method is totally good if you have enough time to waste! Go for it. No problem.
Beginner or veteran, you've got to use this tool!
If you are already in the Amazon Affiliate business, or just got approved as an Amazon Associate, we would highly recommend you to use AzonPress. This plugin is solely designed and dedicated to Amazon Associate partners. You won't have to switch between your WordPress admin panel tabs and Amazon product tabs anymore but operate your whole business from just one browser tab.
Not just that, its auto-generated product tables, comparison tables, and bestseller lists are there to ensure you at least a 50% boost on your Amazon affiliate conversion rate.
Last words
Now you know how to become an Amazon affiliate. You can read our guide on Amazon affiliate marketing for the beginners to get the foundation. Get a real plan and start working now. Without hard work, don't expect anything good. Use modern tools for smart management. We have built a wonderful affiliate link management tool for Amazon. Get it now and see how magical it is!
Do subscribe to our YouTube channel to get WordPress-related tips and tricks. Also, follow us on Twitter and Facebook.