Affiliate marketing has become one of the best ways to earn passive money in the field of digital marketing. As it has been evolving, most of the bloggers are known for using affiliate marketing as a way to expand their passive earning.
There are tons of affiliate marketing programs out there in the market, but the most popular and extensive one has to be the Amazon affiliate program. Using this affiliate program, affiliate marketers can earn even 7 figure bucks by maintaining the correct way of implementation.
Why Use Amazon Affiliate Plugins?
Amazon affiliate program is one of the best affiliate programs to make money in WordPress. Amazon's affiliate plugin is used to make that affiliation process easy and hassle-free. You may use Amazon affiliate code manually into your site, but it will be time-consuming and at the same time boring though.
But using a quality Amazon affiliate plugin can leave all that process to the plugin's hand. This will help you to add affiliate links without going through the official website of Amazon. You can do all the things staying on your affiliate site.
Moreover, Amazon affiliate WordPress plugin can track your affiliate sales and provide a handy way to get paid affiliate commissions. As an affiliate marketer, you may need to cloak your affiliate links and make them look decent instead of looking ugly.
Most importantly, the Amazon affiliate plugin will make it possible for you. They also save a great deal of time and help you to maximize affiliate commission. So, choosing the right plugin for the Amazon affiliate platform can make your things done more precisely.
Now, a question may arise, what plugin should I choose?
Ok, the question is legit and reasonable as there are tons of Amazon affiliate plugins out there in WordPress. You might be so much confused after looking at that plethora of options out there. That's why this article aims to provide you a solution to make the right decision to serve your purpose.
The Best Amazon Affiliate Plugins
Here is the latest showcase of the top Amazon WordPress plugins for your Amazon affiliate site. Before start writing, I did long web research and got to know about the top affiliate marketing experts on Amazon affiliate programs.
Now prior to going into the main discussion, take a look at the list of best Amazon affiliate plugins in WordPress.
Now, let's explore one after another…

AzonPress is one of the most intuitive, advanced, and modern Amazon affiliate plugins for WordPress users. This plugin contains tons of features and functionalities to make your affiliation process easy and smooth. You will get an easy to set up a facility with a bunch of link management features. Take a look at the live table created by AzonPress:
AzonPress allows you to create custom links and modify the existing links that can be embedded through shortcodes. There are 4 different modules to craft your Amazon product tables on your website. Moreover, you will find numerous product templates available using the plugin.
Core Features:
Easy to use interface
Four different modules for product tables
A number of product templates are available
Special styling feature with custom CSS facility
Cost-effective pricing plans
SEO-friendly plugin.
Custom no-follow and do-follow links facility
Custom CSS facility
Dedicated support and extensive documentation
Pricing:
The pricing of the plugin starts at $39.00 ⬆️
Amazon Affiliate for WordPress is another affiliate management plugin for Amazon affiliates that creates affiliate links automatically. The plugin allows you to sort and filter the list that is generated by itself.
Its geotargeting feature helps you to direct customers to the Amazon stores. You also can use comparison tables and conversion-optimized product boxes to promote sales. Moreover, a number of pre-meditated templates are available there and you also can use custom CSS for styling your product table as you want.
Core Features:
A number of pre-meditated are templates available
Geo-targeting facility
Compatible with any theme
Custom text link facility
Allows you to flag Amazon Prime articles
Developer friendly affiliate plugin
Pricing:
The pricing of the plugin starts at $46.00 ⬆️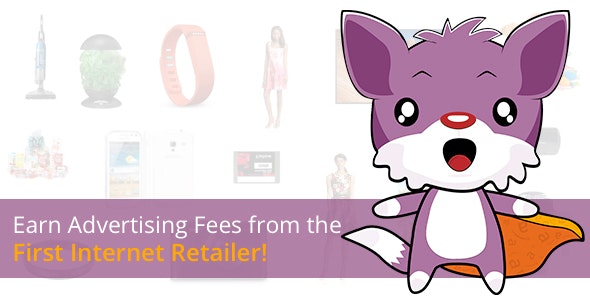 WooCommerce Amazon Affiliates is one of the latest amazon affiliate WordPress plugins that is used to manage your affiliate marketing. By dint of Amazon ASIN, the plugin lets you import products from Amazon right to your online store.
There is an advanced bulk import feature that helps to search for products by category or keywords. You will find the "Synchronization module" to keep your online products updated. In addition to this, you also can import products by using ASIN in a CSV file.
Core Features:
User-friendly interface.
Responsive layout
Options to use different media files
You can use images directly from Amazon's CDN.
You will get 90 days cookie feature
Pricing:
The pricing of the plugin starts at $49.00 ⬆️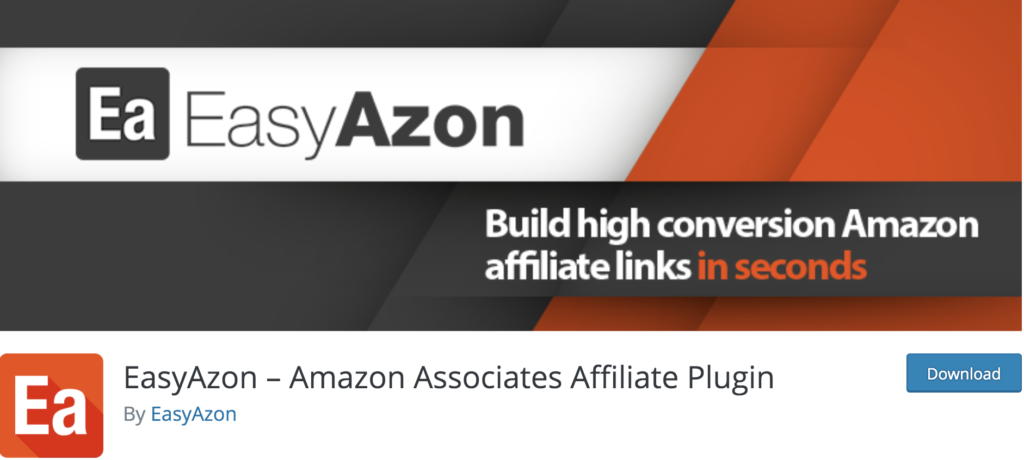 Free Amazon affiliate WordPress plugin that helps to add text links stying from your website. You just need to obtain an Access Kye ID and Secret Key to get the request for product details and then retrieve them directly from the official website of Amazon.
Using the amazon affiliate WordPress plugin, not only you can add text links, but also affiliate links as well. Additionally, you can create product information blocks and call to action without facing any hassle.
Core Features:
Easy affiliate management
Affiliate link cloaking with product popups
Assists in localizing the links
Products can be added to the cart
Options on a global basis or for individual links
Shortcode friendly plugin
Pricing:
The pricing of the plugin starts at $47.00 ⬆️

Amazon Link is a modern advanced plugin that is used to add Amazon products links to your pages and posts on your WordPress based website. You can use numerous types of product links using this amazing plugin. For instance, simple text links, thumbnail images, full-size images, and so on.
There are tons of templates available in the Amazon Links plugin. For instance, templates for Amazon My Favorites Widgets, Amazon Carousel Widget, MP3 Clips Widget, and Wishlist. Any one of the above-mentioned templates can be used in your pages and post.
Core Features:
User-friendly interface
Multiple widgets facility
Creating custom templates
Shortcode friendly product link
Localized link facility
Developer-friendly plugin
Pricing:
Basically, the plugin is totally free of cost ⬆️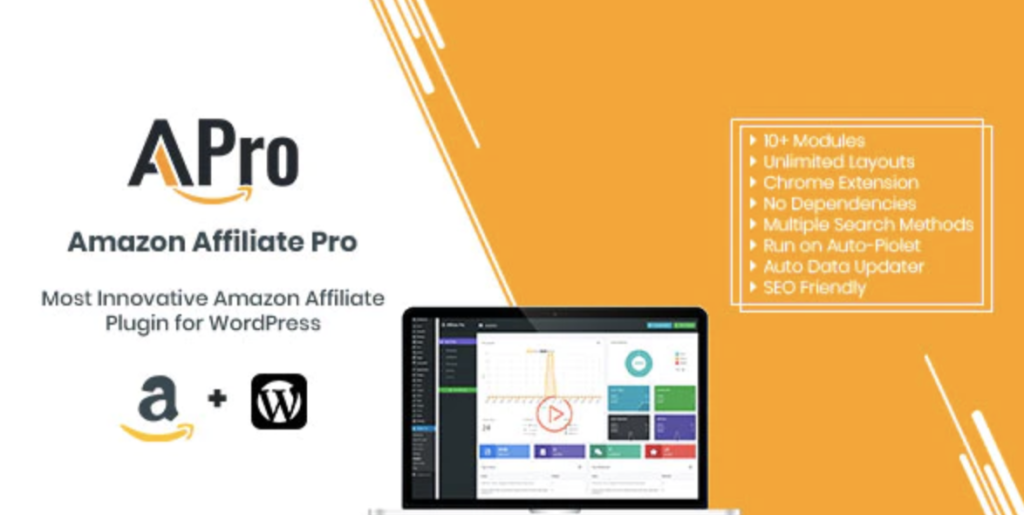 AAPro stands for Amazon Affiliate Pro that is a WordPress based plugin for Amazon affiliate marketers. The plugin comprises fo creative and innovative features to make the affiliation process easy and smoother.
As an Amazon affiliate marketer, you must want to earn a commission for each sale you make online and AAPro could be a great solution for serving this specific purpose. You can have manual, auto product import facility, on-site cart to in-dept analytics, and multiple search methods.
Core Features:
Manual and auto import facility
On-site cart to in-dept analysis for affiliating process
Shortcode-friendly
Fully responsive and cross-browser compatible
Pricing:
The pricing of the plugin starts at $39.00 ⬆️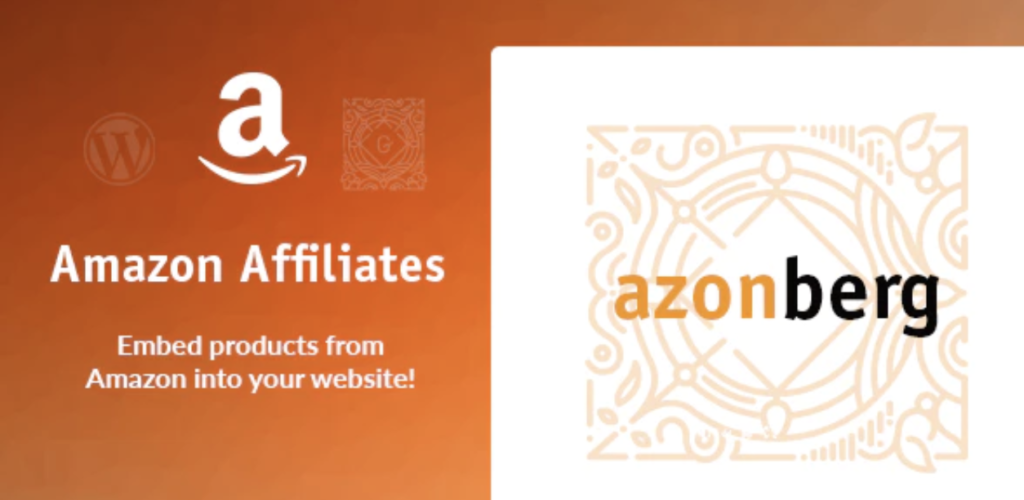 Azonberg is the latest block editor plugin for Amazon affiliates. This plugin is one of the best ways to add Amazon products to your blog or website. You can import new items using the plugin without facing any hassle.
Though this awesome plugin comes up with a default template, you can customize the template in the best possible way. You will find the plugin compatible with any modern WordPress theme.
Core Features:
Gutenberg friendly Amazon affiliate plugin
Easy to use a simple interface
Import facility
Smooth design pattern
Cost-effective
Pricing:
The pricing of the plugin starts at $15.00 ⬆️
---
Wrapping Up
Amazon marketplace is the largest WooCommerce platform and Amazon affiliate marketing is the most extensive one in the field of affiliate marketing. So, to make the affiliation process easy and get success in this huge marketplace, you need to adopt the right techniques and tools.
Using a quality WordPress plugin that is made solely for Amazon affiliates could be a wise decision to make things done easily. If you want to run a successful Amazon affiliate marketing website that will help you to build a passive income flow, then definitely you can take a look at these plugins.
All these plugins are built with quality and they will help to enhance the appearance of your website. You will also get tons of features and functionalities to make all your affiliation process easy and comfortable. All you need to do is to manage and operate the plugin accordingly.
I hope this article helped you to figure out the right Amazing affiliate WordPress plugin for the journey of your Amazon affiliate marketing. If you have anything to share, feel free to let me know in the comment box. I would love to cooperate with you in the best possible way.
If you haven't subscribed to our YouTube channel, do subscribe to our YouTube channel to get WordPress-related tips and tricks. Also, follow us on Twitter and Facebook. You also can join the popular Fluent Form Community on Facebook.