Whoa! What a rollercoaster of a month we just had! You don't see us posting monthly wrap-ups, but this January was so crazy, it DESERVES a wrap-up bulletin from the Ninja headquarters.
So, what did the ManageNinjas accomplish this month? Here goes a quick summary:
Our super-fun AGM tour
Resumed working from the office after a long WFH stint
2 core contributors on WordPress 5.9 release
Restructured our release schedule
More on these later. First let me share with you the most interesting part. Even with all these meetings, tours, core contributions, and the switch from home to office, our team successfully managed to release massive feature-packed updates to all of our flagship products this January! Here goes a short brief on those.
All the WPManageNinja plugin updates this January
I can't tell for other ninjas, but here at WPManageNinja, our ninjas never sleep.
This whole month, we've been working on releasing a couple of big updates on all of our products. And here goes a list of all the amazing updates WPManageNinja have launched this January 2022-
Fluent Forms- Improved conversational forms, new integrations, and more!
Fluent Forms 4.3.0 comes with many enthralling features and improvements. The new Conversational Forms feature allows payment, file and image upload, full-on keyboard access, and checkable grids. For spam protection, Fluent Forms already has many options. But the latest version includes hCaptcha to amplify the strength of anti-spam capability. Two new integrations are Discord for notifications and Salesflare for CRM.
Massive update on Conversational Forms
One-click migrator module
Discord integration
Salesflare integration
Introducing hCaptcha
Autocomplete addresses with Google Maps
Media attachment in email notifications
Other Improvements
Conversational Forms got even more powerful
You can now include payment in Conversational Forms along with advanced fields such as file and image upload. You can allow your users to fill out the form without using a mouse. All they have to do is choose the key from their keyboard with multiple-choice questions. 
New migrator to easily migrate from other plugins
Users from other plugins often love to migrate to Fluent Forms. They needed an easy migration for their already built forms and entries. Fluent Forms One-click Migrator made the transition effortless. For now, the migrator works with Gravity Forms, Caldera Forms, and Ninja Forms. And currently, you can only import entries from Caldera Forms. For the other two plugins, you can import forms only.
Discord and Salesflare – two new integrations
Discord is used for notification, and it's popular in the gamers community. Recently it got attention from general users too. So, we've added it for our users to send notifications besides Telegram, Slack, and Twilio. Like other messaging apps, Discord also has voice, text, and video sending options. So, if you're on your mobile, you can get instant notification via Discord for a new form submission.
Salesflare, on the other hand, is a CRM that has many powerful features. It collects contact information from various sources such as emails and social profiles. You can even find business email addresses using a person's first name, last name, and company name. If you're already a user, you know Salesflare is known for follow-up emails. Connect the tool with Fluent Forms and see what potentials you're missing out.
hCaptcha for more security
Fluent Forms already has reCAPTCHA version 2 and 3, Akismet integration, Honeypot, and other stellar methods for spam protection. With the new version, hCaptcha is in the block to take your form's security to a whole new level.
Google Maps inclusion while autocomplete addresses
The Autocomplete address feature was introduced a while ago. It helps fill the form faster because people have to input the zip code and auto address suggestions occur right away. Although the suggestion was based on Google Maps, the Maps didn't show up earlier. Now, Maps will appear along with addresses.
What to expect next?
Hopefully, the next version brings some amazing features and integrations to take your forms to another level.
Besides fixing the minor bugs and issues, developers will also improve the overall experience. Integrating with CleverReach, you can handle email campaigns. Sendy is a popular email newsletter sending service that may come in the next update. Salesforce and ZohoCRM – these two CRM platforms are also planned to be included. Last but not least, ClickSend will be integrated to allow you to send SMS, MMS, and many more.
If you want to know more give this release note a read.
WP Social Ninja- Introducing Facebook feed, the ultimate business trendsetter
Your wish is the Ninjas' command!
After the launch, we promised you to bring the king of social media, Facebook, to take your social media game to the next level. Because as a social media plugin, our main goal is to add value to your business.
Onboarding two consecutive massive updates, the team didn't stop for a single day. Every day our social channels, communities, and support team were bombarded with one single feature request- Facebook Feed. We had to make it perfect. Hence, after months of waiting, it's out now!
Team WP Social Ninja presenting 2022's first mega update: Facebook feed.
In this update, the Facebook feed was our priority. However, we've also updated the Facebook feed widget in three of the most prominent Page Builders for you! Let's check out.
Facebook feed
Similar to our previous platforms, Facebook feed also has a simple integration with a smooth customization process. Though it doesn't require an introduction, still here goes a short explainer to help you get onboard with the features more fluently (no puns intended).
So what does WP Social Ninja's Facebook Feed have in store?
Feed Types
Facebook has three Feed Types; Timeline Feed, Videos, and Photos. Displaying these feeds on your website increases your brand's chances to outreach bigger audiences overnight.
Select Pages
Team WP Social Ninja doesn't like to put any limitations. So we've enabled the option for you to select as many pages as you want to exhibit on your site to stay in the competition.
Layout Type
Along with multiple feed types, WPSN lets you style your feed with some top-notch Layout Types; Timeline, Grid, Masonry, and Carousel. Each of these allows you an exotic outlook for your webpage. Moreover, selecting Carousel offers a separate settings panel to create a sharper design for your label.
Filters
Next is Filters, the life-saver feature in the WPSN dashboard! In this part, you can take the full authority of your feeds and display exactly what you think is the best for your business.
For example, outdated photos, videos, or posts with spammy comments might demean your brand value. Moreover, sometimes specific posts need to be out of the user's attention. So all of these custom options are available with our Facebook feed template editor settings panel.
You can also fetch as many Numbers of Feeds to Display on your website along with adjusting the Posts Order.
Feed
Feed settings come with quite in-depth custom options. You can Open posts either on Facebook or in Popup Box. Here, you can adjust your Display Author Photo, Name, Date, Description, and so many small details on your website.
However, a settings panel will come up on your screen once you open the post in the Popup box. Along with the CTA, you can take full control of your Popup box by adjusting the Display Sidebar, Profile Photo, Username, Caption, and Date.
WP Social Ninja Facebook Feed template editor settings panel
Along with these, you can also personalize your Header, Pagination, and Like, Share Buttons. The fun part is you have the power to set a custom button text to hook your audiences instantly!
We're not done here! In this update, we've also added Facebook Feed in three of the most popular page builders; Elementor Page Builder, Oxygen Page Builder, and Beaver Page Builder. So you can create a beautiful template and design it the way your brand demands!
Other Hotfixes
Fixed Fluent Forms reviews combine issue
Fixed swiper slider conflicts with elementor 3.5.0
Fixed YouTube autoplay issue in Chrome Browser
Fixed Fluent Form chat widget icon issue
Fixed reviews popup template scrollbar issue
Improved Instagram template caption font size in mobile device
Improved GMB reviews limit
Removed important tag from all button css
Well, that was all for this update. Since the beginning, we've been focusing on our user-requested features. So in our next updates, we'll be coming up with more platforms and feeds, if you request. For the upcoming release, we'll focus more on the bug fixes and major/minor improvements to ensure you the best possible experience with WP Social Ninja.
FluentCRM 2.5 – Powerful Contact Management Features and More!
As a business owner, you need to know your leads and customers and manage your contacts better. With FluentCRM 2.5, we focused on developing an incredibly flexible contact management system. We also improved crucial integrations such as WooCommerce, EDD, Learndash, LifterLMS, and TutorLMS significantly.
Hear it out from our founder himself!
So, what's inside FluentCRM 2.5? To summarize-
Micro-segment contacts
Send Targeted email campaigns
Create better dynamic segments
Run automation with advanced conditional logics
Synchronize data with WooCommerce, Easy Digital Downloads, LearnDash & LifterLMS
Contact importer for WooCommerce and EDD
Get advanced sales reports from WooCommerce, Easy Digital Downloads, LearnDash & LifterLMS
Enroll or remove students to courses
Automate emails for trial subscriptions
Collect leads with Beaver Builder subscription form
Let's look at some of the most incredible features we have added in FluentCRM 2.5:
Micro-segment contact database
FluentCRM 2.5 gives you complete flexibility over contact management. Now you can filter your contact list by conditions such as general data, activity, custom fields, and so on!
As a result, you'll be able to segment your contacts based on various data points that make sense and have them automatically updated with dynamic segments.
Orchestrate targeted email campaigns and automation
While the advanced filtering makes it easy to find contacts by various data points, you also need to be able to send targeted emails.
Hence, we have added advanced filtering to both email campaigns and automation so you can send targeted email broadcasts or orchestrate advanced automation funnels!
Synchronize WooCommerce, EDD, LearnDash & LifterLMS data to FluentCRM
In order to use a CRM system to its full potential, it's important to be able to centralize your data from the tools you use.
FluentCRM 2.5 makes this possible by introducing easy synchronization for WooCommerce, Easy Digital Downloads, LearnDash, and LifterLMS. And of course, you can also import your contacts by product purchases, course enrollments, and so on!
Advanced Reporting for WooCommerce, EDD, LearnDash & LifterLMS
The more data you can get about your business, the better. Want to understand how your business is doing?
Not only do you need to be able to get all your sales data in one place, but it's also important to be able to compare your business by specific timeframes. That's what FluentCRM's new advanced reporting is all about.
Now you can get a bird's-eye view of your sales and compare them by specific timeframes!
Apart from the above-mentioned features, we have added several features, improved many existing ones, and fixed several issues. You can read the full release note here.
As a major release, this update took a while. But the next one won't! From now, we will be coming up with an update every month. So stay tuned!
Fluent Support: Your Fastest WordPress Helpdesk Plugin Got Better!
When we started developing Fluent Support, we wanted to make it a more efficient support ticket plugin in the entire WordPress category. So we put our focus to improve Fluent Support one update at a time.
Check out our latest Fluent Support 1.5.4 January release:
Added – Email notification on ticket assign
Added – Ticket priority selection in Fluent Forms integration
Added – Customer profile picture changing option in agent area
Added – Customer registration on ticket creation from agent area
Added – WordPress user registration on ticket creation from agent area
Added – Plugin PHP API
Added – Ticket customer changing option from agent dashboard
Added – Missing translations
Authentication Improvements
Fixed – Attachment issue
Fixed – Email notification not sending to customer when agent reply to a ticket
This month, we shipped the most user-requested features. Take a look.
Incoming Web Hook
Now you can connect any third-party plugin enabled with outgoing webhook with Fluent Support. You can use this to log all user info and tickets from multiple sites to one primary site without installing Fluent Support on every site you manage.
Rich Filtering
Fluent Support now allows you to set your own filtering. You can customize your own conditions to get the most relevant results.
Notification on ticket allocation
Support agents will get instant email notifications whenever a ticket is assigned to them. Now agents can keep track of their assigned tickets easily in their email inbox.
Create Public API for Fluent Support
We released the REST API for Fluent Support in this release. Now you can connect any plugin with Fluent Support.
Custom Fields added to Telegram notification
Fluent Support integration allows Telegram notifications and replies. Now you can view custom fields added to tickets in your Telegram without opening the ticket full.
User registration and Customer creation on ticket creation page
Previously with Fluent Support, you agents could create support tickets on behalf of your customers. Now your agents can create user profiles right from the ticket creation page.
What's next for Fluent Support?
We are looking forward to bringing new features and functionality to Fluent Support. We have already started working on our next update. Can't wait to see what we come up with! Twilio integration for Whatsapp is our first priority.
As a company, we want to make Fluent Support the best tool for your business. We're constantly working to make it better and better. Feel free to tell us what you want in your support system.
Tired of reading feature updates?
Yeah, we had a long and productive month. But it was far from "boring" and "exhausting". Why? I'll tell you.
The long-awaited AGM/ Annual Retreat
It was about time we went for a break. 2021 was a busy year, and the whole team needed a breather before kicking off 2022. And that we did.
We reserved a whole resort, and spent the whole day there. There were unscheduled games, hangouts, cheeky banters, informal knowledge sharing, and whatnot?
Oh by the way, we also had our Annual General Meeting. As a company, we are transparent to each and every member in our team. The team was informed of what we achieved the previous year, what we can focus on improving, and what our vision is for the future.
Back to the office, finally!!
The last two years were a mess. First, we were hit by the pandemic. Even when everything opened up, we couldn't join the office and had to work from home. Why? Because we were working on the renovation of our new office!
Yeah, you read that right. We started this company with just 5 people onboard. But now, we need a workforce of at least a hundred people to make the operation scalable in the next few years.
But we had a workspace for 25-30 people max. And started working on expanding our workspace late last year. And, now we can finally accommodate all the people we need to maintain and improve our products under the same roof.
I know it's not much, but this is something we are really proud of. But this won't be the end. We're already looking to future-proof this plan and actively working on the next WPManageNinja campus.
We've got two core-contributors among us!
Contributing to WordPress is a moral obligation for companies like us. We are eating, sleeping, and working on WordPress 24/7. So, why not participate in making it better?
WPManageNinja always encourages its members in developing open-source projects and to give back to the community. And that bore the sweetest fruit this time.
​​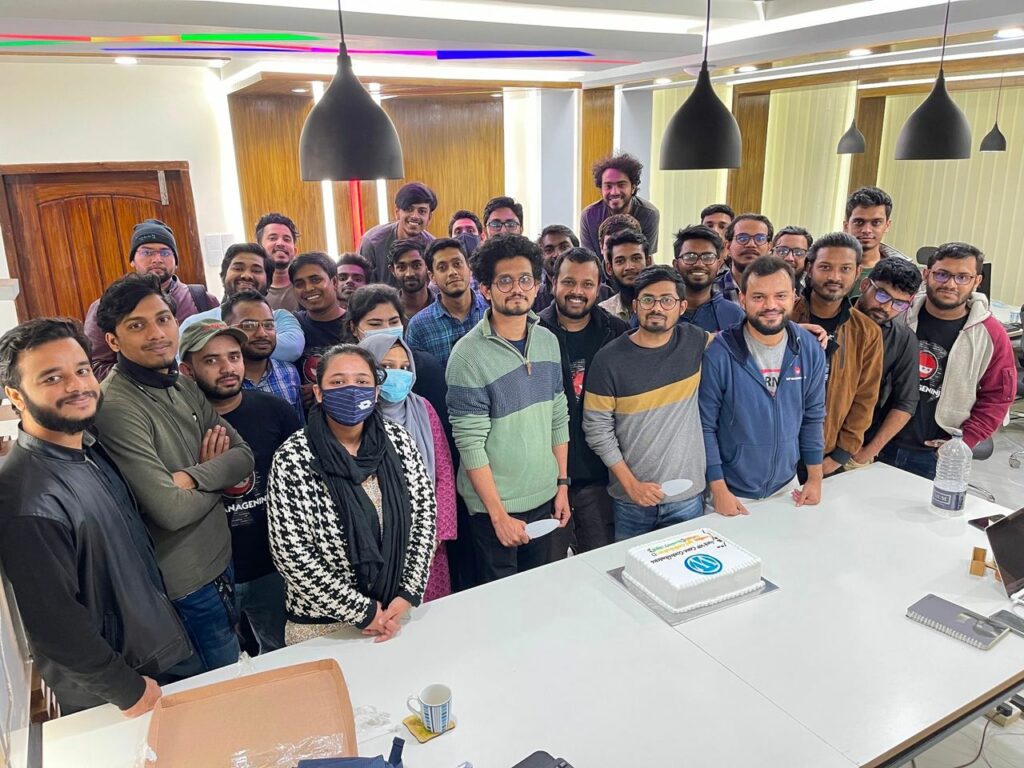 Two of our most talented developers were part of the WordPress 5.9 release. It was a huge update, and we are all excited about it. But having not one, but two core contributors working alongside us make this Josephine release sweeter for us.
Working better, in a more efficient way
So, we've got a brand-new shiny workspace, the team morale is higher than ever, and everyone is keen on getting better every passing day. What does that mean for you, as a WPManageNinja product user?
To us, it means that from now on, we'll have to be more responsible towards our users, and the plugins we are serving them with. We have decided to release scheduled updates of our flagship products every month from now on. Which means, your bug reports will be fixed even sooner now, and the team will be able to ship out new and exciting features on a more regular basis.
That's all from the WPManageNinja Headquarter today. We'll get back to you with these update bulletins every month. As a log of what we are doing to give the users our best, while informing you of the important updates you may have missed among all the noise.