It's no wonder that content marketing is becoming more competitive as the average attention span of people is something around 10 seconds now! The quicker a content captures the viewers' attention, the better. So, creating interactive content with catchy features is one of the best choices. Interactive content trends tell us how fast this marketing approach is growing and how people appreciate it.
Interactive content use is nothing new. However, we are recently seeing a rise in the audience's positive feedback to it. Contents that intrigue a viewer are mostly quizzes, polls, contests, social media posts, etc.
360° media is another content that requires the viewer to drag and see an image from all corners. Other websites go with polls to interact with their audience and learn more about them. Social media stories have become quite massive and some also like to go live and connect with the audience.
In this article, we will be discussing interactive content trends in detail, so that you know what to do in 2022.
Interactive content definition and benefits
According to William Comcowich, the CEO of Cyber Alert, "Content marketing is becoming less about the words you put on a page, and more about the experiences you create for the consumer."
Definition
Content that requires viewers to click, share, respond, and overall, participate actively, is interactive. A social media post is interactive because people can like, share, and comment on it. Similarly, users can chat or play games. In short, any content that gets reciprocal action from the audience is interactive as long as it engages people.
Benefits
High engagement rate. Nearly 90% of consumers want visual content or something they can interact with. Buzzfeed quizzes are the most successful example of high engagement from common people. 96% of participants finish Buzzfeed quizzes they find interesting and the "Can we guess your real age?" quiz was taken 5.9 million times!
Gathering data from website visitors gets much easier with an interactive approach. For example, the Topshop clothing brand utilizes quiz techniques to gather customer details and preferences for personalized wardrobe.
Building a relationship with the audience through interactive content makes them value your brand and increase loyalty. If they participate in an interactive survey on your website, you both are getting to know each other better.
Generates lead and increases conversion just by being a fun content to interact with!
Sales pitch becomes easier if you can present them playfully through interactive content.
Why is interactive content popular?
First of all, more interaction means more traffic, more engagement, and more leads. Interactive content that looks for input and action from people is intriguing. Engagement is the sole reason why this sort of content is better than regular static content.
This image from Statista shows that worldwide revenue from interactive media and video games hit 124.8 billion U.S dollars in the year 2020. The growth is slow but pretty sure 2022 will see a result close to this data.
It doesn't even have to be something too complicated. A simple wheel-of-luck feature can gain visitors' interest too. If you own an eCommerce site, then the lucky wheel can decide what the site visitor is getting.
It can be a free gift, a quiz question, a surprise discount code, or a good-to-know fact. People will come back every day if you can attract them enough with a lucky wheel that resets after 24 hours.
Social media sites are currently the most interactive part of content marketing where users can communicate and connect with everyone through chat applications, likes, shares, and comments.
Interactive content trends: An overview
We are already in a new year and new decade. So, the content marketing trends are more upgraded because of the modern audience.
Judging the interactive content trends so far, here we have some ideas for you.
Quizzes, calculations, and polls
Give the audience a reason to stay by creating exciting polls or quizzes. Suppose they are visiting your site for the first time. You can hand them a survey to learn about their interests, demography, and preferences. Likewise, quizzes on relevant topics where they can test their knowledge are fun too.
Nonsensical Buzzfeed quizzes are fun because we all want to find out "What kind of meatball am I?" when we are at work. It's quick-engaging content indeed.
Polls or votes are built-in on Twitter and Facebook pages/groups. Instagram added stickers for businesses to start voting systems. Head of Instagram, Adam Mosseri's posted on the app himself about it.
This is direct interaction and a very effective way to know what people actually want. Even a multiple-choice post or using emojis to ask customers how they feel about a product increases interactions.
Embed an online calculator to calculate and show various data input by your audience. For weight loss or daily calorie intake calculation, here's Outgrow's live "Weightloss Calculator".
AI and Chatbots
2020 and 2021 were the year of the pandemic, and we were confined indoors with minimal human contact. With less physical interactivity, we were more drawn to chat robot interactions. Google launched a bot that helps people with their queries about COVID-19. Rapid Response Virtual Agent tool worked 24/7 with conversational support in 23 languages.
"Can machines think?"- Ever since Alan Turing asked this question, AI industry innovation has been remarkable. Some companies were already using AI in the pre-pandemic period. So after COVID-19 broke out, there were more chances to improve and accelerate.
So far, the pandemic is still an issue. Companies using AI or chatbots are more prepared, and the advancement is expected to increase. Chatbot marketing is massive right now, and in 2022, chatbots will make $8 billion in global savings.
Infographics and animations
Regardless of the media, infographics and visual content are common everywhere.
Human brain craves visual content because we suffer from information overload! This is why road signs are mostly drawings or a single word like "STOP".
Almost all marketers surveyed said that visual images are important content for their business. If an image has bite-size information with the moving image element with touch or with the movement of the cursor, viewers will feel more engaged. Colorful images or animation work the same way.
Img: Visme
Modern audiences have short attention spans, and it's necessary to hook them within 8-10 seconds. Informative and interactive images or animation are the fastest way to intrigue people and get desired results.
Good content doesn't mean long content. If your viewer wants to interact with the content and take action, you should hand them that instead of plain text paragraphs.
B2B marketers
From the most recent data, interactive content is performing more successfully than regular ones. 45% of B2B marketers say this type of content is among their top-3 and 51% say that it helps with handling business challenges.
B2B marketers are using interactive content at large right now (62%), and some are confident that their static content will turn interactive within two years. Moreover, interactive content in digital marketing is massively important at this point.
Data from Wyzowl research spills some interesting video marketing stats as the interactivity plans of B2B marketers.
Businesses using video content marketing is growing constantly. Since we're in the beginning of 2022, we'll see the 86% growth from 2021 increase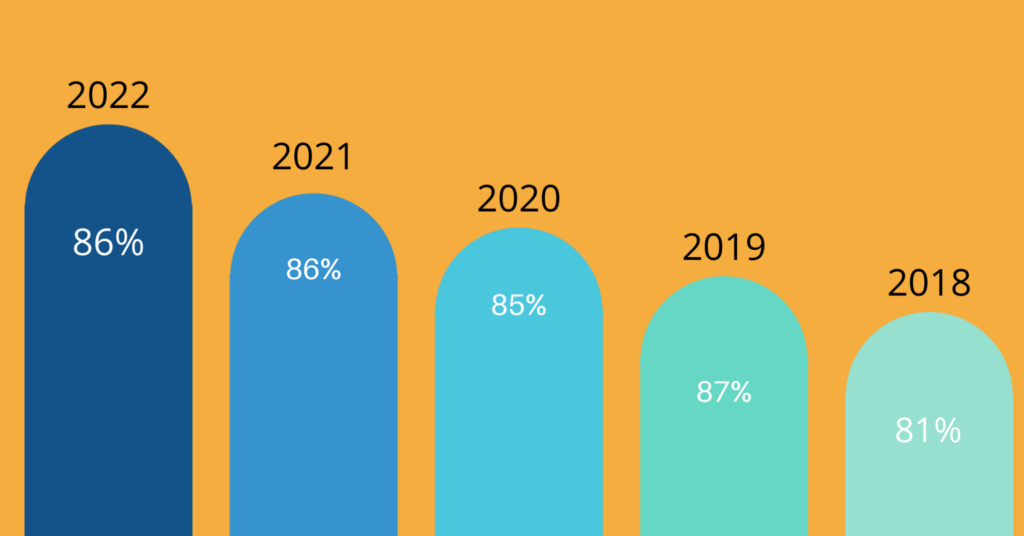 92% marketers believed video marketing is important for their business
73% end-users said they prefer short videos
Explainer videos are the most common form (74%) followed by social media videos (68%)
65% made plans for Facebook video marketing, 33% in TikTok (!), 68% in LinkedIn, and 68% in Instagram, 29% in Twitter
Non-video marketers (79%) are expected to use interactive videos in 2022
Virality
Everyone loves attention and creating content that goes viral on the internet is the new trend. A simple blog post with plain texts is less shareable than an exciting post with interactive content in it. For instance, TikTok videos and Buzzfeed quizzes go viral faster and engage more people.
16-year-old Charli D'Amelio joined The Tonight Show with Jimmy Fallon for a dance-off and went viral. She became the first TikTok user to hit 100m followers. Jason Derulo, Kylie Jenner, Lizzo, Charlie Puth, and Tyga are the top 5 celebrities in TikTok 2020, and Will Smith's "Wipe It Down" challenge is the most viral TikTok content. TikTok is not just for Gen Z at this point.
The pandemic years were not at all normal. We spent the year inside of our home with our smart devices. Among many videos that went viral, it was a toddler chef who is still famous.
Baby Chef Kobe and his "cooking" videos suddenly went viral last year, and it's too adorable not to share. Kobe's parents have created several platforms to upload his daily cooking adventures, giveaways, and interact with followers. He has millions of followers and multiple endorsements, which he advertises for in social media posts and stories. That's a smart way of interacting with the audience.
The little chef knows how to eat too!
Videos and AR/VR
If we're talking about interactive videos, can't miss YouTube. Many YouTube features aren't new but are good examples of interactivity.
Embedding card endscreens in the last 5-10 seconds of the video draws more viewers and takes them to another video of the video creator's channel. The cards can also be a poll to ask questions or opinions from the viewers. They can click on the card, wherever it appears on the video, and participate.
360° video and image has been around for a few years and platforms like Facebook and YouTube are using this to attract the audience. The beauty of this feature is in full audience engagement because it requires manual swiping. Here's a beach in Puerto Rico where you can travel just by moving your finger 360° around.
As for AR/VR marketing, here's a graph from Statista.
This illustration is enough to describe how big the AR/VR market size can be. From 12 billion USD in 2020 to 72.8 billion USD in 2024 is a massive leap and a very clear visualization of the impact.
IKEA mobile app for simulation of an IKEA product in a room and Pokémon Go are AR apps.
User-generated content (UGC)
Interactive content focuses on the audience and revolves around their interests. As a result, content creators utilize audience activities and create engaging content out of those.
The pandemic year 2020-2021 had everyone locked up indoors and sports lovers couldn't gather in public places to see their favorite team play.
Buffalo Wild Wings, a dining restaurant and sports bar franchise, saw this as an opportunity and created a UGC advertisement. They made a video compilation of made-up indoor games invented by real people and uploaded them on Youtube with the title "Sports Live On". This video worked as a promotion and got the company the engagement it aimed for.
The best example of UGC is Apple's "#ShotOniPhone" campaign. Some users were complaining about iPhone's average picture quality in low light. Apple promptly took an attempt and launched a successful #ShotOniPhone campaign. It was a brilliant idea to gather global iPhone users.
Users started to take low-light pictures and share online with the hashtag. All came out great and were posted on YouTube and billboards as well. This interactive marketing approach didn't cost a penny but Apple redeemed their trust.
A travel photographer (IG @framesbysuhas) was featured on Apple's Instagram because of the hashtag and he obviously was happy about it. The hashtag is still on-trend.
Online shopping
Physical stores were closed so that Coronavirus can't spread. Naturally, people resorted to eCommerce stores online. From daily needs to luxury products, everything was available online and the sales were at their peak. Due to being stuck inside, shopping online became natural.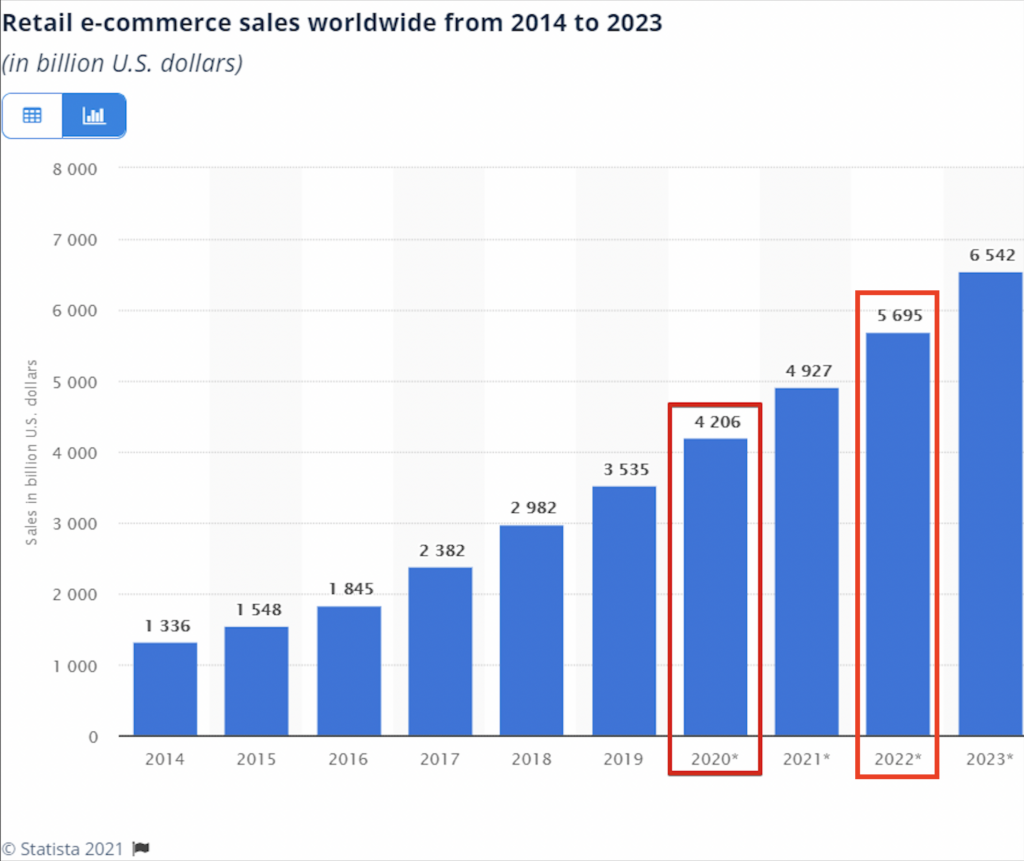 Besides, WordPress-based shopping websites have product tables, online forms, and charts plugins. Some plugins are highly interactive and responsive and help the customers find their way by themselves.
Product table plugins organize products in tables and help customers navigate easily. Tables and charts make websites visually appealing. Not to brag, but you can try Ninja Tables.
Online shopping trend is on an upward trajectory, lockdown or no lockdown. Shopping from YouTube, Instagram, or any other social media site is common now because of the interactive features. Facebook Marketplace and IGTV Shop are already big platforms for online shopping. Following Instagram Guides and Instagram Checkout, Instagram Reels could pop up soon for shortcut shopping online!
Social media
We can't talk about interactive content without highlighting social media sites. Facebook, Instagram, YouTube, Pinterest, Twitter, Snapchat, and the newest, TikTok, every platform requires active participation from the audience.
What is interactive content on social media?
Facebook and Instagram have stories feature, livestream options, Twitter Spaces, and TikTok is literally a fun pass-time. Users create content to show what's up with their lives, ask opinions from followers, intrigue them with engaging posts, etc. The Twitter fleet was going good for some time but it looks like spaces took over.
Different types of interactive media-
Images and infographics
Animation
Clickable buttons or links
Digital Text
Audio and video
Polls
Reaction and reply
Social media is the perfect combination of all of these.
What is the most interactive social media?
Right now, Instagram is in the top position and YouTube, Facebook, and Twitter come next. You can learn how Facebook Vs Instagram marketing works.
Snackable, short-form content
We have talked about information overload. Snackable content that is short, stands out visually, and makes you stop scrolling are the ideal ones. You can call it bite-size content with relevant and quickly understood information like short videos, memes, images, or GIFs.
Most importantly, these short-form content are shared on social media and via messaging apps. These work as appetizers and intrigue the audience for the main course, more information.
Brain loves images and colorful presentations. Besides, we are more likely to remember most from an image than from a text.
Examples
The modern audience wants to be intrigued and loves participating.
Remember Dora the Explorer? Maybe it was the first semi-interactive show for 90s kids. Now we have more advanced content that actually speaks to the audience. Because of social media, quizzes, polls, and puzzles, the internet is the real interactive content hub!
A shortlist of interactive content examples to look out for in 2022.
No list can be complete without mentioning Black Mirror: Bandersnatch. This Netflix show had the viewers deciding the fate of the protagonist.
"My Disney Experience" is a smart app that helps Disney World visitors plan their trips- Disney PhotoPass photos, Memory Maker, MagicBands, sharing itineraries, etc.
Buzzfeed's "Sorry, Millennials, But There's No Way You Will Be Able To Pass This Quiz" was pretty popular in 2020 and 2021.
Marvel Cinematic Universe Timeline explained the entire sequence of films from Iron Man 1 in 2008 to Thor: Ragnarok in 2017. The interactive timeline was created to summarize the Marvel universe before Avengers: Infinity War.
The embedding option in WordPress can be an example of interactive content. You can embed a social media post, a YouTube video, or an interactive infographic within blog posts. It's quite helpful for readers if they can click and play a video or interact with an infographic, quiz, or poll.
Top tools for creating interactive content
We already have an article describing some interactive content tools. Here are a few of the 11 tools you can use to create interactive content.
Qualtrics
Qzzr
Fluent Forms
Involve.me
MapMe
TL;DR
So far, the 2021 edition of interactive content trends was more about what was cutting through the noise and not the statistics or numbers. We have discussed how quizzes, chatbots, infographics, viral content, social media, online shopping, etc. have been keeping us engaged throughout the COVID-19 times.
Quick-engaging content with interactive features is not challenging to create anymore. You can use some tools for that. Besides, social media itself is interactive and is used for active participation.
Fitting content for 2022
Content marketing is at its peak, and interactive content holds the cemented position at the top! This type of content is more flexible than static content. You can educate and inform the audience in a fun way, and free them from the boredom of reading a long paragraph from a screen.
Visual narratives and interactive appearances will remain popular and engaging in the coming future. Infographics, animations, AR/VR, chatbots and AI, colorful images with bite-size info, and social media content; everything fits in 2022.
The bottom line is, as long as you can get your audience to interact with you through the content, it's interactive.
So, what are your plans for 2022 content marketing? Interactive or static? Share your interactive content ideas with us.