If there's one thing that people crave now, it's attention. And content creators want to steal the attention of their audience more than anything! Creating interactive content is the easiest trick to make the audience participate actively. Do you have an idea of the tools to create interactive content? If not, then you're in the right place.
Judging the growth of TikTok, it's safe to say that all we want is attention from viewers with our content. Since the audience's attention span is getting shorter, it's impossible to achieve that without quality content that interacts.
In other words, offering interactive content that's informative and exciting, is a necessity now. So, do you think you're ready for that?
Find out if you have an idea of the following topics.
What is interactive content by definition?
Active and reciprocal actions from the audience regarding a content mean that content is "interactive" and successful in engaging people. As a reaction to interactive content, the audience won't passively read, watch, or listen. Instead, they will take part and respond.
Content types, for example, quizzes, polls, infographics, and AR/VR, are interactive and attract viewers with exciting stuff.
Four common types are-
Infographics
Online polls and calculations
Contests
Games
We have moved from quizzes in magazines to Buzzfeed quizzes online. At this point, you must have been tempted at least once to check what kind of salad dressing you are, especially when you're at work! Regardless of the nonsensical quiz and results, it's fun to take part.
Benefits of interactive content
By now, you are well aware that interactive content is the future in the digital marketing world. Still, we'll hand you a list of some benefits.
High engagement from the audience.
If you have an eCommerce business, customer interaction will help you personalize your website.
Asking questions will help you gather more relevant data.
Increases brand loyalty and awareness.
Today's smart customers know when they're getting pitched, and most of them avoid that. So, interactive content that playfully makes the sales pitch, wins!
Interactive content like apps, assessments, and quizzes generate more conversion.
Quizzes are more shareable in social media if they're fun. For instance, "Find out what your celebrity crush thinks about you!".
More traffic and exposure to attract and educate.
Best tools to create interactive content- Top suggestions
Your audience wants to be intrigued, and so do you. Using interactive content that involves everyone is the key to capturing their attention. But there's a catch. Grabbing attention is a tricky thing because modern viewers' attention span is around 8-10 seconds only!
So, you definitely need a tool to do it right.
Our focus in this article is to bring you a detailed list of some of the best tools to create interactive content.
N:B– These tools are not listed rate or rank-wise.
Qualtrics
Firstly, we're starting with a free web-based tool that is for survey purposes. You can use this for research, surveys, evaluations, and data collection. It's easy for everyone and a reliable tool to analyze responses online.
Key features
Point and click interface
Surveys with graphics, complex branching, and randomization
More than 85 question types
Multiple templates for surveys
Graphics and multimedia content
Online posting
Multiple survey posting
48 languages
Surveys work on web and mobile apps
Respondents can stop mid-survey and resume later from where they left.
Built-in reporting tools
Data export to CSV, PDF, Word, SPSS, Excel, and also PowerPoint
Sharing and collaboration
Other than these, Qualtrics also offers free online training webinars and live support. This tool is free and trusted by 11,000 brands like Yamaha, Microsoft, HP, etc.
Qzzr
This one does exactly what the name hints at. It's a fast, as well as, easygoing tool to create online quizzes. High-profile brands such as ESPN, Shopify, LinkedIn, Victoria's Secret, HBO, etc. trust Qzzr for their business.
Key features
Customizable forms.
Quiz data test and gated results.
Increases exposure, conversion, and engagement.
Generates leads and targets better.
Three types of quizzes.
Conversion tracking.
User-friendly interface.
Customizable content recommendation.
Redirect URLs and custom CTAs.
The quality of your content depends on you, but Qzzr will have your back regarding the quality of quiz experience! Choose from its three types of price plans- engagement, business, and custom builds.
Fluent Forms Pro Addon
If you pop the Fluent Forms Pro Addon (Freemium) in your WordPress site, you don't need any other addon for extra features! It has 30+ third-party integration all in one place and, at the same time, works perfectly with other page builders.
Key features
Drag & drop form builder.
Control with conditional logic.
Email and SMS notification.
Users can upload images and files.
Highly intuitive, mobile-responsive, and easily customizable.
Spam-free because of reCAPTCHA.
Well-thought-out and also, pre-built input fields and form templates.
Multi-step form and multi-column layout.
Creates charts based on data entries.
Make form creation fun and flexible with this form plugin without coding every time. Moreover, have fun creating a contact form, submission form, report form, checkout form, or anything you need!
Another thing about this WordPress form plugin is the integration with Ninja Tables. You can create tables with Fluent Forms entries and also fill-up forms directly using the table features.
Involve.me
You can already guess this platform focuses on engagement. Also, it has many customizable interactive templates that you can tailor to fit your business without coding.
The multi-facet use and engaging capacity make this tool a necessity for some users.
Key features
Drag & drop editor.
Create all sorts of content such as MCQ, image Q&A, dropdown, slider, etc.
Multi-page layout.
Auto-save.
Edit and duplicate.
Preview available on any device.
Design from scratch or customize from templates.
Color, background, and font styles.
For a simple and easy interactive content, Involve.me is a better option than many others. You can try the "Free forever" pack for 100 submissions. Otherwise, choose from their monthly and yearly plans.
MapMe
Tell better stories and take your audience for a 360-degree tour! MapMe is an interactive map-builder application that allows the user to add photos, videos, PDFs, and 3D buildings.
Key features
No coding knowledge needed to use it.
25+ map theme styles.
Integrated gallery and video player.
Auto geolocation.
Animation and info windows.
Markers and unique icons.
Can show multiple locations with different map markers.
Highly responsive.
Create categories and filters, printable templates, and also import content.
It's a lightweight tool so that maps look more enticing rather than just showing locations! Check out MapMe's story and enjoy the tour.
Thinglink
With versatile designs and ease-of-use, Thinglink stands out in the crowd of interactive content platforms! As a result, it's one of the best visual media interaction gizmos to create a visual story.
Key features
High-resolution 360-degree video or VR image.
Hot spots on image to add video on-click.
Multimedia curriculum launcher.
Desktop offline viewing.
Safe sharing.
Engagement analytics.
Microsoft integration.
Training and livechat.
Educators, students, and businesses worldwide use this tool for presentations, virtual stories, and tours. So, try it out and let us know.
Apester
Taking personalization to a whole another level, Apester is among the best interactive content maker for user-engagement. It's a tool that maintains the engagement by analyzing the content viewers use.
Key features
Engagement toolkit offers a voice for the audience and entertains.
Gain insights with surveys, tests, or questionnaires and create content related to the responses.
Creates stories, polls, interactive video, personality test, quiz, and countdowns.
Generates quality leads.
Drives more potential clients.
Segment and educate the audience.
Boost performance indicators.
Along with annual plans, Apester also has two custom plans- "Enterprise" and "Publishers".
Outgrow
Create delightfully interactive content to engage with the audience. Outgrow focuses on aesthetics and designs of the content you make.
Key features
Create anything, for instance, calculators, quizzes, assessments, polls, forms, or surveys.
Increase conversion rate.
Generate referral traffic.
Get customer insights easily.
Optimized for all browsers and devices.
Showcase the brand with vivid images, icons, logos, fonts, and styles.
Unlimited branches for questions and "And/Or" logic.
Simply drag & drop without any coding experience and tech-knowledge with Outgrow.
ContentTools
Here's a multifaceted platform for content marketers that creates both interactive and passive content. Obviously, the interactive section of ContentTools is richer and offers versatility.
Key features
Types of interactive content are- calculators, quizzes, contests, maps, data visualization, infographics, microsites, and eBooks.
Customized results depending on audience response.
Capture leads with quizzes and assessments, and engage with personalization.
Increase conversion by showcasing the calculated value.
Social engagement with contests and giveaways.
Create visual data to captivate the viewers with short attention spans.
Interactive eBooks and whitepapers serve better than static narratives.
ContentTools shows some percentages and graphs of interactive vs passive content- contrasting which one is more shareable, effective at converting and educating, etc. Some of their case studies might help you understand it better.
SnapApp
A cool interactive content marketing platform concludes this curation. It has many facilities, including videos, infographics, quiz, contest, and calculators.
Key features
Friendly and responsive UI.
Get insights and buying intent.
Drag and drop feature.
Interactive visual data, PDF, eBooks.
Easy integration and lead generation.
Extensive templates.
Drive traffic, engage, and customize CTA with SnapApp. Shout out to us for more.
Playbuzz
Finally, this one is a free tool for interactive content creation. You can create exciting quizzes and, at the same time, get user data. Likewise, this platform works as a community for creative people where they can share ideas and content.
Key features
Quizzes and trivia creation
Personality test
Lifestyle and horoscope
Harry Potter and other franchise character test
Playbuzz is primarily for nonsense quizzes and simple trivia. Besides, the guessing games, "Would you rather", and intelligence tests are quite addicting.
Some more tools worth checking out: Honorable mentions
Still fretting about how to create interactive content? If the top tools above are not convincing enough for you, here are some more you can test.
Some innovative examples of interactive content marketing
We have come a long way from playing Pictionary or puzzle blocks. Now the digital world wants more interactive quizzes, websites, and even TV shows!
So, here are some noteworthy interactive content ideas as examples.
In "Black Mirror: Bandersnatch", Netflix left the fate of the protagonist upto the audience! From deciding what to eat to who should jump from the balcony, every decision had two options that the viewers could choose.
Buzzfeed quizzes, personality tests, or job-skill surveys are quite helpful in gathering audience data.
Podcast interactions with the audience include answering questions and creating content based on reviews.
ESPN app customizes the scoreboards and headlines of users' favorite teams.
Also, a webinar or an online event that connects with viewers.
Interactive content trends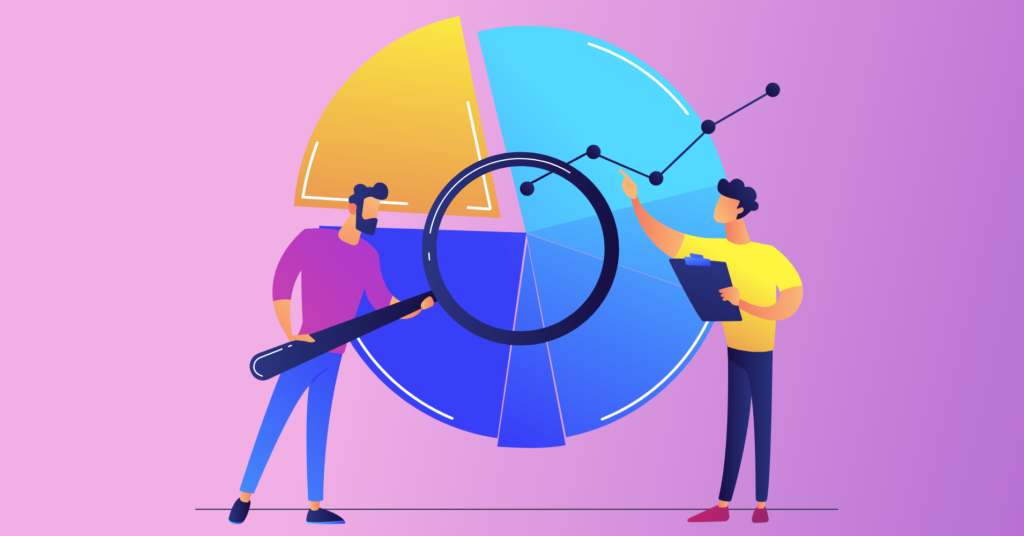 Sure, now you know about the interactive content marketing examples. But you can't jump the gun without knowing all the facts. Here are some predictions about content interaction.
Quizzes, polls, infographics, and contests are not burning out anytime soon.
45% of B2B buyers agree that they prefer interactive content.
Moving-content or interactive live streams are on an upward trajectory right now.
Interactive posts gain twice more engagement.
Because of the large audience base in social media, leveraging Instagram or Facebook stories, polls, or quizzes can help gain attention more than others.
Conversion rate and lead generation are higher for those who practice interactive content for marketing rather than static ones.
These are some key factors you need to remember for 2022. Fortunately, in this modern time, you don't need to be a coding or AR expert to create interactive stuff. Social media stories, polls, live streams, or online quizzes are easier and more useful.
Takeaways
All the seven tools to create interactive content from our curation should give you a headstart in the game. Qualtrics, Qzzr, Involve.me, Fluent Forms, MapMe, Thinglink, Apester, Outgrow, ContenTools, and SnapApp; are all equipped with user-friendly features. Create any form of content and make it interactive with these.
Similarly, the extra five mentions or the examples and trends, are hopefully enough to guide you correctly. You can knock us anytime for any questions.
Learn some "Ways to Increase Customer Retention" or eCommerce Content Marketing Strategies while you're at it.
---