Valentine's day is just around the corner, which means more sales and higher revenue. The annual spending on Valentine's day is predicted to rise up to $27.4 billion, a total of 32% increase from last year. And we all know what good Valentine's day promotions can mean for your business.
2020 was a rough year by all means. But if there's one good thing that came out of it, it's a fresh perspective on our priorities. With that in mind, Valentine's day sales are projected to hit a historic high as people rush to celebrate all that is important or put any effort into relationships to make them healthier.
And that's where you come in. Whether you run a pet store or an elegant jewelry line, you have something to offer, along with as you know how to run excellent Valentine's day promotions.
Smooth online forms for better Valentine's day promotions
eCommerce has been booming for the last few years, and with the pandemic still in existence, people are more conscious of physical closeness. Hence, it is of the utmost importance to set up an excellent online shopping experience for your users.
However, to deliver an effortless user experience while managing sales, you need not wreck your brains for Valentine's day marketing ideas. People are more likely to celebrate the day traditionally with customs of gifts, date nights, and Valentine's day contests.
Keeping this in mind, we will walk you through some forms that you can create to boost your Valentine's day marketing ideas. Please be noted that these are only some examples. You can get creative and create more forms to better suit your business.
Create beautiful forms with Fluent Forms
As the proud developers of one of the most advanced WordPress form builder plugins, we took the liberty of using Fluent Forms for demonstration purposes. Fluent Forms is the most lightweight form builder that will help you create complex forms fast.
It is equipped with five integrations, 30 input fields, and 60+ prebuilt form templates for free. And an upgrade to a premium version will expand that pool to 50+ input fields, 70+ prebuilt form templates, 40 third-party integrations.
We took the liberty to use some of these prebuilt form templates and show you the fantastic ways you can customize them to suit your needs for your Valentine's day promotions.
Restaurant reservation
A candlelight dinner in a cozy place with your loved one sitting across from you. That's the first thing that comes to everyone's mind when we think of Valentine's day. But things are rushing a bit as we switch from our work from home routine to our normal one.
To save your clients this trouble, deploy a restaurant reservation form on your landing page. We will take the event registration prebuilt form template for easy customization, but you can always take a blank form and work on it for Valentine's day restaurant promotions.
If you are wondering how landing pages can lead to more conversions, give this a read.
As you can see, the event registration form already includes a name field, an email field, a phone number field, two simple text fields for company name and website name, and one text area field for a message, in case the customer has any.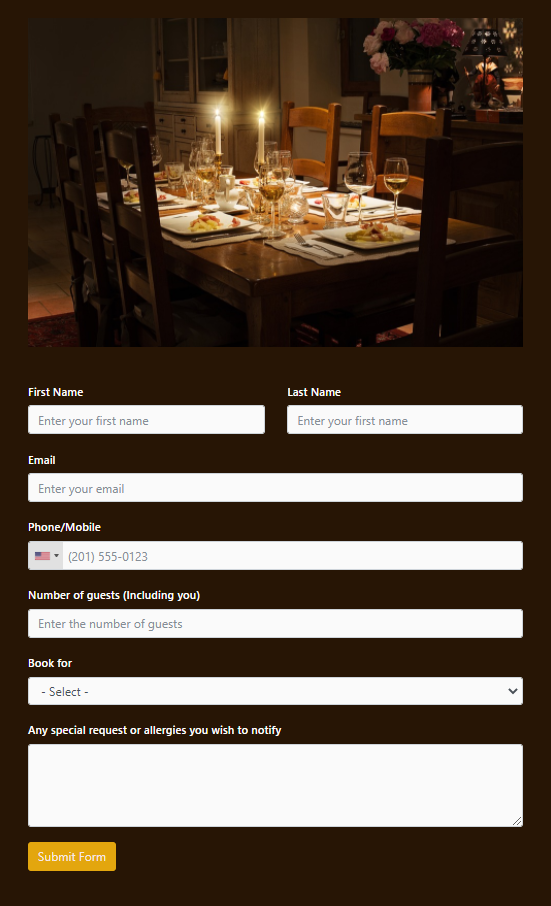 Now we do not need the company or website name. So we will delete them. And in their stead, place a numeric field and a dropdown field. We will edit the numeric field to the Number of guests (including you), so the restaurant knows how many people to prepare for. And in the dropdown field, we will ask them to select the hours they'll like to book a reservation for. We will edit the messages text area field in case the customer wants to mention any specific requests or notify of any allergies.
Now, you must be wondering what will happen if a customer submits a form when you are fully booked. Don't worry! We have a solution for that too. Just go to the Settings & Integrations tab of your form, and scroll down to the Scheduling & Restrictions section. Set a maximum number of entries and compose a message like Sorry, we are fully booked on reaching maximum entries.
Book a getaway
But some people will not feel too confident about dining in a room full of people, given the pandemic situation. But we do need some special ideas for Valentine's day, do we not? So how about a nice getaway to a holiday resort, a bed and breakfast, or a remote island for a day or two to relax?
To enable your guests to sign up for a vacation, we will take a Room Booking prebuilt form template, but you can customize a blank form too. This form already has a name field, an email field, a dropdown field asking room type, two date/time fields, a simple line field, and a text area field.
This is perfect if you are a hotel, B&B, or a resort offering rooms. But if you are a tour operator, then you might need a little more information, like, which package the customers are booking, or which activities they'd like to participate in.
We'll start by dragging the no. of people, simple text field and drop it right before the room type dropdown and adding a payment field before room type and use it to ask for the package they want.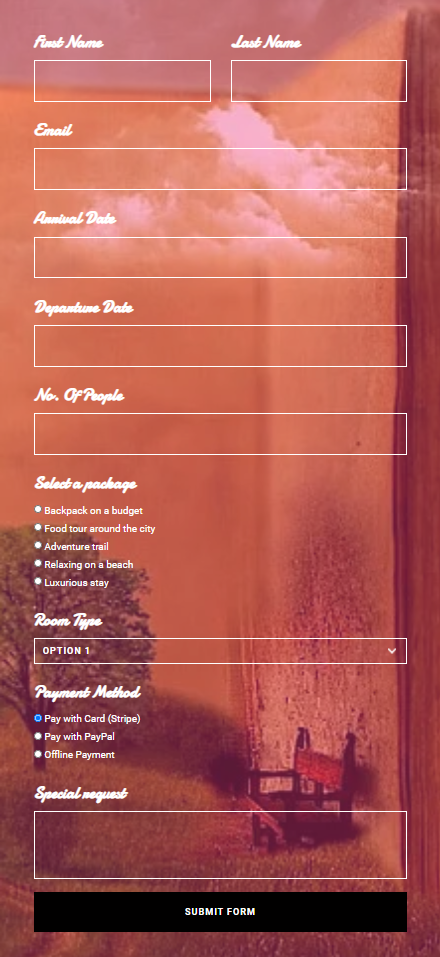 Now add a payment method field, configure the payment options, and you are done.
Online gift purchase
Now, whether people choose to dine out or go for a vacation depends on a variety of factors. But, gifts are something everyone can manage. Be it a nice piece of jewelry, fancy makeup or watch, clothes, electronic gadgets, or even a simple flower bouquet; a simple gift can go a long way, especially on Valentine's day.
We will work with a product order prebuilt form template, as it includes almost everything we need, but you can create your own using a blank form. The product order form includes a radio field, asking about the customer's history with the shop, a simple line field, a numeric field, a checkbox field, a dropdown to inquire about the products the customer wants to buy, and finally, an address field and a number field. These sum up an order perfectly, but we will customize it for our needs.
First, we will change the first simple line field into a dropdown. Or, to encourage multiple product purchases, we can change it into a payment field. This will make the selection process hassle-free. Besides Valentine's day greetings for business is also welcome.
Now, the form seems a little too complicated for multiple orders. In that case, we will deploy conditional logic for each option from the checkbox field. This will keep the form simple yet keep all the necessary elements on the form.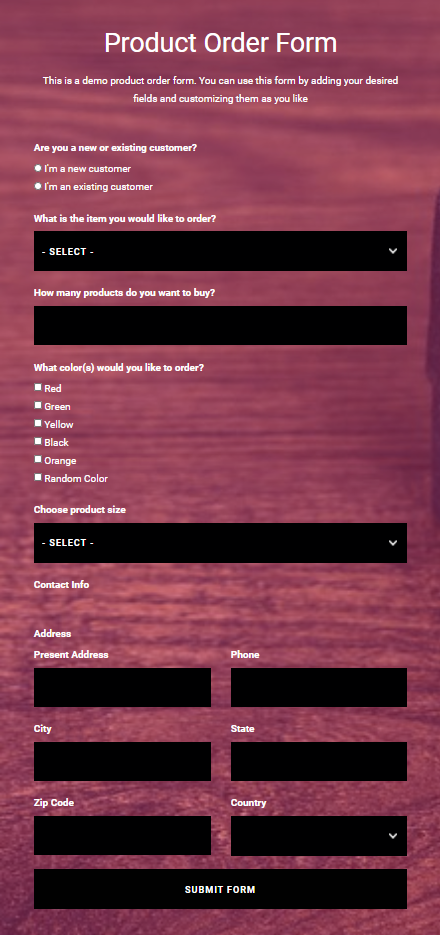 To finish off, we will attach a payment summary field and payment method field. And voila! Your online purchase form is complete.
Party invitation
Maybe you are a very social person, and all of these intimate celebrations are not for you. Then you can certainly use a Valentine's day party invitation form. To create that, we will take a birthday invitation party form and customize it.
First and foremost, change the image into a more suitable one, and put the details of your party. Include Valentine's day greetings as well.
The form already has all the necessary fields like name field, phone number field, email field, and two dropdowns asking about dietary requirements and the number of guests that may attend.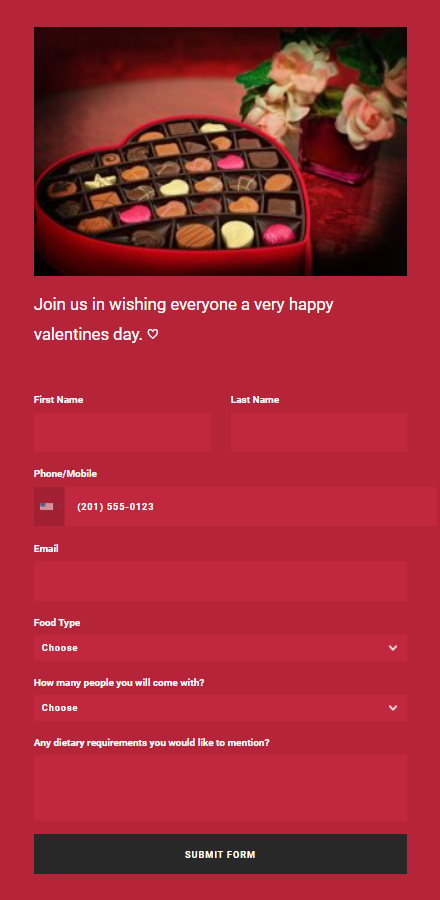 For additional clarity, you can add a text area field to ask for any remarks, like notifying allergies or health conditions.
Customized gifts
And lastly, what's Valentine's day without a personal touch? Surprise your loved one with a gift, and they'll remember you for days to come – for better or for worse!
When it comes to customization, the possibilities are endless. A photo frame with a picture of two, a lovely print of a poem written exceptionally for someone, an excellent mixtape of covers of their favorite songs, or even a short video of a recent vacation. If you run a shop for customized demands, you better brace yourself for all the special ideas for Valentine's day.
In this particular case, a multi-file upload form will come handy. This includes a name and email field and gives options for multiple file uploads. You can edit this to limit file numbers and sizes and add a multi-select field for multiple orders. And an additional text area field is there for further instructions.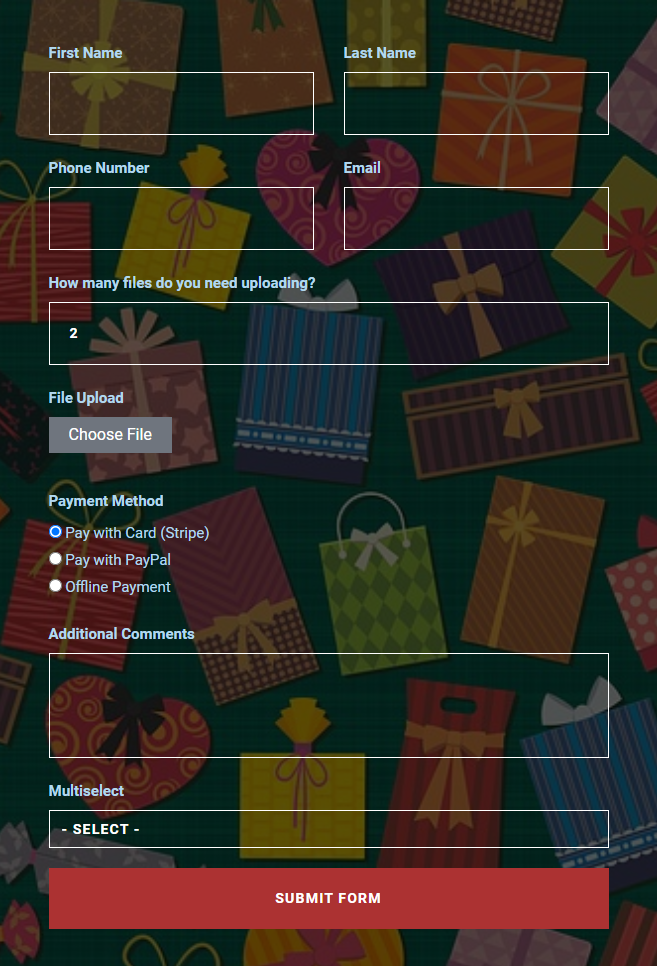 For added security, you can add a phone number field and a payment method field. Don't forget to fit your business name and logo, and you are good to go.
Valentine's day promotions in a nutshell
Everyone's looking for something special on Valentine's day. Some are looking to give the best present, some anticipating what they might receive, while others plan their perfect me-time with self-care and pets.
You and your business can be a part of this experience easily! It is said that Hallmark reinvented Valentine's Day solely for commercial purposes. But the impact went way beyond mere financial gains. Now, February 14th makes billions of people around the world feel happy and loved. So, it won't be too bad if you can get into the special Valentine's day promotions and give your business the post-pandemic boost it needs. And get rich in the process.
Allow smooth user experience, transactions, and eCommerce purchases, and you will garner trust from your customers. They'll keep coming every year and for every occasion in between.
Valentine's day is the best occasion to scale your business. But only you have the right tools. You've seen how online forms can help your business.
Wishing you a happy Valentine's day from all of us.
Fluent Forms Pro
Try Fluent Forms today and see for yourself!
Also Read: How data tables help WooCommerce stores