One-to-one conversational marketing is nothing new. But this digital era changed the way marketers approach customers. Applying chatbots for marketing is a smooth trick for serving customers 24/7. Alexa and Siri are not the only virtual assistants! If you are a beginner, then you need a concise guide to help you through the details.
In this article, we'll try to illustrate everything essential you should know about chatbots in the digital market.
Here are the contents.
Marketing with chatbots: Definition
Marketing techniques are changing, and chatbots are taking over quickly. A chatbot is a software application that online businesses use for chat conversations. The process is an automated communication with a conversational AI to ensure a personalized customer experience (CX).
Bot-powered eCommerce uses chatbots as a digital helper and tends to potential customers. The conversation carries on with the help of a predetermined customer-marketer situation.
Bots can be connected to any media. For example, Facebook Messenger, Instagram, WhatsApp, and whatever media you use for your online business.
Benefits of chatbot marketing
Way back in 1967, Eliza was the first-ever "chatterbot" used for human to machine conversation. Now, communication is much advanced, and chatbots are applied to solve consumer problems and keep them engaged.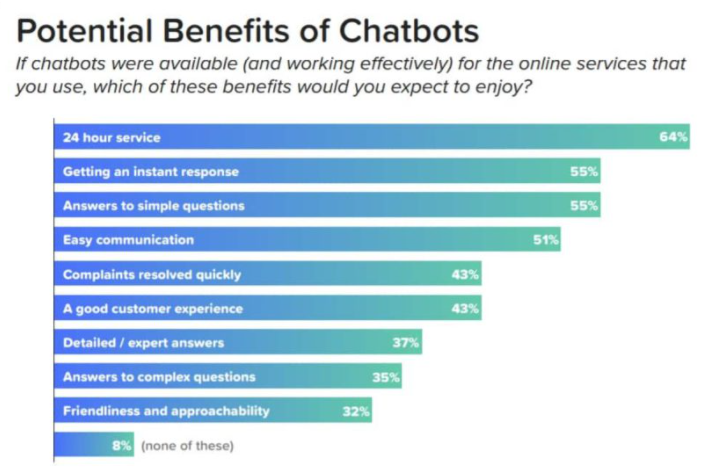 The image above shows data from a comprehensive survey by AI Multiple.
Keep reading to know the benefits of Chatbot marketing-
You can save time and money with chatbots. No need to stay on-toes all the time because bots will take care of stuff when you're away. Similarly, you don't have to pay someone for customer support.
In case a customer shows interest in prices, the message bot can inspire the potential customer to make a purchase right in the chat!
Since it's a bot and works all the time, customers get a quick response.
A chatbot can directly make a sale from the chat reducing all the payment and checkout hassles.
It applies to any media, which is why it reaches a larger audience.
Tend to multiple customers simultaneously.
Any business can put bots to use. You can see from this image below.
The conversation with customers can go anywhere, and bots will find a way to keep them active. You just have to create several possible conversation paths.
Social media users spend the majority of their day online, making them easy targets.
It can gather audience data and insights for you to update your services accordingly.
Everything a bot does is automated. So, if someone is looking for a purse in a different color, it won't miss to show them.
Once you start using a bot for marketing, you will quickly be enjoying its positive impact. There are so many other benefits. You will realize them all shortly. So keep reading!
Using chatbots for marketing: How it works
Knowing all the chatbot marketing hacks means you are ready to go! Basically, all forms of businesses need chatbots as virtual assistants to do majority of the work. Gartner says, by 2020, customers may have 85% interactions with companies without any human contact.
Are you still questioning whether to adopt chatbots or not?
Here we have a list of how to use chatbots for marketing.
1. Know all FAQs
Before you start applying a text-bot, you need to determine what possible questions can come from website visitors or customers. For instance, if a customer has trouble understanding a product and asks for a solution in the messaging app, they expect a to the point answer to solve the problem. But if your bot replies something irrelevant, the customer will leave right away!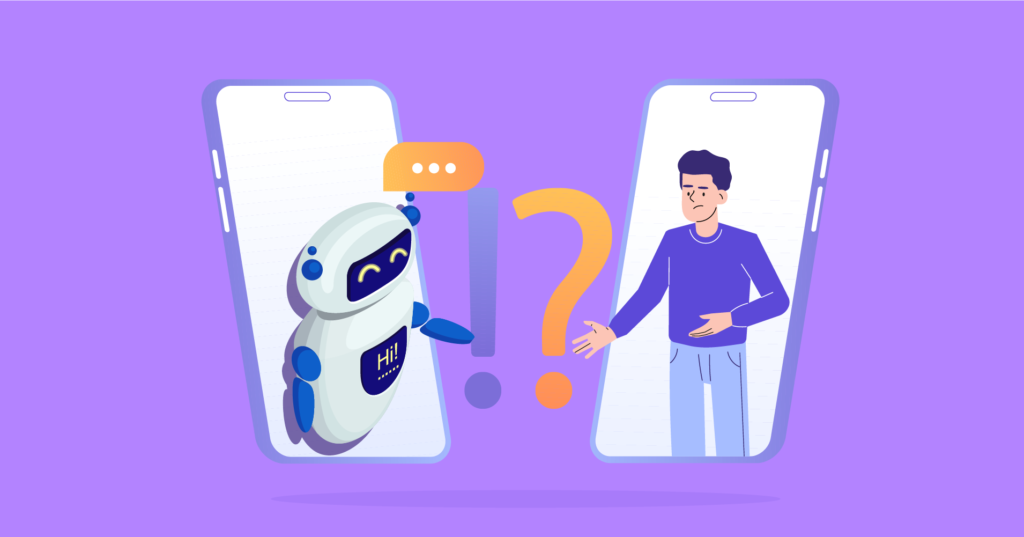 Creating a useful chatbot that answers questions with proper answers is the first thing you need to ensure. Take a survey of your audience and customer service team to find out possible FAQs.
Note if customers are asking about prices, looking for a product, or asking about the delivery and shipping process. Get your bot ready with the answers after you have all the FAQs.
2. Choose a bot-platform
If you are about to integrate a chatbot with the messaging media, you must research and choose the best one! Pick the one without bugs and security issues.
To make things a bit simpler, we have some suggestions for the chatbot platforms of 2022.
These platforms ensure a fast response, high sales and ROI, increased leads and brand awareness.
You can learn more about them in detail from Influencer MarketingHub.
3. Conversation tunnel
Never let the conversation stop cold just because you didn't have a script ready for your bot. The whole point of using text-bots for marketing is to keep the conversation flowing. So, make your chatbot ready to answer every question and, if not, suggest something helpful.
Chatbot script is a sequence of conversational messages depending on customer intent. Create a conversation map from the bot's first "Hello" to "Thank you". Pre-plan whatever the customers knock your message box with.
It doesn't always have to be an actual bot-to-human conversation. Sometimes, just popping in the options in the message box is enough. Louis Vuitton uses this trick so that customers can choose colors.
You also need to provide a number or email for customers to contact you, so you can serve them personally. It's important because chatbot may help you with a lot, but it's still just a machine. It might not understand a query from customers and end up annoying them.
As soon as a customer hits the message box, the bot should bring a set of question bubbles regarding their possible needs. The "Hello, how can I help you today?" won't be enough if the bot can't answer a particular question.
Your live support agent may not be available all the time. So, create a concise and contextual bot conversation script that can guide customers. Add "Away" messages like – "We're not currently online right now, but we'll soon get back to you! Meanwhile, you can ask what you want." Keep the bot ready to respond to "No" messages and further questions.
4. Personal touch
Remember Sophia? She is a social-humanoid robot who can keep up a conversation with a human being. But did you notice how we addressed her as a "She" not "It"? This happened simply because of her human name. At times, it might not be comfortable for a person to converse with a bot knowing it's a bot! Name the chatbot properly and avoid using bot-esque names or numbers.
Also, the first message from the bot should be warm and welcoming. Give it a friendly yet professional voice.
Pipe in all the customer data into the chatbot so that it can personalize every suggestion according to their demography, preferences, and interests. Tailored recommendations can genuinely help the chatbot to continue further. A bot should address the customer by name and maintain a helpful conversation for them.
This example is from UX Planet, and it's an incredible example of bad chatbot service vs. the good one. The bots should help make customers' lives easier, and recording their data to provide a hassle-free experience should be the top priority.
5. Manage orders and get feedback
eCommerce businesses are getting more digitized, and chatbot is the new cool guy in the marketplace! An online store selling clothes, food, home decor, etc. can apply a bot-text service to make sales right on the chatbox.
Chatbots are on-site guides for customers and can almost provide every support. Even if the customer doesn't text, a bot can track their activity and hit them up with relevant details. For instance, chatbots can send the price and color details of all the shirts instock from the same brand the customer was searching through.
As for the order tracking, a high-quality chatbot can save you from dealing with unhappy customers who didn't receive the order in time. Chatbots that allow package tracking will let the customers know when the order is confirmed, shipped and delivered.
Once the customer receives the delivery, hit them up with a text option like – "The service was satisfactory" or "I am not satisfied". Anything you add should have a relevant text following to explain the reason. Take their answer seriously and respond promptly, with or without the bot.
6. Always active customer support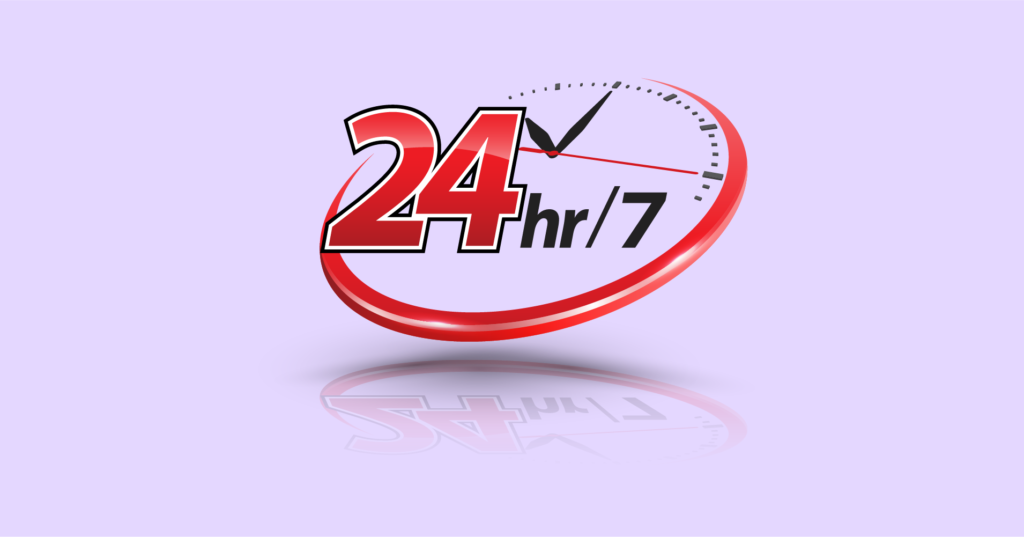 No employee likes to work after hours except for a workaholic! So, to ease the burden from your customer support team, you can apply chatbot to your online business. Since it's a bot, it can work anytime, regardless of the time zone.
Think of it this way: Your company operates internationally online in America, but the best customer base is on another continent! You can't expect employees to serve them when the time zone is different. But a chatbot is always working because it needs no sleep, no rest, no food, and at the same time, has answers!
7. Make it fun
A dry conversation is awkward and doesn't appease the customers to go any further. Chatbox's appearance is the first impression, and it shouldn't have to be just plain texts. The bot can use emojis but not too many to the point where customers get annoyed.
Speaking of emojis, you must have heard about Whole Foods Market's chatbot marketing strategy. They implemented a feature where the customer only had to send an emoji of vegetables or fruits to see recipes including those.
As you can see, there's a text saying "vegan". Since there's no emoji for vegan food, customers can type it and send.
8. Scheduling and communicating
Having a chatbot is like having a personal assistant. Integrate your chatbot with Google calendar, and it will sort out your meetings, appointments, and events by itself.
It's quite challenging to entertain all of your customers at the same time. Chatbots come with the superpower to communicate with everyone at once. So, they can answer one customer's question, suggest a product to another, and close the sales with someone else, all while briefing a new visitor about your business!
If your website has a new update, or there's a new product in stock, chatbots can deliver the message to customers. They can also tell them about discounts or sales coming up. Of course, you should take customer permission to text.
LEGO Facebook page uses a quick response feature by adding options in the chat.
This simple technique reduces the possibility of customers' getting bored and increases the bot's capacity to understand better.
9. Promote the bot
Be proactive and make sure everyone knows you have a chatbot assistant to serve every customer even when you're away. Honestly, it's an excellent way to lure in introverts!
Some people don't want human contact while purchasing online, and some might not even bother assuming the person over the screen isn't available. So, mention the bot in all customer support channels, social posts or as a call-to-action.
Do Chatbots increase sales?
If you have done enough research, you must have seen one sentence popping up everywhere- "Chatbots are the future of marketing." Since chatbots are useful for media like Facebook Messenger or Instagram DMs, social media marketing is getting more updated.
Chatbots for sales and marketing can boost the conversion and retention rate indeed. By 2023, chatbots will be responsible for $112 billion retail sales!
The bots have all the customer data as an upper hand and can identify any upselling or cross-selling opportunity to encourage customers to buy. Likewise, they ensure a quick-sale by shortening the sales cycle.
An anticipated data can't precisely determine if the sales really increase with chatbots. The whole thing depends on how much your brand is worth and how smooth the chatbot experience is.
Currently, 1.3 billion Messenger users, 854.5 million Instagram users, and 330 million monthly Twitter users, all have made an online purchase at least once. If you can use a bot smartly, sales will definitely increase.
Chatbot marketing 2022: Trends
Up until now, we discussed almost everything you needed to know about chatbots. Let's take a break from the details and check out some chatbot stats and prepare for 2022.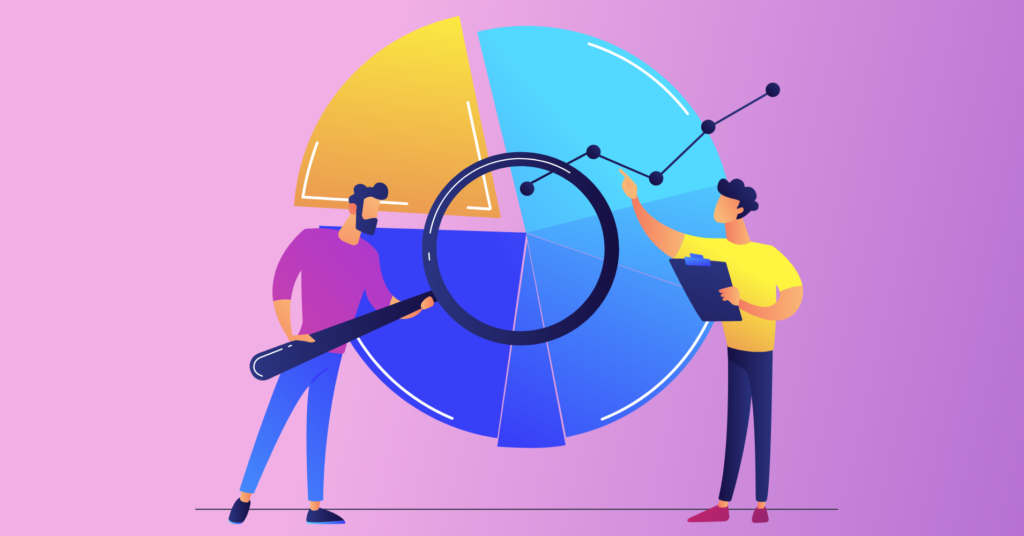 By the year 2022, chatbots will make $8 billion of global savings.
80% companies will adopt messaging bots as a means of marketing, and customer interaction will reach 85%.
80% say chatbot conversation is a positive experience, 79% feel more comfortable, and 35% want more businesses to adopt it.
69% prefer chatbots because of the quick service.
Percentage of millennials engaging with bots daily is about 40%.
eCommerce stores with chatbot assistants generate more revenue (7-25%).
Soon, chatbots will evolve into voice bots and have more human-like features. Google Home voice assistant or AI Mitsuku are already there. But when it comes to marketing, there's a lot of room to improve.
Social media sites are developing more customer-centric chatbots to streamline sales. The updates in the future shall create self-learning bots with emotional intelligence too. Right now, SMS bots for SMS marketing are high-engagement tools.
Things to watch out for
You can expect the chatbot market to grow $3,172.0 million more by next year! Here are some mistakes to avoid.
Assuming everyone wants to chat.
Solely depending on chatbots for sales or engagement.
Open-ended questions. "How can we help you today" is a question that can go in any possible direction and confuse the bot.
Chatbot on the homepage or any page you want people to read.
Not updating to raise CX.
Chatbot marketing examples
If you want to know what companies use chatbot, then here's a shortlist.
Starbucks orders.
Lyft ride requests.
Spotify.
Sephora on Kik.
The list could go on. But let's just say chatbots are everywhere! Healthcare and therapy (Woebot Therapy), real estate, hotel, finance and insurance, etc. are all using AI marketing.
You can know about some Innovative Chatbots examples to understand better.
Who has the best chatbot? That's a debate we don't want to get in! So we'll leave that to your judgement.
Finishing up
Remember how we started to look down on Star-Lord in Avengers Infinity War? He made one mistake, and Thanos snapped everyone out of existence! You could be making a similar mistake for your business by not using a chatbot tactfully.
Chatbots for marketing purposes have the potential to help you grow much faster, and at the same time, one wrong move can water everything down. Enable the bots to solve customers' problems instead of making it more colorful or visually appealing. As long as it can actively help your customers, nobody will care how "smart" it looks. Bots will only fail if they're not adding any value to the CX.
Try to personalize the chatbot conversation and make it flow naturally without frustrating the person on the other side.
---
How do you use Chatbots marketing? Let us know.
Follow us on Twitter and Facebook and subscribe to our YouTube channel.