It's no secret that social media sites are the biggest platforms for businesses to get exposure. If you are starting a new web-store, then you must know about social media marketing strategies! However, if you have already been down that road, there's no harm in revising the steps. Since the marketing world is continually changing and upgrading, it's better to stay on top of your game.
From the most recent studies, 34% of people who shop online are comfortable using media like Facebook, Instagram, Pinterest, Snapchat, or Twitter. Besides, these networks are mobile-friendly, so it's easier to reach people using smartphones too.
In this article, we'll take you for a tour of all the tricks and twists you need to know for using social media for marketing.
Social media marketing definition
Using various different social media platforms to interact with an audience and building up a brand, increase sales and traffic is what's considered as social media marketing.
The strategy is to plan your marketing steps and monitor whether you are succeeding or not. Make simple and specific plans to make it more effective.
For starters, you'll need to take care of a few things.
What to sell
Who to sell
What price to set
Then you can create the social media profile and proceed with chatbots, smart content marketing, personalization, and advertisements.
You need to check what your marketing goal is and what metrics you're following. For example, if you want to make more sales, track the clicks you get per marketing campaign. More followers or likes won't drive any business if you can't sell!
Types of social media marketing
BigCommerce categorizes marketing in social media into 4 parts.
Social networking – Facebook, LinkedIn, Google+
Microblogging – Twitter, Tumblr
Photo sharing – Instagram, Snapchat, Pinterest
Video sharing – YouTube, Facebook Live, Periscope, Vimeo
These days TikTok marketing is growing at large.
Social media marketing strategies to prepare for 2022
Any thriving business (online or offline) has an influential presence in the world of social media. Nowadays, we all spend a lot of time browsing Facebook, Instagram, or other sites.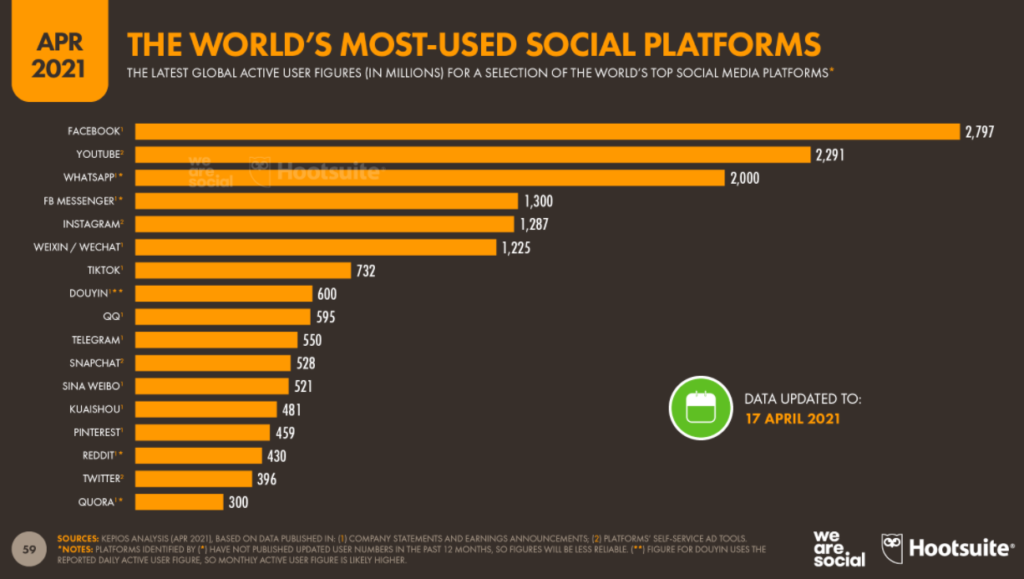 16-24 year olds spend around 3 hours in these networks, and by the year 2021, 3 billion people will be on social media (Review 42). So, it's either go big or go home for any business, small or high-heat companies!
You can't just create a business profile, post your content, and hope it will grow. If you're still behind, then let's just cut to the chase and make a to-do list of steps. Here we have 10 simple social media marketing strategies for you.
1) Marketing goal
A successful strategy is your winning shot! So, you need to set your marketing goals to be SMART!
Specific
Measurable
Attainable
Relevant
Time-bound
Keep your capital on check and know your capacity. Similarly, second-guess what amount of profit you expect and if it's attainable at all.
Growing the number of "follows", "likes" and "shares" could be your goals, but you should also focus on sales. If you target only one particular media, there are a lot more opportunities that you're missing out on!
We have already mentioned that you need to decide what to sell first. Then determine who your potential buyers are from social media. For example, if your audience mostly includes adults above 40 and you decide to sell only Nike Sports shoes, you can't hope to get much business! Sell according to their preference, and keep an eye out to know what's in trend.
Keep your goals reasonable and realistic. You can't expect to blow up overnight or get more revenue right after you create a social profile. If you manage and monitor your business account thoroughly, you will eventually get a good result.
2) Know your competitors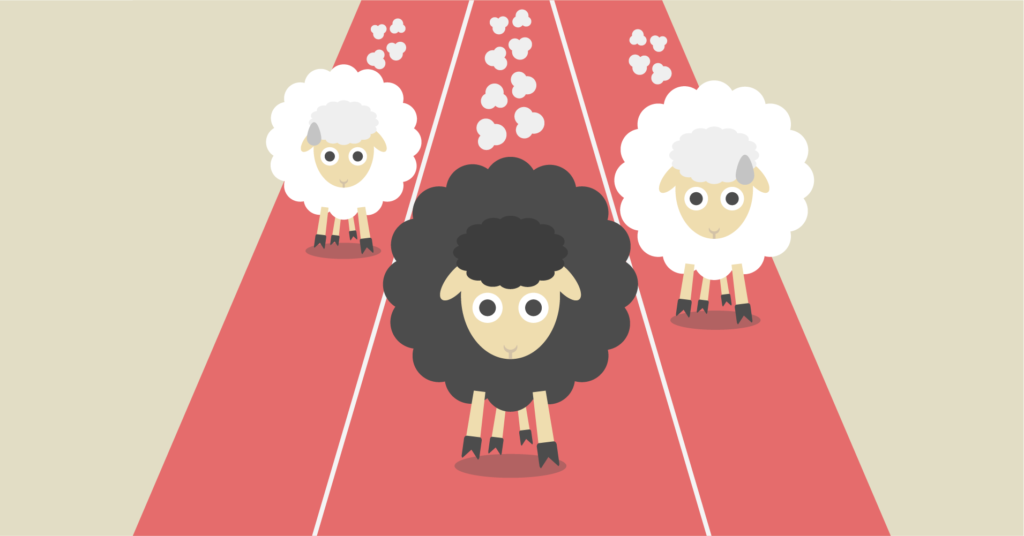 Checking the water before you dive in is a must. You should have a clear idea of how your competitor websites are doing regarding social media marketing.
Carefully analyze the buyers of your rivals and what they usually buy. But it's not just to smuggle out the buyers from them! You should also invest more time in improving your strategies and marketing techniques so that you naturally get higher sales.
Identify your competition and notice their marketing policy, prices, shipping, services, etc. You should focus on what they are better at than you. Basically, get to know who you are up against.
3) Select media
You're not selling to anyone if you're not selling for everyone! It's unreasonable to select only one platform of social media. To sell more and achieve your profit goals, you need to be omnipresent on every site.
On the other hand, you might be a new sprouting business that is struggling to manage everything. So, you need to do thorough research on where you can get the target audience.
Start with the most preferred network of your audience first. Obviously, you can't exclude popular and most-used sites like Facebook and Instagram. But if you see your audience is more active in TikTok and YouTube, why not reach out there?
4) Customize for each social site
Now that you have achieved the most from one platform, spread to the others, and customize accordingly. For instance, you can't use the same marketing strategy on Instagram that you use on Facebook! The platforms are different, so should be the techniques.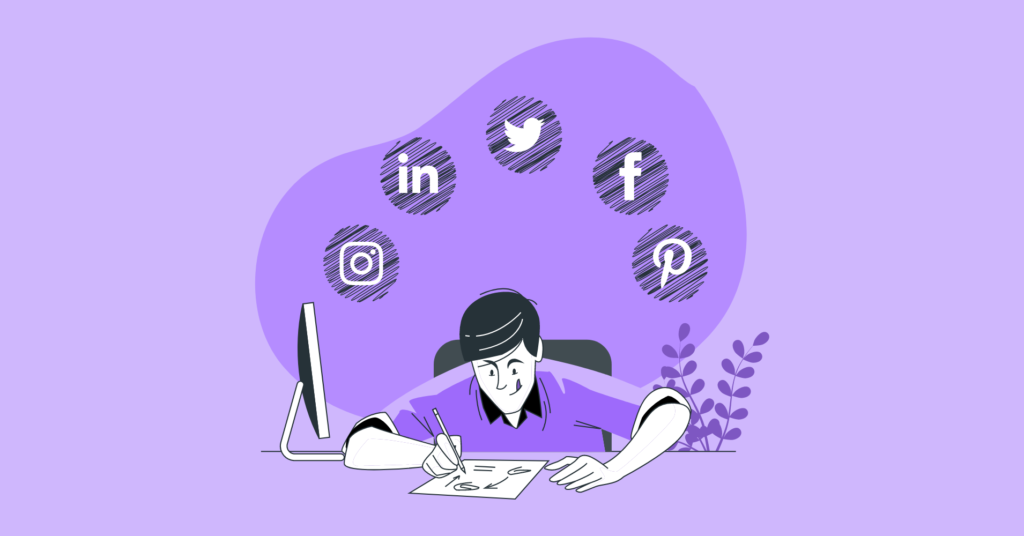 Facebook: A good product photography, a catchy caption, ads, and a straightforward CTA link are all you need here! You can share your curated content and post promotional videos or a teaser for a new product. The comment section is highly active on Facebook, so monitor it to get authentic feedback or request, and identify an imposter account.
Instagram: A high-quality image is the key here. You can share short videos, exciting images, and stories to attract customers. "Shop now" or "Link in Bio" CTAs attract people easily. "Instagram shop" is also another marvel on this site!
Twitter: Hashtags and 280 characters are all you need to hit the target. Since tweets are short and direct, customers prefer it to others.
Pinterest: Here's another image-based platform where people can buy directly from the site. You can use Buyable Pins for a pinnable picture. A buyer who loves creative content prefers Pinterest.
Moreover, you can customize your products for YouTube or a professional network like LinkedIn. You can take a stroll on Instagram vs. Facebook to learn differences in marketing between the two platforms. We'll soon be covering others as well.
5. Track metrics
You can use various social platforms to track different goals. Let's say you are using Facebook for advertising and Instagram to increase brand awareness. From Facebook, you can track Cost Per Click and for Instagram, views of a story.
Here are four goals of social media and metrics-
Brand awareness to grow: Followers and shares
Engagement for the audience interaction: Comments, likes, mentions
Conversions to drive leads: Clicks and signups
Customer activeness: Testimonials and response time
Vanity metrics such as the number of followers or likes carry very little value for your business. You can track how many followers you have or how many likes you are getting per post. But you don't know the engagement rate, CTR, or conversion rate.
6) Engage with your audience and generate leads
Just creating a business profile on social media won't get you anywhere unless you keep your audience engaged. Online shopping is not like window-shopping, and customers don't always make whimsical purchases!
So, keep in contact with your target audience and generate leads by posting promo and teasers of a new product. You can also re-post old ones to bring back people who are currently inactive. Listen to your audience to know what they want.
You can't be hands-on 24×7. Managing sales, profile, and customers at the same time are challenging. So, add a Chatbot to respond to customers coming in with queries promptly. Chatbot serves multiple customers with quick responses and increases engagement.
Here's Sprout Social's Chatbot marketing technique.
If you think social bots are impersonal, then you're wrong. Customers will appreciate it because of the speedy response, easy directions, and around-the-clock customer service. Live Chat can also increase the conversion rate.
Grow the audience with giveaways and free bonuses. Above all, a successful business is not just about broadcasting and promoting. You should also pay attention to the purchasing preference of your audience.
And social media stories, live, fleet, reels, etc., are perfect to garner attention from younger generations.
7) Provide personalized experience
Knowing the audience is the first step to success. A personalized shopping experience can increase your brand's worth to the people. Monitor social media demography to understand your audience's age, location, preference, income, or culture.
If your target is the younger demography, then you can take your business to Instagram or Snapchat. But to sell to a middle-aged adult, you should focus on Facebook more.
Moreover, you can follow what your audience likes, shares, or comments on to present similar or related products.
Millennials or Gen-Z are easy targets if you post visually appealing content, memes, witty captions, or anything trendy. Whereas Pinterest is used more by women, and LinkedIn is for professionals. You can't generalize your audience by judging a single platform!
8) Content calendar
Manually managing your social media content is going to be stressful and, whether you believe or not, it's inefficient. So, a content calendar can come to the rescue! A calendar to track, organize, and schedule all your products are handier than a spreadsheet.
Social sites tend to filter out some posts because of some sort of algorithm, and it's highly likely that your target audience is missing what you post. Especially if you post at a time when they are least active.
Use a scheduling tool to organize more than one post at the same time. Besides, you can also manage how many to post on how many sites. Manage your posts according to the social site and the audience's interest. It's better to cycle between videos, memes, and user-generated content.
Change themes and colors in sync with the seasons and occasions to keep viewers excited and engaged. Also, plan out what month or week is the best for a particular product sale. It won't be smart if you are selling a winter-coat during summer, right?
Try to look for some reliable social media management tools.
9) Promote and use brand advocates or influencers
A promotional campaign is great for your business, but try to tone it down a bit. Otherwise, it gets annoying for the audience.
But a promotional post collaborated with a social media influencer can skyrocket your popularity! Here's Purple, sharing a post by an Instagram influencer.
So, using the people who love your brand to advocate and spread good words about you is the next-best option!
But wait!
Leave we can't without Baby Yoda sharing!! See what Purple did here?
Wise words from Baby Yoda and that adorable image is a marketing genius! People love Baby Yoda and a humorous post. Someone from the brand decided to cash in the popularity of Baby Yoda and went with a Yoda quote!
It takes a lot of time to gain new customers or followers and more time to prove your worth. Why not leverage the existing ones then? Offer a free gift or a discount to a customer who frequently buys from you, but only if he shares the post from socials.
However, you need to work yourself too. Influencers or advocates can direct more people to your online shop, but you should hand them over the best content to share and talk about.
10) Go live
Sure your products and social media posts are good enough to tell your brand's story. But why not use the exciting live streaming features of Facebook or Instagram? Share live stories and appear on Facebook live to show off the best product you have.
You should create hype by announcing that you're going live. Shops with Facebook profiles use this trick to gather more people.
Why use social media for business?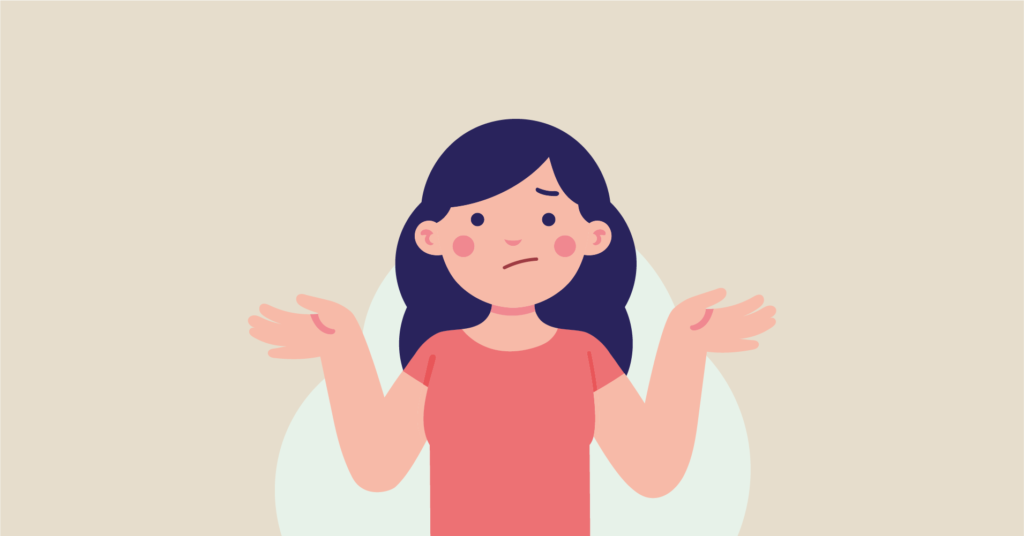 Okay Boomer – No, that's not what we're saying. But you're most likely to get such an answer if you deny the benefits of social media marketing! There are billions of reasons why you can't ignore social media.
But here are our answers.
If you use the right social media marketing tools, you can boost your sales.
Using customer-generated content to display ads can increase traffic.
It's easy to A/B test with platform analytics. You can see what people want.
Social media influences most of the purchasing decisions made by an adult.
It's easier to target all generations for product marketing.
Influencers are a big help!
People sharing your posts, taking screenshots, or even talking about them in personal DMs are considered as "Word Of Mouth" marketing.
To inspire you more, here are some of the top social media marketing examples.
Airbnb gained customer trust by supporting COVID-19 responders.
Amazon replies to customers' posts about them.
Houseparty collaborated with Fortnite for trivia games and engaged a lot of people.
Netflix "Wanna Talk About It?" engaged the audience by showing compassion during the Coronavirus pandemic.
Finishing up…
If you make a social media marketing plan from scratch, there's hardly anything that can go wrong. In this era, the secret to success is hitting the target on social platforms!
Nonetheless, you can't just post something and vanish from the site and expect things to go your way. It's a must to follow social media marketing strategies to become a popular face in the digital marketing world. To make that happen, you need to offer frequent engagement and constant updates.
All of the 10 tips above should guide you right. Knock us if you can come up with some more ideas. We'd love to hear it!
Finally, check out why Social Media and Business are a game-changing combination.