CRM and email plugins are one of the most desired WordPress tools. That's why WPManageNinja brings you FluentCRM, the best WordPress CRM plugin.
The concept is simple. If you're on WordPress, you don't have to pay for SaaS CRMs again. FluentCRM is an all-round WP-CRM system for managing WordPress customer databases and maximizing your marketing goals.
What is CRM?
These days, most businesses use customer relationship management (CRM) software to optimize their daily schedules effectively and manage their day-to-day tasks. A CRM software will help you acquire new customers, build a massive database of customers and leads, and allow you to manage customer relationships by reducing the administrative costs involved.
In short, CRM software may help you do the following:
Build email lists
Build relationships with a potential customer
Increase customer retention by maintaining a steady communication channel
Improve customer satisfaction by serving them at the right time
Automate marketing
Provide data for effective marketing
But nowadays, the fundamental goals of every CRM is:
CRM management
Increasing sales
Reducing customer relationship management costs
Acquiring new customers
Hassle-free marketing
Put together, the objective of a CRM solution is to design a user-friendly interface that lets you handle your organization's customer relationship management and run accurate data-driven email marketing campaigns for maximizing your business's growth potential.
What is FluentCRM?
FluentCRM is the ultimate WordPress CRM and email marketing plugin for WordPress users. It provides you with the features you need to manage an unlimited number of customers, subscribers, members, users, and many more! And the built-in email marketing feature means that you have a wide array of email marketing tools to maximize your business's growth potential!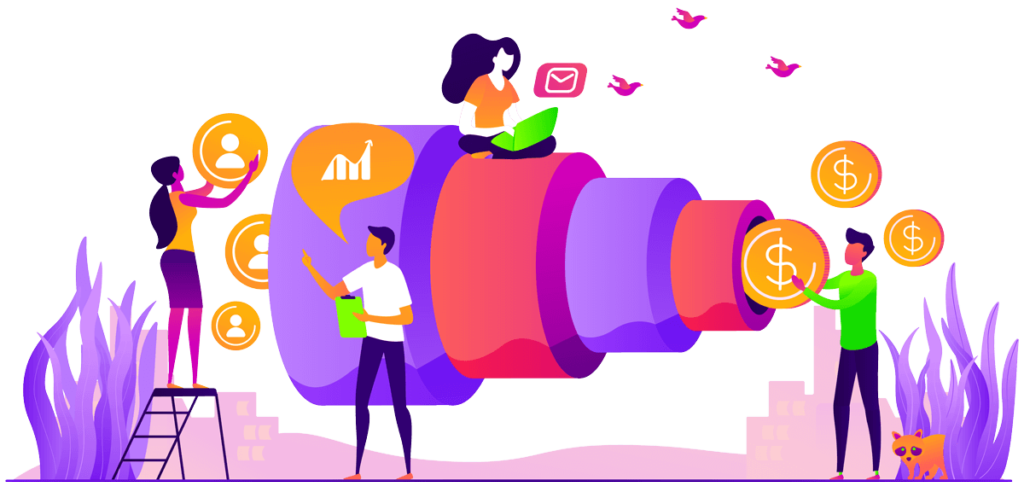 FluentCRM works on your website's backend, gathers data about the people you interact with on your WordPress site, and helps you discover valuable insights. Once FluentCRM has collected the data, you can maximize your business's marketing potential using FluentCRM's excellent email marketing functionalities!
FluentCRM – WordPress CRM and Email Marketing Plugin Features
For businesses and organizations running on WordPress, FluentCRM WordPress CRM and email marketing plugin is from heaven!
You'll get your WordPress customer database, and a centralized analytics dashboard will give you a quick overview of your organization's current situation. And once you have the required data, you can use the CRM's email marketing features to run data-driven marketing campaigns!
In a nutshell, FluentCRM features user-friendly tools to help you handle customer relationships with ease and allows you to do email marketing like a pro!
Here are the key features of FluentCRM:
Email Campaigns – you can set up and broadcast unlimited email campaigns in four simple steps. Compose, set subject and settings, select recipients, review and send!
360° Real-time Customer Data Platform – View general data, communication history, purchase history, form submissions, support tickets, and logs all at once. Get updates in real-time!
Email Contact List Management – Create contact lists, tags, and dynamic lists based on specific criteria. You can set contact statuses, and if required, you can filter and segment your contacts depending on a wide range of criteria.
Automatic Email Sequences – Set up an unlimited number of bulk emails at specific intervals. You can add new subscribers or new sequence emails to the automated email sequence at any time and run unlimited email sequences at once.
Email Marketing Conversion Funnels – Automate your email marketing strategy and convert more audiences with a top-quality trigger-packed email marketing conversion funnel.
In-depth CRM Reporting and Analytics – Know how your business and email marketing automation is doing. FluentCRM digs deep into every small piece of detail and helps you discover valuable insights into your marketing automation.
Apart from these excellent CRM and email marketing features, FluentCRM also integrates with your favorite WordPress plugins.
FluentCRM Integrations
As a WordPress user, you might be using many other plugins to run your business smoothly. Often it forces you to use bizarre CRM plugins that sound like WooCommerce CRM, real estate CRM plugin for WordPress. Or else, you connect your plugin to expansive third-party CRM solutions like MailChimp, ActiveCampaign, AgileCRM, etc.
FluentCRM stores your WooCommerce and EDD purchase data seamlessly and offers event-based marketing triggers to enrich your customer relationship management experience.
Apart from the eCommerce plugins, FluentCRM integrates with many other popular WordPress plugins, helping you enrich your WordPress contact and customer database and allowing you greater marketing freedom!
WooCommerce
LifterLMS
Easy Digital Downloads
LearnDash Integration
Paid Membership Pro integration
WPFusion Integration
Fluent Forms Integration
AffiliateWP
WPFusion
WishList
MemberPress
TutorLMS
Elementor Forms
Restrict Content Pro
Don't see your favorite plugins listed? No worries, WPManageNinja is constantly adding more integrations to FluentCRM.
Aside from these WordPress plugin integrations, FluentCRM can also connect to popular webhooks. Such as:
You can also connect FluentCRM to other apps with the webhook connector.
Why FluentCRM?
Although the WordPress community does have some excellent CRM and email marketing plugins, these plugins can be extremely complicated to use. In fact, some WordPress CRM plugins arrange free training programs for their users.
With FluentCRM, you don't have to participate in training programs to understand how it works. FluentCRM's wide range of customer relationships and marketing management features are incredibly user-friendly! And no, it also doesn't mean you'll miss out on FluentCRM's awesome customer support!
And the best part? Your site will never be impacted by what goes on your FluentCRM dashboard! So why should you use FluentCRM?
Self-hosted – Your CRM data is self-hosted into your WordPress dashboard. So there's no risk of getting them lost, sold, or stolen to or by third parties.
Quick Overview – Get a brief overview of how your business and marketing is doing. You'll know the exact number of leads, contact lists, campaigns, saved email templates, and monthly, daily, or all-time sales and earnings you have.
Create and Import Contacts – Create custom contacts or import. You can import your WordPress users, build a contact list via a CSV file, or set automatic triggers to add new contacts based on various actions.
Contact Filtering – Filter your contacts by lists, tags, statuses, and sort them according to a wide range of criteria.
AB testing – Play with email subjects and find out the perfect subject line for your mass email campaigns.
Link Metrics – Enable UTM parameters by Google analytics and track when recipients have clicked a link within your sent mails.
Block-editor Email Composer – Compose emails with complete freedom using the block-editor email composer. Include image, headings, list, buttons, columns, tables, etc. blocks, add dynamic tags, or even include emojis within your emails! You can select three different email body styles and customize everything to craft beautiful emails!
Save Email Templates – You can save commonly used emails for future use and include them into your email campaign, sequence, or funnels.
Double opt-in Forms – You can create double opt-in forms to collect leads and grow your subscriber base.
Funnel Reporting – View how your funnels are performing at different stages and make alterations into funnels to maximize your marketing potential.
Funnel Actions – Make your email marketing automation smoother with nine core funnel actions and seven benchmark funnel actions.
Email Broadcasting Service – FluentCRM uses wp_mail() function to broadcast all the emails. So FluentCRM will work great with any SMTP plugins.
Let's explore what you can do with FluentCRM:
Self-hosted and User-friendly CRM
A free SaaS or cloud-based CRM is initially a cost-effective solution for customer relationship management. It is user-friendly and allows you to access your data from any device. But cloud-based CRM can become expensive once you need to use more data, limiting your growth potential. Besides, there's always a worry of getting your data stolen or sold if you use a non-reputed service.
As a WordPress user, you'd love to have control over your data, and FluentCRM WordPress CRM and Marketing Plugin gives you that. You'll own and manage an unlimited amount of data through an intuitive dashboard. FluentCRM provides a super user-friendly experience and stores the data into your dashboard. As long as you have hosting space, you can keep storing as much data as you want. So there's no worry of paying more money for storing more data or getting your data compromised.
Build Customer and Leads Database
FluentCRM WordPress CRM and email marketing plugin provides you with a wide range of features to build a massive customer and leads database. You can add contacts manually or import your WordPress users. And if you have a CSV file of leads you've managed or exported from other CRM's, you can simply upload them to FluentCRM without any hassle.
With the integrations enabled, you can also set direct triggers to directly import information of your customers, members, or students from WooCommerce, EDD, LifterLMS, Paid Memberships Pro, etc. into your CRM dashboard. Build a magnificent business contact database yourself or automate database creation like never before! You can do both with FluentCRM!
Customer Data Platform – Track Audiences
FluentCRM's built-in activity tracking will help you manage customer relationships efficiently. Now you have a transparent customer data platform that will show you your contact's activities such as email opens, link clicks, purchase history, form submissions, ticket requests, etc. And if you're managing this WP-CRM system as a team, your CRM agents can also keep logs to ensure that all users of FluentCRM are on the same page!
Set up Unlimited Mass Email Campaigns
Great email campaigns can play an imperative role in growing your business. FluentCRM will give you complete freedom for creating and broadcasting unlimited mass email campaigns.
In FluentCRM, You can create a campaign in four simple steps. Just compose your email with a fully customizable block editor, select subject and settings such as A/B testing and link metrics, select your campaign's recipients. And once everything's in place, you can review the campaign and then broadcast immediately or schedule your email campaign for the future!
Compose and Save Beautiful Email Templates
Writing a conventional email is boring! So FluentCRM enables you to save email templates for future use. With a fully customizable powerful block-based email editor, you can select three different email styles or compose RAW HTML emails!
FluentCRM's block-based email editor allows you to include:
Dynamic tags
Pre-header
Image
Heading
Lists
Buttons
Columns
Group
Media
Table
Emoji, and many more!
Apart from the incredible block editor, you'll also have complete freedom to customize your email's text color, background, button color, etc. So no matter what you want to compose, FluentCRM's powerful email composer will help you achieve your email body goal to perfection!
Automatic Email Sequences
Ever thought of setting up a universal onboarding email sequence for your subscribers and customers? If yes, you now have that option with FluentCRM's email sequence. With FluentCRM's email sequence, you can set up bulk emails to send at specific intervals. In that way, you can also automate your email newsletters, campaigns, and many more!
How does it work? Just create your sequence of emails and set when you want to schedule them. You can also set a specific time range for sending FluentCRM's sequence emails. Once your emails are ready, you can select contacts in the recipient selector. You can set specific conditions to include or exclude contacts into your email sequence.
The sequence will also run whenever a contact joins your list. So if you set triggers to apply lists based on specific criteria, they will also receive the automatically sequenced emails.
Create Double Opt-in Forms to Collect Leads
Forms are among the most popular options to collect leads. FluentCRM WordPress CRM and marketing plugin integrates with another famous WPManageNinja production, Fluent Forms, to help users collect leads easily. With this integration, creating a subscription form takes less than a minute.
Just select a form template from three default template styles, provide a title, select the list and tags you want to apply to your subscribers, and enable double opt-in confirmation to create a form! Once you have the form code, paste the super-responsive form to your desired pages and posts to collect those valuable leads!
The user will be added to the FluentCRM contact dashboard after the user confirmed the subscription via a double opt-in email.
Conversion Funnel Automation
FluentCRM WordPress CRM and email marketing plugin features a powerful conversion funnel automation that helps you automate your email marketing like a pro. It enables you to maximize your audience's every action like an opportunity with a wide range of funnel actions!
And again, funnel creation doesn't have to be complicated. FluentCRM is the most user-friendly email marketing funnel builder you'll ever find! You can set up highly effective marketing funnels in two simple steps, set triggers based on your requirements, and select actions to automate the funnel. It's that easy!
FluentCRM WordPress CRM and email marketing plugin features nine core funnel actions and seven benchmark actions that will make funnel building ridiculously simple!
Available FluentCRM Funnel Actions:
Wait x-days/hours Action – Allows you to wait a while before making the next funnel action.
Send Custom Email – Allows you to send custom emails.
Set Email Sequence – Allows you to set an email sequence to run.
Cancel Sequence Emails – Allows you to cancel sequence emails.
Send Campaign Email – Allows you to broadcast campaign emails.
Apply List – Allows you to apply lists into the funnel contacts.
Apply Tag – Allows you to apply tags into the funnel contacts.
Remove From List – Allows you to remove the funnel contacts from a list.
Remove From Tag – Allows you to remove the funnel contacts from a tag.
Available Funnel Benchmarks
Order Received in WooCommerce – Runs after a contact purchases a product from your WooCommerce shop.
New Order Success in EDD – Runs after a contact purchases a product from your EDD shop.
List Applied – Runs after a contact joins a list.
Tag Applied – Runs after a contact joins a tag.
List Removed – Runs after a contact is removed from an existing list.
Tag Removed – Runs after a contact is removed from an existing tag.
Link Click – Runs after a contact clicks a link you've sent via email.
In-depth CRM Reporting and Analytics
Here comes the most exciting feature of FluentCRM WordPress CRM and email marketing plugin! It will provide you with in-depth reports and analytics for the best data-driven marketing experience.
FluentCRM's default dashboard will show you a quick overview of your business's current situation. You'll get the exact numbers for your lists, contacts, campaigns, saved templates, sent emails, daily, monthly, and overall sales and earnings through FluentCRM's quick reports. And if charts and graphs are more convenient for you, you can view your
Subscribers Growth
Email Sending Stats
Email Open Stats
Email Link Click Stats
With a wide range of data at your disposal, you can check how your marketing strategies have been performing within a set time range. As a result, you'll be able to determine whether you need to change your email marketing approach or not.
FluentCRM's in-depth reporting is available at every stage of your CRM's marketing options. It tracks all your marketing emails and records the response rates both individually and simultaneously. You can check if an email didn't work for a particular contact or check your campaign, sequence, and funnel reports to determine how it performed for all the contacts in the campaign, sequence, and funnel.
Data-driven marketing has got way more convenient with FluentCRM!
A/B Testing for Subject Line
A/B testing can be confusing for beginners. But make no mistake, it's an excellent option to have if you are planning to launch a massive email campaign and want to find the perfect subject line for higher conversion.
Once you've enabled A/B testing for email campaigns, you can send the same email with different subject lines to a group of audiences. FluentCRM's A/B testing report will help you understand which subject line resulted in higher conversions.
Voila! That's the perfect subject line for the mass email campaign you're planning to launch!
UTM Parameters for Link Metrics
UTM stands for Urchin Tracking Module. It's a way to track your marketing campaign's effectiveness through tags provided by Google Analytics. By enabling UTM parameters by Google Analytics in FluentCRM WordPress CRM and email marketing plugin, you can get an exact number for link clicks and track who has clicked the link. With accurate link metrics, you can achieve your dream of data-driven marketing like never before!
Comprehensive Documentation and Awesome Support
FluentCRM is built to provide an excellent user experience. Unlike other WordPress CRM, you do not need much technical expertise to create a lead/customer database or automate your business's email marketing.
However, WPManageNinja happiness managers and developer teams work hard to ensure that you're getting the utmost support and comprehensive documentation! You can get started with the detailed documentation we've prepared or just submit a support ticket if you get stuck!
Also, note that we love to hear from our audience! So if you have any opinions, feature requests, or integration requests, don't hesitate to reach us via support ticket!
FAQ
Are there any limitations about how many contacts I can add or emails I can send?
No, there are no limitations. You can add as many contacts as you want and send as many emails as you wish.
How are the emails sent?
You can use any SMTP service like MailGun, SendGrid, Amazon SES. We recommend using Amazon SES because it's a reliable and cost-effective solution.
Is it 100% self-hosted?
Yes, FluentCRM is 100% self-hosted. It won't connect with any of our SAAS servers. You own the data, and your data is kept in your hosting server.
Is it GDPR compliant?
Yes, your data never goes to a different server like MailChimp, ActiveCampaign, or 100s of other CRM. All the data will be saved and managed into WordPress.
Will it cause a performance issue for WordPress?
Not at all! From the very first, we were careful about this—FluentCRM stores all the Campaign and Contact data in custom database tables to keep your WordPress database intact.
Since the application is built with VueJS, it only runs when you go to the admin dashboard of FluentCRM. Also, the Admin UI is super fast as it's a SPA and communicates over Ajax.
When will the plugin be available?
We started working on this plugin last year and have been using it in our businesses for the last six months. Currently, we are testing it with other plugins, doing extreme load testing.
We have already released the free version on WordPress. The premium version will be released on the 1st of October in 2020.
What integrations are available with FluentCRM?
We are adding new integrations as we speak! So far, we have added the following integrations:
WooCommerce
Easy Digital Downloads
Fluent Forms
LifterLMS
LearnDash
AffiliateWP
Paid Membership Pro
User Registration Trigger
You can run events based on different occasions of those plugins. More integration will be made available over time.
Can we create and apply more lists and tag(s) to the recipients of the campaign?
Yes, there's no limitation to how many lists and tags you can create and maintain at a time. You can create as many lists and tags as you want and apply them to the recipients of the campaign. 
Within the campaigns, Can we include/exclude recipients according to our XYZ criteria?
Yes, you can create dynamic lists according to a wide range of criteria and include/exclude them when you're about to launch/schedule the campaign.
Using Amazon SES, could we have the hard and soft bounce info within FluentCRM and the list of impacted emails?
FluentCRM shows soft bounce info on campaign reporting and in case of a hard bounce, your contact status will change to complaint.
Does Amazon SES know which emails didn't reach the inbox?
Yes, Amazon SES knows which emails didn't even reach the inbox. That's why FluentCRM can understand which contact has complained to your emails and it changes the contact status accordingly.
Will you list emails of people who clicked?
Yes, FluentCRM's individual email reporting will show you who clicked within the actions column.
Can I create an email sequence based on an event related to a third-party plugin?
For example, I want to create an email sequence for a person who bought a subscription (via WooCommerce) for six months, seven days before their subscription ends.
Yes, in order to create such event-based marketing automation, FluentCRM provides you with advanced funnel triggers and benchmarks. You can create the exemplary email sequence in a few steps:
Create your email sequence.
Go to Funnels and create a new funnel using the WooCommerce – New Order trigger.
Select your target product.
Add a Wait action block for 173 days (7 days before the subscription ends.)
Add Set Email Sequence block and select your sequence.
Save Settings and Publish the funnel. Done!
So that's all about FluentCRM. With this WordPress CRM and email plugin, your customer relationship management and marketing goals will be within your reach. Grab the best CRM plugin for WordPress now to manage customer relationships better and maximize your business's growth!
Also, do subscribe to our YouTube channel to get FluentCRM-related updates and follow us on Twitter and Facebook.