It's never too early to start planning for Black Friday and Cyber Monday (BFCM) sales! And to be honest, there's not much time left anyway if you're gonna start now!
BFCM is the time when people do the wildest shopping and nearly grab anything that's on sale. It gets crazy in the online store side, as well as the offline stores. November starts with the craze and keeps going on till Cyber Monday. There's really not enough time to overthink anything.
However, you still have time to review a BFCM checklist and see what you missed or did right.
Topics we'll cover here-
What is BFCM?
Black Friday Cyber Monday has morphed into an acronym- BFCM. It's probably the biggest sales and discount event around the world.
When did the term Black Friday sales start? This can take us way back in history, and to be honest, we're not sure what the actual story is!
As far as we know, the gold market crash of the US in 1869 led to stock market free-fall and bankruptcy. That's when the term "Black Friday" came up. Thanksgiving shopping and holiday shoppers kept businesses running a little, as retailers said they saw some profit the day after Thanksgiving.
In another version, the idea originated in the US in 1952 when businesses decided to spice up the pre-Christmas times. To make the most of the sales, BFCM (wasn't called something so fancy back then!) discounts dropped on Thanksgiving because holiday shoppers spent a lot on discounted products!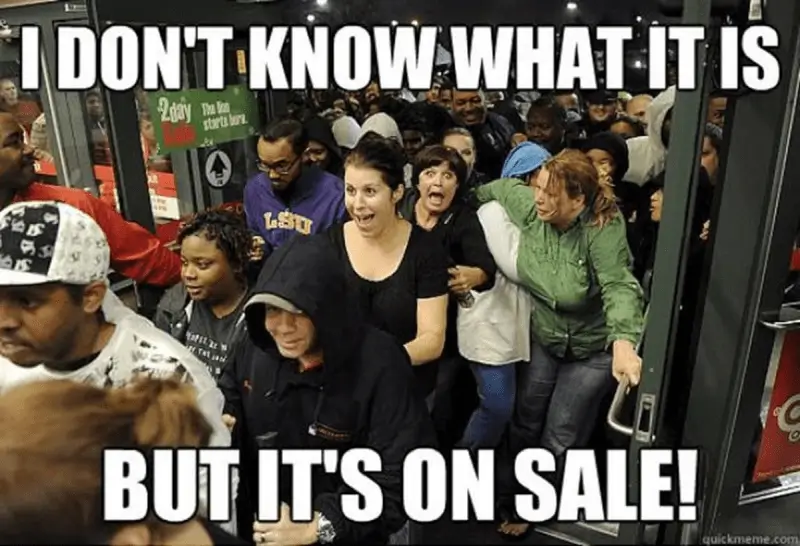 In the '60s, "Black Friday" was briefly called "Big Friday" to avoid the negative connotations. However, in the '80s, Black Friday was reinvented as something positive. Stores in America saw huge profits on the Thanksgiving discount festival on the weekends, which later rolled till Monday. And now we have "Black Friday Cyber Monday" or BFCM.
BFCM goals
It's not just about ridiculous discounts and meaningless shopping sprees. Both online and offline stores have a few goals to prepare for BFCM.
Acquire new customers
We say it's harder to win new customers and easier to keep the existing customers engaged. But BFCM discount season is when businesses and retailers have a bigger chance at acquiring new customers.
Acquisition cost is 5 times higher than retention, but the story differs in the BFCM period.
Stock clearance
Some Thanksgiving and BFCM shoppers don't care about products as long as they're on sale. BFCM discounts will give the products that don't make the cut in summer or fall and be sold out fast.
More profit
Sales mean profit and revenue. Brands, businesses, and services make sure customers buy a lot. Thanksgiving and BFCM deals are like warming up buyers for the upcoming Christmas sales. The more the sales, the more the profit.
Traffic & visibility
If the marketing is done right, every store (online/offline) will see huge traffic. More traffic means more engagement, and all of it leads to visibility or relevancy. People will know about the brand or business enough during BFCM sales to come back for Christmas shopping too!
Complete BFCM checklist 2022
Preparing for Black Friday sales and wanna prevent Cyber Monday panic?
Here's a BFCM checklist for that.
Traffic surge
Whether it's an online store or offline, make sure the store is ready to handle a huge traffic surge right around Thanksgiving.
Thanksgiving or Black Friday shoppers tend to buy almost everything. Your store needs to be ready for a traffic influx at any time of the day. While online stores need to check the website traffic capacity and speed, offline stores need to get fast and smart employees.
Website traffic during BFCM is unavoidable since people have started to shop online now more than ever. The website speed, security, and traffic capacity must be optimized before customers start flocking!
Stock & inventory
How would you feel if the products you want are out of stock and the website (or the store staff) still needs to update the stock? That's certainly not a pleasant experience, and you wouldn't want your customers to face it.
Make sure the products or services you offer are in stock and available. If you run an eCommerce store on WordPress, you can use a table plugin to keep all the product details organized in one place.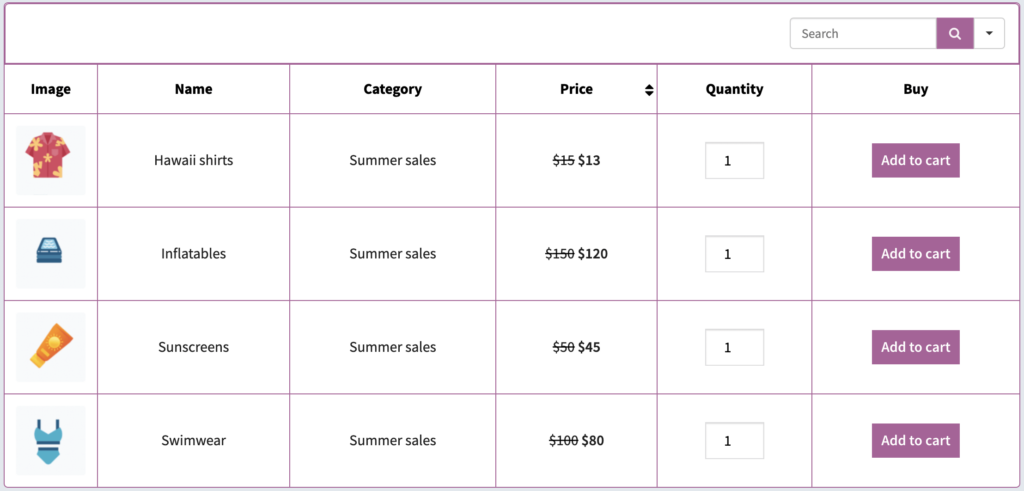 From the detailed table, customers can see if the product is out of stock.
This also helps people who like to browse the website first before visiting the offline store to buy. They can find out about the product's availability and not waste time by running to the store and finding out it's unavailable.
Prices and discount levels
You know your customers better than anyone. Decide on the discounts on each product by doing thorough research so that it's profitable for you and your customers both.
Most SAAS, plugins, or theme sales design perfectly optimized embeddable pricing tables that display all the pricing information and take customers to checkout.
Pricing tables are useful for those who have different license and pricing plans.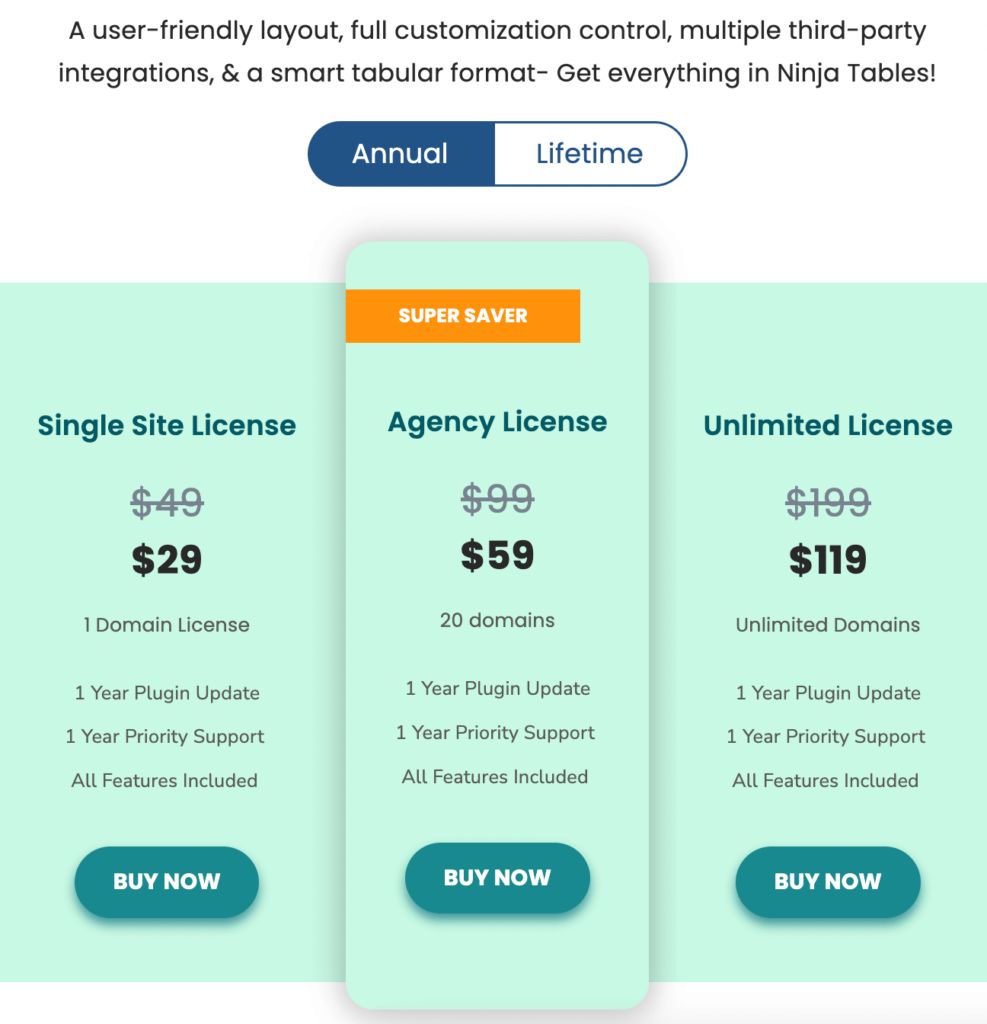 Discounts play a big part in sales. It should be profitable for both ends. But keeping your customers happy is the key to a successful sale! Divide your customers into multiple categories and give them an additional discount they have earned by shopping from you.
You can decide on discounts levels from the categories below-
New visitor
Bought once
Repeat buyer
Adds to cart but leaves
Refers or invites others to buy from you
Browses but leaves
Repeat buyers and referrers must be satisfied because they are the most loyal ones!
All the prices and discounts need to be fixed before the deal craze starts.
Filter/search
As we've mentioned already, data tables keep everything organized. And when the sales craze is at its peak, panicked customers might even miss products right in front of them!
That's why whatever is on sale, need to be in a filterable data table.
| Product Image | Name | Description | Price | Add to cart |
| --- | --- | --- | --- | --- |
| | Trimmer | Brand: Nicholas Power: Charging System. Cordless | $101 | |
| | Notebook | Brand: Moris Brother Cover: Leather Pages: 150 | $65 | |
| | Rolex Men | Brand: Rolex For: Men Color: Black Belt: Same | $365 | |
| | Nike sneaker | Brand : Nike type : Sneaker Size: 42 | $105 | |
| | Shaving Gel | Brand : Hover Johnson Quantity : 200 ML. Mfg Date : June 2018 | $25 | |
Table made with Ninja Tables
And for offline stores, you really have to be on toes for customers looking for stuff frantically since stores get overcrowded during sales days.
Marketing
This shouldn't come as a shock to you if you are running a BFCM sale.
Marketing or promoting is necessary for everyone, even the big companies! And these days, we have lots of ways of marketing.
Email
Social media
Ads and commercials
Billboards or banners
Videos
Affiliates or partners
Blogging or content marketing
SMS or telemarketing
Word-of-mouth
Product placement
Brand marketing
Supporting a good cause
Retargeting or personalized marketing
How do you attract customers on Black Friday?
Before the Black Friday discount craze starts, you should plan your BFCM marketing tricks too!
Store layout
Offline or online, customers will check your products out if the store layout is appealing enough.
How to prepare your website for Black Friday?
For eCommerce or WooCommerce websites, the grid-format of product display might not always work out. A dynamic table plugin with customizable features and unlimited data support is what you need!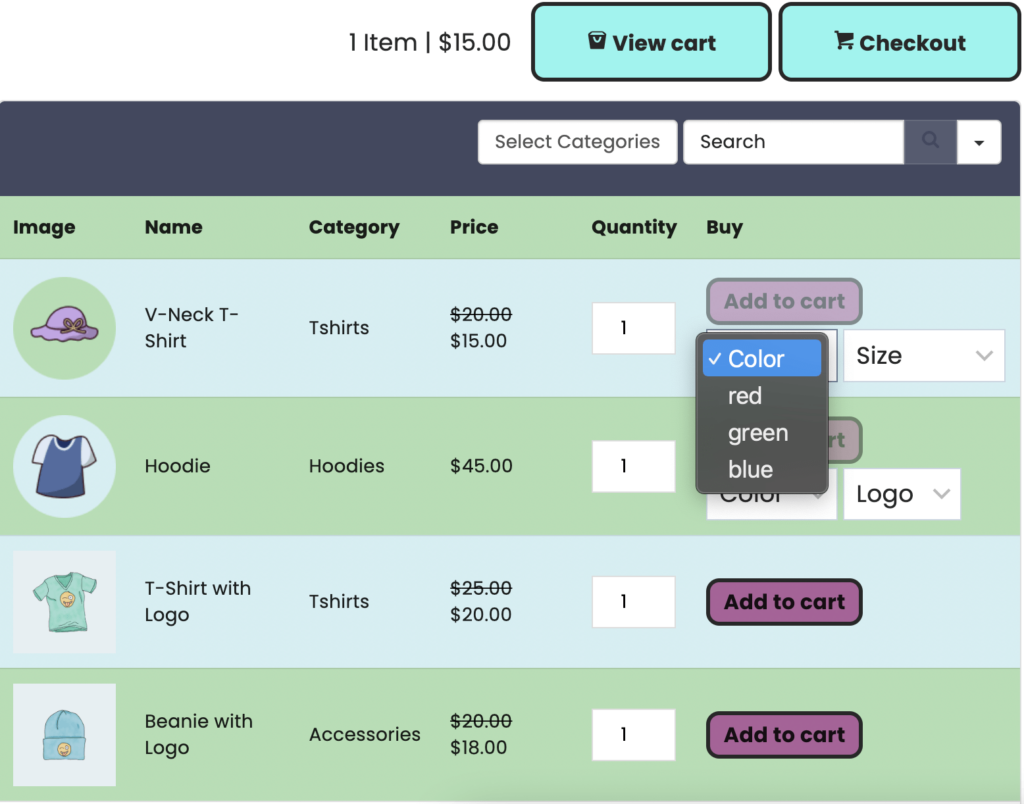 A product table like this will arrange all the details in one place, and you will have the power to fully customize anything about it.
HTML tables work too if you're okay with some coding. But we suggest trying Ninja Tables for creating WordPress tables without coding and with customizable designs.
And for offline stores, colors, decorations, banners, and useful products on sale grab customers' attention first. Shelves should be organized, so everything looks great.
Post-sale
You'll make a big mistake if you think it's a successful sale when customers check out. It doesn't end there!
Keeping in touch with customers and answering their post-sale queries are some necessary steps many sales campaign managers forget about.
Especially, during BFCM, customers might bug you just because the product they bought isn't something they need anymore! Try to stay patient and help when they need.
Summary
Most BFCM deals and sales campaigns have different items for their checklists. As long as your products are good, the sales will be just fine.
But forgetting the basic stuff we've mentioned here before running a BFCM campaign is a big NO!
Traffic capacity, store layout, marketing, price and discounts, and post-sale relations are all very important to remember for the BFCM checklist.
Wrapping up
Once you're done preparing for BFCM, you need to buckle up for Christmas! And the checklist we made for you here is, more or less, applicable to every holiday sale.
Of course, a lot goes beyond any checklist. Maybe you have your own? And what are your Black Friday preparations?
Let us know.