Now the time has been altering very swiftly as technology seems to cross all the borders of our tiny planet. As a result, different issues come into existence enormously & GDPR is one of them. This has become a buzzword in today's world because of its sinister approach and it also has become the demand of time.
Before I dive into the topic, I want to make sure the reasons for writing the article. I have been seeing that many of the organizations are not yet fully aware of the GDPR issues. They are not yet concerned about the consequences of this legislation. They may have taken the issue very lightly but ultimately, this might cause them a great loss.
I want to make you people aware of that alarming issue as it can charge you 4% of your annual global turnover, or 20 million euros—depending on which is greater. Hence, it is an appropriate time and you should be aware of the matter.
Under the GDPR, a noncompliant form can be a source of that huge cost. So you need to use GDPR compliant forms while interacting with your clients. In this article, I will be covering how you can make a GDPR complaint form using WP Fluent Forms.
What is GDPR

In a gist, it's an enormous effort of a law that's modernizing the existing data protection legislation governing by EU. Its goal is to regulate data privacy legislation throughout Europe—and it's proposing the stake for how marketers collect and store data from their users. To know more about GDPR, you can also visit the official site of GDPR.
↘️ Best Practices
Your website might require consideration which should be addressed through legal consultation. In this regard, it might need to have a couple of adjustments to make GDPR compliant forms. In this case, I highly recommend you to consult directly with a legal counselor about the GDPR regulations.
WP Fluent Forms makes a handy way for you to be compliant with the GDPR. If you are not still using WP Fluent Forms, get started from today.
↘️ Take Permission
You would need to have permission before collecting and storing data from any users. In this case, the easiest way to do so is by adding a checkbox in your form.
WordPress with GDPR
If you are a WordPress user, you would find somehow trickier to implement GDPR on to your site. The reason is you have to deal with lots of users data, as well as data collected by the WordPress platform itself.
In WordPress, you would find something built-in to match with GDPR. They provided them with an updated privacy policy guide that matches with GDPR. Let's have quick look:
? To get the default option, go to WP-Admin ➡️Settings ➡️ Privacy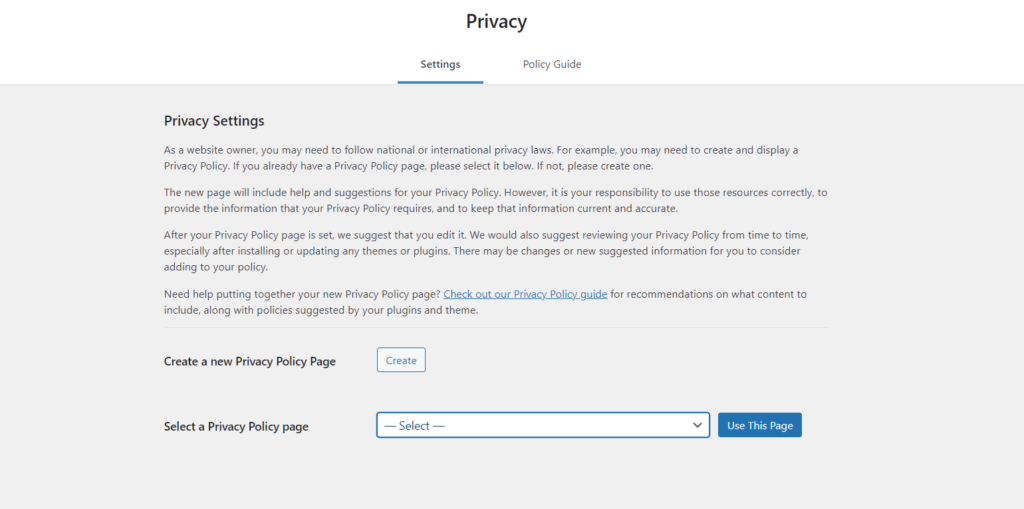 Using this built-in section in WordPress you can match yourself with GDPR, but there are quite a number of GDPR Plugins that facilitate you to make your website GDPR compliant. Now come to the form, how can you make it comply with GDPR. Here, I am going to demonstrate you how to make a form comply with GDPR regulation.
Making a GDPR Compliant Form Using WP Fluent Forms
To make GDPR compliant forms, you need to create a new form or edit an existing form. For instance, I am creating a simple form with three input fields with WP Fluent Forms.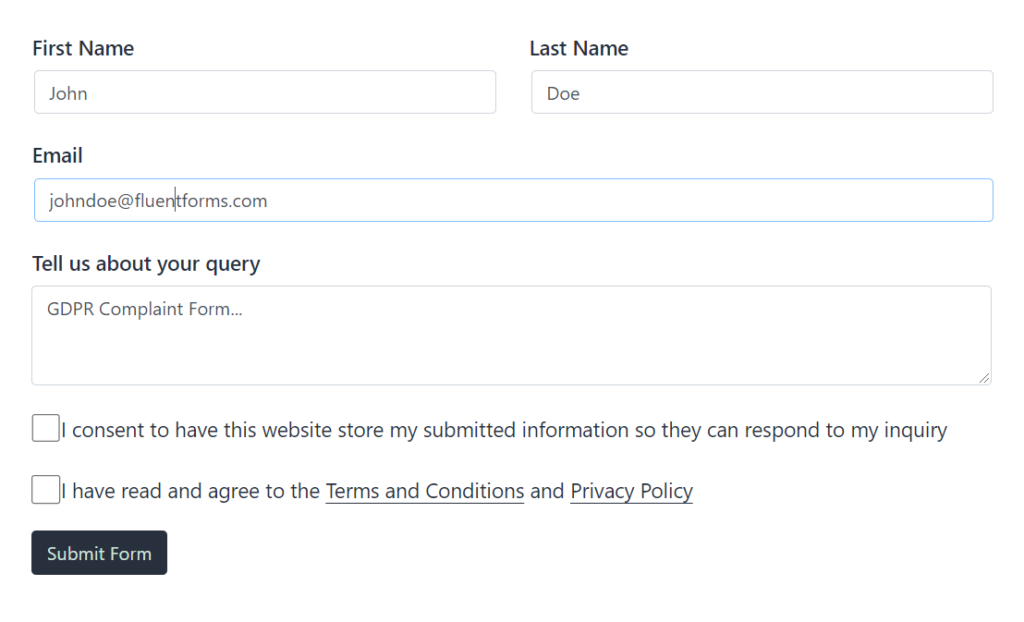 This is a simple contact form, now you have to make the form compliant with GDPR. To make it happen you have to add consent fields in the form.
You can make it by adding the GDPR Agreement field to this form. Then, you will add Terms and Conditions with a Privacy Policy separately that would meet the criterion of GDPR. Because GDPR says Terms & Conditions must be placed separately.
Now I am going to show you how to add the GDPR Agreement Consent Field for making multiple checkbox options which will make sure to take consent from the users. You can create Checkboxes as many as you want.

After adding Checkboxes, I am clicking the Edit icon for customizing to write on the Description area what you want to display. Create options as you require for taking users' consent. I am using three options here in the form. Two options are created by GDPR Agreement field and the rest will be created by Terms & Conditions fields. Write the expected text in both description fields within the options area which will ultimately make sure to help you as compliant.
Next, you need to add a Terms & Conditions field to show the privacy policy of the company.
Here one thing should be remembered, you have to add Terms and Conditions with a Privacy Policy in a separate place. These can be set in different places in different formats as well according to your form design.
You can add Terms and Conditions with a Privacy Policy in another way. For your understanding, have a look at the screenshot. You can replace the privacy section on top of the GDPR section using Drag & Drop.
You can set Terms and Conditions with a Privacy Policy above the GDPR field. This could be another cool way of manipulating your GDPR compliant forms. Have a look at the preview of the scenario.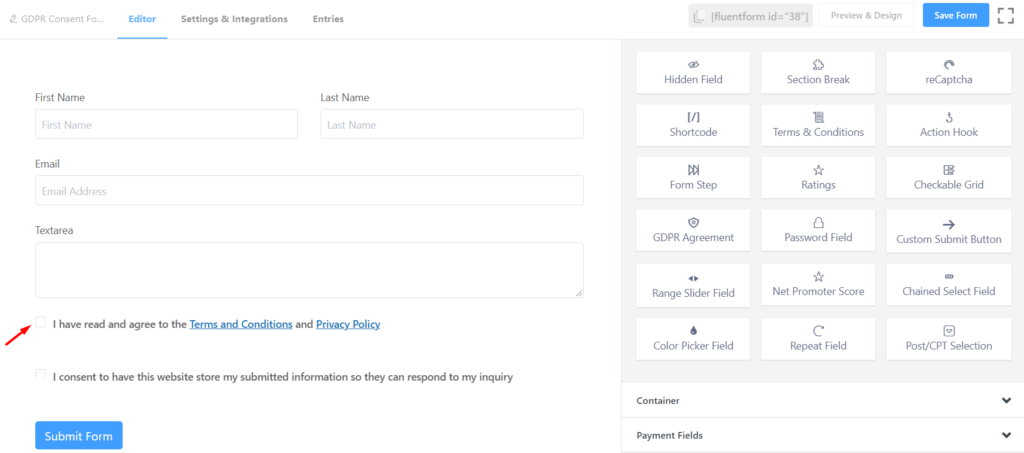 For your better understanding, I have embedded the real-time GDPR compliant contact form so that you can have a real-time view of the form.
Data Deletion by Managing Entry Data Requests
First of all, you need to understand that in GDPR, users can request access to their entry data at any time. For making this happen, you may need to take additional considerations and prepare for it.
If you get any request regarding deleting any personal data from a specific user. You can delete data in a single way or multiple ways using Bulk Actions in the Entries section. Using WP Fluent Forms, you can have that amazing opportunity to delete data. Let's have a look at this part of the functionality of WP Fluent Forms.
To make this happen, you need to set up Request Form on the privacy page or contact page that facilitates its users to send you to request to make any changes, you can do such in any way going through the entry page.
To do so, go to the Entries section and you will find there a list of all the forms entries. Check on that part of the entries for which user has sent you a request to delete the respective data of that part. Next, click the Bulk Actions option, then you will have a drop-down option with several functionalities. From there select the Delete Entries to delete the respective data permanently. At last click on the Apply button to execute deletion.
? Here is the quick instruction of data deletion: WP Fluent Forms ➡️ Entries ➡️ Select Form and Check it ➡️ Bulk Actions ➡️ Delete Entries ➡️ Apply.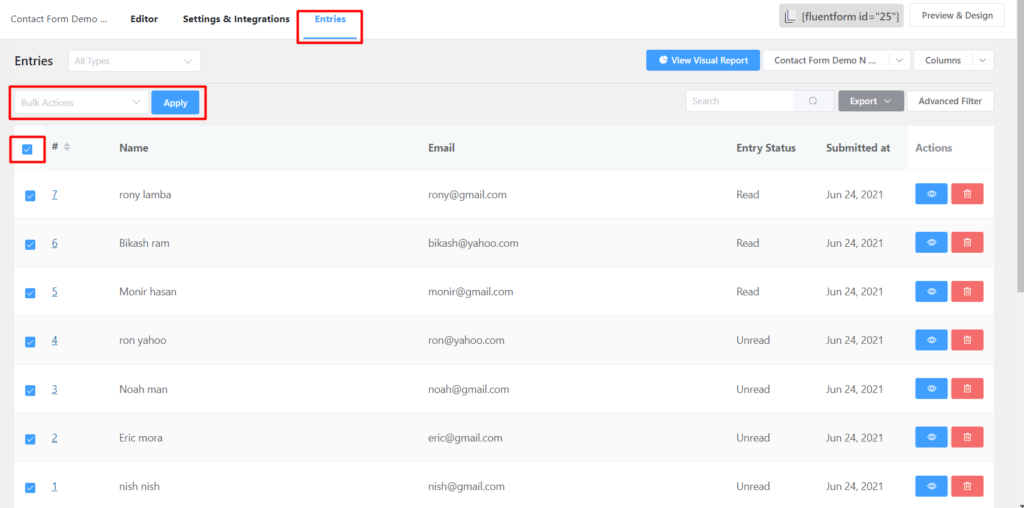 That is how you can delete any specific data, it can apply to single data or multiple data. Here I am deleting two separate data by Bulk Actions. You can do it for a single one as well as your need.
Disclaimer: Please be informed that this article contains general information regarding making GDPR compliant forms. However, in any circumstance I strongly recommend you consult directly with legal adviser familiar with the GDPR regulations to evaluate your particular use of WP Fluent Forms in this regard. If you have any query regarding the article, let me know your concern by commenting on the article.

GDPR Requirement
That's it! I hope this direction helped you to create GDPR compliant forms for your WordPress site. This is the coolest possible way to build a form which is compliant with GDPR. For more details on entry management for your form using WP Fluent Forms, please take a look at our complete guide to our documentation.
? Check out my another write-up on 11 Best GDPR plugins for all the details.Get WP Fluent Forms Free