A complete support ticketing system in WordPress is no fever dream anymore. We see the WordPress support plugin coming up! Fluent Support from WPManageNinja is gonna be the only thing you need for the fastest customer support. Getting to know this support plugin is a must now.
Here we have a short Fluent Support review for you to check this plugin out.
Let's start!
What is Fluent Support?
Team WPManageNinja proudly brings their latest treat, and pretty sure it will be just as successful as all the sister plugins!
Fluent Support is an all-in-one customer service plugin because it's product-based support. A helpdesk system for WordPress should take care of automated replies, performance tracking, and safekeeping user info. Fluent Support certainly has it all and more.
It's the perfect tool to manage customer queries, shared inboxes, manage support agents and customers, for both small businesses and digital agencies.
Integration with top ​​e-Commerce, CRM, and LMS apps is only one of its fine qualities. If your support engineers use it, they can promptly respond to any customer query using Telegram, Slack, and Discord.
Features
Looking for the best WordPress support plugin?
Fluent Support is here to make ticket management easy. Agents can filter and sort with many variables to define the ticket's priority. Likewise, it's possible to track progress and see how many tickets are waiting.
Here are some Fluent Support features at a glance that you can't miss-
Complete customer support portal right in your WordPress dashboard
Business inbox feature to manage multiple business accounts
Custom ticket fields
Integration with Fluent Forms
Customize email notification
Permission or role management for agents
Workflow Automation, Ticket Tagging, and bulk actions for hundreds of tickets.
Search, filter, and sort tickets
Integration with plugin stacks like LMS, Membership, eCommerce, CRM, etc.
Multiple attachments
Saved reply templates
Email Piping powered by Amazon AWS Lambda Serverless architecture
Customers can create or reply to tickets from their email inbox.
Create tickets for customer
Detailed reporting and activity log
Connection to Telegram, Slack, Discord messaging services to respond to customers
Superfast SPA application powered by VueJS & REST API
Self-Hosted solution without any limits
Honestly, there's a lot more to discover, and you can do it by trying the plugin yourself.
How Fluent Support works
First of all, install the plugin from the WP plugin dictionary or the zip file. Get the free version, or upgrade to Fluent Support Pro if you're convinced already.
Once you activate, you will find the interface is easy to navigate.
Primary dashboard
You can check all the tickets from "Dashboard" and manage from "Tickets".
Ticket activity and ticket resolve stats from "Reports" and find all about "Customers".
See the "Business Settings", "Activity" and "Workflows" for smooth performance of the plugin.
Create custom "Saved Replies" for your convenience.
Team collaboration
Collaborate with all the support team members and ensure efficient internal communication for the best customer support. Saved replies for repetitive tickets reduce lots of your work and make fast response possible.
Ticket fields and messaging
Fluent Support offers multiple custom fields apart from the default ones. Use checkbox, numeric field, WooCommerce orders, etc. to collect more customer information.
Thanks to eCommerce, LMS, CRM app integrations, keeping contact with customers is much faster and easier.
Manual or automated workflow
Set triggers on customer actions and based on submitted tickets. You can keep the Workflow manual or automate it. Automated workflow makes things a lot smoother after adding some conditions and triggers.
Fluent Support can serve your clients in many ways. Clients will control user data, and there's no limit to users or support agents.
This was all a short introduction. You can Fluent Support documentation for further details.
Why do you need Fluent Support?
Support team of any small business or a big company can now rest their eyes since Fluent Support is here to do most of the work!
This WordPress support plugin allows unlimited support agents and unlimited tickets. Customers can open a ticket via email or open guest tickets without logging in, and agents can reply through messaging apps like Telegram or Slack.
There's "Bulk Action" for tickers so that you can reply to a bulk of tickets. And if you have reply templates saved, it gets more accessible.
You can see activity logs in real-time and check the performance stats. It's like your entire support system is under your control!
Product-based agents can clear tickets for different products and not mess up the tickets dashboard. Plus, every agent knows what ticket is pending and what's dealt with because of team collaboration right in the dashboard too.
The private beta-testing is done by professionals.
Fluent Support pricing
The lifetime deal campaign ran successfully for a short time. We'll be back with something more soon. But you better grab the pro version of this plugin as fast as you can!
Fluent Support is live now.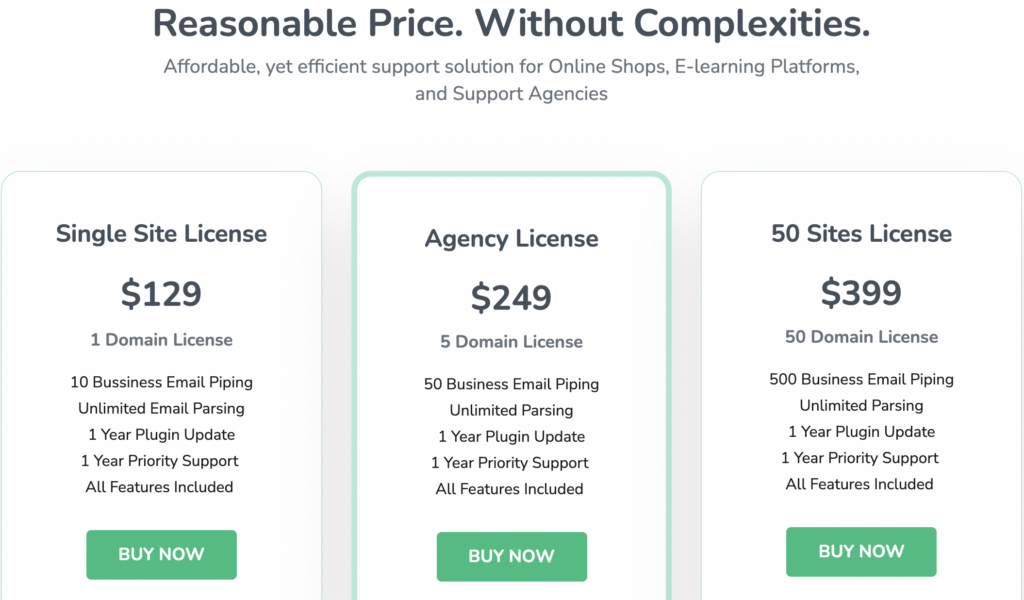 Disclaimer: *The Lifetime Deal is expired in 2021. Please check the regular price at FluentSupport.com
TL;DR
Not to brag, but WPManageNinja plugins are always reliable. Following the other top plugins like Fluent Forms, Ninja Tables, FluentCRM, and the most recent WP Social Ninja, Fluent Support will provide the best service.
Loading speed is optimal and it won't bring down the site performance either. You don't even need coding knowledge to set it up! Fluent Support gets ready in 5 minutes to give you a robust support system in WordPress.
That was all for Fluent Support review today. Grab it and witness it become the best WordPress support plugin in no time! Hit us up for any inquiries.