Finally, the wait is over!
We proudly present you with our all-new product – Fluent Support, an all-in-one support ticket solution for your WordPress website. And of course, we are offering an amazing lifetime deal. More on that later, first let's dive into Fluent Support's debut!
Fluent Support is the best lightweight and super fast customer support solution. You can manage your support portal from your WordPress ecosystem, add unlimited agents with permission levels and get a full overview of your customers right from their support tickets. Fluent Support's cross-channel communication integration with Slack, Telegram, and Discord gives your support agents the freedom to reply customers' tickets from anywhere.
We have been working on Fluent Support for the last 7-8 months. Our support team at WPManageNinja was using the beta products for months and some of our selected clients ran the beta product in their production. Their feedback led to the development of more robust plugins. You can get Fluent Support right now with all the features for a limited time! We are offering a LIFETIME DEAL!
*The Lifetime Deal is expired in 2021. Please check the regular price at FluentSupport.com
Fluent Support: Best Help desk Plugin for WordPress
Fluent Support is a lifetime solution for your support needs. It integrates seamlessly with popular third-party tools including our inhouse powerful CRM tool FluentCRM and form builder Fluent Forms. Connect Fluent Support to WooCommerce, EDD, popular LMS players, and membership plugins to easily display user's data in tickets.
Fluent Support offers multiple cross-channel communication functionality using smooth slack, telegram, and discord integration. Agents can attend tickets through any channel outside of the support inbox.
Get the collaboration features your team needs to stay productive while providing great support in one inbox. The shared inbox in Fluent Support is a lifesaver for support teams. Receiving customer emails and responding quickly to them is easy with our shared mailbox.
Is Fluent Support LTD Worth Your Money?
Fluent Support comes with a wide range of functionalities. Our lifetime deal includes all the features Fluent Support offers. You don't need to buy individual Add-ons. All integrations are available built into our plugin system. Here is an overview of the key features of Fluent Support:
Manage Support From WordPress
Run your customer support portal from your WordPress dashboard. Fluent Support is fully self-hosted, does not need any external SAAS connection to run in your system. You are in complete control of your data.
Shared Inbox for Collaboration
Collaborate with your support team in one inbox. You can now leave internal replies for your fellow agents and store reply templates for frequently asked questions, so follow-up customer inquiries can be as easy as ever! Your customers can create or reply tickets right from their email inbox.
Dedicated to speed and productivity
Fluent Support is built with VueJS and REST API as a Single-page Application. It has a very fast response time and a streamlined interface that makes it so easy to use for anyone. We built Fluent Support to reduce time spent on customer support and make it more enjoyable for you.
Automate tasks with Workflows
Setup bulk actions for 100s tickets, assigning agents to products or ticket tagging, everything is possible with workflow. Manage automatic or manual workflow. You can set conditions or tasks to run them on customers' queries or selected tickets. The automation possibilities are limitless.
Learn more about your customers with custom fields
On top of the default fields, Fluent Support offers a bunch of custom fields. You can collect additional information by using checkboxes, radio choices, WooCommerce orders, custom fields, and other features.
Stay on top of your support efforts
Features lie in detailed reporting and activity logs to allow you to manage tickets more effectively. You can keep track of your agents with individual reports and team performance with charts, graphs, and essential data points to show your overall support quality.
Effortless Integrations
With seamless integrations with WooCommerce, EDD, LearnDash, Paid Membership Pro, and more, you can view detailed customer histories on the ticket page. Allow customers to open support tickets against their product orders or courses so that you know what support they need.
Cross Channel Communication
Fluent Support provides you with the flexibility to attend customer support tickets using Slack, Telegram, and Discord. View notifications and reply to customer support tickets from your preferred messenger service.
Fluent Support lifetime deal (LTD) overview
Now that you have seen what functionalities and benefits this plugin offers, how about checking out the Fluent Support LTD?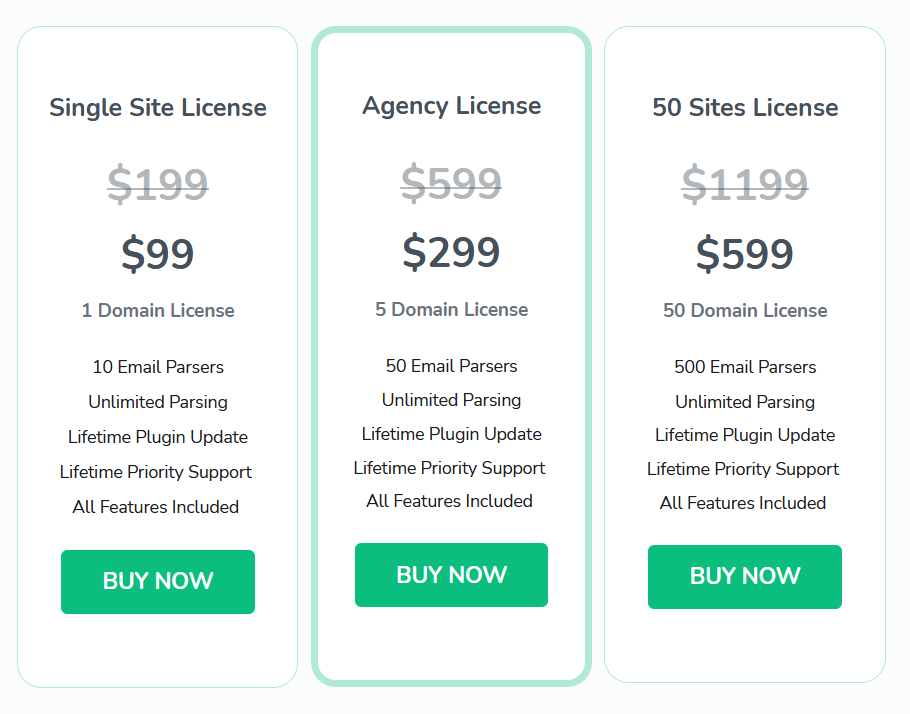 Disclaimer: *The Lifetime Deal is expired in 2021. Please check the regular price at FluentSupport.com
Most of the support plugins on the market have complex functions, premium add-ons and subscription bundles. Fluent Support eliminates all of these by offering much more simple pricing and feature plan.
We are offering a LIFETIME DEAL for a limited time. Grab Fluent Support at a reasonable price right now. You'll be glad you did!
TL;DR
In terms of a support ticket tool, Fluent Support is the only plugin you will need for your WordPress website.
Our pricing and features are literally an unbeatable combination that has never been seen before! Embrace the power of integrations, custom fields, shared inboxes, and much more to empower your agents and customers!
Get the Fluent Support lifetime deal (LTD) as soon as possible and improve your customer service!
Be sure to grab the LTD before it disappears.
Disclaimer: *The Lifetime Deal is expired in 2021. Please check the regular price at FluentSupport.com