The WooCommerce sector helps in minting money. Money flows in after the long-drawn process of setting up the store and implementing certain tactics to bring in more sales. And to drive more sales, you need to know all the ins and outs of the best plugins for WooCommerce!
Better sales and loyalty are a sign that the eCommerce store does everything the best way possible, starting from choosing the product to easy payment, shipping, and retaining.
What are the best plugins for WooCommerce in WordPress?
Help is just around the corner if your store is set up using WooCommerce. There's a huge collection of plugins that come in handy for your WooCommerce business. For example, product table plugins, form plugins, shipping or pricing tables, etc.
It's obviously not easy for a newbie to decide on the best one. So, check out the 11 best plugins for WooCommerce that might assist you in delivering better.
Ninja Tables Pro
Does your WooCommerce store depend on loads of data that need to be maintained in the form of tables? Managing product and user information gets easier now with the help of Ninja Tables Pro, a WordPress table builder plugin by WPManageNinja.
Design and style WooCommerce product tables for the perfect look. Every row, column, header, and footer can show a different color scheme. There are over 5 different table styles to choose from too.
Take a look at some of the features that Ninja Tables Pro provides.
Edit data directly on the table rather than the long way around, from the back end.
Drag & drop rows with just a click when there is a need for rearrangement.
Decide on user permissions – who can access the table and make changes to it.
Create responsive tables for desktops, tablets, and mobiles.
Format columns using conditions, merge cells and duplicate tables.
Add or remove customized table search filters.
Include images and other media without any hassle.
Import data from CSV files and export from Ninja Tables easily.
Integrates easily with Google sheets and Custom SQL.
Use shortcodes to manipulate table data easily.
Turn passive data into click-worthy one. For example, make a call or send an email to a contact directly from the table.
Ninja Tables Pro is the most popular plugin for WordPress tables, with affordable pricing at $49 for a single site.
Retainful
If you are looking for an easy-to-handle abandoned cart recovery plugin for your WooCommerce store, your search ends here. Retainful provides effective methods beyond abandoned cart recovery to retain your customers and turn them into loyal ones.
Main features
Abandoned Cart Recovery Email
Get back lost customers and revenue by designing cart recovery emails using the available templates. Or else, customize the templates to design emails as per the needs of the eCommerce store. Send personalized emails using shortcodes and set up a drip campaign to strategically bring back customers.
Next Order Coupons
There is no better way than the next order coupons to ensure that a customer returns to purchase more. With this feature, send automated and unique discount coupons with an order confirmation email. The store has the liberty to decide the products to which the coupon can be applied.
Premium add-on features
Exit-intent popup
Prevent cart abandonment within seconds when visitors are about to leave the store after loading the cart. Use discounts in exit-intent popups to urge them to complete the purchase.
Email Collection popup
This popup is especially meant for collecting emails before adding items to the cart. This helps to retarget guest users with cart recovery emails if they abandon a cart.
Coupon for email collection popup
This is an extra feature added to the email collection popup. Include a coupon to get the email from the customer.
Countdown timer with coupon
Display discount coupons with timers on any page of your choice. These coupons can either be automatically or manually added. The coupon expires once the timer runs out.
All of these features, along with timely and outstanding support, is available at $9/month. Retainful also offers a version that is free for a lifetime.
Discount rules for WooCommerce
Availing a discount is easy for the customer. From the point of view of the eCommerce store, deciding on a discount is a tedious process because several parameters must be taken into account – when to give a discount, what condition must match, type of discount, validity of discount, who can avail it, and a lot more must be considered.
Discount Rules for WooCommerce by Flycart simplifies this process. Flycart categorizes discounts widely into two types. They are product-based and discount-based.
Product-based discounts include BOGO deals, storewide discounts, bulk quantity discounts, discounts based on user roles, categories, and more. Cart-based discounts can be applied based on product quantity in cart, shipping address, purchase history, order total, and more.
Other features of Discount Rules for WooCommerce include
Craft discount tables for product pages
Choose the products to which discounts must be applied – exclude products on sale.
Use of sale badge to highlight discounted products.
Cart alerts for discounts
Get Discount Rules for WooCommerce at just $49/ year for a single site. The Lite version is free forever.
Fluent Forms
Forms are an inevitable part of an eCommerce store. The uses are many – to get customer info, create a survey, ask for product reviews, etc.
Whatever the use may be, forms must be beneficial for both the store owner and the customer. If your eCommerce store runs on WordPress, then go no further. You are in the right place for a WordPress form builder plugin.
Here are the benefits of using the Fluent Forms.
For store owner
Build forms using drag & drop function or choose from pre-built templates.
Get files and images – choose the limit for file size and restrict file formats.
Set conditions to add select customers to the CRM list.
Send customized emails based on users' actions on forms.
Shortcodes make table and banner insertion into forms easier.
Integrates with Zapier, ActiveCampaign, and Campaign Monitor.
For customer
Add extra repeat fields when there arises a need to enter more information.
Bye-bye to long and dreary forms. Fill up a form, in steps, that are segregated into pages.
Fluent Form is so affordable for the amazing features it provides. Prices start at $39 for a single site license.
Email Customizer for WooCommerce
Transactional emails are a must for the eCommerce sector because they can retain a customer and drive repeat sales. The Email Customizer plugin developed by Flycart is solely meant to send out customized transactional emails, otherwise called order notification emails.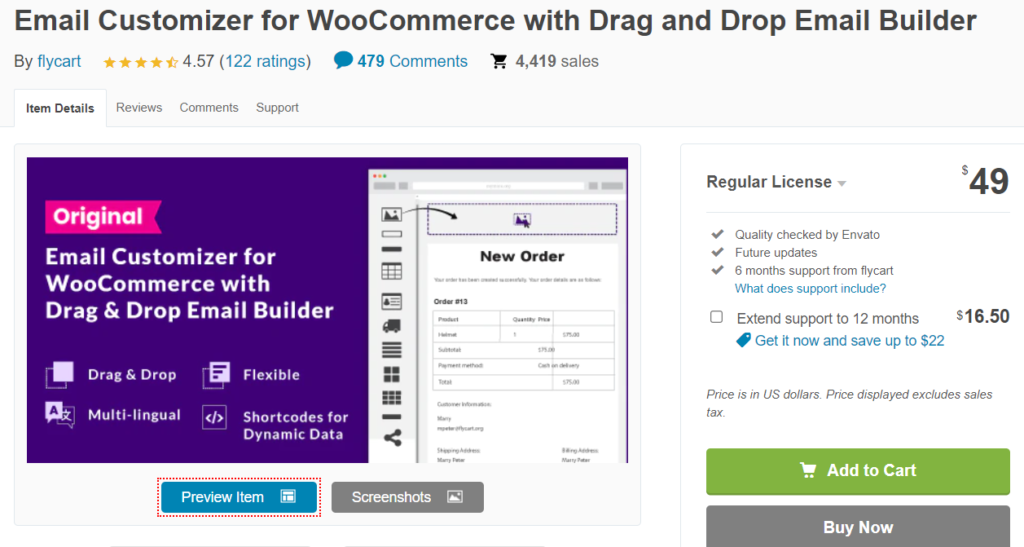 "To what extent does this WooCommerce plugin allows customization?" you might ask.
When other similar plugins have pre-defined templates that allow changing just the header, footer, and logo, Email Customizer by Flycart makes it possible to customize 15+ elements of a transactional email, including text block, image block, buttons, and social icons.
And, all of this can be done in a jiffy with the help of a drag and drop email builder. The emails can be previewed and tested before it reaches the customer. Shortcodes make handling dynamic data to be included in the emails easier, and the plugin supports multiple languages. The cost of the regular license is $49.
P.S. The order emails can be sent for different order statuses like new, canceled, order on hold, completed, refunded, or even for new account creation and password reset.
Table Rate Shipping for WooCommerce
Shipping, in a word, seems to be an easy process from the customers' point of view. The work that goes behind the scenes to streamline the shipping is pretty much complicated. This WooCommerce plugin comes as a savior here for every eCommerce store, especially for those that sell various items internationally.

Some criteria can be used to arrive at a shipping cost, like product type, shipping zone, the product's weight, courier service used, and a lot more. Table Rate Shipping for WooCommerce by Bolder Elements allows all of these to be used efficiently.
With this plugin, the shipping cost can be calculated for the order as a whole, for individual products in an order, cart line items, and based on shipping class. The products can be categorized based on quantity, height, weight, surface area, volume, etc. The pricing type can be a flat price or a percentage of the subtotal. The possible combinations that can be used here are endless.
With so many options available, users of this WooCommerce plugin, without a doubt, vouch for its flexibility. Of course, you will have to do the groundwork to decide on the shipping methods and give the necessary inputs.
The plugin also allows the eCommerce store to decide which shipping options must be displayed to the customer or even set a condition when a person is to be eligible for free shipping.
With timely support from the team, Table Rate Shipping by Bolder Elements is the best WooCommerce shipping plugin available on CodeCanyon. It works with any theme and is translation-ready. The regular license is priced at $25.
WP Pricing Table Pro
The pricing page is where the cursor hovers when a person decides to use a plugin. It is important to keep that page presentable, simple, and neat. WP Pricing Table Pro by WPManageNinja provides apt features to build one.
Design pricing pages with pre-defined yet customizable layouts.
Create tables in both grid and column styles.
Drag & drop function to arrange columns conveniently.
Optimized for viewing on all devices.
Choose from a range of colors and borders, change font sizes, and icons.
Add a customized CTA button and link it to the cart page.
Possibility to hide/show a particular section in the premium version.
Highlight a column by adding a ribbon.
Get WP Pricing Table Pro at just $19 for use in a single site and at $49 for an unlimited site license.
Customer Reviews for WooCommerce
Reviews from customers bring in more sales. No doubt. Yes, the Customer Reviews plugin does this job very efficiently, which is evident from user testimonials that reiterate repeat customers. Reviews can be collected for single or multiple orders from a customer with a review form. It also collects photo and video reviews by sending an email, either manual or automated, to the customers.
Is that it? No.
Customer Reviews plugin integrates with Google Shopping to display products along with reviews in search results. The team behind the plugin also uses the long-tail keywords present in the reviews to help products rank better, thereby delivering outstanding SEO service.
The plugin also has an "a coupon for a review" strategy. Customized discount coupons can be sent out to customers to get their reviews. This feature of the plugin breeds loyalty.
What makes Customer Reviews plugin standout?
This is one of the best WooCommerce reviews plugins. When most review plugins simply stop with collection and authentication, Customer Reviews plugin goes a step ahead by making good use of the reviews to market a product and eventually the eCommerce store. Another useful feature is that the plugin supports 30+ languages.
Get the Basic version for free and the Professional at $7.99 per month.
Subscriptio
Subscription-based eCommerce businesses are on the rise. People are showing interest in buying grooming products, books, gifts, and whatnot regularly by subscribing to a package. Beyond this, businesses that sell out online memberships and e-learning packages also need help. Subscriptio is a WooCommerce WordPress plugin that helps in dealing with every aspect of a subscription cycle.
The plugin offers the following advantages.
Set up a subscription fee, trial length, and grace period for overdue payments.
Send out payment reminders, overdue reminders, and subscription cancellation warnings.
Possibility to apply subscriptions for simple and variable products.
Possibility to checkout both subscription and non-subscription products together.
Pause and resume subscriptions from both ends of the store owner and customer.
Handles payments that are either semi-automatic or fully-automatic.
Integrates with WooCommerce payment gateways like Stripe and PayPal Express Checkout.
All subscription transactions are logged and displayed to the admin in the subscription management area.
Subscriptio, the WooCommerce subscription plugin, is an excellent alternative to WooCommerce Subscriptions and can be availed at $49 for a regular license on Envato.
WOOCS – Currency Switcher for WooCommerce
eCommerce stores have to be careful when dealing with currencies from all over the globe, especially when 'unable to shop in native currency' prevails as one of the reasons for shopping cart abandonment.
Yes, WOOCS tackles this issue by tracking the IP of the site visitor and automatically displays the products in that currency. A manual change option is also provided. Most currency switcher apps do this.
There must be a reason why this WooCommerce plugin has 40,000+ active installations to date. It is because it offers additional functionalities related to currency. Some of them include the following.
Periodically updated currency rates in real-time, either automatically or manually.
Display an icon near products to show prices in other currencies too.
Set up fixed prices for the same product in different currencies rather than depending on conversion where the value might increase or decrease.
Set up product pricing based on the type of customer – new, regular, repeat, and loyal.
Decide on the minimum and maximum amount for all currencies to qualify for free delivery, shipping, and to use coupons.
WPML compatible. Change currency based on the language.
Show/hide payment gates to customers at the checkout page.
What more can you ask for?
Get the regular license of this WooCommerce WordPress plugin at $30. The free version is also available.
WooCommerce Product Feed Manager
One of the easiest ways to increase sales on your WooCommerce store is by promoting your products on popular online marketplaces like Google Shopping, Kelkoo, Walmart, etc.
Once you promote your products on these marketplaces, your products will have many times more viewers than your own site and eventually will have more sales.
To list and promote your WooCommerce products, you have to create unique product feeds for each marketplace with some specific requirements.
WooCommerce Product Feed Manager will allow you to create accurate product feeds for 160+ major online marketplaces.
Here are some more useful features of this plugin:
Category Mapping
Extensive Filter Options.
Schedule Auto-update of The Product Feed.
Advanced Custom Fields.
Google Analytics Support.
Facebook Pixel Support.
XML, CSV, and TXT Format for The Feeds.
Learn more about WooCommerce Product Feed Manager.
PPWP Pro to Protect WooCommerce Products
Typically, you'd want your products and store to be visible to all users. The more people view your product, the more leads, and sales.
Still, there could be times when you'd like to manage your WooCommerce products and store visibility. In fact, you may want to offer customer-specific products, a member-only store, or a service-based business. 
Password protection proves one of the simplest methods allowing you to effectively hide your products from spying eyes.
PPWP Pro helps WooCommerce store owners easily lock their product pages with passwords. Once your products are protected, only specific customers with the correct passwords are able to unlock these products and make purchases.
It's possible for you to set roles for your passwords as well. In other words, users have to log in before viewing private products. Otherwise, they won't be able to access them despite having the correct passwords.
Additionally, PPWP Pro also helps block search engines from indexing your private products. Visitors can't randomly find your product pages on search results.
What makes PPWP Pro stand out?
PPWP Pro gives you a helping hand in securing multiple products at a time. This frees you from locking products individually which takes a lot of time.
Plus, you can have full control over your passwords. The plugin gives you the power to set usage limits and expiration dates for your passwords. This means that they will automatically expire after a given time or a number of entries.
What's more, generating new passwords, editing, deleting, or seeing password status has never been easier thanks to its password management popup. You can know the number of passwords of a certain product page too. On top of that, the WooCommerce password protection duo – PPWP Pro and WooCommerce Integration let you hide the entire online shop with ease.
Wrapping up
Think, think, and think…
You might usually do this before integrating a WooCommerce plugin.
With this list of best plugins for WooCommerce, you need not!
Just start using the plugins right away without a second thought.
---
Author Byline:
Sharon Thomas is a B2B content writer and eCommerce growth hacker. With an eye for detail, she aims at refining email marketing, abandoned cart recovery, and customer retention for WooCommerce & Shopify plugins.