Selling something online is a competitive business. And increasing the products' visibility to potential buyers is a dream every online seller cherishes, no matter how big or small their businesses are. And for someone selling products in their WooCommerce store, effective Search Engine Optimization is a MUST!
To be fair, without a well-thought strategy and efficient implementation of WooCommerce SEO, you shouldn't even dare to open up your WooCommerce store and hope to profit from it. In that case, you need to implement SEO for your WooCommerce store; in WordPress, we call it WooCommerce SEO.
Selling products and services online is a great way to run your business. To make an online venture successful, you need to understand the marketplace first. You see, the industry is so competitive and challenging as there are thousands of established eCommerce stores competing for the top positions on the SERP (Search Engine Ranking Page).
But the reality is, only a few can secure the top positions and manage to make sales without spending bucks on advertising…! So you need to measure your steps before taking the necessary actions to achieve your eCommerce goals.
What's the Secret Here?
Now, a question may arise, what's the secret of being one of the top position holders on the SERPs? A three-letter word can change the fate of your online presence that is SEO. SEO or Search Engine Optimization plays a tremendous role in ranking all websites on SERP, including eCommerce sites.
If you want to rank higher and make it easier for people to find your online store in search engines, you need to optimize your website accordingly. Getting your products ranked high in SERP helps you reach more people, and reaching more people means more sales.
What we'll go through:
Before diving into deep, let's take a look at a couple of prerequisites to make things easy for you.
Why Choose WooCommerce?
In simple words, WooCommerce helps you build an eCommerce store using WordPress. WordPress works as an operating system for websites and is regarded as the most popular CMS globally.
WooCommerce takes advantage of WordPress and turns it into a fully functional eCommerce store. Not just that, by far, WooCommerce is the easiest and most popular way to build an eCommerce store online that powers 25% of total eCommerce stores in the top 1 million sites worldwide.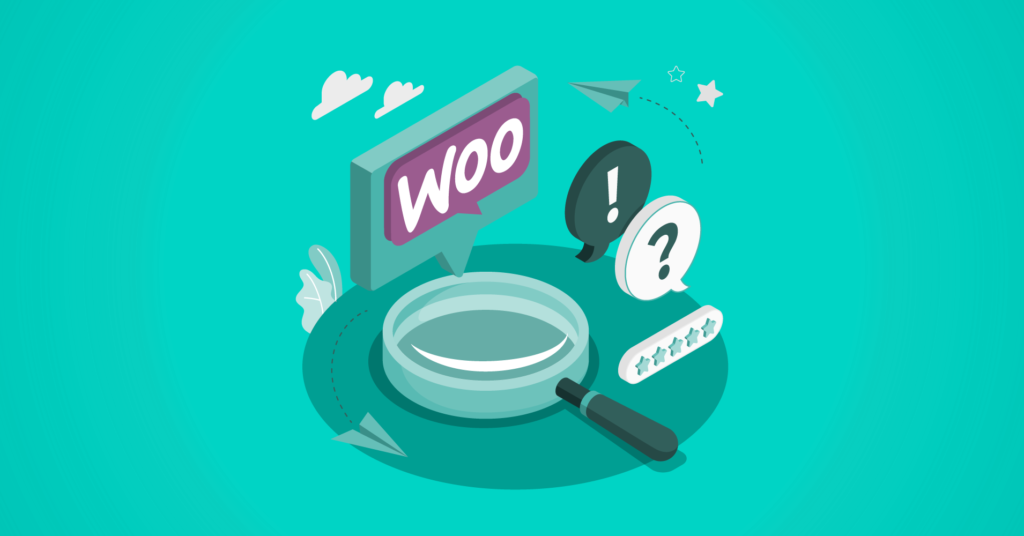 Of the top 1 Million Sites on the Internet, as the most popular solution, still, WooCommerce shares 22% of the entire eCommerce industry. ⬆️
Is WooCommerce Secure?
When it comes to measuring security, it's crucial to consider WooCommerce security seriously for your online store. Though security measures are built into WordPress, new WooCommerce store owners should think out of the box. They need to follow some basic aspects to keep their customers, team, and data safe from being spoilt exploited.
For instance, choosing a reputable hosting service provider, creating strong passwords for their stores, enabling two-factor authentication(2FA), limiting brute force login attempts are a few of them that need to consider for a new store owner.
I have created a complete WordPress SEO guide for beginners, which will be useful for advanced users. The guide is extremely detailed and precise in type. I highly recommend going through the entire guide before moving onto the remaining parts of the article. ⬆️
What is SEO?
SEO stands for Search Engine Optimization that is a process of getting traffic through organic search engine results. Search engines like Google, Yahoo!, or Bing direct users to the most relevant websites or pages.
Search engines consider several factors to rank websites in search results. This isn't a one-stop process but rather a continuous process of updating websites to rank high-up search results to get FREE or ORGANIC traffic.
Apparently, though SEO seems complex, it isn't….!
The good news is, there's already tons of research done on SEO. All you have to do is choose the strategies that suit your purposes best and subtly apply these to rank your WooCommerce store in SERP. ⬆️
Is WooCommerce SEO-Friendly?
That's the real question! Is WooCommerce SEO-friendly?
The answer is YES. Let's put some words to simplify the answer.
There is a difference between having an SEO-friendly site and ranking higher on SERP. When we say that WooCommerce is SEO-friendly, it has some SEO features built-in that can optimize your site for SERP by the SEO experts.
This is probably the place where WooCommerce differs from Shopify. Because WooCommerce isn't a standalone platform, rather it's a plugin that needs to incorporate with the WordPress ecosystem. WordPress is the SEO friendlier CMS, and WooCommerce inherits most of these SEO functions.
Even if you have an SEO-Friendly ecosystem that uses WooCommerce in WordPress, you still have to follow a few strategies to optimize your WooCommerce store fully, starting with your site structure, products, categories, tags, and schemas, and many more. ⬆️
Everything Begins with Keyword Research
When you talk about SEO, it's the keyword that comes first. No matter what kind of product you're displaying and selling, understanding the right set of keywords is crucial to rank your website on top of the search result page.
For having proper keyword research, you do have lots of tools out there in the field. These tools are pretty common for any keyword search from an SEO perspective. For instance, you can use Keywords Everywhere, a free extension that became a paid tool now.
You can use Ahrefs, Moz Explorer, Google Trends, Keyword Planner by Google, Amazon Search Suggestions, Google Search Suggestions, and so on. Here take a look at the Google Search Suggestions for keyword research.
The same thing can happen with Amazon Search Suggestions, and here is a screenshot of Amazon search suggestions.
Now, you might be wondering, what should you do to deploy an effective WooCommerce SEO strategy?
Well, that's where this guide can help you out to make you understandWooCommerce SEO. This guide splits into different segments so that you can learn better in the best possible way.
Let's take a look at how you can optimize your WooCommerce site with proper SEO tactics. ⬆️
How to Optimize WooCommerce Stores for Search Engines?
WooCommerce powers a large number of online stores out there on the internet. Here is a list of the best WooCommerce SEO tips that you can use to optimize your online store:
Perform a basic WordPress SEO setup
As WooCommerce is a plugin, you need to improve the overall SEO setup of your website first to make things friendly for WooCommerce SEO. That means the entire ecosystem of WordPress should accustom before moving on to WooCommerce specific SEO tweaks.
To ensure search engine optimization for your WordPress ecosystem, the best thing you can do is to install a quality WordPress SEO plugin into your system. In this case, you can install Yoast SEO or RankMath plugin on your website. Both the plugins are SEO standard, and they will add search engine optimized sitemaps along with setting up proper SEO fields for your WooCommerce based products.⬆️
Optimizing product title
What search engine crawls first is the title of a page, so start by optimizing your page title. As you're running a WooCommerce store, whatever you put in the title tag of the respective product page, this will show in the search engine in that way. This is the first step in the crawling process.
If you want to make things easy for you, you can use RankMath or a free version of the Yoast SEO plugin. In the Yoast SEO plugin, you will get the options to optimize the page titles, meta descriptions, and slugs. Then, start by modifying the product title first.
To modify your product title, head over to the Yoast SEO section and look for the SEO Title. Here, you may have to click on the snippet preview to see it. Take a look at the screenshot of Yoast SEO for a better understanding.
The page's title gives a massive clue to the search engines and users what the page is all about. Try to keep the page title between 50-60 characters. Each of the product titles should bear a uniqueness, or if you have multiple same product titles, it may confuse search engines and users, which may harm your search exposure.
Another important aspect of giving the product title is choosing a proper selling keyword in it. Before creating a title, do sharp research on keywords and identify which keywords are on top for choosing your product title.
Next, you can search on Google for those keywords, experiment on what is already there and craft your keywords, not in a similar fashion. Another common thing you can do is to include your domain or brand name in a product title. ⬆️
Adding SEO meta description
Once you're done with the title, try to ensure that you have provided a custom meta description to all of your listed products. You can make it happen by using any of the mentioned plugins. In both plugins, you will get a Meta Description Box to fill up.
The product meta description should be less than 160 characters as it's the average number of characters shown in the snippet. Don't forget to put the keywords, including a focus keyword, and the texts shouldn't be similar to the title. ⬆️
SEO-friendly URLs
Another most common and required element for your online store is the product URLs. Check the configuration settings and make sure that product permalinks are configured accordingly.
You can get those options by visiting your admin area, then head over to the Setting >> Permalinks >> Product Permalinks.
Besides taking care of each product permalinks, you need to optimize actual product page URLs. There are a couple of guidelines to follow while creating optimized SEO-friendly product URLs.
You should use dashes [-] to separate the words in the URL to optimize it accordingly. Try to keep it short and descriptive, avoiding stop words like 'an', 'the' etc. Include the focus keyword at least in the URL section. Additionally, you can add the product name and some major characteristics. Remember that keeping a less important keyword at the end of the URL. ⬆️
Dealing with H1 tag
The H1 tag has a positive impact on the SEO perspective. You can use it on the product page or any other page as well. It can be the same as the page title, but you don't need to bother about the 60 character limit here. ⬆️
Enable breadcrumbs
Breadcrumbs are navigational aids that help people understand where they are on your site. They also help Google work out how your site is structured. Google loves it, and it reduces the bounce rate as visitors get a clear idea without getting confused. ⬆️
To enable breadcrumbs and make your store SEO-friendly, you can use Yoast or RankMath SEO plugin on your website. Moreover, it enhances user experiences as a whole.
Breadcrumbs are very important for WooCommerce shops. They help users navigate to the product categories to view the same type of products. The search engines accept them to get a better understanding of the site structure.
By default, WooCommerce is breadcrumbs enabled for all your product pages. But you can optimize this default setting by either changing the WooCommerce theme or using any custom plugin. ⬆️
Simple & clean site navigation
Simple and clean navigation can have a great impact on your bounce rates. Eventually, if they spend more time on your website, it's likely to rank your website higher on SERP.
The best way to keep your site navigation simple is to make your main navigation easy to follow. The main navigation should include links to the most important pages for your site users. Other minor pages can link in the footer section to make things easier for your users. ⬆️
Adding alt-text to the product images
It helps screen-reading tools describe images to vision-impaired readers and allows search engines to crawl better and rank your website. It can give you an SEO boost as well. Alt-text is what shows up if your image doesn't work for any reason.
You should use a definite and compact alt text that confers a good description of the corresponding image. Alt-text is an excellent place for keywords, but don't forget that keywords always need to make sense of the products and flow naturally. ⬆️
Using SEO-friendly themes and plugins
WordPress is the most SEO-friendly CMS for building websites. To ensure a proper SEO structure, you can use an SEO-friendly theme for your online store. There are tons of free and paid themes out there in WordPress for organizing your WooCommerce store.
I mean, you can find an ample amount of WooCommerce friendly themes for your website. Choose the best one that serves your purpose.
As I said earlier, you can use Yoast SEO and RankMath SEO plugin for having a sound SEO structure for your content. Moreover, you can use the additional supporting plugins for other purposes as well.
For instance, for creating WooCommerce product tables, plugins could be a great option for crafting your WooCommerce table smoother and dynamic. There is a number of quality plugins for creating your WooCommerce product tables on your website.
If I were to name one, Ninja Tables would be a great option for creating simple to dynamic WooCommerce product tables on your eCommerce site. This is an SEO-friendly plugin that will help you to create dynamic WooCommerce product tables.
Using this plugin, you will easily know how to create WooCommerce product tables on your website. To create any dynamic online form for your web pages, you can also use Fluent Forms, an SEO-friendly WordPress form builder plugin. ⬆️
Using categories & tags
Categories and tags help visitors to find out the specific product item that they want to purchase. This will also help visitors to sort out their expected items without getting confused. For instance, if your customers want to buy a t-shirt, they don't need to search for a t-shirt randomly. Instead, you can display them on a single page that consists of t-shirts only.
The same thing goes for tags as well. You can use it as a cross-reference for customers when they're searching through your products. Here, customers also see a similar type of product on a page.
Now, you can use categories or tags for a hassle-free experience, and you also can customize the existing categories and tags. ⬆️
Maximize the site security
There is a term named SEO Security that is used to identify flaws in a website's security. This is also used to solve those issues and monitor site activity with security in mind. SEO has an impact on WooCommerce SEO as well.
Good SEO practices always follow security measures. They also can play a role in rectifying problems relating to brand management. Moreover, responsiveness and reliability are at the top priority list when it comes to working with SEO. ⬆️
Optimized product content
In most cases, we see that eCommerce websites generate duplicate content, and that is the problem. It's pretty sure that if your content isn't unique and fresh, you have no chance to rank your store online.
So, make sure that you have put the best effort into writing unique product descriptions for all your products.
There are two types of product descriptions for WooCommerce products. One is short, and another is a long product description. In both cases, you need to maintain proper SEO. ⬆️
Optimizing product images and videos
Any images or videos that you add to your product page should be optimized for SEO. Having SEO-optimized videos and images increase your chances of gaining a higher rank on SERPs.
Images SEO
In the case of using images, use the product's name in the Title section in the media function of WordPress.
The Alt Text is the most important component of the image for SEO. In this section, try to describe the product that is to display on your webs. Incorporate focus keywords with relevant other keywords. Try to avoid using only keywords in this section.
Make sure that you have written a Caption correctly below the images. The caption can be the same as the ALT text, or it could be the different one. The Description is optional; it doesn't impact your SEO purposes. ⬆️
Video SEO
As per video marketing, that's why videos are a very vital tool for selling physical and digital products. But most importantly, uploading and streaming videos from your WordPress site will slow down your website. The best way is to embed them to your product page using the URL from YouTube or Vimeo.
You can demonstrate your WooCommerce products through YouTube videos, or you can make reviews on different products. In this case, you can have YouTube SEO to rank your YouTube videos on YouTube search. ⬆️
SEO for category
Unlike any other non-eCommerce website, an online shop needs to be well categorized by page. For a solid usability purpose, they play an important role. They also have a great impact on SEO. You can see that SEO-optimized category pages can rank well in search engines.
When it comes to categories, the same thing happens in the case of WooCommerce. By default, you will find categories with product names, thumbnails, and the product's price in a particular category.
In some cases, default isn't enough to rank product category pages in search. In that case, you need to CUSTOMIZE your categories by adding some content to help Google understand what kind of products you're selling under which categories.
For paging-enabled category pages, you need to provide a canonical URL for each subpage to direct the main pages. ⬆️
Mobile optimization
Mobile-friendliness is the demand of time as mobile users are increasing day by day. In the US alone, consumers spent 90% of their mobile time on apps. In 2020, smartphone users worldwide were projected to reach 2.87 billion, up from 2.1 billion in 2016.
So the numbers indicate the importance of mobile-friendliness regarding your WooCommerce site. This issue depends on the theme you are using for your WooCommerce site. There is nothing to do with core WooCommerce functionality.
Did you know that more than 60% of searches and a large majority of eCommerce transactions are now executed through mobile devices?
That indicates that if your WooCommerce store isn't mobile-optimized, you're minimizing your chances of getting a huge number of audiences. So, for having a proper SEO output, run Google mobile-friendly test and fix the issues if there are any. ⬆️
Last But Not Least
Dealing with SEO and technical issues is only part of a puzzle. To fulfill your ultimate goal and get ranked on SERPs, you need to implement off-page SEO accordingly. Off-page SEO has many aspects to deal with, including link building, brand promotion, video promotion, social media promotion, and so on.
Off-page SEO is the toughest area of SEO segments, and it will become even tougher when you have to promote online stores. To make things easy for you, content marketing could be a decent solution out there in the market.
Increasing your exposure by starting a blog is a great way to promote your online store in general. This will ultimately increase your site traffic and accelerate your gross revenue. ⬆️
The Final Catch
Though WooCommerce is SEO-friendly, it doesn't mean that a WooCommerce based website can rank high in Google without putting effort into it. You need to take care of technical SEO, content structure, on-page SEO, mobile-friendliness, and most importantly, off-page SEO.
In the case of optimizing your WooCommerce store, you can follow the steps mentioned above. One thing you need to understand is your top priority should be your product quality. This is what you are intended to sell using search engines.
Give some time to think about the product titles and URLs and work on the content representing your products. Provide users with information as much as possible in the most convenient way.
Do keyword research, fix the category issues, and ensure that all these are structured in a search engine optimized way. Work on site speed, mobile-friendliness to make sure that your WooCommerce store is ready to convert on any kind of device fast. ⬆️
Conclusion
When you're done with on-page SEO and off-page SEO, try to promote your online store in the best possible way so that your products will get maximum exposure. Launching a blog, sharing your online store through different social media could be a great option for serving your purpose.
I hope this guide helps you to understand WooCommerce SEO better. Is there anything else missing from this guide that should be included? Let me know in the comment section below.
---
If you haven't subscribed to our YouTube channel, do subscribe to our YouTube channel to get WordPress-related tips and tricks. Also, follow us on Twitter and Facebook.