WooCommerce has become one of the most popular eCommerce platforms these days. But using the default WooCommerce plugin could limit the way we think about creating WooCommerce product tables. You might not create any more personalized product tables on your website.
That's why other plugins come into existence to make things easier for you. Now, in WordPress, you will find a quite number of WooCommerce plugins that will facilitate you to serve this specific purpose. In this tutorial, I will try to make things easy so that you can make a suitable decision in selecting a quality plugin.
So, before getting started, here I am listing all the plugins first. Let's get started…!
Best Plugins for Creating WooCommerce Product Tables
Now, we can go further down the line and discuss each and every plugin listed here on the list.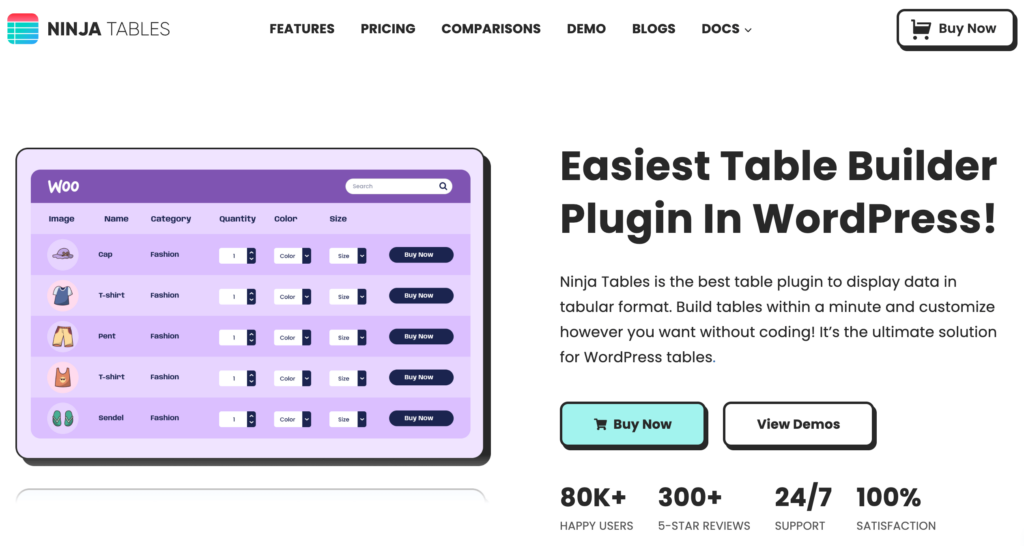 If you search by typing "best table plugin" or "table plugin", you will see the magic happens. All the results in SERP against these keywords show the Ninja Tables plugin at the top of the page. This plugin is rocking all through the web and you just can ignore any means.
The core beauty of the Ninja Tables plugin is its user experience with an abundance of features and functionalities. Using the plugin you can do lots of things that cover almost two plugins. Moreover, you will get a wonderful dedicated support facility using the plugin. There are also extended documentation and visual guidelines from the plugin's side.
Let's have a close look at the core features of the plugin:
Core Feature:
Simple and intuitive interface with ease of use.
Responsive WooCommerce product table creation with the responsive breakpoint facility.
Drag & drop facility with the conditional logic facility.
Multiple advanced integrations with a different rich platform.
Wonderful visual styling with add/remove and search or filter functionality.
WP Posts / Custom Post Type integration with post meta field.
ACF Field Integration with Ninja Table Column & Custom Column on WP Posts Table.
WooCommerce integrated with advanced table creation functionalities.
Export-import facility with simple images in data cells, lightbox features, embedded external video and so on.
Dedicated support facility.
Take a look at the plugin's features and demo pages.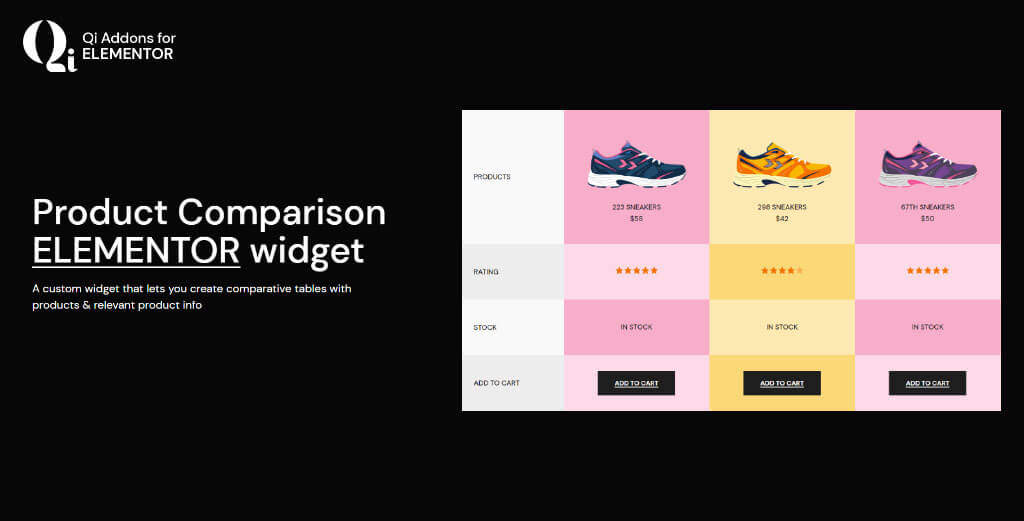 Qi Addons for Elementor is the largest collection of Elementor addons with 100+ flexible, easy-to-use widgets for various functionalities. The product Comparison widget allows you to create eye-catching, clean tables that you can use to compare products and their features. This makes it easier for your visitors to learn about the advantages and benefits of your products, which ultimately increases the chances of making a sale. You can use a wide range of comparison categories and the widget itself can be customized to fit your pages' style perfectly.
Core Feature:
Display price, star rating, and Add to Cart link
Fully adjustable tables and categories
Background style options
Allows for adding product images
Can include the product description and stock status
Add your own text and style it the way you want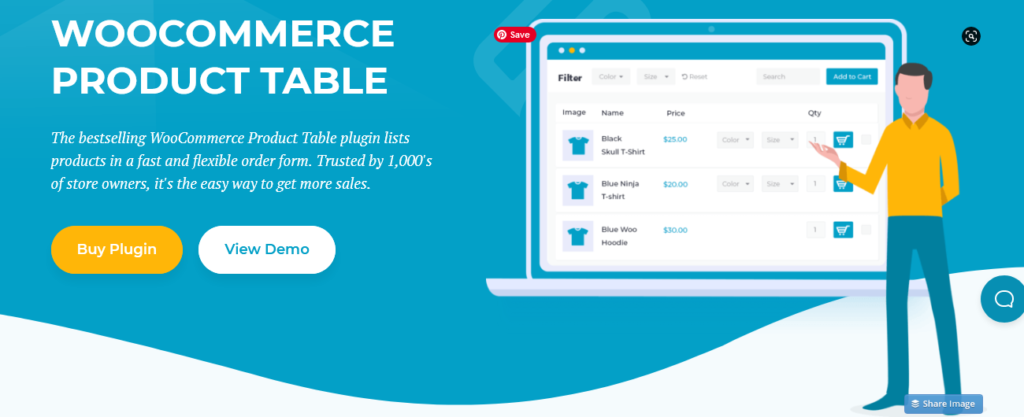 WooCommerce Product Table by Burn2 Media is one of the quality plugins for WooCommerce products. This plugin is used to provide a table creation facility and show WooCommerce products in a tabular format. Using the plugin, you also can easily customize product tables on your eCommerce site. Here are the core features of the plugin:
Core Feature:
Creating WooCommerce product tables.
Order multiple products and variations with one click.
Rapid product search capability with instant search and sort.
Ideal for WooCommerce wholesale, restaurants, and order forms.
It provides full control over managing WooCommerce products.
You will get custom fields, price, attributes, taxonomies, SKU, images, videos & more.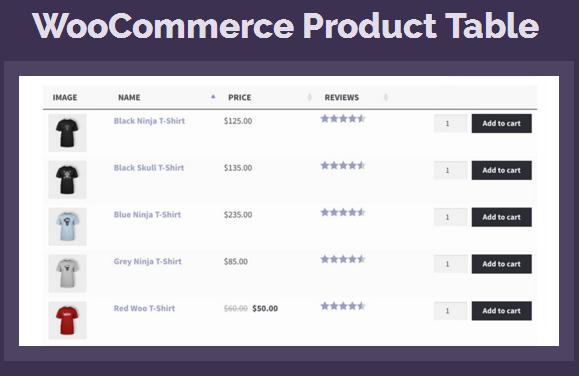 WooCommerce Product Table is another standard plugin for creating a WooCommerce product table layout. This WooCommerce table plugin allows you to show WooCommerce shop with a birds-ey-view. It helps to match prospective customers with their expected products on your eCommerce website. Let's take a look at some of the core features of the plugin:
Core Feature:
Deals with the WooCommerce product tables.
You can replace default grids with tables on shop, category, search, attribute, tag pages
Have the options to show all the variations of a variable product in separate product rows.
Your customers can choose products and add them to the cart using checkboxes instead of using buttons.
Freeze columns available on the left, right or both sides.
You also can have conditions feature of the plugin in order to boost table creation and showing potential.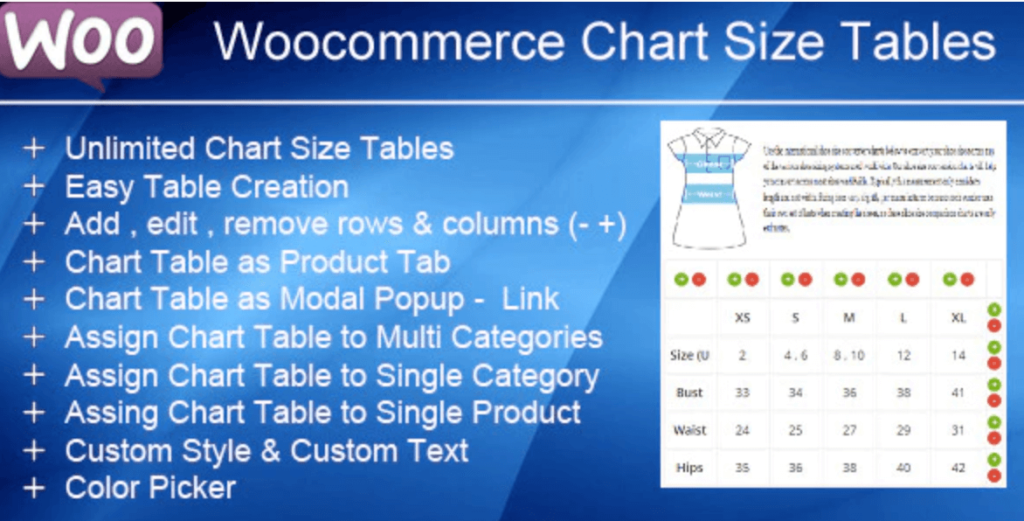 Here comes another plugin named WooCommerce Product Chart Sizes Table that is used to show the corresponding values of the product dimension or weight. You can create a WooCommerce product table, product category, and ultimately display on your website. You can create endless rows and columns according to your need.
Core Feature:
Creating countless chart size tables on your website.
You can assign any chart size table with both single and multiple product categories.
Using custom text and style.
Color picker with the modal pop up facility.
Allowed to add product description and image to the chart size table.
Assign any chart size table with the single product itself.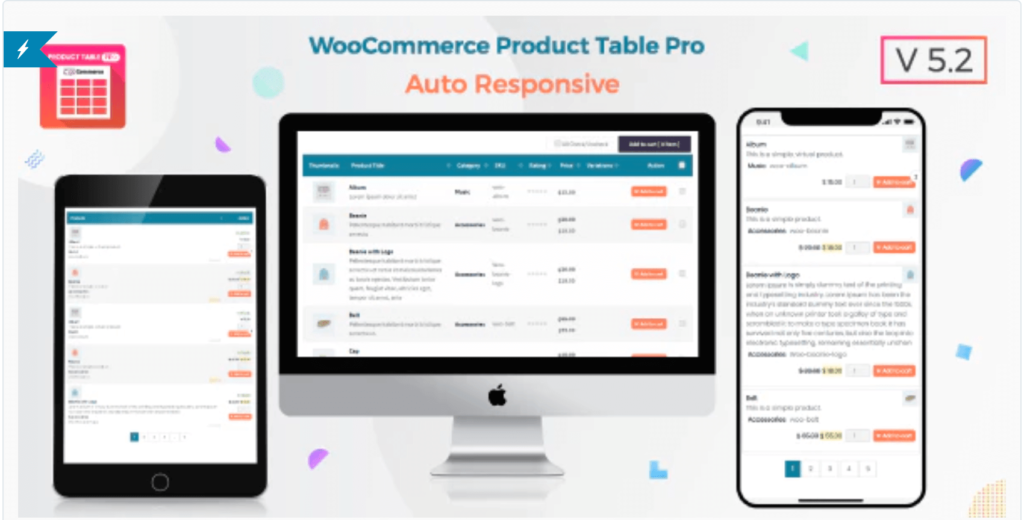 WooCommerce Product Table Pro is one of the plugins that is used to create and display WooCommerce product tables on your site. This shortcode generated plugin is suitable for wholesale stores, product catalogs, order forms, restaurant orders and so on. Using this awesome plugin you can create and manage product tables for WooCommerce based websites.
Core Feature:
Creating tables with specific products using the ID.
Ajax based pagination and load more button.
Custom taxonomy supported.
Compatible with the YITH wishlist plugin.
Thumb image lightbox facility.
Advanced search box.
Mini cart supported for each table.
Final Words
Choosing the right tool from the crowd is always a tough job. That's why the article is intended. All the plugins listed here are based on quality and user-friendliness. They serve specific roles in terms of creating WooCommerce product tables. You can pick any one of them to maximize your purpose.
If I have to choose a single plugin from the rest I listed here in the article, definitely I would go for the Ninja Tables plugin. The plugin will provide you with the most advanced features along with the generic ones. You can have a huge range of customizability while creating and managing WooCoomerce product tables on your website.
Moreover, using this awesome plugin, you will get a dedicated support facility. I hope the article helped you so much to understand about choosing the right plugin for creating WooCommerce product tables easily without having any hassle.
---
If you haven't subscribed to our YouTube channel, do subscribe to our YouTube channel to get WordPress-related tips and tricks. Also, follow us on Twitter and Facebook.