How important are pricing tables for your website? Is there anything that makes designing and editing the pricing table easier for any website?
Usually, if you want to create any kind of table on your website, coding knowledge is a must! But if you are using WordPress, you have a plus point and it's pretty easy for you to make a responsive table using a quality plugin.
Now, the question arises; how can I make this happen in WordPress?
Well, the thing is, plugins come into existence to reduce the hassles of coding and make everyone's lives easier. You just need to know how to operate the plugin properly on your site. In this post, I am demonstrating the best plugins for Pricing Table in WordPress.
There are lots of pricing table plugins in the WordPress directory. Depending on the quality and functionalities they are varied from each other. I have written earlier about creating product showcase tables, comparison tables, etc.
Likewise, for making a solid pricing table you can have a lot of table plugins in WordPress which might confuse you at any point. Hence, I am trying to help you to make the final decision in choosing the best pricing table plugin for your site. Before diving into the details, let me clear you a bit about the pricing table.
Pricing Tables
Pricing tables play an important role in every organization that presents the prices of different products or services. To create a great impression on the consumers, this is a significant challenge from both a design and usability standpoint to make a catchy pricing table on your site.
They must be simple and easy, but at the same time clearly be able to differentiate between the features and prices of different products and services. Today, I am going to demonstrate the best pricing table plugins that will help you to create a responsive pricing table on your business site.
The Advantages of Pricing Table
The main purpose of a pricing table is to show a comparative pricing plan which gives a clear idea about all the components of a particular product and services to consumers. It makes very easy to visualize all the features and prices of the respective items. Visitors can easily make the right choice after evaluating the pricing table.
Now, I am going to show the 4 best pricing table plugins I've tested and handpicked for you so that you can make an informed decision. Let's have a take a look below. And the four gems in this category are:
Let's have a detailed discussion about each one of those.
Pricing Table Builder

Pricing Table Builder is a WordPress plugin aimed to create responsive and highly customizable pricing tables in order to manage the pricing of a particular organization. This pricing table plugin is the most feature-rich plugin for modern WordPress users.
Pricing Table Builder helps to create unlimited clean and smooth design based pricing tables on your site. You will get a built-in table design after opening the plugin. Along with that, you will have a handful of easy-to-execute and highly advanced options to customize your tables as you need.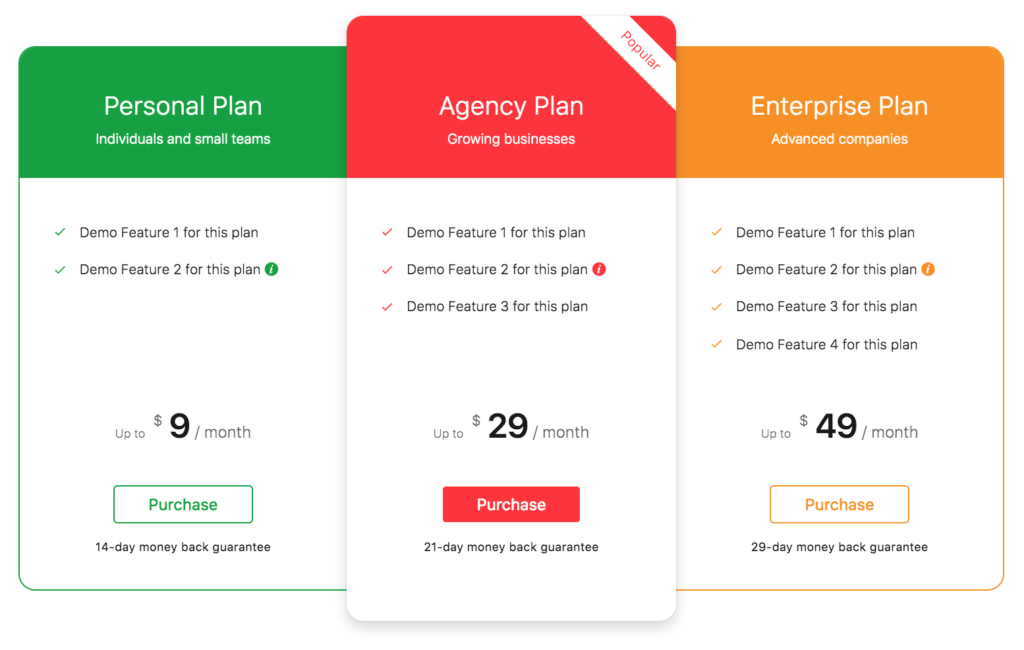 Here, in the screenshot above, we see a pricing table made for the Divi theme using the Pricing Table Builder plugin. This plugin looks simply phenomenal and most user-friendly. The most important part of the plugin is fully responsive in type. You can customize the color of any content on the table, highlight specific columns, customize inner contents, button texts & colors, etc. This plugin will let you build eye-catching pricing tables that will complement your product branding.
Go Pricing

Go Pricing table is one of the most effective pricing tables for modern users. This plugin offers various types of tables to perform the operation. Because of its versatile aptitude from the plugin, you might get the best one for your usage. This plugin is compatible with Visual Composer so that you do can perform any customizations easily. Go Pricing offers more than 200 font icons and can change into an easy to use interface for better user experience.
Easy Pricing Tables

Easy Pricing Table is easy to install and use, as the name implies. You can make a pricing table and comparison table using this plugin. This table is not only functional but also they are designed to convert. This table plugin is a responsive plugin and it usually works with any kind of theme.
The premium version of the plugin offers many more options to manipulate table tasks like customization of color, font sizes and round off the borders and so on.
Pricing Table by Supsystic

Pricing Table by Supsystic allows you to develop excellent and responsive pricing tables with an online builder. In this plugin, you can have the support of different tooltips and hover animation and it gives you to add any number of rows and columns. You can have aligned text within the table and add a descriptive column option to it. You also can add header and footer at any time.
There are more options for it. You can add any texts, images, videos, icons and many more. You can enjoy a versatile styling option with this pricing table builder plugin and it includes a CSS editor as well.
Summing-Up
To show the price of your products efficiently, pricing tables should be precise, simple, attractive, capture the features, prices, and diversity between products in one frame.
A good pricing table can work more efficiently than a 1500 words product report or RoI analysis. That's why it plays a very important role in taking potential actions for the products and services you offer.
The 4 tables described here in this list can certainly help you to design and demonstrate the pricing of your product dynamically. These tables are proper for selling any services or products online, including physical and digital products.
If there's any quality plugin missing from this list, do let us know in the comments below.
Don't forget to check out the fastest-growing WP Table Builder plugin!