Are you looking for the best social media tools for your WordPress website?
In times like today, no social media presence means you stay behind in the competition. Startups with social media authority create an exclusive brand reputation. Social media can do much more by increasing brand loyalty to speed up sales.
However, just knowing the needs doesn't help you stand out. As a social media manager, you need engaging social media strategies to make the most of it. To wow your audience, you need to spend a lot of time managing multiple accounts on different platforms.
But do you have the whole day to spend on social media? That's where social media tools come. Before shedding light on the best social media tools, here are some social media marketing statistics for you:
78% of users are willing to shop from a company after having a positive experience with them on social platforms
72% of companies consider social media data before making business decisions
55% of customers learn about new brands from different social sites
What is the purpose of social media tools?
As social media marketing has increased more than ever, people are looking for social media tools for their WordPress websites. Though users understand the need for social media plugins, do they know how they can benefit from it? Moreover, how can they achieve a competitive advantage over socials?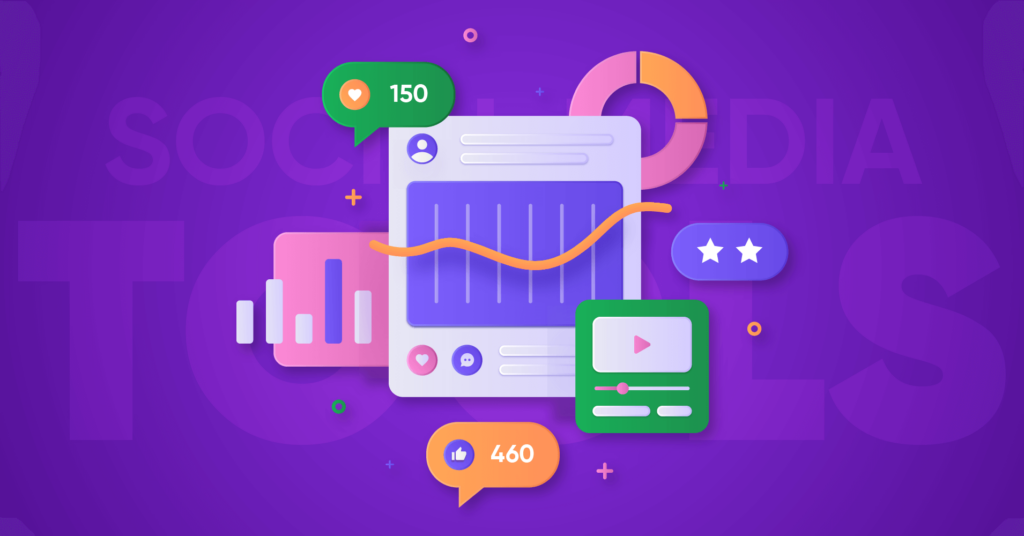 Let's look at what key features your social media tools should have.
Saves your time
Time management is one feature that must come with any social media tool. If your tool kills your valuable time to set up and keeps you occupied, you need to switch to a more comprehensive solution.
Running a business requires an insane amount of time. In fact. Website maintenance, social media activities, and checking sales reports is already time-consuming task. So you should look for a tool that works fast and provides accurate service.
Increase brand awareness
We all know social media has its unlimited potential. Among many features, it has the power to accelerate brand awareness. That's why while choosing a social media tool, always focus on the features that improve your brand value.
For example, picking Canva for your social media marketing lets you create some outstanding images. So you can create social media campaign and represent the brand that matches your style and aura.
Easy to use
Your social media tools are worthwhile if they come with handy features that are easy to use and save time. No matter what type of tool you select for your brand, your whole team should know the ins and outs of how to use it.
Moreover, some products, such as WP Social Ninja, have user-friendly customer service along with 24/7 support for their users. So it becomes easy for the users to get an expert opinion if required.
Cost-effective
Optimizing your social presence and understanding your audience's needs is crucial. Affordable social media plugins make it easy for startups to maintain and manage all their social media activities.
Many free social media tools have top-notch features that help the brands stand out. Moreover, some market-leading tools have unlimited features that can replace multiple tools and save money.
Keeps you organized
Nothing can be compared if your social tool can manage your multiple activities and organize everything without putting in so much effort. Social media is a vast realm with so much content. And an organized tool can make the most out of social networking and uplift sales.
For example, many social tools are capable of dealing with social proof and assembling them beautifully on your website.
What is the best tool for social media?
Best social media tools make it easy and efficient for brands to find new clients, improve conversion rates, drive traffic, and keep in touch with existing customers. Today thousands of social media tools are available for your disposal. However, only a few of them can resolve the pain points.
On that note, let's delve deeper into the round-up of the five best social media tools for your WordPress websites.
WP Social Ninja
Social media tools are inevitable these days. Presenting WP Social Ninja, a multipurpose social media solution that takes care of your social proof, connects better with your users, and establishes a top-notch social media presence. With WPSN, you can import your social media reviews, and feeds and showcase them on your website to engage your visitors.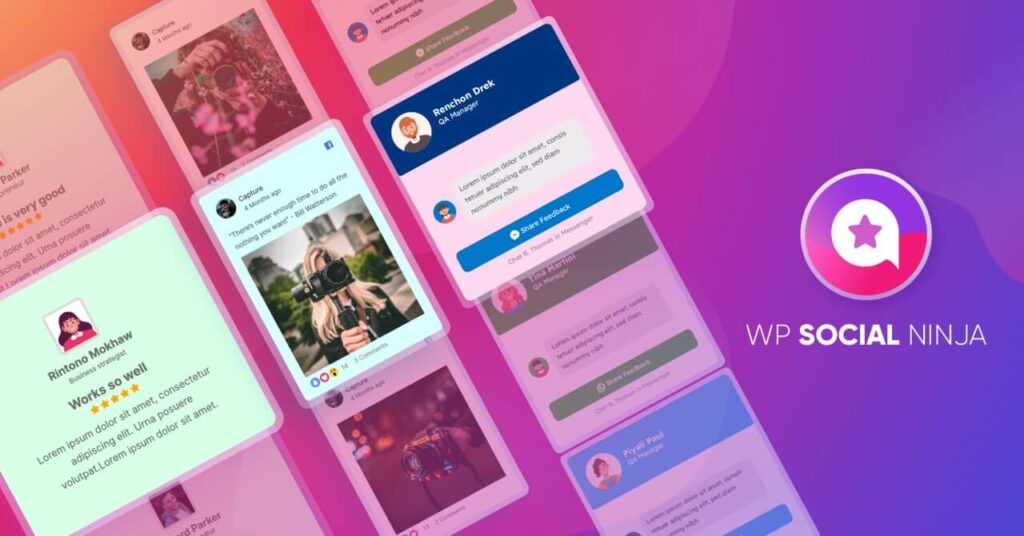 Features
Social reviews: With WP Social Ninja, you can fetch reviews from 10+ popular social media platforms like Google, Facebook, Amazon, AliExpress, etc. You can also collect custom reviews and testimonials and proudly display them on your WordPress website.
Social feeds: Along with social media reviews, you can aggregate social feeds from different social platforms like Facebook, Instagram, YouTube, and Twitter. Moreover, you can sort out the feeds and filter the best content to show them on your website.
Chat widget: WP Social Ninja is a complete social solution. It enables a social chat widget option with 15+ social chat platforms for the users to reach out in no time. The integration process is super easy and takes only a few clicks to connect with your favorite social channels.
Notification Popup: Exhibiting the best social proof on your WordPress website is a great way to attract visitors. WPSN has a popup feature that displays the best reviews. Moreover, it has some amazing filters to make it even more engaging.
Price: Starts at $79/monthly*
Sprout Social
Sprout Social is one of the leading social media tools among many. It allows an exclusive social media presence and grows stronger over time. Moreover, it saves time in many ways and gives accurate insights from your socials.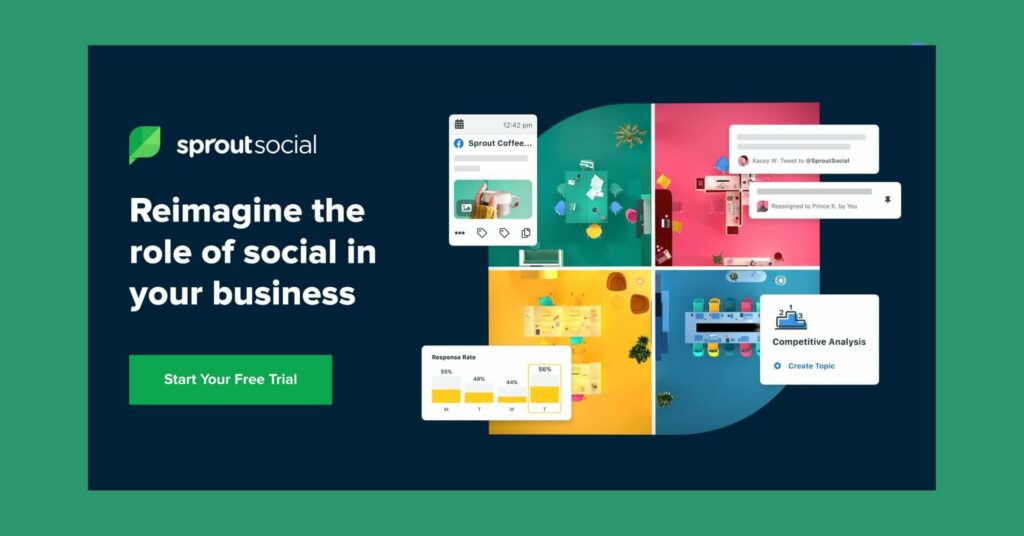 Features
Team workflow tools: This social media management tool helps shape the team and get things done systematically. Management can set different permission levels for the team members to offer a custom interface for the subteams. Moreover, the interface helps access the content library of videos and images.
Smart inbox: Smart inbox is a cool feature that concatenates messages from different social networks into one platform. You can also split it into separate feeds depending on the business priorities. Moreover, the Collision Detection feature shows whether a team member responds to the messages and tracks down reports on message response time to achieve the goals.
Social listening: Sprout Social is, without any doubt, a social listening tool. It lets the brands monitor and assess the social media posts about the niche to get exact insights. Moreover, you can select a topic and gather data for your business.
Price: Starts at $89/monthly*
Buzzsumo
Buzzsumo is a social media tool that allows finding engaging content and opens the door to outreach to new opportunities. You can search most shared content, find the key influencers, track brand mentions and backlinks.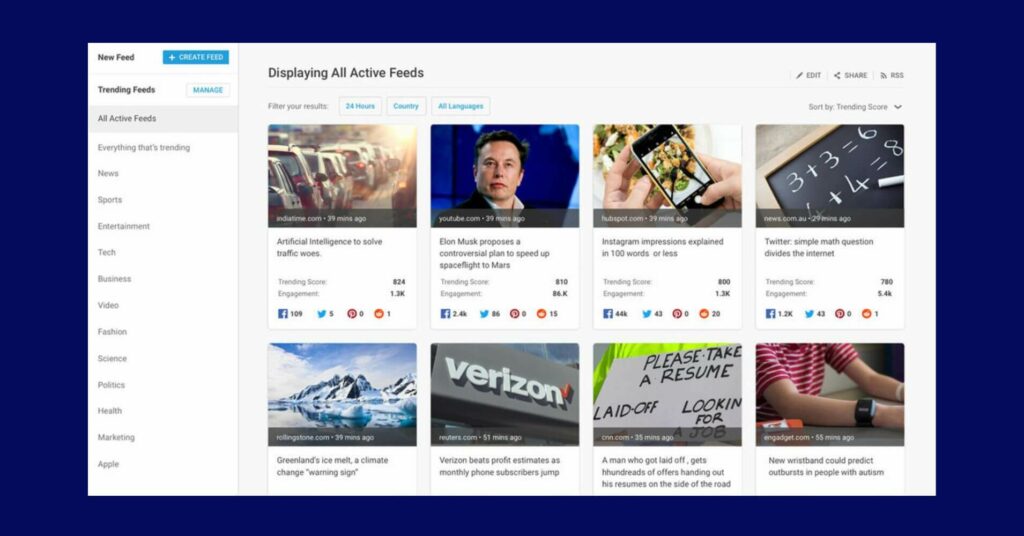 Features
Content insights: Content insights can give a better a than just viewing the number of shares. With Buzzsumo, you can gain better ideas about topic overviews, which social platform is performing better, and where your content is working better? Moreover, content types; video, articles, content length, most shared domains, etc.
Competitor analysis: Sometimes insights are not enough to grow; you need something more like competitor analysis to make a better strategy. It helps you to know which strategy is performing well. So you can learn from your competitor's mistakes and improvise.
Influencer marketing: Influencer marketing is a widely used social media marketing strategy today. You can easily share your content with a large audience if you have strong contacts. With Buzsumo influencer marketing tools, you are allowed to find influencers suited to your business. Moreover, you can follow and analyze them to understand, see what they share, export data, and follow their lists to outreach.
Price: Starts at $99/monthly*
Google Trends
Google Trends is a social platform that shows the popularity of a search term on Google. Along with demographic insights, you can view whether a trend is rising or declining. Moreover, you can search for related topics and queries to understand social media analytics better.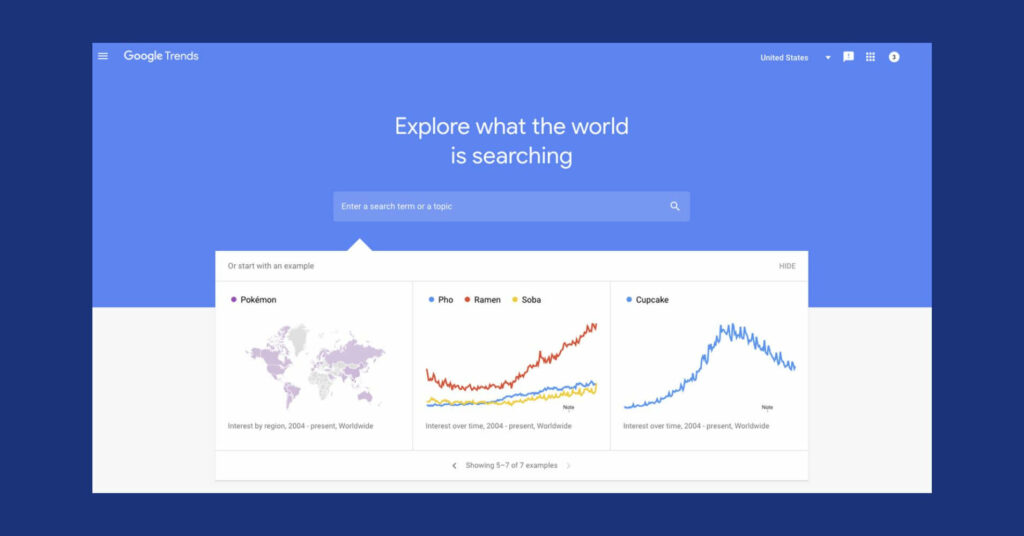 Features
Data by date: Google Trends can give you data from historic (2004-three days ago) and in real-time (past week). So this social media tool can tell you what people were searching for and give you the present data broken down minute-by-minute.
Find the niche: Google Trends is also handy for finding the target niche. If you are looking for a new niche, you can change your range from the past 12 months to 2004-present. It gives anyone a clear idea about how the search volume is increasing or decreasing.
Keyword research: You can find the best keywords on Google Trends. It has an option to add words to compare. Moreover, you can also check out the "top-searched" or "most-searched" topic. Trending searches help you to understand how fast things are changing, whereas most searches occur in a specific time frame.
Price: Free
Canva
Canva is one of the most flexible graphic design social media tools. It lets you create some wow custom graphic designs even if you are a non-designer. Canva has many templates, so you don't need to design from scratch. You can even design images, banners, flyers, invitations, business cards, lesson plans, and Zoom backgrounds.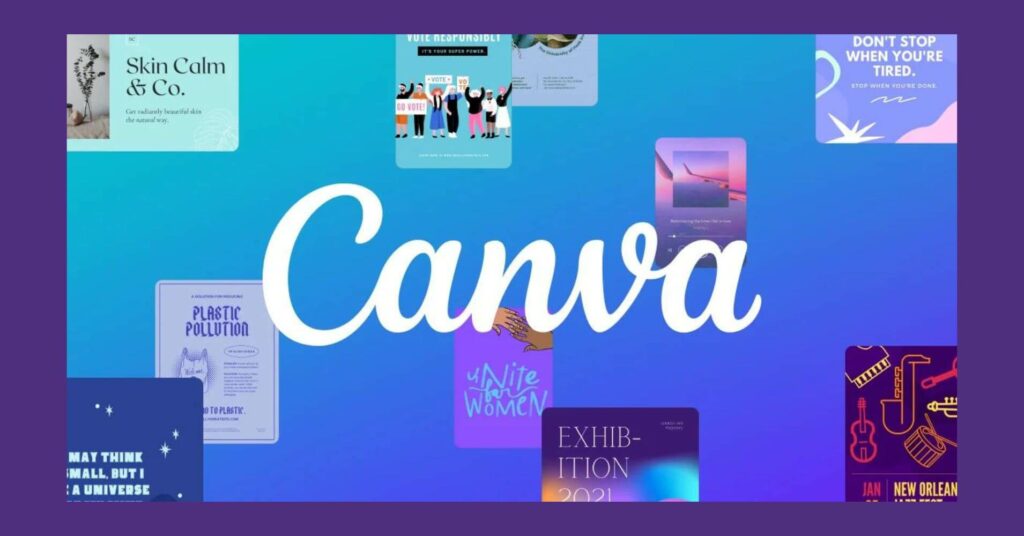 Features
Brand kit: Brand kit helps you to create a brand design from preset brand assets. Once your design is ready, you can access the brand logo, fonts, colors, and pre-designed brand templates. Moreover, design your corporate templates and creative presentations.
Templates: Creating content for the classroom can take hours, especially if you want to make it graphically engaging, such as worksheets, presentations, infographics, and videos. Canva makes it easy with tons of pre-built templates. Moreover, you can add your own design to flourish.
Advanced design features: Canva offers some advanced creative features that help you create the exact design. With resizing option, you can transform the template into any size. You can even adjust and change the color pallet. Moreover, Canva's background removal tool can erase any background you don't want on your image.
Price: Starts at $9.95/monthly*
Honorary mention: Hootsuite
Hootsuite is a popular social media management tool with some pretty useful features. This tool saves your time and easily manages your social media marketing. Moreover, you can manage everything with Hootsuite instead of logging into your different social networks.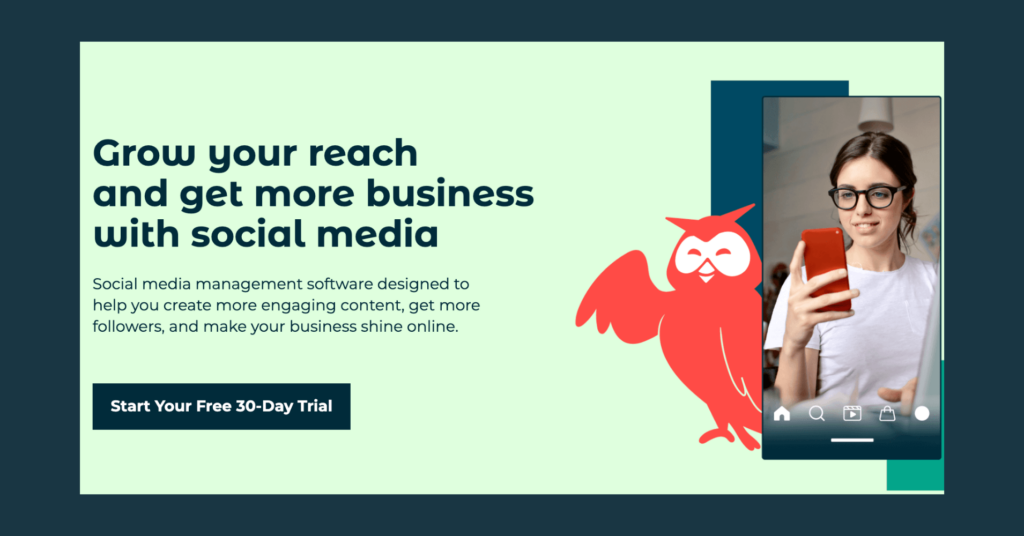 Features
Monitor social platforms: Every time logging into different accounts and typing passwords is quite a boring thing to do. With Hootsuite, you can post updates, review user responses, and easily connect with your customer base.
Scheduling posts: Hootsuite's unique post-scheduling feature makes your life easy. It lets you schedule posts on all your favorite social channels in advance. So you can create an effective social media marketing strategy and pick a suitable time to get more followers on social media.
View analytics data: Another reason to use Hootsuite is it gives you detailed feedback on how perfect your social media strategy is working. It monitors and tracks clicks across all your social networks and converts them into readable charts. Moreover, these professional reports are printable too!
Price: Starts at $49/monthly*
Over to you
To stay in business, most brands utilize the power of social media. On top of that, you need support from plenty of social media tools to remain visible. These tools simplify the tasks and manage multiple juggling issues.
We hope this article helped you better understand the different dimensions of social media tools. If you're still skeptical, here's a round-up for you:
WP Social Ninja: An all-in-one social media solution that offers 30+ social platforms for your WordPress websites.
Sprout Social: It's a social media management tool that offers publishing, analytics, and social listening.
Buzzsumo: If you want to find out what content is popular by topic or on any website, Buzzsumo is what you need.
Google Trends: It's a data exploration tool that helps better understand what audiences are curious about in real-time.
Canva: Canva is a powerful design tool that helps to create professional design pieces for branding and social media marketing.
Now that you know about the five best social media tools for your WordPress website. You can also check out our other resources: