If you're not using quizzes for your business, you're missing out on a big chunk of growth potential. On average, a quiz gets shared 1,900 times, and a quiz can create a huge impact on user engagement.
Additionally, quizzes can be used for a wide range of purposes. They can be used for promotional activities, gathering feedback, or measuring knowledge. In this article, I'll tell you about the best quiz builder plugins that help businesses grow.
There are many quiz plugins available on WordPress. Some of them are free, and some of them are paid. I've compiled a list of the best WordPress quiz plugins you can use to create quizzes for your website.
Customer engagement: isn't that what you're looking for?
The more you can engage your customers, the better growth you can expect. In the digital landscape, the concept of customer engagement is different. Here, your activities might be appreciated by a large number of people or might be snubbed by a lot of people. But what's alarming is other people who're not involved with any of these can see what's going on with your brand.
Bottom line? Customer engagement is responsible for growing your brand rapidly, and it can help you to be in a sustainable position.
Let's have a quick look at a definition provided by HubSpot:
Customer engagement is the process of interacting with customers through a variety of channels in order to strengthen your relationship. For many businesses, this process begins with the first interaction and extends beyond the point of purchase. Companies can engage with customers via social media, email, websites, community forums, or any other space where they're communicating or consuming content.
You may wonder how customer engagement is beneficial for your business or how the engagement happens. In many ways, customer feedback is a mentionable one—their opinion matters. You can improve your products or services after receiving suggestions from your customers.
Often, you can see both frustration and appreciation in comments under Facebook posts. Positive comments or sharing posts are some activities that elevate your brand.
The same thing goes for the community. People who use your product gather somewhere. On your Facebook group, or a forum, or maybe on a fan group. They talk about problems and solutions. They ask questions and suggest new features. Wherever they talk, you can learn from them.
Enough of the pep talk. Customer engagement is the most crucial part of your business, and now I'm going to talk about how to increase that with online quizzes.
Benefits of quizzes in customer engagement
It's fun, and people engage easily. That's the power of quizzes. Instead of long content (they're still important), you can add quizzes to educate your customers and engage them with your business.
People love to share quizzes. I've already mentioned the stats above. So, you can engage people you don't know without asking your customers to share it with others. Once they find it interesting, they'll share them with others.
Less effort, more benefits. Building quizzes takes less time than creating a blog post or video content. But the outcomes are impressive. All you have to do is be creative to stand out.
You don't have to invest a lot. And by investing, I mean time and effort both. If you get the idea of what you're going to create, it'll take a few minutes to organize your questions and turn them into quizzes.
Quizzes add a flare to your content strategy. Besides blog posts, video marketing, and social media posts, you can include online quizzes that people love. Thus, you can add a new taste in a creative way.
Collecting leads convincingly. People don't want to give their email addresses without any cause or just asking once. However, quizzes are fun, and when they want to participate in a quiz, they tend to submit their emails to enjoy the fun.
Best WordPress quiz plugins
Let's jump into the best WordPress quiz plugins, without wasting your time.
Fluent Forms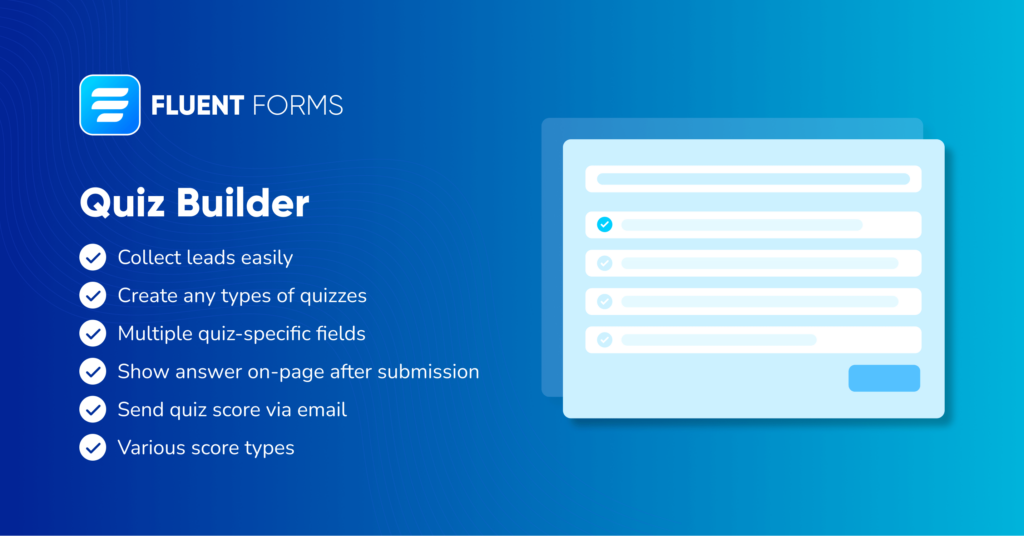 With Fluent Forms quiz builder, you can easily create quizzes for your website. It has various options to mix, combine, and build the quiz you want.
The score on the quiz can be customized to show up on the page or as an email notification. You can also share your quiz with others by publishing it on a URL.
Furthermore, the quiz maker allows you to create quizzes and assessments. You can use it for various purposes, such as assessing knowledge, skills, or interests. It also has a built-in scoring system that allows you to assign scores to each question and track your learners' progress.
Fluent Forms has a variety of different types of quizzes that you can create and use for various purposes. Along with that, you can show quiz scores in various formats as the following.
Total points
Total correct questions
Fraction point
Grade system
Total percentage
I'd also like to mention that, Fluent Forms is great for collecting leads with quizzes. You can get a number of powerful integrations, including Zapier, Mailchimp, Constant Contact, ActiveCampaign, FluentCRM, and many more.
But the best part is Fluent Forms has tons of features to increase the growth of your online business. Here are a few:
Prebuilt forms to create forms easily
Drag and drop builder
Multiple payment solutions
Conditional logic 
Email notification
Many CRM integrations
Landing page and shortcode
Export and import forms
Quiz and Survey Master
This is a great tool for creating quizzes and surveys. It has a simple interface and allows you to add images, videos, audio files, links, text boxes, and many other types of content. The plugin also includes features like auto-grading, automatic submission, and email reminders.

Quiz and Survey Master is a WordPress quiz plugin that is fully responsive and can be used to create any type of quiz. It also has an advanced logic system that can be used to create different types of questions.
This plugin also comes with a lot of features like unlimited question types, saving survey progress, question editing and deleting, etc.
WP Quiz
A few quiz builder plugins got fame in the WordPress arena, and WP Quiz is a top-listed tool. It's one of the most popular quiz plugins in the WordPress ecosystem. It also offers an easy-to-use interface to create quizzes and a user-friendly admin panel to manage them.

WP Quiz plugin allows users to create quizzes using a simple drag & drop interface. Users can add questions, answers, images, and videos to each question. They can then set the number of points required to pass the quiz and whether they want to allow users to skip questions.
You can make your website more interactive and engaging for your visitors by creating interesting quizzes with WP Quiz.
Quiz Cat
The Quiz Cat plugin allows you to add quizzes to your website easily. It comes with a free version, which includes all features except customizing the quiz page's look. If you want to customize the appearance of the quiz page, you will need to upgrade to the premium version.

Moreover, it has a drag-and-drop interface, making it very easy to design and customize your quiz. You can also add multimedia elements like images, videos, audio, HTML5 content, etc.
ARI Stream Quiz
The ARI Stream Quiz plugin allows you to create quizzes using any type of question and answer format. It has a simple interface and works well with most themes.

Collecting leads is also a significant part of this plugin since it integrates Zapier, ActiveCampaign, Mailchimp, MailerLite, and some more.
The plugin comes with a wide range of features that allow you to create quizzes in minutes, including question types, questions per page limit, time limit per question, scoring system, answers per question, and more.
Conclusion
Now you know about different WordPress quiz builder plugins and how they're helpful for your business. I suggest choosing Fluent Forms because it's not just a typical form builder. It's a business tool. Besides creating quizzes, you can enjoy other benefits Fluent Forms provides.