You must have finalized a striking theme for your website and would have also hired the best professionals to develop a platform for your brand. Even if you're developing it on your own, most probably, you aren't going to leave any stone unturned in coming up with the best website. However, amidst everything, there are certain things that you may forget. How about legal pages? And did you know there is a WordPress privacy policy plugin to help you with this task?
Of course, that's true. Along with that, another considerable fact is that a majority of people seem to overlook the importance of having lawful pages on the website just because they think that these pages are boring and that no one will pay attention to them. If you're also following the same league, you're nothing but entirely wrong.
Although you might have never experienced it; however, not having legal pages can simply drag you and your business into grave troubles, most of which might include a hefty amount of fine. Take the example of Google – a mega-giant company – also had to bear the brunt. Apparently, this search engine was fined €50m for not being transparent with its policies. Shocked yet?
So, that's another reason you should use all the essential legal pages on the website. To help you out with this task, a considerable plugin, WPLegalPages is here to help.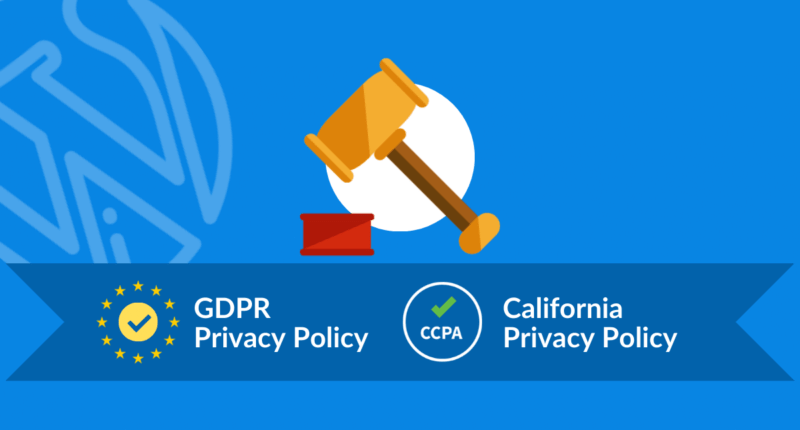 Developed by a team of skillful professionals, this plugin has been equipped with several efficient features. But, before diving into its elements and efficiencies, let's first familiarize you with all the reasons that wouldn't allow you to take these critical pages for granted.
Reasons to Adhere to Online Laws:
Irrespective of the niche you're working in or the products & services that you're selling, if your business matches the ethics of the internet, you'd have to make sure that you abide by the rules as well. As mentioned above, any other way might bring nothing but problems to you.
Keeping this in mind, here are some of the compelling reasons to put policies on the website:
Perhaps, one of the most important reasons to display these legal pages on the website is because you need them. There are several laws across the world that demand you to make the site compliant with these rules and regulations. Moreover, if your website is gathering any personal information from users, be it an email address or their contact details, you need to put the policy for users so that they'd understand what you're going to do with their data.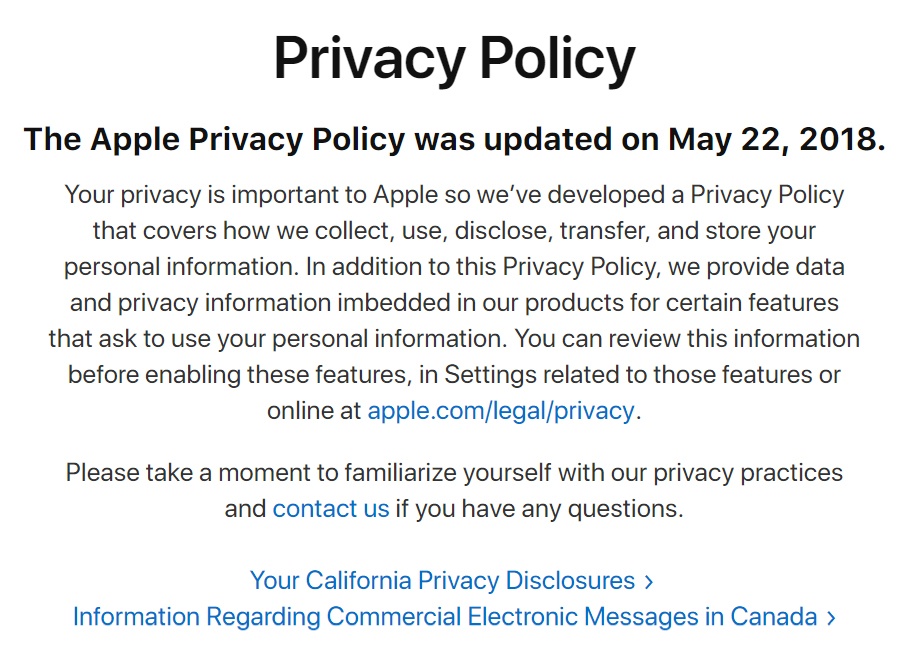 There are specific legal pages, such as a Terms & Conditions page, that act as a legal bond between your brand and your customers. Through this, you can set rules and regulations for your visitors, and they'd have to follow them if they wish to access your site.
Further, such policies also let users know about the consequences they'd have to follow in case they're abusing your website and its content in any way, including spamming, posting defamatory comments, erupting fights, and more.
It Saves You from Future Fights:
Irrespective of what you're selling on your website, whether it's information or a specific product, you wouldn't want to be held liable in case something goes wrong, right? Thus, having adequate pages on the website, you can easily deny being responsible for the repercussions. In this way, you can easily get away from legal calls.
Consequences of Not Having Legal Pages on the Website:
Now that you're wary of how legal pages can help you gain advantages, there are certain repercussions as well that you must keep in mind. Apparently, every country comes with a different set of rules. So, if you're serving international customers, you'll have to ensure that your site doesn't end up in a ditch just because you didn't know how the country follows internet rules.
To clear the air, here are some of the fines that you might have to pay for not using policies on the site:
The recent EU General Data Protection Regulation (GDPR) has standardized up to 4% of the global turnover the penalty for not adhering to the laws
In case there are some severe data breaches on your website, the EU Data Protection law can charge you up to £500,000
California Online Privacy Protection Act has come up with its own provisions, under which, you might get booked for up to $2,500 for not following the internet norms
Necessary Legal Pages for Your Website:
While talking about the acknowledged privacy policy generator, WPLegalPages can surely help you design a variety of pages to be published on your website. Though it comprises an extensive list, your business may not require the creation and display of every single legal page.
Keeping this in mind, below mentioned are the most common pages you can consider if your website isn't old enough and doesn't carry out severe operations.
1. Terms & Conditions Page:
Whether you're selling a product or using third-party apps on your website, ensuring that you have a terms & conditions page curated specifically for your business is a must. In terms of purchasing and using your products, having this page can become a savior if you want to communicate certain conditions to your customers.
So, when you are about to create this page, you can keep certain things in the clauses, like:
How do you wish your users to behave on your website
Actions you're going to take for abusers
Content that they can post or cannot post
If registering is essential or not
And similarly, you can also think of other pointers to add.
2. Privacy Policy Page:
As much as it's a boon, the internet can become a curse within mere seconds, especially when there is a data breach that may affect your website. So, displaying a privacy policy should be vital for your business.
When you create this page using a WordPress privacy policy plugin, you must not forget to add these things to the policy:
Third-party using the information
Ways you're using the information
Reasons behind data collection
How users can opt out of it
Moreover, updating this policy periodically is also an essential task to execute.
3. Copyright Notice Page:
You surely wouldn't want anyone else to use your content with their names. It can be a severe copy breach. So, to ignore this incident and to let them know its consequences, you must be displaying the copyright notice. This notice should include almost every element of the website, including the logo, content, images, videos, and more.
4. Disclaimers:
Disclaimers are especially crucial for such websites that are promoting third-party services, such as products, text information, and more. By displaying these disclaimers, you simply let your users know that you aren't taking any responsibility and that you shouldn't be dragged in case something goes wrong.
How Can WPLegalPages Help You?
As per its features and advantages, WPLegalPages can be considered one of the best plugins for creating legal pages. With the smooth interface, making this plugin work isn't that tough. Also, everything that it carries can help with some or the other issue.
So, there are certain essential features that you should know about while assessing the worth of WPLegalPages.
One of the primary reasons that force people to ignore legal pages is writing the content. Surely, you wouldn't be an expert at it, and you cannot even copy-paste from other sites, right? Don't worry; this plugin takes away your hassle just right.
It comprises more than 25 templates that have been designed by keeping privacy and other common laws in mind. Also, you get to choose the industry your business is working in. According to that, this plugin shows you the content. On the right side, you can find the list of templates to choose from. You can then edit it a bit and hit the publish button.
If you wish to experience tremendous business growth while staying away from troubles simultaneously, following the ethics of EU Cookie Laws becomes essential for you. Keeping this in mind, WPLegalPages provides an option to create a policy following this law.
With its independent template, you can create a cookie message and let your users know about it.
Moving forward, WPLegalPages also offers an option to create a striking and functional popup. You can use these popups to showcase forced agreements or privacy policies to the users. Also, these popups are responsive enough to be displayed on every type of device and screen size.
Popups can either be created through shortcodes Or you can use your coding skills to create one.
Setting Up WPLegalPages:
Not just in terms of features, but when it comes to installation and usage, this legal page generator provides pretty smooth service.
Installation & Activation:
Installing and activating this plugin is just like any other tool for a WordPress plugin. Upon completing the purchase, you'll get a .zip file that you'd have to upload to the website. To do so, follow these steps:
Visit Plugins section on the dashboard
Click Add New
Choose Upload Plugin option
Upload the .zip file that you downloaded
Once done, click on Install Now
And, the plugin will be activated.
After the activation, you'll find the Legal Pages option on the left side of your dashboard. From there, you can easily set up the entire plugin according to the needs:
Click Legal Pages
Select Settings option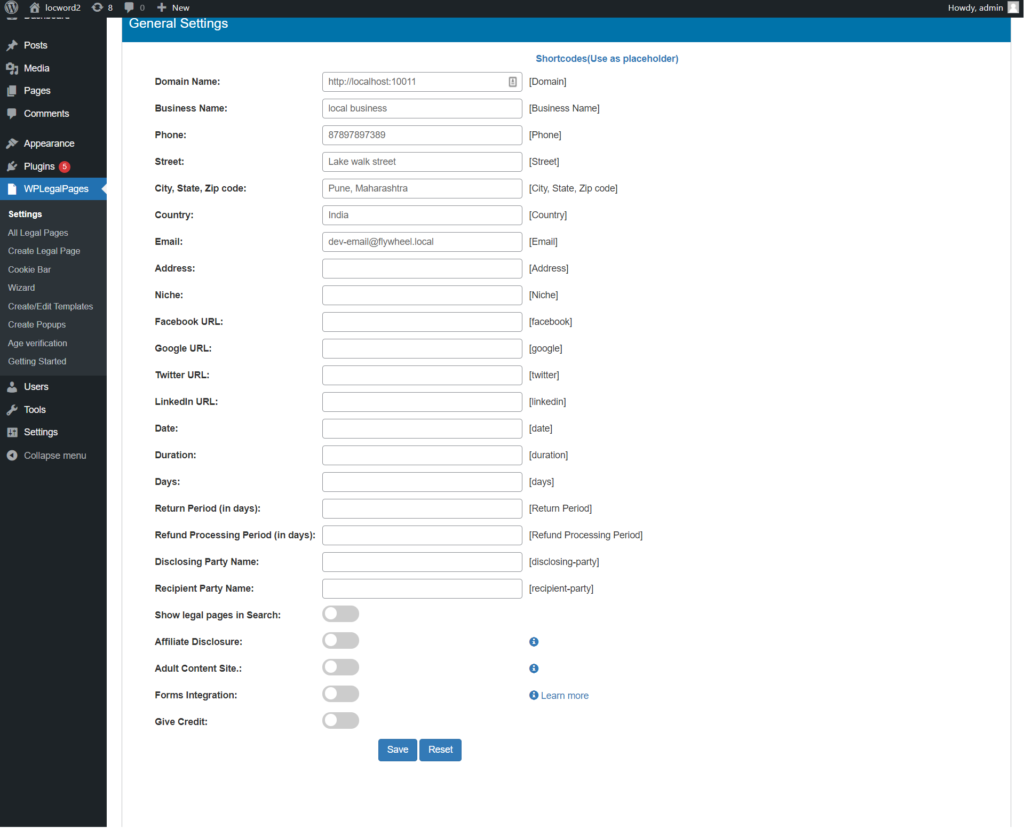 Your screen will show options like those displayed in the above image. From there, you can customize every field accordingly.
Follow these steps to create your first legal page:
Click Legal Pages
Select Create Page
Select the Type of Site

And then, you can select the template from the provided list, edit the content, and publish the page.
Conclusion: While the advantages of the internet are undeniable, its consequences cannot be ignored either. Hence, make sure you're entirely equipped before you launch your website. Use WPLegalPages as your privacy policy generator and keep your business safeguarded from threats.
Author:
Sanjeev Pandey
Sanjeev loves everything about WordPress. Always in constant search of new tools, and Plugins keep him hungry all the time. He spends his day brainstorming new ideas about new plugins and themes on WPeka and CyberChimps.
You can follow him on his personal blog Appsreviewhub or Facebook.