WordPress LMS plugins are amazing tools that can help you build your own learning platforms. With these plugins, you can start developing and selling courses inside your WordPress dashboard.
So, if you already know about WordPress, the path is easier than you can imagine. Or, if you have no idea about it, it will take probably five minutes to get started with the world's most user-friendly CMS.
How are these LMS plugins helpful? Besides creating courses, you can edit them and share them. On top of that, there are multiple payment settings to make sure you're getting paid for your efforts.
You have a team of instructors? There's good news for you, too. You can maintain different courses for separate instructors, or you can include multiple teachers into one single course.
I'll try to discuss the best WordPress LMS plugins with as many details as possible. Then, I'll give you a tip on how to gain more customers using a CRM tool.
But before anything else, what is LMS? I'm answering this question now.
An introduction to LMS
LMS or learning management system, in other words, can be described as a tool to build online learning platforms. The main goal of this tool is to empower people with learning without coming to a physical classroom.
With an LMS WordPress plugin, you can easily start building your online learning platform. Why WordPress? If anyone asks that question, I'd say 43.0% of websites are built with WordPress.
Although, it's not about the number solely. WordPress is easy to use, so you have a simple learning curve. With the power of plugins, the core strength of WordPress got multiplied by one hundred.
How can LMS benefit you? As a course creator, you can create eLearning programs, share content, enroll and evaluate students, and a lot of other advanced activities. With an LMS plugin, you can design and manage your online courses right inside the WordPress dashboard.
What to look for in a WordPress LMS plugin
Now you know what's LMS and why WordPress LMS plugins. Let's talk about the features you should look into while choosing your next tool.
I'll share some basic requirements so that you can keep an eye before selecting the right product.
Create a course: This is the most basic yet the most significant feature. You need tools for adding videos and other relevant content. A course page builder can help you here to turn your files into an attractive course.
Student enrollment: You need to keep an easy way to enroll and manage your students. This feature will help you know the number of students in a specific course.
Track progress: If your students know about their progress based on a course, they can quickly figure out where they stand. And how fast their pace should be to reach the goal.
Discussion forums: Popular forums like BuddyPress and bbPress are a great way to guide your users to discuss course materials. Integrations with these industry-popular tools can leverage your users participating in chats and forums regarding a specific course.
Badges and certificates: Often, these features work as rewards for accomplishments. When a course is finished, or a particular module is completed, a popup will notify students, known as gamification. The other good things are certificates that enable users to display them on their LinkedIn profiles and elsewhere.
Coursework: It's a great way to ensure students are learning from your course. To do that, your platform should provide an efficient option to send and receive assignments.
Create quizzes: As a course provider, it's crucial to understand whether your students absorb what you're trying to teach. Quizzes are a great savior in this regard. You can determine the pace then. And identify if your course needs restructuring.
Payment gateway: Another crucial feature because without the proper payment gateway support, your business cannot flourish. A single payment method might not be available in your preferred location.
Marketing potential: You build a learning platform. Then, what? The more people know about it, the higher chance your business will get. Affiliate option, coupons, automated emails — inclusion of these promotional features will give a powerful boost.
These are the basic requirements you should look into a WordPress plugin. Before diving into the ultimate list, I want to make a quick note of the difference between LMS and membership.
LMS vs. membership: is there any difference?
This question may come into your mind if you're new to this online learning industry. For instance, I have listed a plugin here, which is originally a membership plugin. So, you might go after a membership plugin instead of an LMS plugin.
That's why it's needed to know which one does what. A membership plugin is for forums and discussion boards, where people come and participate in conversion for various topics. That's not the goal of an online learning platform.
Instead, the LMS plugin will allow you to build a learning environment where people can enroll in different courses and achieve some particular goals. You can create courses and add many options to motivate users. At the same time, you can integrate a forum for discussion.
A membership plugin helps you manage registration and impose restrictions on access to your site. You can pick a membership plugin if you want to create a forum. But for course building, you need an LMS plugin or choose a plugin that meets the requirements I have stated a few steps below.
WordPress LMS plugins are specific for online learning with many unique features, such as course builders, quizzes, grade books, certificates, and similar things. On the other hand, these things don't carry any value within a membership site.
Don't get confused yourself here. If you want to build a business with course selling, you need a WordPress LMS plugin in your hoard. You may want to combine both membership and LMS plugins simultaneously. The good news is most of the tools mentioned here have connections with membership plugins.
The only plugin that may confuse you here is MemberPress, as it's a membership plugin. But, it has all the functions to build a learning management system. Don't take my words for granted. Go through the details and find out which LMS plugin is right for your business.
The best WordPress LMS plugins
Here comes the sweetest part. I could talk about all the plugins at the beginning. But without giving you some background, it will be hard to understand, especially if you're new to this. At any point, I don't mean to make it overwhelming.
Many people started their online business journey to survive the pandemic. Why can't you be one?
Enough of the pep talk. Let's move into the best WordPress LMS plugins. What are they, and how close are they to your needs? We'll crack them one by one.
| Plugins | Price starts | Integrations (3rd Party) | Free version | Read details |
| --- | --- | --- | --- | --- |
| LifterLMS | $120+/year | 45 | Yes | More |
| MemberPress | $149 | 60 | No | More |
| TutorLMS | $149 | 17 | Yes | More |
| LearnDash | $159 | 20 | No | More |
| Sensei | Free | 7 | Yes | More |
Made with Ninja Tables
LifterLMS
In the world of WordPress LMS plugins, LifterLMS is a renowned one mostly because of its user-friendly features. With the drag and drop course builder or flexible monetization option, this tool can turn your courses into a profitable business.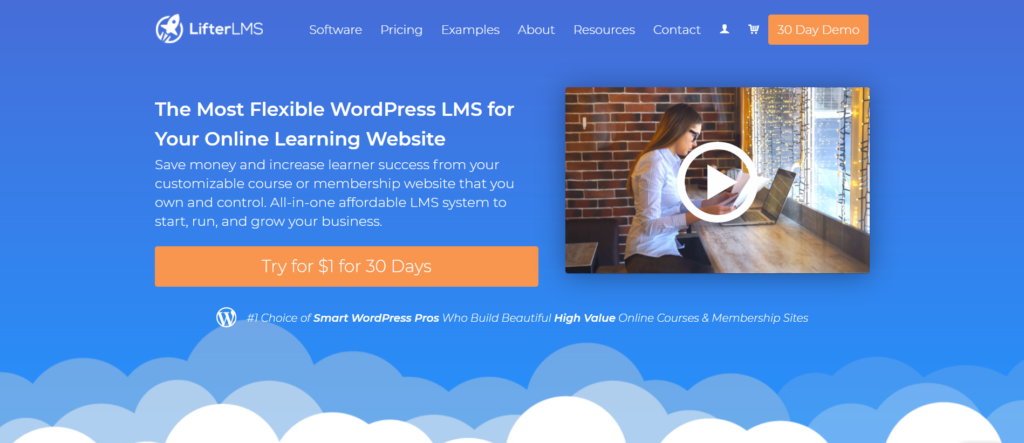 Above everything else, you need to see how easy the course builder is. That's why I advocate for this brilliant tool. Reuse a lesson, create multi-instructor courses, drag and drop a lesson from one course to another.
There are many ways you can motivate your learners to stay focused on the learning. Build quizzes or try gamification for enhanced engagement possibilities. To excel the learning, apply coaching and assignments. Even build your community to help them further.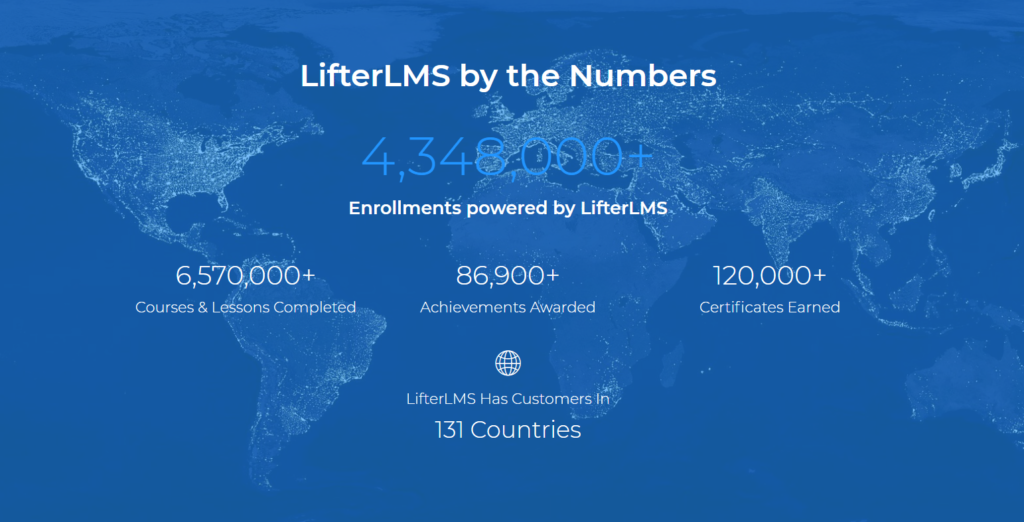 On top of that, LifterLMS comes with tons of content-related options. It encompasses content security, personalized dashboards, course start date, and more. Keep your course content private when you're building or updating it or in between.
LifterLMS is a simple yet powerful LMS plugin that comes with tons of valuable features to help you handle the course content. Like LearnDash, it offers a drag and drop course builder and helps you build multi-tier courses with audio, video, images, and text-based lessons.
The key features of LifterLMS
LifterLMS comes with multimedia lessons to make learning fun. Video, text, audio, image – there are multiple ways to organize your course.
Create dynamic quizzes to test learners, and use the timer to examine how students perform within a maximum time limit
Students have the opportunity to track their progress from the dashboard. Users can edit their profiles and watch the lessons again.
With the multi-instructor based training, you can add many instructors to one course
Help your students with supporting documents. Allow them to download eBooks, audios, worksheets, PDFs, and more
Export or import one LifterLMS course from one website to another, with many easy options
With credit card payments, you have full control over the revenue generated by your courses
Want to make the purchasing simple? Charge one-time payment for a single course or membership option.
Recurring payment system allows your business to be more sustainable and get earning regularly
Create a payment plan so that customers can choose the right option based on whatever they need
Access Plans is a robust pricing model to sell at your will and create restriction if you want
You can add PayPal to allow customers to make their one-time or recurring payments
Subscriptions system is an excellent way for recurring revenue, and you can integrate it with your learning platform
Create bundles of courses and earn more revenues as bundles are very popular among learners
By offering private tutoring, you can increase conversion and help students who need extra support
Integrations
LifterLMS is super-rich with third-party integrations, so you don't have to face any anomalies using your favorite tools. It already works with WPForms, Ninja Forms, WooCommerce, Mailchimp, Elementor, Stripe, and PayPal. That's all, though. Astra, WP Fusion, MonsterInsights, Groundhogg, Divi, Uncanny Automator, iThemes Security Pro, WishList – the list goes on.
Pricing
With one active site, the basic package costs $120+ per year. The price will increase the soon you buy an individual plugin. The second plan is available for $360 per year with five active sites and available addons for eCommerce, CRM, and form. The last one is Infinity Bundle that charges $1200/year. You will get tons of addons with this pricing plan alongside unlimited active sites and three tech supports.
MemberPress
MemberPress is not primarily an LMS plugin. It was built for membership sites where you can build your learning platform with paid membership. From selling the online course to accept credit cards seamlessly – the benefits are unlimited.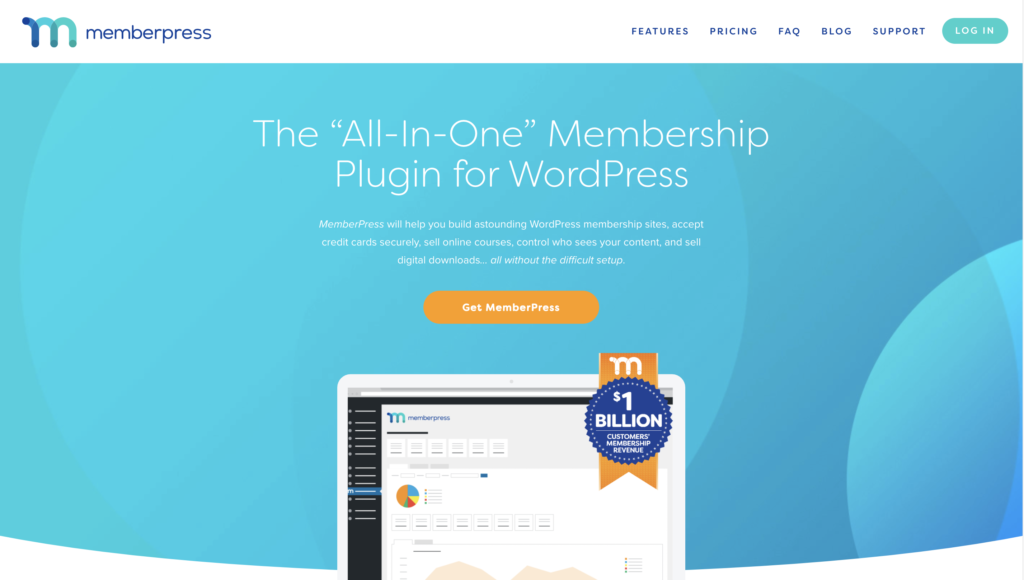 Want to restrict content or create a shop for digital downloads? You can do all that without having any difficulties. The setup is no matter if you're a pro or just starting out.
As I told you, setting up this membership plugin is easy, and you can create and manage subscriptions at your comfort. On top of everything, you can allow or prevent users from accessing different parts of your site. That includes pages, tags, posts, categories, files, and more.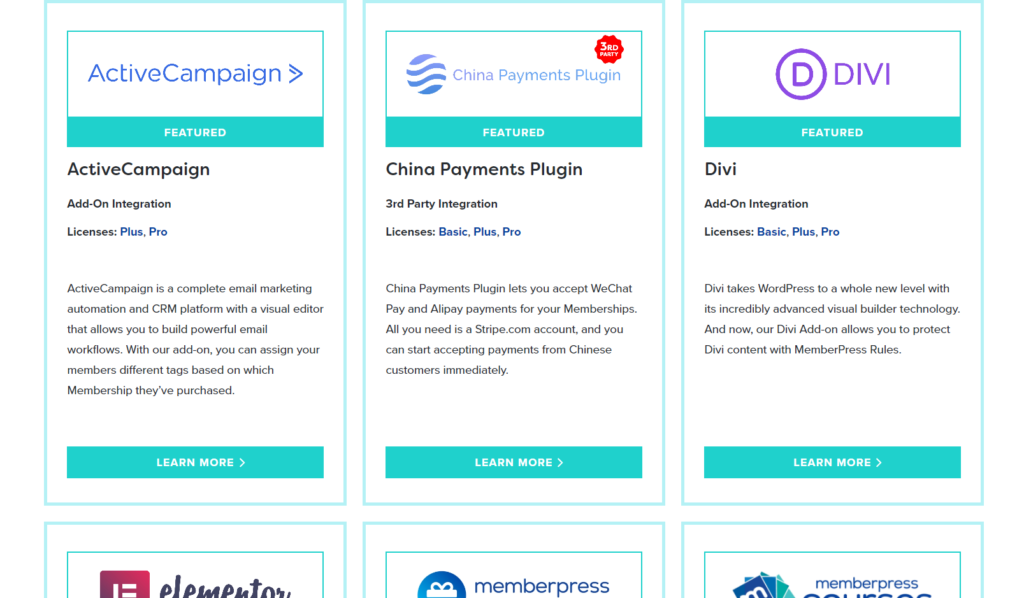 If you're waiting to start your membership site within your familiar WordPress setup, MemberPress has all the answers. Not only can you play with all WordPress settings, but you can perform a lot more with plugins and other exciting features.
The key features of MemberPress
Anyone can get started with MemberPress because it is easy to install and setup payments without requiring any coding knowledge
Get the Courses addon and start building and selling courses right from the WordPress dashboard, and that requires no additional download
One of the most amazing things about MemberPress is you can apply coupons to your courses that surely boost conversion with the direction of expiration
MemberPress allows you to restrict content with various access rules so that you can decide what users can see based on their membership
With the integration of BBPress and other forum plugins, MemberPress lets you build your private community to give more space to your learners
No matter which WordPress theme you're using for your website, MemberPress works great with all of them
Leverage the power of dynamic pricing pages and create product order, optimize the copy, change the themes, add group pricing, and give it a brilliant look
Another out of the box feature of MemberPress is it allows content dripping so that you can schedule and define the access expiration
MemberPress also offers abundant actions and filters just to show your developer's mind a clear way to attach your custom code
The pro version of MemberPress packed with Affiliate Royale, which is to help you build your affiliate program
Let's be clear on the reporting as MemberPress shows all the insights related to your earning and product-specific data
The power of an automated billing system will help your members to manage subscription according to their need — create, upgrade, cancel or update
By entering your gateway API and setting up notifications, you can seamlessly integrate payment gateway with your membership website
Finally, the integration with Zapier is an excellent feature as you can connect thousands of tools with MemberPress with a few tweaks
Integrations
It wouldn't be wise to mention all the integrations and turn the content into an insanely longer one. However, MemberPress has integrations with a myriad of third-party services, including email providers, payment solutions, affiliate tools, and more. Elementor, Divi, MonsterInsights, ActiveCampaign, Zapier, Authorize.net, BuddyBoss, ConvertKit are the ones, if I want to name a few.
Pricing
With $149, you can use MemberPress to one website, add unlimited members and content. PayPal, Stripe, and 10+ integrations are also available with this package. The second plan comes with all the basic features and some more at $249. You can use it up to two sites and get an additional payment method, Authorize.net. The big one will cost you $349, and you will get five sites license, exclusive pro addons, plus all the features from the other two plans.
TutorLMS
TutorLMS is comparatively new, yet they have made a big buzz in the world of WordPress LMS plugins. Likewise, it has both free and premium options, and you can decide with which one to start. Among many fantastic features, I like the frontend course builder most, which is obviously empowered with drag and drop.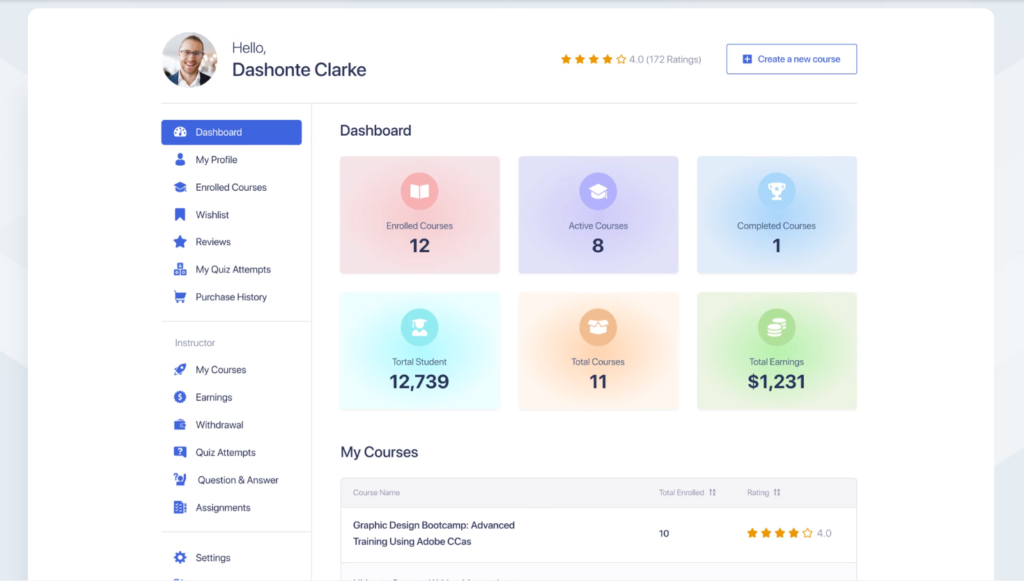 Not to mention that you can brilliantly create quizzes by shuffling the columns in a row. TutorLMS also enables the feature of adding multi-instructor functionality. What's more helpful is TutorLMS offers a bunch of ready templates to get started with your site. Page builders or Gutenberg – these themes are compatible with both.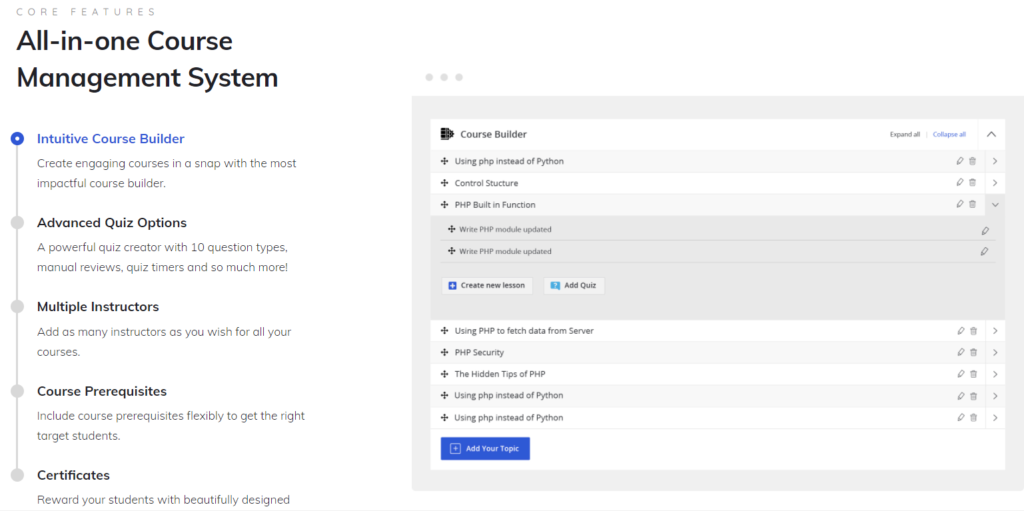 Monetization is a crucial part of any LMS platform, and you can create different plans with TutorLMS. Get help from multiple eCommerce plugins and customize the monetization option for your product. Furthermore, you can introduce shopping carts, subscription methods, and many more.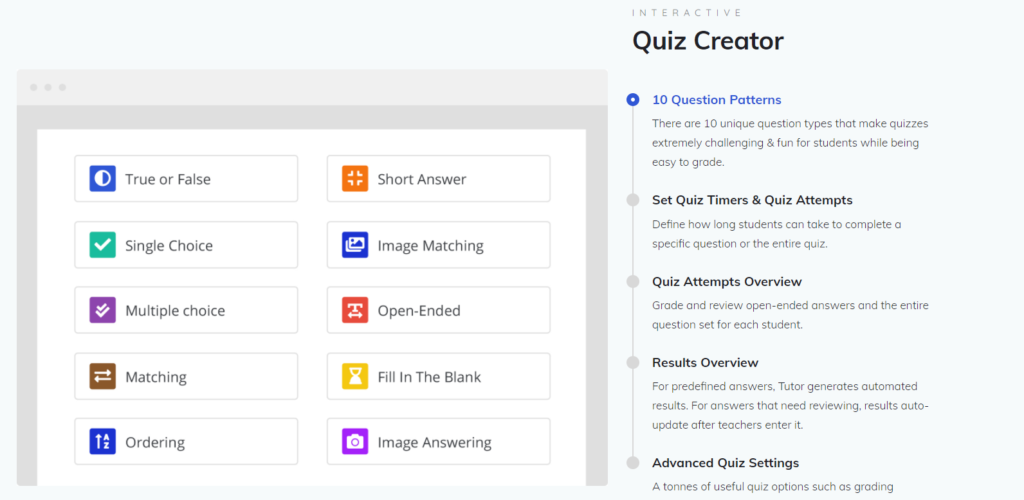 Another great aspect of TutorLMS is it helps you understand the performance of your product with analytics. By understanding the report, you can track the performance of the courses and other relevant aspects, such as reviews and stats. Therefore, your following decisions won't be any blind attempts.
The key features of TutorLMS
The frontend course builder is an excellent tool for beginners to create a course without worrying about learning a complicated technology
Supports different types of content so that you can combine with text or audio, video or live sessions
Elementor and Oxygen page builders are there to give you a seamless experience for optimizing your site and make it completely a learning platform
Works with different monetization plans built with WooCommerce, EDD, and other eCommerce plugins such as Restrict Content Pro and Paid Membership Pro
Multiple question types available with quiz builder to give your users a true challenge to test their learning
For further understanding and open discussion, get help with Q/A and dedicated course forums
Many essential addons are available to boost the activity, like Assignments, Gradebook, and Certificates
Check out earnings from your courses and fix withdrawal settings easily from the instructor dashboard
Switching platforms is also becoming an easy job with TutorLMS, as it provides support for LearnDash and LearnPress currently
Integrations
With a bunch of powerful integrations, TutorLMS will make your journey more comfortable. Some of the popular integrations are BuddyPress, WP Fusion, GamiPress, Automator WP, Zoom, and Google Classroom. With Elementor and Oxygen Builder, you can customize the learning center at your freedom. Restrict Content Pro, Paid Membership Pro, and ThirveCart also deserve to be mentioned here.
Pricing
Besides the free version, there are three different pricing plans if you choose the premium package. The single domain license costs $149, and 5 domain licenses come with $199. You have to pay $299 for unlimited licenses.
LearnDash
LearnDash is a must-have tool for the best WordPress LMS plugins, and the main reason stays behind its speed and advanced functionality. Any enthusiastic entrepreneur can be benefitted from their online course design and cover what they dream for success.
Whenever you're looking for a complete LMS solution, LearnDash can fulfill all your needs. The total package with content dripping, course building, selling, and motivating learners will motivate you to narrow your list to only this product.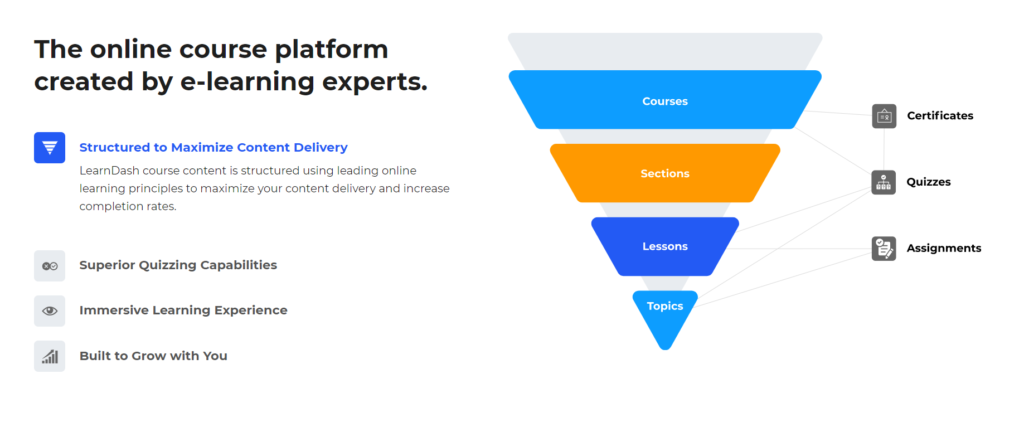 From dreamer to achiever, you can enjoy the easy transition with LearnDash's all optimal quality and top-notch features. Every LMS owner wants to see success with course selling and maintenance. LearnDash is so comfortable that you can check out while you're roaming outside because of its mobile-friendly dashboard.

The key features of LearnDash
Launch the course at your preferred time with Drip-Feed Content, and send an email notification instantly
Add lesson timers so that every learner has to spend some particular time along with having options for scheduling course content
You can make the courses even more advanced by adding multiple actions, such as integrating quizzes inside the course content
LearnDash has a built-in solution for the forum, so you don't need to integrate a forum plugin
Front-end Course Creation allows users to create courses easily within your WordPress dashboard
Whenever a student completes a course or a part of the course, LearnDash can show a grade book. Besides that, there are course points also available.
Leverage the marketing tools to activate monetization with your courses, such as memberships, subscriptions, licenses, bundles, and more
On top of audio, video, and images, you can work with other media types like Google Docs and Adobe Captivate files
Create automation for email notifications and capture reporting
Group management based on user profiles, and you can assign group work if you want
LearnDash also supports multisite if you want to build platforms inside an extensive network
Integrations
Along with many native addons, they also have third-party integrations. That includes WooCommerce, EDD, Stripe, ThriveCart, zapier, BuddyPress, bbPress, and Restrict Content Pro. The list goes on with Paid Membership Pro, MemberPress, Gravity Forms, Slack, Mailchimp, ConvertKit, and so on.
Pricing
The Basic package starts at $159, and it has most of the features to build your learning platform. Every plan has a demo site template as a bonus. However, the Plus and the Pro cost $189 and $329, respectively. The main difference is with licensing as you can 1 license in basic, 10 in plus, and 25 in pro. The ProPanel – which is for advanced reporting – is available only with the last two plans.
Sensei LMS
Sensei is a WooCommerce extension with a ton of advanced features to make your learning platform more interactive. A perfect match for an eCommerce store. Create courses with easy steps and customize as you do with other WooCommerce settings.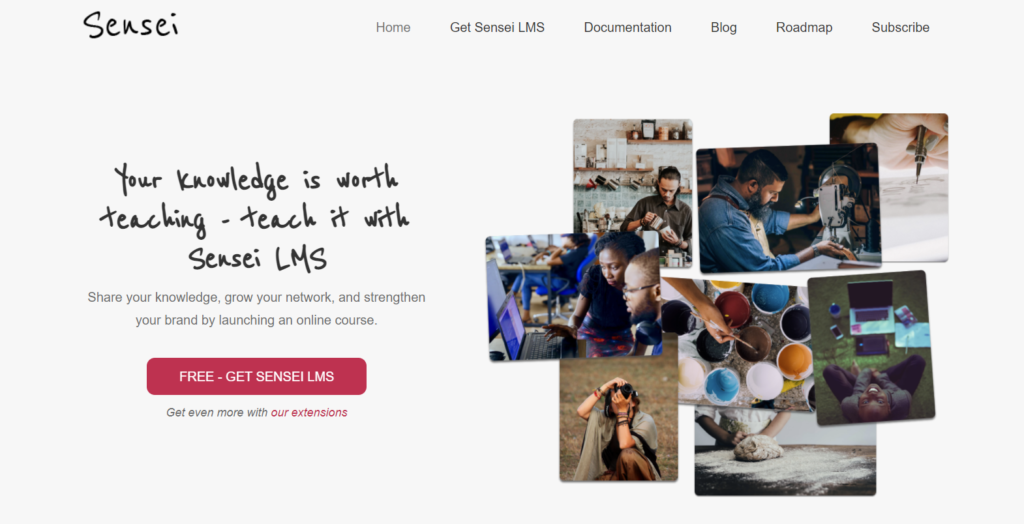 I can't brag about Sensei's features as it's pretty simple and a growing tool in the industry. But for two reasons, I want you to try this LMS plugin. First, it's a beautiful creation of Automattic, the same author of WordPress and WooCommerce. It simply means this plugin is here to stay for a long time, and it will be improved day by day. The other reason is some powerful extensions from WooCommerce can change experience from mediocre to advanced.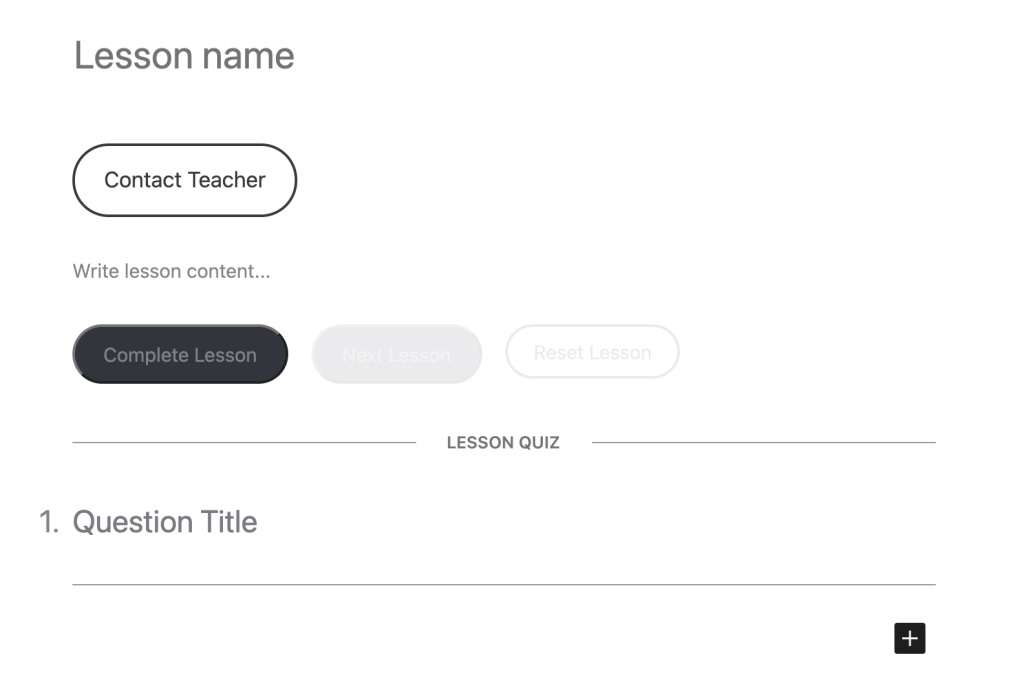 However, the free version may not complete all your intentions. Still you can create a solid learning platform from your very familiar WordPress. As your store grows, you can always add other extensions to unlock the next-level features and give your users more ground to play.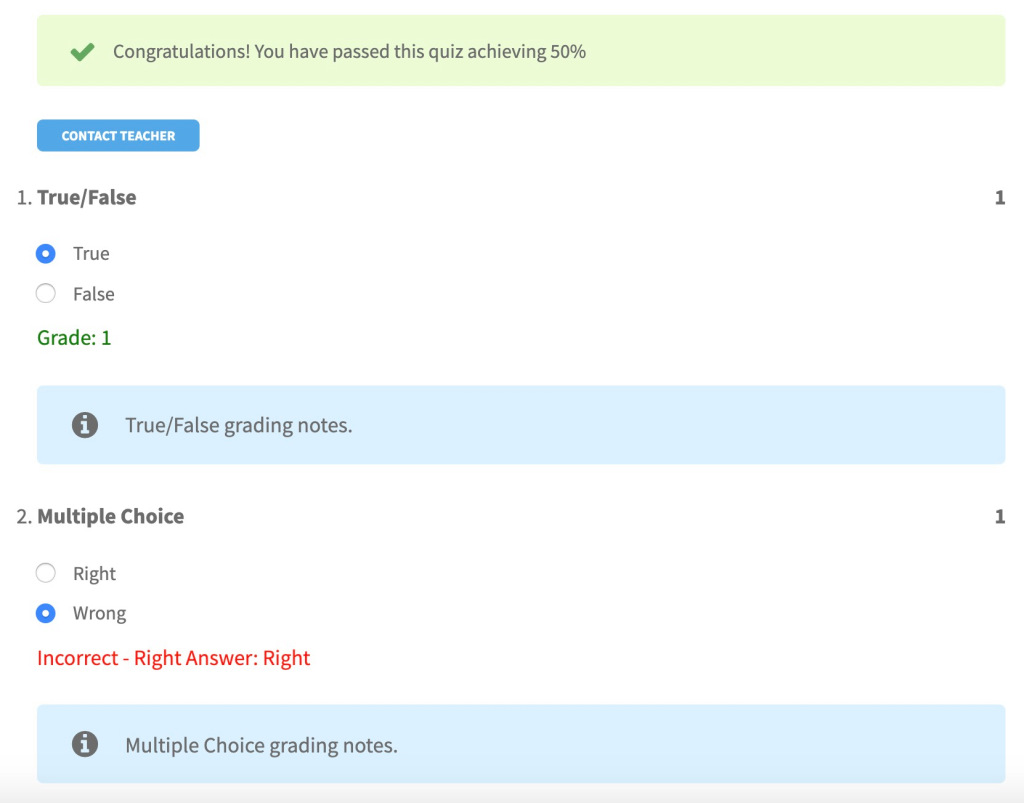 Above all the other facts, you should also consider that this very tool comes from WooCommerce. That's the core reason you don't worry about conflicting Sensei with the WooCommerce theme. Most of the WordPress themes work smoothly with Sensei, so you can focus on creating genuine content.
The key features of Sensei LMS
The seamless integration of WooCommerce and WordPress allow Sensei to play within your familiar environment. It's similar to creating a new page or post in WordPress.
No worries if you don't want to get your hands dirty with coding, as Sensei works fine with most of the WordPress themes
Since user registration is a native WordPress feature, so you don't have to learn it from scratch or find it hard to implement
Adding payment option is an easy job because of the WooCommerce integration, and you can offer subscriptions or course-specific plan
With course analytics, you can find information on various metrics, like registration, course completion, and grading
Utilize quizzes to help students to identify their progress and overall understanding of what they're learning
Quizzes don't have a special design, but Sensei provides multiple templates for file upload, multi-line tests, true/false, etc.
Sensei can display random quizzes from a question bank, and you can set the quiz grading to automatic or manual
You can earn more with another extension, WooCommerce Paid Courses which is built for WooCommerce
Integrations
Sensei has a bunch of native integrations for content drip, course progress, grade sharing, and more. Other extensions allow you media attachments, certificate creation, and paid courses. Sensei directly doesn't offer third-party integrations, but you can find some applications that help you connect with Sensei.
Pricing
Like other Automattic products, Sensei is available for free. The real power of Sensei is hidden under the extensions. Currently, it has seven extensions, and each one comes with different pricing. For instance, WooCommerce Paid Course sells for $129/annually while the Content Drip costs $29/annually.
Special mention: ProProfs LMS
ProProfs LMS is a cloud LMS plugin for WordPress and the world's easiest learning management system. It comes with a premium course library, an authoring tool, a virtual classroom, AI-powered reporting, and other in-demand features for an online learning system. Using the LMS, you can easily create, design, share, and track online courses, lessons, and tests with anyone, anywhere, anytime.
Create custom courses and deliver training on any device. Upload files in any format such as images, audio, videos, presentations, and documents. To make eLearning more engaging, you can add quizzes, surveys, and brain games to your courses. The tool also supports discussion & collaboration between learners via a built-in Q&A forum.
The LMS offers 100+ settings and configurations, including course privacy, notifications, security, integration, branding, and more. This enables you to tailor a course or test to meet your specific needs.
Being user-friendly, ProProfs can be used by people of skill levels and in all industries. It is an all-in-one solution that lets you take charge of the entire training lifecycle.
Key features of ProProfs LMS
Get your online learning up and running in minutes with 100+ professionally designed and ready-to-use courses.
Create courses from scratch using an intuitive elearning authoring tool. Easily import your existing content.
Administer online learning in a centralized and secure platform using the virtual classroom software.
Let your learners learn at their convenient pace through course bundles and learning paths.
Embed engaging quizzes into courses to assess knowledge retention and gaps. Keep your learners excited and motivated.
Facilitate social learning via a Q&A-based online community. Let learners benefit from peer knowledge and wisdom. Never leave a good question unanswered.
The LMS plays well with other useful tools, including CRMs, CMSs, and email marketing tools. Get the benefit of two tools in one through powerful software integrations.
Extract valuable data from the course overview reports & analytics showing course participation, progress, completion, total time taken, etc. in real-time.
Easily create and sell courses online using an eCommerce LMS. Use multiple payment gateways, reach out to millions of potential buyers worldwide, and access advanced sales reports.
Integrations
ProProfs seamlessly integrates with a number of well-known software tools like MailChimp, WordPress, TribeHR, and Zoom. This enables you to eliminate redundant tasks, reduce human errors, amplify the power of the LMS, and increase user satisfaction. These integrations also allow you to easily move data between two systems without the need to switch between the two constantly.
Pricing
The basic plan starts at $2/learner/month (billed annually). ProProfs offers a no-obligation, 15-day free trial on all its plans. In case you cancel a plan within 15 days of signing up, ProProfs won't charge you a single penny. The white-label and eCommerce features come at an additional cost.
Which is the best WordPress LMS plugin?
After the above discussion, I hope you can understand which plugin can fulfill your needs. The best one is not what we describe as the best, but the one you like most.
I have covered all the details, including their features and pricing. Now it should be easy to find out the right pick for your learning platform creation.
Let's recap once again what each plugin holds and why we can consider it to build our eLearning institute.
LifterLMS: the best LMS plugin for beginners with the most features. You can create a basic learning platform with this plugin.
MemberPress: when you want something easy to install, along with payment integrations and apply coupons
TutorLMS: With a smooth interface and a big feature list, TutorLMS is also a great contender.
LearnDash: for some exceptional solutions like drip-feeding, lesson timers, grade book, and additional media types
Sensei LMS: if you're looking for a free option available under WooCommerce, you can choose Sensei. But remember, it's comparatively a new tool with limited features.
If you ask me which plugin to choose, I would suggest LifterLMS or LearnDash. Considering features and pricing, both of the tools top other plugins with a prestigious track record.
Well, that's my opinion. You can, of course, select your preferred one based on the features you need. You may have to figure out how expensive it becomes after adding various extensions to your cart.
Did you try FluentCRM? It's a revolutionary marketing tool
I know you're not expecting a CRM tool inside the LMS plugin's discussion. But you know what? This tool is so related that you will thank me later.
What's this tool about, and how does it work?
FluentCRM is a WordPress automation plugin. Meaning, you can perform all email marketing tasks within your WordPress dashboard. If you're skeptical or not sure how it works, there's a free version to try out now.
I'll tell you the easiest way to make the most out of your marketing effort.
First, download Fluent Forms, and create subscription forms. Place the forms inside your course landing page, home page, blog sidebar, or wherever you want.
Now connect FluentCRM with Fluent Forms.
Right after someone subscribed to your list, they will be automatically added to your list. If you already set up a series of emails for new subscribers, they will start receiving those emails!
FluentCRM has integrations with four learning management systems mentioned in this article, except Sensei. No matter which LMS plugin you're using, connect FluentCRM now and give your business an unbelievable yet significant boost.
The learning is so easy that you don't need to hire a campaign master or marketing guru. Once you set up your campaigns and everything else correctly, you'll be enjoying the power of automation. And that is without paying high monthly pricing!
Conclusion
Now you know about the best WordPress LMS plugins and how to integrate a marketing automation tool. If you have an idea of sharing knowledge with others, what are you waiting for? Prepare for the big changes as you're going to establish the next Udemy, Coursera, Skillshare, or Udacity.