Do you know how easy it is to create an email newsletter? In this post, we're going to tell you the step by step process of newsletter design. As you know email marketing is a very useful technique to build a loyal customer base so focus on this point and.
Subscribers deserve to get informed about products, new content, and other updates of your business. Email marketing is a cost-effective way to driving sales and gaining more engagement to your website. So, don't forget to send the newsletter every now and then.
What is an email newsletter?
First thing's first. Unlike other communication systems, the email newsletter is a personalized way to get attached to the customers. Also, it enables you to let your users know about the next deal you're going to launch and similar offers.
You can do both with email marketing: sending product updates and pro-tips to educate users and giving them exciting offers to grow your start-up. To get all those fantastic content from you, users need to get connected with your system via their email. This way, users become subscribers; in other words, loyal customers.
Applications of the email newsletter
Various organizations find email newsletters useful in numerous ways.
Business: sending information about upcoming products or updates of existing ones
Education: letting subscribers know about new courses are going to start
Blogs: sharing new content, round-ups, and increasing traffic
Non-profit: making stakeholders informed about the things were accomplished and the future plan
Why you need to send email newsletters
People come to your website out of nowhere (mostly from search engines.) And they get vanished after their purpose is fulfilled and they will never come again. Through the subscription of the email newsletter, you can make them your favorite friends who will visit again.
An email is a straightforward way to connect your audience in a personalized way. It's like you're talking so close – face to face.
Your subscribers aren't random people. They're very much interested in your niche; that's the reason they subscribed by giving you their email.
Don't forget that you don't own any of those social media platforms – Facebook, Twitter, and on. While the campaign on those platforms might go in vain, you can always get benefit from an email newsletter.
Because of the outburst in smartphone usage, people can check their email right when a new message has arrived. It's quick, right?
Email marketing tools on the rise
Before getting inside the main topic, we'd like to show you some email marketing platforms which will get more attention in the near future.
MailerLite
For noobs to pundit, MailerLite is easy to get along and run all your future campaigns. The friendly page builder and ready templates will make you feel very powerful to initiate a quick campaign.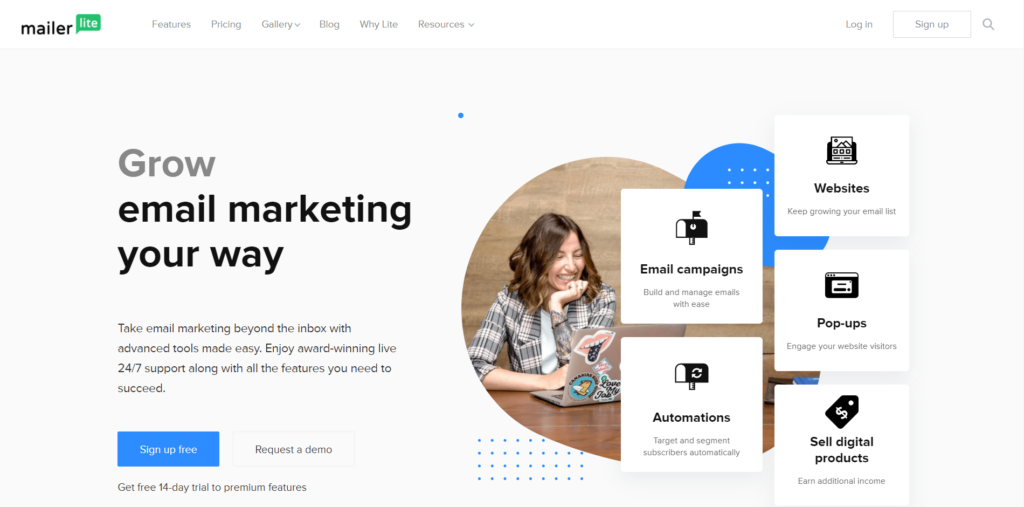 On top of that, you can manage subscribers, integrate various tools, and automate the settings to get the best result. However, MailerLite comes with a free plan which might be short in features but a great sign to check it out.
The landing page editor is a remarkable feature out of all the other options.
ActiveCampaign
ActiveCampaign is an all-in-one email marketing tool with a bunch of other integrated options. It will help you grow your business by providing the perfect solution for successful email marketing campaigns.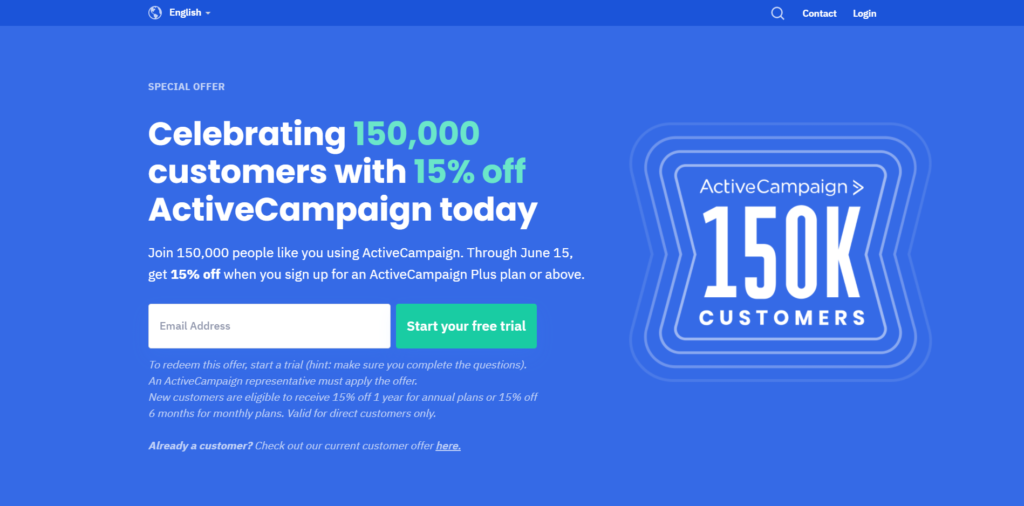 Building contact lists, sending emails in bulk, track response – you can accomplish a lot. From drag-and-drop email design to reporting functionality, ActiveCampaign is what you need no matter the size of your venture.
Gist
Gist is an easy-to-use, high-performance, feature-rich email marketing software for your next marketing campaign. If you're looking for an alternative for your current provider, Gist could be the right answer.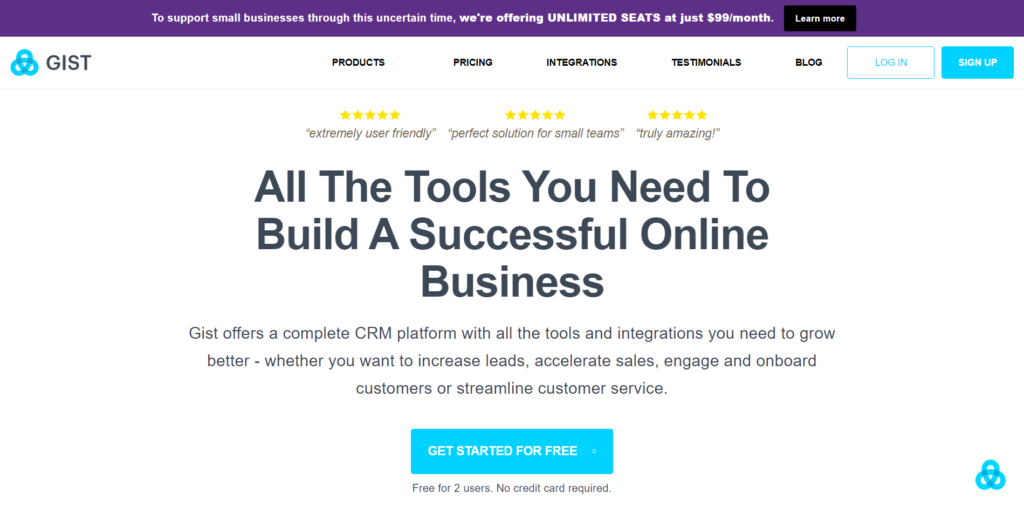 Despite having some issues like slow API and sluggish interface, Gist can be a great solution for small businesses. Choosing Gist means you're saving money from paying for a lot of other tools.
Besides email marketing service, you're also getting a live chat service and messenger bot service along with more useful features.
Moosend
With a simple interface, enthralling automation, and a compelling editor, Moosend is a magnificent solution for email marketing. If you want to switch from your current service provider, it's high time to go for Moosend.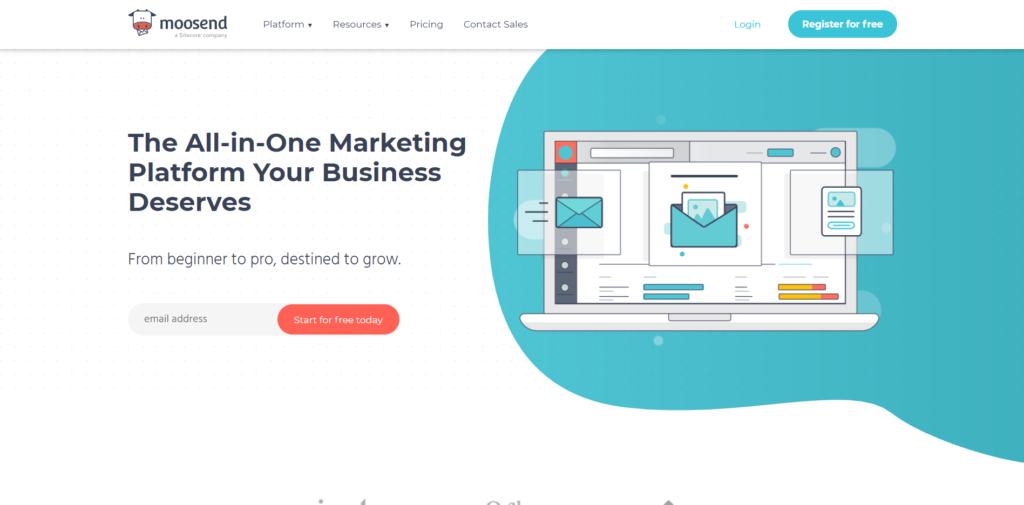 You can run drip campaigns and send event-triggered mail out of all other services. While A/B testing can be an excellent help for audience research, the autoresponders will give you time-saving benefits.
Finally, don't limit yourself from getting more with the reporting.
SendFox
SendFox is a new kid on the block with a strong background (Sumo family). Above every other feature you can expect, SendFox will load fast. It happens mainly because the tool comes with no fancy templates or such other things.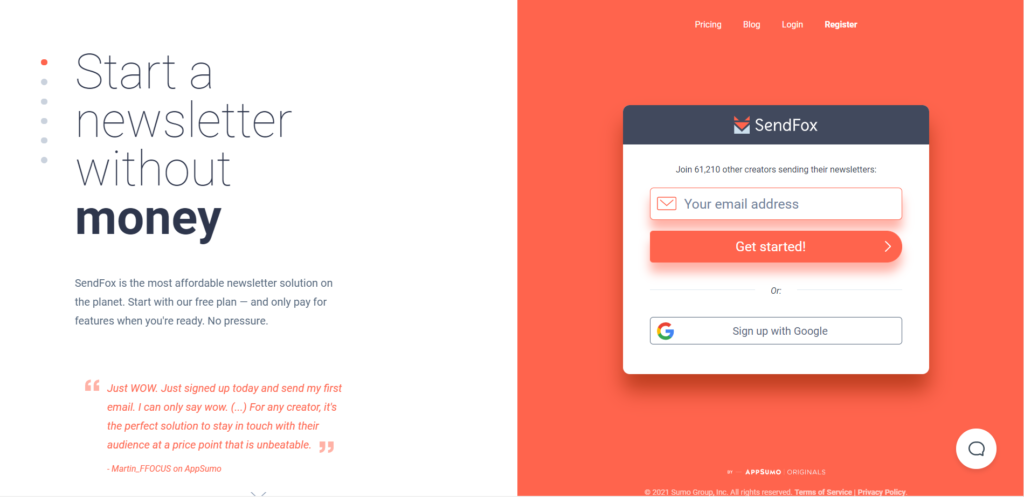 Aside from sending emails, you will get two more engaging features – landing pages and form building options. Nevertheless, they're too advanced, yet you can complete what you want.
People who don't have a website can collect emails by setting up a landing page and all the way SendFox will help you out.
How to create an email newsletter
Let's walk you through the steps of creating an email newsletter. To accomplish that, we need to pick up a platform. Out of the best-performing tools, we're choosing MailerLite to show how to craft newsletter.
Step 1 – Sign up and complete your profile
First, sign up for MailerLite by providing the relevant information.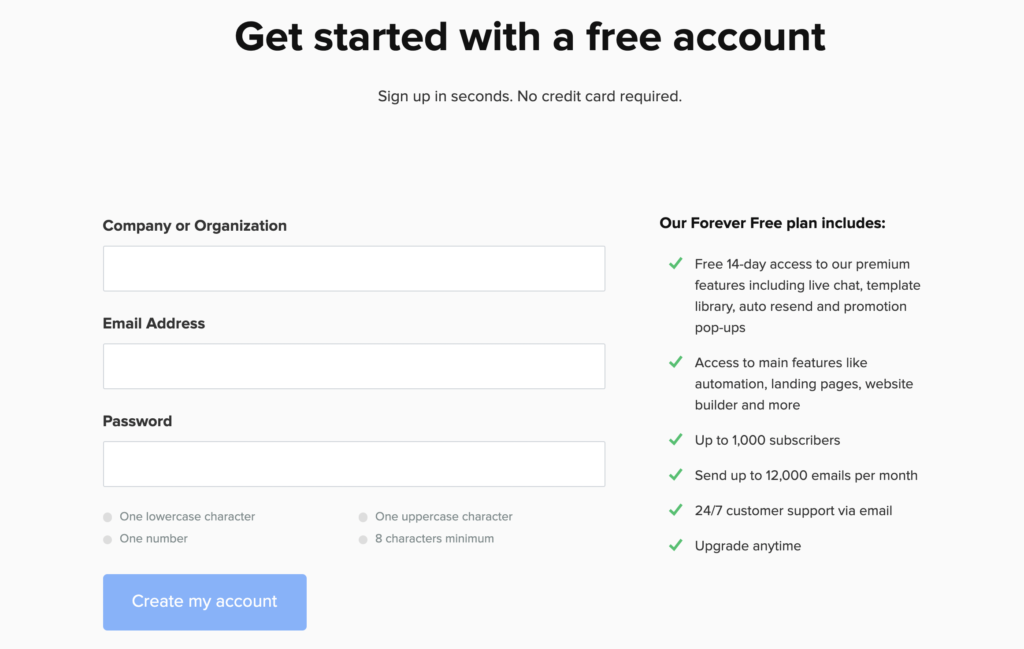 After completing registration, you need to complete your profile. Click Complete profile button.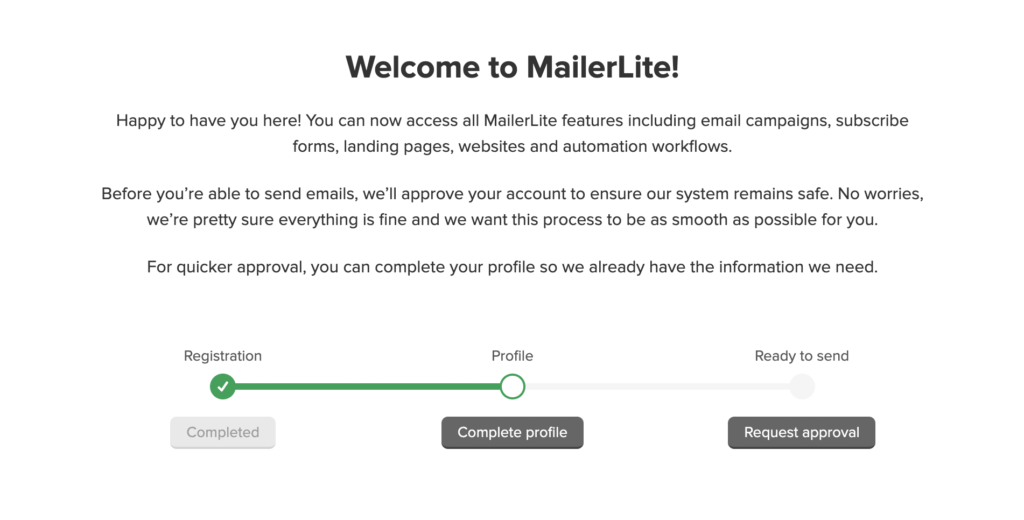 Now provide all the necessary information to complete your profile.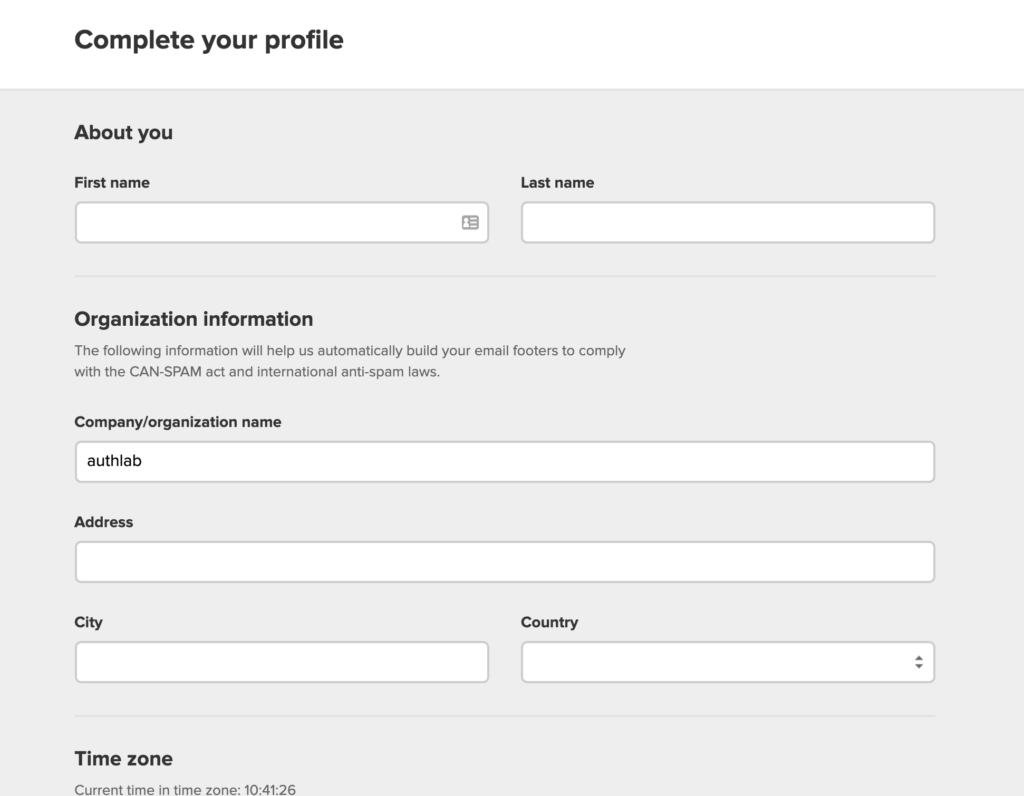 Step 2 – Create a campaign
On the next stage, you can see different types of options related to email marketing. I'm want to create a campaign, so I'm choosing the first option.

A window will appear like the one below. Let's get started by giving your campaign a name. Then provide a meaningful and compelling subject line. Insert your company name or individual's name you want to show as the sender. Select the language which will be displayed on the page where people get redirected after clicking the unsubscribe button.
Step 3 – Fill out campaign information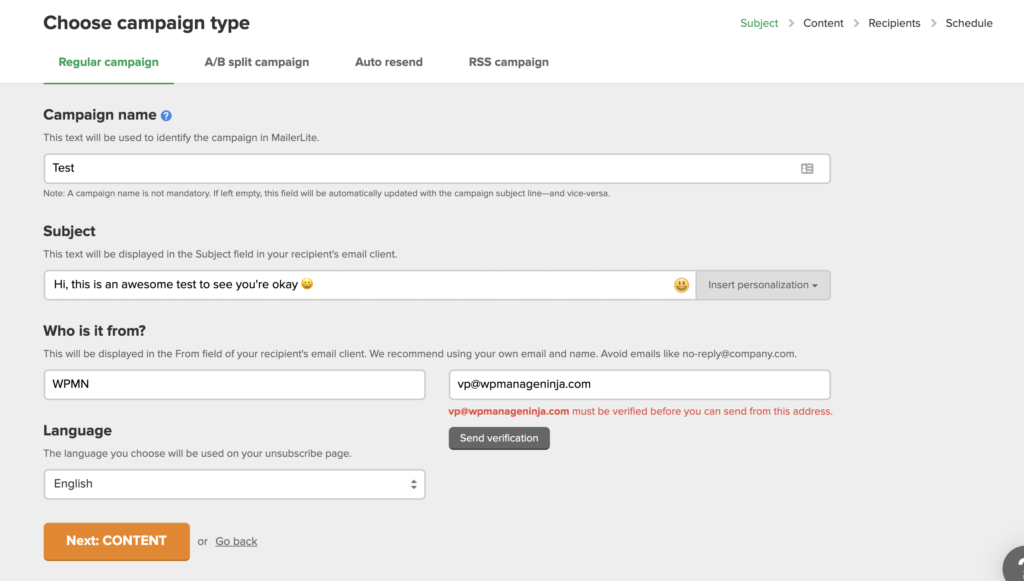 Here's the charm! You can design your email with the fantastic options you can see.
Step 4 – Choose email design option
We'll choose the Drag & drop editor as it has tons of readymade elements to make the email eye-engaging. You can even go for the readymade templates. We're avoiding it for now since it's available only with paid plans.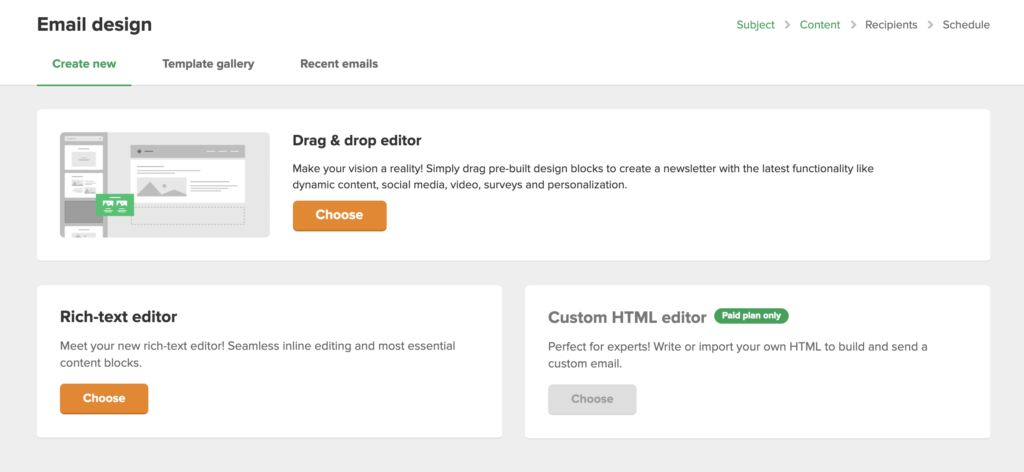 Don't get overwhelmed by seeing the existing template. It's there only to make things easier on your side. A blank space might seem intimidating for you.
Step 5 – Design your email with drag and drop builder
You can add blocks from the left side according to your needs. All the pre-built blocks are made to give you extra power. Consequently, you can add header, gallery, social icons, and buttons. Choose navigation, footer, image, logo, and whatever necessary to make the email more engaging.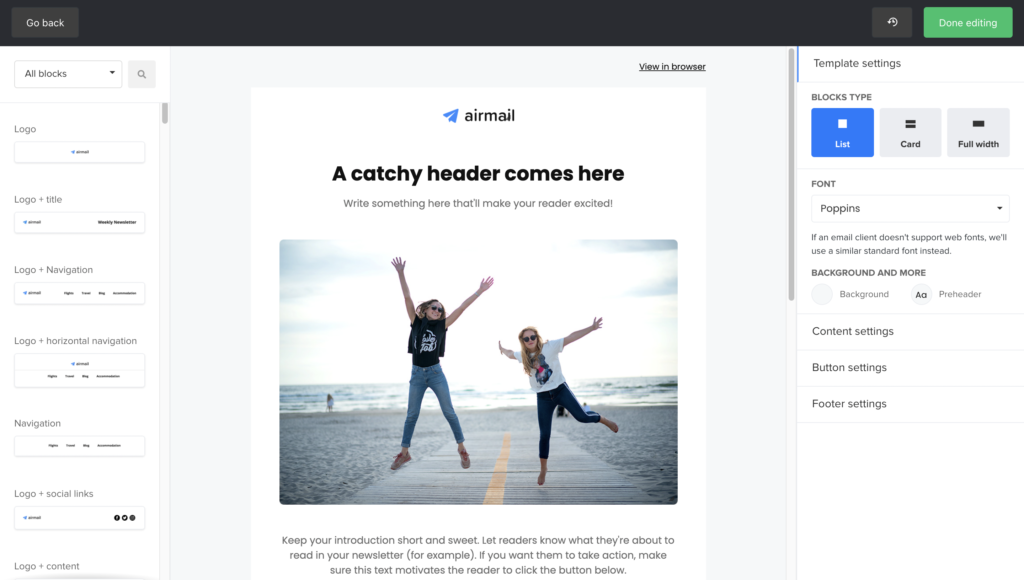 Have you noticed that every block is editable, and whenever you hover on the section, some icons will pop up? So, you can drag any segment and place it anywhere from top to bottom.
Additionally, if you click on a section, all the corresponding options will appear on the right. From there you can edit with more freedom.
After you're done with all the editing, click the Save button from the below right. And then click Done editing from the top right corner.
Step 6 – Add recipients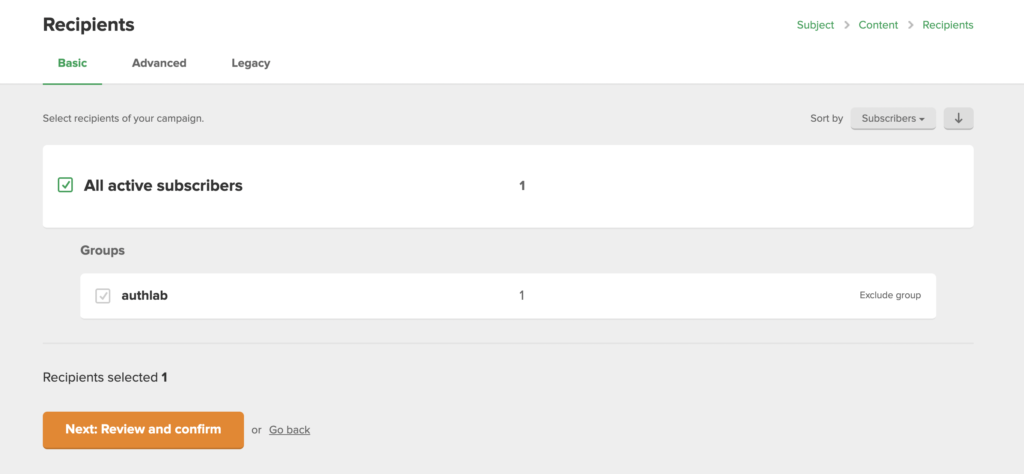 Select your campaign and click on the button with Review and confirm. Now you'll land on this page.
Step 7 – Review everything before scheduling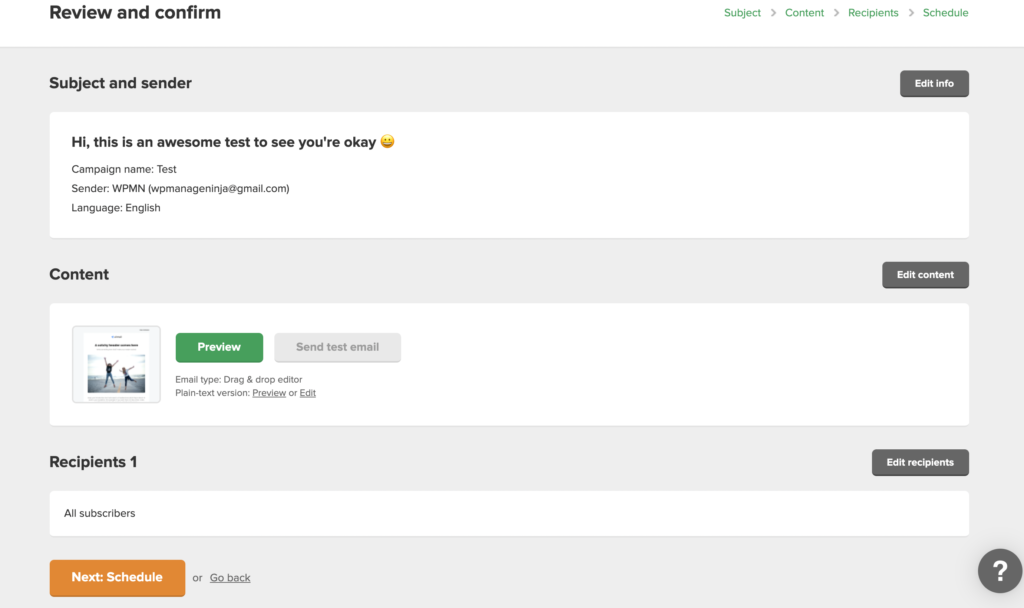 You can edit the basic info like the sender's name, subject, and language. Moving to next, check out the content with its preview or edit for further modification. Edit Recipients if necessary and then click Schedule.
Step 8 – Schedule your campaign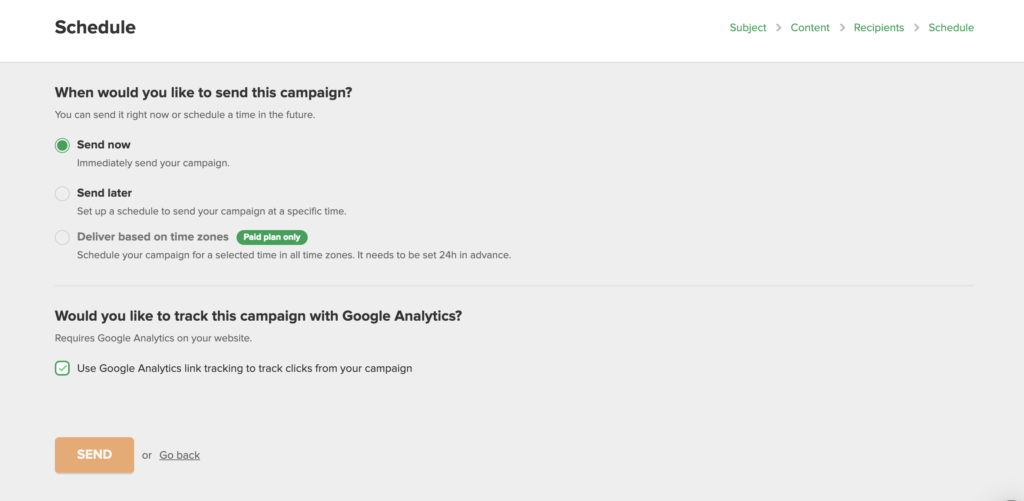 Choose between two options: Send now and Send later. Deliver based on timezones is a paid option.
You can incorporate Google Analytics to track the click your campaign achieves.
Connect Fluent Forms
WP Fluent Forms has a big bucket of integrations. I'm not going to discuss how you can connect MailerLite with Fluent Forms because we have elaborate documentation on that.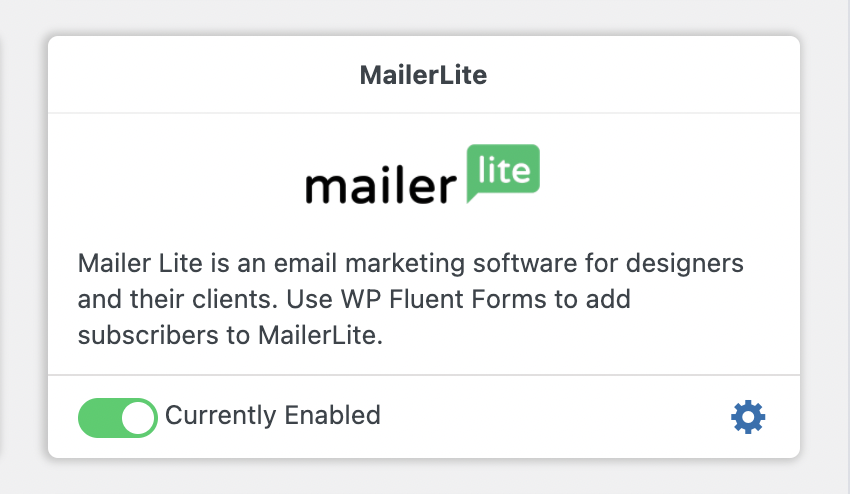 Tips to make the newsletter compelling
Here are some quick tips for making the newsletter more user-loving. It's not enough to send emails to your subscribers. Getting responses from those mails (click and come to your site) is the biggest challenge.
Use beautiful images
Images can turn your newsletter boring to full of life. Use relevant, nice, and bold images that can convey a message easily.
Write short messages
You can include as many words in your blog post to clarify the topic you're discussing. But, it's email and you can't have too much time to talk. Long story short, keep the text concise and meaningful.
Give something valuable
I know you're offering your readers discounts, giveaways, special deals, and other incentives. Every time you send a newsletter, make sure the recipient gets something useful.
Monitor the performance
Many tools provide you with analytics. Keep an eye on the reporting to understand how a newsletter is performing. You can check the opening rate of an email.
Keep it scannable
Instead of putting everything in one place just divide the whole mail into different sections. Make the sections stand out with different elements like images, colors, and typography.
Keep signup option
If people don't subscribe to your newsletters, who are you going to send them? Encourage readers to signup for the newsletter when they're on your website.
Branding with the header
The header is the most vital part of an email because people will look at it first. Place your company logo to make the readers understand where is this mail coming from.
Final words
Regardless of your business or industry, email marketing can help you as long as you have an online venture. With proper utilization of it, you can invite more customers who were only visitors once.
Fluent Forms Pro
Try Fluent Forms today and see for yourself!
On top of that, you can earn more sales and interaction with your store with email campaigns. By integrating the email marketing service to Fluent Forms, you can be more connected to your users. You'll get the legal authentication to send people emails.