Email marketing is more than a fancy buzzword in today's digital marketing world jammed with novel techniques. Thanks to all the email marketing tools that make the task more comfortable and result-driven.
Because of the explosion in the smartphone industry, it's convenient for people to check out the email effortlessly. And, now is the time to reach your customer with your best email copy.
Email marketing campaigns have a significant impact on traffic and conversion. They are meant to help you gain more credibility with your customers and create a loyal customer base.
The benefits of email marketing software
Unlike other marketing tactics, email marketing works in a different way. You can get closer to your customers, which is a one-click distance. Moreover, you can show the personal attachment elaborately.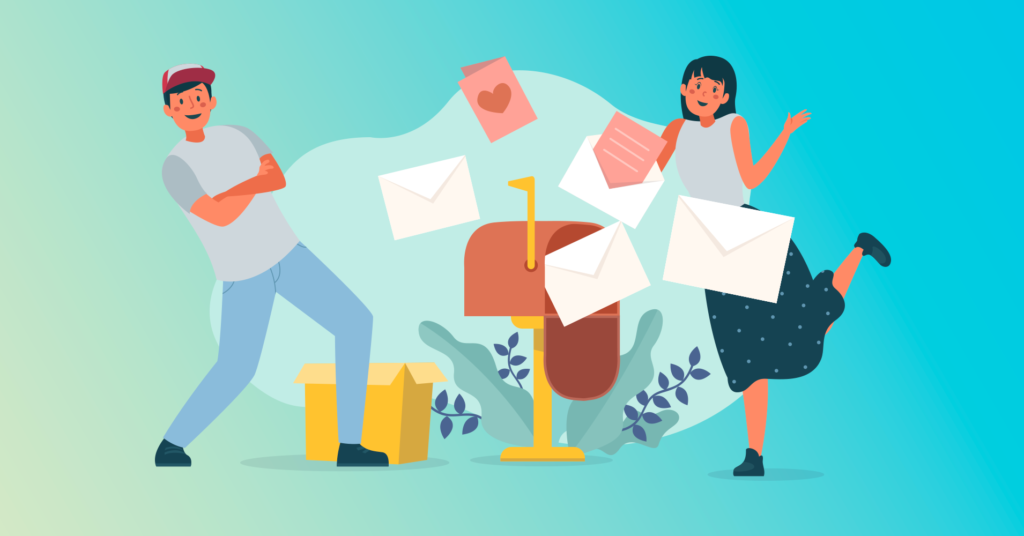 From collecting leads to set up campaigns, email marketing tools help you improve the overall marketing out of the box.
You can create campaigns as your preferred time and get the most out of it while tracking the performance
Utilize your existing list, if you have any. Otherwise, create a new list and start collecting addresses
Automated emails will be sent themselves without even letting you know. Just set them when to take off and they will reach your customer's inbox
Uprising email marketing tools
As the market seems saturated, we still believe there's room for uprising products. Especially if the new player has the caliber to outperform the archaic and hackneyed tools, then it will get welcome. However, we have listed some tools which have a high potential to be the hero, to be your favorite.
Moosend
The one of its kind email marketing platform that will be good for your money. Let's take your marketing experience to another level with all the good stuff from Moosend. Readymade templates, automation, tracking – you're gonna love it!
Creating beautiful newsletters is now super easy with the drag & drop editor of Moosend. Without any coding knowledge, anyone can use those templates which are fit on any device. Whenever you are about to start a new campaign, hundreds of ready templates will help you like a magic wind.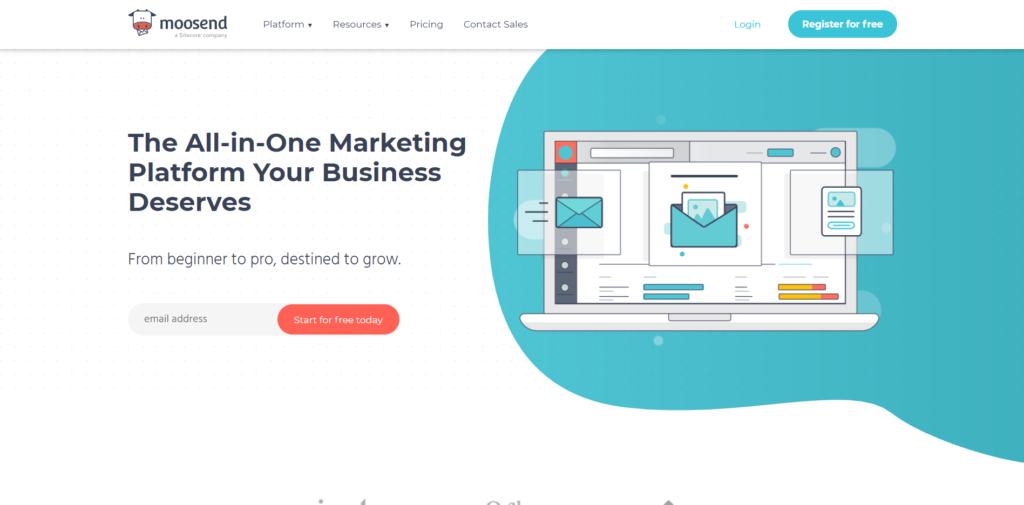 Aside from all, Moosend is a customer-focused tool. When users subscribe to your mail, you can send them an instant welcome mail and a follow-up mail later. Similarly, you can remind users if they abandon the cart without checkout.
Real-time tracking is another brilliant feature Moosend will make you amused. Monitor everything happening with your emails – opens and clicks, conversions, and unsubscribes. Reporting, integrations, product recommendations – everything's automated!
You can also connect Moosend to WordPress sites with a famous contact form builder like Fluent Forms.
CONS: While Moosend is a fantastic tool for the bulk newsletter, it's facing problems regarding transactional emails. Moreover, they seem a little bit backward in terms of landing pages compared to MailChimp.
SendFox
If you want a simple way to create sign up forms and collect leads, meet SendFox. They were pretty aboveboard with their intention; they don't want to compete with the industry leaders, such as MailChimp and AWeber.
Instead, they focus on content. With SendFox, you have a straightforward goal: growing your list while embracing simplicity. Embed the forms where you want and hook the user's attention on websites and mobile apps.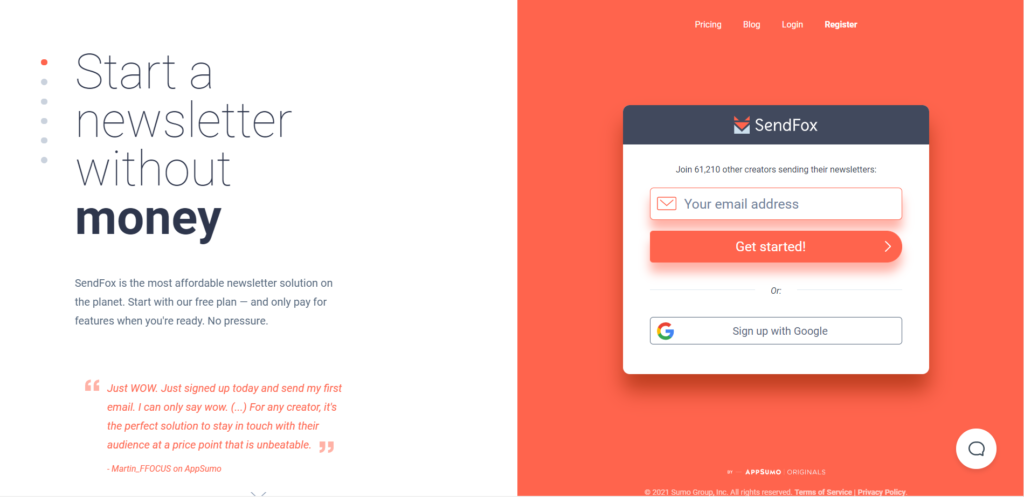 Apart from that, you need to do the basics, and it will cover the rest of all. Besides simplicity, SendFox is our favorite from another reason; it's affordability. It doesn't matter who's using the tool because it has nothing complicated.
As a content marketer, you'll love every part of this email marketing service, exceptionally the clean UI. On top of that, you can organize everything your way. Uploading old lists or creating a new one is a timeless task with SendFox.
CONS: Currently, SendFox has some issues besides its superb services, and lack or templates library is one of them. The email collection form also needs to be more attractive. A direct send button is also missing out in the email.
PRICE: The free plans include 1000 contacts and throttled email sending. With a single payment of $49 you can get the lifetime plan that allows you 5,000 contacts and unlimited emails, although you have to pay $49 for per additional 5k subscribers.
MailerLite
Your quest for the right email marketing platform could end here with MailerLite. Managing campaigns, subscribers segmentations, engaging visitors, and everything else can be done so well. It's easy for all.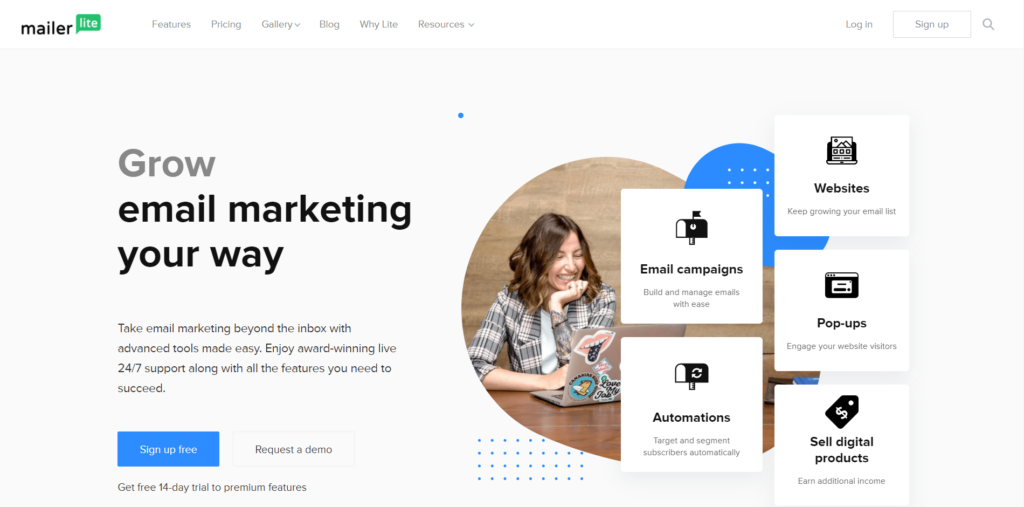 Boost your email marketing with integrating third-party web applications. MailerLite offers an array of vigorous connections ranging from eCommerce to page builders, form to CRM. Shopify, WooCommerce, HubSpot, and OptinMonster are examples of a few.
The days of depending on web developers are over. Craft beautiful newsletter with the drag and drop elements and beautify in your way. Even you can see some examples to get some inspiration before designing yours.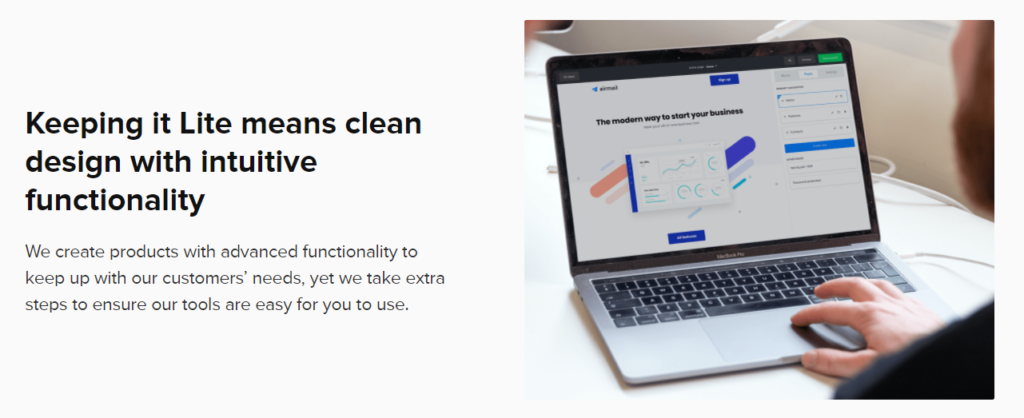 While the pricing is a significant concern of you, MailerLite presents you with a very flexible plan. Starting with the forever free plan, which allows you 1k subscriber and 12k monthly mail, the pricing applies based on the growth.
CONS: On the flip side of this excellent tool, it surely holds some disturbing elements. On top of all, the pathetic approval system becomes a pain in the neck. You can't have too many advanced features, even with the paid version. Lastly, the segmentation may seem overwhelming.
PRICE: 1,000 subscribers and 12,000 emails/month are free. The price will increase gradually with the increment of contacts. An example could be if your contact reached 5,000 you have to pay $30/month with unlimited emails.
EmailOctopus
EmailOctopus is a great email marketing tool for many reasons. New or expert, everyone will love the way this tool offers everything for creating high-converting email campaigns. It's easy to get started. The simplicity and minimal interface made many users happy, and probably you'll be the next one! Keep reading to learn more.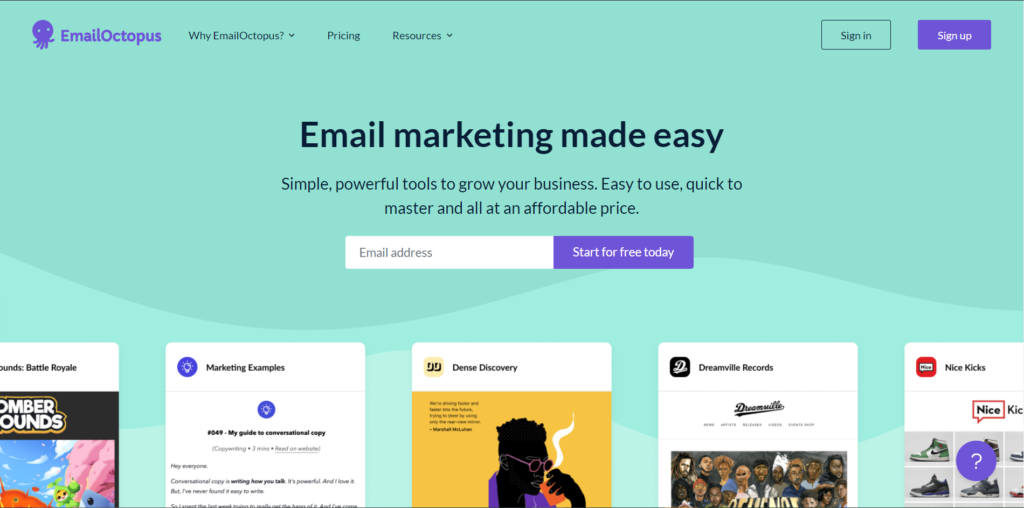 You can get email marketing done easily as it offers tons of features and integrations. Creating a campaign is an effortless job with form creation and a collection of email marketing templates. Not to mention how easy it is to create landing pages inside the editor. For funneling and opt-in forms, you'll be able to connect third-party tools via Zapier.
Using drip email sequences, you can onboard new customers with automated email series. Segmentation will help you define the target audience with insights and collected data. Apply tags to all subscribers and keep your data clean, while activating the opportunity to send emails to very specific customers.
One thing I really like about EmailOctopus is their pricing model which seems comparatively lower than major email tools. And, they offer a free option with 2,500 subscribers whereas Mailchimp is known for its 2,000/mo subscribers. With 10,000 subscribers and 4 campaigns in a month, EmailOctopus will charge you $30. By providing similar features, Mailchimp costs $78.99 and ConvertKit takes as high as $119.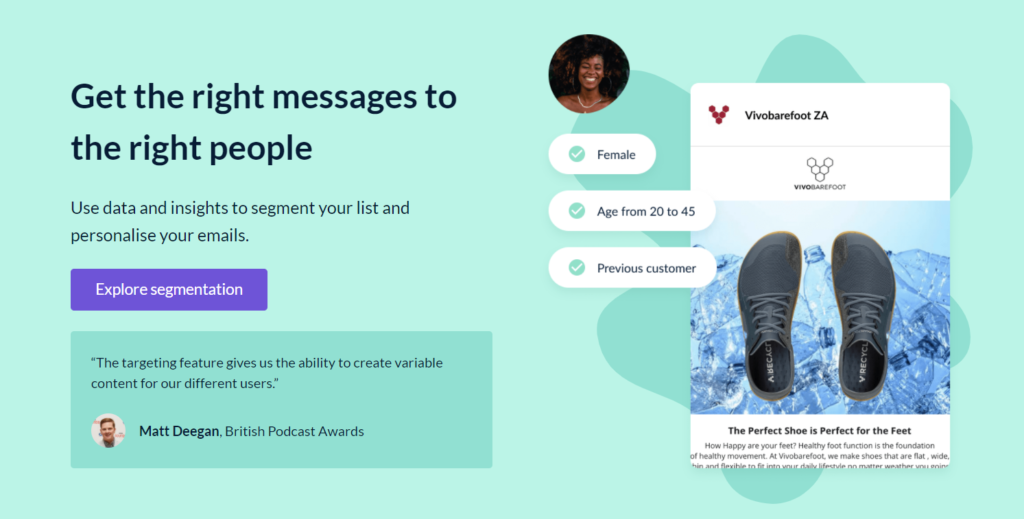 Finally, I want to mention the analytics it provides. From campaign reporting, you can get all data regarding various actions like open, click and bounce rates. To keep growing, you need actionable insights. The more you understand your customer's behavior, the better you can do with your email marketing.
CONS: With automation, you can't send emails based on behavior. It also has difficulties with connecting WordPress plugins. The drag and drop editor should be more polished to stand out from the competitors.
PRICE: The free version allows you 2,500 subscribers and 10,000 emails per month. Switching to Pro, you have to pay $20/month with 5,000 subscribers and 50,000. That's the start. When your list get bigger, you need to pay higher.
Gist
Gist is not just another email marketing tool. It's an all-in-one, preeminent solution full of potentials to enrich your marketing experience. Any company can easily apply this application to sales, support, help desk, and not to mention marketing.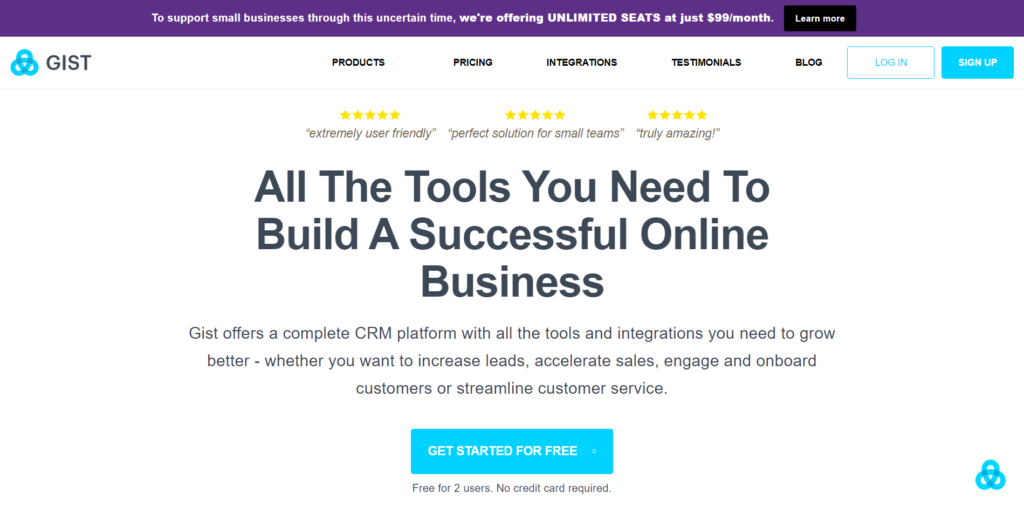 An enthralling bundle of features will lift your marketing up on a significant level. The robust UI, amazing integration capability, and superb lead generator can alleviate any constraint you might expect in your way.
People mostly like the tool because it holds too many options in a single bundle. Instead of buying a different set of tools, they can accomplish all their desires under one application.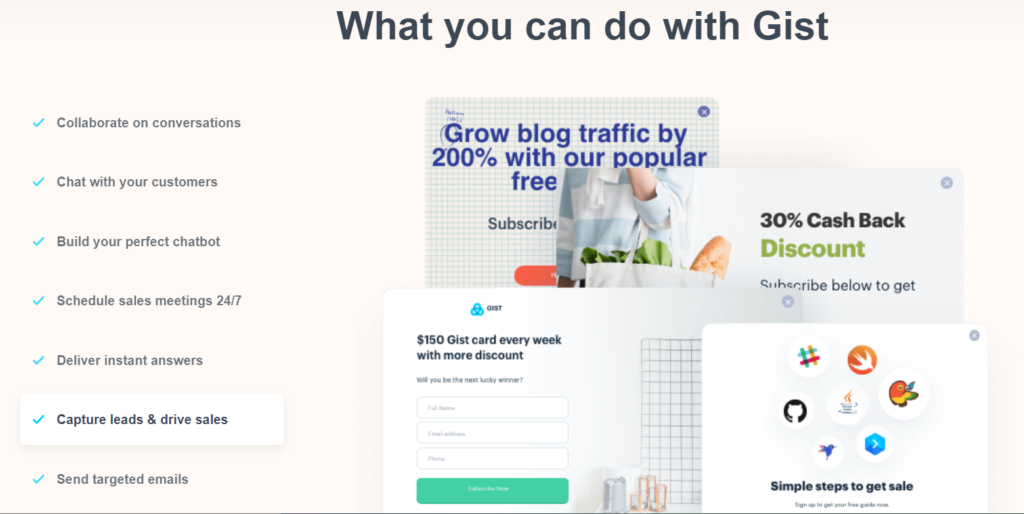 With zero cents invested, you can enjoy a starter pack, which includes 500 contacts and more enticing features. Customizing the Messenger logo, adding live chat and conversation inbox, embedding forms, and more things can be done.
CONS: Let's talk about some demerits of Gist. As the forms come with a very basic structure, you might need a hand from a developer to infuse a better style. The chat widget sometimes affects the loading speed of the website. As they're on the constant update, you don't need to apprehend.
PRICE: The pricing model of Gist is kind of complicated. You have to buy a separate plan for support, or go for the bundle. Anyway, a free forever plan gives you 200 contacts. With $19/mo, you can get a professional plan that supports 1,000 contacts. No idea about email campaigns because it's not mentioned there.
ActiveCampaign
Meet this utterly vigorous and extremely powerful email marketing platform and start retargeting your audience with a brand-new strategy. ActiveCampaign has a lot in its core to make the impressions last on your customers.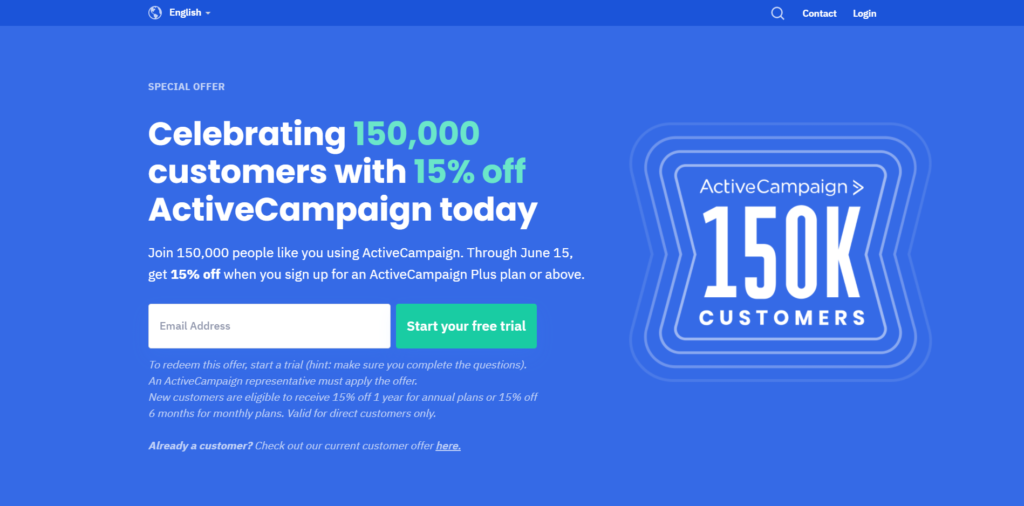 Exceed your goals with the array of 250+ supremely integrations. From Shopify, WordPress to Zappier, PayPal – the possibilities are limitless. Supercharge your emails with all the third-party applications and take your campaign on a new height.
With successful email marketing, it's not enough to send messages only. You also need to know what to send. Luckily, ActiveCampaign will help you big time here. Check your emails triggered or targeted along with setting email funnels and optimizing scheduled emails.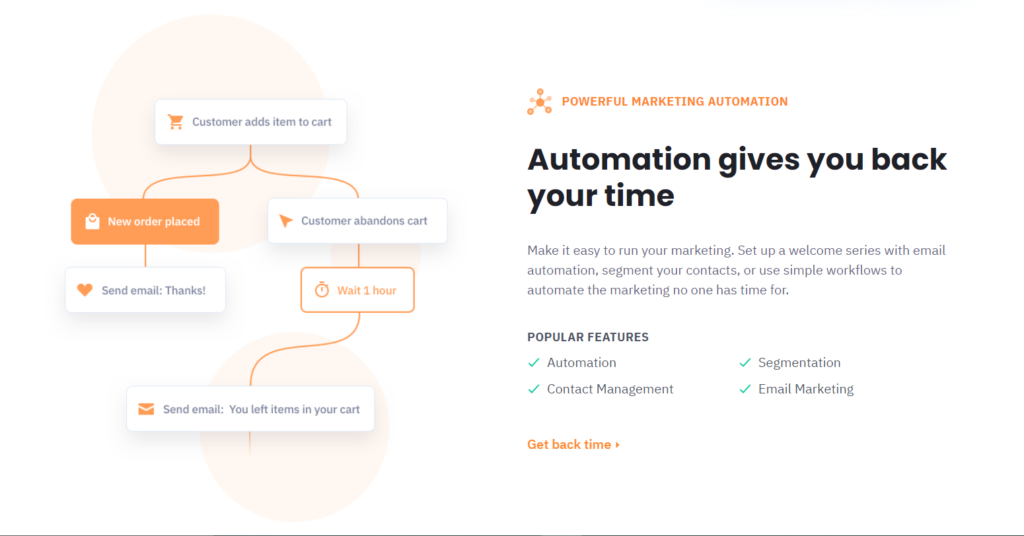 Things get more exciting when you go deep inside the tool. For instance, you can make emails personalized even from the thousands. Users will see what they needed to see, and it's entirely possible because of the smart options added for you.
CONS: Aside from all the charming features, this tool is lacking a landing page builder. Although it can be done by integrating a third-party application yet the in-built feature is more sophisticated. Another painful service is people have to pay for email compatibility tests. Without an "Undo" button or similar functionality, you can't design an email correctly. Yes, there's no such button with ActiveCampaign.
PRICE: From $9/mo to $229/mo to unlimited dollars, based on your contacts. If you have 5,000 contacts, you have different choices that cost you from $79 to $359. Each plan has separate features, so that's bit calculating task.
Integrated with Fluent Forms
(For those who don't keep up with the current trends) Fluent Forms is the next big player in form building plugins. By default, the tool brings so power that you couldn't expect more. Yet, the development is never on hold.
The above-mentioned email marketing tools are integrated with Fluent Forms and then some. We didn't forget to incorporate popular tools like MailChimp or GetResponse down the line. Choose your favorite platform and build forms as you need.
Fluent Forms Pro
Try Fluent Forms today and see for yourself!
Over the saturated market, the new apps are also getting people's traction. Some of them stand out from the ordinary, which makes them climbing to the top of the list. Try Fluent Forms now and enjoy all the third-party connections it offers.
Final words
Want to gain more traffic and more sales? You must try email marketing, and there's no easy way than choosing a robust and cutting-edge platform. There are hundreds in the line when you consider the competition. Except for the giants, we focus on the uprising email marketing tools which are making their way to the apex. Why don't you start your business with one of them and attain more responses from your customers?