Have you ever searched for a better calculator plugin to use for your website?
If the scenario is like so, you are in the exact place. There are so many purposes to calculate and there are so many WordPress calculator plugins remain out there in the WordPress plugin' market.
In the WordPress directory, there are tons of calculator plugins which might make you a little bit confused to choose the best one from the rest. So, in this article, I would like to share a list of calculator plugins that may help you to reduce your dilemma choosing the right plugin from a mess.
Best calculator plugins for WordPress
Before going into the detailed observation here is the list of 5 important calculator plugins in WordPress.
4. Mortgage and Loan Calculator
7. Responsive Mortgage Calculator
These are some awesome calculator plugins in the WordPress directory. The play different roles in different sectors. I do not categorize here in a specific way but I am giving a total overview of these beautiful calculator plugins.
✨ Ninja Mortgage Calculator

This is a smart one that is introduced very lately to perform especially for mortgage-related calculations. This plugin is feature-rich which is most competitive in terms of user experiences. I like to call the plugin by saying three in one plugin because the plugin bears three tools materials within a single name. Ninja Mortgage Calculator plugin is used to managing monthly repayments, and other related issues to determine the financial appropriateness of a home, payment materials, and other loan credentials.
Using this plugin basically, you will get three different tools within a single tool. The first one is the general mortgage calculator, the second one is a mortgage refinance calculator, and the last one is the mortgage payment calculator.
The plugin is the most customizable and easy to use as any novice user can easily implement in their practical usage. Moreover, the plugin is fully responsive in type as it provides a responsive look equally in the mobile, tab, and desktop view. Dynamic data presentation is one of the best features of the plugin, after the calculation, data will be presented dynamically. Here in the below, some core features of the plugin have demonstrated:
Core Features
Ninja Mortgage Calculator provides you a fully responsive view.
Using this plugin ultimately you will get three different tools within one frame.
Easily customizable & beginner-friendly for any novice user.
Most user-friendly interface.
Organized documentation.
Smart amortization period facility.
Extensive customization opportunities.
✨ Cost Calculator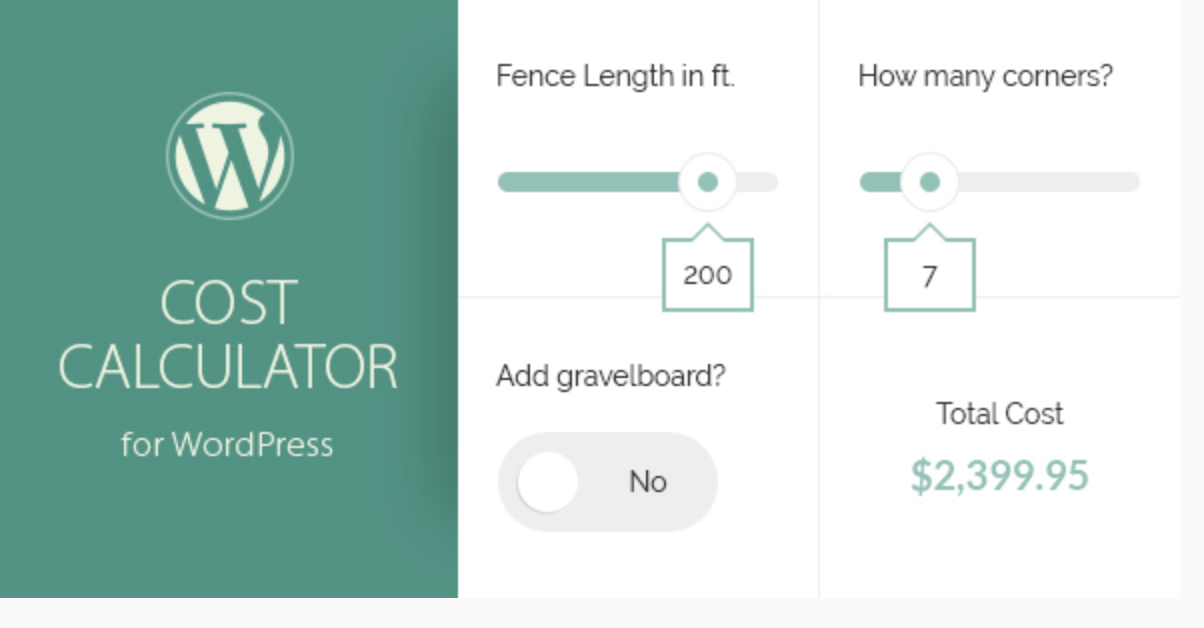 Cost Calculator is one of the most impressive calculators in the WordPress directory. This plugin is basically for quotations, price, and project estimation. It is fresh and simple to use. Your clients can fill-up the form and as per the selected services, it will show the total estimated cost. This WordPress plugin has templates of different niche such as renovation, services, vehicle services, and medical services and so on.
Core Features
Programmable elements- Own calculations can be created for projects with ease.
Built-in cost calculator builder- It has a drag and drop interface within any theme.
Service Price Calculation- Project cost can be calculated directly from the site.
Lead tool generation- Leads can be generated for potential clients and business can be upgraded.
It is combined with a contact form which shows in more lead generation. Further, your business will progress.
✨ WooPrice Calculator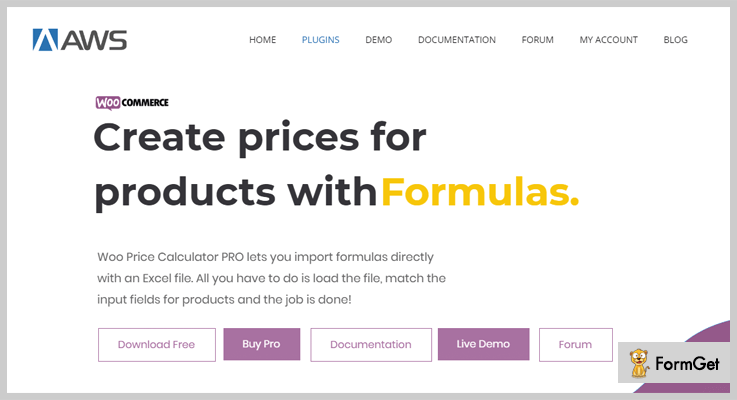 This is basically a plugin-based extension of WooCommerce that allows you to manage all the pricing issues for your WooCommerce products. Using this you can import directly formulas into excel file. This calculator can be used for the multiple products of your website.
This tool allows you to create unlimited calculations by creating unlimited calculator fields. This plugin shows the different pricing of your products in the different parameters such as if you order products of $30 and quantity 2, then it will automatically calculate the total amount of $60. Here are some features of the tool given below:
Features
Real-time calculation support.
You can use conditional logic which makes you able to show and hide specific fields.
For advanced field validation, it also supports regex.
In the backend of WooCommerce, it stores the order details.
Can create the custom formula to calculate the price.
✨ Mortgage and Loan Calculator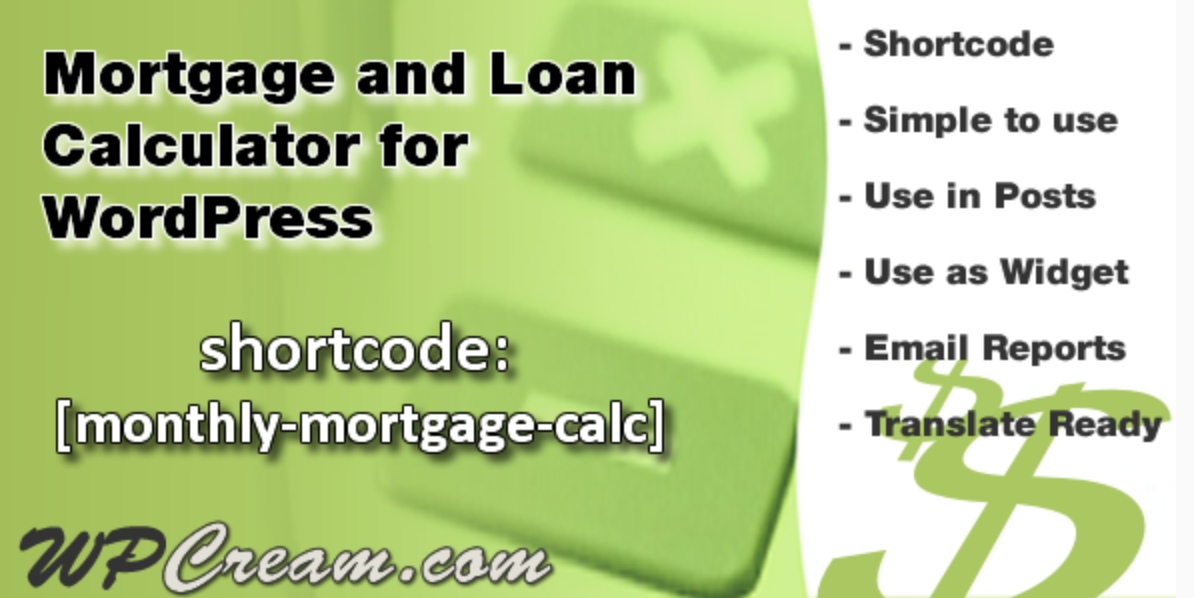 Mortgage and Loan Calculator is a premium WordPress plugin that is used to calculate mortgage and at the same time loan calculator adds more interest to the client. These two tools in a single tool attract users.
Moreover, every time your users enable the email report you will have your results saved in your WordPress database under the table name of 'wp_a_m_c_reports'. Most importantly the user of the product will get a special advantage like your visitors will have reports on their respective email account. Here are some core features and functionalities of the calculator:
Features
You can calculate mortgage amount, mortgage term, interest rate, extra payments.
Eventually, email reports confirmation.
Values can be changed without reloading the data.
Reports can be exported and if you uninstall the plugin all the table data will be removed.
✨ Real Estate Calculators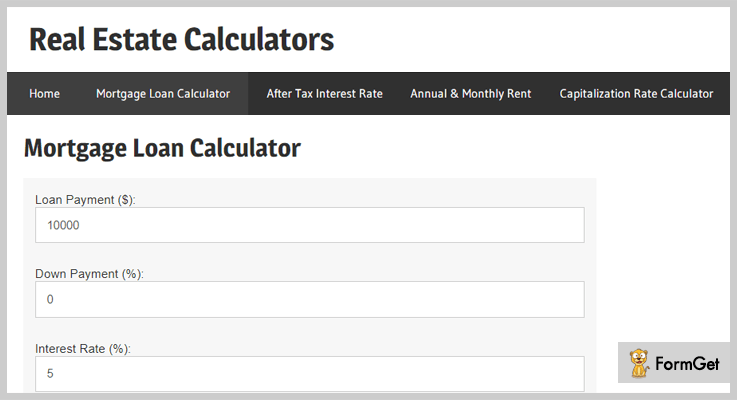 As the name implies the plugin is basically used for real estate companies. This mortgage calculator plugin is used to calculate payment amounts and interests of the total mortgage. After calculating all the data, the plugin ultimately generates data tables to show interest, principal, and balance for your mortgage on a yearly basis duration. Take a look at some key features of the plugin listed below:
Features
Fast and easy to use.
You also can use it as a post or it can use as a post or full-page calculator on your web page.
The plugin supports email rendering and it sends reports to the clients through the email address individually.
Most importantly the plugin is compatible with the WooCommerce so that you can have WooCommerce related functionalities on your site.
The plugin is integrated with the social networking software named BuddyPress which lets you able to build a social community on your site.
Supports Multiple calculations.
✨ CT Mortgage Calculator

CT Mortgage Calculator is a simple straightforward plugin that allows you to calculate mortgage with a clean flat design, featuring sale price, terms per year, interest rate, and down payments. The plugin allows you to have a simple mortgage calculator on your website. Some core features of the plugin are given below:
Features
Easy and simple to use interface.
Installation and set put is very handy to execute.
It comes with an easy to use widget which can be added to your sidebar. You also can add a title for the existing widget and you also can add a currency name or symbol.
✨ Responsive Mortgage Calculator

This plugin is basically a jQuery widget and shortcode that's designed to fit easily into any kind of theme, devices, and sizes. For real estate websites, Responsive Mortgage Calculator is one of the easiest solutions anyone can take. It's usually a sidebar widget that can be used through a shortcode. You can use the shortcode inside anywhere on your webpage made by WordPress. Here are some key features of the plugin:
Features
You can calculate the total cost of the home.
Calculating down payment altogether.
Interest rate.
The amortization period is available.
Nice popup-summery with chart and amortization period.
The payment period can be selected either monthly, weekly or bi-weekly.
Over to you
Choosing the right calculator plugin can do a lot to solve your issue. Particularly for the purpose like mortgage, it's obvious to use a high-quality plugin. Above mentioned plugins are the most prolific WordPress calculator plugins you can use for your website.
They are feature-rich WordPress calculator plugins that are available for your better experiences. Some are brand new but so much productive and some plugins released a bit earlier. All these plugins perform nicely in the best possible ways to serve your purposes.
I hope this article helped you a lot to discover the best calculator plugin for your site. Now, it's your turn to make it happen for this specific need to solve your respective requirements. If you feel to share anything regarding the described topic, let me know by leaving a comment below.
---
If you haven't subscribed to our YouTube channel, do subscribe to our YouTube channel to get WordPress-related tips and tricks. Also, follow us on Twitter and Facebook.