Hello folks, meet the new Fluent Forms version 3.5.0. With the most awaited payment integrations, Fluent Forms is now stronger than ever. You can see what was introduced in the previous release with advanced post creation and more.
The world is suffering from Coronavirus pandemic, but we didn't forget our promise. Even though our team is working from home, we're trying to do everything on the same scale as before – giving our best without any sloppiness.
But before jumping into the features, we would like to thank you- all of our users and well-wishers for sticking with us and helping with all the feature suggestions that are making this plugin stronger every day!
As mentioned on the roadmap, the first quarter of 2020 is ending, and here we are – with all the novel inclusion in the feature list. Let's have a quick look at what's included in the new box.
Stripe Payment Integration
PayPal Payment Integration
Drip Integration
Akismet Integration
New features in a nutshell
Payment is one of the most suggested features of Fluent Forms. To getting paid for event registration, buying products, and many other reasons, a form needs a payment system. Now you can make your forms more powerful.
Here, I'll discuss briefly what this feature does and how to use it. For more details, you can visit the documentation and start playing with the new features immediately!
Don't forget to update the core plugin along with the Pro upgrade, or you may face some difficulties using the new features.
Stripe Payment Integration
The Stripe payment integration is a super-exciting feature that allows entrepreneurs to collect payments from different sources. With this integration, users can make payments by their credit cards. It offers a great opportunity to accept payment for your products and services.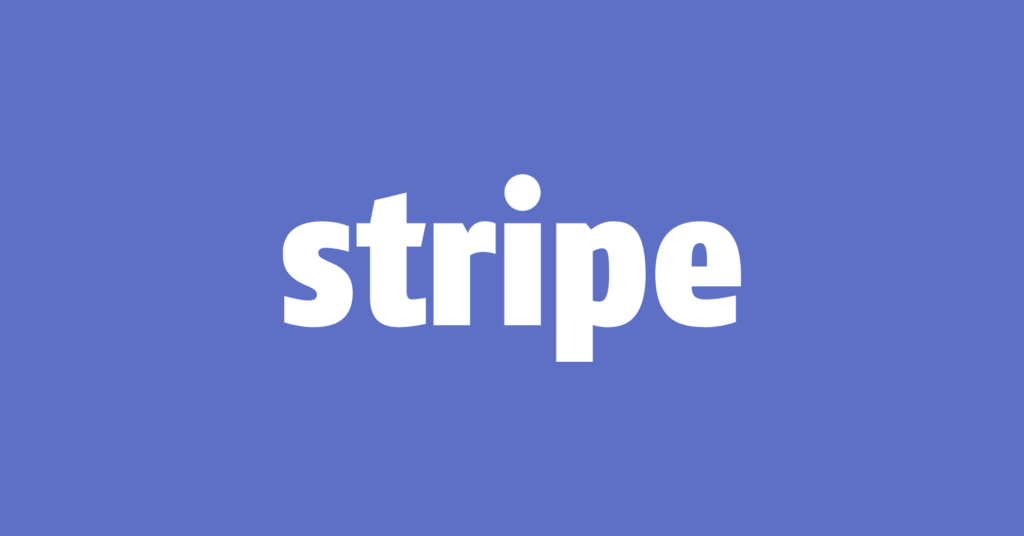 When a customer submits a form, Stripe will approve payment from credit cards, flawlessly. Sell products and services without any complication because Stripe has a straightforward pricing model with a cutting-edge payment system.
Moreover, when users submit a new post, it can be created if the payment is accepted. Similarly, user registration can also be conditional with the required payment.
How to use
Using the Stripe integration for Fluent Forms, you need to sign up for Stripe if you don't have an account already. Your site must be on SSL because of the security of credit cards. If you already have a Stripe account, copy the Publishable Key and Secret Key and paste them in the WP Fluent Forms Stripe settings panel.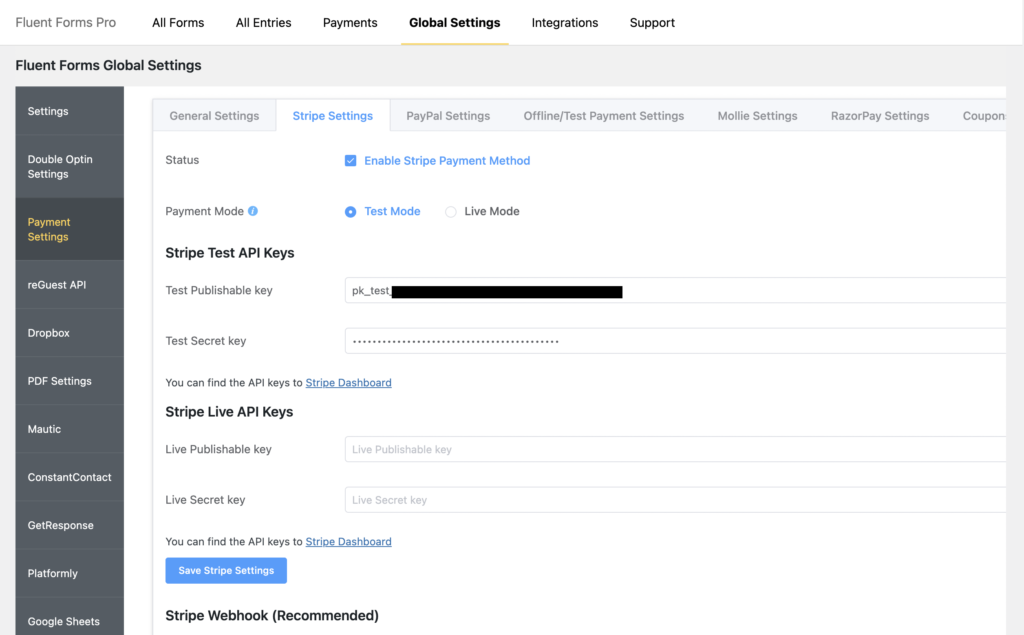 Connecting Fluent Forms with your Stripe account and taking payments is really easy. For a better understanding of the whole process, visit the documentation page.
PayPal Payment Integration
Fluent Forms payment also supports another super-awesome payment solution – PayPal. With this wonderful integration, people don't need to go to PayPal to make a payment because Fluent Forms will process that automatically.

When a form is submitted, the credit card payment will be processed seamlessly. Selling products and services is now more comfortable because of the PayPal integration along with its incredible features.
That's not it. As Fluent Forms already commanded with user registration and advanced post creation, there will be some unique features applicable for payments too. Without a payment is accepted, no registration or post will be created.
How to use
This integration needs some basic requirements to operate correctly. You need a PayPal Pro account, SSL for your website, and PCI compliance. For a detailed tutorial, visit the documentation here.
Fluent Forms Pro
Try Fluent Forms today and see for yourself!
Drip
Drip is an eCommerce CRM for building relationships with your customers and make your business more profitable. For long-term engagement and effective automation, marketers love this wonderful tool. But you know what? Now you can get more out of your marketing promotion as Fluent Forms supports Drip integration. Connect Drip and get more subscribers from your WordPress website.

How to use
Go to modules and enable Drip. Then, click the settings icon and provide Drip API Token and Drip Project ID. For more details, this documentation can be your great help.
Akismet integration
When it comes to spam protection, Fluent Forms deserves some kudos. Besides its other anti-spam solutions (reCAPTCHA and Honeypot), it's now introducing Akismet, the famous spam filtering plugin by Automattic.
Fluent Forms Akismet integration allows to secure your forms and fight against spambots. Akismet has its own system for testing comments and pingbacks on your WordPress website.
The plugin has both a free and premium version. You might have to spend a little to enjoy the top-class features like advanced stats. However, Fluent Forms now gives you more reasons to trust the WordPress form plugin as it's becoming more robust every day.
How to use
First, you need to install the Akismet plugin from the WordPress directory. I'm not going through the details of plugin installation as I believe you already know how to do that.
After installing the plugin, activate it. Now come back to Fluent Forms and enable Akismet from Modules. An easy job, but with this simple process, you can protect your forms from being attacked.
Bottom line
If you haven't purchased Fluent Forms yet, check it out now what amazing functionalities it offers to improve your business. Our current customers have nothing to worry about. You can update your plugin without paying an extra coin and enjoy all the new features.
Stay home. Stay safe.