After the New Year Release, we've come with a new update of WP Fluent Forms v3.2.0. In this update, you'll find some of your most awaited features like user registration and issue fixing, like calculation problems in conditional logic.
However, Advanced Post Creation is the most brilliant feature of this new release. We'll talk more about that later on how to use it, but let's hear out what else to expect from this version.
Besides two new integration, we've also added more features so that your forms can bring you more benefits. Not only can you customize now the forms more efficiently, but you will enjoy an improved form builder tool.
Inside WP Fluent Forms v3.2.0, you'll find:
Advanced post creation via form submission
Trello and Sendinblue integration
User registration via form submission
New Field: Chained Select
Prefix and Suffix feature in the numeric field
Added options to add container class
Resend Email Notifications
Constant Contact version v2
Advanced Post Creation
As mentioned once above, this is the preeminent feature of v3.2.0. As our users wanted this facility, we'd been working on this functionality for a long time.
Users will submit a form, and it will create a blog post. Isn't it exciting? Yeah, that's what this function does. You'll first create a post form, and the user can submit their post using the form fields.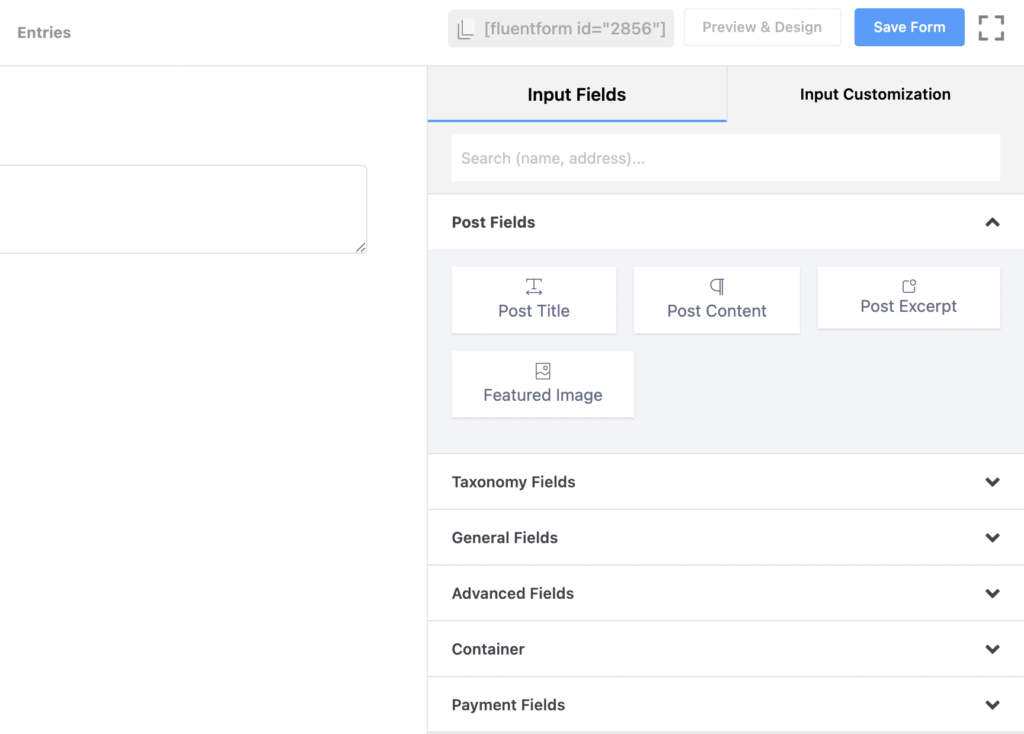 How to use this feature
First, enable the post creation module for Fluent Forms Pro -> Modules.
If you go to All Forms, you'll see a sweet blue button that reads Add a New Form. Click the down arrow, and a new button will appear written with Create Post Form. Now click it and select post type.
The Post Fields have all the essential elements you need to create a post. Add Post Title, Post Content, Post Excerpt, and Featured Image. By the way, those are the input fields, and you can ignore the one you don't need.
Keep in mind that it's not just a text area where the user will write; it's a powerful text editor. Users can make the text bold or italic, add links, create quotes, make bulleted lists, change alignment, and add colors to text.
Taxonomy Fields come with Categories, Tags, and Formats. When you add these fields, people can choose categories or tags you have already created on your website. They might also select the post formats: audio, video, image, link, gallery, etc.
User Registration Form
Now, You can create forms and as an integration, you can create WordPress user and make the user logged in automatically.
To use this feature enable from Modules and from form's marketing and integrations tab, you can create this automation field.
Chained Select – new fields for dropdown
Adding dropdown select fields is super-easy now. With this option, you can integrate the cascading field to your forms, seamlessly. It costs only one click for a CSV file upload, and then you'll see how your time was saved.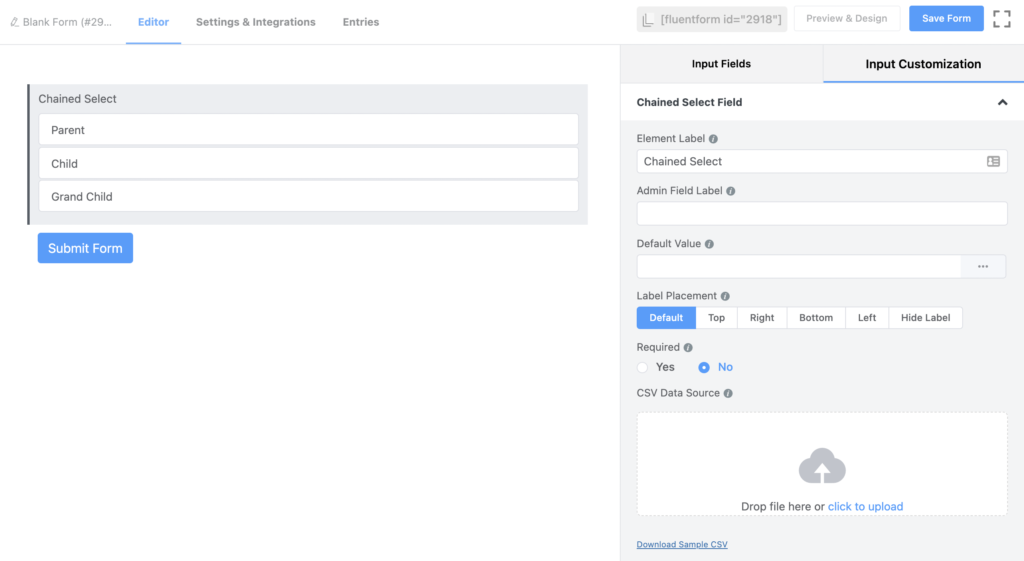 How this feature is accessible
Go to your form and add a new Chained Select field. Now you'll see a link on your right that reads click to upload (you can drop a file here, as well).
Click that link and add a CSV file that you've made earlier. If users click an option, it will start showing the filters on the dropdown list.
New tool integration: Trello

Trello doesn't need an introduction. It's an excellent tool for project management and team collaboration. The new Fluent Forms update comes with Trello integration, which means now you can connect people on your Trello boards with forms. Users can even change labels and more for Trello while submitting the form.
Prefix and Suffix in the numeric field
If you add a money sign ($, £) beginning of a numeric field and add 'oo' to the end, it will look beautiful. Moreover, people can understand what precisely you want in that field. It doesn't limit to the money, and you can add any other symbols you want.
Unique Email feature
You might not understand this feature by its title, but it's an amazing one. If you select the unique feature in an email setting, then a form will take an email only once. This is a beautiful feature for event registration and such other necessities.
New CRM integration: Sendinblue
Marketers know Sendinblue, and there was a ton of requests to add this feature to Fluent Forms. Well, it's in action now. If you're a Sendinblue user, you can now collect subscribers via forms or integrate both tools to make an impressive combination.
Resend Email Notification
This is an extended feature for email notification. With this button, you can send emails again if you need to remind your users of something important. Besides that, if the notification wasn't sent earlier, this button will work like charm.
Constant Contact v2
Previously we were using Constant Contact v3 (beta). Due to the user's complaints, we have now stepped back to version 2. You need to re-authenticate to see everything work correctly.
Change log
=  3.2.0 (Date: February 10, 2020) =
* New integration Trello
* User Registration Module on form submission
* Post/CPT Creation on Form Submission
* New CRM Integration: Sendinblue
* New Field: Chained Select
* Add Unique feature to Email Field
* Prefix and Suffix feature in numeric field
* Added options to add container class
* Resend Email Notifications
* Overall performance improvement
* Editor and Form rendering improvement
* Constant Contact version change to v2

Final remarks
We want Fluent Forms to be the best in the business, and that's where we've been putting our painstaking effort. We have our vision and a roadmap. That's all for now, but we're coming soon with all the new magnificent features. Stay tuned with our community and the Fluent Forms website.