If you have any experience with WordPress table plugins, then you know about TablePress by Tobias Bäthge. It's a free and open-source table-builder plugin and helps you create data tables for your site. But in case you think you're not getting the most desirable outcome from it, we are here with a list of TablePress alternatives.
An engaging and easy-to-follow content always makes sure your online business is growing. To keep users happy and compel them to scan through your articles, there's no alternative to data tables. Similarly, if you have a WordPress site, you need table plugins to drive the targeted traffic in.
Top 10 TablePress alternatives
While making a list of the best ones, TablePress deserves to secure a place in the beginning. However, jot down these following TablePress alternatives that you can check out instead.
Let's dissect the alternatives one by one so that you can choose what you want for your website.
We have also added some honorable mentions in the end. By the end, you'll see the comparison between TablePress and the best alternative from our perspective.
This plugin has more than enough reasons to be at the top of the list. It comes in free and premium versions and offers dynamic features to create, decorate, configure, and customize your tables. You can do all that without any coding experience.
First of all, take note of the massive pile of features it has to offer!
Media and charts:
You can make your tables more lively and interactive by adding visual data. Add images and videos to your table to entice users. If you use Ninja Charts, you can create a chart by extracting data from Ninja Tables too.
WooCommerce integration:
It's one of the best uses of the best WordPress table plugin! Creating a WooCommerce table for your site is easy as pie with this plugin. Download the premium version and see the game-changing result. Most alternatives lack this functionality.
Connect Google Sheets:
If you want the information you put on your Google Spreadsheets to appear in an easy-to-follow tabular form, Ninja Tables is the one to go with!
WP Posts and Fluent Forms integration:
Folding up your WordPress post, page, WooCommerce product info in a table is a function that most online publishers find helpful. On the other hand, you can also connect Fluent Forms to organize and show form entries.
Unlimited color scheme:
Ninja Tables ranks high on any list because of the multiple color options for tables. You can create an eye-popping table with bright and soothing colors to direct a user's focus on data.
Drag and drop:
Rearranging columns is no hassle with Ninja Tables. Simply drag and drop the columns and rows to organize your tables.
Row hover animation:
If you want users to notice particular data, throw in a hover animation, and you're all set.
Table styles:
Ninja Tables comes with three library styling – Semantic UI, Bootstrap 3, and 4. If you're looking for the best, then pick this plugin just because of its multitude of options!
Stackable table configuration and responsive breakpoint:
It sounds a mouthful, but it's excellent for responsive tables. You can select the devices you want your tables to fit in.
Merging cells:
Join multiple cells and merge them into one. Therefore, the content gets easy on the eyes.
No limit for data:
You can add columns, rows, and data as much as you like. There's no limit to that!
Customize permission:
Set the audience for your table. Choose who can edit or make changes.
Table Configuration:
You can configure and manage your tables with several configuring options. None of them are difficult to follow.
Custom CSS, shortcode in cells, and JS:
Set the class and configure the data table. Also, use a valid JS code to run. You can specify rows/columns, and change the search bar by adding a shortcode for cells.
Conditional column formatting:
Set conditions for columns/rows and highlight the data. Keep all the info under your control. This advanced feature isn't available in many WordPress plugins.
Export-Import:
Ninja Tables is the most responsive table plugin, and importing or exporting is one of the many reasons. You can export or import a value or the table itself. It supports CSV and JSON files.
Filter and sorting:
Custom search involves selecting a filter and searching in the field. Sorting includes table sorting and date sorting.
SEO friendly:
All tables by this plugin are SEO-worthy. So, the search engines pick them up to push.
A few of these features are not available in the free version, but you can still get a good result from it. While making a list of alternatives, Ninja Tables deserves to be the priority. If you want to configure and customize to the maximum, upgrade to Ninja Tables Pro.
Walloping 80,000+ websites use this data table plugin for their business and are excelling with its help.
Here's another plugin to make your site more modern and contemporary. It has an extensive list of features. As a result, it easily takes one of the top spots on this list!
Scroll through the attributes below-
Responsive Design:
Choose the presentation using any data sources like MySQL or Excel. You can also make it adjust to a mobile phone, laptop, or tablet and make it fully responsive.
Conditional Formatting:
This particular feature is one of the many reasons for this plugin to be a top contender against TablePress. If enabled, this feature automatically changes the color, highlights cells, or columns of your table based on the values and the conditions you set. Likewise, it quickly estimates your table with large data.
Options to create:
In the first step, this plugin offers five ways to create a table. You can only create a table with an existing data source with the free version. Buy the full version to use others.
wpDataCharts:
Create a data chart by wpDataTables to make your site appear more flamboyant and active.
Sorting:
Tables are sortable by default. Sort columns based on the types and values.
Advanced Filter:
Frontend table users filter values by an individual column. If you enable this filter option; you can filter text, number, date, time, and select multiple boxes at a time. It also allows you to disable filtering for a certain column.
Multiple Database:
This plugin supports databases like MySQL, MS SQL, and PostgreSQL. The upgraded versions can connect to more databases.
Row Grouping:
If a column has the same value for many rows, using the row grouping feature helps a user. But the catch is that it's available for non-server-side only.
Pre-filtering and calculating:
A particular URL key allows you to open more than one link by a pre-filter value. Correspondingly, you can calculate the total, maximum, minimum, and average values.
Layout and Word Wrap:
wpDataTable offers a "Word Wrap" option. Use this feature by clicking on "Limit Table Width" and create dynamic tables.
Horizontal Scroll and Other Tools:
Click on the scrollable button to set the horizontal scroll bar. You can drag the bar left-right to see data. Moreover, some convenient options for users are CSV, PDF, Excel files export, copying tables to the clipboard, and configuring table tools.
Integration with WPBakery Page Builder:
It's a drag & drop page builder. Using shortcodes, you will be easily able to post tables and change layouts.
The community of wpDataTables users is huge! More than 50,000 people and websites prefer this one to other plugins.
A well-organized and fully-functional table builder plugin can be challenging to understand. But here comes the third one from our top-10 with an immense number of users! It's a plugin that offers to manage tables with a spreadsheet interface.
The features are-
Easy edit:
WP Table Manager lets you edit your data, just like you can in a spreadsheet! Click on the cell and edit as many times you want.
Visual tools:
Thanks to the abundance of visual tools, color, border, border-radius, tooltips, and many more options, you can decorate your WordPress tables beautifully. It also lets you add media.
Themes:
You can decide among 6 distinct themes of how you want your tables to appear. For instance, if you want to edit data in the planning table, click on the value you want to change.
Copy and create:
Tables are copyable too. You can copy and create a table with one click! The column/row colors can also be altered.
Custom CSS and JS:
Advanced users can use this feature to edit with CodeMirror. It comes for every table in the WP Table Manager.
Excel sheet:
Import or export the data from Excel spreadsheets, or the Excel-style, or both. Inclusive of cell background color, font color, font size, borders, and links in HTML format.
Auto-sync Excel files:
To sync, all you have to do is upload an Excel file on your server and add the file link to the WP Table Manager table. This feature is also usable for Google sheets.
Create charts:
This feature comes in handy in targeting all types of users! A captivating and colorful chart by WP Table Manager from the 6 chart styles can make your content seem more informative.
AJAX auto-saving:
Your data is automatically saved to the WP database after a specific time interval.
Sorting in frontend:
The frontend users can sort the data in tables by WP Table Manager. Table sorting is one of the most convenient features for a user.
Database tables:
Generate, manage, and filter tables from the database as well as check the auto-updates all through the WP Table Manager interface!
Drag and drop, resize, and calculate:
Copy the cell value with drag and drop functionality. Furthermore, use handles to resize columns and lines. You can also calculate data just like in a spreadsheet!
Manage access:
Select the user role and manage the access to tables and categories of tables. You can determine access to table, configuration, and categories.
Third-party plugin:
You can integrate with WooCommerce plugin, page builders, or any other custom post plugins. Integrate and add tables from all those.
Responsiveness, filtering, multiple editing, redo/undo, pagination, column freeze, and compatibility for large tables are some extra features you get in premium. Join the sizable community of users and have fun making your data tables.
This plugin comes fourth on our list, but it's quite as handy as the others. You can create a responsive table and enjoy lots of features.
Large tables:
You can create a large volume table with server-side processing. Even a table with thousands of rows will load quickly.
Responsive mode:
What if your data table is large and users are finding it hard to scroll, zoom in, or out? This reactive mode of the plugin helps you set and optimize the layout for different screen sizes.
Diagrams, graphs, charts:
This table plugin has multiple options for adding colorful and quality diagrams, or graphs, and even different styles of the chart.
Calculation:
Create a minimalist table and calculate the large numeric values with Data Tables Generator.
Sorting, pagination, searching:
If you want better navigation on your website, then this is the right plugin!
Frontend editing:
Make the cells of your table editable at the frontend with Data Tables Generator. Click on the cell and input the data you want.
Import-export:
Importing or exporting is a no-hassle job via this plugin. Import from CSV, Excel, Google Sheets, and export to CSV, PDF, XLS, XLSX files.
Media and link:
Make your tables more attractive with images and videos. Adding links to the cell content also drives customers in!
WooCommerce product table: (Retired now)
Tables by Supsystic have a pro feature now. Using this plugin, you can make a sortable, customizable, filterable, and responsive WooCommerce table.
Database source:
Here's another pro feature that displays any table from the WordPress database. Select data and make a query source; you are all set to customize your table.
Color control and auto-update:
Controlling the colors of your table falls under the customizing category. Go wild with the palette and make gorgeous tables! Also, get an auto-update and avoid sweating over it.
Use it to process and manage an SEO friendly table at a reasonable price.
Here's another plugin to ease your way into the WordPress website business! From our list, this one stands with the best ones.
The features are-
Auto listing:
List your posts, pages, custom fields, custom post types, and taxonomies automatically and create tables.
Sortable and filterable tables:
Visitors are allowed to filter contents by date, category, or author with its easy-filtering feature. jQuery Data Tables ensure searching and sorting.
Multimedia:
You can add music to the image or video to make your table visibly and audibly more appealing.
Columns and pagination:
Pick your columns from post ID, title, content, categories, tags, author, or date. You can also streamline the content via a pagination option.
Responsive:
This plugin fits any screen size, and it's highly responsive to all devices.
Blog post:
You can display WordPress blog posts in the HTML table.
Multilingual:
Compatibility with WPML means everything is internationally translatable.
AJAX lazy load:
Enabling this feature will help with large content tables and load quicker.
Custom fields and taxonomies:
You don't need to have any technical knowledge to show the custom fields or taxonomies in WordPress posts table.
WooCommerce:
This plugin supports the WooCommerce product table fully! You will get "add to cart" buttons, quantity, price, reviews, stock info, categories, tags, weight, timeline, and will get to showcase your table dynamically.
Control over contents and columns:
Control what columns and contents you want to show or don't want to show.
Some of the premium features are unavailable in the basic/free version. Additional functionalities come with each plan.
League Table comes with its multiple-site compatibility and multi-language option, ultra-responsive, and easy customization, and also the varieties of other functions.
We can make a quick list for these-
Easy spreadsheet editing:
Copy data from spreadsheets or import tables in XML format in League Table spreadsheet editor. This feature saves a ton of time for you!
Sortable columns:
Users can sort the table columns by applying criteria for one or more columns. Manual sorting can be disabled, and so can the generate option.
Customize:
League Table has 105 options per table, 17 options per cell, and 13 general options for quick-customization of your tables. Moreover, you can change the font, cell width, and color as you want.
Image and link:
Easily add an image or insert a link on text/image with this table plugin to make it more troublefree.
Responsive:
Unlike many others, League Table offers an adjustable layout. You can set the tables to fit any screen.
Highlight cell and calculate:
You can make a specific cell/row/column pop by highlighting it with colors or typographic style. If you have to calculate data, then math formulas help you with that.
Language:
League Table is a multilingual plugin and has default English and Italian. For other languages, use translation files or multilanguage plugin.
Import-Export:
Archive your tables as XML files to backup or move between sites.
Initial purpose of this table plugin was to track score statistics for sports. But the immense amount of features makes this plugin worthwhile. Most importantly, League Table is a plugin within reach.
This one is a drag & drop table plugin and effortless to use for site owners. After you install and activate it, the rest of the job is smooth sailing! Create responsive and impressive tables with this plugin.
Basic element and customization:
It's offering text, image, list, button, star rating, custom HTML, and shortcode. You can customize these elements as you need.
Mobile responsive:
If you create a table with WP Table Builder, you can make your tables responsive for any device.
Varieties of tables:
Comparison tables, list tables, pricing tables, and many more tables can be made with this plugin.
Cell management:
You can add, merge, split, reorder, and delete cells, columns, and rows with the cell management mode. It lets you add color too!
HTML code, ordering, pagination:
Insert an HTML code in cells and manage further. Then again, you can order the table contents numerically or alphabetically. Enjoy a smart pagination facility along with all that.
Users:
Affiliate marketers, bloggers, startup companies, niche site owners, small businesses, and any WP site owners.
This plugin has some limitations, but it's super easy to follow! It's free of cost and still offers a lot of features.
If you are looking for a lightweight and minimal table plugin, Magic Liquidizer Responsive Table is what you need. You may not find it in many top-5 lists, but it's an ideal RWD tool for developing your site, so we are tossing it in ours.
Responsiveness:
Magic Liquidizer Responsive Form carries out all the tasks with just a few clicks! It can turn an HTML table responsive and easy-going. Besides, the table contents/cells might overlap when you're using a small-screen device. Magic Liquidizer adjusts all of it for any screen.
RWD solution:
For a responsive web design solution, this plugin works with images, texts, forms, tables, navigation menu, and several HTML table elements.
SEO:
Advanced SEO features of this WordPress responsive plugin make sure the search engines pull the contents of your table.
Navigation and custom media queries:
You can apply CSS media queries for different sets of CSS rules and conditions. CSS styling feature mostly applies to responsiveness. Navigation Bar or Menu responsiveness is another great aspect.
Cross-browser compatibility:
This table can suit any browser you name. Talk about responsiveness!
Simplicity:
Though it might not be a "feature" in general, the plugin is super easy and flexible. It also supports landscape and portrait views.
Not many users know about this laid-back yet dynamic table. But it's a free table plugin that we can't leave out.
Now that we're reaching towards the end, you shouldn't think that you can skip the last ones! Visualizer is an ultra-dynamic Freemium plugin that offers "Tables and Graph" managing for your site.
Animations and colors:
It's one of the most desirable features, and Visualizer flaunts it! You get to create animated charts, multicolor diagrams, and at the same time, basic tables.
Customize:
You can customize your chart title, colors, tooltip, chart style and layout, annotations, animations, zoom, and pan.
Interactive table and charts:
Using this plugin as a TablePress alternative, you will create and manage multiple types of charts and tables, and all will be interactive. Even the free version is worth your time.
Manage and embed:
This plugin supports Google Visualization API, ChartJS, and DataTables.net so that you can manage and integrate all the charts and graphs.
Import and live-edit:
You can import CSV file data and make your chart look more active. Similarly, as a user, you can edit your tables/charts without hampering your business.
Private charts and shortcode:
After you create a chart with Visualizer, this plugin creates a unique shortcode for that. This way, you can search for the table in any post or page. You can also create private charts.
Charts:
Polar Area, Timeline, Gauge, Candlestick, Radar/Spider, Combo – six different types of charts are available.
Above 40,000 users are happy with it because of the truckload of editing and customizing options. We're finally in the future!
Now, let's view the last one for more clarity.
Lastly, here's a plugin with a highly responsive mode. With WP Responsive Table, You can manage HTML tables and make it scrollable horizontally on any screen.
Let's see the features first.
Shortcode:
No shortcode is required for this plugin. It's manageable with an HTML table in Classic Editor or Gutenberg.
Additional settings:
It's unconventional and doesn't need additional settings.
Table style:
This plugin offers fully customizable table styles.
Responsive:
If you want a large table to fit into small screens, go for this plugin first. The horizontal scroll mode will adjust any table to screens.
Column sort:
Keep your table columns under your control by manually sorting them from the header.
Colors:
Select colors from the default palette and alternate between rows/columns.
WP Responsive Table is a free plugin with these simple features. You can try it if you are new to WordPress fields.
A short recap of TablePress alternatives
Here's a table with the plugin names, price, and links to references to make things easier for you.
Plugin
Price
More Info
Ninja Tables
$49- $199/year
($199-$599 Lifetime)
More Info
wpDataTables
$69-$249/year
($199-$589 Lifetime)
More Info
WP Table Manager
$34/six month- $39/year
More Info
Data Tables Generator by Supsystic
1 year: $46-$149
2 years: $59-$239
3 years: $79-$319
More Info
Posts Table Pro
$99-$799/year
($299-$999 Lifetime)
More Info
League Table
$39 Regular license
$195 Extended license
More Info
WP Table Builder
Free (+pro addons)
More Info
Magic Liquidizer Responsive Table
Free
More Info
Visualizer
Personal: $99
Developer: $199
Agency: $399
More Info
WP Responsive Table
Free
More Info
Honorable mentions
We illustrated the top 10 alternatives to TablePress above. There are, however, some more worth mentioning.
Essential Addons for Elementor
Table Maker
JTRT Responsive Tables
WordPress Dynamic Tables
What's the best alternative to TablePress?
You might still be in confusion about which one to pick. So, if you want our suggestion, we'd say go for Ninja Tables Pro without any hesitation at all! As this article explains, there shouldn't be any doubt that Ninja Tables is the best among the TablePress alternatives.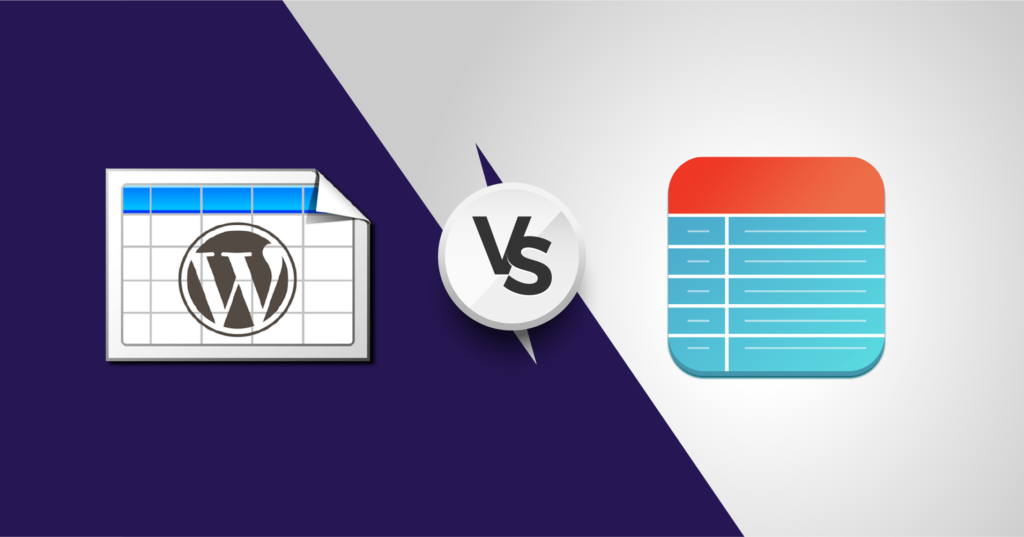 Let's discuss the differences and similarities between the features of the two competitors.
Differences in features
Ninja Tables supports WooCommerce integration, which TablePress doesn't.
Data migration is supportive in Ninja Tables only.
Advanced styling options are available in Ninja Tables and not in TablePress.
Only Ninja Tables offers internal smart preview between the two.
Responsive breakpoint and mobile-friendly layout are only available in Ninja Tables.
Shortcode facility, import-export, and data modification come with Ninja Tables only.
Ninja Tables also shows dynamic table data, unlike TablePress.
Ninja Charts can create a chart with data from Ninja Tables.
TablePress has XLS support, while Ninja Tables supports CSV import.
Similarities in features
Both plugins have a custom CSS feature.
Neither supports PDF submission.
Also, both of them have JSON and CSV support.
Stylings are much similar in both of them.
Table pagination, filter, and sorting options all appear in both.
Wanna learn about top drag and drop table plugins?
Comparing key features
( Ninja Tables and TablePress)
TablePress itself is quite a complete package. But Ninja Tables Pro is surely the ideal one as an alternative. The vast list of features and functionalities of this freemium plugin works perfectly with any website and proves to be highly user-friendly. So, it's hands down, the best WordPress table plugin!
Features
Ninja Tables
TablePress
WooCommerce integration

check

remove

Import-export

check

check

(Not from other plugins)
Advanced styling

check

check

Tables with form entries

check

remove

Dynamic table data

check

remove

JSON & CSV Support

check

check

Responsive

check

remove

Excel-like editor

check

check

Filter and sorting

check

check

Google Spreadsheet integration

check

remove

Charts

check

remove

Transform value

check

remove

Table coloring

check

check

(With CSS)
Conditional formatting

check

remove
Final words
So, here ends our top-10 list of TablePress alternatives and our verdict on the best one. If it's still troublesome for you, then just scroll further up and note the fancy features of Ninja Tables.
In conclusion, we can confirm that creating tables for WordPress sites will be a lot more manageable with Ninja Tables Pro, and it's the best among the smartest alternatives to TablePress.
Check out a comparative study of wpDataTables vs Ninja Tables.