How to Install, Upgrade, and Activate License
To install and use the AzonPress plugin, you need to maintain a few requirements.
Requirements
PHP 5.6 or newer.
MySQL 5.0.3 or newer
WordPress 4.7.5 or newer
PHP "SOAP", "cURL" and "mbstring" extensions installed and enabled
PHP "curl_exec" and "allow url_fopen" enabled
PHP "XML" enabled
Installing and Activating AzonPress
You can install the AzonPress plugin in two ways:
Install Via Uploader
Login to your website and go to the admin dashboard.
Select Plugins → Add New from the side menu.
Upload the azonpress.zip file included in the downloaded package.
Click the Activate Plugin button.
Install via FTP
Extract the azonpress.zip file locally
Connect to your server and navigate the folder /wp-content/plugins/
Upload the local folder  into the plugins directory on your server
Login to your website and go to the admin dashboard.
Select Plugins from the side menu.
Click the Activate Plugin link.
You have now successfully installed the plugin.
How to Update
For updating with the latest version of AzonPress, we have implemented an automatic update system that is compatible with the previous version. So if you are using version 1.0 or then when version 2.0 will come it will be automatically updated within your site.
How to Activate License
As per your purchase, at this point, AzonPress comes with various different types of licensing. Some of these licenses are for single websites, and some licenses enable you to use this plugin on multiple websites.
To activate the license, follow the steps below: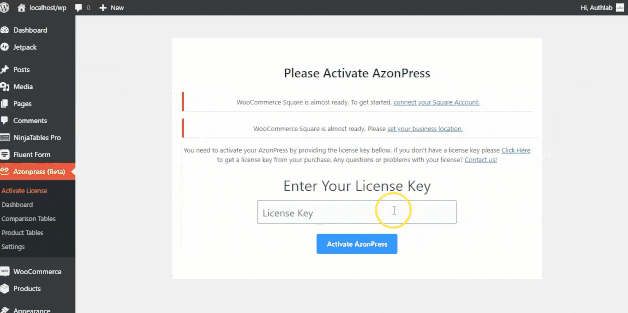 Initiate the licensing process by clicking two following ways — One is [Sidebar ➡️ AzonPress ➡️ Active License] Or [Sidebar ➡️ AzonPress ➡️ Settings ➡️ Licensing ➡️ Activate License or the notification above]
After locating a Licensing page, just put your license key on the input field and press the Active AzonPress button to activate the license.
If you lose the license key, you can always retrieve it from your wpmanageninja dashboard.
Sign in with your credentials
Hover over the Account button on the navbar (top), click on Dashboard
If you have already purchased the product, you'll see a license key for it.
Retrieve the License Key and Paste it into the AzonPress Activate License page.