An optimal display of your products page can make your online sales grow and drive in more profit over time. The swiftest and most user-friendly way is using a product table plugin. Users of WooCommerce Product Table (Barn2Media) have it easy since this plugin makes things smooth for both sellers and buyers! But, what if there's a top-notch WooCommerce Product Table alternative that offers more?
With some table plugins that support WooCommerce facilities, such a question is likely to arise. However, we are here with a curation of alternatives to help you decide.
Pick the best WooCommerce Product Table alternative (Top 5)
So to find the best plugin for your site, make a note of our inventory. Choose any of these WooCommerce Product Table alternatives.
Moreover, by the end of this article, we'll add a few honorable mentions along with our suggestions. So, sit tight and check out the curated list.
So, without wasting more of your time, let's begin!
1. Ninja Tables
We could go on and on about this plugin, and there'd still be some functionalities left for discussion! Currently, the plugin bears 50,000+ active installations with a decent amount of users' ratings.
You can create a WooCommerce product table in WordPress with this plugin and make your sales increase in no time.
Features
Add visual data to make your tables more lively and interactive. Images and videos with content can entice customers.
WooCommerce integration is a game-changing feature and helps you make a customer-friendly product store online. For your better understanding, we have published a detailed article on how to create a WooCommerce product table using WordPress.
Auto-sync with Google Spreadsheets will make all your data from the sheet appear in a tabular form on your website.
WP Posts and Fluent Forms integration to organize and display your form entries and data inputs in a table layout. Similarly, turn your WordPress Posts into tables.
Ninja Tables is regarded as one of the top plugins because of the custom color scheme facet for tables. Throw in bright and captivating colors to direct your audience's focus to the right place.
You can create tables by simply using the drag-and-drop facility.
Custom search to select a filter and search in a particular field. You can also sort the table manually.
Customize permission to set the audience and choose who can edit or make changes to the table.
Stackable table configuration helps to data vertically or horizontally from the select-box options and set target devices.
Control data by adding conditions for columns/rows. Likewise, highlight a specific cell from the "cell color" option.
Configure and manage your tables with easy-to-follow configuration options.
You can export or import a value or the table itself. Ninja Tables supports CSV and JSON.
Unlimited columns, rows, and data.
Row hover animation to keep visitors engaged.
| Price plan | Single site | Agency | Unlimited sites |
| --- | --- | --- | --- |
| Annual | $49 | $99 (Upto 20 websites) | $199 |
| Lifetime | $249 | $399 (20 sites) | $599 |
Pros
Tables are SEO-friendly.
Fully responsive.
WooCommerce integration.
Exclusive WP Post feature
Image lightbox
Fluent Forms and Ninja Charts Integrations
Custom CSS
Table and row duplicate facility.
Smart pagination.
Custom design option.
Detailed documentation.
Cross-browser compatibility.
VIP Support.
Cons
Can't import from Excel file
Doesn't support PDF export
Ninja Tables is a freemium plugin, and the pricing plan starts from $49/yr subscription basis for a single website to $399/yr for unlimited domains with a lifetime license.
2. Data Tables Generator by Supsystic
This is a responsive and dynamic table plugin to create and manage an SEO-friendly table. Several of its features are only for Pro model users. But the basic table is user-friendly anyway.
Features
Data Tables Generator will arrange a large table beautifully. Therefore, you can fit thousands of columns and rows.
If the device screen is narrow, your table will adjust accordingly. So, no need to scroll, zoom in, or out.
Diagrams & charts (Area, line, bar, column, pie, bubble charts) and catchy colors add a different vibe to your table.
Calculate large numeric values and get better navigation with sort, search, and pagination options.
Cells will be editable at the frontend with this plugin. Also, you can import from CSV, Excel, Google Sheets, and export CSV, PDF, Excel files.
Display tables from WordPress database on the frontend.
Add images, videos, music, and links where you need.
Pros
Searching and filtering are easy.
Formula and HTML table support, and calculations for data cells.
Charts and multimedia.
Color control and conditions.
Merging cell and highlighting.
Contact form button.
Cons
Adding diagrams and conditions are available in Pro only.
Import-export, migration, Google Sheets auto-sync, and user roles are not included in the free version.
Also, the same goes for table history, editable and selectable fields, and row collapse.
WooCommerce integration is only open in Pro version as well (Retired now).
Data Tables Generator by Supsystic price-
| Price plan | Single | Dev | Enterprise |
| --- | --- | --- | --- |
| 1 year | $46 | $69 (5 sites) | $149 |
| 2 year | $59 | $109 (5 sites) | $239 |
| 3 year | $79 | $149 (5 sites) | $319 |
3. Woo Product Table Pro
Here's the alternative that deserves a place on the list. It comes with an auto-responsive mode and more functionalities.
Features
You can search for products by its name, SKU, size, color, price, or any other custom field.
Font color and size, background color, border, add-to-cart button color, pagination, spacing, checkbox, padding, and some other options make your table more interactive.
This plugin allows the music preview option for music sites.
Customers can order from restaurants with this plugin by choosing rates, prices, and menus. Similarly, a book lover can buy books and "Try PDF" from the table. A jewelry shop can sell the same way too.
Selling outfits and other fashion products with a table can get easier with this plugin. Likewise, accessories like phones, shoes, or others can be arranged.
Make a quick pricing table with search & filter.
Pros
Display your shop products on one page using shortcodes.
Ajax load.
Advanced SearchBox.
YITH WishList Support.
Editable texts.
Cons
Specific products table needs table ID, which is only available in Pro model.
Ajax action and mini cart are also Pro features.
All of the design and configuration options are for Pro users only!
Conditions like minimum-maximum price and stock products are Pro and pagination on/off features.
Finally, if you overlook the limitations, Woo Product Table Pro is quite useful.
| Free | Regular License | Extended Regular |
| --- | --- | --- |
| $0 | $29 | $38 |
4. WC Product Table
Match potential customers with the products they expect. WCPT plugin creates a table layout and makes it highly responsive. As a result, you can enjoy a multitude of user comfort.
Features
Table editor is powerful and intuitive to provide you with a professional result.
Replace the grid layout right away with tabular format and determine what table to display on a particular page.
CSS class and responsiveness.
Customers can add product variations on a popup form for variable products. "Cart Form" element displays the form within the table.
WCPT is also for audio shop and restaurants.
Pros
Shortcodes save loads of time!
Creates more complex table layout, including rows within columns.
Several 3rd party plugin compatibility.
WPML translate plugin
Cons
Condition features and navigation elements are Pro exclusives only.
Product variations, archive override, some shortcode attributes are unavailable in the Lite version.
Column sorting, ACF integration, sorting, tooltip, icon, media everything is open only in Pro.
You have to save your modifications and reload the preview page every time. Therefore, the changes you make are not visible instantly.
Also, you can't use the import-export function in WCPT Lite.
Now, if you think this lite version of WC Product Table meets your needs, go for it! Otherwise, buy the Pro version for $49 and enjoy the enhanced features.
5. Woo Table Pro
It's a "Drag and drop" freemium product table builder that focuses on the table view. Some features are only available in the premium version.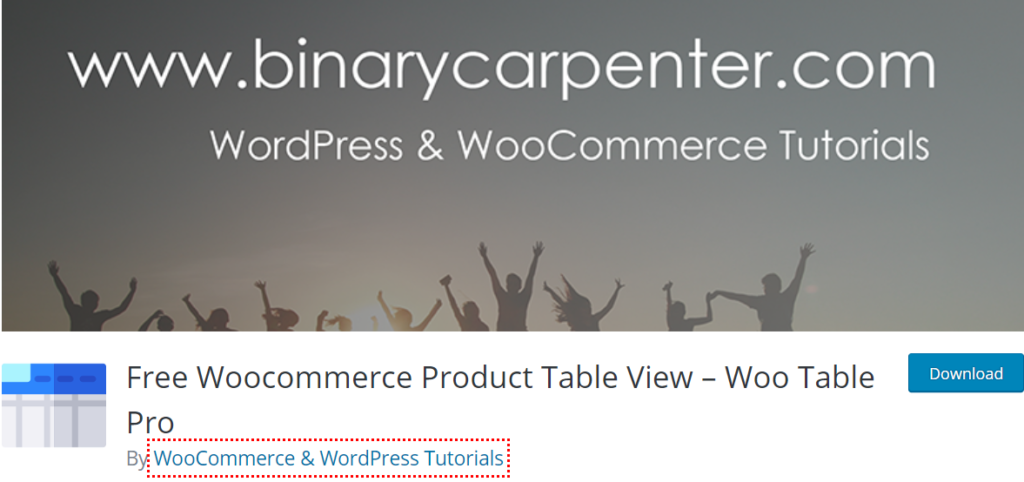 Features
Create a basic table just by dragging different input "Fields" and dropping them into the table editor.
After you create/save the table, this plugin automatically generates a shortcode to show the respective table into the pages or posts.
You can add as many tables as you want without any limitations.
A non-tech user can also follow the instructions of this plugin and create a table without any trouble.
Rating, categories, and price filter with a custom widget. Similarly, add a search filter to filter by name, tag, price, etc.
Ajax button and lightbox.
Display all varieties of products like simple, variable, or grouped.
Pros
Creating tables with this plugin is simple.
Users can add all the extra attributes (weight, length, SKU, description) of a product along with the common ones.
Quick drag-drop to create and arrange the order of columns.
Auto-generated shortcode to add the table anywhere.
Cons
Table style is only available in the Pro version.
Likewise, display filters for rating, price, and category come in the Pro version only.
Users can't access new themes in the free version.
Customizing is limited.
Woo Table Pro prices-
| Single site | Five sites |
| --- | --- |
| $14.99 | $59.99 |
| Lifetime update & support | Lifetime update & support |
Our verdict
We have tried to discuss all the details of every WooCommerce product table alternative in our list for the nitpicky users. All of these are user-friendly and have efficient usability. However, we have highlighted Ninja Tables for obvious reasons.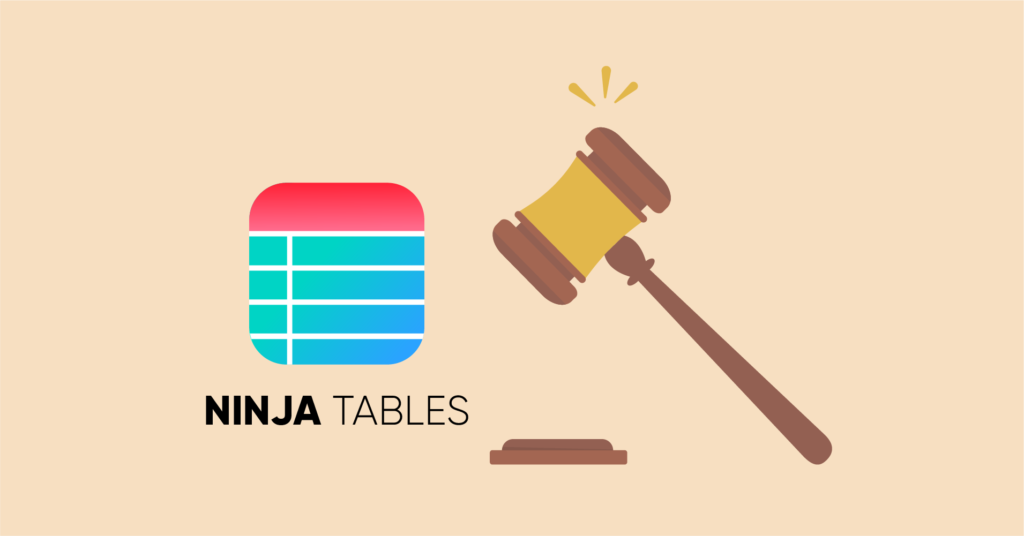 This plugin offers easy ways to create and customize product tables. Also, it takes almost no effort for a beginner to understand the features and functionalities.
So, the bottom line is, you can go for any of these plugins as an alternative without any doubt. If you want some more choices, then scroll down for our honorable mentions.
Honorable mentions
We think we're quite precise with the list of top 5. But here are some more that you can check out as a WooCommerce product table alternative.
Product Feed PRO for WooCommerce
YITH WooCommerce Wishlist
WooCommerce Product Chart Sizes Table
Final notes
Among all 5, which WooCommerce Product Table alternative do you think stands out? Any web-store owner will upvote Ninja Tables because it offers a plethora of functionalities! As a result, it secures the top-most position effortlessly.

Do you agree with our verdict? Try it out and let us know about your experience in the comment section. Here's another article on Top 5 WordPress Table Plugins.