Thinking about creating dynamic data tables on your website?
By default, creating dynamic tables on your website is always a tough job in WordPress. With the release of Gutenberg, though WordPress introduces the basic table creation process, it still doesn't serve the ultimate purpose of creating dynamic tables.
Of course, tables are a great way of displaying data on your website. There are lots of places you need to include the table in order to demonstrate different types of data. In the past, developers use HTML to create tables which may now be inappropriate for time being. Time has changed and people now want to do lots of things within a short possible time.
Fortunately, to fill up the gap, the plugin comes into the place to serve the purpose. In order to create dynamic data tables, you probably don't want to face any hassle after writing long-lined codes. Then, I think WordPress table plugins could be a great option to serve your purposes.
So, do you know what are the best table plugins in WordPress?
If you are the right person who is the best suited for the answers to those questions then you are exactly in the right place. All you have to do is just go through the whole text attentively, you will get a constructive and solid solution to this regard.
The real beauty of WordPress depends on its capability of turning a non-technical into a website admin despite having no prior experience in web development! And where custom functionalities are required that aren't offered by WordPress, you can always choose a suitable plugin from WordPress's wide variety of plugin directory that is growing by every day.
Online tables & table plugins
Online tables and charts are a great way to present data in an organized way on the web. Tables can be used for multiple purposes to present your information in an organized way. In the case of a WordPress user, you must know how the table can help you to display data.
If you ever tried to create a WordPress table, you may have seen there is a default and simple table creation option in the block editor. However, they are not SEO-friendly. So, using the best WordPress table plugin could be the best bet for serving your purposes.
There are lots of table plugins in the WordPress directory that are to fulfill your needs. Along with the choices, there always comes the dilemma first. That's why it's hard to choose a decent one.
Here, I'm going to demonstrate some of the best WordPress table plugins that are worth using for creating data tables on your site.
7 Best table plugins in WordPress
Now, I am going to provide information regarding how the table plugin in WordPress can help your website in different ways and meet those needs. This article will help you to figure out the best WordPress tables to cater to your requirements.
Here's a list of the 7 best table plugins in WordPress, tested first-hand.
Let's get into the details so that you can choose your desired one based on your requirements.

Ninja Tables is a handy freemium plugin that makes your site more comprehensive by adding different types of tables to your site. You can create 8 types of tables, including the general tables, comparison tables, even you can create a pricing table using the Ninja Tables plugin. The good thing is the plugin provides you the ease of creating a dynamic table that is fully responsive in type.
The plugin bears a handy interface to use for its users as they easily manage any kind of table in their post. As a user, you need not feel any hassle to add advanced functionalities by adding add-ons to extends its usage. What you need to do is just install the plugin and you will get everything in a comfortable way.
Another great aspect of the plugin is its responsive breakdown facility. You would probably face any trouble to show your table equally the same view and information in all the devices, this can be easily managed using the most notable feature of the plugin which is the responsive breakdown.
The breakdown facility of the plugin allows you to solve the responsiveness issue in any kind of device. You can have several table designs, and custom CSS as well. Pagination, sorting, and filtering can be found in a very friendly manner. Using shortcode, you can post any of the tables you created earlier on your webpage.
Most importantly, you can create WooCommerce product tables using the plugin. The special WP Post feature can turn WordPress posts into tables. You can integrate the Google sheet with the plugin. By default, the Fluent Forms and Ninja Charts plugin is integrated with the plugin.
Moreover, there are 100+ table styles, ajax features, mobile-friendly support, configuration options, and export-import facility available within the plugin. The main features and functionalities of the plugin are as follows:
Features
Simple configuration and easily searchable.
Fully responsive in nature.
Simple and easy pagination.
Easy copy and duplicate facility.
User-friendly crud functionality.
Import-export facility.
Multiple intergrations.
Pros
SEO friendly data tables and mobile-friendly views.
Fully responsive table look.
Table duplicate facility.
Most user-friendly.
Custom CSS
Responsive breakdown facility.
Smart pagination.
Beautiful design pattern.
Detailed documentation.
Cros-browser compatibility.
Cons
No Import From excel file
No PDF export Feature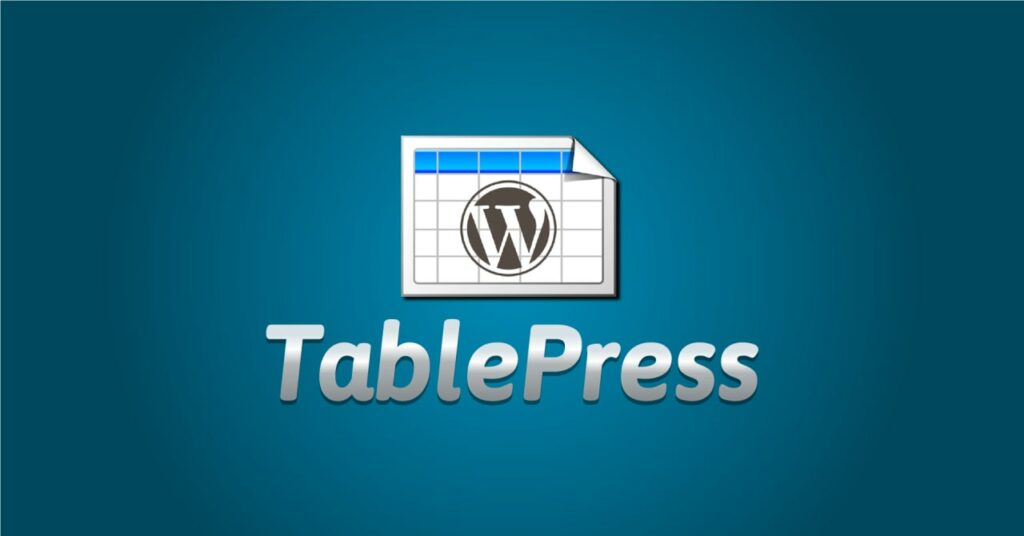 TablePress is one of the best WordPress table plugins to create and manage basic tables in WordPress. This is a free generic table plugin by which you can create an HTML table on your web page. By far this is the most downloaded table plugin in WordPress. As it came into the market prior to other table plugins, it becomes the most known WordPress table plugin so far.
Features
User-friendly searching option.
HTML tables support for data cells.
It supports table Caption, Header, Footer.
It supports different customization options.
You can import Tables from CSV, Excel, Google Sheets.
You can also export created tables to CSV, Excel, PDF.
Pros
SEO friendly.
Custom CSS facility
Export created tables in CSV,HTML, and JSON.
Nice design.
Cons
Time-consuming for table creation, doing customization is pretty slow.
Limited customization facility.
Not fully responsive.
Limited Support for the large table.
WP Table Builder plugin is a free plugin to create and manage tables in WordPress. This plugin is developed especially for bloggers. You can insert multiple types of tables with a drag & drop facility. You can embed any created table in your post articles using a shortcode or even in the ultimate table widget.
Features
Rows and columns are pretty customizable. You can reorder them and also delete the existing one.
It allows you to insert any HTML code into the cells.
It supports an optional manual class.
Pagination with multiple options.
Supports text messaging facility.
Ordering system based on alphabetical and numerical.
Pros
You can edit the number of rows and columns of an existing table.
The plugin can reorder the table as you need.
Have multiple designs.
Handy search option.
Smart pagination facility.
Cons
limited customization.
Lacks of export and import capacity.
Data mess up with 200 rows or above data inclusion. That means limited support for large data.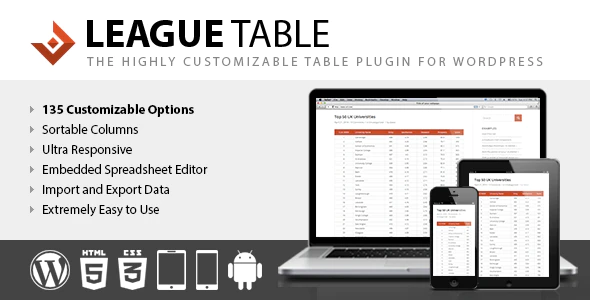 This is a premium plugin that is used to create tables in WordPress. As the name suggests, the plugin was created for the sports site. But its customizable options enable the plugin to be used on any kind of website.
The interface of the plugin is much handy and productive as anyone can easily create a basic table using the plugin. In the advanced option of the plugin, you can have a notable amount of customization facility. Here are the features with pros and cons of the plugin:
Features
You can set up the plugin easily.
You can sort the data tables.
Widget facility is available.
The mathematical formula can apply to the cells, rows, and columns.
Multiple responsive settings depending on the different devices.
Pros
It's pretty simple to handle.
Easy data entry.
Color customization.
Detailed Documentation.
Option for responsiveness.
Cons
Don't support a large amount of data.
No import-export facility.
No search and sorting facility.
Not fully responsive.

This is another premium WordPress table plugin that is used to create dynamic web base tables. You can create and manage tables using the plugin.
The most important thing about using the plugin is that if you want to import a huge amount of data, you can buy the plugin for having a better experience.
Using this plugin you can create tables in various ways, you can upload your file in different ways in your posts. Like you can upload CSV/Excel, PDF, and MySQL queries in your table using the plugin. Here are the main features with the pros and cons of the plugin that are given below.
Features
Any kind of table can be created which is sortable and most interactive.
It provides a mobile responsive outlook.
Table creation with a built-in wizard and charts.
Conditional formatting in the CSS.
Data can be customized in real-time.
Managing large data set.
Pros
The plugin renders charts from the table.
It can easily copy, print, or export as CSV/Excel/ PDF.
Searchable facility.
The responsive option is available.
Styling option.
Unlimited color and font option.
Huge data import facility.
Cons
The interface is obscure for novice users.
A little bit time-consuming.
No front-end customization option.

Data Table Generator is another table plugin in WordPress. You can manage the tables effectively from the admin panel. The thing is it provides interactive charts and graphs, sorting, pagination, and the filtering facility.
Interactiveness is one of the most important elements of the plugin you can have a better interactive experience using the table plugin in WordPress. Let's have the main features with the pros and cons of the plugin given below.
Features
Get a wide range of customization facilities like bold, font size customization, and color customization as well.
Data import facility from different formats.
Table caption, header, header compatible.
SEO friendly environment.
Inbuilt-diagram.
You can use the chart and graph using the table plugin.
Pros
Easy searching option.
Formula support and HTML table support for data cells.
Import from CSV, Excel, Google Sheets.
You also can export tables to CSV, Excel, and PDF.
Cons
Limited customization.
Don't support large tables.
Not fully responsive.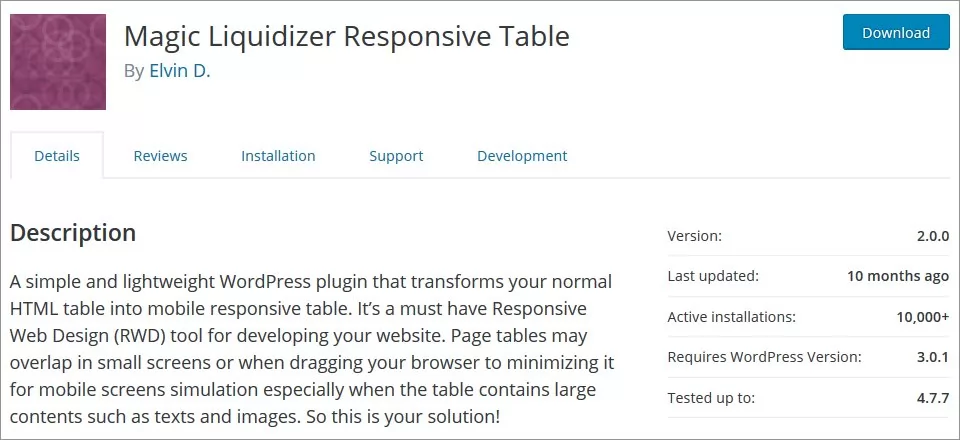 This plugin is simply used for creating the tables in WordPress. This is a freemium plugin that is used to manage tables on your web page. Through the plugin, you can collapse the column into rows and assure the artistic representation of data.
In the premium version, you will get advanced SEO features, navigation, and custom media queries. You can get many more to have using the plugin. Some of its main features with pros and cons are given below.
Features
Responsive outlook with texts, images, and navigation menus.
Supports landscape and portrait view.
Comfortable and flexible to use.
Pros
Responsive design pattern for images, texts, forms, tables, navigation menu.
The plugin supports landscape and portrait views.
Flexible, simple and lightweight.
Cros-browser compatibility.
Cons
It's problematic when to load large data.
If you link any video on the table than it creates a problem.
Lack of instant support.
Not friendly documentation.
It's your turn to choose the best
So far, I wanted to clear all the confusion about choosing the best table plugin in WordPress that might come up in your mind as the tons of options available in the market. I think you got a precise and comprehensive exposure to some of the best WordPress table plugins. Almost all the features with probable positivity and negativity are explained above, now, it's all your turn to identify the best one which may be the best suited for you.
Before ending
These aforementioned plugins are the best WordPress table plugins in WordPress so far in the marketplace. Now, you can choose any one of them from the above-mentioned plugins. Hopefully, you would choose the best one from them, or if not, here are some of the best recommendations based on the analysis of the different use cases.
Ninja Tables: For its wonderful service in terms of user experience and friendliness, Ninja Tables is impressive. The plugin is fully responsive and you can buy a premium version for more awesome features. You also can get a decent amount of features using the free version.
You will get all the basic and semi-advanced features using this awesome plugin. The most notable responsive breakdown facility makes you able to fix the responsive issue in all the devices. That means, using the table plugin in WordPress you can get maximum benefits of creating and managing a table on your post.
TablePress: If you want a free simple WordPress table plugin, in that particular case, you can use the TablePress plugin for having a free plugin with a decent amount of features.
Ultimate Tables: For small data sets with a clean look, you can use Ultimate tables for your practical usage.
League Table: If you want to spend money but with a low amount, especially for a shoestring budget, you can choose this plugin for your better experiences. It provides a bunch of features in the pro plan.
wpDataTables: This plugin is a little bit pricey and especially it can be used for a huge amount of data importation. If you want to import lots of data through importation, this could be a great option for you.
Data Tables Generator: For having charts, graphs in your table, you can use this plugin which makes you feel comfortable. This table could also be used for SEO-friendly content picked up by search engines.
Magic Liquidizer Responsive Table: For the artistic representation of the table data you can use the plugin that can manage very precisely into your pages. You also can collapse the column into rows. This is the simple lightweight tool for having a responsive outlook for your tables.
These are the mini-outline of the above-mentioned plugins listed in the texts in order to make things easy while choosing the best one for you. They are the best plugins in the marketplace in the current market context. So grab your suitable table plugin in WordPress and start creating your expected tables.
Conclusion
In fine, I would say that in a platform like WordPress, choosing the right tool from lots of options is mostly like pick the best out of the rest. You already have seen the 7 most popular and effective best table plugins in WordPress, now get one from them and start playing with the table in the WordPress on your site.
If you find anything that you need but the plugin doesn't cover, in this case just let us know about your concern. We will take care of your opinion for sure.
Have you tried yet any of these? Do you have anyone to add that I might miss any best table plugin in WordPress on the list? Feel free to let me know about your concern.