Within a decade, global eCommerce sales bumped to an astounding $5.2 trillion in 2021. Statistics predict that within 2026 the figure will grow to a whopping $8.1 trillion, which is a 56% boost. There is a reason why people are investing in this sector for their business. This industry brought a fundamental change in entrepreneurs' mindsets who felt the urge to create an online presence for their businesses or startups to face their competitors.
Unless you live in a cave, you should be aware of eCommerce. In this era of technological advancement, it's is one of the most searched buzzwords on the web.
And in this age of booming internet and the trend of having a side hustle, almost every one of us has thought of starting our own eCommerce business. Want a piece of that cake and jump on the train? Well, to do that, you'd need a solid business of your own.
To help you with that, in this post, we will learn about some of the best eCommerce platforms for startups and small businesses.
Table of content
What is eCommerce?
eCommerce (electronic commerce) is buying and selling goods and services or transmitting funds or data over an electronic network, primarily the internet. These business dealings can be either B2B (business-to-business), B2C (business-to-consumer), C2C (consumer-to-consumer), or C2B.
Online retail has grown dramatically over the past 20 years thanks to the widespread use of eCommerce platforms like Amazon and eBay. The U.S. Census Bureau estimates that 5% of all retail purchases in 2011 were made through eCommerce. When the COVID-19 pandemic broke out in 2020, it had increased to over 43% of retail sales than the year before. Now it sits at 14.8% in the Q3 of 2022.
Starting an eCommerce store requires skill, passion, and dedication. If you need to get the basics of eCommerce for dummies, we got the ultimate guide on how to start an online business.
Types of eCommerce platforms
There are three kinds of platforms you will find in eCommerce-
Open source
SaaS (Software as a service)
Headless
Open source
Because of its customization option, open-source solutions are frequently more popular among businesses that want complete control over their website. A sizable developer community that creates and supports open-source systems contributes to a wealth of knowledge and ideas.
However, you'll need a specialized developer team or some prior technical knowledge to change the source code. Security breaches are another issue because anybody may download and edit the source code and because eCommerce sites usually contain a lot of financial and personal data.
Given these disadvantages, it's understandable that just 46% of the largest eCommerce companies are considering employing open-source systems.
SaaS (Software as a service)
Software as a Service, or SaaS, eliminates the complexity of building an eCommerce site compared to open-source. For a monthly fee, users of this platform can subscribe to utilize the software, hosting, upgrades, new features, and security care. The best ones are mainly SaaS solutions.
Even while the consumer does lose some control over how the site is modified, SaaS systems are often easier to use because the SaaS provider handles the code, security, and hosting.
The disadvantage of some SaaS solutions is that you could be forced to utilize specific features or programs, making it difficult to select the best ones tailored for your business. For instance, if you use Shopify, you may be charged additional processing costs of up to 2% of each sale.
Headless
Traditional platforms tend to integrate frontend and backend layers of the technology stack in a closely tied ecosystem. It is a drawback for customers who want to customize their website according to their needs.
It's where headless eCommerce platforms shine.
An eCommerce platform can split the front and back end and front end using a headless infrastructure. It allows the user to modify the interface without affecting the backend functionalities. It allows greater freedom for the user's creativity, reduces the cost of ownership, and quick time to market.
Key features to look for in eCommerce platforms
What makes a good eCommerce platform?
The important features are-
The platform's agility under the modern behavior and shopping trends.
Available customer support channels to assist in case of technical difficulties.
Available security features and integration for protection against cyber attacks.
Key features of the platform compared to the necessity.
The cost of ownership according to the company size.
Omnichannel capabilities.
5 Best eCommerce platforms for startups in 2023
You'll get lots of options to pick the best one from. But we bring you a handpicked list with top 5.
Let's get into our main topic, listing the best eCommerce platforms for small businesses in 2023.
WooCommerce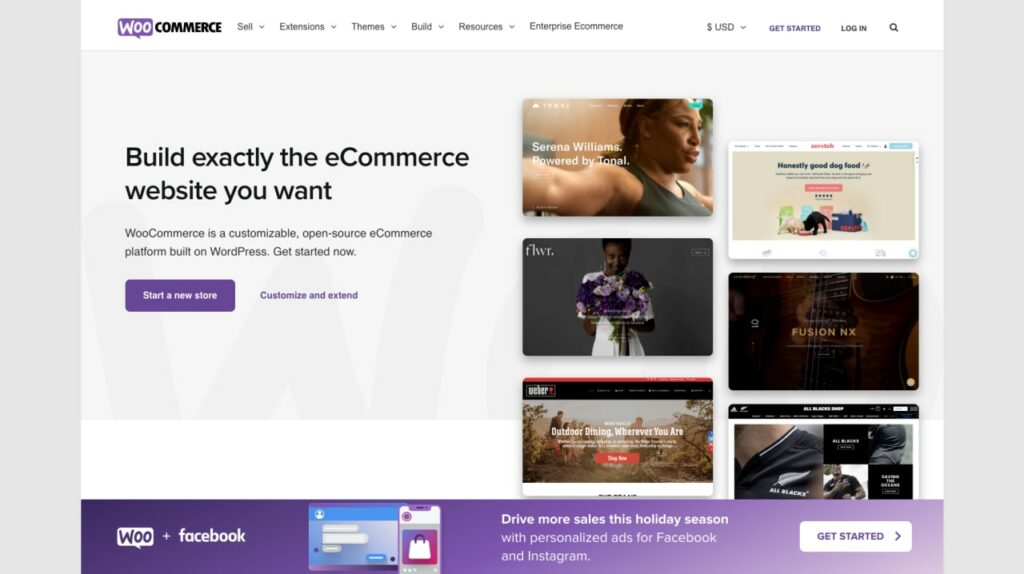 WooCommerce is a prominent website builder that enables business owners to create a fully functional and customizable eCommerce store on the WordPress domain. Unlike Shopify, Squarespace, or other big competitors, WooCommerce is open-source.
The best thing about WooCommerce is that it has a free version so you can use it straight up on your WordPress site. It is highly customizable thanks to its large array of extensions. For example, you can accept online bookings, sell subscriptions, accept recurring payments, etc., with the help of the WooCommerce extension. You can use various add-ons on the WooCommerce site to categorize your emailing list. Learn how to set up a WooCommerce store here.
WooCommerce has two versions:
Open-source solution
SaaS solution that is a WooCommerce subscription
For the SaaS version, users will have to pay an annual price with features with a 30-days money-back policy.
Remember that WordPress could be more beginner-friendly; therefore, you will need to learn it, as WooCommerce is a WordPress plugin (CMS). It is, nevertheless, one of the most adaptable and, as a result, versatile. Many businesses choose to use a premium theme. However, it will require you to buy a domain name, SSL certificate, and web hosting.
For organizing the products on your WooCommerce store, you can use a table plugin such as Ninja Tables. It has all the customization options to build and customize stylish product tables.
If you want to focus on lead generation via Email marketing, you can check out FluentCRM, which works wonders on WooCommerce business sites by sending promotional messages, discounts, and categorized product promotions.
With all its versatility, WooCommerce is a perfect contender as one of the best eCommerce platforms for startups in 2023.
Key Features of WooCommerce
Unlimited product listings
Free to use
Third-party payment system built-in
Localization settings
Subscription with a 30-day refund policy
Intensive third-party add-on support
Pros:
It has support for 70+ payment gateways
Support methods: Email and live chat
Adequate documentation support
Multiple plugins are available, along with some complimentary ones.
Option to choose third-party plugins to the users' need
Cons:
Only paid version has technical support
Not many themes are available on the free version
Requires basic technical knowledge for intense customization
Shopify
Shopify is often regarded as one of the industry-leading eCommerce platforms for small businesses and startups. It has all the bells and whistles to help you expand your online business. Many consider it the best eCommerce platform for small business in the market.
It is a SaaS solution that is helping millions of solopreneurs and SMBs around the globe. It comes with three different plans that give the customer a tailored experience. They also give 24/7 customer support, another reason why they are a great eCommerce solution for entrepreneurs.
Although Shopify doesn't provide a free subscription, it offers a 14-day trial that doesn't require a credit card. It features a thorough onboarding procedure to assist you in earning enough money by the time the trial period is up to pay for your plan. Many sellers discover that the basic $29 monthly plan is more than enough to meet their store's requirements. Up to two staff accounts, shipping reductions, POS accessibility (via Shopify POS Lite, which is suitable for small events), and abandoned cart recovery are all included.
There are two other plans, with monthly costs of $79 and $299. Your transaction costs and credit card processing fees will decrease with the price of the plan. These plans also offer an even bigger shipping discount.
Shopify's intuitive UI and stylish design elements help businesses worldwide create ideal websites according to their needs with unlimited customization possibilities.
Key features of Shopify
SEO and marketing tools
POS(point of sale) built-in
Unlimited scalability
Mobile app for management of the store
Wide range of themes and templates
Pros:
First-party payment gateway from Shopify, supporting all major payment gateways
Very intuitive and easy to use
Top-notch notification system
24/7 guidance from an outstanding support team
Numerous apps and tools
Cons:
Premium plugins add up to more expense
No free plans
Limite free themes
Sellers must buy a custom domain name
Customization is only available from the Shopify team
Squarespace
Squarespace is a great platform for people trying to build an online startup from scratch. It is one of the market's best platforms and site-building tools. If you want your business to make a creative impression, Squarespace can help you build that. It has all the expert layouts and customization choices to ensure your startup stands out.
Although no free plan is available, the Business package has a low monthly starting price of just $23. (if paid annually). It features infinite product sales capacity, CSS and JavaScript customization, and a dedicated email account from Google. There is a less expensive plan available that starts at $14 per month (paid annually), but it excludes eCommerce functionality.
You can purchase the Basic Commerce package, which enables you to operate a point-of-sale for $27 per month (paid annually) (POS). Anyone with a physical business or who sells at markets and fairs should use this strategy. eCommerce data and the option to tag your products in Instagram pictures are further benefits.
Key features of Squarespace
Customizable templates
Custom CSS
Top-notch design tools
Squarespace app
Ability to upload photos from phone
Email campaign integration
Pros:
Excellent customer support
Beautiful and responsive themes
Free domain name
Email campaign integration
Full control of CSS
Cons:
No free plan
High transaction fee
No inventory management
Lacks multichannel selling
The standard package doesn't include abandoned cart recovery
Wix
Wix is one of the prim website builders that has gained mass popularity amongst eCommerce platforms. The platform is renowned for its excellent usability and wide range of simple features, including accessibility to an AI that can assist you in creating intelligent websites. For businesses looking to invest in cutting-edge technology to outperform the competition, Wix can be a fantastic strategy.
It offers feature-rich plans that make selling online simpler in addition to being incredibly intuitive and simple to use with a wealth of free high-quality online shop layouts. Plans, for instance, include recurring payments, the option to sell an infinite number of products, and abandoned cart recovery. For an intuitive drag-and-drop site editor, Wix is a great option to consider for startups in 2023.
Key features of Wix
Multichannel inventory management
Built-in SEO tools
Mobile optimization of the site
Unlimited customization with API
50+ secure payment gateway
Mobile dashboard for keeping track of business on the go
Integration with Google Analytics
Pros:
Beginner-friendly with AI enhancement
Pricing includes hosting, domain, and SSL certificate
Unlimited product list
Recurring payments
500+ professional templates
50+ secure payment options
Cons:
Dropshipping integration is limited
The basic eCommerce plan has a storage limit of 50 GB
Less backend bandwidth for bigger stores
Dorik
Dorik is a new player in the market that is gaining popularity as a website builder without coding. They offer a good service within their price range.
It comes with a default of 25+ templates. I know that numbers could be more impressive, but quality matters over quantity. And in our research, the templates are impressive, and they are rapidly increasing their collection, and there's room for growth. The editing options are pretty simple and intuitive as well. Its UI is easy to navigate and very easy to get up a template and customize.
You can explore alternative options if you build a sizable website in a specific specialty, like blogging or internet marketing. But Dorik is a simple recommendation for the majority of other uses. If you are running tight on budget and want great features, we recommend you try Dorik.
Key features of Dorik
Pre-built templates and custom CSS
140+ UI blocks
A powerful builder
Unlimited blog post
Membership feature
Built-in image optimization
Pros:
Up to 100 custom domains
Unlimited storage
Free SSL/TLS certificate
Unlimited pageviews
Affordable pricing
Cons:
Only 25 templates to choose from
Some users are not content with the customer support
Challenges for eCommerce startups
In the startup market, there's a lot to fight for and against to rise above the tides of new businesses.
If you are new to this eCommerce business, you will encounter obstacles. But if you are clever enough to figure out what to do right, you'll quickly recover from it.
Some of the biggest eCommerce challenges every new startup faces are:
Collecting enough data and research
Conducting thorough research to identify the right product and market is the first thing to do when you plan to launch an eCommerce startup. Many startups are up and running, and the competition is ever-increasing in the industry.
To cope with the market, you have to research first. By research, we mean collecting data on possible competitors and demand for your products before developing your website and adding a plethora of useful features.
Ensuring good ROI with marketing
You might be compelled to run ads on numerous marketing platforms such as Facebook, Instagram, Amazon marketplace, TikTok, etc. But it would help if you remembered that marketing on new channels sometimes converts into higher sales.
Similarly, using all kinds of marketing tools at first will result in more time consumption and financial expenditure. That's why we recommend you selectively use these marketing channels so that you spend only a little on marketing with some decent ROI. For all kinds of social media marketing and management, you can check out our social media marketing tool WPSocialNinja.
To achieve the most efficiency, test the tracks individually to see which provides the best results and then concentrate on a few first.
Competing against big brands
When it comes to eCommerce startup business, you'll find big names and brands with more resources, staffing, and money to dominate the market brands like Amazon, eBay, BestBuy, Walmart, etc., have enough resources to eliminate small entrepreneurs. So, what do you do?
You can pick a less competitive niche to get the least competition from the big boys. It is also a part of the research. You'll have more time to focus on growing and scaling your business if you can locate a market niche with few competitors.
Bottom line
So far, we've given a rundown on the best eCommerce platforms for startups and reviews of some popular and affordable ones. Hopefully, you've got some recommendations according to your preference by reading this post.
There are many platforms out there that are great for small businesses and startups. We researched and wanted to strike a balance between quality and affordability.
Best of luck with your future startup!
---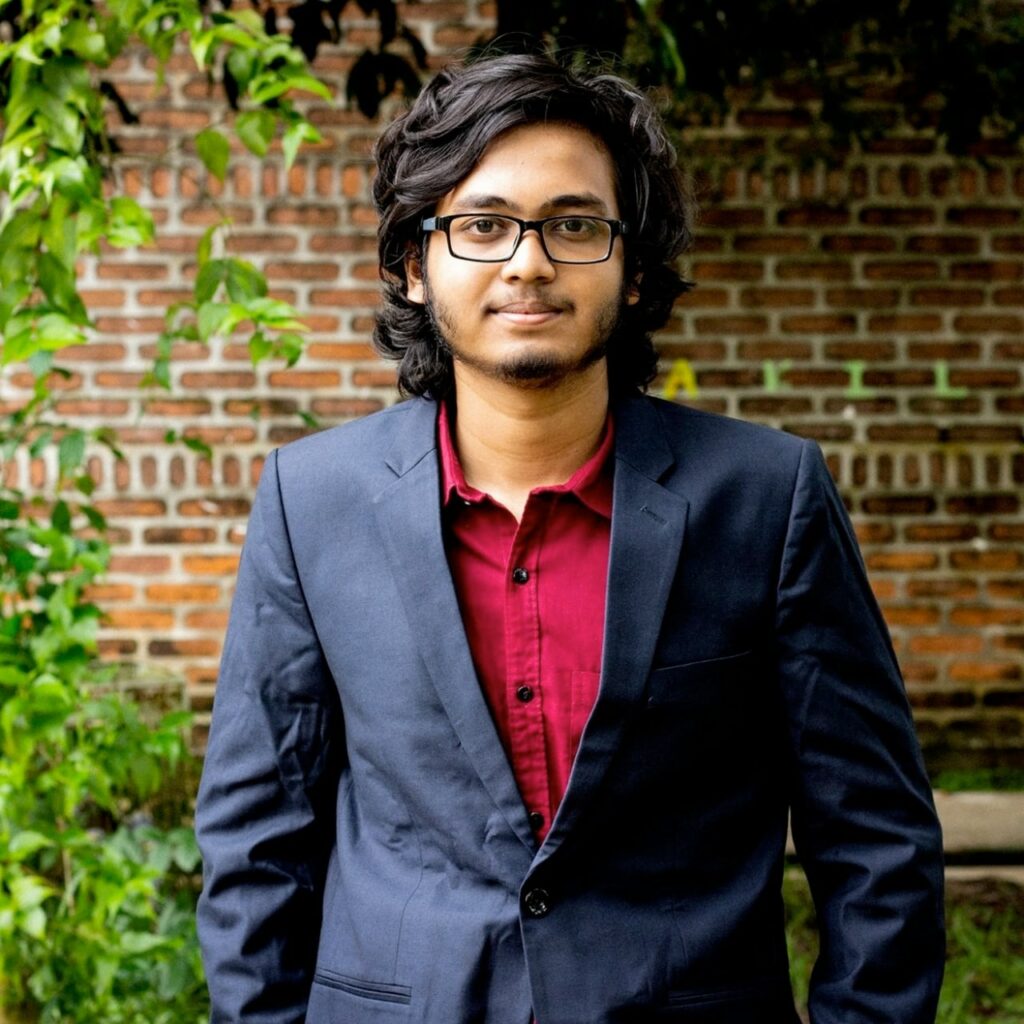 Author: Romeo Nicholas Rozario
Romeo is a creative content writer for WPManageNinja and a tech enthusiast. On the flip side, a musician by passion when he's free.