Resetting WordPress has become simpler than ever. No, you do not have to re-install WordPress, even if it takes only 5 minutes. You can better use top plugins to do it in seconds. Well, time is money, and considering how many things depend on the functionality of your website, it pays off to pay attention to how you can do it in no time with small effort investment.
The first question is why should you reset WordPress at all? There are many reasons to do that. If you are a developer, testing and debugging are your main concerns. In the clean development environment, you can do your job faster with more precise result in the end, and as a website owner who does all the job by themselves, you may need a fresh start for dozens of reasons. Improving security, speeding up the website, or recovering after hackers' attacks are only a few of them.
1. WP Reset plugin is a WordPress reset plugin that comprises standard and advanced features which enable users to choose whether they will use the One-Click Site Reset option or WP-CLI standard command line. Post-Reset Setup automatically activates the package of your favorite plugins and themes.

Database Snapshot and Database Diff Viewer are in charge of recording all changes made by other plugins and restoring the development environment to the chosen snapshot. Selective Reset Tools is convenient not only for developers but for advanced users as well since it enables you to reset individual tables with the specific content instead of doing the complete reset.
No limitations have been set, use the plugin when necessary, and fully customize it to your needs. WordPress Reset plugin is the best option for its many possibilities how and when to use it while each feature has a clear function, no cosmetics. Moreover, it is empowered with advanced additional features, including Nuclear Reset and WordPress Network (WP-MU).
2. WP Database Reset is another quality WordPress reset plugin that is devoted to database alone. You can reset the entire database or only the chosen tables without having to go through full WordPress installation or file modification. Exactly as the previous one, this plugin is user-friendly, fast, secure, and reliable. Before you hit the button, you will be asked to enter the security code.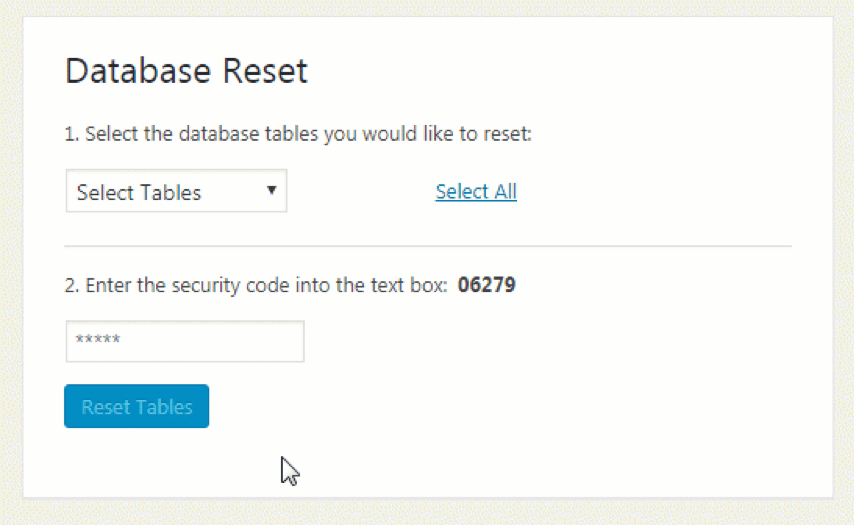 Over time, every website suffers from unnecessary content, and WP Database Reset allows you to get rid of it by enjoying the one-click process or the command line. A clean database is a favorite and necessary environment for plugin and themes developers.
Current theme and plugins are considered a default, and they can be restored or disabled at your will. WP Database Reset features official support forum. You can always turn to it, to find out more, or to create a new post. Perfect that you do not have to pay to reset your website to its defaults since both plugins are open-source software.
3. Advanced WP Reset provides original installation and allows you to start from scratch. Main features include keeping all installed plugins and themes and exclude any kind of files modification, let alone delete. Database customizations will be deleted.
3. Advanced WP Reset provides original installation and allows you to start from scratch. Main features include keeping all installed plugins and themes and exclude any kind of files modification, let alone delete. Database customizations will be deleted.

Post, pages, and comments will be deleted too. Admin users and accompanying passwords will be deposed and reactivated after the reset. The website's name remains intact. Multisite installation is not supported, but it is work in progress.
4. Advanced Database Cleaner is specialized to clean revisions and drafts you no longer need and suspicious content, such are spams. The main purpose of this WordPress reset plugin is to acquire database optimization. One of the convenient features is the possibility to schedule the clean-up and optimization, and the plugin does it all by itself.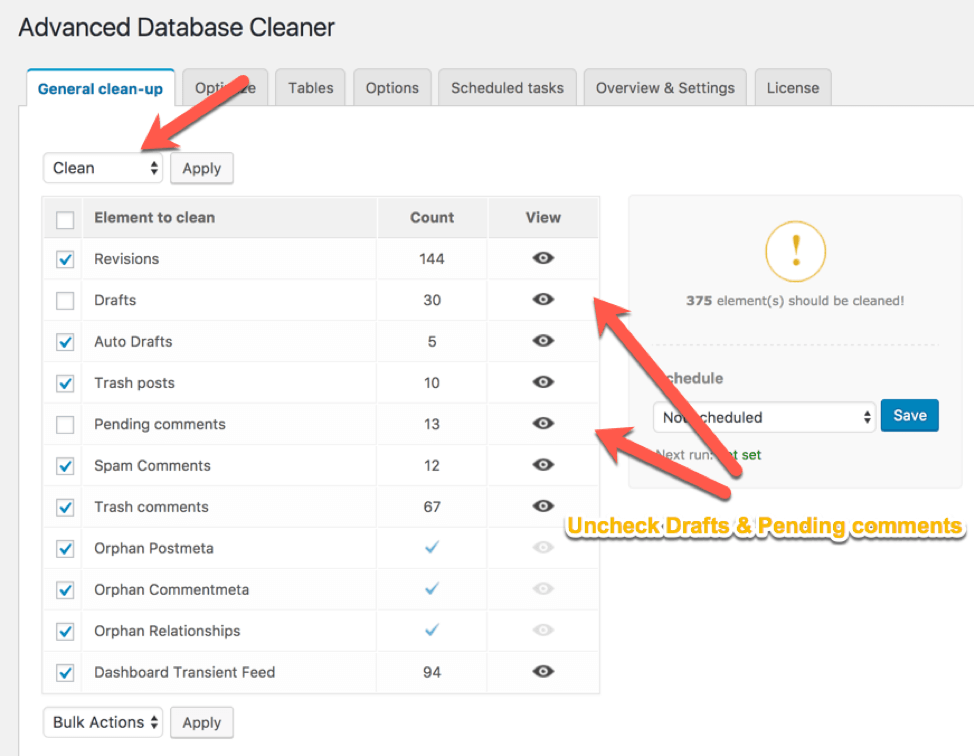 During the process, WP scheduled tasks will be cleaned. Orphan tasks, options, and tables will be detected after which you can choose what to clean or keep. Over time, every WordPress website becomes overwhelmed with unnecessary content which makes the site running and loading slower while increasing the size of the database on the other side.
After the clean-up, the database is more operational, and besides optimized. The only drawback of Advanced Database Cleaner is the price which is not high, but still, it cost some coins.
5. Customizer Reset restores default installation settings after having deleted the website content and custom changes. It does not modify or delete any files. The plugin shares this feature with other similar plugins.
This WordPress reset plugin affects the database and deletes it. After the installation and activation, it is shown with the menu on the dashboard. Reset WP is convenient for web developers and testing purposes.

If you are about to reset the original WordPress settings, the best decision is to take a closer look at the detailed descriptions of these top-rated plugins. Some of them entirely reset your installation while the others allow you to select what to reset. Use the options that match your needs, and do not hesitate to use official forums for further questions.
Resetting WordPress website is not at all as complicated as it may sound. Contrary to that, the plugins were designed to help developers and advanced users in their daily work, and enable them to work fast and safe, in a clean environment.
The right choice depends on personal preferences and needs. Our advice is to back up your website regularly. These plugins will not make any backups. This is your job, especially if you intend to reset WordPress original settings frequently.
After getting introduced to top 5 plugins for resetting WordPress we can only conclude that WordPress traditional installation to reset the original state is out-of-date, as well as manual work. Original status is close at hand with minimum effort, and a lot of options at disposal guarantee every developer to find what they are looking for.
All above-mentioned plugins are user-friendly, fast, and reliable. I hope, you liked the article as it helped you out to find out the right WordPress reset plugin for serving your purposes.