In Fluent Forms 3.6.0, we have introduced a lot of cool features. Ever since, we received lots of appreciations and feature suggestions in our Facebook community as well as in our support tickets. Our teams have worked at full pace during this pandemic, and we released some feature-packed updates sequentially. Here we are again with some cool features. Let's take a look at what's inside in this version 3.6.50
NEW: Resend Email Notifications As the bulk
NEW: Edit Payment Transaction Data
Update: Huge improvement on Phone Field Settings
Update: Improved user registration feed
Improved: Advanced Conditional Logics Operator
Integration Improvement: DRIP, Automizy, Webhook, HubSpot
Improved: Conditional Logics for Containers
Many other small bug fixes and improvements
Overall UI/UX improvement
Now let's give you a detailed tour of these new improvements and features.
What's new in Fluent Forms 3.6.5?
Well, you already got an idea of the brand new features and fixes we rolled out in the latest version. Let's take a deeper look and show you what are the new features Fluent Forms 3.6.5 has to offer.
NEW: Resend Email Notifications As bulk
In earlier versions of Fluent Forms, we added the feature to resent an email from the individual entries page, lots of our users wanted this "Bulk Email Notification" feature. In this version, we have added this feature so that you can send emails to all your selected entries.
NEW: Edit Payment Transaction Data
We have introduced Payment Integration in version: 3.5.0, now in this version we have added options to edit your Transaction data. You can change all the billing information and transaction status from your individual entries page.
Update: Huge improvement on Phone Field Settings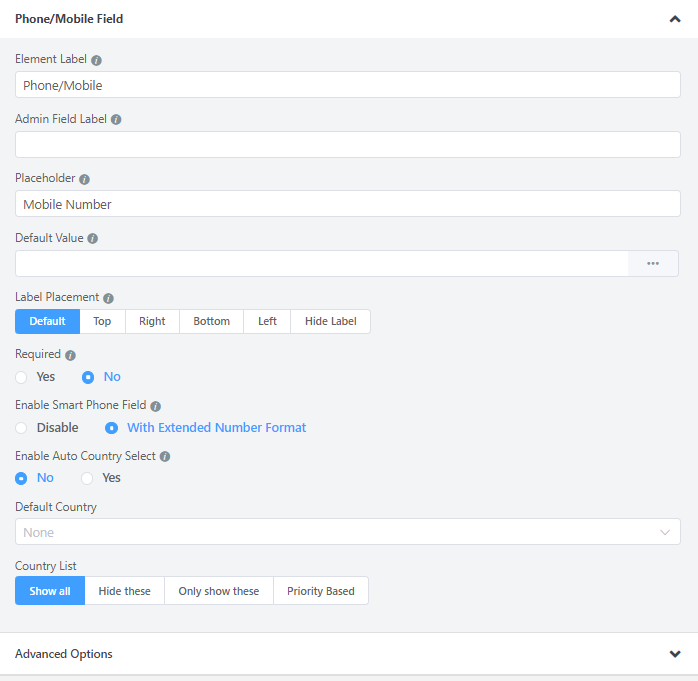 We have improved the phone field tremendously. Now you can set default country, hide a particular list of countries, or shows a particular list of the country only. Along with this, you can also add priority-based countries where the selected countries will appear at the very top of the list and the others will show below them.
Update: Improved user registration feed
A lot of our users suggested this feature and here we are, now you can set your username in your User Registration Feed. Previously it was set to default to user_email, now you can map it with any of your form fields.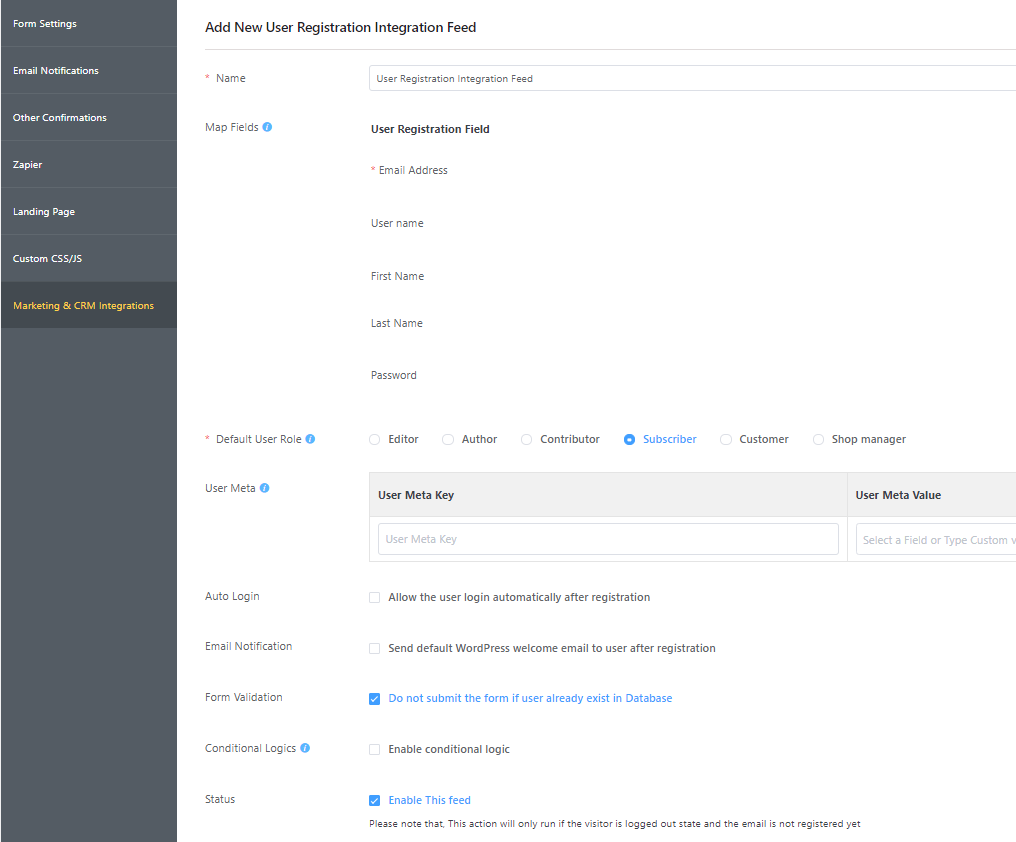 Also, we have implemented extended validation to the user registration feed. Enabling this will stop the form submission if the same email or username exists on the database.
Improved: Advanced Conditional Logics Operator

New operator has been added to our Advanced Conditional Logic, now you can check the length of fields, and based on the length you can do whatever you want. In the Text type field it will count the characters and in the checkable/selectable field, it will count the checked/selected item.
Integration improvement
Hubspot: We got a report from our users regarding "Error Handling". We have improved it in this current version.
DRIP: There was some problem in mapping with custom fields, now you can map your custom fields in DRIP feed.
Automizy: In this version, you can add tags inside your Automizy feed.
Webhook: Meta Data feature has been added to webhook.
Improved: Conditional Logics for Containers
Our user has reported an issue where if a container has conditions, other conditions inside that container were not working. It is fixed in this version.
Many other small bug fixes and improvements
We have also fixed some bugs reported by our users such as- bug in plain text email templates, a negative number in the quantity field, minor UI bug in multi-step form, multiple submission on Elementor popup, multiple select on Elementor popup, the border-radius problem in form styling, email delivery problem with .io domains, and a minor fix to file upload field.
Overall UI/UX improvement
We have improved the overall UI of the form dashboard, we have added contextual videos for each step of your form creation, we have added sorting feature on the All Forms page.
Update shipped, but is that all?
That was the highlight reel of what you needed to know about the latest update of Fluent Forms. But as I said, it's just a "highlight reel," there's more to it inside. Take a peek under the hood, and who knows, you may find a handful of surprises that will blow your mind!
Fluent Forms Pro
Try Fluent Forms today and see for yourself!
In a nutshell, this release was just one of the many milestones we are determined to cross on a regular basis. If you are an active member of the Fluent Forms Community on Facebook, you may have already noticed how much we value user feedback and suggestions. Join the community group and be informed of all the hidden treasures that await you in Fluent Forms.
Let us know what you think of the new features and functionalities we have introduced to Fluent Forms 3.6.5. More importantly, let us know which features you want to be deployed next. Vote for your favorite upcoming features on Fluent Forms Development Roadmap