Affiliate marketing can make you wealthy; there's no doubt about it. But it takes time, knowledge, experience, plan, marketing, right decisions, and the correct affiliate marketing programs. Any affiliate marketing effort will eventually end up in failure if you lack one of these.
Affiliate marketing is a huge industry worth $12 billion. But only 5-10% of affiliate marketers are making real money out of it.
Why? Because there's no straightforward direction to success. Some affiliate marketers succeed with no real strategy, while some fail with a quality strategy. But top affiliate marketers often hit their targets.
Although there's no straightforward way to success, they apply a methodological approach, every time they decide to start a project.
Benefits of selecting good affiliate programs
There are several things to consider and various tasks to perform to execute a methodological approach to affiliate marketing. For example, selecting a niche or determining a budget.
But most affiliate marketers often ignore an essential factor of affiliate marketing, selecting a quality affiliate program. Affiliate programs create a connection between an affiliate and a merchant. Besides, there are various other benefits of selecting quality affiliate programs.
These benefits include:
High commission rates
Good affiliate programs often pay lucrative commission rates for their affiliates. As a result, each affiliate sales is a productive one. The good thing about high commission rates is that it doesn't only pay you more, but it also encourages affiliates to make better marketing efforts for making each sale.
More payouts
Earning an affiliate commission is great. But it's of no value until it's available for use. Good affiliate programs allow payouts more often and enable affiliates to receive the commission quicker. As usual, affiliate marketers feel more encouraged by the probability of how fast they can use the money they have earned.
Product quality and quantity
Any affiliate program can thrive if they get a lot of products from their merchants. Because the more product an affiliate marketer has, the more options he can offer his audiences. More products also allow marketers to target a wide range of people.
On the other hand, quality products will ensure a higher conversion rate. The easiest way of convincing customers to repurchase is to offer them quality products. In addition, the quality of the products will also help in building trust among your customers.
Longer cookie period
No affiliate marketers would want to lose out on a sale that they have prompted in some ways. A more extended cookie period ensures that their deserved affiliate commission is added to their accounts regardless of when the purchase is made. The best affiliate programs have a longer cookie period. Therefore, affiliate marketers won't have to be concerned about getting the affiliate commission.
Support
It's easy to get confused about certain things about an affiliate program. That's when you'll feel the necessity of support. Maybe you are confused about not receiving payment, or perhaps you couldn't figure out how to get a banner link from an affiliate networking site, the best affiliate programs will be ready to help you 24/7.
Although this may not mean much in the beginning, it could be an excellent advantage in the long run.
Coupon and discount codes
Some affiliate programs regularly offer coupon and discount codes for the affiliates. These codes are an excellent way of boosting affiliate sales. It's easy to attract customers with those discounts. So no matter how small the discount is, they might help the affiliate marketers to make more sales.
Here are the ten best affiliate marketing websites based on profound observation and critic reviews:
Taking a closer look at the best affiliate programs
A good affiliate program can help an affiliate marketer in many ways. Along with increasing sales and affiliate commissions, quality affiliate programs also offer other privileges to the affiliate marketers. So without further ado, let's look at the ten best affiliate marketing programs in 2021.
ShareASale affiliates is a highly admired affiliate program among affiliate marketers for 17 years now. It is one of the largest affiliate networks, with over 4000 merchants looking to collaborate with affiliate marketers.
Of those 4000 merchants, 1000 merchants are exclusively available only on ShareASale, making it the only affiliate program through which you can promote those brands' products. They have loads of products to fulfill the needs of any affiliate marketer and their audience.
ShareASale also publishes certain offers for affiliate marketers with detailed reports. Affiliates in ShareASale can compare data to evaluate their offers and choose the offer that suits them most.
Next, their payout system is excellent. Once you've accumulated $50, you can get paid through both digital and standard payout options on the 20th of each month! Last but not least, the commission rates are generous too!
ShareASale advantages:
Wide range of products with over 4000 merchants ready to share their sales with affiliate marketers.
Effective payment options for getting paid effortlessly.
Simple payout cycle that enables users to withdraw money every month.
Previously recognized as Affiliate Window, AWIN is the best affiliate network in Europe with over 13000 merchants. Although it was founded in Germany in 2000, AWIN is based in the UK. Therefore, most of the merchants are from the UK.
With over 1600 exclusive brands like Etsy and thousands of merchants from 11 territories, AWIN has one of the world's best affiliate programs. The platform primarily used to focus on promoting digital and physical products. However, now affiliates also have the privilege of choosing from fashion, sports—home decoration items, etc.
AWIN is an excellent choice for affiliate marketers for a few reasons. Firstly, the dashboard is extremely user friendly, making AWIN easily manageable for affiliates. Next, they have their own affiliate marketing plugin for WordPress users that makes creating and managing links easy.
Unfortunately, the commission rates aren't disclosed unless you're approved as an AWIN affiliate, and the merchants hold the right to set the cookie duration. But they usually pay average commission fees and have a reasonable cookie duration period, undoubtedly good enough to attract affiliates!
Note that you'll have to apply to become an AWIN affiliate with a $5 application fee. Don't worry; the fee will be added to your account once you're approved. However, you might lose the fee if they feel your application isn't worthy of becoming one of their affiliates.
Finally, the platform offers a simple payout system. You can withdraw funds once you have accumulated over $20 affiliate commission and that too, twice per month! All in all, AWIN makes up for an affiliate network you would want to join.
AWIN advantages:
Average Commission Rates.
User-friendly dashboard with comprehensive data about each offer.
Highly-reputed merchants from all around Europe.
More than 900 staff are working to help you 24//7 from 15 offices.
Flexoffers don't qualify as the best of affiliate programs for some of its features. But it offers something beyond the regular advantages, and that's why it stands out among the average affiliate networks with over 15000 publishers.
Although the primary duty of an affiliate network is to connect the affiliates with merchants, Flexoffers went beyond only "connecting." Their program is designed to help the affiliates make the most out of their marketing campaigns. Apart from the ability to select one from over ten thousand affiliate programs, you'll also get various advice, content delivery formats, and many more with Flexoffer!
Next, Flexoffer has its own affiliate program that every affiliate marketer would love to access! Their affiliate program is a referral-based one. You only have to refer Flexoffers to one of your affiliate marketer's friends, and that's all! You'll get up to 50% of every sale your referrals make. That's an affiliate commission earned without having to do any specialized marketing campaign yourself; in other words, you are enjoying revenue sharing!
Flexoffers may not be as appealing as the ones above, but it's worth a try considering their affiliate-friendly system.
Flexoffers advantages:
Over fifteen thousand affiliate programs are available. You will have a lot of options for selecting a niche.
An affiliate-friendly platform, the dynamic features of Flexoffers will surely aid your marketing campaigns.
Revenue sharing will surely help you earn some additional affiliate commission if you know how to utilize it.
If you have been in the field of affiliate marketing for a while, you've undoubtedly heard about Commission Junction. Now it has a shortened title and goes by the name, CJ affiliate.
CJ affiliate was established in 1998, and they are one of the first affiliate networks of the industry.
It has one of the largest affiliate programs with over three thousand merchants looking to promote its products. Besides, joining CJ affiliate doesn't include crossing any problematic barriers. While it contains the affiliate programs of some of the best retailers globally, the low barrier is very appealing to affiliate marketers.
Next, the offers are well elaborated through a detailed report, enabling the affiliates to select the most beneficial ones. Besides, payments are paid out regularly each month. So you can leave it to the platform itself!
Plus, you can get the advertisements in various designs and shapes for higher conversion rates. After all, that is your ultimate goal!
CJ Affiliates advantages:
It's easy to sign up as a CJ affiliate.
Niche selection is made easy, with over three thousand affiliate programs.
Regular payouts.
Beautiful advertisement designs for higher conversion rates.
It's hard to leave out the founders if you're talking about anything related to affiliate marketing. Amazon made it famous, and according to statistics, they have the second-best affiliate marketing program.
Why not? Since over 1.5 million retailers are ready to collaborate with affiliate marketers from all over the world. After signing up for the program, you have a virtually unlimited number of products to promote. That also gives you a virtually unlimited number of options for niche selection.
Besides, it's a child's play to join amazon associates. You only need to have a website or a youtube channel, and that's all! However, you need to make sales to keep your amazon associate account safe.
Aside from no entry barriers, becoming an Amazon associate is one of the easiest ways of making a way to the industry. In 2019 alone, they have distributed over $100000 affiliate commission to about 168000 affiliate marketers.
In addition, loads of affiliate plugins like AzonPress will surely make your life easier with managing links or supporting you with various other built-in features.
However, some affiliate marketers may complain about the cookie duration (24 hours) and the commission rate(2%-9%). The cookie duration can increase to 90 days if your audience adds the item to the shopping cart.
Although that doesn't solve the issue with low commission rates(which will be slashed even more), Amazon is the most trusted platform for any kind of consumer. Therefore, Amazon associate is one of the most reliable affiliate programs in the world.
Amazon associates advantages
It's reliable, and you can make anyone buy from Amazon affiliate links.
Amazon affiliate marketing is one of the hassle-free affiliate marketing platforms, and there are many additional tools available for use.
Amazon will never pay you late. You can use your money whenever it's past the risk period of a sale!
Amazon associates have a higher cookie duration period for making someone add a product to their shopping cart (90 days).
If Amazon is among the founders of the current affiliate marketing industry, ClickBank is probably the visionary behind it. Although their journey was full of ups and downs, and they faced a terrible fallback in 2012, they are still among the best affiliate program contenders.
Firstly, ClickBank offers the highest commission rates. You can earn up to 75% of a sale through the platform. However, the commission rates may vary from product to product.
Next, most products on ClickBank allow for an ample amount of cookie duration period. So you have the least chance of missing out on your sales. Then, there are no entry barriers in ClickBank. The account approval process is automatic, and that means anyone can sign up for their affiliate program and start earning affiliate revenue without having to do much.
Finally, ClickBank helps affiliate marketers with many FAQs, how-to videos, and guides to succeed. Besides, they have a paid learning program called ClickBank University. Through their learning program, you can learn various affiliate marketing methods that will help you succeed on ClickBank but will also help you in learning efficient affiliate marketing methods.
Unfortunately, there are several issues associated with ClickBank, especially regarding its refund policy. They have a no question asked refund policy within 60 days. Firstly, the refund policy won't allow a marketer to make use of his earning until the payout day is passed. Secondly, marketers may lose out on their affiliate earning anytime within the risk period.
Another drawback of Clickbank is that they tend to focus on digital products such as software, courses, ebooks, etc. However, the good news is that they are also focusing on physical products nowadays. So ClickBank will surely become one of the leading contenders in the affiliate marketing programs again.
ClickBank advantages:
Highest affiliate commission rates.
Longer cookie duration periods.
An automatic approval system allows for easy entry.
Weekly payouts.
JVZoo is among the few affiliate programs that allow affiliation without having a website. It doesn't charge you anything to participate in or promote products in their program. They will only charge you once you have made a sale.
In addition, payouts are instant. You don't have to miss out on any sale. They will pay you imminently.
However, JVZoo is much like ClickBank in terms of how they operate. They are primarily focused on selling digital courses and internet marketing offers. Although you don't need to own a website, you need to know how to drive traffic into your landing page created in JVZoo.
JVZoo commission rates can go up to 50%, and it's virtually impossible to miss out on a JVZoo sale with their unlimited cookie policy. However, due to the technical dilemma involved in it, I wouldn't recommend JVZoo to beginners in the industry.
JVZoo advantages:
Unlimited Cookie duration period
High commission rate(Up to 50%)
Don't need to own a website
Although it's only an online store, Rakuten has thousands of products. In addition, their partnership with many sports brands and leading media will aid your marketing efforts. As an award-winning store, the reputation of Rakuten can't be ignored.
Besides, their commission rates are eye-caching, and they provide beautiful rotating advertisements that will surely increase your click-through rates.
Although they don't have sufficient learning materials for the affiliates, they have an excellent support team that will help you in any conditions. With over 1000 affiliate partners, Rakuten is worth watching as an astonishing affiliate network.
Rakuten advantages:
Well-reputed network that will surely impact your overall marketing efforts.
Typically attractive commission rates(Although it may vary between publishers to publishers).
Excellent support for affiliate marketers.
Peerfly is another affiliate program with thousands of digital and physical products. They have a beautifully designed affiliate website with a lot of learning materials. Besides, they regularly run fantastic reward programs that will surely aid your earnings if you can utilize them properly.
Next, Peerfly provides excellent commission rates on every product and has a second-tier affiliate program like Flexoffers. However, unlike Flexoffer, Peerfly's second-tier affiliate program will reward you with only 5% of your referrals' first-year affiliate commissions.
Once you get past the strict process of joining Peerfly, a beautiful dashboard will await you. According to leading affiliate marketers, the platform is very transparent, and their contests are also rewarding to those who can commit to the affiliation. Hence, it enjoys a good reputation among affiliate marketers.
Peerfly advantages:
Beautiful website and well-defined affiliate dashboard.
Less in numbers, but quality products
Multiple methods for regular payouts within 7/15/30 days.
Unlike the above affiliate programs that have partnered with thousands of product merchants and selling digital and physical goods, Bluehost is simply a hosting platform. Although there's no wide array of product selection, the Bluehost affiliate program is highly rewarding.
They pay $65 for every new hosting gained through your campaign. Again, unlike others, they will increase the commission fee to up to $120 if you continue to generate more sales. Since they are trendy, it would be easy to convince people to do so. Plus, the program doesn't require passing any hard barriers or reputed website creation. You only have to promote the product in the recommended ways.
However, note that you can't get a payout unless you make $100 in commission, and you need to do it within the first 12 months of making your first sale.
BlueHost affiliate advantages:
Easy to sign up.
Straightforward affiliation with a highly-reputed company
Incredibly high commission rate
Concluding remarks
Affiliate marketing is about making the right decisions and executing your "perfect" plans at the correct times. That is how you can enjoy the real taste of success.
Since the first step is always crucial, the above article will help you make sound judgments for selecting your affiliate network. With all this information, I hope you will find your homework on affiliate marketing has become efficient and productive.
What to do next?
Choose an affiliate marketing strategy. Strategy keeps you organized and makes you efficient. With the right strategy in place, it would be easier for you to make and execute the right decisions at the right time. If you need help, take a look at the best affiliate marketing strategies!
Affiliate marketing strategies include choosing the right product, content marketing, email marketing, SEO, SMM, and many more. But we suggest that you pay the highest attention to building your email list and email marketing strategy. And if you haven't got an email marketing tool yet, we suggest FluentCRM. It's a free marketing automation tool that helps you get started with email marketing.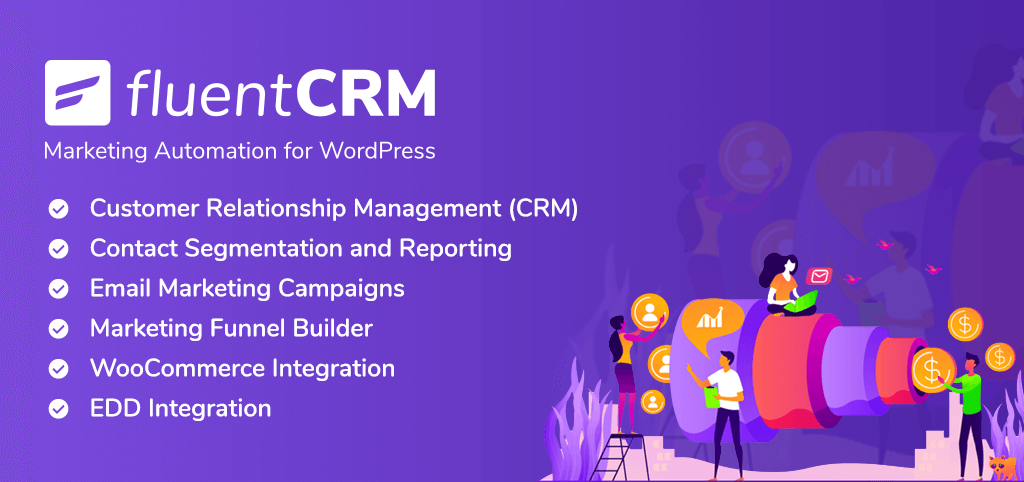 If this article helped you subscribe to our YouTube channel to get WordPress-related tips and tricks. Also, follow us on Twitter and Facebook.