Resorting to social media platforms is a necessity these days for digital businesses. While planning out marketing strategies, you need to give a second thought before choosing a single platform. Especially take your time to decide and learn facts about both when you're choosing between two giants, Instagram vs Facebook marketing.
If you haven't thought about using social media as a business platform yet, then it's about time you take it seriously and make a full-proof plan for starters. But before getting to it, you better know what you're in for!
So, here are some essential points to cover.
Social media marketing – Effective or not?
In terms of effectiveness, there's really nothing new to tell. However, for the eager audience, here is some info.
Everyone is on social media, and to target customers, these platforms are the most reliable option.
Adults online are more responsive to the idea of following brands on social media.
When compared to traditional media marketing, it's more cost-effective with low CPM.
An owner can expand the brand's reputation with social posts.
Different forms of media mean it's easy to reach people from various demography.
All businesses in competitions have a social media profile.
You can create loyalty and brand authority.
High RoI, traffic, and conversion rates.
Friction-free promotion and advertising.
You can gain new customers and successfully retain them.
Instagram vs Facebook marketing – Comparison
Now we have a lot of options to choose from. For example, Facebook, Instagram, Twitter, Pinterest, etc. So, a possible question that comes up is, which is better – Facebook or Instagram? Twitter or Pinterest?
In this article, we'll only go through Instagram vs Facebook difference, facts, features, and finesse. As for the other two, we'll cover those soon.
Let's discuss Instagram vs Facebook marketing for now.
Social media marketing on Instagram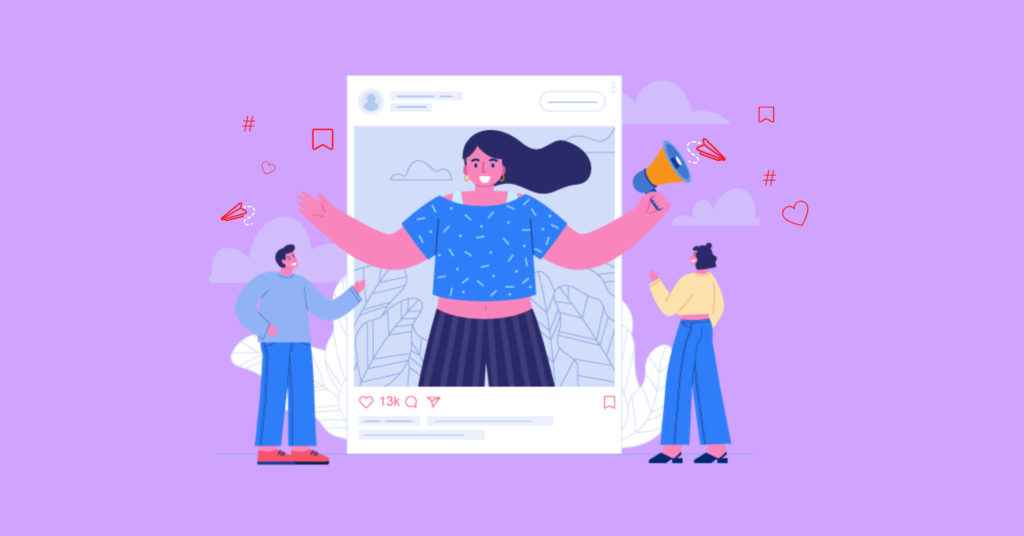 In 2012, Facebook bought Instagram even though it only had 30million users. But it had a better community of mobile-users, which Facebook wanted to target in the pre-IPO times. Instagram still can't compete with Facebook regarding the sheer amount of users. But this visual-centric platform is growing fast, and soon it will race shoulder-to-shoulder with Facebook.
Algorithms
Long gone are the days where you see posts in the order they're published. Now Insta wants the users to get a personalized feed with posts that they're actually interested in.
Here are some research results from Buffer's Alfred Lua in brief.
Engagement: User activity with hearts, comments, shares, and saved.
Interest: Display of posts that are relevant and users are likely to prefer.
Timeliness: Recent posts rank higher.
Relationship: Users see posts from people they regularly interact with.
Frequency: The algorithm shows the best posts depending on the users' last visit.
Following: Users who follow fewer accounts would likely see more from each account.
Usage: Noticing how much time a user spends on Insta or visits it, the algorithm will show the most relevant content.
Posting several times a day can get your followers' attention.
Influencers
Instagram influencer marketing is another fact that's literally unavoidable for brands these days! This site is better for direct marketing, engaging, and increasing brand awareness. But getting an influencer to promote your business can get you to the top.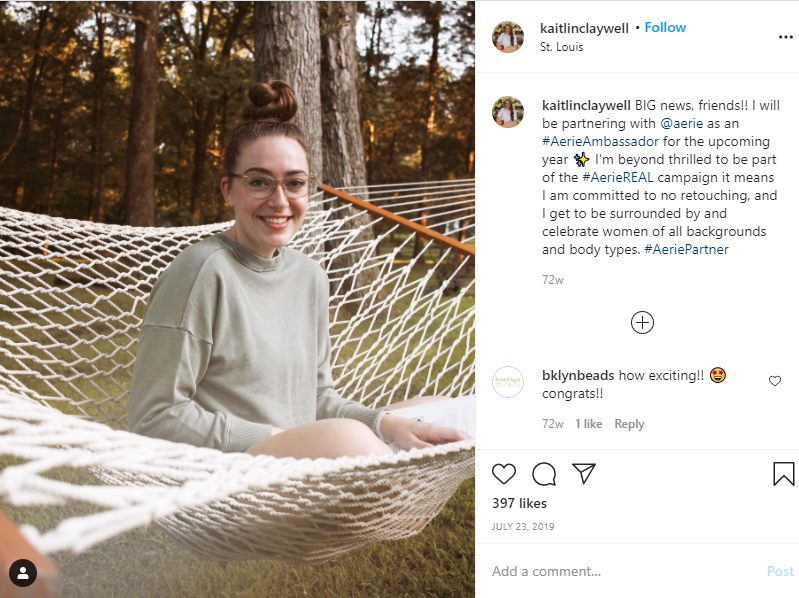 Kaitlin Claywell's weight loss journey was quite influential, and Aerie brand was interested in targeting the followers she had. Here the point is, she has less than 5k followers, and still Aerie wants this partnership! She's a nano-influencer with a great impact on all the followers she has. Aerie saw this as an opportunity and took it.
Instagram insights
It's an analytic tool for business-based accounts. These tools help to improve and measure marketing techniques.
Insights show the number of accounts reached, saved, shares, content maps, promotions, and audience activity, etc. Similarly, business profiles can see reach and impressions, profile visits, overall account growth, user age-range, gender, and location, and the average times/days followers are usually active.
Hashtags, explore tab, stories, live, reels, IGTV
While many high-profile brands don't need hashtags anymore, new businesses must hail the hashtags! Instagram allows 30 hashtags and these are the weapons you can use to reach all sorts of audiences.
Also, try to get on the Explore page. It reaches accounts that don't follow you with personalized content for each individual. The basic principle is "Based on posts you liked". You simply have to post the right content at the right time to be explored.
The "stories" feature, Instagram reels, and IGTV are really powerful for more reach. Reels, on the other hand, are 15-second clips that brands can utilize for product advertising. Brands or influencers can go live to promote a product.
Direct post on multiple media
With the "Also post to" option below the caption area, Instagram users can post the same content on three more social media- Facebook, Twitter, and Tumblr. Link the accounts and click the toggle buttons to share everywhere at the same time.
Social media marketing on Facebook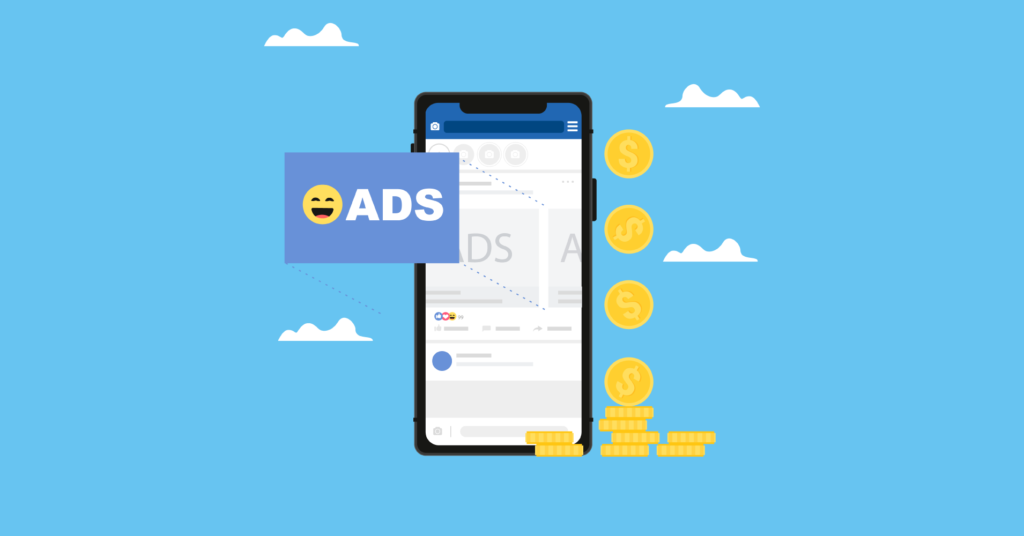 Facebook is the largest site to connect with people and Facebook ads are currently one of the best marketing avenues. Instagram is growing, sure, but it still has a lot to catch up with Facebook.
Algorithms
Buffer's research shows some Facebook algorithm value. Marketers need to understand these as a means of a guide.
Friends and family first: Facebook newsfeed shows content from friends and family as a priority.
The platform for all ideas: For the massive community of users, Facebook is a platform tailored for everyone.
Authenticity: Prioritizes genuine news.
User-controlled: People customize their own profiles.
Constantly improving: Facebook uses feedback and acts on improving.
Likes, reactions, shares, comments
Facebook algorithm displays posts with high-volume likes, shares, and comments. The more engagement it has, the better the reach.
Sponsored Likes Campaign is a paid advertising campaign to increase likes or reactions. These campaigns target people who might have an interest in your brand.
Brands often encourage followers to share the post, drop comments, or tag friends, and win prizes.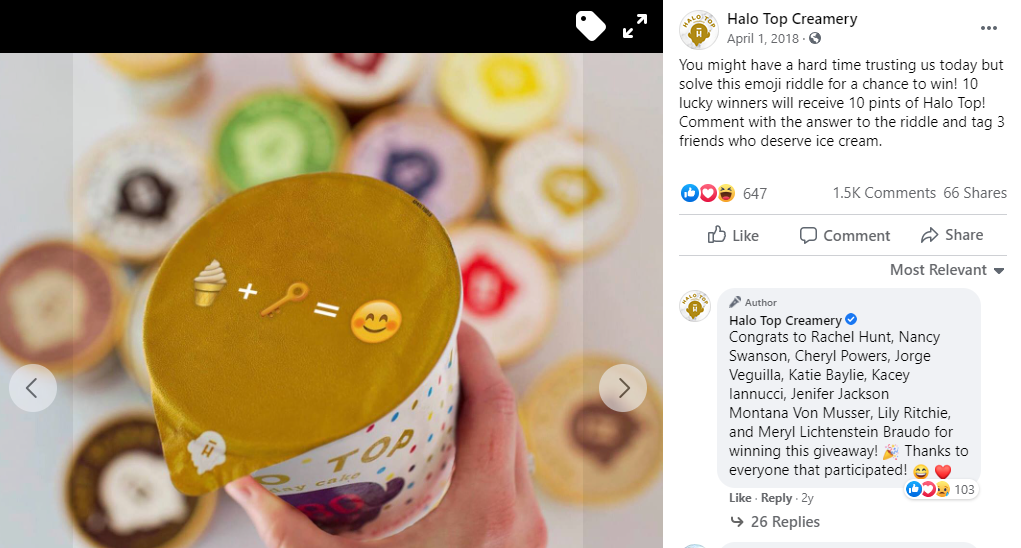 Halo Top drove positive engagement with this caption by not coming off as too desperate.
Ever since Zuckerberg added the emoji reaction features, brands have been using them quite effectively. These reactions are used to have polls and votes. For instance, a brand selling hair products can post an image of shampoo and ask to vote "Love" for good or "Angry" for bad. While this voting system won't bring any money, the brand will get user feedback. And if not that, it's a quick-engaging post anyway.
Facebook ads, live, and marketplace
This option from Facebook has some distinct features and helps marketers get a low-friction conversion.
Demographic targeting of users. These ads target users with their location, age, gender, interests, and profile information.
Ad budget. As marketers set an ad, they bid for every click and impression received from the ad.
Multiple versions of ads can be run to compare designs.
Ad performance measures.
Many shops with Facebook profiles go on live to show their new stocks or to hold a live giveaway party. The brand new feature, Facebook Marketplace, lets product sellers or retailers have the power to capitalize on the interactions. It's where products or stores can get discovered, and people buy or sell.
Clickbait, hidden/reported posts, over-promotion
Anything carrying a negative vibe can drive people away from your posts. Marketers need to avoid spam-triggering captions or links, text-only posts, clickbaits, comments from bots, and over-promoted content.
Promoted posts
Page owners on Facebook promote a specific post and pay a flat rate for it. It increases reach and impressions.
Promotional posts raise the chances to be seen and clicked on.
Instagram vs. Facebook users
User-base of both platforms varies in volume. Facebook is the oldest and has more users than Instagram. Since Instagram focuses on high-quality images and millennials and Gen Z are easy targets, Mark Zuckerberg bought Instagram in 2012.
Here are some infographics on users of Instagram and Facebook.
User stats: Instagram
Instagram is growing rapidly and user-percentage grew faster. Here's a projection by Statista 2020. The graph shows by the year 2023, user-base will grow a lot higher than it is now.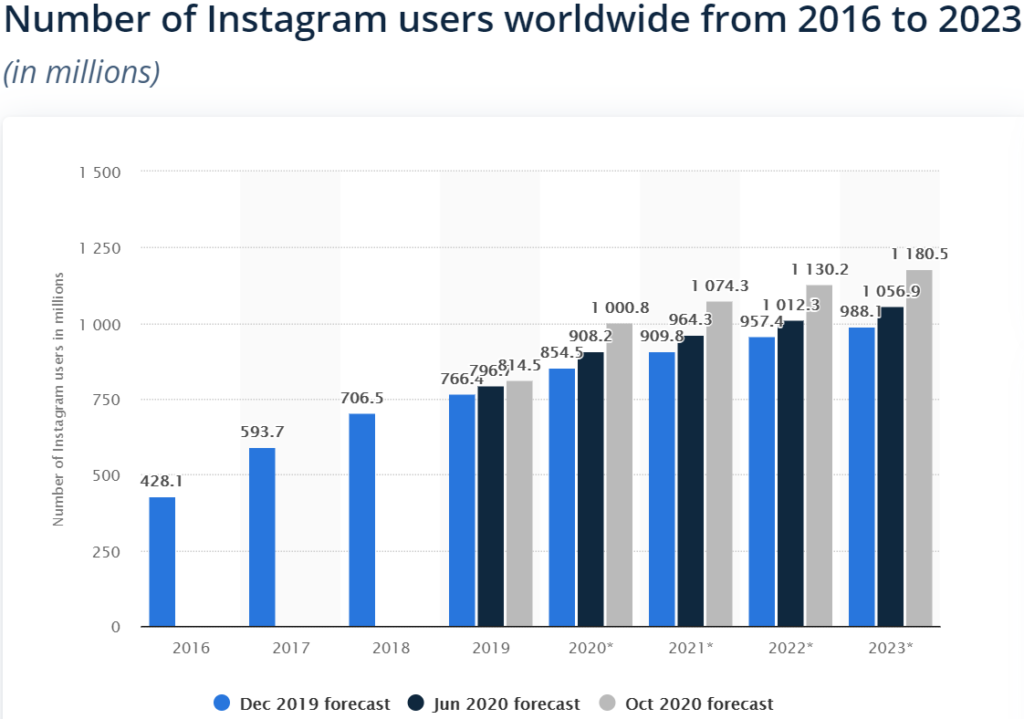 Statista also found out that more than half of the global users are 34 or younger. Right after Snapchat, Instagram is second in line for teenagers.
The following statistics show age-based data.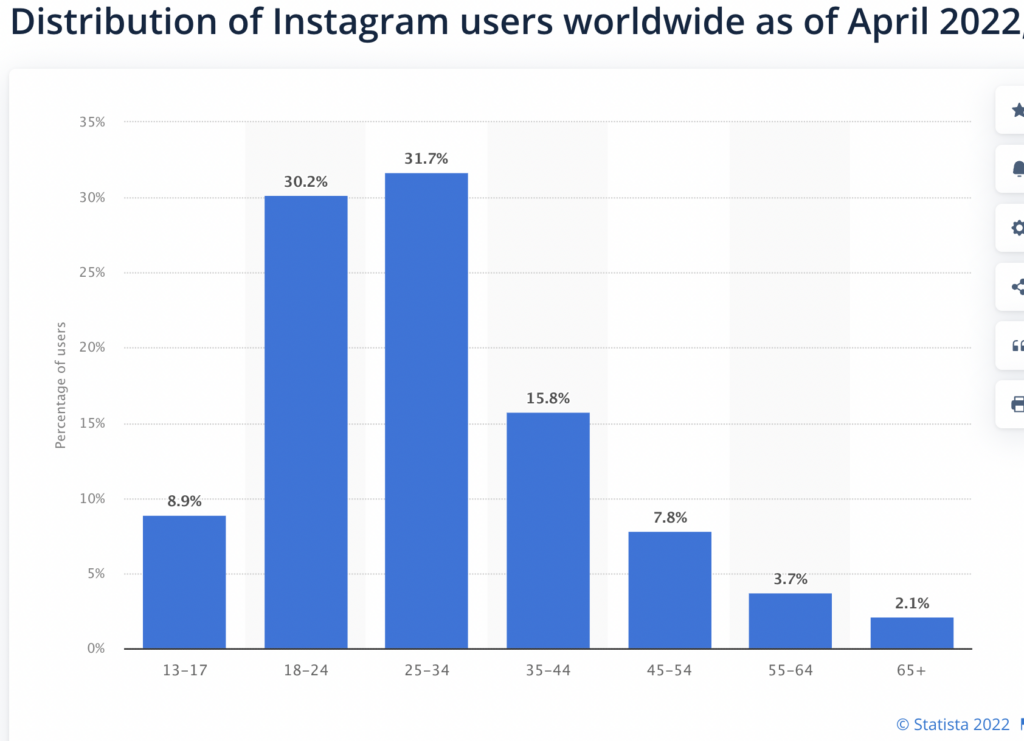 User stats: Facebook
After the first quarter of 2022, Facebook has a little over 2.93 billion monthly active users.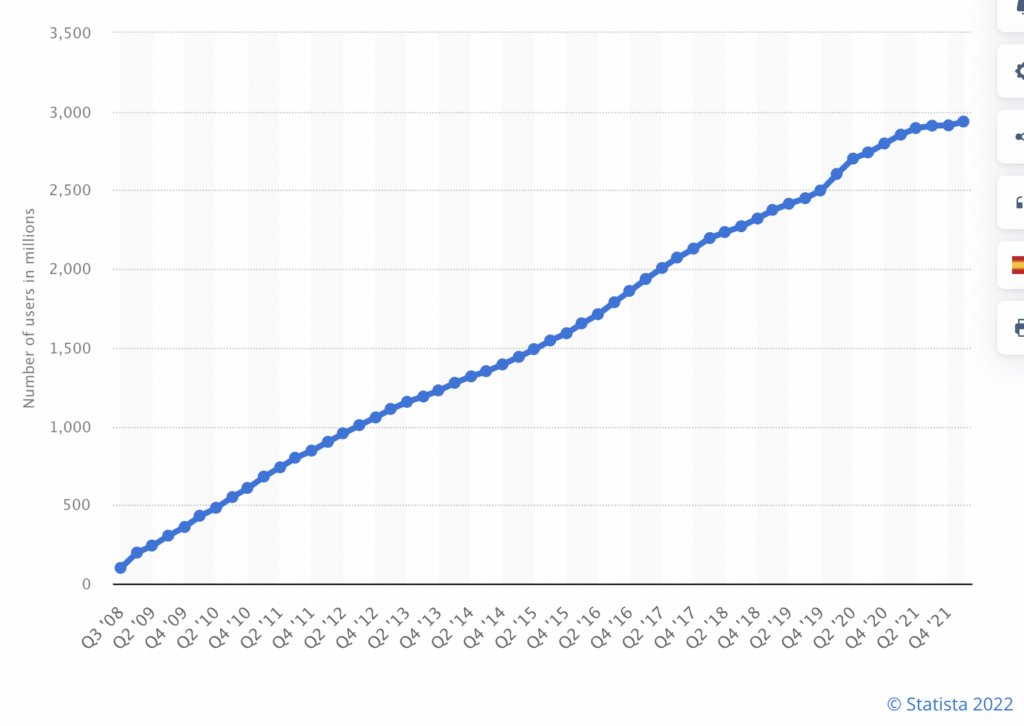 Further, we looked up some more stats of brand pages on Facebook and profiles on Instagram. The following graph separates male and female fans and followers by their age.
Most people think millennials only care about selfies, technology, and approval from others. On the other hand, marketers believe the opposite. Millennials are now more vocal about issues like – animal rights, the environment, racism, feminism, inequality, and rights.
Besides these, 50% of them are willing to purchase from a brand that supports a cause. Toms took it sincerely and started a "One for One" campaign where Toms helps a person in need for every purchase. Millennials will buy products from brands even if it's slightly expensive as long as the purchase serves a purpose.
From Millennial Marketing data, 80% want brands to entertain them. So, whatever media you are choosing, make sure to target millennials.
Likewise, Gen Z is the smartest social media user, and they love trends! They value diversity, safety, and prefer mobiles. 85% of them know about social media brands and are more likely to connect than the older generations.
Recently, TikTok has been growing popularity among Gen Z! They're carefree and confident, so targeting them should be a priority.
Difference between Facebook and Instagram marketing
Both of these platforms have similar yet unique marketing strategies.
Facebook is open to anyone over 13 and all gender groups hence, ads are usually very effective and bring high revenue.
Contrarily Instagram inspires responses and engagement with great quality images and videos. Users spend 45% more of their time than they do on Facebook, with a higher number of female users.
For some reason, brand profiles on Instagram are more popular than those on Facebook. Could it be because celebrities prefer Instagram more? While we don't know the answer, 76% say brands are more entertaining on Instagram.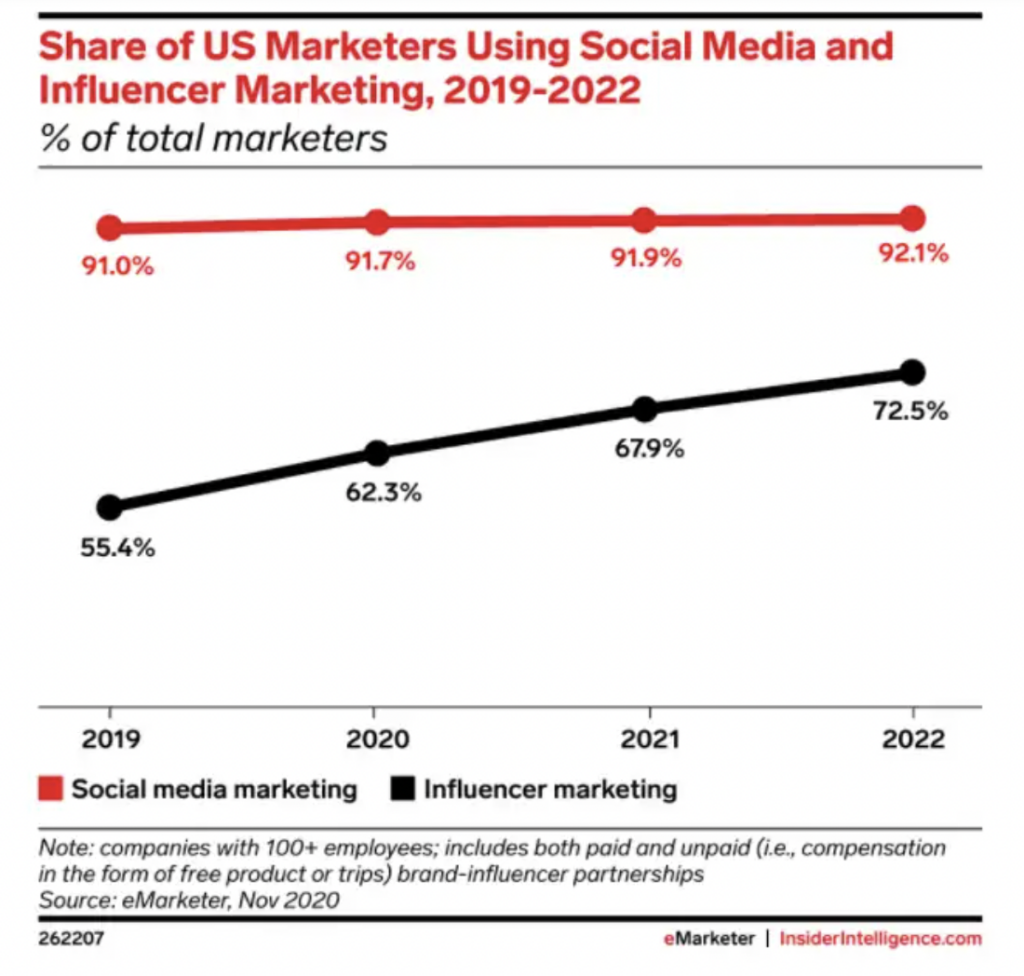 Compared to Facebook, ads spend 23% more on Instagram because of increasing engagement. Insta stories are another way of dragging potential customers' attention. CTR and CPC on Instagram are higher than on Facebook.
Sprout Social says fewer teens of Gen Z are interested in Facebook and are using Instagram more (along with Snapchat, TikTok, etc.).
The silent generation has shown interest in Facebook more than millennials recently. 74% of Facebook users have high-income because mostly they're adults over 30. If the demographic data shows your customers are aged over 30 and spend more time on Facebook, you know where to reach them.
Facebook video stats show that users are likely to play live streams 4 times more than recorded posts. So, businesses with Facebook profiles are now using Facebook Live more. Also, 94% of ad revenues come from mobile, and in 2019, impressions increased 37%.
Using Instagram stories and IGTV, on the other hand, is a more powerful tactic to get younger customers. Brands use hashtags, gifs, polls, stickers, etc., on product stories to increase engagement. Also, going live on Instagram can't be overlooked.
Instagram vs Facebook 2022- Which is better?
A real struggle for a new online company is not knowing what social media to focus on. The user base of Facebook and Instagram vary in ages, preferences, opinions, and gender. It's challenging to pick the perfect one.
The smartest advice will be not to dump all the eggs in a single basket because you don't know when your customers may suddenly change their minds! A 75-year-old lady might want to try out Instagram for shopping, or a 16-year-old can abruptly switch to Facebook.
Plus and minus points compared
Here's an overview of what we found and some more facts.
| | |
| --- | --- |
| Facebook | Instagram |
| More text-based | Feeds off visuals |
| Original content | Shared or curated |
| Not much influencer impact | Influencers' impact is growing |
| Video posts have a 0.26% engagement rate than 0.18% of status posts | Carousel posts gain 1.94%, images 1.74% & videos 1.45% |
| All devices | All about mobile users |
| Facebook Messenger app | Direct message (DM) is built-in |
| Links on posts | Links in bio |
Both are good for increasing brand awareness.
The layout is more user-friendly on Instagram.
Facebook is more convenient to convey company news. But if your brand hosts an event, you can post vivid images on Instagram.
Because of personalization, Facebook can target customers effectively.
Facebook and Instagram both increase website traffic. However, Instagram has to put clickable links on bio.
You can use Instagram from a desktop, but it's complicated.
Instagram and Facebook Insights help brands to stay afloat.
Cost-per-click on Instagram is higher, but it gets more qualified clicks.
Instagram algorithm is hard to keep up with for some brands because some posts don't show up on customer feeds.
Pretty sure this mess is confusing, just like how we couldn't pick a team on Captain America: Civil War movie!
Team Cap or Team Iron Man? Choosing between the two Avengers is still a debate, and the same thing happens in choosing Facebook vs. Instagram marketing. Team Facebook or Team Instagram?
At the end of the day, what you choose for your business as the best social media for marketing, totally depends on your line of work. You can take a look at How To Excel In Social Media Marketing for a bit more idea on the marketing strategies.
Takeaway
Neither of the two platforms can replace each other. As a business owner online, you have to identify what your audience prefers and what type of content you have. Sometimes using both at the same time is the best solution.
Instagram vs Facebook marketing debate is a hot-trend these days. We can only suggest you play with Facebook and Instagram's individual strengths. Whatever you choose, try to focus more on quality, not quantity.
Let us know your opinion. Is Instagram better than Facebook for marketing? Or is it the other way around?
Finally, check out "Email Marketing vs. Social Media Promotion" and wait for us to get back with more articles like these.
---