At this point, you already know how useful Ninja Tables is in organizing and designing a data table. You will come across a lot of advanced features in this WordPress table plugin apart from the regular ones. So, how to use Ninja Tables and get the most out of it?
This plugin has a vast range of features, and it's quite natural to lose track of all of it! So, here we have a short explanation of a few Ninja Tables features that can come in handy.
How to use Ninja Tables: Features and use cases
Before we start, this list isn't all Ninja Tables has! As you dig deeper, you will find a lot more features to work with.
So, here we go with a few points on how to use Ninja Tables productively.
Customizing product tables
Color customization in Ninja Tables is a top-tier feature, and online product stores use it to make the tables visually more appealing.
Do you have a WordPress-based WooCommerce store? WooCommerce integration with Ninja Tables can help you customize nearly everything to attract customers. For example, designing the table according to a special day's color code- Red and purple for Valentine's day.
You can also add a table background image to make the table more vibrant.
Here's a sample of how a WooCommerce florist shop will look after coloring and adding an image.
Change the image according to the season, event, or product, however you want.
We have recently shown some ways to optimize a WooCommerce store for Valentine's season. You can check it out to bring changes to your store.
Highlighting data cells
If you have a large table with massive data and only want a few to stand out, go for the "Conditional Column Formatting" feature and highlight the cells with "If Cell Value_Then" condition.
You can select any color to highlight the cells. Suppose you have an employee data table with their salary, and you want to highlight all salaries greater than $20,000.
Select greater than 20,000 and add color to the cell. All cells containing more than $20,000 will pop off brightly.
In case you want to find out all accountants with more than $20,000 salary, add a condition for "Contains" cell value and highlight cells containing "Accountant".
We already have a detailed article on using the conditional format feature. Try it out and let us know if it helped.
Editing from the frontend
Wouldn't it be amazing if users could edit their data in the frontend? You can create a data table with specified user role permissions so that it's editable.
Let's say the previous employee data table has the "Enable Frontend Editing" option open, and somehow there's an error in data. Now, if you select who can edit/delete the rows and columns of the table, employees can correct it themselves from the frontend.
Here's a happy user saying- "It allows users to edit their own records using its frontend editing interface. The support is quick and great."
Transforming texts into links
Maybe you want to email an employee from the data table you have. If the table includes his email address, don't you think it's time-consuming to copy it and open another window to craft an email?
Ninja Tables value transformation feature comes to save your time. You can click and send an email immediately with a simple HTML code and the auto-generated Ninja Tables shortcode. You can do the same with phone numbers or any text.
For the email addresses column, add "Send an email" and add "Call now" for phone number column. Transform value feature will turn the plain texts into hyperlinks.
Here's an example of texts turning into clickable hyperlinks. Now you can simply click on them, and Ninja Tables will prompt a call or open an email.
Take a look at our article on transform value for more details.
Changing data types
What are dynamic WordPress data tables if there's no dynamic data?
While creating a table in Ninja Tables, you can select 8 different data types for the columns.
Make a data table with multiple types of data. Such as, texts, numeric value, HTML, button/links, etc.
For more details, here's an article on this topic- Configuring data types.
P:S- Any FRIENDS fan here?
Takeaways
So far, we have only mentioned a handful of tips on how to use Ninja Tables. If you are a Pro user, then you can explore some more workarounds.
Using Ninja Tables, you can make your website look more organized because all data are arranged in rows or columns. Grab yourself a Ninja Tables Premium license and upgrade the layout of your website.
Want some more tips? Skim through docs. And for support, hit us up anytime.
We've recently published a blog about all user-suggested features that got Ninja Tables to the #1 position. You may want to check that out too.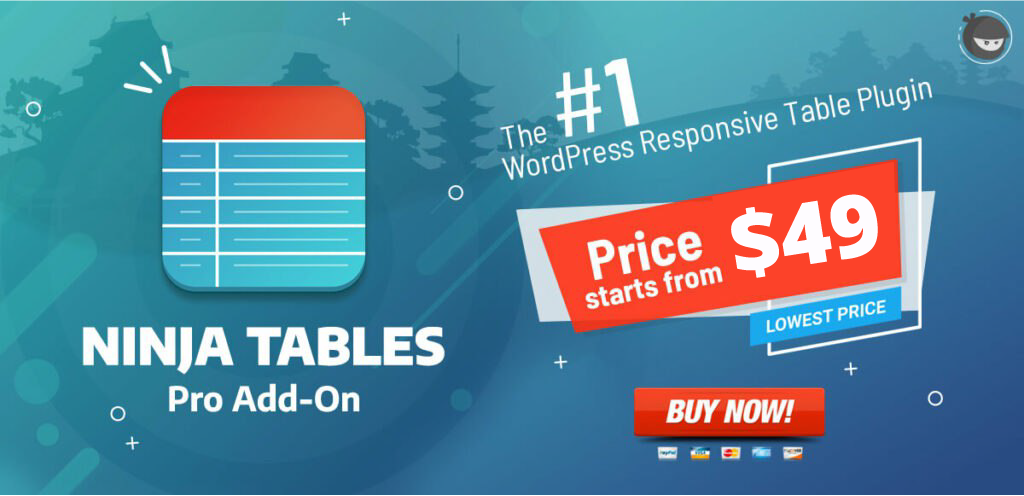 ---