Hello good people! We are really proud and happy to announce a major update of your favorite WordPress Data table plugin Ninja Tables that we rolled out just this week. This new update comes with a handful of brand-new functionalities YOU (our users) asked us to add to the plugin, and we gladly obliged (just like we always do)!
What's new in Ninja Tables v3.5.0?
Curious about what this new update has to offer? Well, here goes a shortlist before we jump into detailed discussion.
Image Type Data Field
Have you ever wondered if you can insert images in your WordPress data table cells with lightbox, or make it clickable to open a lightbox YouTube video, or link an image in your data table that redirects to another URL?
Yes, we have rolled out all these features in our latest update. This was the top seed on our users' demand list, so we had to oblige to it!
Upload Images Directly to Data Cells
With Ninja Tables' Image/File/Lightbox Data type field, you'll now be able to directly upload Media files into a data column. Previously, users had to use the HTML Data Type field to paste the image URL in a text editor and upload images through a time-consuming process. But not anymore!
Image Lightbox in WordPress Tables
Uploading an image to your table cell is not enough. It has to be exhibited in a presentable way. Users might need to have a clear view of the image by clicking on it, or you might want the image to be clickable and users redirected to another URL. These are now possible with our updated Image/File/Lightbox type Data field.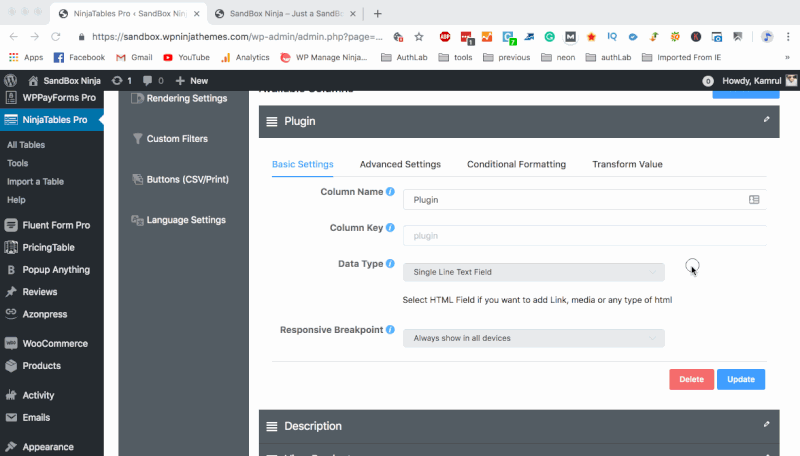 Iframe Lightboxes in WordPress Table Cells
Why just limit your table cells to images? Add videos and other content uploaded on YouTube, Vimeo or Dailymotion, or any other websites whenever needed!
Upload a thumbnail image, Copy the Browser URL of the target content, and paste it into your Ninja Tables column data. Make sure to select Data Type> Image/File/Lightbox and then Iframe Lightbox. The plugin will automatically fetch data from the target URL.
The implications of this feature are virtually limitless! List your product promotion videos, online tutorials, weekly Billboard top chart, or make a list of movies/short films with trailers- now you can do all of these seamlessly with Ninja Tables.
Well, NinjaTables already had the functionality of adding images and other multimedia contents within data tables. We made it better, more convenient, dynamic, and user-friendly in the backend and more beautiful in the frontend.
However, if you are planning to add an image slider in data table cells, you'll have to use the HTML Data Type and paste the shortcode produced by the image slider plugin you are using.
Inline Editing
This is another big win for our users. Previously, users had to get into a complete row data to edit single-cell data. Not anymore! Now, users will be able to edit and customize a data inline (except for HTML, Image, and Button type data fields) just with a single click, right from the Table Rows tab.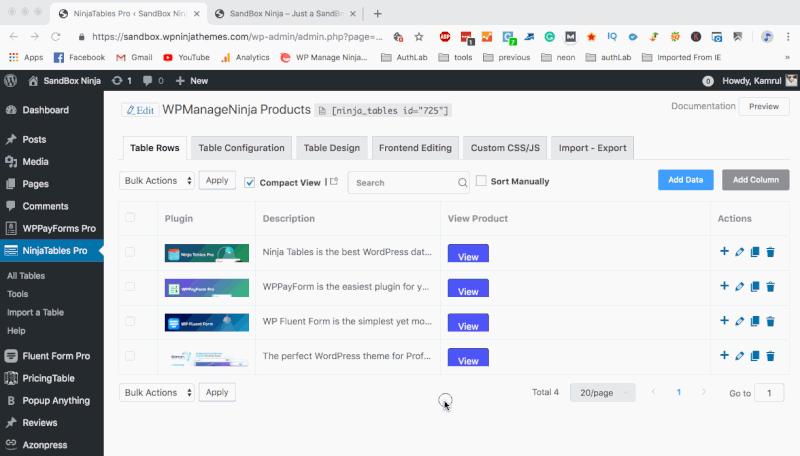 This feature will definitely improve your user experience of Ninja Tables and save your precious time.
WooCommerce Integration
For WooCommerce business owners, this is probably the dealbreaker. Listing and exhibiting your WooCommerce products table has never been easier! To say the least, your days of manually adding products to your frontend tables are over. Now it's just a matter of a few clicks!
So, you have a WooCommerce store with a handsome number of products. Now you might not want to stash all these products into one table rather than showcasing them in a categorized manner. But sorting products by categories, tags and filtering them manually can be a tiresome job. Well, we have solved those hassles for you.
Make WooCommerce Product Tables in a Couple of Clicks!
Don't code or sweat over designing WooCommerce product tables from scratch. The only time you'll have to use your keyboard is to name the table. And the tables will be created at your command automatically.
Showcase Products by Categories
With Ninja Tables' awesome integration, from now on you will be able to fetch your WooCommerce products automatically into a table, organized and sorted by categories (with customizable "Buy Now" button and everything)! You can sort and filter WooCommerce products by title, date added, hide out-of-stock products, etc just by choosing the options from a few dropdown menus. Managing your WooCommerce products has never been this much fun!
Frontend Checkout and View Cart
Whenever a customer clicks the Buy Now button, they'd like to see a "View Cart" or "Go to Checkout" button to view his products or close the transaction. Ninja Tables has got you covered on that front.
You won't have to install and manage any other plugins for this purpose. Ninja Tables comes packed with these dynamic frontend features that will make your life easier, and your customers' browsing experience smoother!
Button Type Data Field in Ninja Tables v3.5.0
Just like the Image type data field, the dedicated Button type data field is another handy feature users will love. Previously users had to use the HTML type data field to design and deploy buttons on Ninja Tables data cells. But Ninja Tables v3.5.0 got rid of that barrier.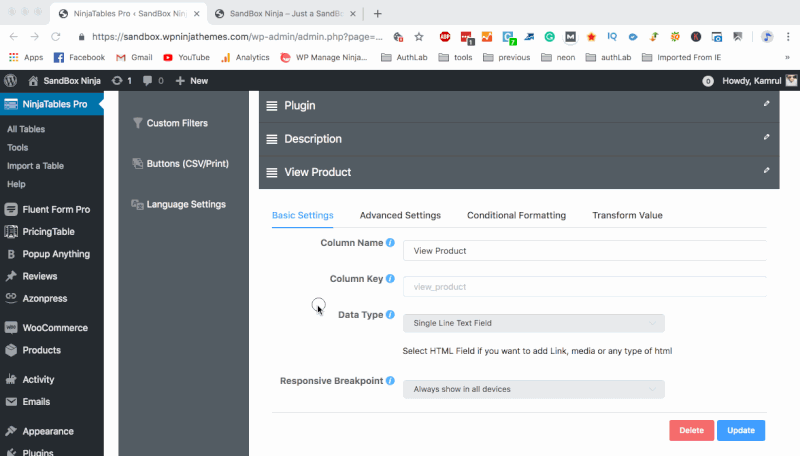 Now, users will enjoy a customizable Button data type field to make the task easier. Which means no more boring coding. Just select button type, customize the button text, round the edges or not, select button color, text color, border color and click on the update button. And all it will take is just a minute of your time!
Apply Excel Formulas in Your Data Tables
The transform value update in Ninja Tables v3.5.0 has made it more powerful than ever. You can write any excel formula in the transform value option for that row and it will apply the excel formula for each cell of that column.
Here's an example using an Excel sum formula to calculate the table row/column.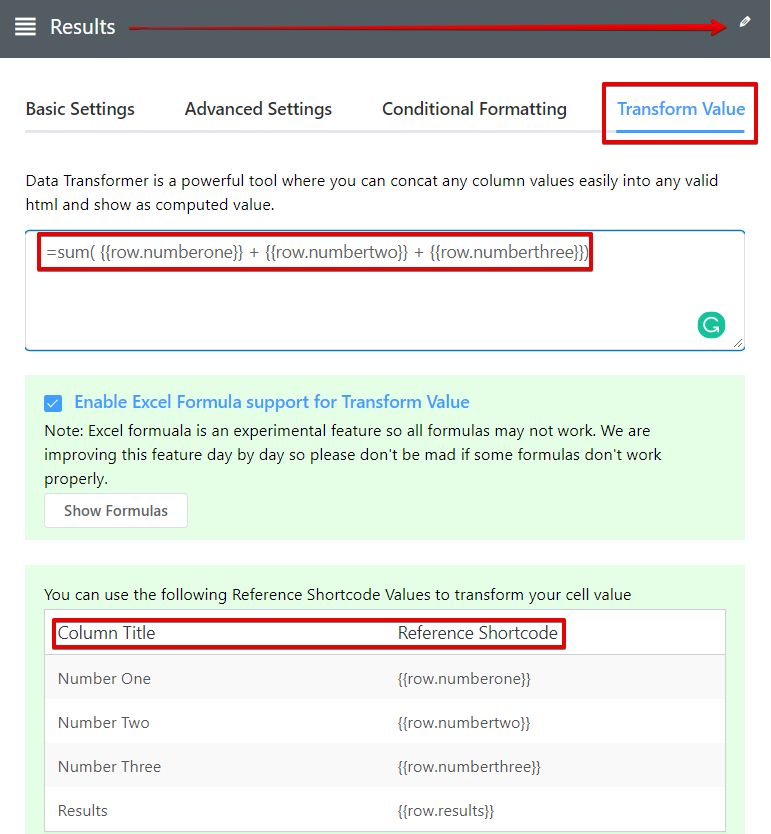 This feature will definitely save you a truckload of time that you previously needed to calculate and enter data manually in case of calculated columns.
Not just that, we have improved the plugin UI and fixed a few major & minor bugs in Ninja Tables v3.5.0. Hope you will enjoy the brand new features we have rolled out. And never hesitate to contact our support team to point out any kind of bugs or suggest new features that you think might make the plugin even better! We will be waiting for your feedback.
Psst… Looking for the free version of Ninja Tables? Try this before you decide on the Pro add-on.