Do you want to know everything about the product review plugin for WordPress? But why do you need that?
Whether people are under a lockdown or living a regular life, online shopping is the most common form of buying something these days. Digital shopping is literally at our fingertips, and we have everything inside a gadget.
But hey wait a second!
What do you do before you click the confirm button? I bet you check the products from your favorite online store and read all the reviews and comments.
Surely you remember instances when you couldn't find enough reviews to evaluate whether or not the product you want to buy would be worthwhile. You probably kept looking for that valuable comment with no luck.
Regardless of the quality or brand reputation of products, some people don't buy from a particular store if they don't find any customer reviews. Moreover, it's a mindset that we tend to think a product with reviews will end up a good purchase.
Here comes the product review plugin for WordPress to solve all your dilemmas. A product review plugin will display reviews under one roof and guide you towards the right choice.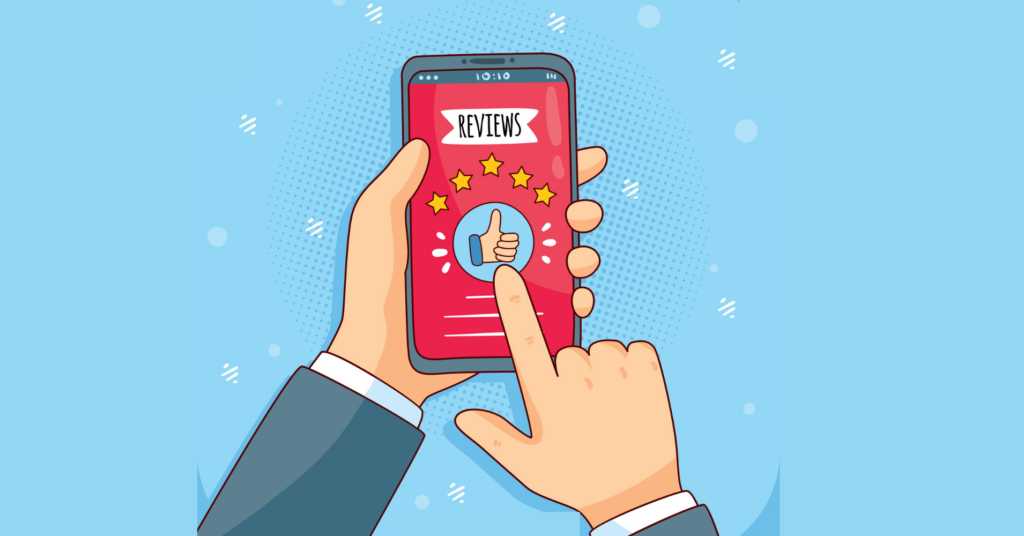 Now comes the million-dollar question, which one is the right plugin to fetch all your customer reviews to your website? For that, you need an advanced tool with all-in-one features.
In this article, we have made a list of seven product reviews alternatives for your business, and in the last part, we will add our suggestions as well. Along with that, we have decided to go through these product review plugin for WordPress to explore more.
Why do you need a product review plugin for WordPress
Did you know the average consumer spends 13 minutes and 45 seconds reading reviews before they make a decision for online shopping?
These days people search for reviews in almost everything, even whether it's a movie or a holiday spot. However, different plugins have unique features, and the way plugins display reviews are non-identical.
Some other factors that people mostly check on are price, easy integration, SEO optimization, and features offered by alternatives. You never know when you get the best alternative among all the available tools.
If you are on the lookout for an alternative product review plugin for WordPress then it's better to take an in-depth exploration. We are here to take you through 7 product reviews plugins to help you make the right decision.
WP Social Ninja
It is the best review plugin for WordPress with a great mix of social reviews, live chats, and fetching feed on the website. Among all the tools it has claimed to be the fastest and the lightest product review plugin so far.
Gone are those days where each platform used to need separate installation. You heard me right! It currently offers the most exclusive and user-friendly components.

Distinctive features
It has three separate platforms: social reviews, social feeds, and social chat. Each platform compiled with multiple sites. With the help of this tool, you can import hashtag social media feeds like Twitter, Facebook automatically. Furthermore, you get the live chat option on your website using Messenger and WhatsApp.
It is a jam-packed plugin designed to fetch more attention in your business. This is the era of social media and we all know how crucial social media review is for a business to get good exposure. Hold your breath because WP Social Ninja will offer more than that.
As you add business reviews on your website you can also filter each and every review. For example, you may get negative reviews on your site and you don't want to display those poor business reviews. WP Social Ninja lets you filter the bad reviews and disappear.
WP Social Ninja is a multi-service product review plugin for WordPress with an auto-generated shortcode. With the help of a shortcode, you can create a template within a second. Not just that, you can stop editing at any point and then resume from where you have left it.
Its robust construction, simple integration, beautiful interface, and most importantly, the multi-platform review collection capability makes it stand out among its competitors.
It is the face of WordPress product review plugins and guarantees a fulfilling experience.
WP Product Review Lite
WP Product Review Lite lets you create a beautiful look with a color change in ratings as well as the pros and cons list. It has both a free and paid version. The paid version starts at $59 per year.

Distinctive features
If you are looking for a light-weight review plugin for a website with high quality and unique features then this is the best option for you! This plugin can design your boring lengthy posts into categories like pros and cons, solid snippets, affiliate links with ratings.
This tool has a lot more in stores, such as a testing version before purchase, an automatic comparison table that enables your users to decide which product is the best among all, and many other attractive features.
The premium version will allow you to make buttons such as Buy Now, Register, Sign Up, and Free Demo. In addition to add-ons, you can promote your featured products with customized widgets.
Moreover, if you want to post your reviews in different review sections you are allowed to post the customer reviews with shortcodes.
Lastly, with this super quality plugin, you can integrate Amazon data and make a comparison table with image and product icons with it.
WP Customer Reviews
It's quite common for online stores now to count on product review plugins. One such plugin is WP Customer Reviews, an easy to use, and super-fast plugin that will accelerate your business. This tool allows you to create a particular page and fetch customer reviews for your business.

Distinctive features
It is a great product review plugin for WordPress and provides a simple set up with a straightforward testimonial section that anyone can easily cope with.
With an auto-update feature, this plugin will let the users put shortcodes on specific sites along with sidebars. Moreover, you have the control to limit the displayed reviews on each of the pages.
One of the most exciting features of this plugin is its admin response. Admins can take control of the reviews and edit the contents and dates. Furthermore, integrating with more than one page and rich snippet's view on the search results are some other eye-catching features.
If you are looking for a plugin that can manage multi-user then you are in the right place with WP Customer Reviews. It is the best customer review plugin for WordPress that works efficiently and you don't have to pay a penny for it.
Ultimate Blocks
Ultimate Blocks feature a robust Review Block by which you can showcase the reviews and feedback of your products in engaging ways. The block lets you write separate titles for each review section, giving credit to respective reviewers.
You can list all the key features of the product with individual ratings. Plus, you can add a summarized rating at the end with a brief description. This will help customers understand the strengths and benefits of the product and make an informed decision.
Finally, you can add a compelling CTA button and direct users to the original source of the product or testimonial page.
Distinctive Features
Offers extensive customization options ranging from the rating format, colorization, CTA button, and value settings.
Built-in review schema markup makes your content optimized for good SEO performance.
The customizable CTA button lets you modify its color, alignment, font size, and many other options.
The review block works great and properly functionates on all devices and screen sizes.
The intuitive and user-friendly interface simplifies the content creation process, even for newbie users.
Schema – All In One Schema Rich Snippets
If you want a high-quality snippet for your products on a search engine then Schema is the perfect suit for your WordPress site. It is a free product review plugin for WordPress and has no hidden or future charges.

Distinctive features
With a rich snippet, this plugin ensures a high volume of SEO optimization. Schema – All In One Rich Snippets has a great quality of displaying reviews with definite information. Moreover, this review will be packed into images and stars.
Schema is more of a tool than a plugin, it promises to provide the snippet with the accurate search results that users were looking for. In addition to that, Schema lets the user share the information on their Facebook pages too.
Many types of Schema include reviews, people, cooking recipes, and various events that help to get more audience.
To conclude, among many review plugins Schema understands how a relevant search result is useful to the users.
Taqyeem
Taqyeem is an Arabic word and it means Valuation. Well, we can say that keeping the honor of its name, it has added a lot of value to many businesses so far. You can experience this amazing plugin by paying $29 for one time use. Taqyeem is a rating product review plugin for WordPress with unlimited design options.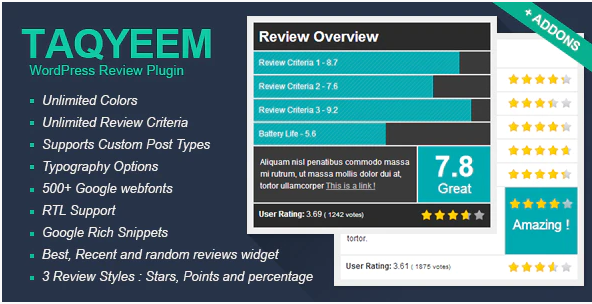 Distinctive features
This plugin is full of excellent features and very few plugins have unlimited color and review criteria like Taqyeem. With close attention to configuration, its users get to choose from multiple review styles. It has three types of review design; stars, points, and percentages.
What makes Taqyeem unique from others? Along with diverse criteria, this tool allows 500+ google web fonts and typography. Not only that, you get to integrate with Schema for rich snippets in order to be relevant to Google search results.
Taqyeem is an SEO friendly rating WordPress plugin. TieLabs is a WordPress theme and plugin company, with Taqyeem's powerful features TieLabs has an integrated system of user reviews and presentation of product reviews.
For your multiple upcoming products, Taqyeem has robust widgets besides the most well-known features.
Reviewer
Experience the rise of sales with a smart review and comparison table on your WordPress site. Reviewer is a premium plugin that comes for $28 and offers several options, for instance, pros, and cons, summaries, and images.
With vast customization features, the Reviewer has unlimited templates that easily integrate with any website, and users can create any composition with this plugin.
It is a 100% mobile-optimized tool and lets you personalize themes with layouts that are easily adaptable with any device.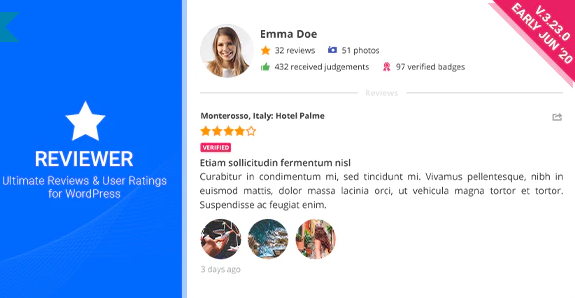 Distinctive features
It is a 100% mobile-optimized tool and lets you personalize themes with layouts that are easily adaptable with any device.
Reviewer is an easy to use product review plugin for WordPress that allows the user to create templates and insert personal feedback on the posts or pages. Users can give their reviews inside your reviews box in this plugin.
Another creative feature is, this plugin will let the user stay connected for a long time. To be precise, after users give their review you will have their name and email address. Yes! You can insert their reviews on different customizable widgets and let them know how valuable their participation is for your business.
It offers full freedom for the users to create a comparison table that shows two reviews together and is distinct from each other. With rich snippets Reviewer lets you embed affiliate links to the website.
WP Business Reviews
Last but not least comes the plugin WP Business Reviews that does just what the name suggests. It is the most cost-effective plugin with a price of $99.50 per year that comes with a single license for five domains. There is a package that offers $149 for one year.
Both of the packages have basic support and auto-updates. WP Business Reviews doesn't have a free version. Nevertheless, it comes with all-inclusive features.

Distinctive features
It doesn't require any sort of prior technical work to display customer reviews on your website. You can just install and integrate the plugin and connect to multiple social platforms like Google, Yelp, Zomato, and Facebook.
This plugin displays reviewers' names and avatars to get a clear idea about the users. Moreover, WP Business Reviews shows from where the reviews are coming.
Along with customized features, users are able to filter the negatives reviews by setting with ratings. Without removing the particular review just hide from displaying.
Users can give reviews while checking on your website rather than Google. It lets the business tag the reviews to be on the top.
WP Business Reviews is specially designed for a multi-purpose business that anyone can take advantage of. This is an awesome WordPress business review plugin that styles from multiple layout options.
Suggestions for a product review plugin for WordPress
Let's accept that we all want to use the supreme tool for our business and stay ahead in the game. This article discusses the best possible alternative product review plugin for WordPress.
You already know most people read reviews from the sites before they shop even if they know which product to buy. But wonder why? Customers will evaluate others' reviews, even on familiar products, to get the hang of the quality of your service.
Still not convinced? One survey question was how many consumers read online reviews for local businesses? And the result was quite expected. 82% of users read reviews for businesses and this clearly shows how important it is for you to get a review plugin for business.
It takes time to build a good impression on users. But you can't even start the process without grabbing the perfect option first. Has skimming through the strong features of all these options still left you confused?
Well if we must chime in, we strongly suggest WP Social Reviews for you. It offers multiple dimensions with utmost user-oriented features.
Why WP Social Ninja?
You have the liberty to ask for a particular social site that you want to integrate on your website. Some other highlights of the best product review plugin for WordPress are-
Easy integration with WP Fluent Forms
Embedded with a 10+ leading social platform
Multiple template options with any time save mode
Diverse layout design in addition to different styling options
The gap between social platform reviews in order to provide an interesting interface
The best google review plugin for WordPress
Speedy and expert support available 24/7
So the key point is if you're stressing over a review plugin then you know which plugin is a good way to go. If you don't want to waste more time pondering over this decision, go grab it!
Final conviction
Customers tend to have faith in other customer reviews rather than a recommendation from their surroundings. Moreover, it becomes apparent that a product review plugin for WordPress will speedup as well as outreach more to the audience.
Well, we tried to bring up an honest review for you and provided the best plugin among all the alternatives.
We hope this article helps you make a call. Give us a shout out in the comment section for more discussions. We're more than happy to hear from you.
Check out Google Reviews Widget vs. WP Social Ninja | The Best Google Reviews Plugin Compared